Research article

Open Access
Extensive loss of translational genes in the structurally dynamic mitochondrial genome of the angiosperm Silene latifolia
BMC Evolutionary Biology
2010
10:274
Received: 1 July 2010
Accepted: 10 September 2010
Published: 10 September 2010
Abstract
Background
Mitochondrial gene loss and functional transfer to the nucleus is an ongoing process in many lineages of plants, resulting in substantial variation across species in mitochondrial gene content. The Caryophyllaceae represents one lineage that has experienced a particularly high rate of mitochondrial gene loss relative to other angiosperms.
Results
In this study, we report the first complete mitochondrial genome sequence from a member of this family, Silene latifolia. The genome can be mapped as a 253,413 bp circle, but its structure is complicated by a large repeated region that is present in 6 copies. Active recombination among these copies produces a suite of alternative genome configurations that appear to be at or near "recombinational equilibrium". The genome contains the fewest genes of any angiosperm mitochondrial genome sequenced to date, with intact copies of only 25 of the 41 protein genes inferred to be present in the common ancestor of angiosperms. As observed more broadly in angiosperms, ribosomal proteins have been especially prone to gene loss in the S. latifolia lineage. The genome has also experienced a major reduction in tRNA gene content, including loss of functional tRNAs of both native and chloroplast origin. Even assuming expanded wobble-pairing rules, the mitochondrial genome can support translation of only 17 of the 61 sense codons, which code for only 9 of the 20 amino acids. In addition, genes encoding 18S and, especially, 5S rRNA exhibit exceptional sequence divergence relative to other plants. Divergence in one region of 18S rRNA appears to be the result of a gene conversion event, in which recombination with a homologous gene of chloroplast origin led to the complete replacement of a helix in this ribosomal RNA.
Conclusions
These findings suggest a markedly expanded role for nuclear gene products in the translation of mitochondrial genes in S. latifolia and raise the possibility of altered selective constraints operating on the mitochondrial translational apparatus in this lineage.
Keywords
Mitochondrial Genome
Substitution Rate
Gene Conversion
tRNA Gene
Plant Mitochondrial Genome
Background
The mitochondrial genomes of flowering plants exhibit a number of characteristics that distinguish them from the mitochondrial genomes of other eukaryotes [1]. They are large and variable in size with ample non-coding content [2], including substantial amounts of "promiscuous" DNA of nuclear and chloroplast origin [3, 4] as well as sequences of horizontal origin acquired from the mitochondrial genomes of other land plants [5, 6]. Angiosperm mitochondrial genomes also contain numerous introns, some of which have been split such that the resulting gene fragments must be transcribed separately and then trans-spliced together [7]. Gene expression also relies on extensive C-to-U (and sometimes U-to-C) RNA editing, in which substitution of specific pyrimidines in the mRNA sequence restores phylogenetically conserved codons [8]. Plant mitochondrial genomes generally experience some of the slowest documented rates of nucleotide substitution [9, 10] but are subject to rapid structural evolution [11]. High frequency intra- and intermolecular recombination among large repeated sequences is the rule, generating a heterogeneous pool of genome configurations within a single individual [12–14]. The size and complexity of plant mitochondrial genomes, especially when compared with animals and fungi, make them powerful models for exploring the forces affecting eukaryotic genome structure and evolution.
The genomes of plant mitochondria, like any organelle genome, depend on highly integrated functional coordination with the nucleus. For example, translation of mitochondrially-encoded genes requires a mix of nuclear and mitochondrially encoded components. Plant mitochondrial genomes contain genes for their own rRNA subunits as well as for some of the ribosomal proteins and tRNAs required for translation (Figure
1
), but many necessary ribosomal protein and tRNA genes are located in the nuclear genome, so their gene products must be imported into the mitochondrion [
15
]. The tRNA population within plant mitochondria represents a particularly complex assemblage derived from at least 3 anciently divergent classes of genes [
15
–
17
]: 1) "native" tRNAs encoded in the mitochondrial genome and inherited from the α-proteobacterial progenitor of mitochondria, 2) chloroplast-like tRNAs, which are also encoded in the mitochondrial genome but which were acquired by functional gene transfer from the chloroplast genome during land plant evolution, and 3) nuclear-encoded tRNAs imported from the cytosol.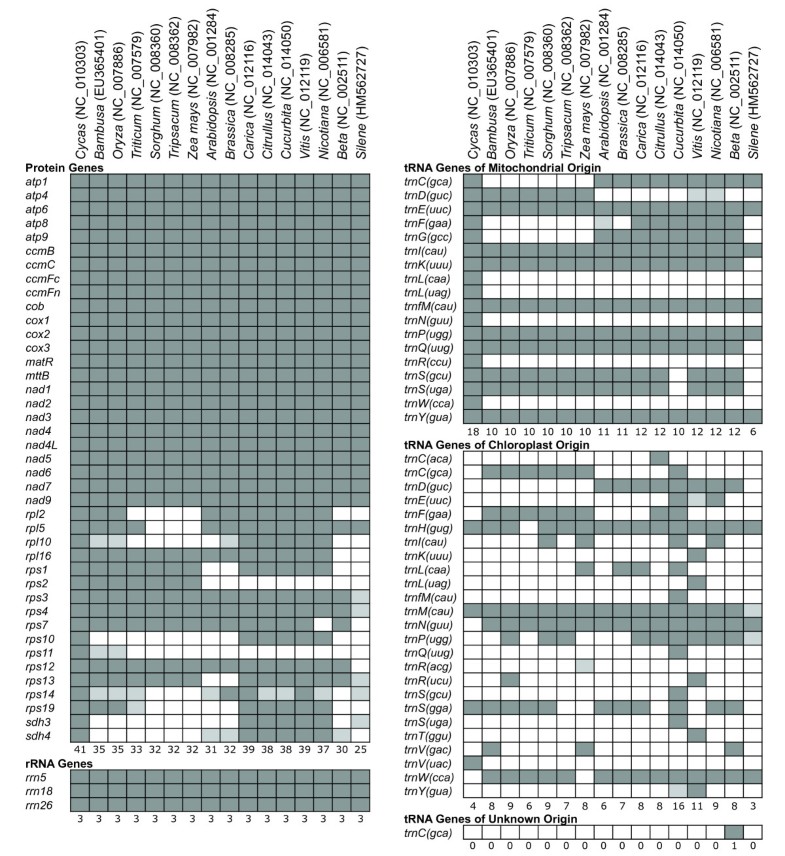 This mixture of tRNA genes is phylogenetically dynamic. Sequenced plant mitochondrial genomes differ in both the number and the identity of tRNA genes that they contain (Figure 1) [4, 18]. Likewise, ribosomal protein gene content in the mitochondrial genome is highly variable among plant lineages. The process of mitochondrial gene loss and functional transfer to the nucleus is active and ongoing in plants, and 15 of the 17 protein genes that have been subject to frequent loss across the angiosperm phylogeny encode ribosomal proteins [19–21].
The Caryophyllaceae represents one angiosperm lineage with a relatively high rate of mitochondrial gene loss/transfer. Adams et al. [19] used Southern blots to show that 2 genera from this family (Dianthus and Stellaria) lack most mitochondrial protein genes outside the core set of 24 genes that are nearly universally conserved throughout angiosperms, and we recently reported that 2 species from a third genus (Silene) are similarly reduced in gene content [22]. The genus Silene is of particular interest with respect to mitochondrial genome evolution and transmission [23, 24]. This large genus exhibits substantial diversity in breeding system, including a high frequency of gynodioecy (mixed populations of hermaphrodites and females), which is often the result of mitochondrial mutations that induce cytoplasmic male sterility [25]. Furthermore, Silene species differ markedly in mitochondrial mutation rate [10, 26–28] and in the amount of mitochondrial sequence polymorphism that they maintain [26, 27, 29, 30]. Previous analyses of Silene mitochondrial genomes, however, have been limited to individual gene sequences.
In this study, we report the complete mitochondrial genome sequence of Silene latifolia, which confirms earlier findings of reduced mitochondrial protein gene content in the Caryophyllaceae. We also found a reduction in tRNA gene content that is unprecedented in plants as well as a major increase in the substitution rate for some rRNA genes. In addition, we use paired-end sequence data and Southern blot hybridizations to analyze the complex structural dynamics of this genome, which are driven by a large recombining repeat sequence that is present in 6 copies. These methods could be used more broadly to explore the complex dynamics of mitochondrial genomes in established plant model systems.
Discussion
Mitochondrial Gene Loss
The vast majority of genes in plant mitochondrial genomes can be placed into one of two functional categories: 1) bioenergetics, i.e., oxidative phosphorylation and ATP synthesis (atp, ccm, cob, cox, nad, and sdh genes) and 2) translational machinery (ribosomal protein, rRNA, and tRNA genes). Analysis of the phylogenetic distribution of protein genes across seed plants has clearly shown that ribosomal proteins are subject to more rapid rates of loss than genes involved in bioenergetics [19]. The complete sequence of the S. latifolia mitochondrial genome provides the first evidence that mitochondrial tRNA genes, another component of the organelle's translational machinery, can also be lost rapidly and in large numbers in plants. This finding is consistent with broader patterns in eukaryotic evolution, as numerous independent lineages have experienced the loss of most or even all of their mitochondrially-encoded tRNAs [59]. The present study also extends earlier work that found reduced protein gene content in 2 other genera in the Caryophyllaceae [19]. The similar reduction in protein gene content in these 3 taxa suggests that much of the observed protein gene loss probably occurred prior to the diversification of this family, although some degree of parallel loss within the family is also possible.
Protein genes that are lost from mitochondrial genomes can experience a variety of fates. For example, the evolutionary history of eukaryotes has been characterized by a massive physical transfer of genes from the mitochondrial genome to the nucleus. This process is ongoing in plants, and there are a number of well-established cases of such endosymbiotic gene transfer that have occurred since the divergence of angiosperms [60–63]. Losses can also occur when a gene is functionally replaced by an anciently divergent homolog [20, 21, 64, 65], and when a protein or even an entire multi-subunit complex is no longer functionally required (e.g., the loss of the NADH dehydrogenase complex I in apicomplexans and at least 2 yeast lineages [66, 67]). In Silene, an analysis of the S. vulgaris transcriptome (unpublished data) revealed evidence of nuclear copies for at least 9 of the protein genes that appear to have been functionally lost from the S. latifolia mitochondrial genome.
To the best of our knowledge, a functional transfer of a mitochondrial tRNA gene to the nucleus has never been documented. Instead, mitochondrial tRNA gene loss is typically offset by importing tRNAs of eukaryotic nuclear origin from the cytosol [17, 59]. Therefore, it is likely that Silene mitochondria import a greatly expanded set of nuclear tRNAs relative to other plants--a prediction that could be tested by purifying and sequencing Silene organelle tRNAs.
In some specific cases, however, more complex evolutionary changes may be required to explain the loss of mitochondrially-encoded tRNAs. For example, in plant mitochondria, the function of tRNA-Gln is dependent on coordinated enzymatic processes. Aminoacyl tRNA synthetases play an essential role in translation by matching tRNAs with their corresponding amino acids, but plant organelles generally lack a Gln tRNA synthetase. Instead, tRNA-Gln is typically aminoacylated by a Glu tRNA synthetase followed by a chemical modification (amidation) to convert Glu to Gln [68].
The gene encoding tRNA-Gln (trnQ) is present in all sequenced seed plant mitochondrial genomes with the exception of S. latifolia. The loss of the mitochondrially-encoded copy of tRNA-Gln in S. latifolia raises several possibilities. First, it is conceivable that aminoacylation and amidation are carried out in the same fashion with an imported cytosolic tRNA-Gln. This may be unlikely, however, because it would require associated changes in tRNA recognition for multiple enzymes. Second, it is possible that, unlike other plants, S. latifolia imports the cytosolic Gln tRNA synthetase into its mitochondria, allowing for direct aminoacylation of an imported tRNA-Gln without the use of a Glu intermediate. Finally, it is possible that S. latifolia has experienced an unprecedented transfer of a functional tRNA gene (trnQ) from the mitochondrial genome to the nucleus, where it is expressed and its product targeted back to the mitochondria. All of these possibilities should be investigated to better understand the mechanisms involved in the co-evolution of organellar and nuclear gene content.
It is intriguing that extensive gene loss in two components of Silene mitochondrial translation machinery has been associated with accelerated evolutionary rates in a third component, rRNA genes. This pattern raises the possibility of a correlated reduction in functional constraint across these 3 translational components. A general relaxation of selection on organelle translation has been observed in cases such as the chloroplasts of non-photosynthetic plants where the organelle's functional role has been greatly reduced [69]. However, we have no a priori reason to expect relaxed selection on mitochondrial gene expression in Silene, and the distribution of substitutions in rrn5 suggests that its secondary structure is under strong selection to maintain function. Broader comparative and functional analyses would be of value in assessing the extent to which correlated evolutionary pressures act on these 3 components of mitochondrial translation machinery.
An alternative interpretation of our results is that, rather than being lost, certain genes have been functionally retained in the mitochondrial genome but escaped detection by our annotation methods. For example, cryptic genes could result from accelerated rates of evolution or the proliferation of introns and RNA editing sites [18, 70]. Although these explanations are unlikely given the generally slow rate of plant mtDNA sequence evolution and the trend towards a reduced frequency of introns and RNA editing in Silene [22], they certainly cannot be ruled out. Likewise, it is possible that some of the gene fragments that we have classified as pseudogenes are functional. Mitochondrial tRNAs often exhibit aberrant or non-canonical secondary structures, making detection of genes and the assessment of functionality more difficult [71, 72]. Under any of these scenarios, however, it is still evident that the S. latifolia lineage has experienced a period of significant evolutionary change in its mitochondrially-encoded translation machinery.
Mitochondrial Substitution Rates and Gene Conversion with Chloroplast Genes
Given that the divergence between mitochondria (proteobacteria) and chloroplasts (cyanobacteria) spans billions of years of evolution [73], the notion that gene conversion is occurring between their respective genomes is rather astonishing. Nevertheless, examples of conversion between the mitochondrial atp1 and chloroplast atpA genes have been documented in multiple angiosperm lineages [74]. The S. latifolia mitochondrial genome sequence provides compelling evidence for a similar history of conversion in an rRNA gene. Evidence of recombination between divergent rRNA sequences has also been found in free-living bacteria and archaea [75–77], including one other example of a chimeric proteobacterial/cyanobacterial small subunit rRNA [78].
In all documented cases of apparent conversion between mitochondrial and chloroplast genes, the mitochondrial gene acted as the recipient, which may reflect the propensity of angiosperm mitochondrial genomes to acquire and retain "promiscuous sequences", including those of chloroplast origin. If a conversion event in Silene did result from a copy of chloroplast rrn16 that had been incorporated into the mitochondrial genome, the promiscuous sequence must have been subsequently lost, because it is no longer present in the S. latifolia mitochondrial genome.
The history of gene conversion in S. latifolia rrn18 was readily detectable because the conversion tract (47 to 60 bp in length) introduced a distinct cluster of 14 substitutions (although 2 of these appear to have been obscured by subsequent mutations; Figure 8). These changes contributed to an accelerated rrn18 substitution rate in Silene (Figure 5). Although we did not identify other clusters of substitutions that could be readily explained by gene conversion with homologous chloroplast sequence, it is conceivable that more localized conversion events occurred but escaped detection. It would be difficult if not impossible to distinguish conversion events that introduce only 1 or 2 substitutions from de novo point mutations. It has been hypothesized that increases in the frequency of gene conversion with reverse transcribed mitochondrial mRNA ("mutagenic retroprocessing") might explain elevated evolutionary rates in some angiosperm mitochondrial genomes [79]. Given the evidence for gene conversion between mitochondrial and chloroplast genes, the role of DNA-mediated conversion between divergent homologs (or even non-homologous sequences that share small regions of similarity) should be investigated as another potential source of mutational input in plant mitochondrial genomes.
Repeats, Recombination, and Genome Structure
With rare exception [80], the structure of angiosperm mitochondrial genomes is characterized by the presence of large repeated sequences that facilitate intra-and intermolecular recombination [12, 14]. These repeats are generally present in 2 or sometimes 3 copies. In this study, we identified an unprecedented 6-copy family of large, actively recombining repeats in the S. latifolia mitochondrial genome. Given a repeat family of this size and recombinational activity, there are 120 different possible conformations for the idealized "master circle", which differ in the precise order of the 6 single-copy regions. The genome structure depicted in Figure 2 represents one of these possible conformations. However, the genome organization is much more complex than any single circular representation for at least 2 reasons. First, a 6-copy family of recombining repeats will potentially generate hundreds of possible subgenomic circles containing anywhere from 1 to 5 repeat loci, as well as a theoretically infinite number of supergenomic circles through multimerization. Second, plant mitochondrial genomes have been shown to exist in vivo as a complex assemblage of linear, circular and branched molecules [81, 82].
As observed in cases of repeat families with lower copy number [12, 83–89], our Southern blot hybridizations confirm the co-existence of multiple alternative genome conformations. The similar intensity of each band (Figure 4) suggests that recombination among the repeats is sufficiently frequent that the many possible pairs of flanking sequences occur at relatively equal levels, a condition defined as "recombinational equilibrium" [13]. Moreover, the repeat copies appear to be completely identical in sequence, providing further evidence for a high rate of homogenization through recombination/gene conversion.
For this study, we utilized Southern blots and in silico predictions from a completely sequenced plant mitochondrial genome to provide a semi-quantitative assessment of recombination activity. Extending these methods to other sequenced genomes that differ in the number and size of repeat families could provide valuable comparative data on recombination activity in plant mitochondria. Moreover, the advent of DNA sequencing technologies (e.g., 454 and Illumina) that produce deep sequencing coverage of large span paired-end libraries can provide an opportunity to generate quantitative estimates of the relative abundance of alternative genome conformations.
Conclusions
Overall, the patterns of gene loss and divergence in the S. latifolia mitochondrial genome suggest a markedly expanded role for nuclear gene products in the translation of mitochondrial genes. Furthermore, the novel, recombinationally active repeat structure of this genome represents a complex elaboration of one of the long list of unique features that distinguish plant mitochondrial genomes. With ongoing efforts to sequence the mitochondrial genomes of other Silene species that differ profoundly in mitochondrial mutation rates and breeding system, the S. latifolia mitochondrial genome should provide a valuable comparative model for investigating the evolutionary forces that shape genome organization.
Declarations
Acknowledgements
We gratefully acknowledge the sequencing work of Lucinda Fulton and the WUSTL Genome Center. We would also like to thank Janis Antonovics, Peter Fields, and two anonymous reviewers for helpful comments on an earlier version of this manuscript. This study was supported by NSF DEB-0808452 (to DBS and DRT), NIH RO1-GM-70612 (to JDP), and MŠMT KONTAKT ME09035 and LC06004 (to HŠ). AJA was supported by an NIH Ruth L. Kirschstein NRSA Postdoctoral Fellowship (1F32GM080079).
Authors' Affiliations
(1)
Department of Biology, University of Virginia, Charlottesville, USA
(2)
Department of Biology, Indiana University, Bloomington, USA
(3)
Institute of Experimental Botany, v.v.i, Academy of Sciences of the Czech Republic, Lysolaje, Czech Republic
Copyright
© Sloan et al; licensee BioMed Central Ltd. 2010
This article is published under license to BioMed Central Ltd. This is an Open Access article distributed under the terms of the Creative Commons Attribution License (http://creativecommons.org/licenses/by/2.0), which permits unrestricted use, distribution, and reproduction in any medium, provided the original work is properly cited.