Research article
Open Access
Evolution of trappin genes in mammals
BMC Evolutionary Biology
2010
10:31
Received: 14 May 2009
Accepted: 29 January 2010
Published: 29 January 2010
Abstract
Background
Trappin is a multifunctional host-defense peptide that has antiproteolytic, antiinflammatory, and antimicrobial activities. The numbers and compositions of trappin paralogs vary among mammalian species: human and sheep have a single trappin-2 gene; mouse and rat have no trappin gene; pig and cow have multiple trappin genes; and guinea pig has a trappin gene and two other derivativegenes. Independent duplications of trappin genes in pig and cow were observed recently after the species were separated. To determine whether these trappin gene duplications are restricted only to certain mammalian lineages, we analyzed recently-developed genome databases for the presence of duplicate trappin genes.
Results
The database analyses revealed that: 1) duplicated trappin multigenes were found recently in the nine-banded armadillo; 2) duplicated two trappin genes had been found in the Afrotherian species (elephant, tenrec, and hyrax) since ancient days; 3) a single trappin-2 gene was found in various eutherians species; and 4) no typical trappin gene has been found in chicken, zebra finch, and opossum. Bayesian analysis estimated the date of the duplication of trappin genes in the Afrotheria, guinea pig, armadillo, cow, and pig to be 244, 35, 11, 13, and 3 million-years ago, respectively. The coding regions of trappin multigenes of almadillo, bovine, and pig evolved much faster than the noncoding exons, introns, and the flanking regions, showing that these genes have undergone accelerated evolution, and positive Darwinian selection was observed in pig-specific trappin paralogs.
Conclusion
These results suggest that trappin is an eutherian-specific molecule and eutherian genomes have the potential to form trappin multigenes.
Keywords
Synonymous SubstitutionZebra FinchNoncoding RegionEutherian MammalSecretory Leukocyte Protease Inhibitor
Background
Trappins are a family of small secretory proteins that possess an N-terminal transglutaminase-substrate (TGS) domain and a C-terminal whey acidic protein (WAP) domain [1]. The TGS domain consists of repeats of six semi-conserved amino acids, KGQDPV, that act as anchoring regions. In this case, the lysine or glutamine residues of these regions are cross-linked with extracellular-matrix proteins by the action of transglutaminases, which helps trappin molecules to become concentrated at the site of action [2–4]. In contrast, the WAP domain is a four-disulfide core region and is defined by eight conserved cysteine residues. The WAP domain of trappin shows anti-proteolytic [4–6] and antimicrobial [7–9] activities that allow it to act as an innate immune defense molecule. In fact, trappin-2 displays antibacterial activities against Gram-positive and Gram-negative bacteria [7–9]; it also has antifungal activity [9], and the antimicrobial activity is independent of its antiprotease function [9]. The most well characterized trappin is human trappin-2, which is also known as elafin, skin-derived antileukoproteinase (SKALP), elastase-specific inhibitor (ESI), or protease inhibitor 3 (PI3) [1, 10]. It has strong inhibitory activity against leukocyte and pancreatic elastases and proteinase 3 [4–6], and shows anti-inflammatory activity [11] as well. The antiproteolytic and antimicrobial activities of trappin-2 are quite similar to those of secretory leukocyte protease inhibitor (SLPI) [12, 13], which consists of two WAP domains with the second WAP domain being highly homologous to the WAP domain of trappin-2. Trappin-2 is expressed in the trachea, lung, gut, epidermis, esophagus, vagina, and oral epithelia [2, 4]. In these tissues, the expression is induced by proinflammatory cytokines, such as interleukin-1 (IL-1) and tumor necrosis factor (TNF)-α [14, 15].
The number of trappin genes varies among mammalian species. For example, humans and sheep have a single trappin-2 gene [16, 17], while pigs have at least six: trappin-1, trappin-2, trappin-3, trappin-7, trappin-8, and trappin-9 [18, 19]. At the other extreme are the mouse and rat, which lack trappin genes entirely [20], though the guinea pig has genes for trappin-12 and its derivatives caltrin II and seminal vesicle secretory protein (SVP), which lack TGS- and WAP-coding regions, respectively [21, 22]. Despite the variance in copy number between the different mammalian lineages, all trappin genes are encoded by three exons. Exon 1 encodes a signal peptide, exon 2 codes for a TGS- and WAP-domains, and exon 3 encodes a 3' untranslated region [18, 19, 23]. While the exonic organization is highly conserved among various mammalian lineages, there is variation in the number of six-amino-acid repeats in the TGS domain [18, 19]. Due to a point mutation of splicing site, guinea pig trappin-12 exceptionally lacks intron 2, which is present at the 3' noncoding region of the trappin gene [22]. A short interspersed element (SINE) is found in intron 2 of the trappin genes of the pig, wart hog, and collared peccary [18, 19].
While we have mentioned several species that possess multiple trappin genes, it is not known if (1) these are exceptional cases or (2) trappin genes normally exist as a multigene family. In an attempt to find the answers, we analyzed genome databases developed by the Mammalian Genome Project http://www.broad.mit.edu/mammals/ and identified six trappin genes from the nine-banded armadillo (Dasypus novemcinctus) genome. The nine-banded armadillo belongs to the taxonomic order Xenarthra. Because this lineage is believed to be one of the most ancient lineages of placental mammals [24], the analyses of armadillo trappin genes are quite interesting because the duplication and evolution of armadillo trappin genes are expected to have occurred independently from other species. In contrast, we identified a single trappin-2 gene from the genome databases of many species including the chimpanzee, rhesus macaque, bushbaby, dog, cat, horse, cow, European shrew, European hedgehog, megabat, and microbat. This fact suggests that trappin-2 is the ancestral form of trappin genes, and trappin-null species such as mouse and rat are exceptional. Finally, we identified anciently duplicated trappin-18 gene in Afrotheria such as the elephant (Loxodonta africana), tenrec (Echinops telfairi), and hyrax (Procavia capensis), and trappin-related genes in chicken and opossum, suggesting that the gene family originated as far back as more than 100 million years ago.
Discussion
Origin of trappingene
Computer analyses of genome databases revealed that typical trappin is a eutherian mammalian specific gene. The typical trappin genes were found only in eutherian mammals and not other species including Xenopus, fish, sea squirt, insects, and C. elegans. The trappin-related genes were found in chicken and opossum. The computer analyses also showed that most eutherian mammalian species have a single SLPI gene, and platypus has multiple SLPI genes. The trappin-related genes of those animals and platypus SLPI genes show strong similarity with trappin in the WAP domain only, but all the other regions have no significant homology. Therefore, these genes may relate with the ancestoral WAP domain of trappin. Interestingly, platypus SLPI showed higher homology to the WAP domain of trappin-2 than that of mammalian SLPI. This strongly suggests that the WAP domain of trappin and SLPI share a common ancestor.
Trappin is a protein that consists of TGS and WAP domains. SLPI is a two WAP-domain protein. The second WAP domain of SLPI and the WAP domain of trappin-2 are quite similar in their amino acid sequences and functions such as antiproteolytic and antimicrobial activities, suggesting an ancestral relationship. However, except for the WAP-coding regions, there is no significant homology in the nucleotide sequences between
trappin
and
SLPI
. Interestingly,
trappin
genes are known to have weak but significant similarity with other TGS genes in introns, TGS-coding, and noncoding regions (Figure
5
) [
27
]. This mosaic pattern of homology in
trappin
genes indicates that
trappin
genes originated from the TGS gene and obtained a WAP domain possibly by exon-shuffling. Afrotherian
trappin-18
codes for a WFDC12-like peptide in intron 1 region, and the other
trappin
s contain a pseudogene for
WFDC12
in intron 1. These results support the hypothesis of Hurle
et al
. [
26
] that
trappin
and
WFDC12
are derived from a common ancestral gene which codes for both trappin and WFDC12.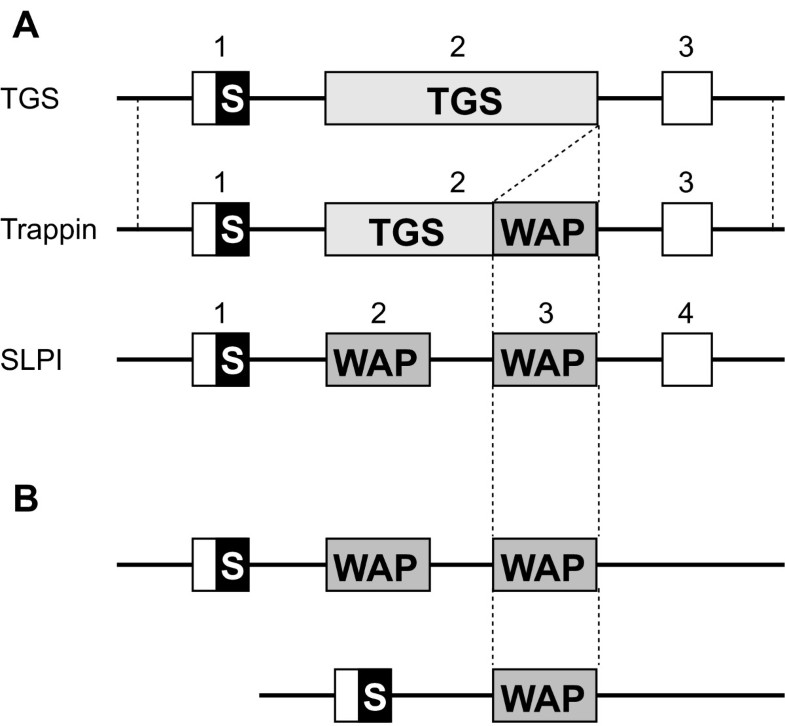 Evolution of trappingenes in eutherian mammals
Nineteen species of eutherian mammals were analyzed by a search for the presence of trappin genes within their genome databases, and the results were combined with those of previous experimental analyses of human [17, 23], pig [18, 19], wart hog [19], collared peccary [19], cow [28], sheep [16], and guinea pig [21, 22]. In total, we could compare the trappin genes from 24 eutherian mammals (Figure 3). Within the 24 species analyzed, we could isolate trappin genes from 21 species. A single trappin-2 gene was found in 11 species, and multiple trappin genes were found in 8 species. These results indicate that trappin-2 is the most common and is an ancestral form while the other trappins are specie-specific paralogs. We could not find trappin genes in three mammalian species: mouse, rat, and rabbit. Our experimental analyses (data not shown) and the integrity of the genome databases of mouse and rat suggest that mouse and rat lack trappin genes in their genome [20]. In mouse and rat, other WAP-motif containing proteins such as SLPI and SWAMs may compensate the function of trappin. In the case of rabbit, it is not certain whether rabbit really lacks trappin genes or rabbit has a trappin gene that has not yet been analyzed by the genome project.
By computer analyses of genome databases, we found that the nine-banded armadillo as well as pig and cow also have recently-duplicated trappin multigene. The computer analyses of bovine genome databases also revealed two novel trappin paralogs and the sequences of the introns and flanking regions, which enabled the detailed evolutional analyses of bovine trappin multigenes. As previously reported porcine trappin multigenes, the WAP-coding regions of the trappin multigenes of armadillo and cow were shown to have evolved under accelerated evolution. Only dn was accelerated in the WAP coding regions of bovine trappins, and both dn and ds of the WAP coding regions were accelerated in armadillo and porcine trappins. The accelerated substitutions of non-synonymous sites of WAP-coding regions may be explained by positive Darwinian selection or relaxation of functional constraints, because we observed statistically significant positive selection of the WAP coding regions of porcine trappin-3 and trappin-9 but no significant difference between dn and ds of other trappins (Table 3). However, the question why synonymous substitutions are also accelerated can not be interpreted simply by the existence of positive Darwinian selection or relaxation of functional constraint. The mechanism whereby the synonymous substitutions are accelerated must be clarified by future studies.
The molecular clock and Bayesian analyses using the nucleotide sequences estimated the date of duplication as 11.4-15.9, 8.8-12.6, and 3.3-7.8 Mya for trappin multigenes of armadillo, cow, and pig, respectively. These results are consistent with previous experimental analyses demonstrating that the collared peccary that was separated from porcine 33 Mya [29, 30], and sheep, which was separated from bovine 19.6 Mya [31], do not have trappin multigenes [16, 19]. The findings of recently-duplicated accelerated-evolved trappin multigenes in three individual species demonstrate that mammalian genomes have the potential to form trappin multigenes in several million years. The selective pressure that formed the trappin multigenes may relate with some pathogens, and the variety of amino-acid sequences in the WAP-domain may contribute to the acquisition of antimicrobial activities for a large spectrum of pathogens. Tissue distribution of trappin paralogs in pig and cow has been shown to vary among genes: porcine trappin-2 is expressed in the trachea and the large intestine, porcine trappin-1 in the small intestine, bovine trappin-2 in the epidermis and the tongue, bovine trappin-4 in the trachea and the tongue, and bovine trappin-5 in the trachea [28]. Therefore, the selective pressures might also affect the regulation of the tissue-specific expression of trappin genes.
Our previous analyses revealed that guinea pig has a trappin-12 gene [22] and two derivative genes, SVP [32] and caltrin II [19]. SVP and caltrin II genes have significant homology with trappin including introns, noncoding region of exons, and flanking regions, but lack WAP and TGS domains, respectively. The molecular clock analysis estimated the date of the duplication of the guinea pig genes as 34.7-79.0 Mya. This date of duplication is much earlier than those of pig, cow, and armadillo.
In Afrotherians we found two trappin genes, trappin-2 and trappin-18, whose date of duplication was estimated as 91.9-244 Mya. This date is surprising, because it is earlier than the date of the periods of divergence of the major orders of eutherian mammals (70-10 Mya) [24, 31], and suggests that the duplication of trappin-18 occurred in the ancestors of the eutherian mammals before the divergence of the species. In this context, most species lack trappin-18, however, only Afrotheria has retained the gene. The reason is still unknown, but it is conceivable that trappin-18 increases resistance to Afrotheria-specific pathogen. Another possible alternative explanation is that trappin-18 underwent substitutions at a faster rate per year than other trappin genes and that lead to the duplication time being overestimated.
Conclusions
• Typical trappin genes are only found in the genome sequences of eutherians but not in those of other vertebrate species.
• Trappin-2 is the most widely distributed and is the strongest candidate of the ancestral forms of trappin. Recently-duplicated species-specific trappin paralogs are present in the genomes of armadillo, pig, and cow, and the non-synonymous sites of those genes have undergone accelerated evolution as a result of positive Darwinian selection or relaxation of functional constraint.
• Synonymous sites of recently-duplicated trappin paralogs of armadillo and pig have also undergone accelerated evolution by unknown mechanisms.
• The anciently-duplicated trappin-18 gene is only retained in afrotherian species and is a fossil molecule of the trappin gene family.
List of abbreviations
TGS:

transglutaminase substrate
WAP:

whey acidic protein
SVP:

seminal vesicle clotting protein
SLPI:

secretory leukocyte proteinase inhibitor
Mya:

million years ago
ds:

distance values for synonymous substitutions per site
dn:

distance values for non-synonymous substitutions per site
NJ:

neighbor-joining
MP:

maximum parsimony
JC:

Jukes-Cantor
NG:

Nei-Gojobori.
Declarations
Acknowledgements
We thank Tomoko Okada for her secretarial assistance. This work was supported by the Ministry of Education, Culture, Sport, Science, and Technology of Japan (MEXT) 21st Century and Global Center of Excellence Program of MEXT.
Authors' Affiliations
(1)
Department of Biological Sciences, Tokyo Institute of Technology, Yokohama, Japan
(2)
United States Department of Agriculture, National Center for Agricultural Research Utilization, Microbial Genomics Research Unit, USA
(3)
Laboratory for Neurobiology of Synapse, RIKEN Brain Science Institute, Saitama, Japan
Copyright
© Kato et al; licensee BioMed Central Ltd. 2010
This article is published under license to BioMed Central Ltd. This is an Open Access article distributed under the terms of the Creative Commons Attribution License (http://creativecommons.org/licenses/by/2.0), which permits unrestricted use, distribution, and reproduction in any medium, provided the original work is properly cited.