Research article
Open Access
On the origin of Acochlidia and other enigmatic euthyneuran gastropods, with implications for the systematics of Heterobranchia
BMC Evolutionary Biology
2010
10:323
Received: 26 April 2010
Accepted: 25 October 2010
Published: 25 October 2010
Abstract
Background
A robust phylogenetic hypothesis of euthyneuran gastropods, as a basis to reconstructing their evolutionary history, is still hindered by several groups of aberrant, more or less worm-like slugs with unclear phylogenetic relationships. As a traditional "order" in the Opisthobranchia, the Acochlidia have a long history of controversial placements, among others influenced by convergent adaptation to the mainly meiofaunal habitats. The present study includes six out of seven acochlidian families in a comprehensive euthyneuran taxon sampling with special focus on minute, aberrant slugs. Since there is no fossil record of tiny, shell-less gastropods, a molecular clock was used to estimate divergence times within Euthyneura.
Results
Our multi-locus molecular study confirms Acochlidia in a pulmonate relationship, as sister to Eupulmonata. Previous hypotheses of opisthobranch relations, or of a common origin with other meiofaunal Euthyneura, are clearly rejected. The enigmatic amphibious and insectivorous Aitengidae incerta sedis clusters within Acochlidia, as sister to meiofaunal and brackish Pseudunelidae and limnic Acochlidiidae. Euthyneura, Opisthobranchia and Pulmonata as traditionally defined are non-monophyletic. A relaxed molecular clock approach indicates a late Palaeozoic diversification of Euthyneura and a Mesozoic origin of the major euthyneuran diversity, including Acochlidia.
Conclusions
The present study shows that the inclusion of small, enigmatic groups is necessary to solve deep-level phylogenetic relationships, and underlines that "pulmonate" and "opisthobranch" phylogeny, respectively, cannot be solved independently from each other. Our phylogenetic hypothesis requires reinvestigation of the traditional classification of Euthyneura: morphological synapomorphies of the traditionally defined Pulmonata and Opisthobranchia are evaluated in light of the presented phylogeny, and a redefinition of major groups is proposed. It is demonstrated that the invasion of the meiofaunal habitat has occurred several times independently in various euthyneuran taxa, leading to convergent adaptations previously misinterpreted as synapomorphies. The inclusion of Acochlidia extends the structural and biological diversity in pulmonates, presenting a remarkable flexibility concerning habitat choice.
Keywords
Molecular ClockTaxon SamplingPhylogenetic HypothesisCerebral GanglionSister Group Relationship
Background
Since the introduction of the Heterobranchia concept by Haszprunar [1, 2], considerable advances have been achieved, solving the phylogeny of certain heterobranch groups (i.e. "families" or "orders") on morphological (e.g. Mikkelsen [3] on Cephalaspidea; Jensen [4] on Sacoglossa; Wägele and Willan [5] on Nudibranchia, Klussmann-Kolb [6] on Aplysiidae) and molecular levels (e.g. Wollscheid-Lengeling et al. [7] on Nudibranchia; Wade et al. [8] on Stylommatophora; Klussmann-Kolb and Dinapoli [9] on Pteropoda). Members of the Euthyneura - the major heterobranch clade - have conquered marine, limnic and terrestrial habitats from the deep sea to the high mountains. As a result they form one of the most successful and diverse groups within Gastropoda, and even within Mollusca as regards species numbers and ecological diversity. Quite some effort has been dedicated to revealing relationships in the taxon, and to supporting or rejecting the respective monophyly of traditional higher groupings such as Pulmonata and Opisthobranchia. Nevertheless, the phylogeny of the Euthyneura has remained partially unresolved and heavily discussed [see e.g. [10–17]]. While morphological analyses face the problem of convergent developments that might mask the true phylogenetic signal, and depend on the coding procedure for morphological characters [18], single-marker molecular analyses are challenged in choosing a suitable marker, and multi-locus molecular studies stand and fall with the available taxon sampling.
One major problem in molecular studies is that highly aberrant or derived taxa of uncertain taxonomic relationships "jump around" in phylogenetic analyses and weaken the phylogenetic signal for higher taxa. Members of such groups are often hard to obtain (especially for molecular purposes); thus, the groups are frequently either excluded from phylogenetic analyses or only included with a low number of representatives, resulting in poor overall taxon sampling. One attempt to support future phylogenetic approaches on a higher taxonomic level (i.e. Heterobranchia or Gastropoda) is to provide data on small enigmatic groups and their phylogenetic relationships step by step.
The Acochlidia, a traditional "order" of the Opisthobranchia since their establishment by Odhner [[19]; as Acochlidiacea], form one of the unsolved mysteries within Euthyneura [18]. Being a small group with only 28 valid species worldwide, these slugs are morphologically and biologically highly aberrant and diverse, comprising a series of unusual characters (e.g. secondary gonochorism, lack of copulatory organs, asymmetric radulae) [see e.g. [20–23]]. Most acochlidians live interstitially in marine sands, while some have conquered limnic systems (uniquely within opisthobranch gastropods). Their monophyly is widely accepted [20, 22, 24, 25] especially since a proposed sister group relationship of the acochlidian family Ganitidae with Sacoglossa (based on the dagger-shaped radula teeth, see [26]) could be rejected based on a comprehensive parsimony analysis of morphological characters [22]. During the last years a series of studies have redescribed key acochlidian taxa in great detail, including 3D reconstructions [27–32], and added considerably to the morphological and biological knowledge of this previously little understood group. A first comprehensive cladistic analysis of their phylogeny is now established [22], but the identity of their sister group remains uncertain. Most recent morphological analyses suggested a common origin with either the equally enigmatic Rhodopemorpha [10], the diaphanid cephalaspidean Toledonia [25], or with runcinid or philinoid cephalaspideans [22, 33]. However, morphology-based analyses by Schrödl and Neusser [22], demonstrated that Acochlidia usually group with other mesopsammic taxa, if any were included (i.e. with the sacoglossan Platyhedyle, the rhodopemorph Rhodope or the cephalaspideans Philinoglossa or Philine exigua). Thus, it is likely that convergent adaptations to the interstitial habitat mask the truly phylogenetic signals. Molecular markers independent from direct ecological pressures suggested an unresolved basal opisthobranch origin for Acochlidia ([34] based on nuclear 18S rRNA and 28S rRNA). A first combined multi-gene dataset led to the surprising result of Acochlidia clustering in a pulmonate relationship, united in a clade with Pyramidelloidea, Amphiboloidea and Eupulmonata [17]. However, only three derived acochlids [see [22]] were included, with partially missing data. Therefore this unexpected result requires re-examination based on complete multi-locus data and a more focused taxon sampling, including all previously suggested potential sister groups of Acochlidia. Most recently, another curiosity with potential affinities to Acochlidia has been described: the amphibious and insectivorous sea slug Aiteng ater from mangrove mud in Thailand [35]. Due to its unusual combination of morphological characters (prepharyngeal nerve ring, presence of ascus, uniseriate radula) it was placed in a new family, Aitengidae, with unclear phylogenetic relationships and affinities to Sacoglossa, Acochlidia and Cephalaspidea. A similar but still undescribed species was found in Japan, which was available for the present study. Morphologically it clearly belongs to the Aitengidae, but shows differences to A. ater at genus or species level (own unpublished data). Its affinity to A. ater is confirmed by comparison of the mitochondrial 16S rRNA-sequences (K. Händeler, pers. comm.).
The present study aims to clarify the origins and phylogenetic relationships of Acochlidia and potentially related enigmatic taxa such as Aitengidae, based on a combined molecular dataset from nuclear and mitochondrial markers. For the first time, representatives of six out of seven acochlidian families [22] are analysed in the context of a broad taxon sampling that includes other meiofaunal slugs (Philinoglossa praelongata, Philine exigua, Smeagol phillipensis) and most euthyneuran sub-groups. Furthermore, the potentially related Gascoignella nukuli (as a representative of Platyhedylidae) and an undescribed species of Aitengidae are included in the present study. Since there is no fossil record of Acochlidia or any other mesopsammic Euthyneura, we apply a molecular clock approach to estimate divergence times for these groups. On the basis of our phylogenetic hypothesis we discuss evolutionary trends and potential consequences for euthyneuran classification in general.
Results
Neighbournet analysis
The neighbournet graph created by SplitsTree 4 (see Additional File 1) visualises a generally high conflict in the data (shown by a netlike structure with edges of similar length), and high substitution rates displayed by long terminal branches in many taxa. There is no clade-supporting pattern for the monophyly of Opisthobranchia or of Pulmonata on the basis of our dataset. Of the major traditional heterobranch taxa only Acteonoidea and Nudipleura show a clear split support (visualised by long parallel edges); some split support is present for Pyramidelloidea, Cephalaspidea s.s., Anaspidea, Umbraculoidea, pteropod Gymnosomata and Thecosomata, Amphiboloidea and Siphonarioidea. No pattern supporting any of the other opisthobranch or pulmonate groups can be found, mainly due to affinities of individual species to neighbouring groups. No split pattern indicates a relationship between the different meiofaunal heterobranchs such as Acochlidia, Smeagol phillipensis and Philinoidea (Philinoglossa praelongata and Philine exigua) (see Additional File 1).
The monophyly of the Acochlidia receives no split support. A very weak signal supports a grouping of Acochlidia together with some pulmonate taxa, but there is no indication for affinities to other opisthobranch taxa. The acochlidian subgroups Hedylopsacea and Microhedylacea receive no split support, due to some common support for Hedylopsis (Hedylopsacea) and Asperspina (Microhedylacea). The enigmatic Aitengidae sp. receives split support grouped with acochlidian Pseudunelidae and Acochlidiidae, and shows no affinity to Sacoglossa or Cephalaspidea.
Phylogenetic analysis
Examination of differences in incongruence length between the four genetic markers - 18S rRNA, 28S rRNA, 16S rRNA and cytochrome
c
oxidase subunit I (COI) - using the ILD-test implemented in PAUP* [
36
] revealed that the phylogenetic signal is improved in the combined data set (p-value of 0.01). Thus a concatenated dataset was used for phylogenetic analyses. The likelihood values of the different partitions of the dataset were compared via the Akaike Information Criterion (AIC) and the separation into 5 partitions (one each for 18S, 28S and 16S; COI separated in the two partitions 1
st
and 2
nd
position and 3
rd
position) improved the likelihood significantly (see Additional File
2
). The dataset aligned with MAFFT, masked with Gblocks and analysed in 5 partitions led to the best likelihood value, thus it is presented herein as the most probable phylogenetic hypothesis based on our data (see Figure
1
). For comparison of the different analytical approaches and the resulting differences in tree topology and related support values, see Table
1
.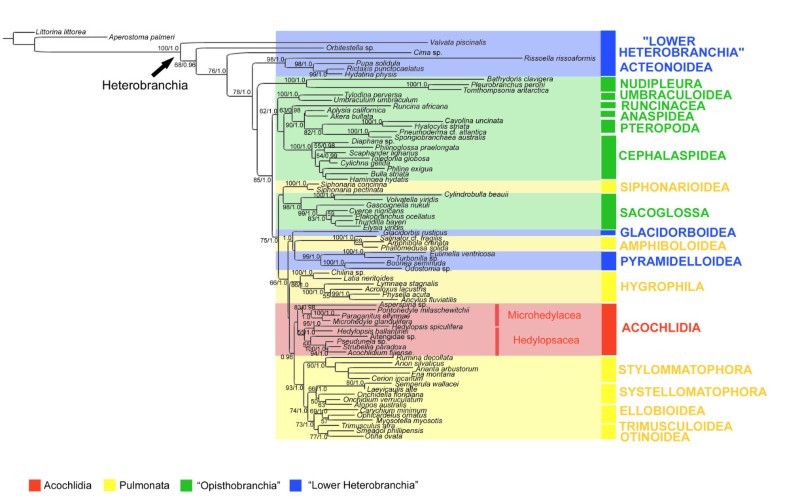 Table 1
Summary of the different analyses conducted
| Sequence alignment/masking/phylogenetic analysis | Model of sequence evolution | Length of alignment | Monophyly of Acochlidia and sister group relationship | Changes within the tree topology compared to Figure 1 |
| --- | --- | --- | --- | --- |
| MAFFT + Gblocks + RAxML | GTRCAT GTR + GAMMA | 3641 bp | see Figure 1 | see Figure 1 |
| MAFFT + ALISCORE + RAxML | GTRCAT GTR + GAMMA | 3926 bp | Acochlidia monophyletic (no BS support) Aitengidae basal within Hedylopsacea; Acochlidia sister to (Hygrophila + (Glacidorboidea + (Amphiboloidea + Pyramidelloidea))) (no BS support) | Anaspidea non-monophyletic; different internal topology of Cephalaspidea s.s. (Philine exigua basal to remaining taxa); Siphonarioidea and Sacoglossa form no clade, but Siphonarioidea + (Sacoglossa + remaining pulmonate taxa) |
| MAFFT + Gblocks + MrBayes | GTR + G + I | 3641 bp | Acochlidia monophyletic (no significant PP); sister group to Eupulmonata (0.96 PP) | basal tritomy within Euthyneura: (Acteonoidea + Rissoelloidea)/Nudipleura/remaining Euthyneura; different internal topology of Cephalaspidea s.s. (Philine exigua basal to remaining taxa), ((Glacidorboidea + Amphiboloidea) + Pyramidelloidea) |
| MAFFT + ALISCORE + MrBayes | GTR + G + I | 3926 bp | Acochlidia monophyletic (no significant PP) Aitengidae basal within Hedylopsacea; Acochlidia sister to (Hygrophila + (Glacidorboidea + Amphiboloidea + Pyramidelloidea)) (no significant PP) | Anaspidea non-monophyletic; different internal topology of Cephalaspidea s.s. (Philine exigua basal to remaining taxa); Siphonarioidea and Sacoglossa form no clade, but Siphonarioidea + (Sacoglossa + remaining pulmonate taxa); Nudipleura form a basal clade with (Acteonoidea + Rissoelloidea) |
The Euthyneura form a monophyletic group without significant bootstrap support (BS) in ML-analyses, or posterior probability (PP) in Bayesian analyses. They do not include the Acteonoidea (sister to "lower heterobranch" Rissoelloidea) in most of our analyses, but include the Pyramidelloidea and Glacidorboidea as sister group to Amphiboloidea. Within the Euthyneura the Opisthobranchia clearly result as non-monophyletic. At the basis of the Euthyneura the Nudipleura split off, with high internal support. The clade of the remaining euthyneuran taxa receives good support (85 BS/1.0 PP). First, an opisthobranch clade (no significant BS/1.0) is composed of Umbraculoidea, Runcinacea, Cephalaspidea s.s., Anaspidea and Pteropoda, with Umbraculoidea as the most basal branch. The runcinid Runcina africana forms the sister group to the Anaspidea and the well backed (82/1.0) Pteropoda (Gymnosomata and Thecosomata), and the above combined are sister to the remaining Cephalaspidea s.s., with high support for monophyly of Cephalaspidea s.s. (100/1.0). Internally the Cephalaspidea s.s. are poorly resolved, and their internal topology differs between the RAxML and Bayesian analyses (see Table 1). The mesopsammic Philine exigua and Philinoglossa praelongata do not form a clade: P. praelongata clusters with Scaphander lignarius, whereas no clear sister group relationship could be identified for P. exigua.
The Pulmonata as traditionally defined result as non-monophyletic due to the inclusion of the opisthobranch groups Sacoglossa and Acochlidia and of the "lower" heterobranch Pyramidelloidea and Glacidorboidea. The pulmonate clade is significantly supported (75/1.0), but internally characterised by an unstable topology, with no or low support concerning the sister group relationships between the major groups. Siphonarioidea and Sacoglossa form a clade (lacking significant support) sister to the remaining taxa (see Figure 1). In the analyses of the ALISCORE dataset Siphonarioidea form the most basal group, followed by a split-off of the Sacoglossa (see Table 1). The monophyletic Sacoglossa (98/1.0) combine clades with shelled and shell-less representatives, with Gascoignella nukuli (Platyhedylidae) as the most basal offshoot of the latter. Siphonarioidea + Sacoglossa are recovered as sister group to a clade composed of (Glacidorboidea + (Amphiboloidea + Pyramidelloidea)) + (Hygrophila + (Eupulmonata + Acochlidia)). Apart from Acochlidia, the monophyly of all higher taxa is well supported: Amphiboloidea (100/1.0), Pyramidelloidea (99/1.0), Hygrophila (86/1.0) and Eupulmonata (93/1.0). However, relations between these taxa are poorly resolved, not supported, and vary within the different analyses (see Table 1). In all our analyses Amphiboloidea cluster with Glacidorboidea and Pyramidelloidea. Thus Thalassophila (= Siphonarioidea and Amphiboloidea) and Basommatophora (= Thalassophila and Hygrophila) are left as polyphyletic. The Eupulmonata (Stylommatophora, Systellommatophora, Ellobioidea, Trimusculoidea and Otinoidea) are recovered sister to Acochlidia. Within Eupulmonata Stylommatophora (90/1.0) form the basal group; Systellommatophora (no significant BS/1.0) is sister to a clade Ellobioidea + (Trimusculoidea + Otinoidea), the latter comprising Smeagol phillippensis and Otina ovata.
Acochlidia are recovered as monophyletic but with no significant support. The internal phylogeny of the Acochlidia is composed of the two monophyletic traditional suborders Hedylopsacea (with Hedylopsidae, Pseudunelidae and Acochlidiidae) and Microhedylacea (with Asperspinidae and Microhedylidae including Ganitidae), and is congruent with the morphology-based phylogeny of Acochlidia proposed by Schrödl and Neusser [22]. Additionally the enigmatic Aitengidae sp. clusters within the Hedylopsacea as sister group to Pseudunelidae and Acochlidiidae (see Figure 1) or basal within Hedylopsacea.
In analyses of Gblock datasets Acochlidia are sister to Eupulmonata (see Figure 1), in ALISCORE based analyses they cluster sister to Hygrophila + (Glacidorboidea + Amphiboloidea + Pyramidelloidea) (see Table 1). To assess the level of confidence of the "best" tree (i.e. pulmonate relationship of Acochlidia), we calculated the p-values of an alternative topology (Acochlidia cluster within Opisthobranchia) in combination with the "best" tree topology. Based on the resulting p-values of the AU test the alternative hypothesis is highly significantly rejected (AU value = 0).
Molecular clock
The phylogenetic hypothesis obtained with the software BEAST (see Figure
2
) based on the concatenated four-marker Gblocks dataset largely confirms the topology obtained from RAxML and MrBayes (see Figure
1
). Based on the three fossil calibration points the Euthyneura originated already in the Palaeozoic, probably in the Carboniferous or Permian. The diversification of Euthyneura with the rise of many extant taxa started approximately in the late Palaeozoic (Permian) and major divergence events occurred in the Mesozoic. On the basis of our analysis the pulmonate clade (also including Sacoglossa, Acochlidia, Pyramidelloidea and Glacidorboidea) first appeared in the late Palaeozoic to early Mesozoic, approximately at the Permian/Triassic transition. The split between Eupulmonata and Acochlidia took place in the Mesozoic, between the Triassic and Jurassic periods. The diversification of Acochlidia is estimated to have happened in the Jurassic with the split between Hedylopsacea and Microhedylacea. Aitengidae split off from Pseudunelidae and Acochlidiidae in the Cretaceous. The transition to limnic habitats within Acochlidiidae appears as a comparatively recent event dating to the Palaeogene.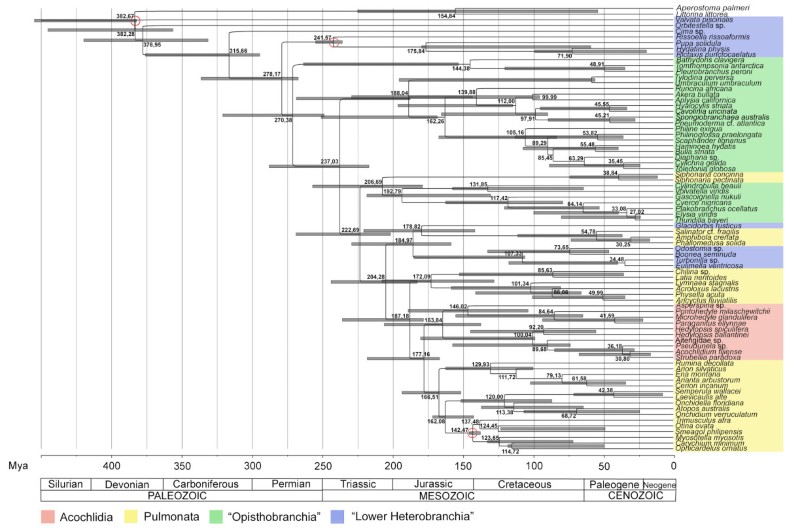 According to our data, major opisthobranch groups originated also in the Mesozoic (e.g. Cephalaspidea s.s. estimated to the Jurassic, Sacoglossa approximately Triassic/early Jurassic period, Pteropoda to the Cretaceous).
For comparison and to evaluate the impact of removing ambiguous parts of the alignment on molecular clock analyses, we repeated the analysis with the raw (i.e. uncut) alignment of our data (again using the concatenated four-marker dataset in five partitions). Even though the topology varied slightly from the one in the previous analysis, the estimated divergence times stayed surprisingly constant, supporting the rough estimate given above.
Conclusions
Our multi-locus molecular study including six out of seven acochlidian families and the recently established Aitengidae confirms a pulmonate relationship of Acochlidia, which was traditionally placed within Opisthobranchia. The enigmatic Aitengidae cluster within Acochlidia. Previously assumed morphological synapomorphies of Pulmonata (pallial cavity with pneumostome, procerebrum with cerebral gland, and presence of medio-dorsal bodies) appear as either homoplastic or plesiomorphic in light of the present phylogenetic hypothesis, as does the potential opisthobranch synapomorphy (presence of rhinophoral nerve). At present, morphological characters neither justify a placement of Acochlidia within Pulmonata, nor do they favour any opisthobranch relationships that would contradict the molecular hypothesis. The aberrant acochlidian morphology might have resulted from ancestral progenesis and paedomorphic retention of the morphology of an abnormally developed juvenile.
The present study once more underlines the respective non-monophyly of Euthyneura, Opisthobranchia and Pulmonata as defined traditionally. We demonstrate the necessity for inclusion of small, enigmatic groups to solve deep-level phylogenetic relationships, and highlight that the "pulmonate" and "opisthobranch" phylogenies cannot be solved independently from each other. Clarification of remaining enigmas such as Rhodopemorpha, and of well supported taxa with unclear relationships such as Pyramidelloidea or Sacoglossa, is needed for future advances. The reclassification suggested herein defines 1) Euthyneura as including Pyramidelloidea and Glacidorboidea; 2) Euopisthobranchia as including Umbraculoidea, Cephalaspidea s.s., Runcinacea, Anaspidea and Pteropoda, but excluding Acteonoidea and Nudipleura, as well as Sacoglossa and Acochlidia; and 3) Panpulmonata as composed of Siphonarioidea, Sacoglossa, Hygrophila, Amphiboloidea, Pyramidelloidea, Glacidorboidea, Eupulmonata and Acochlidia. The present results based on standard molecular markers require confirmation from other character sets (e.g. rare genomic changes, mitochondrial gene arrangements, additional molecular markers) and careful (re-)examination of morphological characters and homology assumptions in the light of the new phylogenetic hypothesis. Our molecular clock analysis estimates a Mesozoic origin for all major panpulmonate taxa. The poorly supported topology within Panpulmonata might be promoted by the old age of this group, which potentially stands for a series of radiation and extinction events in history, resulting in poor taxon representation in present times.
The present study shows that the mesopsammon was colonised various times independently within Euthyneura, resulting in a series of convergent adaptations to the interstitial habitat. The inclusion of Acochlidia within pulmonate taxa extends the structural and biological diversity of the pulmonate clade, which exhibits remarkable flexibility in habitat choice, with various transitions from marine to limnic and terrestrial habitats.
Declarations
Acknowledgements
Prof. Dr. Gerhard Haszprunar (ZSM/LMU Munich) and three referees are kindly acknowledged for valuable discussion and for helpful comments on the manuscript. Timea P. Neusser and Bastian Brenzinger (both ZSM) contributed with their knowledge of acochlidian anatomy. Dr. Matthias Glaubrecht (Museum für Naturkunde Berlin), Dr. Alexander Martynov (Zoological Museum, Moscow State University) and Dr. Kees Swennen (Prince of Songkla University) kindly provided material for molecular analysis. Katharina Händeler (University of Bonn) is thanked for sharing mitochondrial data on Aiteng ater (Aitengidae), and Dr. Alexander Nützel (University of Munich) for critical evaluation of potential fossil calibration points. Special thanks go to Dr. Dirk Metzler (University of Munich) for introduction to and support in molecular clock analyses. Martin Spies (ZSM) kindly helped improving our English. This study was financed by a PhD scholarship from the Volkswagen foundation to KJ. Additional support for molecular analyses was provided by the DNA Bank Network (DFG grant INST 17818/1-1). Field work was supported by the German Research Foundation (DFG SCHR 667/4 to MS) and the GeoBioCenterLMU.
Authors' Affiliations
(1)
Bavarian State Collection of Zoology, München, Germany
(2)
Department of Marine Ecosystems Dynamics, Atmosphere and Ocean Research Institute, University of Tokyo, Kashiwa, Chiba, Japan
(3)
Conservation of Aquatic Biodiversity, Faculty of Agriculture, Okayama University, Okayama, Japan
Copyright
© Jörger et al; licensee BioMed Central Ltd. 2010
This article is published under license to BioMed Central Ltd. This is an Open Access article distributed under the terms of the Creative Commons Attribution License (http://creativecommons.org/licenses/by/2.0), which permits unrestricted use, distribution, and reproduction in any medium, provided the original work is properly cited.