Research article

Open Access
Introgressive hybridization and the evolutionary history of the herring gull complex revealed by mitochondrial and nuclear DNA
BMC Evolutionary Biology
2010
10:348
Received: 16 December 2009
Accepted: 11 November 2010
Published: 11 November 2010
Abstract
Background
Based on extensive mitochondrial DNA (mtDNA) sequence data, we previously showed that the model of speciation among species of herring gull (Larus argentatus) complex was not that of a ring species, but most likely due more complex speciation scenario's. We also found that two species, herring gull and glaucous gull (L. hyperboreus) displayed an unexpected biphyletic distribution of their mtDNA haplotypes. It was evident that mtDNA sequence data alone were far from sufficient to obtain a more accurate and detailed insight into the demographic processes that underlie speciation of this complex, and that extensive autosomal genetic analysis was warranted.
Results
For this reason, the present study focuses on the reconstruction of the phylogeographic history of a limited number of gull species by means of a combined approach of mtDNA sequence data and 230 autosomal amplified fragment length polymorphism (AFLP) loci. At the species level, the mtDNA and AFLP genetic data were largely congruent. Not only for argentatus and hyperboreus, but also among a third species, great black-backed gull (L. marinus) we observed two distinct groups of mtDNA sequence haplotypes. Based on the AFLP data we were also able to detect distinct genetic subgroups among the various argentatus, hyperboreus, and marinus populations, supporting our initial hypothesis that complex demographic scenario's underlie speciation in the herring gull complex.
Conclusions
We present evidence that for each of these three biphyletic gull species, extensive mtDNA introgression could have taken place among the various geographically distinct subpopulations, or even among current species. Moreover, based on a large number of autosomal AFLP loci, we found evidence for distinct and complex demographic scenario's for each of the three species we studied. A more refined insight into the exact phylogeographic history within the herring gull complex is still impossible, and requires detailed autosomal sequence information, a topic of our future studies.
Keywords
Amplify Fragment Length Polymorphism
Faroe Island
Amplify Fragment Length Polymorphism Data
Amplify Fragment Length Polymorphism Locus
Larus Argentatus
Background
For speciation, the divergence of an ancestral population into two reproductively isolated sister taxa requires genetic differentiation of at least those loci involved in reproductive (sexual) functions [1]. With ongoing gene flow this process will be delayed and it is unclear to what extent gene flow must be reduced - or is still allowed - in order for speciation to be "complete" [2, 3]. It was Ernst Mayr [4], who proposed that reproductive isolation could evolve through 'isolation-by-distance', i.e. with continuous gene flow, when peripheral populations meet after expanding around a large, uninhabitable area. This specific speciation model was later termed the 'ring species' model [5]. Geographic overlap between taxa that are elsewhere connected through interbreeding populations is an essential element of this model, because it is ongoing gene flow that distinguishes ring species from cases of allopatric speciation that happen to be arranged in a roughly circular fashion [6].
For a long time, the herring gull (
Larus argentatus
) complex was considered the classical example of a ring species. The herring gull complex comprises of more than 20 taxa of large gulls [
7
] occupying a circumpolar breeding range in the northern hemisphere. The various herring gull taxa differ in body size, in the darkness of their dorsal plumage, and in bare part colours. According to Mayr's model [
4
], herring gulls originated in the Aralo-Caspian region, from where gulls spread in a number of different directions (see Figure
1A
and reference [
8
]). Mayr and others envisioned all taxa of the circumpolar chain to be connected by gene flow, while herring gulls and lesser black-backed gull (
L. fuscus
) in Europe, the hypothetical endpoints of the ring, have reached full reproductive isolation and now coexist as distinct species [
4
,
9
].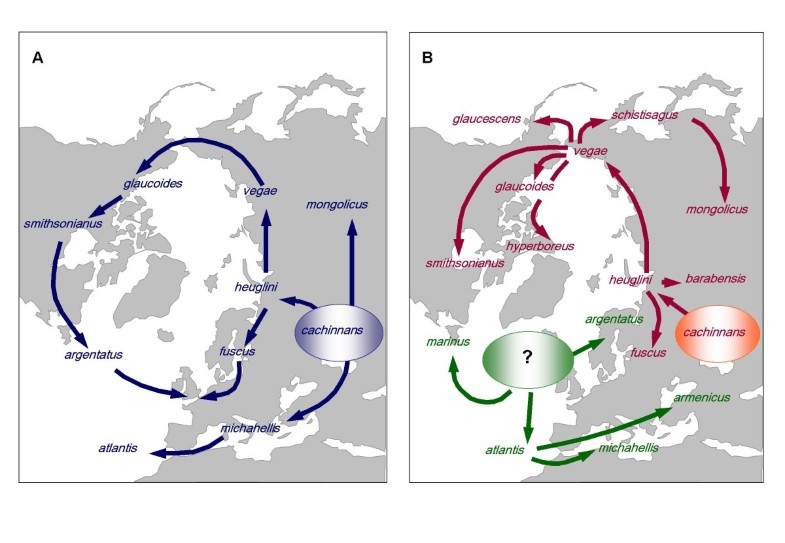 In contrast, we found strong evidence that the ring species model did not adequately describe the evolution of the herring gull group because, contrary to Mayr's [4] proposal, there was no overlap between the endpoints of a ring of interbreeding taxa ([8], Figure 1B). We identified two major only distantly related groups of mitochondrial DNA (mtDNA) sequence haplotypes - termed clade 1 and clade 2 [8]. Sympatric coexistence, e.g. between argentatus (not derived from smithsonianus as assumed by Mayer) and fuscus in Europe, occurred between taxa with clade 1 and clade 2 mtDNA haplotypes and was not due to "circular overlap", but to secondary sympatry between forms that diverged in allopatry. We also found that more taxa than originally suspected (and not included by Mayr) were full members of the species complex, e.g. great black-backed gull (Larus marinus), and glaucous gull (L. hyperboreus).
Unexpectedly, we observed two biphyletic taxa in the mtDNA haplotype network with argentatus showing no discrete geographic pattern in carrying clade 1 or clade 2 mtDNA haplotypes. In contrast, Nearctic breeding hyperboreus carried exclusively clade 2 haplotypes whereas Palearctic breeding hyperboreus carried only clade 1 haplotypes. We provisionally explained this by the combined effects of hybridization events and past gene flow episodes or incomplete lineage sorting of a polymorphic ancestral gene pool. Recently, Vigfussdottir et al. [10] tried to unravel the underlying processes among these two biphyletic gull species with a combined molecular approach (using mtDNA sequence haplotypes and autosomal microsatellite genotypes) from argentatus and hyperboreus breeding in Iceland and Greenland. They also found the Icelandic breeding hyperboreus to be closely related to other European breeding hyperboreus, whereas the Greenland breeding birds share their genetic information exclusively with Nearctic hyperboreus. Vigfussdottir, like Liebers et al. [8] found mtDNA haplotypes of both clades among Icelandic argentatus populations. Interestingly, they also observed a change over time with respect to mtDNA clade membership, with an increase of clade 2 haplotypes among more recently sampled argentatus. It is obvious from both studies [8, 10] that there is a need for a much more detailed investigation of these the two biphyletic taxa based on many more autosomal polymorphic loci. For this reason, we used AFLP (amplified fragment length polymorphisms [11]) as autosomal nuclear markers in the present study. Previous studies have shown that AFLP is a good marker system for population genetics [12–15], reconstruction of shallow phylogenies [16–18], population assignment [19], and hybrid detection [20].
Much to our surprise, we discovered a third biphyletic member of the herring gull complex, the great black-backed gull (Larus marinus) in the early stages of this study. Palearctic marinus all carry a clade 1 mtDNA haplotypes whereas Nearctic marinus displayed a mix of clade 1 and clade 2 haplotypes.
Therefore, the present study focuses more specifically on the three taxa that were biphyletic in the mtDNA network, argentatus, hyperboreus, and marinus, in order to obtain a more detailed insight into the various demographic/introgression events that caused the present-day pattern of genetic variation. We also included samples of a number of closely related taxa, Mediterranean and Macaronesian yellow-legged gulls (michahellis, and atlantis), Caspian gull (cachinnans), North American herring gull (smithsonianus), and lesser black-backed gulls (fuscus and graellsii), all members of the herring gull complex [8].
Discussion
Evolution of European argentatus
The European herring gull L. argentatus has long been considered a single species with many different subspecies and/or geographical variants [4, 7, 9]. We were able to reduce this complex picture into an assemblage including several distinct taxa (e.g. argentatus and smithsonianus) which were not each other's closest relatives [8]. Contrary to Mayr's [4] proposal, the herring gull assemblage did not represent a ring species model. We discovered that the current mitochondrial DNA genetic make-up of the argentatus showed clear signs of past hybridisation between birds derived from different ancestral refugia, although no definite geographic scenario could be reconstructed for this reticulation because of insufficient sampling in our previous study. Such a biphyletic representation in the mtDNA haplotype network (also evident in hyperboreus and marinus, see Figure 2 in this article) provided a striking illustration of how discrepancies could arise between a single gene tree (in this case mtDNA based) and a taxon phylogeny. The fact that some gull species, apparently due to complex past demographic events, contain highly divergent mtDNA haplotypes suggests that mitochondrial lineage sorting could have quite different and unpredictable outcomes.
In the present study we tried to obtain more clarification into the apparent north versus south genetic differentiation in argentatus. Based on a detailed mtDNA analysis among 377 European herring gulls from 16 different breeding colonies we now clearly demonstrate that the more northern breeding birds (based on geography considered to be nominate argentatus and/or omissus) display predominantly clade 1 mtDNA haplotypes, whereas southern breeding birds (of the subspecies argenteus) display typical clade 2 mtDNA haplotypes (see the pie charts in Figure 3). Using STRUCTURE, and independently confirmed by LAPEA, we found strong evidence for a complex autosomal genetic substructure among argentatus based on 230 AFLP loci (Figure 3, Additional File 4). This substructure, consisting of four distinct ancestral populations, is partly explained by a distinct northern (yellow in both figures) and a distinct southern (green in both figures) distribution. However, at the level of individual gulls these did not correlate with the two geographically distinct mtDNA clades. We also observed genetic signals of two other ancestral populations, probably reflecting more ancient demographic events (red and blue). This pattern of a number of distinct ancestral contributions among present day individuals resembles very much the distinct substructure pattern among globally dispersed human populations. Based on genome wide sets of genetic polymorphisms [32], human populations carry the signals of a number of marked demographic events, generally assumed to reflect the combined effects of genetic bottlenecks and substantial migration events, leading to a distinct clinal pattern of isolation by distance. The timing of this process is often reflected in the hierarchy by means of which distinct ancestral genetic populations was estimated by STRUCTURE. Among humans, the first marked event is nearly always visible at K = 2 (distinguishing African from non-African populations). If we assume that the patterns revealed by STRUCTURE and LAPEA among argentatus also reflects (in part) the temporal timing of a number of important demographic events, the most likely scenario explaining the genetic substructure among argentatus is the one whereby the blue component represents the first expansion of birds (carrying clade 1 mtDNA haplotypes, [8]) out of the original Aralo-Caspian refugium. The red autosomal component subsequently reflects the second expansion (carrying mtDNA clade 2 haplotypes) out of the same Aralo-Caspian refugium. A relatively more recent process (the last Glaciation?) could subsequently be responsible for the differentiation between discrete northern (yellow) and southern (green) argentatus populations, both involving birds that already harboured signals from the two more ancient events. The complex present day distribution of both the two mtDNA types as well as the four autosomal types among argentatus is most likely explained by an ongoing, and complex process of introgression while populations expand and contract [33].
Colonization pattern of marinus
Our previous study did not support the traditional view of greater black-backed gulls (L. marinus) being a distinct outgroup relative to the herring gull complex, although marinus is fully reproductively isolated from all species it co-occurs with [8]. We suggested that marinus diverged in allopatry from the rest of clade 1. Our present study now also includes a substantial number of Nearctic breeding marinus (n = 32) in addition to 32 samples from Palearctic breeding colonies. Apart from a single individual from the Faroe Islands, all Palearctic marinus have clade 1 mtDNA haplotypes, that are also observed among the majority (21 out of 32) Nearctic marinus samples. This confirms that marinus most likely developed originally in Europe as a member of mtDNA clade 1, and only very recently moved towards the west and colonized eastern North American coasts. This process is supported by our AFLP results. STRUCTURE (Figure 4) and LAPEA (Additional File 5) analysis clearly showed that 15 Nearctic marinus carry autosomal signals that are identical to all 32 Palearctic marinus (the pale green, blue and orange genetic components). The remaining 17 Nearctic marinus display a unique (pale red) genetic component that is nearly fixed in birds from Lake Ontario (Figure 4). For this unique genetic component there are two possible explanations. One, it could be due to inbreeding/or a population bottleneck, both leading to a much reduced genetic heterogeneity. It is known that such individuals can group together when analyzed by STRUCTURE, and this seems to be confirmed by their reduced unbiased heterogeneity (0.23, compared to 0.29 among Palearctic marinus). Initially, we could not exclude a second explanation that this unique nearctic genetic component could be due to autosomal introgression by, very possibly smithsonianus. We investigated this possibility by a combined analysis of marinus together with smithsonianus. We were unable to discern a shared autosomal genetic component between these two gull taxa (results not shown). As a consequence, the combined mtDNA and AFLP results strongly suggest that after only a brief period of hybridization of marinus in the Nearctic with members of the Beringian clade [34], most likely with smithsonianus, they again rapidly became reproductively isolated. This process could have involved only a limited number of individuals and only lasted a limited number of generations. As such this is not an exceptional process. Although L. marinus is now fully reproductively isolated from all species it co-occurs with, in the mtDNA network it is nested among several taxa with known hybridization during colonization processes: argentatus × hyperboreus [35, 36], michahellis × graellsii [37], cachinnans × argentatus [38], and earlier in the 20th century argentatus × fuscus [39]. This also supports the general view that reinforcement plays an important role in the evolution of reproductive isolation [40, 41]. If this is also true in gulls, and our present data seems to support this, it could mean that marinus, after a period of allopatric divergence, has had a relatively long history of geographic contact with closely related taxa which facilitated the perfection of reproductive barriers through reinforcement multiple times. This may also explain why marinus achieved complete reproductive isolation more rapidly than other taxa in the herring gull group and, thus, why the phylogenetic age of the marinus lineage was previously overestimated.
Phylogeographic history of circumpolar breeding hyperboreus
Among the circumpolar breeding glaucous gull (L. hyperboreus) we see an even more distinct clustering of mtDNA haplotypes into two subgroups. All hyperboreus from Nearctic breeding colonies display exclusively clade 2 mtDNA haplotypes, whereas Palearctic breeding hyperboreus display clade 1 mtDNA haplotypes (Figures 2 and 5). The only two Palearctic hyperboreus with clade 2 mtDNA sequences are individuals wintering on Faroe Islands. The glaucous gull is a member of the very large Beringian clade [34] that originated and diversified in the North Pacific/NW Arctic coasts of North America and North-East of Russia. Based on its clade 2 mtDNA haplotypes it is genetically very closely related to smithsonianus (see Figure 2). This tight genetic affinity between hyperboreus and smithsonianus is confirmed by means of our AFLP data. The STRUCTURE and LAPEA analyses on only these two taxa combined, based on all 230 AFLP loci, confirm the close relationship between these two taxa (Figure 5, Additional File 6). In addition, when analysing all taxa combined, for 230 AFLP loci and 43 selected AFLP loci, STRUCTURE combines these two taxa at lower levels (K = 2 - 4) in a majority of independent runs. From the mtDNA network it appears that hyperboreus only shares non-basal clade 1 haplotypes with argentatus (Figure 2, group B) that are obviously genetically more similar to each other than the widely spaced clade 2 mtDNA haplotypes observed among the Nearctic hyperboreus (Figure 2, group H and I). This suggests that after the most recent deglaciation event Nearctic hyperboreus spread along the most northern Palearctic coasts into northern Europe where they came into contact with argentatus birds of clade 1. The AFLP data shows that the North American hyperboreus populations are inseparable from Eurasian hyperboreus. If we combine the mtDNA results and AFLP results, the simplest explanation is a scenario where, on its way into Europe, hyperboreus lost their original mtDNA by complete introgression of argentatus mtDNA, but retained their original autosomal gene pool. A sufficiently long time of hybridization of hyperboreus with argentatus combined with continued skewed introgression resulted in the complete mitochondrial replacement by clade 1 haplotypes into the gene pool of European hyperboreus, that reaches as far east as Taimyr. Unfortunately we have no samples from further east in Russia. Obviously, only with those samples we can completely resolve this circumpolar expansion/introgression process.
Conclusions
The present study focuses on the reconstruction of the phylogeographic history of three gull species: European herring gull (L. argentatus), glaucous gull (L. hyperboreus), and great black-backed gull (L. marinus). For argentatus and hyperboreus we observed a biphyletic distribution of mtDNA sequence haplotypes in a previous study [8], whereas the present study also demonstrated a biphyletic mtDNA haplotype distribution for marinus. For argentatus the mtDNA biphyletic distribution corresponded partly with a geographically distinct distribution among breeding colonies. AFLP loci indicate a remarkable complex autosomal pattern of genetic substructure. Among European herring gulls we detect signals of a number of distinct demographic events that could correspond with a repeated expansion out of the same ancestral refugium, later followed by a separation into a northern and southern population. Moreover, our data also suggest that there is a still ongoing process of introgression among all argentatus populations that is impossible to discern in more detail using AFLP.
For hyperboreus, the most likely scenario explaining their present biphyletic mtDNA distribution is a process whereby Nearctic hyperboreus invaded into northern argentatus refugia. After some time, upon complete replacement of their original clade 2 mtDNA haplotypes by argentatus derived clade 1 haplotypes, they again became more-or-less reproductively isolated (but see [10]). As a consequence of this process, Palearctic hyperboreus now strictly displays clade 1 mtDNA haplotypes, but still remain genetically more similar in their autosomes to their closely related Nearctic ancestors (also including smithsonianus).
The present data presents an even more recent expansion process of Palearctic marinus into the Nearctic. If our current AFLP and mtDNA data are reliable, the most likely scenario of marinus involves a very recent extension of their breeding range into Northern America that briefly involved some hybridisation with (most likely) smithsonianus, that seems only reflected in mtDNA.
We originally speculated that in addition to a more detailed mtDNA analyses, the use of AFLP markers could substantially supplement and clarify the complex process of population expansions among members of the herring gull assemblage. AFLP loci have proven to be very useful and informative [42, 43]. In some cases, AFLP results strongly supported those based on mtDNA haplotypes among Greenish Warblers and Wild turkeys [44, 45], although others report a much less clear result, e.g. among Crossbills [46], most likely due the latter's more recent "speciation" process, not unlike the situation among the herring gull assemblage. Our present study demonstrates that AFLP loci do provide additional support for a much more complex speciation process among the herring gull species assemblage. However, for a more detailed reconstruction of the timing and directions of the various processes of gene flow, we need massive autosomal sequence haplotype information. This, obviously, is the topic of our future analyses among the members of this fascinating species complex.
Declarations
Acknowledgements
We wish to acknowledge the Department of Ecology of the University of Jena for cooperation and lab use. We thank all collectors for help with the sampling. We wish to acknowledge Thirsa Kraaijenbrink and Kristiaan van der Gaag for their support in producing valuable data. In addition we wish to acknowledge Michael Weiß for his support in statistical analyses. This work was supported by funds from the Deutsche Forschungsgemeinschaft (DFG) to DLH (Li 1049/1-1, 1-2), and by a grant from the Netherlands Genomics Initiative (NGI) and Netherlands Organization for Scientific Research (NWO) within the framework of the Forensic Genomics Consortium Netherlands (FGCN) to PdK.
Authors' Affiliations
(1)
German Oceanographic Museum, Stralsund, Germany
(2)
University of Jena, Institute of Ecology, Jena, Germany
(3)
Department of Radiology, The University of Chicago, Chicago, USA
(4)
MGC-Department of Human and Clinical Genetics, Leiden University Medical Center, Leiden, The Netherlands
Copyright
© Sternkopf et al; licensee BioMed Central Ltd. 2010
This article is published under license to BioMed Central Ltd. This is an Open Access article distributed under the terms of the Creative Commons Attribution License (http://creativecommons.org/licenses/by/2.0), which permits unrestricted use, distribution, and reproduction in any medium, provided the original work is properly cited.