Research article
Open Access
Towards resolving Lamiales relationships: insights from rapidly evolving chloroplast sequences
BMC Evolutionary Biology
2010
10:352
Received: 25 May 2010
Accepted: 12 November 2010
Published: 12 November 2010
Abstract
Background
In the large angiosperm order Lamiales, a diverse array of highly specialized life strategies such as carnivory, parasitism, epiphytism, and desiccation tolerance occur, and some lineages possess drastically accelerated DNA substitutional rates or miniaturized genomes. However, understanding the evolution of these phenomena in the order, and clarifying borders of and relationships among lamialean families, has been hindered by largely unresolved trees in the past.
Results
Our analysis of the rapidly evolving trnK/matK, trnL-F and rps16 chloroplast regions enabled us to infer more precise phylogenetic hypotheses for the Lamiales. Relationships among the nine first-branching families in the Lamiales tree are now resolved with very strong support. Subsequent to Plocospermataceae, a clade consisting of Carlemanniaceae plus Oleaceae branches, followed by Tetrachondraceae and a newly inferred clade composed of Gesneriaceae plus Calceolariaceae, which is also supported by morphological characters. Plantaginaceae (incl. Gratioleae) and Scrophulariaceae are well separated in the backbone grade; Lamiaceae and Verbenaceae appear in distant clades, while the recently described Linderniaceae are confirmed to be monophyletic and in an isolated position.
Conclusions
Confidence about deep nodes of the Lamiales tree is an important step towards understanding the evolutionary diversification of a major clade of flowering plants. The degree of resolution obtained here now provides a first opportunity to discuss the evolution of morphological and biochemical traits in Lamiales. The multiple independent evolution of the carnivorous syndrome, once in Lentibulariaceae and a second time in Byblidaceae, is strongly supported by all analyses and topological tests. The evolution of selected morphological characters such as flower symmetry is discussed. The addition of further sequence data from introns and spacers holds promise to eventually obtain a fully resolved plastid tree of Lamiales.
Keywords
rbcLMaximum Parsimony TreeHigh CoreAncestral State ReconstructionmatK Sequence
Background
With more than 23,000 species in at least 23 families [
1
], Lamiales (eudicots/asterids) are one of the largest orders of flowering plants, with representatives found all over the world. The highest diversity is contributed by herbaceous plants with mono-symmetric flowers. Some members are economically important, such as Lamiaceae (pot-herbs like mint, sage, oregano or basil), Oleaceae (olives), Pedaliaceae (sesame), Verbenaceae (timber, medicinal) Plantaginaceae (drugs like digitalis, ornamentals) and Scrophulariaceae (ornamentals). The order contains lineages with highly specialized life forms and traits of particular scientific interest. So far, their comparative study has been limited by the lack of a robust phylogenetic framework for Lamiales. Desiccation-tolerant members (so-called "resurrection plants", see Figure
1a
) of the recently described family Linderniaceae [
2
] are a focus of molecular and evolutionary studies [
3
,
2
]. Extreme metabolic and genomic shifts are exhibited by parasitic plants. With Orobanchaceae, Lamiales harbor the largest number of parasitic angiosperms (Figure
1b
). The family comprises both hemi- and holoparasites [
4
], with some species causing serious damage in agriculture [
5
]. Chloroplast genomes of members of Orobanchaceae show gene order rearrangements, high evolutionary rates and gene losses, potentially as a consequence of parasitism in this family. One line of current research in the family concentrates on gradual plastid evolution under increasingly relaxed functional constraints [Wicke et al., in prep].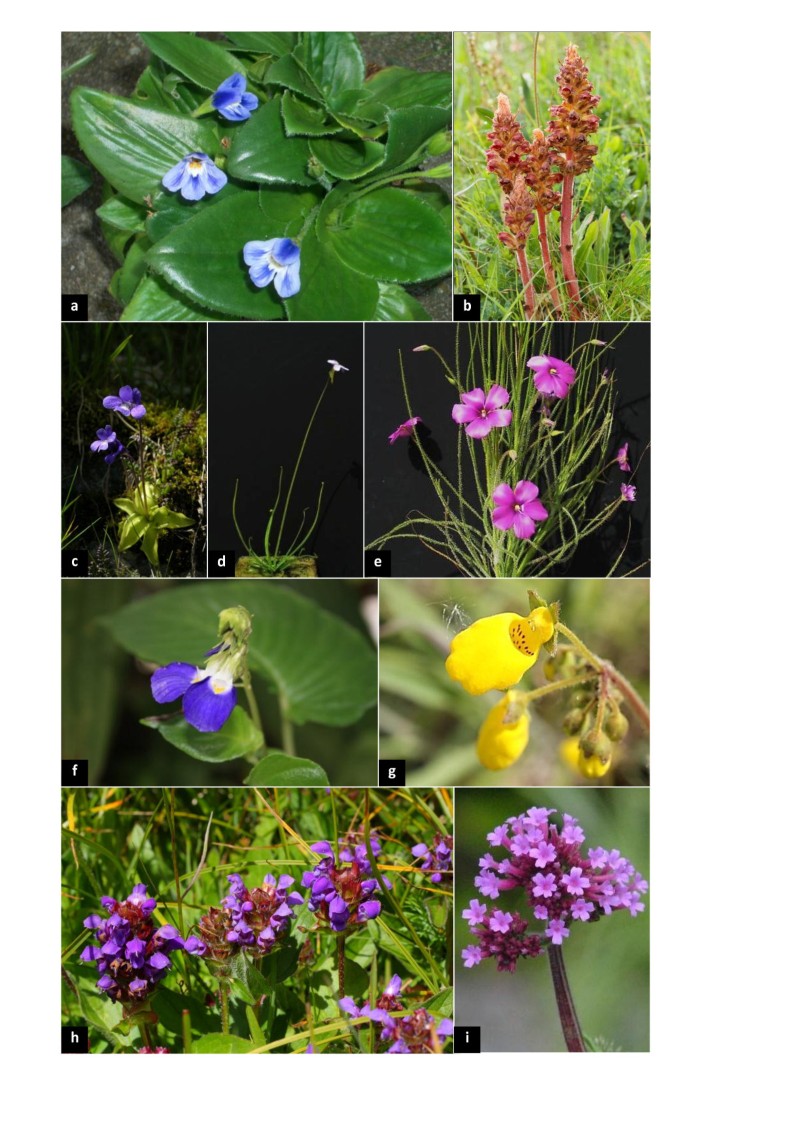 Discussion
Lamiales sensu APGIII [28] (including Carlemanniaceae and Plocospermataceae) receive maximal support in the present study which is the first to sample taxa from these two families in a multigene study; a single gene study [36] did not provide support for the branching order of the early branching lamialean families.
Conclusions
Utility of chloroplast markers for Lamiales phylogenetics
Phylogenetic analysis of combined trnK/matK, trnL-F and rps16 intron sequences enhanced both resolution and statistical support compared to previous studies. Addition of the more slowly evolving protein coding rbcL and ndhF genes to our three-marker dataset did not increase resolution and support values of trees to the slightest degree (Additional file 6, Figure S5), and analyses of each of the coding markers alone yield highly unresolved topologies.
Despite the step forward reported here, more data need to be compiled to clarify the affinities within the derived Lamiales, especially for finding the next relatives of carnivorous lineages and a better understanding of the path to carnivory in the order. A recent simulation study argued for accumulating many more characters from slow evolving markers, and recommends 10,000-20,000 characters for Lamiales [40]. Apart from the much greater effort required by this strategy, the simulation approach taken by the authors does not allow a rejection of the utility of non coding markers. This is because the distribution of rates and homoplasy at individual sites, which seems to be a very important factor determining phylogenetic utility [57], was not taken into account by the authors. Moreover, simulations were exclusively based on substitutional patterns derived from functionally highly constrained ndhF and rbcL data sets with a scarce taxon sampling and a very rough estimation of phylogeny by neighbor-joining. A currently popular approach in large scale angiosperm phylogenetics takes this idea one step further and uses concatenated coding sequences extracted from complete cp genome sequences (e.g. [118]).
However, regardless of the markers and number of characters used, it has emerged as highly crucial to maintain a high taxon sampling density while accumulating more characters [40, 112, 119]. Although the cost for complete cp genome sequences have dropped dramatically in the past years, in particular when only protein coding regions are targeted and no assembly is aimed at, the cost/benefit ratio so far has prevented researchers from taking this avenue for resolving the Lamiales phylogeny. For such an approach, it is currently unclear whether an appropriate number of taxa could be upheld while keeping costs at a reasonable level, and whether the information content in even a large number of slowly evolving protein coding genes would significantly exceed that in just a few more quickly evolving cp genome regions. In view of the substantial progress made here with this kind of marker, adding further data from non-protein coding chloroplast regions seems a promising strategy that, alone or in combination with phylogenomic approaches, might finally provide us with a clear picture of Lamiales evolution.
Declarations
Acknowledgements
This study was funded by DFG grant "Carnivory in Lamiales: understanding character evolution, substitution rate plasticity, and genome miniaturization", MU2875/2, to K.F.M. Additional funding was obtained from the DFG project "Mutational dynamics of non-coding genomic regions and their potential for reconstructing evolutionary relationships in eudicots" (BO1815/2-1 and/-2; QU153/2-1 and/2-2) to T.B. and Dietmar Quandt. Thanks to Nadja Korotkova for a photograph used in Figure 1. The authors would like to thank the staff of the Bonn Botanical Gardens for cultivating plants analyzed in the present study, and the curators of the respective herbaria (BONN, M) for providing material for DNA extraction. We also want to thank Richard Olmstead and two anonymous reviewers for very helpful comments that helped to improve the manuscript.
Authors' Affiliations
(1)
Institute for Evolution and Biodiversity, University of Muenster, Münster, Germany
(2)
Department Biology, Systematic Botany and Mycology, Ludwig-Maximilians-Universität München, Munich, Germany
(3)
Institut für Integrierte Naturwissenschaften - Biologie, Universität Koblenz-Landau, Koblenz, Germany
(4)
Institut für Biologie und Umweltwissenschaften (IBU), Carl von Ossietzky Universität Oldenburg, Oldenburg, Germany
(5)
Botanischer Garten und Botanisches Museum Berlin-Dahlem and Institute for Biology, Dahlem Center of Plant Sciences (DCPS), Freie Universität Berlin, Berlin, Germany
References
Stevens PF: Angiosperm Phylogeny Website. 2001, Version 7, May 2006, [http://www.mobot.org/MOBOT/research/APweb/]Google Scholar
Rahmanzadeh R, Müller KF, Fischer E, Bartels D, Borsch T: Linderniaceae and Gratiolaceae (Lamiales) are further lineages distinct from Scrophulariaceae. Plant Biology. 2005, 7: 67-78. 10.1055/s-2004-830444.PubMedGoogle Scholar
Bartels D: Desiccation tolerance studied in the resurrection plant Craterostigma plantagineum. Integr Comp Biol. 2005, 45: 696-701. 10.1093/icb/45.5.696.PubMedGoogle Scholar
Young ND, Steiner KE, dePamphilis CW: The evolution of prasitism in Scrophulariaceae/Orobanchaceae: plastid gene sequences refute an evolutionary transition series. Ann MO Bot Gard. 1999, 86: 876-893. 10.2307/2666173.Google Scholar
Richies CR, Parker C: Parasitic plants as weeds. Parasitic plants. 1995, London, UK: Chapman & Hall, 226-255.Google Scholar
Lloyd FE: Carnivorous plants. 1942, Massachusetts: WalthamGoogle Scholar
Juniper BE, Robins RJ, Joel DM: The carnivorous plants. 1989, London: Academic pressGoogle Scholar
Brugger J, Rutishauser R: Bau und Entwicklung landbewohnender Utricularia-Arten. Bot Helv. 1989, 99: 91-146.Google Scholar
Rutishauser R, Sattler R: Complementarity and heuristic value of contrasting models in structural botany: 3. Case study on shoot-like "leaves" and leaf-like "shoots" in Utricularia macrorhiza and U. purpurea (Lentibulariaceae). Bot Jahrb. 1989, 111: 121-137.Google Scholar
Rutishauser R, Isler B: Developmental genetics and morphological evolution of flowering plants, especially Bladderworts (Utricularia): Fuzzy arberian morphology complements classical morphology. Ann Bot. 2001, 88: 1173-1202. 10.1006/anbo.2001.1498.Google Scholar
Barthlott W, Porembski S, Fischer E, Gemmel B: First protozoa-trapping plant found. Nature. 1998, 392: 447-10.1038/33037.Google Scholar
Greilhuber J, Borsch T, Müller KF, Worberg A, Porembski S, Barthlott W: Smallest angiosperm genomes found in Lentibulariaceae, with chromosomes of bacterial size. Plant Biology. 2006, 8: 770-777. 10.1055/s-2006-924101.PubMedGoogle Scholar
Müller KF, Borsch T, Legendre L, Porembski S, Theisen I, Barthlott W: Evolution of carnivory in Lentibulariaceae and the Lamiales. Plant Biology. 2004, 6: 477-490. 10.1055/s-2004-817909.PubMedGoogle Scholar
Müller KF, Borsch T, Legendre L, Porembski S, Barthlott W: Recent progress in understanding the evolution of Lentibulariaceae. Plant Biology. 2006, 8: 748-757. 10.1055/s-2006-924706.PubMedGoogle Scholar
Hartmeyer S: Carnivory of Byblis revisited-A simple method for enzyme testing on carnivorous plants. Carniv Pl Newslett. 1997, 26: 34-38.Google Scholar
Plachno BJ, Adamec L, Lichtscheidl IK, Peroutka M, Adlassnig W, Vrba J: Fluorescence labelling of phosphatase activity in digestive glands of carnivorous plants. Plant Biology. 2006, 8: 813-820. 10.1055/s-2006-924177.PubMedGoogle Scholar
Lang F: Untersuchungen über Morphologie, Anatomie und Samenentwicklung von Polypompholyx und Byblis gigantea. Flora. 1901, 149-206.Google Scholar
Conran JG: The embryology and relationships of the Byblidaceae. Aust Sys Bot. 1996, 9: 243-254. 10.1071/SB9960243.Google Scholar
Albert VA, Williams SE, Chase MW: Carnivorous plants: Phylogeny and structural evolution. Science. 1992, 257: 1491-1495. 10.1126/science.1523408.PubMedGoogle Scholar
Taylor P, Souza VC, Giulietti AM, Harley RM: Philcoxia: A new genus of Scrophulariaceae with three new species from Eastern Brazil. Kew Bulletin. 2000, 55: 155-163. 10.2307/4117770.Google Scholar
Fritsch P, Almeda F, Martins AB, Cruz BC, Estes D: Rediscovery and phylogenetic placement of Philcoxia minensis (Plantaginaceae), with a test of carnivory. Proc Calif Acad Sci. 2007, 58: 447-467.Google Scholar
Albach DC, Meudt HM, Oxelman B: Piecing together the "new" Plantaginaceae. Am J Bot. 2005, 92: 297-315. 10.3732/ajb.92.2.297.PubMedGoogle Scholar
McDade LA, Moody ML: Phylogenetic relationships among Acanthaceae: evidence from noncoding trnL-trnF chloroplast DNA sequences. Am J Bot. 1999, 86: 70-80. 10.2307/2656956.PubMedGoogle Scholar
Olmstead RG, Bremer B, Scott KM, Palmer JD: A parsimony analysis of the Asteridae s.l. based on rbcL sequences. Ann MO Bot Gard. 1993, 80: 700-722. 10.2307/2399855.Google Scholar
Olmstead RG, Kim KJ, Jansen RK, Wagstaff SJ: The phylogeny of the Asteridae sensu lato based on chloroplast ndhF gene sequences. Mol Phylogenet Evol. 2000, 16: 96-112. 10.1006/mpev.1999.0769.PubMedGoogle Scholar
Bremer B, Bremer K, Heidari N, Erixon P, Olmstead RG, Anderberg AA, Källersjö M, Barkhordarian E: Phylogenetics of asterids based on 3 coding and 3 non-coding chloroplast DNA markers and the utility of non-coding DNA at higher taxonomic levels. Mol Phylogenet Evol. 2002, 24: 274-301. 10.1016/S1055-7903(02)00240-3.PubMedGoogle Scholar
Soltis DE, Soltis PS, Endress PK, Chase MW: Phylogeny and evolution of angiosperms. 2005, Sunderland, Massachusetts, USA: Sinauer AssociatesGoogle Scholar
APG III: An update of the Angiosperm Phylogeny Group classification for the orders and families of flowering plants: APG III. Bot J Linn Soc. 2009, 161: 105-121. 10.1111/j.1095-8339.2009.00996.x.Google Scholar
Dahlgren G, (ed): Systematische Botanik. 1987, Berlin Heidelberg New York: SpringerGoogle Scholar
Takhtajan A: Diversity and Classification of Flowering Plants. 1997, New York: Columbia University PressGoogle Scholar
Burleigh JG, Hilu K, Soltis D: Inferring phylogenies with incomplete data sets: a 5-gene, 567-taxon analysis of angiosperms. BMC Evol Biol. 2009, 9: 61-10.1186/1471-2148-9-61.PubMed CentralPubMedGoogle Scholar
Xiang Q, Moody ML, Soltis DE, Fan CZ, Soltis PS: Relationships within Cornales and circumscription of Cornaceae--matK and rbcL sequence data and effects of outgroups and long branches. Mol Phylogenet Evol. 2002, 24: 35-57. 10.1016/S1055-7903(02)00267-1.PubMedGoogle Scholar
Fan C, Xiang Q: Phylogenetic analyses of Cornales based on 26S rRNA and combined 26S rDNA-matK-rbcL sequence data. Am J Bot. 2003, 90: 1357-1372. 10.3732/ajb.90.9.1357.PubMedGoogle Scholar
Hempel A, Reeves PA, Olmstead R, Jansen RK: Implications of rbcL sequence data for higher order relationships of the Loasaceae and the anomalous aquatic plant Hydrostachys (Hydrostachyaceae). Plant Syst Evol. 1994, 194: 25-37. 10.1007/BF00983214.Google Scholar
Hilu KW, Borsch T, Müller KF, Soltis DE, Soltis PS, Savolainen V, Chase M, Powell M, Alice LA, Evans R, Sauquet H, Neinhuis C, Slotta TA, Rohwer JG, Campbell CS, Chatrou L: Angiosperm phylogeny based on matK sequence information. Am J Bot. 2003, 90: 1758-1776. 10.3732/ajb.90.12.1758.PubMedGoogle Scholar
Savolainen V, Fay MF, Albach DC, Backlund A, Van der Bank M, Cameron KM, Johnson LA, Lledó MD, Pintaud J-, Powell M, Sheaham MC, Soltis DE, Soltis PS, Weston P, Whitten WM, Wurdack KJ, Chase MW: Phylogeny of the eudicots: a nearly complete familial analysis based on rbcL gene sequences. Kew Bulletin. 2000, 55: 257-309. 10.2307/4115644.Google Scholar
Tank DC, Beardsley PM, Kelchner SA, Olmstead RG: L. A. S. JOHNSON REVIEW No. 7. Review of the systematics of Scrophulariaceae s.l. and their current disposition. Aust J Bot. 2006, 19: 289-307. 10.1071/SB05009.Google Scholar
Olmstead RG, DePamphilis CW, Wolfe AD, Young ND, Elisons WJ, Reeves PA: Disintegration of the Scrophulariaceae. Am J Bot. 2001, 88: 348-361. 10.2307/2657024.PubMedGoogle Scholar
Oxelman B, Kornhall P, Olmstead RG, Bremer B: Further disintegration of Scrophulariaceae. Taxon. 2005, 54: 411-425. 10.2307/25065369.Google Scholar
Wortley AH, Rudall PJ, Harris DJ, Scotland RW: How much data are needed to resolve a difficult phylogeny? Case study in Lamiales. Syst Biol. 2005, 54: 697-709. 10.1080/10635150500221028.PubMedGoogle Scholar
Andersson S: On the phylogeny of the genus Calceolaria (Calceolariaceae) as inferred from ITS and plastid matK sequences. Taxon. 2006, 55: 125-137. 10.2307/25065534.Google Scholar
Wortley AH, Harris DJ, Scotland RW: On the Taxonomy and Phylogenetic Position of Thomandersia. Syst Botany. 2007, 32: 415-444. 10.1600/036364407781179716.Google Scholar
Xia Z, Wang Y, Smith JF: Familial placement and relations of Rehmannia and Triaenophora (Scrophulariaceae s.l.) inferred from five gene regions. Am J Bot. 2009, 96: 519-530. 10.3732/ajb.0800195.PubMedGoogle Scholar
Fischer E: Scrophulariaceae. The Families and Genera of Vascular Plants. Edited by: Kubitzki K. 2004, Berlin: Springer, 333-432.Google Scholar
Olmstead RG, Reeves PA: Evidence for the polyphyly of the Scrophulariaceae based on chloroplast rbcL and ndhF sequences. Ann MO Bot Gard. 1995, 82: 176-193. 10.2307/2399876.Google Scholar
APG2: An update of the Angiosperm Phylogeny Group classification for the orders and families of flowering plants: APG II. Bot J Linn Soc. 2003, 141: 399-436. 10.1046/j.1095-8339.2003.t01-1-00158.x.Google Scholar
dePamphilis CW, Young ND, Wolfe AD: Evolution of plastid gene rps2 in a lineage of hemiparasitic and holoparasitic plants: many losses of photosynthesis and complex patterns of rate variation. Proc Natl Acad Sci USA. 1997, 94: 7367-7372. 10.1073/pnas.94.14.7367.PubMed CentralPubMedGoogle Scholar
Wolfe A, dePamphilis C: The effect of relaxed functional constraints on the photosynthetic gene rbcL in photosynthetic and nonphotosynthetic parasitic plants. Mol Biol Evol. 1998, 15: 1243-1258.PubMedGoogle Scholar
Bennett JR, Mathews S: Phylogeny of the parasitic plant family Orobanchaceae inferred from phytochrome A. Am J Bot. 2006, 93: 1039-1051. 10.3732/ajb.93.7.1039.PubMedGoogle Scholar
Albach DC, Yan K, Jensen SR, Li H: Phylogenetic placement of Triaenophora (formerly Scrophulariaceae) with some implications for the phylogeny of Lamiales. Taxon. 2009, 58: 749-756.Google Scholar
Beardsley PM, Olmstead RG: Redefining Phrymaceae: The placement of Mimulus, tribe Mimuleae, and Phryma. Am J Bot. 2002, 89: 1093-1102. 10.3732/ajb.89.7.1093.PubMedGoogle Scholar
Magin N, Classen R, Gack C: The morphology of false anthers in Craterostigma plantagineum and Torenia polygonioides (Scrophulariaceae). Can J Bot. 1989, 67: 1931-1937. 10.1139/b89-245.Google Scholar
Fischer E: Systematik der afrikanischen Lindernieae (Scrophulariaceae). Trop Subtrop Pflanzenwelt. 1992, 82: 1-365.Google Scholar
Spangler RE, Olmstead RG: Phylogenetic analysis of Bignoniaceae based on the cpDNA gene sequences rbcL and ndhF. Ann MO Bot Gard. 1999, 86: 33-46. 10.2307/2666216.Google Scholar
Nakai T: Classes, Ordines, Familiae, Subfamiliae, Tribus, Genera nov quae attinet ad plantas Koreanas. J Jap Bot. 1949, 24: 8-14.Google Scholar
Reveal J: Newly required suprageneric names in vascular plants. Phytologia. 1995, 79: 68-76.Google Scholar
Müller KF, Borsch T, Hilu KW: Phylogenetic utility of rapidly evolving DNA at high taxonomical levels: Contrasting matK, trnT-F, and rbcL in basal angiosperms. Mol Phylogenet Evol. 2006, 41: 99-117. 10.1016/j.ympev.2006.06.017.PubMedGoogle Scholar
Borsch T, Hilu KW, Quandt D, Wilde V, Neinhuis C, Barthlott W: Non-coding plastid trnT-trnF sequences reveal a well resolved phylogeny of basal angiosperms. J Evol Biol. 2003, 16: 558-576. 10.1046/j.1420-9101.2003.00577.x.PubMedGoogle Scholar
Worberg A, Quandt D, Barniske A-, Löhne C, Hilu KW, Borsch T: Phylogeny of basal eudicots: Insights from non-coding and rapidly evolving DNA. Org Divers Evol. 2007, 7: 55-77. 10.1016/j.ode.2006.08.001.Google Scholar
Borsch T, Quandt D: Mutational dynamics and phylogenetic utility of noncoding chloroplast DNA. Plant Syst Evol. 2009, 282: 169-199. 10.1007/s00606-009-0210-8.Google Scholar
Altschul SF, Gish W, Miller W, Myers EW, Lipman DJ: Basic local alignment search tool. J Mol Biol. 1990, 215: 403-410.PubMedGoogle Scholar
Hufford L, Moody ML, Soltis DE: A phylogenetic analysis of Hydrangeaceae based on sequences of the plastid gene matk and their combination with rbcl and morphological data. Int J Plant Sci. 2001, 162: 835-846. 10.1086/320789.Google Scholar
Albach DC, Soltis PS, Soltis DE, Olmstead RG: Phylogenetic analysis of asterids based on sequences of four genes. Ann MO Bot Gard. 2001, 88: 163-212. 10.2307/2666224.Google Scholar
Müller J, Müller KF, Neinhuis C, Quandt D: PhyDE - Phylogenetic Data Editor. 2006, [http://www.phyde.de]Google Scholar
Kelchner SA: The evolution of non-coding chloroplast DNA and its application in plant systematics. Ann MO Bot Gard. 2000, 87: 482-498. 10.2307/2666142.Google Scholar
Simmons MP, Ochoterena H: Gaps as characters in sequence-based phylogenetic analyses. Syst Biol. 2000, 49: 369-381. 10.1093/sysbio/49.2.369.PubMedGoogle Scholar
Müller KF: SeqState: Primer design and sequence statistics for phylogenetic DNA datasets. Appl Bioinformatics. 2005, 4: 65-69. 10.2165/00822942-200504010-00008.PubMedGoogle Scholar
Müller KF: PRAP - computation of Bremer support for large data sets. Mol Phylogenet Evol. 2004, 31: 780-782. 10.1016/j.ympev.2003.12.006.PubMedGoogle Scholar
Swofford DL: PAUP*. Phylogenetic Analysis Using Parsimony (* and other Methods). 1998, Sinauer Associates, Sunderland, MassachussetsGoogle Scholar
Müller KF: The efficiency of different search strategies in estimating parsimony jackknife, bootstrap, and Bremer support. BMC Evol Biol. 2005, 5: 58-10.1186/1471-2148-5-58.PubMed CentralPubMedGoogle Scholar
Ronquist F, Huelsenbeck JP: MrBayes 3: Bayesian phylogenetic inference under mixed models. Bioinformatics. 2003, 19: 1572-1574. 10.1093/bioinformatics/btg180.PubMedGoogle Scholar
Posada D: jModelTest: phylogenetic model averaging. Mol Biol Evol. 2008, 25: 1253-1256. 10.1093/molbev/msn083.PubMedGoogle Scholar
Andrew Rambaut, Alexei Drummond: Tracer. 2009, Edinburgh: Institute for Evolutionary BiologyGoogle Scholar
Stamatakis A: RAxML-VI-HPC: maximum likelihood-based phylogenetic analyses with thousands of taxa and mixed models. Bioinformatics. 2006, 22: 2688-2690. 10.1093/bioinformatics/btl446.PubMedGoogle Scholar
Stöver B, Müller KF: TreeGraph 2: Combining and visualizing evidence from different phylogenetic analyses. BMC Bioinformatics. 2010, 11: 7-10.1186/1471-2105-11-7.PubMed CentralPubMedGoogle Scholar
Shimodaira H: An approximately unbiased test of phylogenetic tree selection. Syst Biol. 2002, 51: 492-508. 10.1080/10635150290069913.PubMedGoogle Scholar
Shimodaira H, Hasegawa M: Multiple comparisons of log-likelihoods with applications to phylogenetic inference. Mol Biol Evol. 1999, 16: 1114-1116.Google Scholar
Shimodaira H, Hasegawa M: CONSEL: for assessing the confidence of phylogenetic tree selection. Bioinformatics. 2001, 17: 1246-1247. 10.1093/bioinformatics/17.12.1246.PubMedGoogle Scholar
Watson L, Dallwitz M: The families of flowering plants: descriptions, illustrations, identification, and information retrieval. 1992Google Scholar
Mabberley D: The plant-book: a portable dictionary of the vascular plants. 2008, Cambridge: Cambridge University PressGoogle Scholar
Pagel M, Meade A, Barker D: Bayesian Estimation of Ancestral Character States on Phylogenies. Systematic Biology. 2004, 53: 673-684. 10.1080/10635150490522232.PubMedGoogle Scholar
Hufford L, McMahon MM, Sherwood AM, Reeves G, Chase MW: The major clades of Loasaceae: Phylogenetic analysis using the plastid matK and trnL-trnF regions. Am J Bot. 2003, 90: 1215-1228. 10.3732/ajb.90.8.1215.PubMedGoogle Scholar
Jäger-Zürn I: Zur Frage der systematischen Stellung der Hydrostachyaceae auf Grund ihrer Embryologie, Blüten-und Infloreszenzmorphologie. Plant Syst Evol. 1965, 112: 621-639. 10.1007/BF01373191.Google Scholar
Soltis DE, Soltis PS, Chase MW, Mort ME, Albsch DC, Zanis M, Savolainen V, Hahn WH, Hoot SB, Fay MF, Axtell M, Swensen SM, Prince LM, Kress WJ, Nixon KC, Farris JS: Angiosperm phylogeny inferred from 18S rDNA, rbcL, and atpB sequences. Bot J Linn Soc. 2000, 133 (81): 381--461.Google Scholar
Albach D: Phylogenetic placement of the enigmatic angiosperm Hydrostachys. Taxon. 2001, 50: 781-805. 10.2307/1223707.Google Scholar
Jensen SR, Albach DC, Ohno T, Grayer RJ: Veronica: Iridoids and cornoside as chemosystematic markers. Biochem Syst Ecol. 2005, 33: 1031-1047. 10.1016/j.bse.2005.03.001.Google Scholar
Smith JF, Wolfram JC, Brown KD, Carroll CL, Denton DS: Tribal Relationships in the Gesneriaceae: evidence from DNA sequences of the chloroplast gene ndhF. Ann MO Bot Gard. 1997, 84: 50-66. 10.2307/2399953.Google Scholar
Bentham G: Gesneriaceae. Genera Plantarum 2. Edited by: Bentham G, Hooker JD. 1876, 990-1025. ReeveGoogle Scholar
Estes D, Small RL: Phylogenetic relationships of the monotypic genus Amphianthus (Plantaginaceae tribe Gratioleae) inferred from chloroplast DNA sequences. Syst Botany. 2008, 33: 176-182. 10.1600/036364408783887375.Google Scholar
Soltis DE, Soltis PS, Endress PK, Chase MW: Phylogeny and Evolution of Angiosperms. 2005Google Scholar
Felsenstein J: Cases in which parsimony or compatibility methods will be positively misleading. Syst Biol. 1978, 27: 401-410.Google Scholar
McDade LA, Daniel TF, Kiel CA: Toward a comprehensive understanding of phylogenetic relationships among lineages of Acanthaceae s.l. (Lamiales). Am J Bot. 2008, 95: 1136-1152. 10.3732/ajb.0800096.PubMedGoogle Scholar
Plachno BJ, Adamec L, Huet H: Mineral nutrient uptake from prey and glandular phosphatase activity as a dual test of carnivory in semi-desert plants with glandular leaves suspected of carnivory. Ann Bot-London. 2009, 104: 649-654. 10.1093/aob/mcp155.Google Scholar
Rice B: Reassessing commensal-enabled carnivory in Proboscidea and Ibicella?. Carniv Pl Newslett. 2008, 15-19.Google Scholar
Bremer B, Olmstead RG, Struwe L, Sweere JA: rbcL sequences support exclusion of Retzia, Desfontainia, and Nicodemia from the Gentianales. Plant Syst Evol. 1994, 190: 213-230. 10.1007/BF00986194.Google Scholar
Oxelman B, Backlund M, Bremer B: Relationships of the Buddlejaceae s.l. investigated using parsimony jackknife and branch support analysis of chloroplast ndhF and rbcL sequence data. Syst Botany. 1999, 24: 164-182. 10.2307/2419547.Google Scholar
Cronquist A: The Evolution and Classification of Flowering Plants. 1988, New York: The New York Botanical Garden, 2Google Scholar
Briquet J: Labiatae. Die natürlichen Pflanzenfamilien. Edited by: Engler A, Prantl K. 1895, Leipzig: Engelmann, 4/3a: 132-182.Google Scholar
Cantino PD: Evidence for a polyphyletic origin of the Labiatae. Ann MO Bot Gard. 1992, 361-379. 10.2307/2399774.Google Scholar
Wagstaff SJ, Hickerson L, Spangler R, Reeves PA, Olmstead RG: Phylogeny in Labiatae s.l., inferred from cpDNA sequences. Plant Syst Evol. 1998, 209: 265-274. 10.1007/BF00985232.Google Scholar
Wortley AH, Scotland RW, Rudall PJ: Floral anatomy of Thomandersia (Lamiales), with particular reference to the nature of the retinaculum and extranuptial nectaries. Bot J Linn Soc. 2005, 149: 469-10.1111/j.1095-8339.2005.00507.x.Google Scholar
Mayr EM, Weber A: Calceolariaceae: floral development and systematic implications. Am J Bot. 2006, 93: 327-343. 10.3732/ajb.93.3.327.PubMedGoogle Scholar
Bello MA, Rudall PJ, González F, Fernández-Alonso JL: Floral morphology and development in Aragoa (Plantaginaceae) and related members of the order Lamiales. Int J Plant Sci. 2004, 165: 723-738. 10.1086/422046.Google Scholar
Albach DC, Martinez-Ortega MM, Fischer MA, Chase MW: Evolution of Veroniceae: A phylogenetic perspective. Ann MO Bot Gard. 2004, 91: 275-302.Google Scholar
Endress P: Symmetry in flowers: diversity and evolution. Int J Plant Sci. 1999, 160: S3-S23. 10.1086/314211.PubMedGoogle Scholar
Hartl D: Das alveolierte Endosperm bei Scrophulariaceen, seine Entstehung, Anatomie und taxonomische Bedeutung. Beiträge zur Biologie der Pflanzen. 1959, 35: 95-110.Google Scholar
Sanderson MJ: Estimating absolute rates of molecular evolution and divergence times: a penalized likelihood approach. Mol Biol Evol. 2002, 19: 101-109.PubMedGoogle Scholar
Wikström N, Savolainen V, Chase MW: Evolution of the angiosperms: calibrating the family tree. Proc R Soc Lond [Biol]. 2001, 268: 2211-2220. 10.1098/rspb.2001.1782.Google Scholar
Bremer K, Friis EM, Bremer B: Molecular phylogenetic dating of asterid flowering plants shows early Cretaceous diversification. Syst Biol. 2004, 53: 496-505. 10.1080/10635150490445913.PubMedGoogle Scholar
Janssens SB, Knox EB, Huysmans S, Smets EF, Merckx VS: Rapid radiation of Impatiens (Balsaminaceae) during Pliocene and Pleistocene: Result of a global climate change. Mol Phylogenet Evol. 2009, 52: 806-824. 10.1016/j.ympev.2009.04.013.PubMedGoogle Scholar
Magallon S, Castillo A: Angiosperm diversification through time. Am J Bot. 2009, 96: 349-365. 10.3732/ajb.0800060.PubMedGoogle Scholar
Zwickl DJ, Hillis DM: Increased taxon sampling greatly reduces phylogenetic error. Syst Biol. 2002, 51: 588-598. 10.1080/10635150290102339.PubMedGoogle Scholar
Nie Z, Sun H, Beardsley PM, Olmstead RG, Wen J: Evolution of biogeographic disjunction between eastern Asia and eastern North America in Phryma (Phrymaceae). American Journal of Botany. 2006, 93: 1343-1356. 10.3732/ajb.93.9.1343.PubMedGoogle Scholar
Conran JG, Christophel DC: A fossil Byblidaceae seed from Eocene South Australia. Int J Plant Sci. 2004, 165: 691-694. 10.1086/386555.Google Scholar
Pigg KB, Wehr WC: Tertiary Flowers, Fruits, and Seeds of Washington State and Adjacent Areas-Part III. Wash Geol. 2002, 30: 3-16.Google Scholar
Germeraad J, Hopping C, Muller J: Palynology of tertiary sediments from tropical areas. Review of Palaeobotany and Palynology. 1968, 6: 189-198. 10.1016/0034-6667(68)90051-1. 200-210, 212-228, 230-259, 261, 263-348Google Scholar
Axelrod DI: The Late Oligocene Creede Flora, Colorado. 1987, Berkeley, Los Angeles, London: University of California Press, 130:Google Scholar
Jansen RK, Cai Z, Raubeson LA, Daniell H, dePamphilis CW, Leebens-Mack J, Müller KF, Guisinger-Bellian M, Haberle RC, Hansen AK, Chumley TW, Lee S, Peery R, McNeal JR, Kuehl JV, Boore JL: Analysis of 81 genes from 64 plastid genomes resolves relationships in angiosperms and identifies genome-scale evolutionary patterns. Proc Natl Acad Sci USA. 2007, 104: 19369-19374. 10.1073/pnas.0709121104.PubMed CentralPubMedGoogle Scholar
Qiu Y, Li L, Wang B, Chen Z, Knoop V, Groth-Malonek M, Dombrovska O, Lee J, Kent L, Rest J, Estabrook GF, Hendry TA, Taylor DW, Testa CM, Ambros M, Crandall-Stotler B, Duff RJ, Stech M, Frey W, Quandt D, Davis CC: The deepest divergences in land plants inferred from phylogenomic evidence. Proc Natl Acad Sci USA. 2006, 103: 15511-15516. 10.1073/pnas.0603335103.PubMed CentralPubMedGoogle Scholar
Johnson LA, Soltis DE: Phylogenetic inference in Saxifragaceae s.str. and Gilia (Polemoniaceae) using matK sequences. Ann MO Bot Gard. 1995, 82: 149-175. 10.2307/2399875.Google Scholar
Müller KF, Borsch T: Phylogenetics of Amaranthaceae based on matK/trnK sequence data evidence from parsimony, likelihood, and Bayesian analyses. Ann MO Bot Gard. 2005, 92: 66-102.Google Scholar
Taberlet P, Gielly L, Pautou G, Bouvet J: Universal primers for amplification of 3 noncoding regions of chloroplast DNA. Plant Mol Biol. 1991, 17: 1105-1109. 10.1007/BF00037152.PubMedGoogle Scholar
Oxelman B, Lidén M, Berglund D: Chloroplast rps16 intron phylogeny of the tribe Sileneae (Caryophyllaceae). Plant Syst Evol. 1997, 206: 393-410. 10.1007/BF00987959.Google Scholar
Copyright
© Schäferhoff et al; licensee BioMed Central Ltd. 2010
This article is published under license to BioMed Central Ltd. This is an Open Access article distributed under the terms of the Creative Commons Attribution License (http://creativecommons.org/licenses/by/2.0), which permits unrestricted use, distribution, and reproduction in any medium, provided the original work is properly cited.