Research article

Open Access
Evolution of the Kdo2-lipid A biosynthesis in bacteria
BMC Evolutionary Biology
2010
10:362
Received: 20 July 2010
Accepted: 24 November 2010
Published: 24 November 2010
Abstract
Background
Lipid A is the highly immunoreactive endotoxic center of lipopolysaccharide (LPS). It anchors the LPS into the outer membrane of most Gram-negative bacteria. Lipid A can be recognized by animal cells, triggers defense-related responses, and causes Gram-negative sepsis. The biosynthesis of Kdo2-lipid A, the LPS substructure, involves with nine enzymatic steps.
Results
In order to elucidate the evolutionary pathway of Kdo2-lipid A biosynthesis, we examined the distribution of genes encoding the nine enzymes across bacteria. We found that not all Gram-negative bacteria have all nine enzymes. Some Gram-negative bacteria have no genes encoding these enzymes and others have genes only for the first four enzymes (LpxA, LpxC, LpxD, and LpxB). Among the nine enzymes, five appeared to have arisen from three independent gene duplication events. Two of such events happened within the Proteobacteria lineage, followed by functional specialization of the duplicated genes and pathway optimization in these bacteria.
Conclusions
The nine-enzyme pathway, which was established based on the studies mainly in Escherichia coli K12, appears to be the most derived and optimized form. It is found only in E. coli and related Proteobacteria. Simpler and probably less efficient pathways are found in other bacterial groups, with Kdo2-lipid A variants as the likely end products. The Kdo2-lipid A biosynthetic pathway exemplifies extremely plastic evolution of bacterial genomes, especially those of Proteobacteria, and how these mainly pathogenic bacteria have adapted to their environment.
Keywords
Duplication Event
Bacterial Genome
Laurate
Biosynthetic Enzyme
Sequence Logo
Background
Kdo
2
-lipid A is a complex glycolipid consisting of glucosamine, 3-OH fatty acids, and unusual sugar 3-deoxy-D-
manno
-octulonsonic acid (Kdo) (Figure
1
). Kdo
2
-lipid A is the principle and essential component of the outer leaflet of the outer cell wall of Gram-negative bacteria [
1
]. It is the membrane anchor for a wide and variable range of polysaccharide repeating units extending beyond the cell wall. Together with Kdo
2
-lipid A the polysaccharide repeating units constitute lipopolysaccharide (LPS), a class of molecules believed to occur solely in Gram-negative bacteria and Cyanobacteria and essential for their viability [
2
]. Lipid A is a potent immunoreactive factor responsible for triggering a macrophage mediated and frequently overwhelming immune response resulting in endotoxic shock, a potentially lethal condition. Indeed, as far as is known, all vertebrates and an assortment of invertebrates exhibit a robust and highly specific anti-LPS response.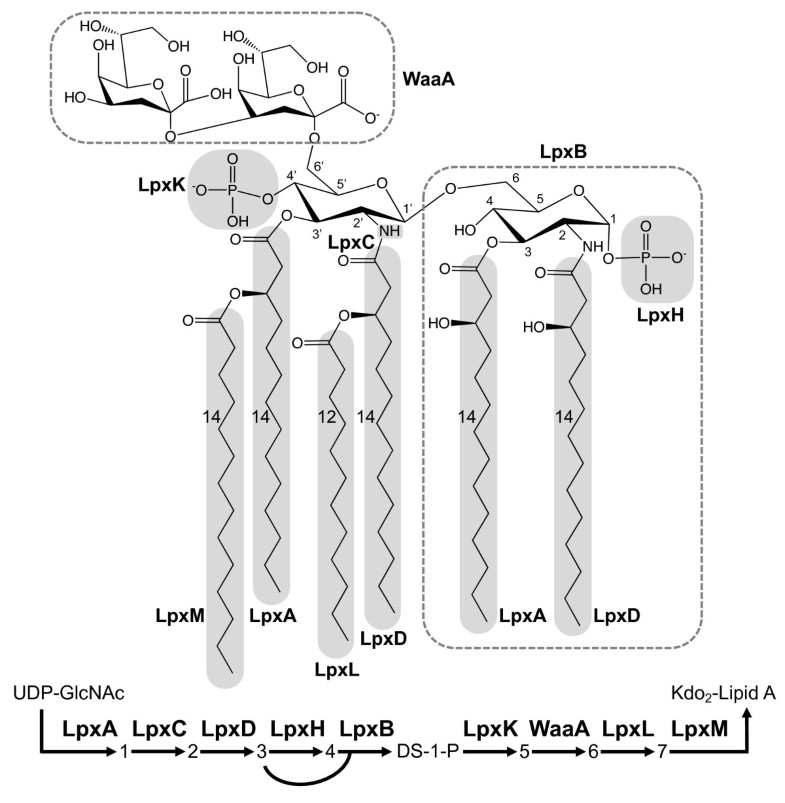 For decades lipid A/LPS has been essentially synonymous with Gram-negative organisms, yet, despite the relative diversity of the Gram-negative bacteria, the origin and evolutionary pathway of this important molecule is virtually unknown. Presently the complex, nine-enzyme biosynthetic process of Kdo2-lipid A is best known from Escherichia coli (Figure 1). The genetic sequences for the enzymes have been derived from the E. coli genome (Additional file 1). This pathway and the concomitant genes in E. coli probably represent the most highly evolved Kdo2-lipid A biosynthetic pathway given the highly adapted association of E. coli with vertebrate enteric habitats, which depends heavily on the structure of LPS. Thus, the central question becomes: can the evolutionary radiation of LPS be described by understanding the comparative genomics of Kdo2-lipid A biosynthetic pathway?
Traditional classification of bacteria: Gram-positive vs. Gram-negative, is based on the Gram-staining procedure [3]. Gram-positive bacteria retain the crystal-violet stain, whereas Gram-negative bacteria are decolorized with alcohol or acetone and stained red with safranin or basic fuchsin. Different responses to the staining are caused by the chemical properties of the cell walls. Gram-positive bacteria have an impermeable cell wall that is made of thick peptidoglycan and is not affected by decolorization. Gram-negative bacteria, on the other hand, have a thin peptidoglycan layer and an outer membrane containing LPS, which can be disrupted by decolorization.
Phylogenetic analysis of biomolecular sequences is now considered to be more reliable for bacterial classification. Molecular phylogenies do not support the traditional simple grouping of eubacteria: Gram-negative vs. Gram-positive [e.g., [4–6]]. The most important and often used phylogenetic marker for bacteria is 16S ribosomal RNA (rRNA) due to their highly conserved nature of sequences. The second edition of Bergey's Manual of Systematic Bacteriology [7], the gold standard of bacterial classification, is mostly based on 16S rRNA phylogenies. Gram-positive bacteria are now grouped into two paraphyletic groups: the phylum Firmicutes (low G+C content Gram-positive) and the phylum Actinobacteria (high G+C content Gram-positive). Gram-negative bacteria are composed of more than 20 of highly diverged phyla. Firmicutes, a Gram-positive phylum, forms a sister cluster with a Gram-negative phylum Cyanobacteria. The phylum Proteobacteria, the largest Gram-negative bacteria group that includes E. coli and many pathogens, is the most derived group of bacteria.
Understanding the distribution and diversity of the Kdo2-lipid A biosynthetic pathway among bacteria is important for a multitude of reasons. Notwithstanding its limitation, Gram-staining is still widely used in clinical practice. It is often the first diagnostic test, which is crucial for the initial diagnostic and treatments. Kdo2-lipid A is the highly immunoreactive endotoxic center of LPS. The endotoxicity of LPS is dependent on and mediated by the Kdo2-lipid A component. Furthermore, the Kdo2-lipid A pathway is being considered as a target for new antibiotic development [e.g., [8, 9]]. Kdo2-lipid A is required for growth of E. coli and most other Gram-negative bacteria. Inhibitors of the Kdo2-lipid A biosynthesis, therefore, can become good antibiotics against these bacteria.
In order to elucidate how the Kdo2-lipid A biosynthetic pathway has evolved in the bacterial kingdom, we examined the distribution of the nine enzymes involved in this pathway across 61 bacterial genomes. With Kdo2-lipid A as the final product, the entire pathway was expected to be highly conserved among Gram-negative bacteria. On the other hand, Gram-positive bacteria would lack some or all of the enzymes required for the Kdo2-lipid A biosynthesis. On the contrary, we identified a widely varied level of conservation in this pathway among Gram-negative bacteria. We showed that the currently known, considered to be "canonical", nine-enzyme pathway, which has been characterized mainly in E. coli and related bacteria, does not represent nor should be considered as ancestral to all Gram-negative bacteria. Rather, the nine-enzyme pathway represents the product of genomic plasticity, evolved in highly-derived Proteobacteria, especially in those closely related to E. coli.
Conclusions
Bacterial genomes are extremely plastic. Although the Kdo2-lipid A biosynthesis is one of the most fundamental and most conserved pathways among Gram-negative bacteria, this study showed that gene duplications as well as partial or complete losses of the genes encoding these enzymes have happened multiple times independently during bacterial evolution. Each group of bacteria took advantage of such evolutionary events to optimize the pathway and adapted to their specialized life style. The most optimized form of the pathway is found in the Proteobacteria lineage, especially among Gammaproteobacteria. The nine-enzyme pathway currently known for the Kdo2-lipid A biosynthesis, which is mainly studied in E. coli and related bacteria, is the most optimized, derived form of this pathway.
Declarations
Acknowledgements
We thank anonymous reviewers for their constructive comments. This work was supported in part by Nebraska Tobacco Settlement Biomedical Research Development Funds to HM.
Authors' Affiliations
(1)
School of Biological Sciences, University of Nebraska-Lincoln, Lincoln, USA
(2)
School of Biological Sciences and Center for Plant Science Innovation, University of Nebraska-Lincoln, Lincoln, USA
(3)
Molecular and Cellular Imaging Center-South, Ohio Agricultural Research and Development Center, Columbus, USA
Copyright
© Opiyo et al; licensee BioMed Central Ltd. 2010
This article is published under license to BioMed Central Ltd. This is an Open Access article distributed under the terms of the Creative Commons Attribution License (<url>http://creativecommons.org/licenses/by/2.0</url>), which permits unrestricted use, distribution, and reproduction in any medium, provided the original work is properly cited.