Research article

Open Access
A family history of DUX4: phylogenetic analysis of DUXA, B, C and Duxbl reveals the ancestral DUXgene
BMC Evolutionary Biology
2010
10:364
Received: 27 August 2010
Accepted: 26 November 2010
Published: 26 November 2010
Abstract
Background
DUX4 is causally involved in the molecular pathogenesis of the neuromuscular disorder facioscapulohumeral muscular dystrophy (FSHD). It has previously been proposed to have arisen by retrotransposition of DUXC, one of four known intron-containing DUX genes. Here, we investigate the evolutionary history of this multi-member double-homeobox gene family in eutherian mammals.
Results
Our analysis of the DUX family shows the distribution of different homologues across the mammalian class, including events of secondary loss. Phylogenetic comparison, analysis of gene structures and information from syntenic regions confirm the paralogous relationship of Duxbl and DUXB and characterize their relationship with DUXA and DUXC. We further identify Duxbl pseudogene orthologues in primates. A survey of non-mammalian genomes identified a single-homeobox gene (sDUX) as a likely representative homologue of the mammalian DUX ancestor before the homeobox duplication. Based on the gene structure maps, we suggest a possible mechanism for the generation of the DUX gene structure.
Conclusions
Our study underlines how secondary loss of orthologues can obscure the true ancestry of individual gene family members. Their relationships should be considered when interpreting the relevance of functional data from DUX4 homologues such as Dux and Duxbl to FSHD.
Keywords
Placental Mammal
Syntenic Region
Deletion Breakpoint
Stop Codon Mutation
Large Open Reading Frame
Background
Double homeobox genes are exclusive to placental mammals and characterized by two closely spaced homeoboxes of the PRD class[1]. The homeoboxes encode 60 amino acid homeodomains (HDs), an ancient, well studied DNA binding motif found in animals, plants and fungi in many transcription factors including the developmentally important Hox genes[2]. Our particular interest in the DUX family stems from the involvement of one member (DUX4) in the molecular pathogenesis of facioscapulohumeral muscular dystrophy (FSHD)[3]. In most cases of this genetic disorder, patients have a contraction of the 3.3 kb D4Z4 tandem repeat array on 4q35. When the genetic linkage between D4Z4 and FSHD was discovered, an intronless open reading frame (ORF) encoding a putative double-homeodomain protein was found to reside within each D4Z4 repeat unit[4] and named DUX4[5]. The DUX4-containing D4Z4 elements are present at high and variable copy number on 4q35 with 11 to >100 repeats in controls[6]. In FSHD, one allele is reduced in size to 1-10 repeats[6], which is accompanied by a change in chromatin packaging into a less repressive state[7–9]. A near identical tandem array is also present on 10q26, but contractions are not associated with FSHD.
D4Z4 contractions are only pathogenic if they occur on a particular haplotype background ("4qA161")[10, 11]. It has been shown that the DUX4 ORF is discontinuously transcribed, with the ORF of the final repeat unit utilizing a polyadenylation signal in the pLAM region immediately distal to the D4Z4 array[12]. Recently, a landmark paper showed that only chromosomes of disease-permissive haplotypes such as 4qA161 carry this functional polyadenylation signal[13]. This study presents the strongest evidence yet for a DUX4-transcription mediated pathology in FSHD.
DUX4 related sequences are found in primates and Afrotheria and we previously showed that they have been conserved by selection[1]. In mouse, a related ORF known as Dux has been identified, which is also found in a tandem array organization[1]. The predicted Dux protein encoded within this array shares both homeodomains as well as a conserved C-terminal domain with DUX4[1]. In higher apes and humans, many hundreds of D4Z4 related sequences are dispersed throughout the genome, notably on the poorly assembled regions of the acrocentric chromosomes as well as the heterochromatic regions on 1q12[4, 14]. In an interesting case study, the ongoing amplification of intronless DUX sequences has recently been characterized for a DUX4 homologue residing on the Y chromosome (DUXY)[15].
Interrogation of publicly available genome databases has resulted in the discovery of four intron-containing
DUX
genes (
A
,
B
,
C
and
Duxbl
=
BL
).
DUXA
and
DUXB
were originally identified in humans[
16
,
17
], but orthologues have also been found in a range of other mammals[
1
].
DUXC
has been described only in armadillo, dog and cow[
1
]. Before the current study,
Duxbl
(named after
DUXB
-like) had been found only in mouse and rat genomes[
1
]. Independently, gene expression profiling experiments identified
Duxbl
as one of the genes upregulated in specific stages of mouse thymocyte development[
18
]. Figure
1
shows gene structures and conserved domains of the four intron-containing
DUX
homologues as well as the intronless
DUX4
and rodent
Dux
sequences. The two homeoboxes in all four intron-containing genes are split across four exons, with splice junctions within the homeoboxes at equivalent positions.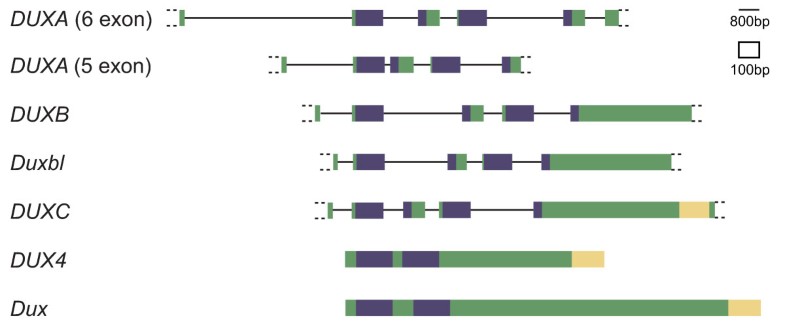 The in vivo biological function of human DUX4 is still unknown, although a number of groups are addressing this question using experimental approaches based on exogenous expression of DUX genes[19–21]. Studies of DUX homologues may therefore contribute to our understanding of DUX4 function, but if such inferences are to be made with confidence, it is important that we understand how the genes and proteins studied relate to one another. Here, we comprehensively survey the distribution of intron-containing DUX genes in the mammalian class, characterize their gene structures and present data on their phylogenetic relationships. We also identify the putative ancestor of the DUX family and suggest a mutational mechanism that may have created the double homeobox gene structure.
Conclusions
We have characterized the evolutionary history and relationships of the double-homeodomain encoding DUX gene family and identified a likely candidate for its common ancestor. Gene duplication followed by a fusion event most likely created the double homeobox in the last common ancestor of placental mammals as these are the only species where DUX genes have been found. Our study illustrates how the true underlying relationships of homologues in gene families can be obscured by secondary loss of orthologues and thus misunderstood, especially as genomic tBLASTn searches are likely to identify active genes maintained by selection, but miss decaying pseudogenes that may represent the true orthologues. Our data reinforce the view that the inference of relationships between genes should take into consideration synteny information, phylogenetic analysis of amino acid sequence evolution and consider that orthologues may no longer be present in a species. This is particularly important if, as for DUX4, different homologues are studied as models, especially if these studies extend to different organisms. With recently published data clearly linking DUX4 to FSHD pathogenesis[13], the need to understand DUX4 protein function has become more urgent. Future studies will benefit from a consideration of the evolutionary history of DUX4.
Declarations
Acknowledgements
This work was funded by grants from the Muscular Dystrophy Association, USA and a PhD studentship from the Muscular Dystrophy Campaign of Great Britain to AL. We would like to thank John Armour and John Brookfield (University of Nottingham) for helpful feedback and discussion.
Authors' Affiliations
(1)
Centre for Genetics and Genomics, School of Biology, The University of Nottingham, Queens Medical Centre, Nottingham, UK
Copyright
© Leidenroth and Hewitt; licensee BioMed Central Ltd. 2010
This article is published under license to BioMed Central Ltd. This is an Open Access article distributed under the terms of the Creative Commons Attribution License (http://creativecommons.org/licenses/by/2.0), which permits unrestricted use, distribution, and reproduction in any medium, provided the original work is properly cited.