Research article
Open Access
Bridging gaps in the molecular phylogeny of the Lymnaeidae (Gastropoda: Pulmonata), vectors of Fascioliasis
BMC Evolutionary Biology
2010
10:381
Received: 16 June 2010
Accepted: 9 December 2010
Published: 9 December 2010
Abstract
Background
Lymnaeidae snails play a prominent role in the transmission of helminths, mainly trematodes of medical and veterinary importance (e.g., Fasciola liver flukes). As this family exhibits a great diversity in shell morphology but extremely homogeneous anatomical traits, the systematics of Lymnaeidae has long been controversial. Using the most complete dataset to date, we examined phylogenetic relationships among 50 taxa of this family using a supermatrix approach (concatenation of the 16 S, ITS-1 and ITS-2 genes, representing 5054 base pairs) involving both Maximum Likelihood and Bayesian Inference.
Results
Our phylogenetic analysis demonstrates the existence of three deep clades of Lymnaeidae representing the main geographic origin of species (America, Eurasia and the Indo-Pacific region). This phylogeny allowed us to discuss on potential biological invasions and map important characters, such as, the susceptibility to infection by Fasciola hepatica and F. gigantica, and the haploid number of chromosomes (n). We found that intermediate hosts of F. gigantica cluster within one deep clade, while intermediate hosts of F. hepatica are widely spread across the phylogeny. In addition, chromosome number seems to have evolved from n = 18 to n = 17 and n = 16.
Conclusion
Our study contributes to deepen our understanding of Lymnaeidae phylogeny by both sampling at worldwide scale and combining information from various genes (supermatrix approach). This phylogeny provides insights into the evolutionary relationships among genera and species and demonstrates that the nomenclature of most genera in the Lymnaeidae does not reflect evolutionary relationships. This study highlights the importance of performing basic studies in systematics to guide epidemiological control programs.
Keywords
Intermediate HostSnail SpeciesShell MorphologyFascioliasisAmerican Clade
Background
Basommatophora (Gastropoda: Pulmonata) is a suborder comprising essentially all pulmonate gastropods living in freshwater. Basommatophorans are monophyletic and encompass five families: Acroloxidae, Chilinidae, Lymnaeidae, Physidae, and Planorbidae (including the Ancylidae) [1]. The group contains ~300 species and has been extensively studied because some species have a role in transmitting parasites of human and veterinary importance (e.g., Schistosoma and Fasciola). The Lymnaeidae, Physidae and Planorbidae comprise ~90% of the Basommatophoran species [1, 2]. The phylogenetic relationships within the Physidae and Planorbidae are now well established (e.g., [3–5]). However, the phylogeny of the Lymnaeidae has only been partially inferred [6–11] and we currently lack a comprehensive treatment of this family.
Lymnaeidae snails are distributed worldwide [12–14]. They are of major medical and veterinary importance since they act as vectors of parasites that severely affect human populations and livestock, and cause important economic losses [15, 16]. Indeed, lymnaeids serve as intermediate hosts of at least 71 trematode species distributed among 13 families [17, 18], including some species of Schistosomatidae and Echinostomatidae, with implications for human health [19, 20], and Paramphistomum daubneyi, which is of veterinary interest [21]. Undoubtedly, the most emblematic case of parasite transmitted by lymnaeids is Fasciola hepatica (Digenea: Fasciolidae), the agent of fascioliasis. The disease it causes is recognized as a major veterinary problem as it is responsible of the loss of productive capacity (e.g., meat, milk). Fascioliasis is also an important human disease with about 20 million cases around the world [22]. Fasciola hepatica presumably originates from Europe and now has a worldwide distribution. The definitive hosts of this parasite are vertebrates, usually mammals, e.g., cows, sheep, goats, buffalos, and also humans. Mollusks, generally lymnaeids, are required as intermediate hosts to complete the life cycle. At least 20 species of Lymnaeidae have been described as potential vectors of fascioliasis (see reviews in [17, 23, 24]). Due to the important role of these species as intermediate hosts of trematodes, a solid phylogenetic framework of Lymnaeidae is required. The correct identification of intermediate-host species should help characterize areas of epidemiological risk and increase our understanding of the evolution of the Lymnaeidae- Fasciola host-parasite interaction.
Lymnaeidae exhibit a great diversity in shell morphology which is linked to substantial eco-phenotypic plasticity (see e.g., [25, 26]). Hubendick [12] illustrated this point by compiling up to 1143 species names, a large number of which he synonymized. In contrast, the anatomy of their reproductive tracts (including prostate, penis and preputium) is extremely homogeneous (e.g., [1, 27, 28]). Immunological [29], cytogenetical [30, 31], enzyme electrophoresis studies [25, 32, 33], and DNA-based approaches [7, 10] have demonstrated extensive homoplasy in anatomical characters [12, 26, 34–38]. The difference between patterns in shell morphology and anatomy explains why lymnaeid systematics has been controversial [6]. Today, it is accepted that the total number of species might be less than 100 [1], with most occurring in the Palearctic and Nearctic regions [2]. Although some effort has been done to resolve their phylogenetic relationships, the small number of genes or species considered (e.g., a single gene in [7]) and limited geographical coverage (e.g., Neotropic in [10], Australasia in [11] and ancient European lakes in [39]) represent severe limitations and biases. Furthermore, some well-recognized species have never been considered (e.g., the Neotropical species Lymnaea cousini and L. diaphana). These limitations and biases have generated gaps in our understanding of their biogeographic patterns, and their epidemiology in areas of high endemicity of trematode diseases (e.g., South America; [40]).
In this paper, we contribute to fill these gaps by performing a phylogenetic analysis using a supermatrix approach. We infer the most complete phylogeny to date in Lymnaeidae using sequences of 50 taxa (i.e., approximately half of the supposed diversity of the family) covering most Neotropical species (including the unstudied L. diaphana, L. cousini and Lymnaea sp. from Colombia). Using this phylogenetic framework, we analyze how susceptibility to infection by F. hepatica and F. gigantica (the sister-species of F. hepatica mainly responsible for fascioliasis in Asia and Africa) has evolved. In addition, this phylogeny allows us to establish biogeographic aspects, to pinpoint potential biological invasions, and determine the evolution of chromosome numbers.
Results
A Comprehensive Phylogeny of Lymnaeidae
The ML and BI trees inferred with the alignment of the supermatrix including 50 Lymnaeidae species and three outgroups (5054 aligned sites) were extremely similar, although some node supports varied between the two approaches. The best model describing the evolution of the supermatrix was TVM+I+G (proportion of invariable sites = 0.2298; shape parameter = 0.8159). Overall, the clades obtained here are consistent with previous results [
7
–
9
,
18
,
39
,
41
]. Three deeply-rooted clades (hereafter C1, C2 and C3) were detected, basically matching the geographic origin of species (Figure
1
). The C1 clade (n = 18) included all American species and two species thought to originate from Europe (
Galba truncatula
and
Lymnaea occulta
=
Catascopia occulta
), although the inclusion of
Pseudosuccinea columella
was only weakly supported (0.18 BP and 0.30 PP). Two highly supported subclades can be recognized within this clade. The first one (C1a) included the South American
L. diaphana
, the North American
Stagnicola caperata
, the European
L. occulta
(=
C. occulta
), and all other North American
Stagnicola
. The second subclade (C1b) grouped the South American
L
.
cousini
with the North American
Fossaria obrussa
and
L. humilis
, on the one hand, and the European
G. truncatula
, Neotropical
L. cubensis
(=
Bakerilymnaea cubensis
),
L. neotropica
and
L. viatrix
, the North American
F. bulimoides
and
Lymnaea
sp. from Colombia, on the other hand.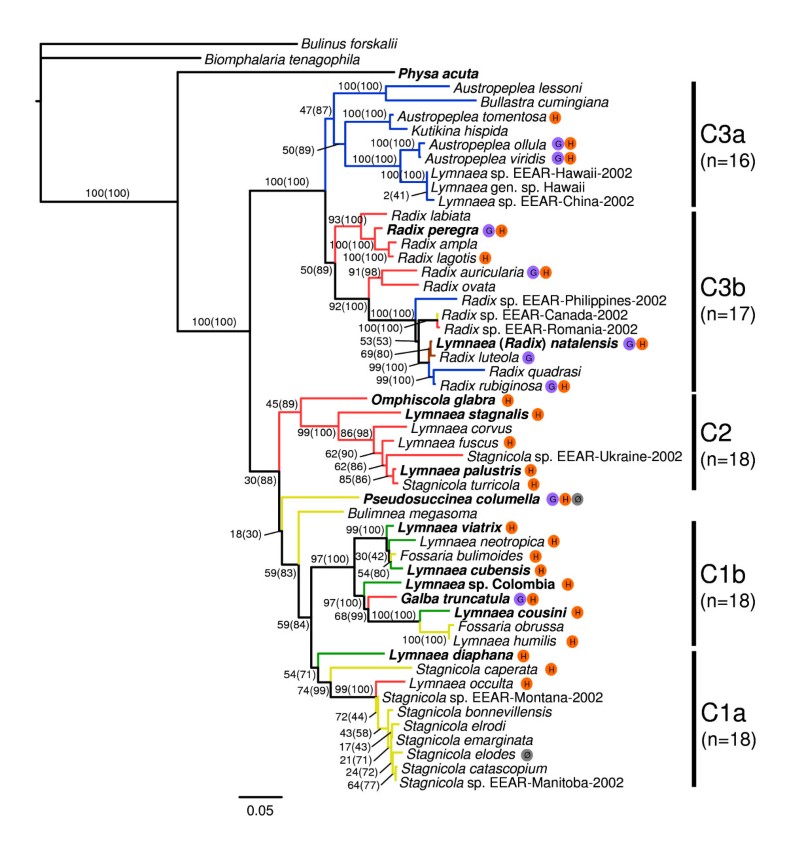 The C2 clade (n = 18) consisted of exclusively Eurasian species. In this clade, Omphiscola glabra (a small-shelled, morphologically distinct species) first diverged from all other species, including most large-bodied species found in Europe (excluding Radix spp.). This was followed by divergence of L. stagnalis, L. corvus (= S. corvus), L. fuscus, Stagnicola sp. EEAR-Ukraine-2002, L. palustris (= S. palustris) and S. turricola (= L. palustris turricola). These relationships are identical to those reported in [7, 8, 18].
The C3 clade contained all Australasian and Radix species, including the African Lymnaea (Radix) natalensis. ML and BI analyses indicated that there were two subclades within C3. The first one (C3a) was formed by Austropeplea lessoni and Bullastra cumingiana (n = 16), A. tomentosa and Kutikina hispidina (n = 16), and a subclade grouping A. ollula and A. viridis (= L. viridis) (n = 16), on the one hand; and Lymnaea sp. EEAR-China-2002 and Lymnaea sp. EEAR-Hawaii-2002 (n = 18 according to [48] and [11]; n = 16 according to [7]), on the other hand. The second subclade (C3b) consisted of all Radix species (n = 17), including L. (R.) natalensis, and included two monophyletic groups. The first one was formed by Radix labiata sister to R. peregra, R. ampla and R. lagotis. Note that our samples of R. peregra from Southern France clustered within the MOTU2 clade described in [26] with no ambiguity, based on analyses of COI and ITS-1 sequences (results not shown). The second, more recently derived clade, was formed by R. auricularia and R. ovata which were sister to a clade comprising Radix sp. EEAR-Philippines-2002, Radix sp. EEAR-Canada-2002 and Radix sp. EEAR-Romania-2002, L. (R.) natalensis sister to R. luteola, and R. quadrasi sister to R. rubiginosa.
Conclusion
At least four conclusions can be drawn from this study. First, combining information from different genes (supermatrix) is a robust approach to reconstruct the evolutionary history of the Lymnaeidae. Our results indicate that members of this family diverged in three deeply-rooted clades corresponding to the geographic origin of species (America, Eurasia and the Indo-Pacific region). Our phylogeny allowed us to pinpoint discordances between ancestral and current geographic distributions of some species, potentially indicating more or less recent biological invasions. Transfers from America to Eurasia are suggested for G. truncatula and L. occulta (= C. occulta), as well as passages from the Indo-Pacific to Europe and North America for Radix sp. However, sampling and sequencing efforts remain to be done especially in the Palaearctic and Nearctic regions in which the family diversity is thought to be the largest. This would help resolve the weakly supported relationships (e.g., P. columella), determine the pace of morphological evolution, establish taxonomic synonymy, and determine the phylogenetic relevance of poorly known genera (e.g., Acella, Lantzia, Lanx and Myxas). Second, with the exception of Radix (including the African L. (R.) natalensis), genus names in Lymnaeidae do not reflect the phyletic relationships among species. The group taxonomy should be reconsidered to gain some biological meaning. Third, the number of chromosomes in Lymnaeidae has evolved from an ancestral state of 18 pairs to a derived 17 and 16 pairs. Finally, while the intermediate hosts of F. gigantica are basically restricted to clade C3, F. hepatica is able to infect species from all main clades (C1, C2 and C3). This suggests that the cosmopolitan distribution of F. hepatica is largely favored by its capacity to infect local lymnaeids, and highlights the importance of the correct identification of intermediate-host species in fascioliasis control programs.
Declarations
Acknowledgements
We thank E. J. P. Douzery, S. Glémin and I. D. Vélez for helpful discussions, and P. Agnew and two anonymous reviewers for constructive comments that improved the quality of the paper. ACC was supported by a grant of the Département de Soutien et Formation of the IRD, and SHB by the Université Montpellier 2. This study was supported by the Cytrix INSU program, CNRS and IRD.
Authors' Affiliations
(1)
UMR 2724 CNRS-IRD, Laboratoire Génétique et Evolution des Maladies Infectieuses, Montpellier Cedex 5, France
(2)
Institut des Sciences de l'Evolution UMR 5554, Université Montpellier II, Montpellier Cedex 5, France
(3)
Centre d'Ecologie Fonctionnelle et Evolutive UMR 5175, Montpellier Cedex 5, France
(4)
USR 3278 CNRS-EPHE, CRIOBE Université de Perpignan, Perpignan-Cedex, France
(5)
Département de Biologie-Ecologie (Faculté des Sciences) cc- 046, Université Montpellier 2, Montpellier Cedex 5, France
Copyright
© Correa et al; licensee BioMed Central Ltd. 2010
This article is published under license to BioMed Central Ltd. This is an Open Access article distributed under the terms of the Creative Commons Attribution License (<url>http://creativecommons.org/licenses/by/2.0</url>), which permits unrestricted use, distribution, and reproduction in any medium, provided the original work is properly cited.