Research article

Open Access
Phylogeography and demographic history of Lacerta lepida in the Iberian Peninsula: multiple refugia, range expansions and secondary contact zones
BMC Evolutionary Biology
2011
11:170
Received: 4 October 2010
Accepted: 17 June 2011
Published: 17 June 2011
Abstract
Background
The Iberian Peninsula is recognized as an important refugial area for species survival and diversification during the climatic cycles of the Quaternary. Recent phylogeographic studies have revealed Iberia as a complex of multiple refugia. However, most of these studies have focused either on species with narrow distributions within the region or species groups that, although widely distributed, generally have a genetic structure that relates to pre-Quaternary cladogenetic events. In this study we undertake a detailed phylogeographic analysis of the lizard species, Lacerta lepida, whose distribution encompasses the entire Iberian Peninsula. We attempt to identify refugial areas, recolonization routes, zones of secondary contact and date demographic events within this species.
Results
Results support the existence of 6 evolutionary lineages (phylogroups) with a strong association between genetic variation and geography, suggesting a history of allopatric divergence in different refugia. Diversification within phylogroups is concordant with the onset of the Pleistocene climatic oscillations. The southern regions of several phylogroups show a high incidence of ancestral alleles in contrast with high incidence of recently derived alleles in northern regions. All phylogroups show signs of recent demographic and spatial expansions. We have further identified several zones of secondary contact, with divergent mitochondrial haplotypes occurring in narrow zones of sympatry.
Conclusions
The concordant patterns of spatial and demographic expansions detected within phylogroups, together with the high incidence of ancestral haplotypes in southern regions of several phylogroups, suggests a pattern of contraction of populations into southern refugia during adverse climatic conditions from which subsequent northern expansions occurred. This study supports the emergent pattern of multiple refugia within Iberia but adds to it by identifying a pattern of refugia coincident with the southern distribution limits of individual evolutionary lineages. These areas are important in terms of long-term species persistence and therefore important areas for conservation.
Keywords
Iberian Peninsula
Mismatch Distribution
Refugial Area
Much Recent Common Ancestor
Ancestral Haplotype
Background
Evidence from phylogeographic studies suggests that southern Europe, including the peninsulas of Iberia, Italy and the Balkans and areas near the Caucasus and the Caspian Sea, have functioned as refugial areas for species survival during periods of adverse climatic conditions [1]. Recent studies also emphasize the important role that these refugial areas had in shaping the evolutionary history of species that have persisted within these regions for several ice ages. As suggested by early studies [2–4] the topographic complexity and geographic mosaic of habitats in southern refugial peninsulas have favoured the occurrence of multiple disjunct refugia, allowing the persistence of isolated populations within them during glacial periods. Within the Iberian Peninsula, complex species histories have been revealed for a variety of taxa, with some showing remarkable patterns of phylogeographic concordance [see [5] and references therein] involving deep genetic subdivisions, high haplotype richness and distinct hybrid zones. Not only has the Iberian Peninsula sourced the northern redistribution of species after ice ages, but it has also facilitated diversification through patterns of repeated population fragmentation, contraction, expansion and admixture. Phylogeographic analyses for the golden-striped salamander, Chioglossa lusitanica [6–8] and Schreiber's Lizard, Lacerta schreiberi [9, 10] provide good examples of the complexity that most likely typifies many species within this major peninsular glacial refugium.
However, even though the Iberian Peninsula is the best studied glacial refugium, most phylogeographic studies have focused on species that either have a narrow distribution within the region (e.g Chioglossa lusitanica [6], Lacerta schreiberi [9], Lissotriton boscai [11]) or involve species groups that, although distributed across the entire region, generally have a genetic structure that relates to older cladogenetic events (e.g Podarcis spp. [12, 13], Alytes spp [14], Oryctolagus cunniculus [15, 16]). In order to better understand the complex phylogeographic history of Iberian species, and the way they have responded to Pleistocene climatic oscillations, it is important to study species with distributions encompassing the entire Iberian Peninsula. For this purpose we have used the ocellated lizard, Lacerta lepida (Daudin, 1802), as a model to study the impact of Pleistocene climatic changes in generating and structuring intraspecific genetic diversity on this regional scale. Lacerta lepida is typically Mediterranean, with a distribution encompassing all the Iberian Peninsula, and with phylogeographic structure across the region [17]. Several mitochondrial lineages that appear to have non-overlapping geographic ranges were recently described, suggesting a history of allopatric differentiation in multiple refugia during the Plio-Pleistocene [17]. Here we assess the broader phylogeographic patterns within Lacerta lepida with the specific aims to i) clarify the distribution of mtDNA phylogroups; ii) identify refugial areas within these phylogroups during the glacial periods; iii) date the main demographic and evolutionary events within Lacerta lepida; and finally iv) identify secondary contact zones between the different phylogroups.
It is generally accepted that phylogeographic histories recovered using only mtDNA as a marker are constrained to reveal one genealogy that reflects the maternally inherited natural history of an organism. Relationships among phylogroups inferred through mtDNA might be discordant with inferences made based on nuclear genes (Harrison 1991; Avise 2000) and discordances have been illustrated in several studies [e.g. [18–24]]. Particularly within the Iberian Peninsula, several studies have emphasized the importance of using different types of markers to fully recover the complex evolutionary and demographic scenarios that most likely characterize the species that have persisted there across the Quaternary. For example, in Lacerta schreiberi evidence for gene flow and ancestral introgression between apparently allopatric mtDNA lineages was only detected by the use of nuclear markers [10]. Here we use both mtDNA and nDNA derived genealogies, since their contrasting molecular and population properties (principally uniparental versus biparental mode of inheritance and contrasting population sizes) are mutually informative when there have been opportunities for secondary contact, gene flow and hybridization between diverging populations.
Results
A total of 353 lizards were sampled from 129 different sites across the distribution of
Lacerta lepida
. Sampling sites and number of samples per site are shown in Figure
1
and Additional file
1
, Table S1, respectively. A total of 321
cytb
and 104
β-Fibint7
sequences were obtained.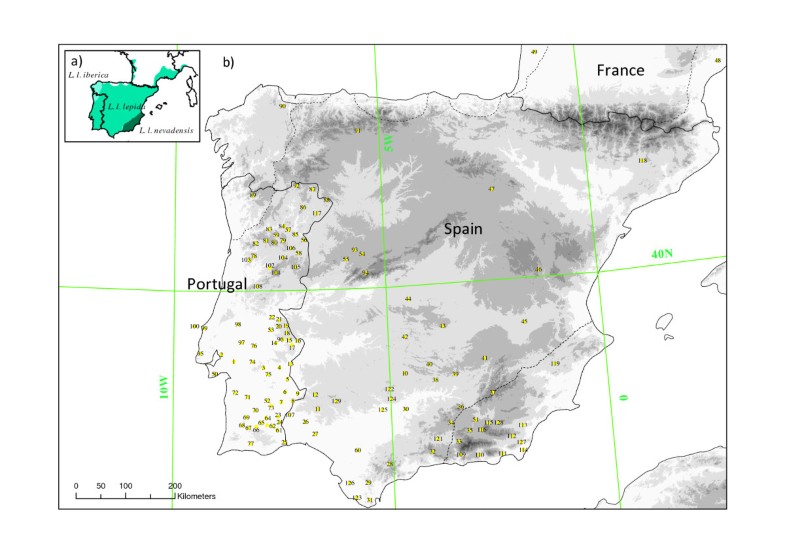 Discussion
Detailed analysis of the distribution of mitochondrial genetic variation within Lacerta lepida across the Iberian Peninsula revealed a complex phylogeographic history for the species. The cytb genealogy clearly defines 6 geographic phylogroups with generally non-overlapping geographic distributions. The strong association of mtDNA genetic variation with geography suggests a history of allopatric divergence in different refugia within the Iberian Peninsula, a pattern that has been described for several taxa within the region [see [5], and references therein]. Although this pattern of differentiation of distinct evolutionary units in allopatry was less evident from the analysis of the nuclear data, the distribution of nuclear haplotypes is not in conflict with the mtDNA phylogroups. Failure of the nuclear gene genealogy to reveal concordant genetic structure with the mitochondrial genealogy can be expected if one takes into account the fact that nuclear genes take on average four times longer to reach monophyly than mitochondrial ones [73]. In fact, most of the intraspecific differentiation within Lacerta lepida is of relatively recent origin, with the majority of phylogroups (L1 to L5) estimated to have diversified within the Pleistocene, increasing the probability of mitochondrial lineages not being reciprocally monophyletic for nuclear markers. Nevertheless, phylogroup N is estimated to have diverged from the remaining phylogroups during the Miocene (5.6-13.7 Ma) representing a much older cladogenetic event within the group. This older split therefore allows for more time for lineage sorting at the nuclear level. This is evident in the composition of nuclear haplotypes of phylogroup N, which are almost all private with the exception of the ancestral haplotypes (which are shared among almost all phylogroups). Thus, although mtDNA lineages have not reached monophyly at the nuclear level, some level of nuclear differentiation between mtDNA lineages is detected by the existence of private alleles, and this is most pronounced for phylogroups that represent older cladogenetic events (L1, L4 and N). Incomplete lineage sorting seems therefore a plausible explanation for the discrepancies in mitochondrial and nuclear gene genealogies. Recent phylogeographic and phylogenetic studies focusing on lizards in the Iberian Peninsula reveal similar discrepant patterns between mtDNA and nuclear genealogies [10, 13]. In the case of Podarcis wall lizards Pinho et al. [13] showed that, despite a complete lack of monophyly at the nuclear level, most of the species show historical reproductive isolation and that the lack of monophyly is mainly a result of shared ancestral polymorphism.
Although it is plausible that incomplete lineage sorting is responsible for the failure of nuclear genealogy to recover the mitochondrial phylogroups in Lacerta lepida, current gene flow, mainly male-biased, at zones of secondary contact can also be invoked to explain the patterns observed. Evidence for this comes from the observation that geographically close phylogroups share more derived haplotypes. For example allele B20 occurs only in the very divergent phylogroups L3 and L5 near the zone of contact, but it was not detected in the ancestral phylogroup L4, suggesting that nuclear gene flow may be occurring between the L3 and L5 mtDNA lineages. The same is true for allele B4 which, although more widespread within phylogroup L4, is also found in individuals of L2 near the zone of contact, but was not detected in phylogroup L3, which is phylogenetically closer to phylogroup L2.
Historical biogeography of Lacerta lepida
Divergence within Lacerta lepida is estimated to have started in the Miocene, approximately 9.4 Mya (5.58-13.66), with divergence of phylogroup N from phylogroup L. Within phylogroup L estimated divergence times are much younger and inferred to have been initiated in the Plio-Pleistocene, approximately 1.96 Mya (1.13-2.91 Mya). Interestingly, although divergences between the mitochondrial phylogroups have a Plio-Pleistocene (within group L) or a late Miocene (for group N) origin, haplotype diversities within phylogroups indicate a strong influence of later Pleistocene events, with diversification within phylogroups starting between 0.92 and 0.45 Ma. The importance of the Pleistocene climatic oscillations in promoting species differentiation in the Iberian Peninsula has been emphasized by previous studies [see [5], for a recent review] and this clearly also seems to be the case for Lacerta lepida.
Phylogroup N
Phylogroup N is distributed across the Betic Mountain range in south-western Spain and its distribution approximately coincides with the described subspecies Lacerta lepida nevadensis. The existence of clear significant morphological differentiation between L. l. nevadensis and the remaining subspecies of Lacerta lepida [74–76], together with high levels of allozyme differentiation [76] and mitochondrial genetic differentiation (our study and [17]), suggests that the two lineages (N and L) might in fact reflect two different species. Paulo et al. [17] have inferred that divergence between phylogroups L and N were initiated by overseas dispersal between what was then the Iberian mainland and the Betic Massif that at that time existed as an island between Iberia and North Africa. Under this scenario subsequent contact between the phylogroups would have been initiated after the merging of the Betic Massif with Iberian mainland, due to the closing of the Betic corridor 7.8-7.6 Ma [see [77, 78] for a detailed explanation of the kinematics of the western Mediterranean basin]. The Betic Mountain range is a region of high endemism for plants and animals, and its importance as a refugium for other taxa has been highlighted before [see [5]]. Interestingly, some of these taxa show similar divergence times and distribution as phylogroup N (e.g. Salamandra salamandra longirostris [79] and Alytes dickhilleni [80]).
Phylogroups L2 and L3
The monophyletic group composed of phylogroups L2 and L3 is estimated to have started diverging from the remaining phylogroups in the early Pleistocene, approximately 1.5 Mya (0.82-2.27). Interestingly these two phylogroups have a disjunct distribution, with phylogroup L2 occupying the south of Portugal whereas L3 occupies the north-western parts of the Iberian Peninsula. The intervening region between phylogroups L2 and L3 is occupied by phylogroup L5. A vicariant event during the Middle Pleistocene (0.82-2.27 Mya) triggering divergence between the L2-L3 lineage and the remaining populations of Lacerta lepida seems probable. It is noteworthy that most phylogeographic studies within Iberia reveal similar phylogenetic breaks associated with the same period (e.g. Chioglossa lusitanica [6, 7], Oryctolagus cuniculus [81], Lacerta schreiberi [9, 82]), suggesting a common vicariant history. Such a vicariant event was most likely climatically-mediated as no apparent geographical barrier exists within western Iberian Peninsula.
The western Algarve region in southern Portugal has been indicated as the evolutionary centre for several species and also as a key refugial area [83, 84]. The region harboured relicts of temperate forests during the Last Glacial Maximum [85], probably providing suitable conditions for species survival through glacial periods. The high genetic distance and disjunct distribution found between phylogroups L2 and L3 is most likely the consequence of fragmentation of a once more continuous range in response to a cooling climate. Subsequent climate amelioration during an interglacial period probably resulted in this distribution gap being colonized by L5, expanding from another nearby refugium. A similar distribution pattern of genetic variation is found within Discoglossus galganoi across Portugal, with two closely related phylogroups distributed in the south and north and a less related phylogroup bisecting their distribution [86]. The distribution of Discoglossus galganoi phylogroups and the evolutionary relationship between them is remarkably similar to that found within Lacerta lepida.
Phylogroups L1, L4 and L5
The refugia for Lacerta lepida phylogroups L1, L4 and L5 were probably located in the south-eastern side of the Guadalquivir basin. Support for this comes from the distribution of ancestral haplotypes 127, 140 and 8 within phylogroup L4 that are found only in this region (localities 10, 12, 32, 36, 37, 38, 39, 40, 41). The two very divergent haplotypes within L4 (60 and 61) are also restricted to this region. The widespread distribution of the most frequently sampled haplotype 1 suggests that the spatial and demographic expansion detected within L4 was of a "leading edge" type [87, 88], with few individuals rapidly colonizing adjacent regions, leading to a decrease in genetic diversity on the newly colonized areas. The different phylogroups are most likely the result of three different expansions from the southern refugia dominated by different ancestral haplotypes, followed by further divergence in allopatry.
Refugial areas, range expansions, and secondary contact
The lower mutation rate and slower fixation rate of nuclear genes, when compared to the mitochondrial genome, mean that nuclear genealogies may be more indicative of older demographic events [89]. Therefore, the analysis of the distribution of ancestral nuclear alleles can be useful in the identification of refugial areas. Haplotype B15 is the root of the nuclear gene network, representing the most ancestral allele in the dataset. The distribution of B15 is primarily in the southern region of Iberia, where it occurs with higher frequency than in northern regions (70% of samples with haplotype B15 are from southern latitudes). Furthermore the southern region of Iberia (to the south of river Tagus) shows higher nuclear haplotype richness, with 90% of the identified haplotypes occurring in this region from which 67% do not occur further north. The high nuclear haplotype richness found in the southern regions of Iberia, together with the high frequency of B15 in this region suggest that southern populations are older and the source of subsequent northern expansions.
The geographical and genealogical relationships of mitochondrial haplotypes within phylogroups provide further indications as to the probable refugial areas from where range expansions subsequently occurred. The same pattern of older (interior) haplotypes being typically found within southern sampling sites is also evident for the mitochondrial dataset. For example within phylogroup L2, the ancestral haplotype 96 and the related interior haplotype 93 are most frequent in southern sites 25, 63, 64, 66, 69 and 70, coincident with the Algarve and southern Alentejo region in Portugal. Within phylogroup L3 the ancestral haplotype 51 and the related interior haplotype 46 occur either in the southern region of the phylogroup distribution, to the south of Douro river (sites 82 and 78), or in sites located at the centre of the phylogroup distribution (sites 87, 89 and 92). Within phylogroup L4, the ancestral haplotype 127 and the closely related haplotypes 140 and 8 occur again only in the south-eastern limit of this phylogroup (sites 10, 12, 32, 36, 37, 38, 39, 40 and 41), near the source of the Guadalquivir river in Jaen, Spain. Finally the ancestral haplotype of phylogroup L5 (haplotype 13) and the related interior haplotypes 14 and 17 are most frequent within southern sites of this phylogroup (sites 22, 95, 96 and 99), along the river Tagus basin. These patterns are statistically significant for phylogroups L3 and L5 (Figure 8), which also reveal an excess of derived haplotypes in the north of their geographic ranges. These repeated pattern of ancestral haplotypes occurring more frequently towards the southern range of phylogroups, and in some cases derived haplotypes being more frequent within more northern sites, suggests that southern regions within phylogroup ranges have probably functioned as refugia during past adverse climatic conditions, from which subsequent northern expansions occurred.
The evolutionary history of Lacerta lepida is consistent with a history of population fragmentation and allopatric divergence in southern refugia, followed by recent demographic and spatial range expansions. Demographic expansions are supported by the neutrality and mismatch distribution tests that reveal signatures of demographic and spatial expansions in almost all phylogroups and by the BSP analysis, which show a trend of population expansion in all phylogroups between 0.1 to 0.15 million years ago (Figure 7). Spatial expansions are supported by the latitudinal variation observed for the distributions of ancestral and derived haplotypes. This history of diversification in allopatry followed by range expansions has lead to the establishment of at least four secondary contact zones where very divergent mitochondrial haplotypes belonging to different phylogroups were found in sympatry (Figure 4). Further analyses of these zones may provide insights into the mechanisms involved in speciation and divergence within this lizard species.
Conclusions
Mitochondrial and nuclear gene genealogies in Lacerta lepida provide evidence for a history of isolation and divergence in allopatry resulting in the diversification of six genetically and geographically distinct lineages. Although diversification within the group is largely concordant with the onset of the major glaciations at the beginning of the Pleistocene (approximately 2 Mya), an earlier event associated with the Miocene was also identified. This event (approximately 9 Mya), which marks the divergence of lineages N and L, seems to be associated with geological events related to the evolution of the Mediterranean basin. Signatures of recent demographic and spatial expansions were apparent in all phylogroups, with several phylogroups having established zones of secondary contact. Analyses of the distribution of ancestral and derived alleles within each phylogroup, and inferences related to the biogeography of Lacerta lepida, allowed the identification of probable refugia within the Iberian Peninsula, suggesting southern refugial areas within phylogroups. Our work highlights the importance of these areas for the long-term conservation and management of diversity with Lacerta lepida across its geographic range.
Declarations
Acknowledgements
This work was supported by a grant from FCT, Portugal (POCI/BIA-BDE/59288/2004). AM was supported by a PhD grant from FCT (SFRH/BD/16996/2004). We thank S. Carranza (University of Barcelona) and J. Pleguezuelos (University of Granada) for providing several lizard samples. We thank Juan Pablo de la Vega, Luis Garcia, Gabriel Marin, Eugenia Zarza-Franco, Rui Osório, Pedro Figueiredo, Nuno Valente and Matthew Osborne for helping with fieldwork. We also thank Mário Miraldo and António Firmino for assembling the lizards' traps. All samples were collected with appropriate licenses in each country (Instituto de Conservação da Natureza in Portugal and the Regional Ministry of Environment of the Government of Andalucia, Asturias, Galicia, Extremadura, Castilla y Leon, Murcia, Castilla la Mancha and Madrid in Spain).
Authors' Affiliations
(1)
School of Biological Sciences, University of East Anglia, Norwich, UK
(2)
Centro de Biologia Ambiental/Departamento de Biologia Animal, Faculdade de Ciencias da Universidade de Lisboa, Lisboa, Portugal
(3)
Metapopulation Research Group, University of Helsinki, Department of Biological and Environmental Sciences, Helsinki, Finland
(4)
Island Ecology and Evolution Research Group, IPNA-CSIC, La Laguna, Tenerife, Spain
Copyright
© Miraldo et al; licensee BioMed Central Ltd. 2011
This article is published under license to BioMed Central Ltd. This is an Open Access article distributed under the terms of the Creative Commons Attribution License (http://creativecommons.org/licenses/by/2.0), which permits unrestricted use, distribution, and reproduction in any medium, provided the original work is properly cited.