Research article
Open Access
Conversion events in gene clusters
BMC Evolutionary Biology
2011
11:226
Received: 9 March 2011
Accepted: 28 July 2011
Published: 28 July 2011
Abstract
Background
Gene clusters containing multiple similar genomic regions in close proximity are of great interest for biomedical studies because of their associations with inherited diseases. However, such regions are difficult to analyze due to their structural complexity and their complicated evolutionary histories, reflecting a variety of large-scale mutational events. In particular, conversion events can mislead inferences about the relationships among these regions, as traced by traditional methods such as construction of phylogenetic trees or multi-species alignments.
Results
To correct the distorted information generated by such methods, we have developed an automated pipeline called CHAP (Cluster History Analysis Package) for detecting conversion events. We used this pipeline to analyze the conversion events that affected two well-studied gene clusters (α-globin and β-globin) and three gene clusters for which comparative sequence data were generated from seven primate species: CCL (chemokine ligand), IFN (interferon), and CYP2abf (part of cytochrome P450 family 2). CHAP is freely available at http://www.bx.psu.edu/miller_lab.
Conclusions
These studies reveal the value of characterizing conversion events in the context of studying gene clusters in complex genomes.
Keywords
Primary SpeciesConversion EventOutgroup SpeciesParalogous PairParalogous Region
Background
Recent comparative genomics studies have revealed how the human genome has been shaped by various evolutionary forces. Some regions in the human genome are strongly conserved among many mammalian species [1, 2], while others have seen accelerated change in the human lineage compared to other species [3, 4]. Some regions, the so-called "gene clusters", are composed of multiple similar copies of gene-containing segments in close proximity. Because such structurally complex regions have been implicated in human genetic diseases, their study has become of great interest. For example, the number of gene copies in the CCL cluster influences susceptibility to HIV [5], the IFN cluster is associated with sarcoidosis [6], and the CYP2abf cluster is implicated in lung cancer [7].
Analyzing the evolution of biomedically relevant gene clusters can inform studies aiming to discover the molecular mechanisms underlying their genetic disease association (e.g. [
8
]). However, gene clusters are difficult to analyze because they contain multiple similar genomic regions, and tend to have complex evolutionary histories involving a variety of large-scale mutation events (such as duplications, deletions, inversions, and conversions). One of the key problems in analyzing gene clusters lies in distinguishing between orthologs, defined as genes that derive from speciation events, from paralogs, defined as genes that derive from duplication events. Traditional efforts to trace the relationships among these regions have focused on constructing a phylogenetic tree or a multiple alignment of homologous sequences, but these approaches suffer from uncertainty problems whereby different methods can produce substantially different results [
9
]. Even when using a single method, the tree topology of a sequence dataset can change depending on which region is selected [
10
]. One of the main factors confounding such evolutionary analyses is the phenomenon of conversion between paralogs (a.k.a. non-allelic or ectopic conversion), where sequence from one region overwrites part of a similar paralogous region via the recombinational machinery (Figure
1
). This is sometimes called "gene conversion", though it does not necessarily involve any genes. It is typically caused by DNA double-strand breaks or by a double Holliday junction dissolution mechanism [
11
]. Previous genome-wide studies of conversion revealed that such events have occurred quite often (e.g. 7.5% of all paralogous pairs in the mouse genome [
12
] and 13.5% in the human genome [
13
]). Moreover, some of these paralogs have undergone recurring conversion events, complicating matters even further.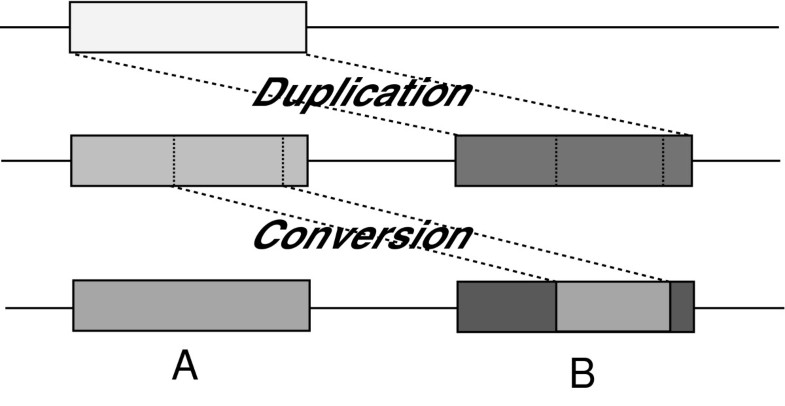 Many computational methods have been devised for detecting gene conversion (e.g. [12, 14–16]). According to our evaluation study [17], the method we developed [12] outperformed the others tested when applied to gene cluster data and both sensitivity and false discovery rate were taken into account. In addition, the other methods for detecting converted regions pose the inconvenience of requiring a multiple sequence alignment for each set of homologous sequences. Here, we report the development of an easy-to-use software package called CHAP (Cluster History Analysis Package) for detecting conversion events using gene cluster sequences from multiple species. CHAP uses the conversion-detection method from [12], which is based on a statistical test proposed by [18]. The CHAP package includes procedures for identifying all pairwise orthologs required by the conversion-detection method, utilizing an extension of our CAGE program [19]. Thus, users only need to prepare sequence datasets for their gene clusters of interest, and provide an overall phylogenetic tree for the species involved. The package also includes an extended version of our Gmaj viewer [20], which provides a convenient way to examine the detected conversion events. The entire CHAP package is available for free download from our website at http://www.bx.psu.edu/miller_lab. Users will also need the well-known RepeatMasker program [21], which is available from http://www.repeatmasker.org.
CHAP includes the following differences from our previous program [12]. (1) CHAP focuses on analyzing gene clusters rather than entire genomes. In particular, it incorporates an ortholog identifier specifically designed for dealing with the clusters' complex evolutionary histories [19], whereas the program from [12] relies on external, generic ortholog assignments. (2) It detects conversion events in multiple related species at once, not just a single primary species as in [12]. (3) It leverages the multi-species conversion data to estimate the time of the events in the species tree. (4) It includes an additional, alternative test criterion that enables it to detect conversions covering entire paralogs, which were missed by [12]. (5) It provides a visualization tool to help users easily investigate the conversion results.
We used CHAP to analyze conversion events in five primate gene clusters. This involved using a combination of sequences available from public sources and newly generated ones (see Additional file 1, Table S1 in the supplement for the GenBank accession numbers of the new sequences). The clusters were chosen based on their relevance to human health, recent duplications in the human lineage, and small size: β-globin (hg19.chr11:5,224,419-5,314,419), α-globin (hg19.chr16:190,000-235,000), CCL (chemokine ligand; hg19.chr17:34,310,693-34,812,885), IFN (interferon; hg19.chr9:21,058,760-21,481,698), and CYP2abf (part of cytochrome P450 family 2; hg19.chr19:41,324,635-41,712,359).
Conclusions
In this study, we developed the CHAP package for detecting conversion events in gene clusters, and used this computational tool for analyzing five human gene clusters. We found that 20.0% of the paralogous sequence pairs in those clusters have undergone at least one conversion event. This is somewhat higher than the genome-wide frequency (13.5%) for all human paralog pairs [13], and confirms that conversion is a common phenomenon that must be accounted for when studying gene cluster evolution. Interestingly, some paralogs have experienced conversion events repeatedly in the same intervals; this can be detected if the later ones change narrower regions in the target.
To detect the occurrence of conversion events and their boundaries, we used a statistical test based on two criteria: the original triplet and quadruplet tests implemented in [12], and a new alternative test for events covering most or all of their respective paralogous sequences, which was implemented by extending the original detector. Both criteria achieve comparable statistical rigor by calculating a P-value for each event. We have compared our conversion detector pipeline (including the CAGE program) to other existing methods available for detecting conversion events, and the overall accuracy of our method (considering both the sensitivity and false discovery rate) was superior to the others when applied to gene cluster data [17]. The quality of the non-parametric statistical test used in our conversion detector was also evaluated in [18].
CHAP works best when sequences are available from many species, because even if a conversion cannot be detected using one particular primary or outgroup species (e.g. due to difficulty assigning orthologs), it may still be detected using others. In addition, using more species in the analysis enables more precise estimation of conversion times. However, as illustrated in the Drosophila example above, even one outgroup sequence is often sufficient to find conversions.
Accurate detection of conversion events can contribute substantially to other studies of gene cluster evolution by correcting duplication ages distorted by conversion and by improving the identification of orthology relationships in complex gene clusters. For example, the orthology assigned by CAGE is based on the positions where duplications occurred and the species in which they are seen (which we call "orthology by position"). The orthology mappings based on this definition are suitable for our purpose of conversion detection. However, other studies may require orthology mappings based on a different definition: if we trace the orthology based on the origin of the sequence contents rather than the positions of duplication, conversion events can change the mappings (for example, in Figure 2 the ortholog of A2 becomes B1 instead of B2). This alternative concept of "orthology by content" corresponds to the mosaic structures of phylogenetic trees [50], and is necessary for certain types of evolutionary analysis, such as determining the rate of synonymous substitutions in coding regions. In fact, it may not even be appropriate to analyze synonymous substitution rates in genes subject to frequent conversion events, because their nucleotide changes are not introduced according to a Poisson process, but rather as segments of changes. For both concepts of orthology, CHAP can lead to more accurate ortholog identification that is essential for constructing multiple sequence alignments and phylogenetic trees. Finally, our ongoing efforts in this area can help to more accurately model the full complexity of evolutionary processes, and to improve software for the analysis of gene cluster evolution.
Declarations
Acknowledgements
This work was supported by grant HG02238 to WM from the National Human Genome Research Institute and grant DK065806 to RCH from the National Institute of Diabetes, Digestive and Kidney Diseases.
Authors' Affiliations
(1)
Center for Comparative Genomics and Bioinformatics, Pennsylvania State University, University Park, USA
(2)
Computational Biology Branch, National Center for Biotechnology Information, National Library of Medicine, National Institutes of Health (NIH), Bethesda, USA
(3)
Department of Biochemistry and Molecular Biology, Mississippi State University, Mississippi State, USA
(4)
Department of Mathematics, National University of Singapore, Singapore
(5)
NIH Intramural Sequencing Center (NISC) and Genome Technology Branch, National Human Genome Research Institute, National Institutes of Health, Bethesda, USA
Copyright
© Song et al; licensee BioMed Central Ltd. 2011
This article is published under license to BioMed Central Ltd. This is an Open Access article distributed under the terms of the Creative Commons Attribution License (http://creativecommons.org/licenses/by/2.0), which permits unrestricted use, distribution, and reproduction in any medium, provided the original work is properly cited.