Research article
Open Access
A unique horizontal gene transfer event has provided the octocoral mitochondrial genome with an active mismatch repair gene that has potential for an unusual self-contained function
BMC Evolutionary Biology
2011
11:228
Received: 27 April 2011
Accepted: 29 July 2011
Published: 29 July 2011
Abstract
Background
The mitochondrial genome of the Octocorallia has several characteristics atypical for metazoans, including a novel gene suggested to function in DNA repair. This mtMutS gene is favored for octocoral molecular systematics, due to its high information content. Several hypotheses concerning the origins of mtMutS have been proposed, and remain equivocal, although current weight of support is for a horizontal gene transfer from either an epsilonproteobacterium or a large DNA virus. Here we present new and compelling evidence on the evolutionary origin of mtMutS, and provide the very first data on its activity, functional capacity and stability within the octocoral mitochondrial genome.
Results
The mtMutS gene has the expected conserved amino acids, protein domains and predicted tertiary protein structure. Phylogenetic analysis indicates that mtMutS is not a member of the MSH family and therefore not of eukaryotic origin. MtMutS clusters closely with representatives of the MutS7 lineage; further support for this relationship derives from the sharing of a C-terminal endonuclease domain that confers a self-contained mismatch repair function. Gene expression analyses confirm that mtMutS is actively transcribed in octocorals. Rates of mitochondrial gene evolution in mtMutS-containing octocorals are lower than in their hexacoral sister-group, which lacks the gene, although paradoxically the mtMutS gene itself has higher rates of mutation than other octocoral mitochondrial genes.
Conclusions
The octocoral mtMutS gene is active and codes for a protein with all the necessary components for DNA mismatch repair. A lower rate of mitochondrial evolution, and the presence of a nicking endonuclease domain, both indirectly support a theory of self-sufficient DNA mismatch repair within the octocoral mitochondrion. The ancestral affinity of mtMutS to non-eukaryotic MutS7 provides compelling support for an origin by horizontal gene transfer. The immediate vector of transmission into octocorals can be attributed to either an epsilonproteobacterium in an endosymbiotic association or to a viral infection, although DNA viruses are not currently known to infect both bacteria and eukaryotes, nor mitochondria in particular. In consolidating the first known case of HGT into an animal mitochondrial genome, these findings suggest the need for reconsideration of the means by which metazoan mitochondrial genomes evolve.
Keywords
Mitochondrial GenomeHorizontal Gene TransferHorizontal Gene Transfer EventPosterior Probability SupportAcanthamoeba Polyphaga
Background
Animal mitochondrial genomes are generally conserved in structure, approximate size and gene content. The circular genome of the so-called higher metazoans typically encodes 13 proteins, 22 transfer RNAs and two ribosomal RNAs, while lacking introns [1, 2]. Variation in genome size usually derives only from length variation in the single large non-coding region, so that most mitochondrial genomes range in size from 14 to 17 kb [1, 2]. The phylum Cnidaria, however, provides many interesting and diverse exceptions to this pattern. For example, medusozoans (jellyfish and hydroids; Classes Cubozoa, Scyphozoa, Staurozoa and Hydrozoa) are unique among animals in having a linearized mitochondrial DNA (mtDNA) [3, 4]. Hexacorals (Anthozoa: Hexacorallia) are unique in that their mitochondrial COI and ND5 genes contain introns, and anthozoan mitochondrial genomes on the whole are known to contain a greatly reduced complement of transfer RNA genes (only 1 or 2 tRNAs) [5–9]. Among the octocorals (Anthozoa: Octocorallia), the mitochondrial genome is known to have undergone inversion and reorganization at least three times [10, 11], including twice within a single family [11]. These changes in octocoral gene order appear to have resulted from intramitochondrial recombination [10], which itself was believed to be unlikely in animals until its discovery in 1997 [12]. As more mitochondrial genome data become available for cnidarians, and for the Octocorallia in particular, it seems that fewer generalizations of mitochondrial structure and evolution seem applicable to these basal metazoans.
Indeed, when the first complete octocoral mitochondrial genomes were sequenced in 1995, another surprise was revealed. The mtDNA of Renilla kolikeri and Sarcophyton glaucum (Anthozoa: Octocorallia) [5, 13] was observed to contain the standard anthozoan complement of oxidative metabolic genes - 13 protein-coding genes, two rRNAs and a single tRNA - but both genomes also contained an unexpected open reading frame (ORF) [5, 14, 15]. Almost 16% of the mtDNA (2949/18453 bp) was occupied by a novel ORF that to this day has not been found in any mitochondrial genome outside of the Octocorallia [5]. Based on 19.7% similarity of the translated sequence to the yeast nuclear Mutation Suppressor Homolog 1 (MSH1) gene, it was suggested that the novel ORF might be active in DNA mismatch repair (MMR) and thus it was first termed 'mtMSH' as a mitochondrial homolog of the eukaryotic MSH family [14]. Alternative names have since been used for this octocoral gene to infer relationship specifically to the MSH1 family ("msh1" [16, 17]) or to encompass broad taxonomic ranges ("mtMutS" [18]), including MMR genes from both prokaryotes (MutS) and eukaryotes (MSH). We hereafter preferentially use the name 'mtMutS' to refer to the octocoral mitochondrial ORF, since it makes the fewest a priori assumptions of homology to either eukaryotic MSH or prokaryotic MutS MMR gene families, specifically.
Paradoxically, while MutS and MSH function in reducing error rates in DNA replication in eubacteria and eukaryotes, respectively [19], mtMutS itself possesses the highest level of systematically-informative variation amongst any protein-coding mitochondrial gene examined to date within octocorals [20]. As such, it has played a central role in molecular systematic efforts to revise the taxonomic classification of the Octocorallia. Its utility in phylogenetics was first demonstrated in a species-level analysis [16] and has subsequently been extended to more comprehensive studies of octocoral genera [17] and subfamilies [21]. Revisionary systematics and the classification of newly described species have also used sequences of mtMutS, either alone [22] or in combination with nuclear [23, 24] or other mitochondrial [25, 26] sequences. Despite being rapidly embraced as a phylogenetic tool, however, mtMutS is the only animal mitochondrial gene for which both functionality and origin remain equivocal.
The observation that the
mtMutS
gene is present in all octocorals [
17
], yet absent from all examined members of the hexacoral sister clade [
7
,
8
] has been instrumental in the formulation of numerous theories regarding its origin (Figure
1
). Since all known eukaryotic
MSH
genes are found in the nucleus, it was first postulated that the presence of an
MSH
-like gene in the octocoral mitochondrial genome most likely resulted from gene transfer from the octocoral nucleus (Figure
1A
) [
15
]; this event would have occurred in the common octocorallian ancestor after its divergence from hexacorals. It was further hypothesized that, as a homolog of the
MSH1
gene [
14
],
mtMutS
would likely play a role in stabilizing mtDNA [
27
,
28
]. This latter hypothesis is indirectly supported by observations of low levels of DNA sequence variation among other mitochondrial genes commonly used for octocoral population genetics and barcoding efforts [
20
]. However, although gene transfer from the mitochondrion to the nucleus is well-documented, transfer in the opposite direction, such as that initially proposed for
mtMutS
[
15
], has never been confirmed [
29
]. Different interpretations of the relationship of
mtMutS
to
MSH1
suggested that the eukaryotic
MSH
family originated from a nuclear
MSH1
ancestor, which was itself transferred from the genome of the endosymbiont precursor of the mitochondrion (Figure
1B
) [
18
]. Under this scenario, the presence of
mtMutS
in the octocoral mitochondrion represents a relict intermediate between the cellular internalization of bacterial
MutS
and nuclear eukaryotic
MSH
. However, with more comprehensive taxonomic sampling, the phylogenetic position of
mtMutS
relative to
MSH1
changes, further diminishing the likelihood it represents a nuclear-mitochondrial transfer event in either direction. A broad-scale study including representative sequences of six eukaryotic
MSH
families and two bacterial
MutS
lineages placed
mtMutS
not as a close relative of
MSH
genes, but instead at the base of the
MutS2
family, which contains prokaryotic and plant
MutS
genes with unknown functions [
30
,
31
].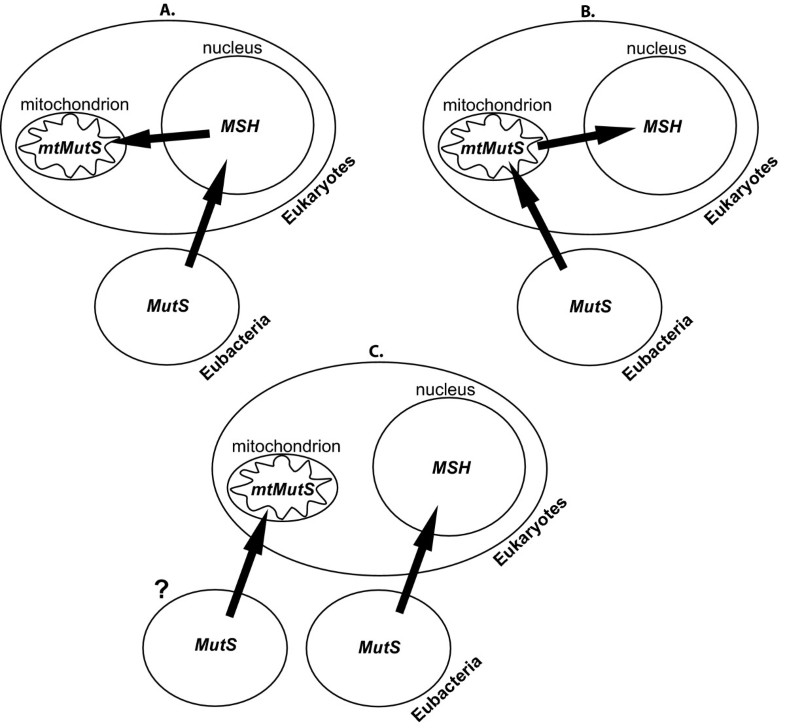 A more recent analysis proposed the closest relative of the octocoral mtMutS to be the MutS sequence from the Acanthamoeba polyphaga nucleocytoplasmic large DNA virus (NCLDV or 'girus'), closely followed by MutS sequences from epsilonproteobacteria [32]. Although no other eukaryotic sequences were included in the analysis, the high level of identity between MutS from the NCLDV and mtMutS (25%), and the presence of a C-terminal HNH endonuclease domain in both, were taken as evidence of common ancestry. This raised the hypothesis that octocorals might have acquired mtMutS via horizontal gene transfer (HGT) from a NCLDV ancestor into the common ancestor of Octocorallia (Figure 1C). An HGT origin of mtMutS is further supported by the most recent and most comprehensive analysis of both MSH and MutS evolution, which included five more NCLDV sequences [33]. This study provided very strong support for the lineage containing octocoral, epsilonproteobacterial and viral MutS sequences, but was unable to discriminate between the bacterial or the viral lineage as the sister group to mtMutS [33]. Thus the most recent common ancestor to mtMutS remains unknown, although it appears almost certain to be either viral or bacterial - not eukaryotic - in origin.
Here we provide further tests of the HGT hypothesis of origin by examining the homology, diversification and evolutionary patterns of the mtMutS gene from multiple octocorals. First, we reconstruct MutS phylogenies using all conserved sections of the gene, rather than only the single domain used previously [33], thus providing more robust support for the HGT origin. Horizontal gene transfer of a mtMutS precursor from a non-metazoan donor in turn raises multiple questions pertaining to the acquisition, function and evolution of the octocoral gene. In particular, evolutionary theory predicts that the successful integration of HGT- acquired genes into a host genome requires both gene activity and gene longevity [34]. Second, in addressing these predictions, we ask whether the octocoral mtMutS gene is active, and how it has diversified over evolutionary timescales within the foreign host genome [35]. In combination, these analyses significantly expand our understanding of a novel gene that has persisted within octocorals since their most recent common ancestor.
Conclusions
We have provided consolidating evidence for a non-eukaryotic origin of mtMutS and have demonstrated the monophyly of this gene among octocorals and other members of the MutS7 lineage. It now seems unequivocal that mtMutS arose once during octocorallian evolution, in the common ancestor of all extant lineages, through a horizontal gene transfer event from either an epsilonproteobacterium or a nucleocytoplasmic large DNA virus. This transfer represents the only instance recorded to date of HGT into a metazoan mitochondrion. The transferred gene appears to have been successfully integrated into the host genome, as evidenced by both its persistence over evolutionary time and its transcriptional activity. The mtMutS protein contains conserved amino acid positions and domains necessary for post-replicative DNA mismatch repair, as well as a unique additional domain that may enable it to function in a self-contained manner. Although mtMutS function remains unknown, we have demonstrated that at least one mitochondrial gene exhibits significantly lower rates of evolution in octocorals compared to hexacorals, providing evidence that mtMutS-mediated MMR may be operating within the octocoral mitochondrial genome.
Methods
MtMutS protein structure & gene tree prediction
All complete MutS derived amino acid sequences from octocorals (n = 30) were obtained from GenBank http://www.ncbi.nlm.nih.gov/. These sequences were then used in PSI-BLAST searches to obtain the most similar protein matches from non-octocorallian taxa. In addition, representatives of eubacterial MutS and the six eukaryotic MSH families were also downloaded for comparison. Eubacterial MutS sequences included Escherichia coli and bacterial hits to octocoral BLAST searches. All eukaryotic MSH sequences were obtained from Homo sapiens, Saccharomyces cerevisiae and Nematostella vectensis genomic datasets (Additional file 1).
The presence and identity of protein family domains ('pfam') within octocoral MutS sequences was inferred from queries in the Simple Modular Architecture Resource Tool (SMART) database of EMBL http://smart.embl-heidelberg.de/. The secondary and tertiary structures of protein sequences were inferred through submission to the I-TASSER server http://zhanglab.ccmb.med.umich.edu/I-TASSER/, which predicts structure and function through comparison to databases of known protein function. The results were compared to predicted structures of the most-similar non-octocorallian BLAST results as well as to the known structure of E. coli MutS, as determined by Lamers et al. [36]. In particular, conserved functional residues in each domain were compared for their location within predicted domains and tertiary structures.
All amino acid sequences were aligned with the E-INS-I method in MAFFT [58], using the BLOSUM45 scoring matrix. The output was manually adjusted in MacClade 4.08 (Sinauer Assoc.) using the SMART pfam results to ensure homologous domains were correctly matched in the final alignment. Conserved functional residues or motifs of residues in each domain were also used to assist in the manual adjustment, which produced an alignment of 101 taxa and 1819 characters (available on request from the authors). Trimming the amino acid alignment of ambiguously aligned regions resulted in a truncated alignment of 592 characters, with most trimmed regions in Domain I and the interdomain region between Domain I and Domain III. Excluded regions typically contained gaps for all but a minority of taxa, and were thus unlikely to be informative in the phylogenetic analysis. Importantly, the C-terminal HNH domain was trimmed from the final alignment and excluded from subsequent phylogenetic analyses since a homologous domain was not found among the included eubacterial MutS and eukaryotic MSH sequences.
MEGA 5.05 [59] was used to calculate maximum parsimony trees and to determine an initial distance correction model for Bayesian phylogenetic analysis. Tree searching used the Close-Neighbor-Interchange method with 1000 initial random trees and a MP search level of three. Clade support within the parsimony tree was calculated using 1000 replicates of nonparametric bootstrapping. The Bayesian analysis was implemented in MrBayes 3.1.2 [60] using four independent MCMC runs, each containing six chains of 107 generations, with two swaps per generation ('nswaps = 2') and trees sampled every 1000 generations. The amino acid distance correction model was adjusted using the 'aamodelpr = mixed' prior in preliminary runs. Burn-in was determined using Tracer 1.5 http://beast.bio.ed.ac.uk/Tracer and the remaining trees were used to construct a 50% majority-rule consensus tree (the 'allcompat' option of 'sumt'). Gene trees obtained by maximum parsimony and Bayesian inference were compared for clade structure and for the determination of the sister taxon to the octocoral mtMutS lineage.
Expression of octocoral mtMutS
Gene expression of mtMutS in octocorals was tested through comparative amplification and sequencing of genomic DNA and reverse-transcribed mRNA. Fresh tissue samples of Isis hippuris, Nephthya sp. and Sarcophyton ehrenbergi were collected from Heron Island Reef, Australia (23.44710°S, 151.91800°E) and were immediately preserved in both 96% ethanol (for DNA extraction) and RNAlater (Sigma-Aldrich Ltd.) and frozen at -80°C (for RNA extraction). Total genomic DNA extraction used a standard 2XCTAB protocol [61] with a single chloroform extraction. Extraction of total RNA was performed with Trizol (Sigma-Aldrich Ltd.), following the manufacturer's recommended protocol for high-salt precipitation. Total RNA was then treated with 1 μl DNase I (Invitrogen Corp.) prior to reverse-transcription using SuperScriptIII (Invitrogen Corp.) to generate cDNA. Reverse transcriptase-free negative controls were included to check for genomic contamination of total RNA extracts.
Octocoral mtMutS in gDNA and cDNA was amplified using 0.22 mM of dNTPs, 3 units of Taq polymerase, 1X Taq Buffer (50 mM KCl, 10 mM Tris-HCl pH 9.0, 1.5 mM MgCl2), 2.9 mM of MgCl2, 0.16 μM of each primer and either 1 μl (cDNA) or 2 μl (gDNA) of template DNA. The forward primer (mtMutS93_Fwd: AGTTCTATGAACTTTGGCATGAG) was designed by the authors to anneal near the 5'-end (Domain I) of the octocoral mtMutS gene and was paired with an existing reverse primer (Mut3458R: TSGAGCAAAAGCCACTCC) [16]. Although both primers were designed for specificity to mtMutS, BLAST searches were conducted on each to ensure nuclear MSH or other heterologous loci would not be amplified. Reactions were performed under thermocycler conditions of 94°C for 2 min followed by 35 cycles of 94°C for 60 s, 58°C for 60 s and 72°C for 60 s, with a final extension of 5 minutes at 72°C. Template-free negative PCR controls were included in all reactions to ensure observed products were of octocoral origin.
The size of amplified products from gDNA and cDNA were compared on a 1% agarose gel and RT-PCR controls were included to ensure cDNA amplicons were of mRNA origin. Bands of expected size were excised from the gel and dissolved in 4 volumes of 6 M NaI at 55°C for 5 minutes, followed by the addition of 15 μl hydrated silica suspension. The solution was incubated for a further 10 minutes, spun at maximum speed for 30 s and the supernatant was discarded. Pellets were resuspended in 500 μl of buffer (50 mM NaCl, 10 mM Tris-HCl pH 7.5, 2.5 mM EDTA, 50% ethanol), incubated at 55°C for 5 min, spun down and the supernatant was discarded again. The pellets were washed a second time and the pellets were dried prior to resuspension in 20 μl water.
Direct cycle sequencing of these gel-purified PCR products was performed in both forward and reverse directions in 10 μl volumes using 18-30 ng of template DNA, 8 nmol of primer, 1 μl of BigDye Terminator Ready Reaction Mix (Applied Biosystems) and 1.5 μl of buffer. Cycling was performed at 96°C for 2 minutes, followed by 30 cycles of 96°C for 10 s, 50°C for 5 s and 60°C for 4 minutes. Products were cleaned, precipitated and submitted for capillary sequencing at the Australian Genome Research Facility following their guidelines http://www.agrf.org.au/.
Sequences for each colony were assembled and edited in CodonCode Aligner 3.7.1.1 (CodonCode Corp.) and were submitted for BLASTn searches to ensure they were octocoral in origin and not due to contamination. Corresponding mtMutS sequences of gDNA and cDNA for each amplicon were then compared for identity and were deposited into GenBank as accession numbers JN383337-JN383342.
Comparison of Mitochondrial and Nuclear Rates of Evolution Among Anthozoans
All existing octocoral mtMutS and anthozoan cytochrome oxidase subunit I (COI) and small ribosomal subunit (18S) DNA sequences over 200 bp in length were obtained from GenBank. The sets of sequences for mtMutS and COI were aligned according to their amino acid translation frame in MacClade and all three datasets were trimmed to exclude intergenic regions, introns (present in hexacoral COI, including actiniarians [AF000023], scleractinians [FJ345452, FJ345449] and antipatharians [FJ597643]) and any ambiguous sections of alignment. Incomplete 5' and 3' ends were coded as missing data ("?") for sequences not spanning the length of the genes. Redundant sets of sequences were each collapsed into a single, multi-species taxon and the resulting matrix was used to calculate uncorrected pairwise distances among octocoral mtMutS sequences, octocoral COI sequences, hexacoral COI sequences, octocoral 18S sequences and hexacoral 18S sequences in MEGA. Mann-Whitney U-tests were used to test for significant differences in the mean pairwise differences between octocoral mtMutS and octocoral COI, between octocoral COI and hexacoral COI and between octocoral 18S and hexacoral 18S.
Declarations
Acknowledgements
We acknowledge the University of Queensland's Heron Island Research Station for facilitating collection of octocorals from Heron Island Reef, and to the Great Barrier Reef Marine Park Authority for providing a permit for collection of octocoral material. We greatly appreciate the helpful discussion and insightful comments provided by members of the joint Degnan Lab, and by two anonymous reviewers. This work was made possible by generous funding support from the Deep Ocean Australia program and the Australian Research Council to SD.
Authors' Affiliations
(1)
School of Biological Sciences, University of Queensland, St. Lucia, Brisbane, Australia
Copyright
© Bilewitch and Degnan; licensee BioMed Central Ltd. 2011
This article is published under license to BioMed Central Ltd. This is an Open Access article distributed under the terms of the Creative Commons Attribution License (http://creativecommons.org/licenses/by/2.0), which permits unrestricted use, distribution, and reproduction in any medium, provided the original work is properly cited.