Research article
Open Access
Schmidtea mediterraneaphylogeography: an old species surviving on a few Mediterranean islands?
BMC Evolutionary Biology
2011
11:274
Received: 28 April 2011
Accepted: 26 September 2011
Published: 26 September 2011
Abstract
Background
Schmidtea mediterranea (Platyhelminthes, Tricladida, Continenticola) is found in scattered localities on a few islands and in coastal areas of the western Mediterranean. Although S. mediterranea is the object of many regeneration studies, little is known about its evolutionary history. Its present distribution has been proposed to stem from the fragmentation and migration of the Corsica-Sardinia microplate during the formation of the western Mediterranean basin, which implies an ancient origin for the species. To test this hypothesis, we obtained a large number of samples from across its distribution area. Using known and new molecular markers and, for the first time in planarians, a molecular clock, we analysed the genetic variability and demographic parameters within the species and between its sexual and asexual populations to estimate when they diverged.
Results
A total of 2 kb from three markers (COI, CYB and a nuclear intron N13) was amplified from ~200 specimens. Molecular data clustered the studied populations into three groups that correspond to the west, central and southeastern geographical locations of the current distribution of S. mediterranea. Mitochondrial genes show low haplotype and nucleotide diversity within populations but demonstrate higher values when all individuals are considered. The nuclear marker shows higher values of genetic diversity than the mitochondrial genes at the population level, but asexual populations present lower variability than the sexual ones. Neutrality tests are significant for some populations. Phylogenetic and dating analyses show the three groups to be monophyletic, with the west group being the basal group. The time when the diversification of the species occurred is between ~20 and ~4 mya, although the asexual nature of the western populations could have affected the dating analyses.
Conclusions
S. mediterranea is an old species that is sparsely distributed in a harsh habitat, which is probably the consequence of the migration of the Corsica-Sardinia block. This species probably adapted to temperate climates in the middle of a changing Mediterranean climate that eventually became dry and hot. These data also suggest that in the mainland localities of Europe and Africa, sexual individuals of S. mediterranea are being replaced by asexual individuals that are either conspecific or are from other species that are better adapted to the Mediterranean climate.
Keywords
Mitochondrial GeneHaplotype NetworkBalearic IslandSexual PopulationTunisian Population
Background
Schmidtea mediterranea Benazzi et al., 1975 is a freshwater planarian (order Tricladida, suborder Continenticola, phylum Platyhelminthes) that is mostly known to the scientific community for its capacity to regenerate ([1–3]) and has become a model organism for the functional analysis of the genes involved in pattern formation (e.g., [4]). Nonetheless, little is known about its evolutionary history and demographics, although it possesses several intriguing features. The genus Schmidtea includes only four species: S. polychroa, S. lugubris, S. mediterranea and S. nova. With the exception of S. polychroa, which has either amphimictic diploid and/or parthenogenetic polyploid populations, most of the Schmidtea species are amphimictic diploids. In S. mediterranea, in addition to the more common sexual amphimictic diploids, a third type of reproduction, asexual fissiparity [5], occurs in diploid populations bearing a heteromorphic translocation between 1st and 3rd chromosomes (only one chromosome of each pair is affected by the translocation) [6–8]. Although fissiparity is also common in other genera of planarians, such as Girardia [9] and Dugesia [10], most asexual fissiparous populations of these genera are triploid.
S. mediterranea
is restricted to the western Mediterranean in several scattered populations along the Catalan coast, Menorca, Mallorca, Corsica, Sardinia, Sicily and Tunisia [
6
–
8
,
11
,
12
] (Figure
1
). The asexual strain occurs only in a few locations, in Catalonia and the Balearic Islands, where sexual populations have not yet been found. In the remaining distribution area, only sexual diploids are found, with the only exceptions being a triploid sexual population in Sardinia [
13
] and a triploid asexual (fissiparous) population in Menorca, the latter bearing a translocation between the 1
st
and 3
rd
chromosomes (only one of each triplet) [
7
].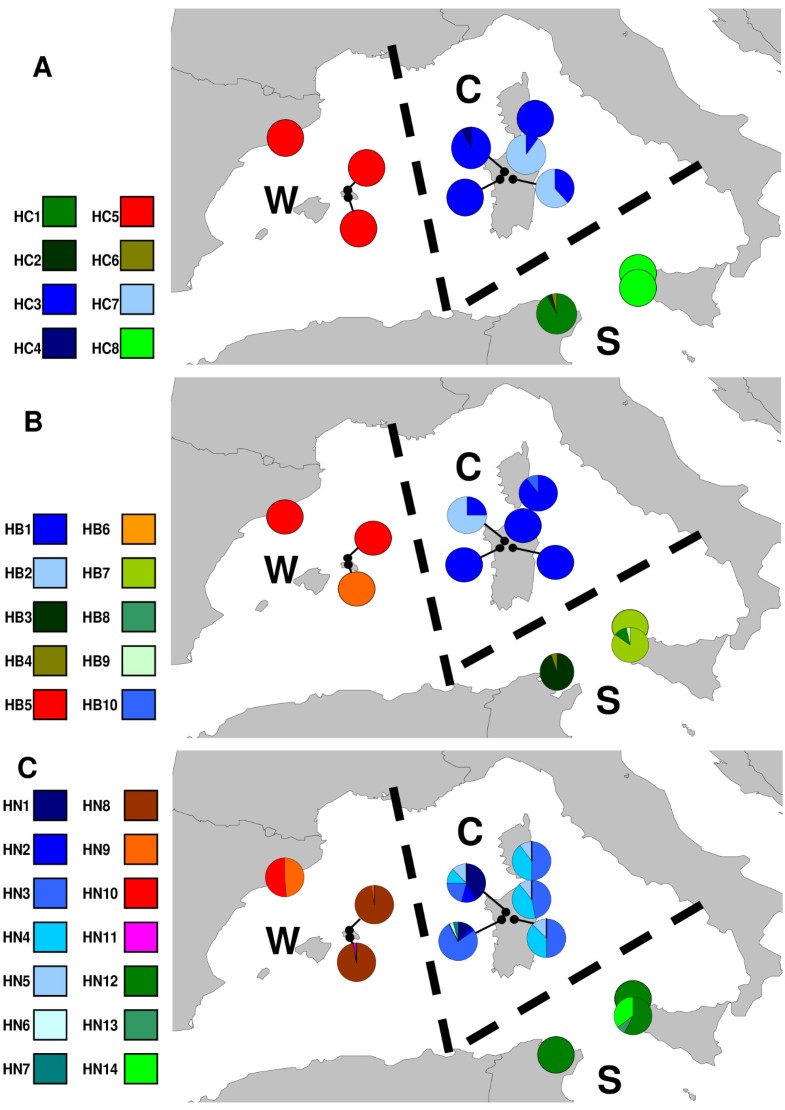 This peculiar geographical distribution prompted Baguñà et al. [14] and De Vries et al. [11] to propose, according to the known geological history of the area at the time, that this was the result of microplate fragmentation and migration during the formation of the western Mediterranean basin. Indeed, the fragmentation of continental microplates (the Corsica-Sardinia block, CSb) and their clockwise and counterclockwise migration gave rise, during the Oligocene and early Miocene periods, to the Balearic Islands, Corsica, Sardinia, Calabria and the Kabilies in Algeria [15–18]. If this hypothesis is true, it implies that this species, or a close ancestor, was already present on the microplate before it first broke away, approximately 30 mya, splitting the CSb from the Spanish coast. The poor dispersion capability of freshwater planarians (they require permanent freshwater courses or ponds, and no forms resistant to desiccation have been described) and their impossibility to cross large marine masses, make other explanations (e.g., human or animal transport or recent colonisation) less plausible. Although a clear link between CSb fragmentation and migration and the successive speciation events has been demonstrated for other groups of animals [19–21], the case of S. mediterranea is unique because a correlation between geological events and its distribution has not been linked to any speciation event, which implies a more ancient origin for S. mediterranea.
Furthermore, when and how the asexual populations of S. mediterranea originated is also of considerable interest because no conspecific sexual individuals live in the same localities, the nearest populations being found in Sardinia and Corsica. This situation suggests multiple possible explanations for when and where they originated. Asexual S. mediterranea could have originated from Sardinian sexual populations a long time ago and remained isolated in the current area of distribution; they could have originated recently and have been transported by humans; or they could have a recent or ancient origin from sexual Spanish populations that are now extinct. Altogether, these ideas pose several interesting questions: 1) Is the microplate fragmentation the origin of the present distribution of S. mediterranea? 2) What is the age of this species? 3) When and where did the asexual strain appear? 4) Which sexual population is closest to the asexual ones? 5) Did the new asexual populations outcompete the original sexual populations, or did they originate in other regions and were brought to their current localities by human transport?
To answer these questions and to widen our knowledge on the evolutionary history of S. mediterranea, a well-resolved phylogeny is first needed. Molecular phylogenies are currently the best option to provide solid evidence on the origin, relationships and divergence in time among populations, particularly for organisms such as planarians, which are lacking reliable morphological characteristics. Furthermore, if these events can be correlated to some geological phenomena, a molecular clock can be set and calibrated, and the evolutionary history can be put into a temporal context. Finally, a comparative analysis of the genetic (nucleotide) variability within and among populations may allow us to identify the evolutionary factors responsible for the levels and patterns of genetic variation and therefore for the biological diversity [22].
We have sequenced fragments of two mitochondrial genes (one for the first time in planarians), and taking into account the genomic information available for S. mediterranea, we developed a new nuclear marker for planarians. Because nuclear and mitochondrial markers accumulate changes at different rates, they provide complementary information on the effects of different types of factors, namely, those affecting different historical times. Using these markers, we measured the levels of genetic variation among and within all populations sampled and inferred the phylogenetic tree for these species. In addition, we have calibrated, for the first time in planarians, a molecular clock to estimate the age of the species and the divergence among populations. The results obtained show the usefulness of the new markers and attest that the phylogeography and evolutionary history of S. mediterranea is far more complex than formerly envisaged.
Conclusions
Schmidtea is a genus with a low diversity that is constituted by only four species. These species are probably quite old (~40 mya) and primarily have a northern European distribution. They are probably better adapted to cold climates, which are less likely to allow speciation, than to hot climates. Ball [38] has suggested that Schmidtea species are in morphological stasis (differences in morphology among species are circumscribed to details of their reproductive organs), and the present study seems to indicate that the stasis is also found at the molecular level.
The present distribution of S. mediterranea is best explained, as suggested long ago, by a vicariant process of microplate fragmentation and migration of the CSb during the Oligocene and Miocene periods. Regardless of which of the two possible outcomes of this hypothesis better explains the distribution of Schmidtea, the age of the species is relatively old compared with the species of other groups present in the same area, even compared with its sister genus Dugesia. Asexual fissiparous populations of S. mediterranea probably arose within the west area; however, the lack of sexual populations in that area precludes a good estimate of whether it was an ancient or a recent event. Last but not least, the sparse number of localities where S. mediterranea is currently present in the continental range, i.e., on the Tunisian and the Catalan coast, suggests that S. mediterranea may be a survivor trapped in a harsh habitat after a long voyage to the South on several microplates after the breakage of the CSb 30 mya from which S. mediterranea has slowly been displaced by better-adapted species.
Declarations
Acknowledgements
We thank S. Pons, J. Pretus and M. Vila-Farré for their collaboration on sample collection. F. Cebrià, T. Adell and J. Abril provided us with information on some of the non-coding sequences from the S. mediterranea genome. Thanks to E. Solà and R. Sluys for the identification and sequences of the three Greek Dugesia species, G. Blasco for technical support and J. Rozas and A. Sánchez-Gracia for their advice on the analytical methodologies. We also thank the Serveis Cientificotècnics (Universitat de Barcelona). The authors extend their appreciation to the Deanship of Scientific Research at king Saud University for funding the work through the research group project NoRGP-VPP-164 to AHH. We are also grateful to the Spanish "Ministerio of Educación y Ciencia" and "Ministerio de Asuntos Exteriores" for granting the projects CGL2005-00371/BOS, CGL2008-00378/BOS, and A/6227/06 (Tunis-Spanish cooperation program) to MR. The "Ministero Italiano dell'Università e della Ricerca Scientifica e Tecnologica " (MIUR-PRIN 'L'endemismo nella fauna italiana: dalla conoscenza sistematica e biogeografica alla conservazione') and the "Universitat de Barcelona" are also thanked for their support.
Authors' Affiliations
(1)
Institut de Recerca de la Biodiversitat and Dept. Genètica, Facultat de Biologia, Universitat de Barcelona, Barcelona, Spain
(2)
Zoology Department, College of Science, King Saud University, Riyadh, Saudi Arabia
(3)
Laboratoire de Biologie de la Reproduction et du Développement Animal, Département de Biologie, Faculté des Sciences de Tunis, Université de Tunis El-Manar, Campus Universitaire, El Manar, Tunisia
(4)
Dipartimento di Zoologia e Genetica Evoluzionistica, dell'Università di Sassari, Corso Margherita di Savoia 15, Sassari, Italy
Copyright
© Lázaro et al; licensee BioMed Central Ltd. 2011
This article is published under license to BioMed Central Ltd. This is an Open Access article distributed under the terms of the Creative Commons Attribution License (http://creativecommons.org/licenses/by/2.0), which permits unrestricted use, distribution, and reproduction in any medium, provided the original work is properly cited.