Research article

Open Access
Multiple recent horizontal transfers of the cox1intron in Solanaceae and extended co-conversion of flanking exons
BMC Evolutionary Biology
2011
11:277
Received: 26 April 2011
Accepted: 27 September 2011
Published: 27 September 2011
Abstract
Background
The most frequent case of horizontal transfer in plants involves a group I intron in the mitochondrial gene cox1, which has been acquired via some 80 separate plant-to-plant transfer events among 833 diverse angiosperms examined. This homing intron encodes an endonuclease thought to promote the intron's promiscuous behavior. A promising experimental approach to study endonuclease activity and intron transmission involves somatic cell hybridization, which in plants leads to mitochondrial fusion and genome recombination. However, the cox1 intron has not yet been found in the ideal group for plant somatic genetics - the Solanaceae. We therefore undertook an extensive survey of this family to find members with the intron and to learn more about the evolutionary history of this exceptionally mobile genetic element.
Results
Although 409 of the 426 species of Solanaceae examined lack the cox1 intron, it is uniformly present in three phylogenetically disjunct clades. Despite strong overall incongruence of cox1 intron phylogeny with angiosperm phylogeny, two of these clades possess nearly identical intron sequences and are monophyletic in intron phylogeny. These two clades, and possibly the third also, contain a co-conversion tract (CCT) downstream of the intron that is extended relative to all previously recognized CCTs in angiosperm cox1. Re-examination of all published cox1 genes uncovered additional cases of extended co-conversion and identified a rare case of putative intron loss, accompanied by full retention of the CCT.
Conclusions
We infer that the cox1 intron was separately and recently acquired by at least three different lineages of Solanaceae. The striking identity of the intron and CCT from two of these lineages suggests that one of these three intron captures may have occurred by a within-family transfer event. This is consistent with previous evidence that horizontal transfer in plants is biased towards phylogenetically local events. The discovery of extended co-conversion suggests that other cox1 conversions may be longer than realized but obscured by the exceptional conservation of plant mitochondrial sequences. Our findings provide further support for the rampant-transfer model of cox1 intron evolution and recommend the Solanaceae as a model system for the experimental analysis of cox1 intron transfer in plants.
Keywords
horizontal gene transfer
cox1 intron
Solanaceae
mitochondrial DNA
homing endonuclease
Background
Horizontal gene transfer (HGT) is surprisingly common in plant mitochondrial genomes, especially compared to plant chloroplast and nuclear genomes [1–6]. A notable case of HGT in plant mitochondria involves a "homing" group I intron present in the mitochondrial cox1 gene of many disparately related lineages of angiosperms. All relevant studies [7–15] concur that this intron most likely entered angiosperms only once, from a fungal donor. With one exception [15], treated in the Discussion, these studies have, in aggregate, led to the conclusion that the intron subsequently spread rampantly within angiosperms via HGT, with some 80 separate angiosperm-to-angiosperm transfers postulated [8–12] to account for the intron's distribution among the 833 angiosperms analyzed thus far. Three lines of evidence underlie the "rampant transfer" model for the evolution of the cox1 intron in angiosperms: A) the intron has a highly sporadic distribution among angiosperms, B) its phylogeny is strongly incongruent with angiosperm phylogeny, and, C) with notably rare exception, it co-occurs with a short, highly divergent "co-conversion tract" located immediately downstream of the intron.
Homing introns are regarded as highly mobile, invasive elements due to the properties of the site-specific DNA endonucleases that they encode, which facilitate intron propagation [
16
,
17
]. Homing endonucleases catalyze the integration of the intron, via the double-strand-break-repair pathway, into the target sequence (termed the "homing site") that is present in intron-lacking alleles of the intron's target gene (Figure
1
). As a consequence of the degradation of the cleaved target sequence and subsequent repair process, part of the foreign exonic regions immediately flanking the invading intron often engages in a gene conversion activity that replaces part of the host gene's exonic sequence [
16
–
20
]. A region of converted exonic sequence is called a "co-conversion tract" (CCT).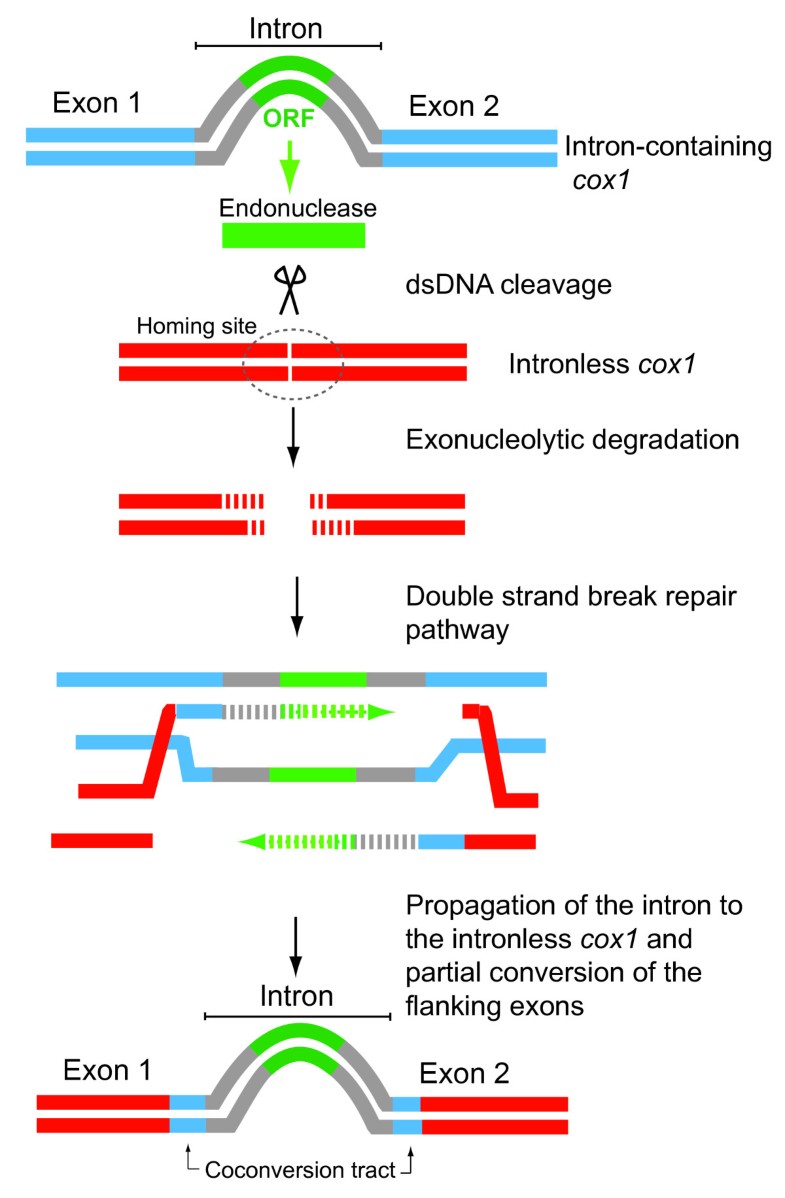 Although comparative evidence indicates that the cox1 intron has a highly invasive history in plants, no experimental study has been reported on its transmission or mechanistic properties. This contrasts with the situation for certain other homing group I introns, including the cognate intron in yeast mitochondria, thanks to the well-developed genetic systems available in microbial models [16, 18–20]. Human-engineered transformation of plant mitochondrial genomes is not yet feasible, despite many years of efforts and notable success in transforming chloroplasts [21]. This is paradoxical considering that natural transformation (via HGT) is relatively common in plant mitochondria [1–6], but unheard of in chloroplasts of land plants [22]. Classical genetics is also problematic, because mitochondria are almost always transmitted uniparentally (usually maternally) in sexual crosses in plants and because appropriately wide crosses are rarely successful. This leaves somatic cell genetics as the approach of choice for manipulating plant mitochondrial genomes. Cytoplasmic hybrid plants (cybrids) are created by fusing protoplasts from two different cultivars, species or genera and then generating whole plants from the fusion products. Plant cybrids can be made between relatively distantly related plants [23–27] and almost invariably contain recombinant mitochondrial genomes owing to the propensity of mitochondria to fuse with one another [28, 29]. By analyzing cybrids that combine intron-containing and intron-lacking parents, one should be able to test the hypothesis that the angiosperm cox1 intron encodes a functional homing endonuclease, assess rates of intron colonization, and measure lengths of exonic CCTs.
The premier system for the efficient and large-scale production of cybrid plants is the Solanaceae, one of the largest (~2,500 species) and economically most important families of flowering plants (containing potato, tomato, chili pepper, eggplant, tobacco, petunia). Somatic genetics is best developed in tobacco (Nicotiana tabacum), the favored plant for chloroplast transformation and "biopharming" [21, 30–32]. Many other species of Solanaceae also provide favorable material for somatic cell genetics, and cybrids can be successfully produced between relatively distantly related members of the family [23–27]. The mitochondrial genome of tobacco has been sequenced [33] and lacks the cox1 intron. Similarly, the six other diverse, previously examined representatives of the Solanaceae also lack this intron [9, 10, 12]. Therefore, to be able to exploit the family for somatic genetic studies of cox1 intron function, we surveyed over 400 diverse species of Solanaceae in order to find members with the intron.
The second goal of this study was to gain further insight into the evolutionary history of this exceptionally mobile genetic element. In particular, we wished to test two predictions that follow from the inferred evolutionary history of the cox1 intron. The first, which is predicated on the intron's frequent transfer within angiosperms [8–12], is that greatly increased sampling in a large family in which the intron has not been found based on current, scanty sampling will uncover multiple intron acquisitions within the family, with the intron-containing lineages embedded within clades that lack both the intron and its associated CCT. This prediction is obviously integral to the Solanaceae motivation of this study. Second, based on the apparent bias of cox1 intron transfer in plants toward phylogenetically local events [10, 12], we predict that a significant fraction of the intron transfers discovered in the Solanaceae will turn out to be intrafamilial events.
Results
Intron presence-absence and phylogeny
PCR was used to assess the presence/absence of an intron at the one site, near the middle of the
cox1
gene, in which all previously described cases of introns in this gene in angiosperms have been found. This approach was facilitated by the conserved length (953-1,031 bp) of this intron in angiosperms [
9
,
12
], as well as by the generally highly conserved nature of plant mitochondrial sequences owing to very low rates of synonymous substitutions [
34
–
36
]. A total of 426 species (belonging to 70 genera) of the Solanaceae were examined (Figure
2
; Additional File
1
). The great majority were sampled as part of an initial screening, chosen to emphasize diversity across the family and based on DNA availability. A follow-up screening sampled more comprehensively within the three groups of Solanaceae that were found to contain the intron, as well as in taxa closely related to these groups.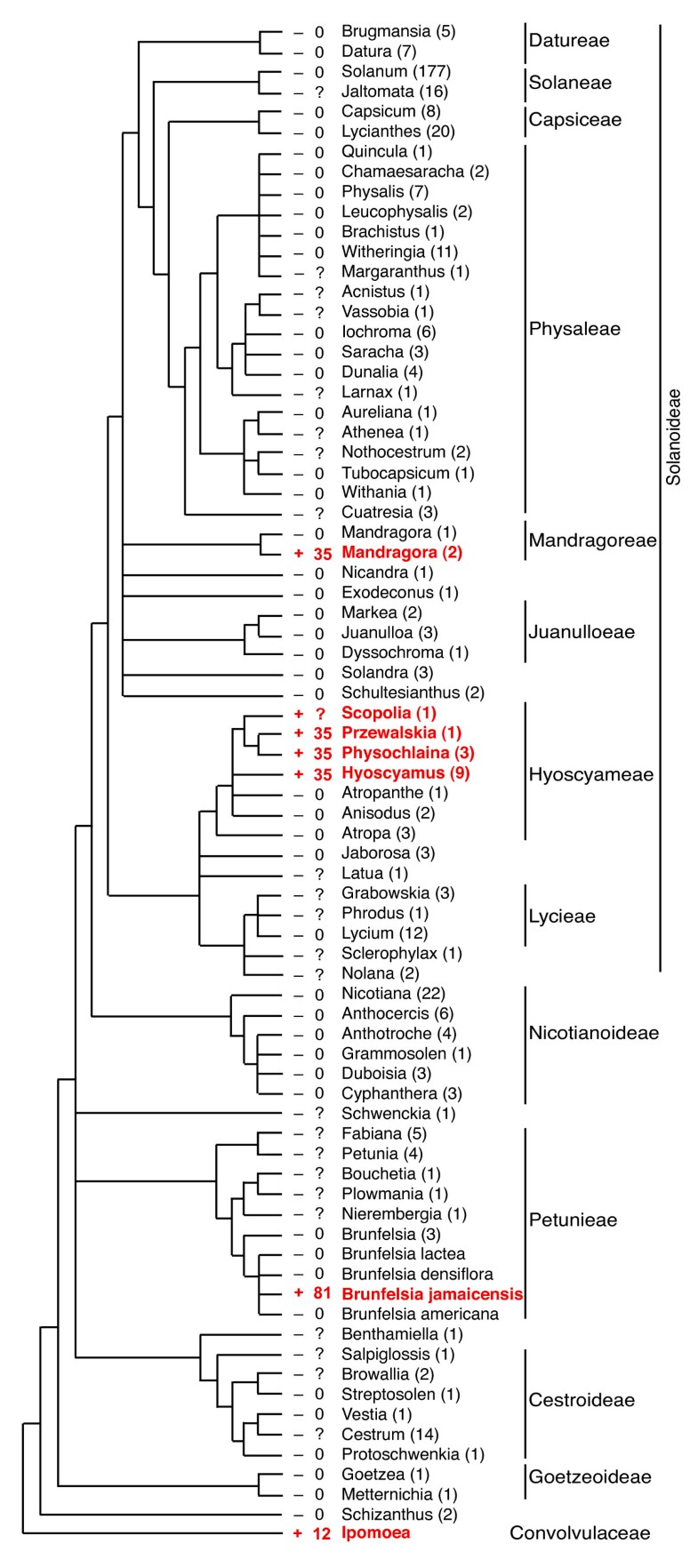 Of the 426 species of Solanaceae examined, 409 (66 genera) gave a cox1 PCR product of the size (0.8 kb) expected for an intron-lacking gene, whereas 17 (6 genera) yielded a product of the size (1.8 kb) expected for an intron-containing gene (Figure 2). The 17 intron-containing species represent three phylogenetically disjunct lineages within the Solanaceae and include 14 species of Hyoscyameae (i.e., all examined members of Hyoscyamus, Physochlaina, Przewalskia, and Scopolia), 2 of 3 examined species of Mandragora (mandrake), and a single species of Brunfelsia (B. jamaicensis) out of 7 examined (Figure 2). Results for a number of the intron-containing species, including B. jamaicensis, were confirmed by sequencing multiple accessions from each of these species (Additional File 1).
Sequencing of the 0.8-kb product from 48 diverse species (43 genera) of Solanaceae (Figure 2) confirmed in all cases the absence of the intron. Sequencing of almost all 1.8-kb products confirmed that they contain an intron, located at the canonical angiosperm cox1 intron insertion site. All Solanaceae introns are 967 bp in length and contain a full-length and intact open reading frame of 840 bp encoding a putative homing group I endonuclease.
The Solanaceae
cox1
introns were subjected to phylogenetic analyses as part of a data set that included 63 previously reported
cox1
introns from a wide range of angiosperms. As discussed in detail previously [
9
,
12
], the
cox1
intron phylogeny is highly incongruent with angiosperm phylogeny (Figure
3
). This incongruence is most vividly depicted by the extensive interspersion of colors on the intron tree (used to distinguish taxa belonging to four ancient, major, and well-distinguished groups of angiosperms), and contrasts markedly with the organismal-congruence of a phylogeny (Figure
4
) based on
cox1
exon sequences from 108 diverse angiosperms, including all those included in Figure
3
. To highlight just one example of the incongruence between
cox1
intron and organismal phylogeny, note the 100% bootstrap support for a clade containing introns from the asterid
Hydrocotyle
, the rosid
Polygala
, and the monocots
Maranta
and
Monotagma
(Figure
3
).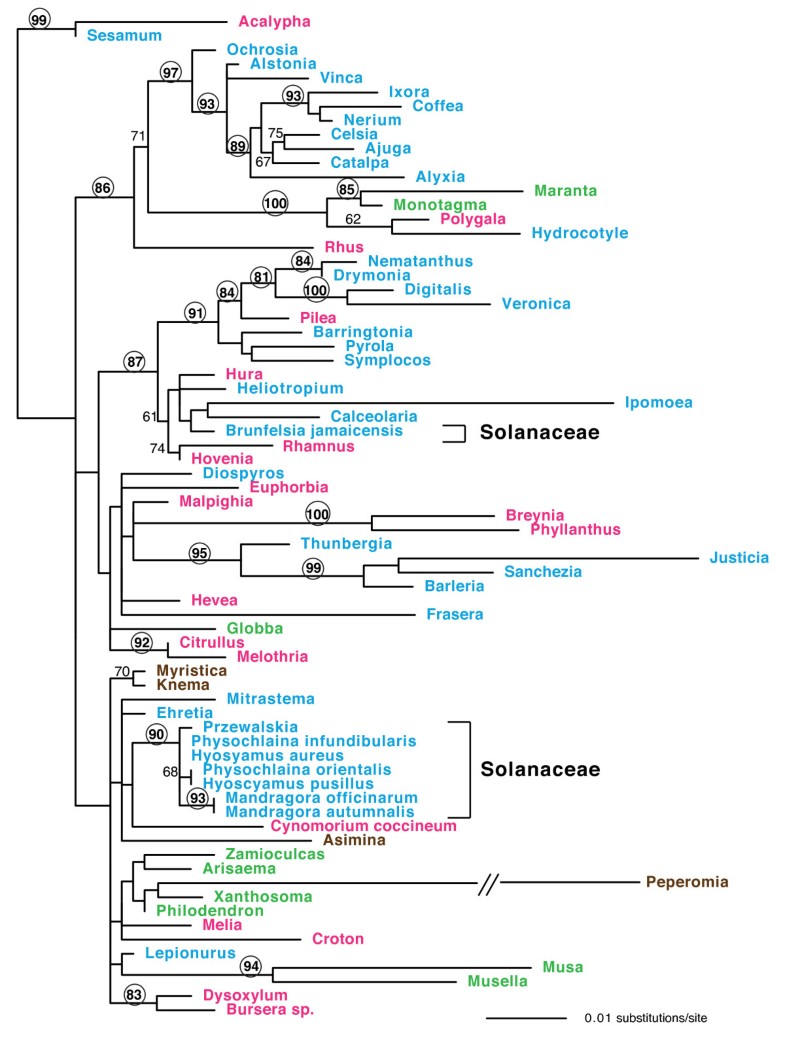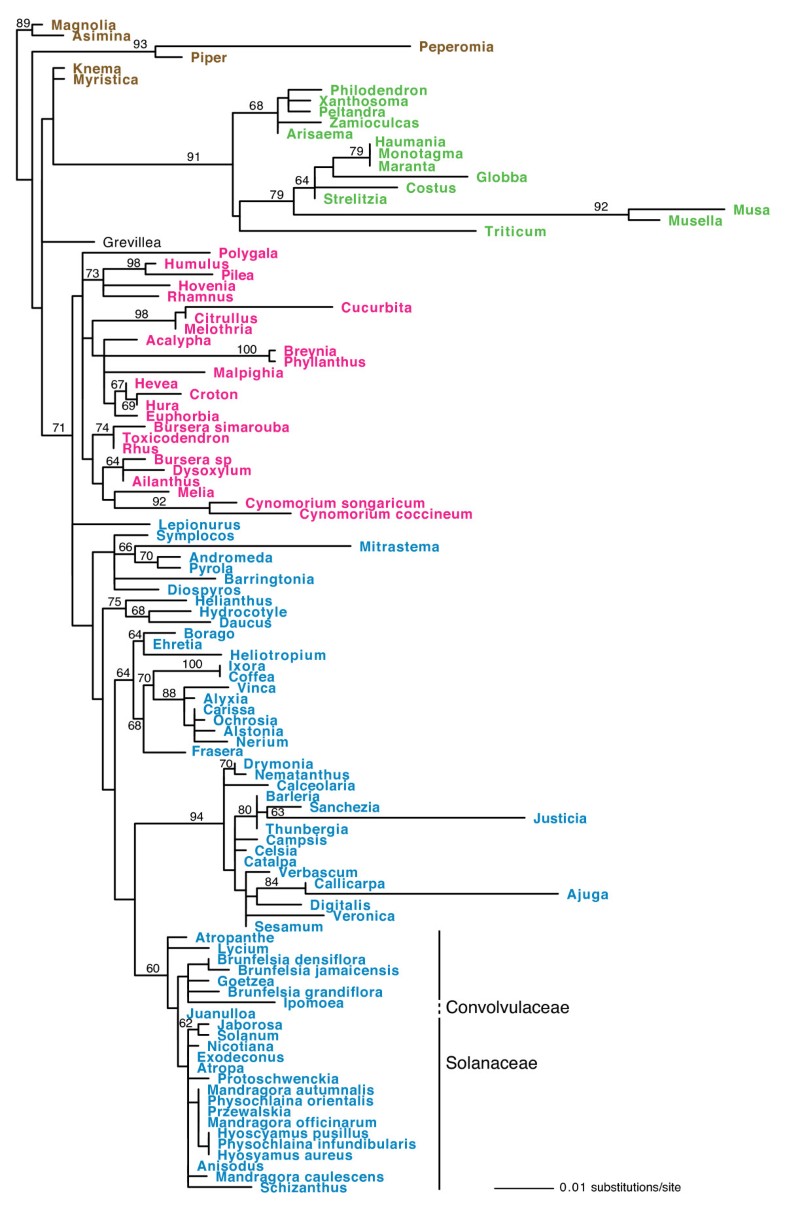 The Solanaceae introns show evidence of both congruence and incongruence with angiosperm phylogeny. Two of the three clades of Solanaceae introns - the Hyoscyameae and Mandragora clades - form a strongly supported (90% bootstrap support) monophyletic group, whereas the Brunfelsia jamaicensis intron is only distantly related to these other Solanaceae introns (Figure 3).
Co-conversion tracts
To date, no recognizable CCT has been described in the 5' exon of
cox1
, whereas a canonical CCT of minimally 3-21 bp is present in the 3' exonic region immediately downstream of the intron [
9
,
10
,
12
,
15
]. This 3' CCT is defined by between 1 and 7, highly conserved, third-position synonymous-site differences and an effectively silent difference at the C-to-U RNA editing site located at position +20 relative to the intron insertion site (Figure
5
). None of the 55 sequenced intron-lacking
cox1
genes from the Solanaceae contains any sign of a 3' CCT, whereas all 17 intron-containing genes do contain a 3' CCT motif (Figure
5
). All 16 intron-containing
cox1
genes from the Hyoscyameae and
Mandragora
clades possess all 7 nucleotide differences that are diagnostic of previously described CCTs of 20 bp in length (canonical CCT; Figure
5
). Furthermore, these 16 genes share two additional differences in this region, at positions +27 and +35. This extended region of similarity probably reflects longer tracts of 3' co-conversion than any previously recognized for this intron in angiosperms. Note the perfect correspondence between the presence of A and T at positions +27 and +35, respectively, and the presence of the intron in these two clades of Solanaceae (Figure
5
), i.e., all 55 sequenced intron-lacking
cox1
genes from the Solanaceae contain the ancestral G and C at these two positions. Furthermore, the possibility of parallel substitutions at
both
positions in these two intron-containing clades is remote given the extremely high level of
cox1
sequence conservation within the family. Apart from the 9 differences that we take to define a 3' CCT of minimum length 35 bp (Figure
5
), the 744 bp of
cox1
coding sequence determined for the two intron-containing species of
Mandragora
are identical to the intron-lacking gene from
M. caulescens
except for a single autapomorphy in the latter species (Additional File
2
). Likewise, setting aside the putative 3' CCT of 35 bp and also the highly homoplasious sites -11 and +60 (Figure
5
), the 723-1,362 bp of
cox1
sequence determined for the intron-containing Hyoscyameae are identical to the ancestral sequence for the tribe (Additional File
2
). Finally, the
cox1
exons of all intron-containing
Mandragora
and Hyoscyameae are identical, again excepting the above-noted sites, to the ancestral
cox1
sequence as reconstructed for the
entire
family Solanaceae (Additional File
2
).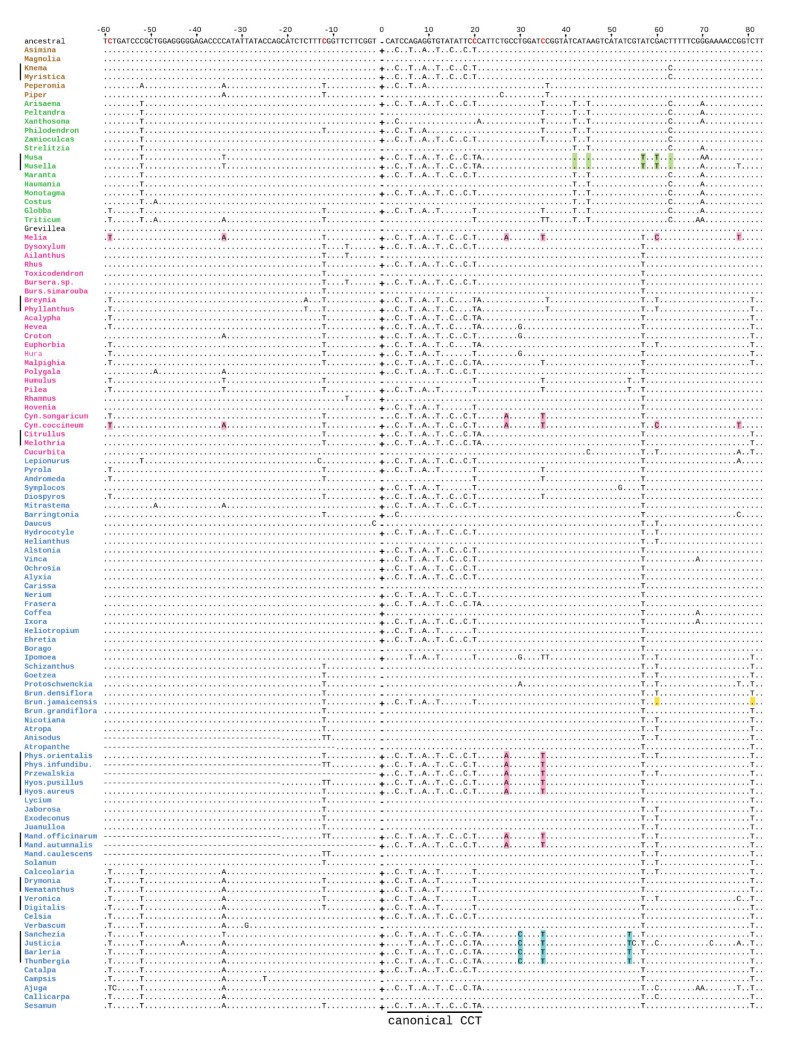 Discovery of 3' CCTs of unprecedented length (in the context of angiosperm cox1 genes) in these two lineages of intron-containing Solanaceae led us to re-examine all previously published angiosperm cox1 genes for potentially overlooked evidence of extended exonic co-conversion. In most cases, we saw no reason to change published estimates of the minimum length of the 3' CCT [9–12, 15]. However, we did identify five additional lineages of angiosperms for which we now infer longer tracts of putative 3' co-conversion than recognized previously. Three of these lineages are each represented by a single examined species and have either an identical or further extended 3' CCT to that found in Hyoscyameae and Mandragora. An identical 3' CCT (of minimal length 35 bp) is found in Cynomorium songaricum (Cynomoriaceae, Rosales), while the other extant member of this genus of holoparasites, C. coccineum, shares an even longer 3' CCT (of minimal length 78 bp) with the unrelated Melia toosendan (Meliaceae, Sapindales) (Figure 5). In passing, we note that the latter two taxa might also share a 5' CCT extending minimally 34 or even 59 bp upstream of the intron; however, the evidence here is weak given that the diagnostic C-to-A and C-to-T sites that respectively define this potential 5' CCT are highly homoplastic across angiosperms (Figure 5; Additional File 2; and data not shown).
Melia and C. coccineum contain the cox1 intron, but C. songaricum does not. The cox1 introns of Melia and C. coccineum reside within the same large, essentially unresolved group of introns (bottom third of Figure 3). This group includes the introns from Hyoscyameae and Mandragora, which as noted, share part of the 3' CCT extension found in Melia and C. coccineum. The monophyly of introns from all four of these lineages (Melia, C. coccineum, Mandragora, and Hyoscyameae) is not rejected by the Approximately Unbiased test [37], and there is in fact one synapomorphy for these 4 sets of introns (Additional File 2). We therefore conclude, based essentially on CCT similarities, that these 4 sets of introns constitute a clade with respect to cox1 intron phylogeny. The absence of the intron from C. songaricum presumably reflects secondary intron loss given the striking presence in the gene of an extended 3' CCT marked by 9 diagnostic characters.
The fourth extended-CCT lineage includes both sampled members (Musa and Musella) of the Musaceae (Zingiberales). Their cox1 genes lack the expected monocot signatures at three clustered sites (positions +42, +45, and +63) and instead possess a core-eudicot signature T at +57, as well as T at a position (+60) that is G in all other examined monocots but T in a number of core eudicots (Figure 5). Apart from this short region, the Musaceae cox1 genes share all of the many monocot- or Zingiberales-specific markers that are found scattered across the rest of the gene, and, accordingly, the Musaceae genes cluster strongly with other monocot genes, and specifically with other Zingiberales genes, in cox1 phylogeny (Figure 4). The Musaceae cox1 coding sequence thus appears to be chimeric, consisting primarily of native sequence in which is embedded a small region of eudicot-derived DNA that is minimally defined by the above 5 diagnostic sites located between positions 42 and 63 of exon 2. Most likely, the Musaceae acquired the cox1 intron from a eudicot donor by an event involving extended 3' co-conversion that ended between positions 63 and 70 (Figure 5).
The fifth extended-CCT lineage includes all 4 sampled intron-containing members of the Acanthaceae (Sanchezia, Justicia, Barleria, and Thunbergia), which share derived changes at positions +30, +35, and +54 (Figure 5). These are the only cox1 exonic synapomorphies for the family other than the acquisition of the intron together with its associated canonical CCT of 21 bp. Two extreme models can account for the phylogenetic co-occurrence of these 4 sets of changes in cox1: A) they arose by 4 independent mutations in a common ancestor of these 4 Acanthaceae, with the only 3 point mutations on this branch happening by chance to be clustered within a 25 bp tract (in a sequenced gene-length of 1,313 bp), and with this tract happening to be located just downstream of the phylogenetically concomitant insertion (and accompanying exonic co-conversion) of the cox1 intron, or B) all these changes arose by the same event in an Acanthaceae common ancestor, an event involving the insertion of a cox1 intron accompanied by 3' co-conversion that extended at least 54 bp in length. We strongly favor the latter model, which predicts that further sampling of angiosperms will uncover a candidate donor lineage of the Acanthaceae intron, with this lineage marked by the stepwise point-mutational accumulation of those 3 nucleotides that define the putative 3'-extended-CCT in Acanthaceae.
Finally, there is weak evidence that the newly reported cox1 gene of Brunfelsia jamaicensis may also possess an extended 3' CCT. The evidence here derives from essentially a single position, +81, at which this species has reverted from T to C relative to all 74 other examined species from the Solanaceae, including 6 other Brunfelsia species (the +60 site also marked in B. jamaicensis in Figure 5 carries little diagnostic weight owing to its extensive homoplasy within the family).
Conclusions
Multiple lines of evidence lead us to conclude that the cox1 intron was acquired by horizontal transfer on at least 3 separate occasions during the evolution of the Solanaceae. One lineage of intron-containing Solanaceae may have acquired its intron from another lineage in the family, consistent with previous evidence that horizontal transfer in plants is biased towards phylogenetically local events. Discovery of these transfers was dependent on extensive sampling of the family. This underscores the importance of greatly expanded sampling of angiosperms in general in order to gain a deeper understanding of the intron's evolutionary history, including not only an accurate estimate of the number and timing of its many transfers but also to untangle to the extent possible mechanisms of transfer and donor-recipient relationships for specific transfer events.
Our findings strongly reinforce the idea that the cox1 intron, which encodes a homing endonuclease, is an exceptionally mobile genetic element in angiosperms. These results, together with the discovery of a rare case of likely loss of this intron accompanied by retention of the CCT, provide still further support for the long-standing, rampant-transfer model for the evolution of this intron in angiosperms [8–12] and render the rampant-loss model [15] even more implausible than already regarded.
The identification of exonic co-conversion tracks substantially longer than those previously recognized for this intron in angiosperms implies that other cox1 co-conversions may be longer than realized but obscured by the exceptional conservation of plant mitochondrial sequences. This is also consistent with the hypothesis that the intron's founding arrival in angiosperms, probably from a fungal donor, was aided by unusually short co-conversion, thereby minimizing the potentially deleterious effects of creating a chimeric, fungal/plant form of the key respiratory protein encoded by cox1. The discovery of the cox1 intron in 3 distinct lineages of the Solanaceae opens the door to experimental, somatic-cell genetic studies on the transmission and co-conversion properties of this intron in plants. Cybrids have been reported between tobacco, which lacks the intron, and two species in the intron-containing Hyoscyameae clade [23, 51] and may well be feasible with other intron-containing Solanaceae. Somatic crosses should allow one to test whether the intron is preferentially transmitted relative to other mitochondrial loci, as expected if it does indeed encode an active homing endonuclease, and to measure the frequency and length of co-conversion.
List of abbreviations
AU:

approximately unbiased
CCT:

co-conversion tract
HGT:

horizontal gene transfer
ORF:

open reading frame
Declarations
Acknowledgements and Funding
We thank the Botanical Garden of Nijmegen for providing seeds, A. Alverson for critiquing the manuscript, Jianhua Li for sharing unpublished sequences from Cynomorium songaricum, A. van Wagenen, F. Guzmán-Díaz and S. Stern for help in the laboratory and three anonymous reviewers for helpful comments on the manuscript. This work was supported by NIH grant FIRCA-BB R03 TW008353-01 to J.D.P. and M.V.S.P., NIH grant RO1-GM-70612 to J.D.P., grant PICT-PRH-2008-193 from ANCyPT to M.V.S.P., and NSF grant DEB-0316614 to L.B. M.V.S.P is a researcher from CONICET.
Authors' Affiliations
(1)
Instituto de Ciencias Básicas, IBAM-CONICET and Facultad de Ciencias Agrarias, Universidad Nacional de Cuyo, Mendoza, Argentina
(2)
IBAM-CONICET and Facultad de Ciencias Agrarias, Universidad Nacional de Cuyo, Mendoza, Argentina
(3)
Department of Biology, Indiana University, Bloomington, USA
(4)
Department of Biology, University of Utah, Salt Lake City, USA
(5)
Department of Biological Sciences, University of Cincinnati, Cincinnati, USA
(6)
Department of Biology, University of Washington, Seattle, USA
Copyright
© Sanchez-Puerta et al; licensee BioMed Central Ltd. 2011
This article is published under license to BioMed Central Ltd. This is an Open Access article distributed under the terms of the Creative Commons Attribution License (http://creativecommons.org/licenses/by/2.0), which permits unrestricted use, distribution, and reproduction in any medium, provided the original work is properly cited.