Methodology article
Open Access
Beyond bilateral symmetry: geometric morphometric methods for any type of symmetry
BMC Evolutionary Biology
2011
11:280
Received: 9 August 2011
Accepted: 29 September 2011
Published: 29 September 2011
Abstract
Background
Studies of symmetric structures have made important contributions to evolutionary biology, for example, by using fluctuating asymmetry as a measure of developmental instability or for investigating the mechanisms of morphological integration. Most analyses of symmetry and asymmetry have focused on organisms or parts with bilateral symmetry. This is not the only type of symmetry in biological shapes, however, because a multitude of other types of symmetry exists in plants and animals. For instance, some organisms have two axes of reflection symmetry (biradial symmetry; e.g. many algae, corals and flowers) or rotational symmetry (e.g. sea urchins and many flowers). So far, there is no general method for the shape analysis of these types of symmetry.
Results
We generalize the morphometric methods currently used for the shape analysis of bilaterally symmetric objects so that they can be used for analyzing any type of symmetry. Our framework uses a mathematical definition of symmetry based on the theory of symmetry groups. This approach can be used to divide shape variation into a component of symmetric variation among individuals and one or more components of asymmetry. We illustrate this approach with data from a colonial coral that has ambiguous symmetry and thus can be analyzed in multiple ways. Our results demonstrate that asymmetric variation predominates in this dataset and that its amount depends on the type of symmetry considered in the analysis.
Conclusions
The framework for analyzing symmetry and asymmetry is suitable for studying structures with any type of symmetry in two or three dimensions. Studies of complex symmetries are promising for many contexts in evolutionary biology, such as fluctuating asymmetry, because these structures can potentially provide more information than structures with bilateral symmetry.
Keywords
Symmetry GroupFluctuate AsymmetrySymmetry TransformationBilateral SymmetryAsymmetry Factor
Background
Morphological symmetry results from the repetition of parts in different orientations or positions and is widespread in the body plans of most organisms. For example, the human body is bilaterally symmetric in external appearance because the same anatomical parts are repeated on the left and right sides. Likewise, many flowers are radially symmetric because sets of petals and other organs are repeated in circular patterns. The evolution of morphological symmetry is of interest in its own right [1–8] and variation among repeated parts, such as fluctuating asymmetry, has been widely used for research in evolutionary biology [9–12]. For instance, fluctuating asymmetry can be viewed as a measure of developmental instability [13] and has been related to measures of environmental stress [14], hybridization [15, 16], or fitness [17]. In a different context, fluctuating asymmetry can also be used to investigate the developmental origin of morphological integration [11, 18–25].
Because bilateral symmetry is the most widespread and simplest type of symmetry, it has been the most studied in various contexts [10]. The symmetry and asymmetry of shape have been studied with the methods of geometric morphometrics [14, 16, 21–33]. Bookstein [34] and Auffray et al. [26] briefly outlined a procedure for the shape analysis of symmetric structures that are bilaterally symmetric as a whole (e.g. the human skull). Mardia et al. [35] and Kent and Mardia [36] established the mathematical basis and computational procedure for this method, and Klingenberg et al. [31] integrated it with the existing methods for the study of biological symmetry and asymmetry.
Whereas bilateral symmetry has been the focus of most studies, it is not the only kind of symmetry in living organisms (Figure
1
). A range of different types of symmetry occur both in plants and animals [
2
,
3
,
12
]. So far, there is no general method for the morphometric analysis of all these types of symmetry, although some methods have been proposed for specific types [
37
,
38
] and an application of the present methodology to one type of symmetry has been published [
39
]. In other contexts, however, related approaches have been developed: for instance, in chemistry and computer vision a general method for quantifying how close a single configuration of points is to a symmetric shape, for any type of symmetry [
40
,
41
], and in engineering a method to incorporate symmetry in computations of the mechanical loading of structures [
42
]. No general framework exists, however, that extends the existing concepts and methods for studying morphometric variation of symmetric structures and biological asymmetry to all types of symmetry.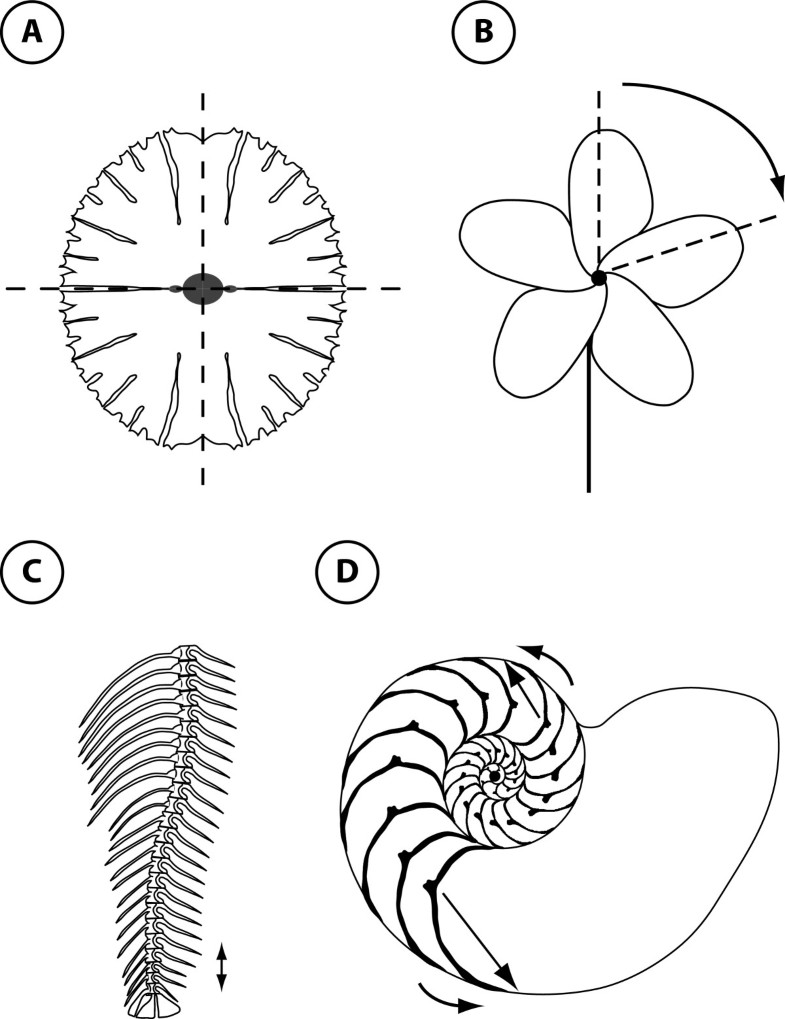 In this paper, we generalize the approach of Mardia et al. [35], which is restricted to bilateral symmetry, for the shape analysis of structures with any type of symmetry. Our generalization is based on the theory of symmetry groups [43–47], which is long established in mathematics, but so far has not been used in the context of morphometric shape analysis. We focus on symmetric structures that possess anatomical landmarks, and thus exclude smooth symmetric structures such as circles, spheres, or ellipsoids because landmarks cannot be located on them. Our method can separate a component of symmetric variation among individuals from one or more asymmetry components, depending on the specific type of complex symmetry.
This paper first reviews the mathematical definition of symmetry and the theory of symmetry groups [43–47], which may not be familiar to evolutionary biologists. We show that the approach of Mardia et al. [35] for bilateral symmetry is a special case of a more general framework based on symmetry groups. We explain how the concepts of fluctuating and directional asymmetry can be extended to all types of symmetry. We also generalize Procrustes ANOVA, a method for quantifying symmetric and asymmetric components of shape variation [29, 31], to complex types of symmetry. Finally, we illustrate this new approach with an example using landmark data collected from skeletal structures of a colonial coral. Because the symmetry of these structures is ambiguous, we are able to demonstrate analyses with different types of symmetry for this data set.
Discussion
In this paper, we have introduced a new and general framework for shape analysis of symmetric and asymmetric variation in a configuration of landmarks with any type of symmetry. We have presented methods that implement this framework and extend the methods widely used for analyzing shapes with bilateral symmetry [28, 29, 31, 35, 36, 65]. We have illustrated the new framework with a small case study on the shape variation of corallites in a coral colony.
In our case study, the Procrustes ANOVAs and PCAs for the three analyses produce different decompositions of the shape variation into components of symmetric and asymmetric shape variation. A common feature, however, is that the majority of the shape variation is contained in the asymmetric component. In the first analysis, with symmetry under reflection and rotation of order 2, the PCA indicates that asymmetric variation accounts for 64.62% of the total variance. In the two other analyses, which include rotation of order 6, the components of asymmetric variation take up more than 96% of the total variance in the PCA. The large proportion of shape variation that is taken up by the asymmetric component of variation is in striking contrast to most studies of shape variation in structures with bilateral symmetry [e.g. [14, 25, 29, 31–33, 53, 66]]. This difference may relate to the fact that our analysis considers variation of sessile organisms that have grown in a heterogeneous environment. Corals are known to have a considerable degree of phenotypic plasticity [67–72]. The large proportion of asymmetric shape variation in all our analyses may therefore relate to the effects of directed environmental factors such as light and water movement, which have been shown to influence coral growth [72–75]. Effects of crowding by neighbouring corallites might add further asymmetric variation.
The PCAs reveal much more shape variation that is structured according to biradial symmetry (rotation of order 2 and reflection) than there is variation with hexagonal symmetry (rotation of order 6 and reflection). The components that are symmetric under rotation by 180° are consistently among the dominant PCs and account for about 40% of the total variance of shape (Figure 6A, 7B). Moreover, in the analyses including reflection, shape changes symmetric under reflection and rotation by 180° also take up a large share of the total shape variation (Figure 6B, 7A). The Procrustes ANOVAs suggest that these patterns apply to both directional and fluctuating asymmetry (Tables 3, 4, 5). These results reflect the fact that the cross-sections of most corallites in the sample are more or less oval or elliptic and not circular or hexagonal [see also [76]]. Accordingly, variation in the relative lengths and the orientation of the major and minor axes is a dominant feature of shape variation. Depending on the type of symmetry considered in a specific analysis, these shape changes appear as part of the overall component of symmetry or asymmetry. In contrast, only a small proportion of the variation is symmetric under rotation of order 6, which might be expected to predominate if corallite organization were to reflect the theoretical optimum of hexagonal packing of polyps on the colony surface. In Galaxea, unlike some other colonial corals, corallites are set apart from each other by a small distance, so that the dense packing of corallites may not be a primary factor determining patterns of variation.
For our example analyses, only a fairly small proportion of shape variation is symmetric. Some patterns of symmetric variation among corallites might be due to differences in septal growth. The septa develop from the mural structure of the corallite towards the centre and also towards the outside of the corallite [76]. The septa are arranged in four complete cycles, but only the first three are fully visible: six septa appear throughout the first, six septa develop during the second cycle and twelve septa grow during the third cycle (Figure 5). Changes in the relative development of the three first cycles have been captured by the completely symmetric PCs in the analyses including rotation of order 6 (Figure 7C, 8E, G). In the PC5 of both analyses, the shape changes correspond to radial shifts of landmarks along the septa that are identical for all septa that belong to the same developmental cycle. Such biological interpretations, however, should be made with caution because this study is based on a fairly small number of corallites from a single colony and because the development of corallites is complex and incompletely known [e.g. [76, 77]].
Although the Procrustes ANOVAs and the PCAs both produce broadly similar results, these analyses differ substantially in how they partition the total variation into components. The Procrustes ANOVA allocates shape variation to various components that reflect the study design and data collection, such as directional and fluctuating asymmetry or imaging and digitizing error, even if several of these components are located in the same subspace. The components extracted by the Procrustes ANOVA, however, may be somewhat heterogeneous in their symmetries (e.g. the component of variation considered asymmetric under rotation of order 6 may contain shape changes that are symmetric under rotations of orders 2 or 3 or under reflections). In contrast, the PCA separates components according to the structure of the shape tangent space, and can therefore identify more classes of shape changes according to their symmetries. The PCA, however, does not consider other aspects of the data structure--importantly, it provides only a total characterization of asymmetry that does not distinguish between directional and fluctuating asymmetry. The PCA considers asymmetry as the total of the deviations from complete symmetry. PCA does not distinguish whether variation stems from consistent differences between repeated parts that are shared among individuals and are therefore directional asymmetry, or whether variation reflects individual differences in the deviations from symmetry and is therefore fluctuating asymmetry. Overall, therefore, Procrustes ANOVA and PCA give somewhat different perspectives on the variation in the data, which is most important for the interpretation of asymmetry.
The three analyses, based on different symmetry groups, produce different estimates of the consensus shape and different partitions of the observed shape variation into components with distinct types of symmetry. The number of these components is influenced primarily by the number of symmetry transformations for the type of symmetry considered and, accordingly, by the number of transformed copies of each landmark configuration that are included in the dataset. In the first analysis, only four transformed copies are included in the dataset, whereas six transformed copies are considered in the second analysis, and twelve transformed copies are included in the third analysis. More complex types of symmetry are associated with symmetry groups that consist of greater numbers of transformations, and thus produce more types of PCs.
These differences between analyses of the same data raise the question how the most appropriate type of symmetry should be chosen. The coral example was included specifically because of its ambiguous symmetry, so that several types of symmetry can be demonstrated with the same data, and this analysis should therefore not be viewed as a model for studies of complex symmetries in general [for such an example, see [39]]. Normally, the type of symmetry should be chosen according to criteria that are relevant to the biological context of a particular study, and will most often consider anatomical and developmental criteria. For most analyses, the choice will be much more straightforward than for the example in this study, because the number and arrangement of repeated parts is unambiguous (e.g. the number of petals in a flower). Also, for the coral example, there is biological information that clearly favours some types of symmetry over others. In corals, skeletal structures may have hexagonal, biradial or bilateral symmetry depending on the taxonomic group, but soft parts tend to have either biradial or bilateral symmetry [e.g. [78–83]]. Developmental studies in the sea anemone Nematostella vectensis have shown that many genes involved in the organization of the adult body plan are expressed in bilaterally symmetric patterns [e.g. [5, 6]]. Overall, therefore, these biological considerations suggest that biradial or bilateral symmetry is more appropriate for studying corals than the types of symmetry involving a rotation of order 6. With a choice of symmetry group that is appropriate for the organisms under study, methods introduced and demonstrated in this paper can be used to extract biologically interesting features from the different components of symmetric and asymmetric variation [39].
Alternative approaches
A few different morphometric methods for the analysis of complex symmetries have been suggested in recent years [37, 38]. Frey et al. [37] proposed an approach for the analysis of rotational symmetry. If a landmark configuration is rotationally symmetric, then each set of corresponding landmarks forms a perfect polygon. The method uses linear measurements and angles among landmarks to characterize the polygon formed by the actual landmarks and computes a measure of its deviation from a perfect polygon. Frey et al. [37] used this method to examine how well the tips of the petals of flowers with five petals corresponded to perfect pentagons and found that the method performed well in ranking more or less symmetric flowers. The drawback of this framework is that it is limited to the study of rotational symmetry and to only a single landmark per repeated sector. Our approach is more general because it is not limited to a specific number of landmarks per sector or to a type of symmetry.
Potapova and Hamilton [38] extended the method for analyzing bilateral object symmetry for the analysis of diatoms that are symmetric with respect to two perpendicular axes of symmetry (biradial symmetry). They used an original configuration of landmarks for each entire diatom, generated three copies to which they applied reflections about the two axes of symmetry, and appropriately relabelled the landmarks of each transformed copy. Although Potapova and Hamilton [38] did not describe it in these terms, their analysis applied the four symmetry transformations that define the full symmetry group for biradial symmetry. Therefore, Potapova and Hamilton's approach is identical to the method used here for that type of symmetry (Analysis 1), and it is a special case of the more general framework we presented in this study. Savriama et al. [39] applied the current framework for analyzing biradial symmetry in algal cells of Micrasterias rotata to extract symmetric and asymmetric components of variation and related them to the processes of cellular growth.
Finally, the approach of Zabrodsky et al. [40, 41, 84] is particularly intriguing because of its relationships with the current methodology. Their work was developed in the context of chemistry and computer vision, independently from similar work in morphometrics and statistical shape analysis. Zabrodsky et al. [41] defined a symmetry distance that quantifies how much a set of points deviates from a corresponding, perfectly symmetric shape. Like the Procrustes approach, this method is based on minimizing the sum of squared distances between corresponding points. Up to a scaling factor, the symmetry distance is identical to the squared Procrustes distance between the original landmark configuration and the completely symmetric consensus of our approach. The approach is suitable for object symmetry of any type, that is, for any finite symmetry group. The main difference is that the approach of Zabrodsky et al. [41] is for assessing how symmetric a single shape is, and that it therefore is not equipped to analyze the variation among several configurations in symmetric aspects of shape or in asymmetries. Graham et al. [12] point out that, in the absence of directional asymmetry, the symmetry distance can be used as a measure of fluctuating asymmetry; this is equivalent to the use of Procrustes distance [29, 85] (up to squaring and as long as total shape variation is small, so that the differences between methods for size scaling result only in a difference by a scaling factor that is approximately constant). Because the Procrustes approach can estimate and correct for directional asymmetry, it has the advantage that it can be used as a measure of fluctuating asymmetry even if directional asymmetry is present [29, 85].
Conclusion
The approach we have introduced in this paper provides powerful morphometric tools for biologists to analyze symmetry and asymmetry in landmark data. The method generalizes the approach previously used for bilateral symmetry for studies of landmark configurations with any possible type of symmetry and provides a unified perspective on biological symmetry. Previous insights about the structure of the shape tangent space for bilateral symmetry [35, 36, 63] also can be extended in this much more general setting. Similarly, we have extended the Procrustes ANOVA for quantifying the different components of shape variation [29, 31] for any type of symmetry. Other morphometric tools can be used in this new context as well.
The use of complex asymmetries, where more than two repeated parts can be compared, avoids some of the problems of fluctuating asymmetry in organisms with bilateral symmetry [86, 87]. For instance, analyses of radially symmetric flowers can measure the lengths of multiple petals [88, 89] or the arrangement of all the petal tips [37]. Because the approach outlined in this paper considers multiple landmarks per iterated part, it makes more information available for such studies and is therefore likely to provide greater power and sensitivity. This applies both to studies that use fluctuating asymmetry as a measure of developmental instability and to those using it in analyses of morphological integration. Because the complex symmetry of a structure often relates to its development and growth, for instance through the arrangements of septae of corallites (Figure 5) or the structure of algal cells [39], the patterns for different components of symmetric and asymmetric variation may provide a more detailed and multifaceted picture than it is possible for bilateral symmetry. For these reasons, we think that our framework for the analysis of complex symmetries is a useful tool for studies of the evolution and development of the shapes of biological structures [11].
Methods
Our case study concerns the symmetry and asymmetry of corallites in a specimen of colonial coral (Galaxea sp.) from the collection of the Manchester Museum. Digital photographs of 50 corallites from a single colony were taken in apical view with a Leica M420 macroscope and attached digital camera. Two images of each corallite were taken in separate sessions (i.e. the colony was positioned under the microscope separately for each image). For each picture, 48 landmarks were digitized (Figure 5) using tpsDig, version 2.05 [90]. The landmarks were digitized twice on all images. Analyses were carried out using SAS/IML [91] and MorphoJ [92].
Declarations
Acknowledgements
We are grateful to past and present members of the Klingenberg lab, particularly Nicolas Navarro, as well as to Richard Abel and Sylvain Gerber, for valuable discussions and suggestions. We also thank John Kent, Fred Bookstein, Kanti Mardia and Ian Dryden for stimulating discussions about the mathematical details of the method, Henry McGhie (Manchester Museum) for access to the specimen and Bernard Lathuilière for providing reprints of papers and helpful discussion. Dean Adams and the anonymous reviewers provided constructive comments on earlier versions of the manuscript. This work was partly funded by a studentship for YS from the Biotechnology and Biological Sciences Research Council (UK).
Authors' Affiliations
(1)
Faculty of Life Sciences, University of Manchester, Manchester, UK
Copyright
© Savriama and Klingenberg; licensee BioMed Central Ltd. 2011
This article is published under license to BioMed Central Ltd. This is an Open Access article distributed under the terms of the Creative Commons Attribution License (http://creativecommons.org/licenses/by/2.0), which permits unrestricted use, distribution, and reproduction in any medium, provided the original work is properly cited.