Research article

Open Access
A hitchhikers guide to the Galápagos: co-phylogeography of Galápagos mockingbirds and their parasites
BMC Evolutionary Biology
2011
11:284
Received: 7 April 2011
Accepted: 3 October 2011
Published: 3 October 2011
Abstract
Background
Parasites are evolutionary hitchhikers whose phylogenies often track the evolutionary history of their hosts. Incongruence in the evolutionary history of closely associated lineages can be explained through a variety of possible events including host switching and host independent speciation. However, in recently diverged lineages stochastic population processes, such as retention of ancestral polymorphism or secondary contact, can also explain discordant genealogies, even in fully co-speciating taxa. The relatively simple biogeographic arrangement of the Galápagos archipelago, compared with mainland biomes, provides a framework to identify stochastic and evolutionary informative components of genealogic data in these recently diverged organisms.
Results
Mitochondrial DNA sequences were obtained for four species of Galápagos mockingbirds and three sympatric species of ectoparasites - two louse and one mite species. These data were complemented with nuclear EF1α sequences in selected samples of parasites and with information from microsatellite loci in the mockingbirds. Mitochondrial sequence data revealed differences in population genetic diversity between all taxa and varying degrees of topological congruence between host and parasite lineages. A very low level of genetic variability and lack of congruence was found in one of the louse parasites, which was excluded from subsequent joint analysis of mitochondrial data. The reconciled multi-species tree obtained from the analysis is congruent with both the nuclear data and the geological history of the islands.
Conclusions
The gene genealogies of Galápagos mockingbirds and two of their ectoparasites show strong phylogeographic correlations, with instances of incongruence mostly explained by ancestral genetic polymorphism. A third parasite genealogy shows low levels of genetic diversity and little evidence of co-phylogeny with their hosts. These differences can mostly be explained by variation in life-history characteristics, primarily host specificity and dispersal capabilities. We show that pooling genetic data from organisms living in close ecological association reveals a more accurate phylogeographic history for these taxa. Our results have implications for the conservation and taxonomy of Galápagos mockingbirds and their parasites.
Keywords
Ancestral Polymorphism
Feather Mite
Relative Evolutionary Rate
Reconciliation Analysis
Fast Mutation Rate
Background
Parasites represent evolutionary hitchhikers on their hosts with evolutionary histories of each lineage often running in parallel [e.g. [1, 2]]. When the hosts speciate, those parasites which are host specific may also become reproductively isolated, potentially leading to co-speciation. Analysis of these host-parasite associations is analogous to reconstructing the evolution of genes tracking organisms, and organisms tracking geological and geographical changes [3, 4]. Parasites can also serve as an independent source of information when evolutionary data on the host is insufficient [5]. Host specific ectoparasites have proven to be good proxies for resolving host population structure [6]. This is particularly true when an ectoparasite's life-cycle is entirely bound to a host individual resulting in co-speciation [e.g. [7–10]]. Nevertheless, co-speciation cannot be assumed in all systems where there are high levels of host specificity [e.g. [11, 12]] and careful investigation is required to explain the complex associations between hosts and parasites.
A theoretical framework relating co-phylogenetic patterns with population genetic processes was defined by Rannala and Michalakis [4], who formulated assumptions under which congruence between host and parasite genealogies might be expected. These include the assumption of 1) no migration events between splitting populations and 2) coalescence of both host and parasite lineages in the ancestral population. This is difficult to achieve in situations where historical host-parasite associations may have been affected by recurrent migrations or climatic oscillations [e.g. [13, 14]], which is common in the fauna of mainland biomes.
Due to their relative isolation from mainland biota, restricted surface area and low probability of multiple colonization events, oceanic islands like Galápagos provide a convenient model to study co-phylogenetic patterns in hosts and parasites. Founding populations of island colonists are typically small in size and can only carry a limited number of gene alleles leading to rapid coalescence. Consequently the effects of selection and genetic drift quickly lead to genetic differentiation and the formation of new species [15].
The Galápagos islands, and Galápagos mockingbirds (Mimus spp.) in particular, have played a prominent role in research on island speciation. It was Charles Darwin's observation on the distinctiveness of Galápagos mockingbirds from their mainland relatives that provided much of the founding evidence for the idea that species evolve through time [16].
The geological origin of the Galápagos is very well understood [
17
–
19
]. This permits a detailed investigation of the impact of geographic isolation on the formation of population structure and speciation in Galápagos biota. Similar to other archipelagos that arose in the form of a successive chain of volcanic islands (e.g. Hawai'i), it has been proposed that the pattern of speciation by endemics follow the successional origin of islands in the chain, a phenomenon sometimes called the progression rule [
20
]. Geological evidence shows a strong northwest to southeast gradient in the age of the Galápagos islands (Figure
1
). The youngest rise above a volcanic mantle hotspot in the northwest of the archipelago, and as they migrate along a tectonic plate transition towards the Southeast, the islands age and shrink due to erosion [
18
]. Thus the youngest islands (Isabela and Fernandina) are less than 0.5 million years (My) old, whereas the oldest extant islands (San Cristóbal and Española) are more than 2.5 My. Submerged islands of up to 14 My are found east of Española [
17
,
21
] suggesting a much earlier origin is possible for at least some Galápagos biota. However, only a few instances of endemic fauna older than the age of the extant islands have been confirmed, such as the
Galapaganus
weevils [
22
]. A vast majority of terrestrial species are younger than 2.5 My and also fit the progression rule pattern of colonization [for a review see [
23
]].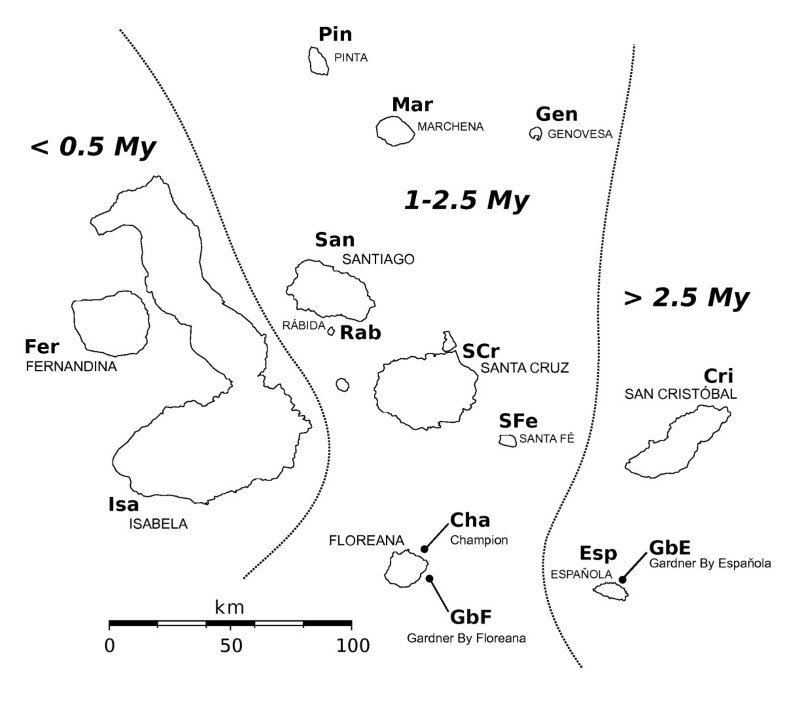 Exceptions to the progression rule include species capable of long distance dispersal, such as Darwin's finches [24] and some species of winged insects [25, 26], both of which show complex colonization histories. Arbogast et al. [27] showed that the mitochondrial DNA (mtDNA) phylogeny of mockingbirds largely follows the progression rule. This corresponds with low levels of long-distance dispersal as detected by population genetic surveys [28]. Comparing the level of divergence in Galápagos mockingbirds with mutation rates commonly found for coding mtDNA genes in birds Arbogast et al. [27] estimated that their colonisation of the Galápagos falls well within the age of present islands, and the distribution of the clades amongst particular islands was generally congruent with patterns of island age.
Arbogast et al. [
27
] also showed that the mtDNA data only partially fit the traditional taxonomy of Galápagos mockingbirds. Morphologically there are four nominal species of Galapágos mockingbirds, each with distinct geographic distributions. The Hood mockingbird (
Mimus macdonaldi
) inhabits Española, the San Cristóbal mockingbird (
M. melanotis
) is found on the island of the same name and the Floreana mockingbird
M. trifasciatus
is present on two islets adjacent to Floreana. The rest of the archipelago is populated by the Galápagos mockingbird (
M. parvulus
) (Figure
2
). Despite belonging to three different nominal species, birds from the eastern islands of the archipelago (Española, San Cristóbal, and Genovesa) possess similar mtDNA haplotypes, while populations from Isabela in the west of the archipelago, are genetically more divergent from other
M. parvulus
populations than previously expected [
27
]. A study conducted by Hoeck et al. [
28
] shows that nuclear genetic data obtained using microsatellites largely agrees with the morphological distinction of species. Thus, at least some of the mtDNA differences are an exclusive feature of the mtDNA genealogy while other mtDNA sequences agree with the traditional taxonomy.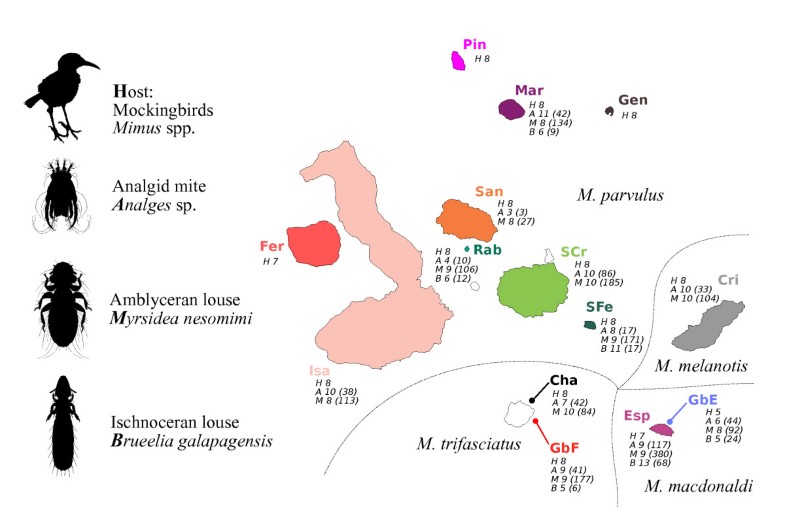 Discrepancies between mitochondrial and nuclear genealogies have been observed on multiple occasions in phylogeographic studies during the past two decades [29]. Several processes can explain these divergences, with secondary contact of previously separated lineages, ancestral allelic polymorphism and horizontal gene transfer representing the most common reasons for discordance. Typically, the age of the mtDNA lineages or alleles of nuclear genes predate the time of the population separation [30]. Therefore, the genetic pool of colonists may contain several copies of these haplotypes or alleles during the colonization event. Over time, random genetic drift leads to fixation of different mtDNA haplotypes and nuclear alleles in different populations. This ultimately leads to discordant genealogies amongst different loci, which hamper the interpretation of phylogeographic data based on analysis of single genes [31].
In this paper we reconstruct the common phylogeographic patterns shared between mockingbirds and their parasites inhabiting Galápagos islands using mtDNA and nuclear data. We evaluate the level of ancestral polymorphism affecting species phylogenies based on mtDNA data. Our analyses are partitioned by populations of all four mockingbird species and three associated parasites: an Astigmatid mite (Analges sp.) which has yet to be taxonomically described, an amblyceran parasitic louse (Myrsidea nesomimi) and an ischnoceran parasitic louse (Brueelia galapagensis). All three species of parasites are Galápagos endemics and are commonly associated with Galápagos mockingbirds [[32, 33] authors' observation]. Despite sharing the same host spectrum, the three parasites represent three phylogenetically unrelated lineages [34, 35] that differ in their ecology. Feather mites of the genus Analges feed predominantly on feathers and are strictly host specific [36]. The two genera of chewing lice (Myrsidea and Brueelia) are known to differ in their feeding habits and in their levels of host specificity, which is strict in Myrsidea and more relaxed in Brueelia [e.g. [32, 37]]. This assemblage of parasitic taxa allows us to discern shared evolutionary signal from unique evolutionary events affected by varying life history traits.
Results
107 sequences of the COI gene were obtained in Mimus, 86 in Analges, 98 in Myrsidea, and 45 in Brueelia. These sequences were collapsed into 25, 71, 37 and 8 haplotypes, respectively. 51 EF1α sequences were obtained in Analges and 29 in Brueelia. The list of sequenced specimens and associated haplotype numbers are available in Additional file 1.
Discussion
We studied the co-evolutionary patterns between populations of four host and three ectoparasite species living in close ecological association on the Galápagos islands using mtDNA (COI) and nuclear loci (EF1α sequences, microsatellites). Despite varying levels of genetic variability between species and loci, reconstructed phylogeographic patterns show that the population structure between host and parasite lineages is broadly congruent and their diversification is sequentially ordered according to the geological age of each island. In all cases the deepest genetic splits occur between SE islands and the rest of the archipelago (Figures 3 and 6). Most incongruent events between individual gene phylogenies are likely to be attributable to the effect of ancestral polymorphism. Assessing the contribution of stochastic processes on the evolutionary patterns obtained for each species is possible through reconciling the phylogeny of these taxa. Output from this simultaneous analysis agrees with the traditional classification of the mockingbird species and with Mimus microsatellite results much more closely than when the Mimus mtDNA data are analysed separately.
Conclusions
Using mitochondrial DNA sequences and nuclear data we studied 400 samples of recently diverged Galápagos mockingbirds and 229 specimens of 3 species of their parasites (Analges, Myrsidea and Brueelia). We found that co-phylogeographic patterns inferred on the level of single gene genealogies (for Mimus, Analges and Myrsidea) are considerably impacted by differential distribution of ancestral polymorphism. In contrast, extremely low genetic variability and lack of co-phylogeographic congruence was found in Brueelia. These differences may be explained by life history traits in Brueelia such as their dispersal capabilitity, abundance, and lower levels of host specificity. A more accurate picture of the phylogeographic history of these lineages, congruent with the geological history of the islands and with available nuclear data was obtained through a joint analysis of data for the three co-evolving groups. We show that pooling genetic data for several organisms living in close ecological association improves the inference of phylogeographic histories in recently diverged species.
Declarations
Acknowledgements
We thank the Galápagos National Park Service for permission to conduct this research (Permit No. PC-48-10) and the Charles Darwin Foundation for assistance. The authors are grateful to Václav Hypša, Kevin Johnson and two anonymous reviewers for useful comments on the manuscript. This work was supported by Marie Curie Fellowship (project Galápagos, no. 235123, FP7-PEOPLE-IEF-2008) and by the Czech Science Foundation (project No. 206/08/1019). Part of the work was carried out by using the resources of the Computational Biology Service Unit at Cornell University.
Authors' Affiliations
(1)
Entomology Department, Natural History Museum, London, UK
(2)
Faculty of Science, University of South Bohemia and Biology Centre ASCR, Institute of Parasitology, Ceske Budejovice, Czech Republic
(3)
Institute of Evolutionary Biology and Environmental Studies, University of Zurich, Zurich, Switzerland
Copyright
© Štefka et al; licensee BioMed Central Ltd. 2011
This article is published under license to BioMed Central Ltd. This is an Open Access article distributed under the terms of the Creative Commons Attribution License (http://creativecommons.org/licenses/by/2.0), which permits unrestricted use, distribution, and reproduction in any medium, provided the original work is properly cited.