Research article

Open Access
Rapid evolution and copy number variation of primate RHOXF2, an X-linked homeobox gene involved in male reproduction and possibly brain function
BMC Evolutionary Biology
2011
11:298
Received: 6 April 2011
Accepted: 12 October 2011
Published: 12 October 2011
Abstract
Background
Homeobox genes are the key regulators during development, and they are in general highly conserved with only a few reported cases of rapid evolution. RHOXF2 is an X-linked homeobox gene in primates. It is highly expressed in the testicle and may play an important role in spermatogenesis. As male reproductive system is often the target of natural and/or sexual selection during evolution, in this study, we aim to dissect the pattern of molecular evolution of RHOXF2 in primates and its potential functional consequence.
Results
We studied sequences and copy number variation of RHOXF2 in humans and 16 nonhuman primate species as well as the expression patterns in human, chimpanzee, white-browed gibbon and rhesus macaque. The gene copy number analysis showed that there had been parallel gene duplications/losses in multiple primate lineages. Our evidence suggests that 11 nonhuman primate species have one RHOXF2 copy, and two copies are present in humans and four Old World monkey species, and at least 6 copies in chimpanzees. Further analysis indicated that the gene duplications in primates had likely been mediated by endogenous retrovirus (ERV) sequences flanking the gene regions. In striking contrast to non-human primates, humans appear to have homogenized their two RHOXF2 copies by the ERV-mediated non-allelic recombination mechanism. Coding sequence and phylogenetic analysis suggested multi-lineage strong positive selection on RHOXF2 during primate evolution, especially during the origins of humans and chimpanzees. All the 8 coding region polymorphic sites in human populations are non-synonymous, implying on-going selection. Gene expression analysis demonstrated that besides the preferential expression in the reproductive system, RHOXF2 is also expressed in the brain. The quantitative data suggests expression pattern divergence among primate species.
Conclusions
RHOXF2 is a fast-evolving homeobox gene in primates. The rapid evolution and copy number changes of RHOXF2 had been driven by Darwinian positive selection acting on the male reproductive system and possibly also on the central nervous system, which sheds light on understanding the role of homeobox genes in adaptive evolution.
Keywords
Copy Number Variation
Rhesus Macaque
Homeobox Gene
Male Reproductive System
Strong Positive Selection
Background
Homeobox genes encode homeobox proteins that play a crucial role in various developmental processes as transcription factors. A key feature of homeobox proteins is the homeodomain, a 60-amino-acid helix-turn-helix DNA-binding domain [1]. Due to their functional importance during development, most of the homeobox genes (especially the homeodomain) are highly conserved at sequence level [1–3]. There have been only a few published examples of rapid evolution of homeobox genes, such as OdsH in flies [4], Hox genes in nematodes [5, 6], the Rhox5 cluster genes in rodents [7–12], and TGIFLX and ESX1 in primates [13, 14]. Here we report a novel case of rapid evolution as well as copy number variation (CNV) of an X-linked reproductive homeobox family gene, member 2 (RHOXF2) in primates. This homeobox gene is involved in spermatogenesis and may also play a role in brain function.
RHOXF2
, selectively expressed in the testis, was initially identified as a member of the
PEPP
subfamily [
15
]. The human
RHOXF2
gene is also named as testis homeobox gene 1 (
THG1
) or human paired-like homeobox protein (
hPEPP2
). It is located on Xq24 and contains 4 exons encoding a 288-amino-acids protein with two functional domains, the homeodomain and the proline-rich domain (figure
1a
)[
15
]. In humans, there are two copies of the
RHOXF2
gene on Xq24 in a head-to-head orientation,
i.e. RHOXF2
and
RHOXF2b
[
15
]. The
Rhox
(reproductive homeobox on the X chromosome) cluster genes in rodents have been considered to be orthologs of human
RHOXF2
[
15
]. Recent studies have shown that the human
RHOXF2
protein is functionally similar to the rodent
Rhox5
, the founding member of the
Rhox
cluster, expressed in the Sertoli cells of the testis and promoting survival and differentiation of the adjacent male germ cells during spermatogenesis [
8
,
16
–
18
]. Similar to the
Rhox
cluster genes in rodents, the human
RHOXF2
can down-regulate the expression of
Unc5c
and
Pltp
, and up-regulate
Gdap1
expression in the Sertoli-cell pathway promoting germ cell survival [
16
,
18
]. Interestingly, all three down-stream genes directly regulated by
RHOXF2
in the testis also play important roles in the nervous system. In the brain,
Unc5c
is a receptor of netrin-1, which is important for axonal guidance, neuron migration and proliferation [
19
,
20
].
Pltp
is an important modulator of the signal transduction pathways in the human neurons, and is likely involved in neurodegenerative and inflammatory brain diseases [
21
,
22
].
Gdap1
is involved in a signal transduction pathway in neuronal development, and is responsible for various Charcot-Marie-Tooth diseases, the most common peripheral neuropathy [
23
,
24
].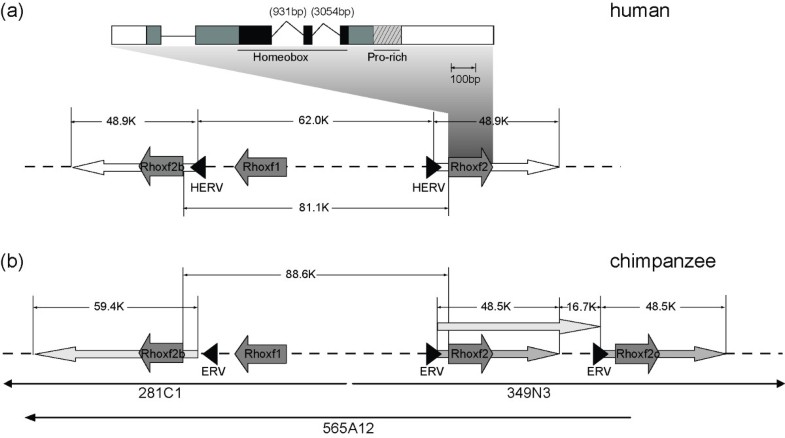 Due to the function of RHOXF2 in spermatogenesis and possibly in the central nervous system, we studied the evolutionary pattern of this homeobox gene in primates, and we observed frequent gene duplications/losses and rapid protein sequence changes. We also performed expression pattern analysis in multiple primate species, and examined between-species and between-paralogs expression divergences. Our evidence suggests that the rapid evolution of RHOXF2 at both the sequence and expression levels is likely to have been caused by selection on the male reproductive system and possibly also on the central nervous system.
Discussion
We have presented a novel case of rapid evolution of an X-linked homeobox gene in primates. Interestingly, unlike the few previously studied cases [8–10, 13, 14], RHOXF2 also shows copy number variation among primate species. We showed that there had been parallel RHOXF2 duplications and/or losses along multiple primate lineages, which were likely mediated by the flanking ERVs. A similar gene duplication pattern was also observed for the mouse Rhox alpha subcluster paralogs [8–12], and gene loss was reported in the Hox gene cluster in nematode [5, 6].
RHOXF1 and RHOXF2 are the only members of the Rhox family in primates [40]. Due to the rapid evolution of the Rhox family, RHOXF1 and RHOXF2 are highly divergent from their rodent orthologs. However, their functional roles in the reproductive system have been maintained in both rodents and primates. In the mouse, Rhox5 is expressed in both male and female germ cells in developing fetal gonad [41, 42]. In adults, it is expressed in the testis, epididymis and ovary [43, 44]. The Rhox5 null mice are subfertile, with defects in spermatozoa production and motility [8, 41]. The mouse Rhox cluster has more than 30 genes with partially overlapping expression patterns, and plays partially redundant but distinct functional roles [8–10, 18, 45]. RHOXF1 and RHOXF2 in primates are functionally similar to Rhox5 in mouse. In the testis, both of them may down-regulate Unc5c and Pltp expression, but only RHOXF2 can up-regulate Gdap1 expression [18]. During primate evolution, RHOXF1 was apparently highly conserved and likely maintains its original functional role in the reproductive system. In contrast, RHOXF2 has evolved rapidly leading to potential functional divergence in primates.
Darwinian positive selection is likely the key driving force leading to copy number variation, rapid amino acid changes as well as potential functional (e.g. gene expression pattern) divergence of RHOXF2 in primates. In several species, e.g. rhesus macaque and leaf monkeys, selection and lack of recombination have caused distinct sequence divergence between the two RHOXF2 copies within each species, which could lead to functional divergence. In humans, signals of rapid evolution and positive selection were also detected. However, due to frequent non-allelic recombinations, the two human copies have not clearly diverged. The situation in chimpanzees is much more complicated in which both rapid evolution and gene pseudolization might have occurred.
It has been shown that gene copy number and expression level are highly correlated [46]. For homeobox genes, due to their important roles in development, dosage changes may lead to functional consequences [47, 48]. As the major function of RHOXF2 in primates is male reproduction, we speculate that the observed strong selection in multiple primate lineages is likely to be related to sperm competition in promiscuous mating systems [49, 50]. Among the 17 primate species studied, four species showed strong signatures of positive selection (human, chimpanzee, Yunnan snub-nosed monkey and rhesus macaque), and all of them have promiscuous mating systems [51–57]. This pattern is also seen for the Rhox cluster in rodents [8].
In addition to its potential role in spermatogenesis, RHOXF2 may also be involved in the functioning of the nervous system. All the three down-stream genes directly regulated by RHOXF2, i.e. Unc5c [19, 20], Pltp [21, 22] and Gdap1 [23, 24] also play important roles in the central nervous system. Hence, the brain expression of RHOXF2 in primates implies its possible involvement in brain function. In humans, only one of the two RHOXF2 copies is expressed in adult brains, and both copies are expressed equally in the brains of embryos and new-borns. This suggests a potential role of RHOXF2 in brain development [16–18]. Thus, it is likely that RHOXF2 may function in both the male reproductive system and the central nervous system through interactions with the down-stream genes. The question remains as to just how the expression of RHOXF2 is regulated in these different tissues.
It has been shown that the genome-wide gene expression patterns are similar between brain and testis in humans [58]. Interestingly, the human RHOXF2 protein down-regulates the expression of the Netrin-1 receptor, Unc5c [16–18], expressed in both brain and testis [16, 59]. In the brain, the UNC5C protein level is mainly influenced by the Netrin-1 protein, which increases apoptosis of the UNC5C-expressing neurons [60, 61]. In the testis, Unc5c prevents Sertoli cell from apoptosis and ensure sperm production [16]. A genome-wide analysis of cancer-testis (CT) gene expression showed that RHOXF2 is a CT gene with testis-selective expression [39]. Coincidentally, the CT genes are also expressed in a high percentage of human central nervous system tumors [62]. The potential functional role of RHOXF2 in the brain is likely the outcome of Darwinian positive selection which has driven the rapid evolution and functional divergence of RHOXF2 in primates, especially those species with more than one gene copies.
It is well known that brain evolution is not always positively associated with reproductive fitness [63]. A mutation with advantages for brain function may sometimes be detrimental to the reproductive system (and vice versa). Therefore, natural selection will result in a balance between the competing demands and advantages of brain and testis functions. As RHOXF2 may play a dual role acting in the testis and brain, it may have developed certain mechanism for balancing potential functional conflicts between reproduction and cognition. One potential molecular mechanism is the between-copy gene expression divergence, e.g. in human, both of the RHOXF2 copies are equally expressed in the testis, but only one copy is expressed in the adult brain. The potential functional divergence of different copies are yet to be elucidated by further studies in the future.
Conclusions
In summary, we provided an informative example of rapid evolution and copy number variation of an X-linked homeobox gene (RHOXF2) in primates. Our sequence analysis indicates that parallel gene duplications/losses were likely to have been mediated by the flanking ERVs, and the rapid evolution of RHOXF2 had been driven by Darwinian positive selection on the male reproductive system and possibly also on the central nervous system, resulting in between-copy sequence and expression divergence among the primate species with more than one gene copy.
Note
[GenBank: HQ283451- HQ283472]
Declarations
Acknowledgements
This work was supported by the National 973 program of China [grant numbers 2011CBA00401, 2007CB947701]; the National Natural Science Foundation of China [grant number 30871343]; and the Natural Science Foundation of Yunnan Province of China [grant number Y003721111].We are thankful to the technical help of Xiao-na Fan, Hui Zhang and Yi-chuan Yu. We thank Dr. Phillip Kaitovich for providing the testis cDNA sample of chimpanzee. We also thank Dr. Darren Curnoe for this critical reading of the manuscript.
Authors' Affiliations
(1)
State Key Laboratory of Genetic Resources and Evolution, Kunming Institute of Zoology and Kunming Primate Research Center, Chinese Academy of Sciences, Kunming, China
(2)
Graduate School of the Chinese Academy of Sciences, Beijing, China
(3)
Department of Internal Medicine, Renal Division, Washington University School of Medicine, St. Louis, USA
Copyright
© Niu et al; licensee BioMed Central Ltd. 2011
This article is published under license to BioMed Central Ltd. This is an Open Access article distributed under the terms of the Creative Commons Attribution License (http://creativecommons.org/licenses/by/2.0), which permits unrestricted use, distribution, and reproduction in any medium, provided the original work is properly cited.