Research article
Open Access
Separating the wheat from the chaff: mitigating the effects of noise in a plastome phylogenomic data set from Pinus L. (Pinaceae)
BMC Evolutionary Biology
2012
12:100
Received: 19 January 2012
Accepted: 14 June 2012
Published: 25 June 2012
Abstract
Background
Through next-generation sequencing, the amount of sequence data potentially available for phylogenetic analyses has increased exponentially in recent years. Simultaneously, the risk of incorporating 'noisy' data with misleading phylogenetic signal has also increased, and may disproportionately influence the topology of weakly supported nodes and lineages featuring rapid radiations and/or elevated rates of evolution.
Results
We investigated the influence of phylogenetic noise in large data sets by applying two fundamental strategies, variable site removal and long-branch exclusion, to the phylogenetic analysis of a full plastome alignment of 107 species of Pinus and six Pinaceae outgroups. While high overall phylogenetic resolution resulted from inclusion of all data, three historically recalcitrant nodes remained conflicted with previous analyses. Close investigation of these nodes revealed dramatically different responses to data removal. Whereas topological resolution and bootstrap support for two clades peaked with removal of highly variable sites, the third clade resolved most strongly when all sites were included. Similar trends were observed using long-branch exclusion, but patterns were neither as strong nor as clear. When compared to previous phylogenetic analyses of nuclear loci and morphological data, the most highly supported topologies seen in Pinus plastome analysis are congruent for the two clades gaining support from variable site removal and long-branch exclusion, but in conflict for the clade with highest support from the full data set.
Conclusions
These results suggest that removal of misleading signal in phylogenomic datasets can result not only in increased resolution for poorly supported nodes, but may serve as a tool for identifying erroneous yet highly supported topologies. For Pinus chloroplast genomes, removal of variable sites appears to be more effective than long-branch exclusion for clarifying phylogenetic hypotheses.
Keywords
Phylogenetic noisePlastome Pinus Chloroplast
Background
The potential influence of phylogenetic 'noise', i.e. random or misleading signal, in molecular phylogenetic studies has been recognized for over 30 years [1–4]. Similarly, various strategies to identify and/or mitigate noise in datasets have been formulated, including measuring skewness in the distribution of phylogenetic trees [5, 6], quantifying incongruence between data partitions [7], but see, for example, [8, 9], likelihood mapping [10], increasing taxon sampling [11, 12], and profiling loci based on phylogenetic information content [13–15], among others. While the specific details of these strategies differ, ultimately the goal of each is to increase the accuracy of phylogenetic hypothesis generation by identifying and/or reducing the influence of misleading signal [16]. Nonetheless, as next-generation technologies continue to bring about orders-of-magnitude increases in DNA sequence output and usher in an era of phylogenomics, the challenges associated with phylogenetic noise could temper gains in phylogenetic resolution resulting from increased taxon and sequence sampling [17–22]. Although genomic-scale data sets are relatively novel, it is clear that misleading signal inherent in these large datasets still impacts phylogenetic resolution, in particular in clades that have experienced rapid divergence or radiation events, as well as lineages with elevated rates of evolution and/or long periods of genetic isolation (i.e., "long branches") [12, 20, 21, 23–26].
While chloroplast sequences are still the most commonly used markers in plant phylogenetic studies, many analyses tend to rely on relatively small portions of the chloroplast genome, and few studies to date have applied plastome-scale sequences to phylogenetic questions [27–34]. This is particularly true at low taxonomic levels [31], as the majority of plastome-level phylogenetic analyses have focused on clarifying plastid-based relationships at familial and ordinal levels. Considering the potential impact of phylogenetic noise in phylogenomic analyses [17–22, 35], it seems appropriate to explore such effects on plastome-scale datasets, particularly as they become widespread in plant phylogenetic analyses and more commonly applied to investigations at low taxonomic levels. Further, although representing a single linkage group, mutation rate varies between different regions of the plastome [31, 36, 37], and so the potential for misleading signal certainly exists when using full plastomes to delineate evolutionary events over varying time-scales.
The genus
Pinus
, consists of ca. 110 species distributed primarily throughout the northern hemisphere, and contains evolutionary patterns ranging from deep divergence events to apparent rapid and relatively shallow radiations. In addition, the moderate size of the genus facilitates thorough taxon sampling.
Pinus
is represented by a relatively well-documented fossil record reaching back over 100 million years [
38
–
40
] and has been the focus of a large body of phylogenetic work, including studies based in morphology [
41
–
45
], crossability [
41
,
46
–
48
] and molecular data, including restriction fragment analyses [
49
,
50
] and both nuclear [
51
–
54
] and chloroplast sequence data [
31
,
42
,
44
,
55
–
59
]. The most recent molecular systematic treatment of
Pinus
[
42
] recovered a well-supported systematic framework consisting of two subgenera (
Pinus
and
Strobus
), four sections (sections
Pinus
and
Trifoliae
in subgenus
Pinus
, sections
Parrya
and
Quinquefoliae
in subgenus
Strobus
) and 11 subsections (Figure 
1
) that is widely accepted today. However, while nearly complete plastome sequences for a subset of pine species support this framework and result in increased resolution across much of the genus [
31
], there remain a number of taxa with poor resolution and/or incongruence between chloroplast-based and nuclear- or morphology-based analyses. In particular, subsections
Krempfianae
and
Contortae
, as well as a clade of the two closely related species
Pinus merkusii
and
P
.
latteri
each demonstrate these conflicts (Figure 
1
). In the present study, we investigated poor and conflicting resolutions in these clades using highly variable alignment positions and long-branches as proxies for phylogenetic noise. Sequential removal of variable sites and long branches was applied to the phylogenetic analysis of a full-plastome alignment which included most of the world's pine species and several Pinaceae outgroups. While responses to these treatments differed between these three clades, each case provided insight into both the general patterns of response to noise removal in a phylogenomic dataset as well as specific characteristics of the plastid-based
Pinus
evolutionary history.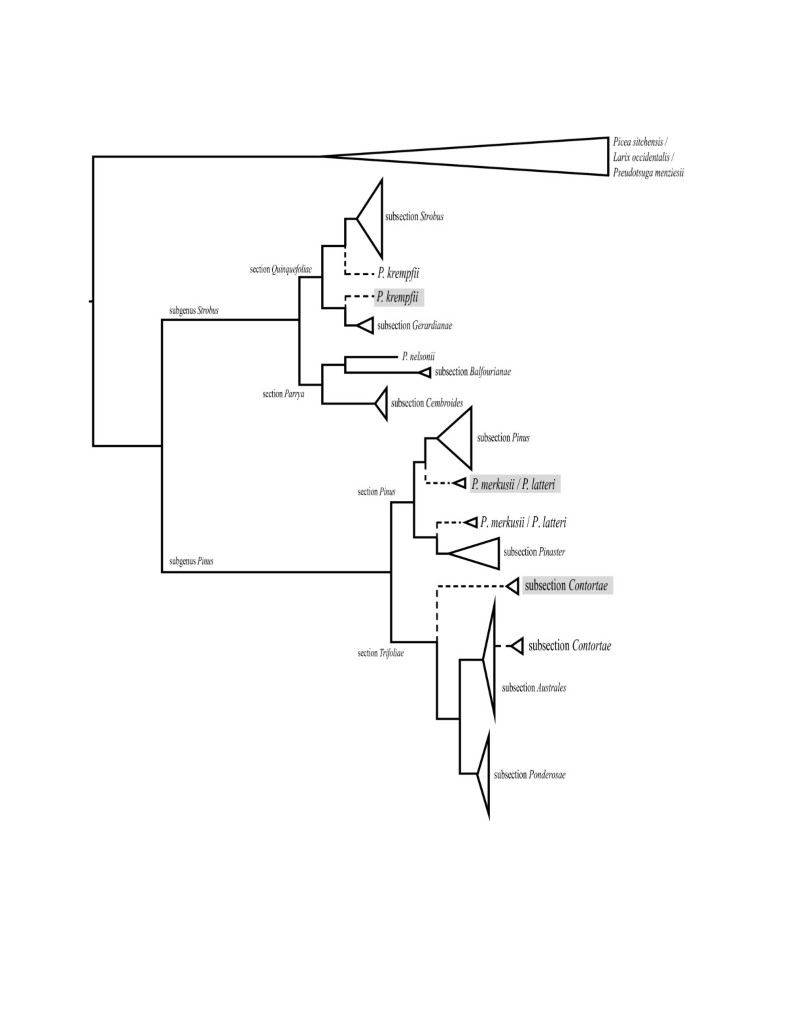 Discussion
As genome-scale datasets become increasingly common in evolutionary analyses, it is reasonable to expect challenges associated with highly variable or noisy data. Because of this, it is prudent to develop efficient strategies to identify and mitigate phylogenetic noise while simultaneously preserving sites and taxa carrying useful phylogenetic signal in order to most effectively capture information from large datasets. The benefit of developing such strategies has been demonstrated already, for example in placental mammals [35], early-diverging plant lineages [82, 86] and deep eukaryotic phylogeny [84]. Our approach is similar to previous efforts, but focused on two fundamental and complementary strategies, variable site removal and long-branch exclusion, and explored the dynamics of tree topology and support values to measure their impact on an infrageneric phylogenetic analysis. While the two strategies employed were both utilized to counter the effect of putative phylogenetic noise, there are important contrasts between them. For example, the strict application of long-branch exclusion serves to minimize long-branch attraction artefacts, yet phylogenetic hypotheses may still be misled by evolutionary patterns at highly variable sites since all sites are still included in the analysis. In this case, removal of taxa could mask evolutionary patterns at some sites that otherwise might be more clearly interpreted [4, 87], while the inclusion of fast-evolving sites may still mislead phylogenetic analyses [13]. On the other hand, removal of highly variable sites potentially diminishes the impact of misleading signal in an alignment and should increase the ability of applied models of sequence evolution to capture evolutionary patterns in phylogenetic analyses. The success of this strategy may be limited, however, as the inclusion of highly divergent taxa could still lead to long-branch artefacts when phylogenetic signal is minimal, and the broad application of variable site removal may have the unintended result of diminishing or erasing phylogenetic signal in some sub-clades [88]. It is therefore likely that utilizing a combination of these two strategies is prudent in many cases [84], yet an overly conservative approach could still lead to the loss of essential phylogenetic signal.
With our dataset and strategies, removal of variable sites in a tree-independent manner appears to provide more information toward clarifying the plastid-based evolutionary relationships of three historically problematic clades than does the exclusion of long branches. Further, removal of up to several thousand of the most variable alignment positions as measured by the OV metric was useful in investigating conflicting or weakly supported phylogenetic resolution in these clades; however, it is important to note that this magnitude of variable site removal is specific to Pinus and is expected to vary in other taxa depending on their evolutionary histories and the amount and origin of the sequence utilized in phylogenetic analyses. Nonetheless, the targeted range of variable site removal in this study (from ca. 4.3 to 8.6 kbp of highly variable sites), corresponding to alignment partitions with lower branch score/partition metric values and high overall bootstrap support, is significant in two regards. First, as overall high levels of bootstrap support are maintained across this range of partitions (Figure 3), sites within this window are not required for the resolution of most intraspecific relationships within the genus Pinus. Second, as variable sites are removed within this range of partitions important changes are seen in the topology and support of three historically recalcitrant clades - support for the position of subsection Contortae as sister to the monophyletic grouping of subsections Australes and Ponderosae diminishes substantially (discussed below), while there is substantial increase in resolution for the consistent positions of P. krempfii and P. merkusii / P. latteri. Conversely, the long-branch exclusion strategies applied have little to no effect on the topology and support for these clades when applied to the full plastome alignment, suggesting that variable site removal is more effective in mitigating what we perceive to be the impact of phylogenetic noise in our data set.
Finally, the tree-dependent strategy applied to our dataset also did not have the same impact as the OV-based strategy in relation to the three clades of interest. Rather, it appeared that this procedure was more strongly influenced by positions primarily delimiting generic and subgeneric divisions, as evidenced in part by the relatively high variability categorization of rRNA positions (Additional File 3). Critically, as overall bootstrap support values did not change even with extensive variable site removal, it was not possible to identify a finite window of putative high signal to noise ratio as with the tree-independent strategy. It is possible that this method would be more efficient if combined with the exclusion of outgroups or if applied to clades consisting solely of more closely related taxa. Alternatively, it may be that tree-based methods are in many cases limited by the influence of the assumed phylogenetic hypothesis [89]. The absence of change in overall bootstrap support values with tree-dependent variable site removal in our dataset supports the latter contention.
The specific changes in position and topological support shown in our analyses are also noteworthy because they highlight the disparate resolutions previously supported by different analyses or different types of data. For example, the unique morphological characteristics of Pinus krempfii (most notably its flat, paired needles) have led to a wide range of phylogenetic resolution, including placement outside the genus Pinus[90], in its own subgenus within Pinus[41, 91, 92], and within subgenus Strobus , section Parrya[93–95]. At least two recent morphological treatments have recognized some affinity of P. krempfii to P. gerardiana and P. bungeana of subsection Gerardianae, based on cuticular micromorphology and the morphology of tracheid and parenchyma cells [94, 96]. Molecular evidence to date strongly support a position within or sister to section Quinquefoliae of subgenus Strobus, although a consistent and clear relationship of P. krempfii to subsections Strobus and Gerardianae of section Quinquefoliae has proven elusive (Figure 1). Some analyses based on chloroplast sequence data suggest an affinity to subsection Gerardianae[56, 57], but support for this relationship is typically moderate to weak. Other reports based on chloroplast or nuclear sequence data show poor resolution [42, 44], place the species sister to section Quinquefoliae [31], or suggest inclusion within subsection Strobus [51, 52].
Pinus merkusii and P. latteri have demonstrated similarly ambiguous phylogenetic resolution relative to subsections Pinus and Pinaster of section Pinus (Figure 1), and again there is incongruence between molecular and morphological data. For example, Frankis [45] placed P. merkusii within subsection Pinaster based on cone morphology, while most molecular analyses place P. merkusii as sister to subsection Pinus [42, 51, 52, 57], albeit typically with low to moderate support. On the other hand, Wang et al. [56, 57] and Szmidt et al. [97] demonstrated a clear genetic separation of P. merkusii from sampled Asian members of subsection Pinus, and suggest a divergence between these groups possibly in the early Tertiary, although this timeframe is not in accordance with the age of section Pinus based on molecular clock calibrations [40, 98].
Finally, the position of subsection Contortae is strongly supported (up to 100% bootstrap support) as sister to subsections Ponderosae and Trifoliae (Figure 1) based on previous reports using chloroplast sequence data or chloroplast restriction fragment analyses [31, 42, 44, 49, 55, 59]. Alternatively, other lines of evidence suggest this highly supported topology may be incorrect. For example, hybridization is possible between some members of subsections Contortae and Australes, but not between members of subsections Contortae and Ponderosae[99, 100]. Similarly, the relatively shallow fossil record of subsection Contortae[101, 102] suggests a more recent derivation within its section. In turn, two reports based on nrITS and four low-copy nuclear loci place the Contortae either nested within subsection Australes with moderately high support (77–82% bootstrap support in Liston et al. [51]) or forming a polytomy with monophyletic subsections Ponderosae and Australes [53], respectively, while restriction fragment analysis including chloroplast, mitochondrial and nuclear DNA suggest a more derived position of subsection Contortae within section Trifoliae and some affinity to members of subsection Australes[50].
While our results cannot be considered conclusive by themselves, they certainly add important perspectives to Pinus evolutionary history as well as the use of plastome-scale sequences in plant phylogenomic analyses. For the genus Pinus as a whole, our dataset apparently represents the maximal resolution to be gained from the plastome, although various permutations of chloroplast loci may still prove useful at different levels of phylogenetic inquiry [for example see [98] and certainly plastome variation within-species warrants further interrogation for a number of species (i.e., P. ponderosa P. lambertiana, although see [98, 103]). From this point, the next target of phylogenetic interrogation will likely be larger unique portions of the nuclear genome, particularly as increases in sequence output continue to outpace increases in read length for next-generation sequencers [104] and progress is made on the sequencing and assembly of a representative pine nuclear genome [105]. For the three specific clades investigated in this study, the patterns in response to variable site and long-branch removal from the full plastome alignment are intriguing and a measure of insight has been gained into the evolutionary histories and relationships of their plastomes, if not of the species themselves. In each case, decreasing the impact of phylogenetic noise by removing highly variable sites resulted in phylogenetic resolution more reflective of results based on nuclear and/or morphological data. At the same time, the impact of long-branch exclusion was less pronounced, suggesting that long-branch attraction artefacts are not prevalent at these levels of the Pinus phylogeny. The congruent results between model-based and parsimony methods for these clades also lend support to this conclusion, as methodological incongruence is another indication of possible long branch attraction artefacts [16]. This result is somewhat counter-intuitive, as all three lineages investigated have relatively long branches in chloroplast-based phylogenetic reconstruction (Additional File 4) [31]. It is possible that these long branches are not all reflective of the same biological processes. The long branches of P. krempfii and the P. merkusii /P. latteri clade likely are due to relatively long periods of neutral divergence from their sister lineages. In these cases, however, it appears that removal of highly variable sites unmasks the limited underlying signal more definitively supporting their plastid-based resolutions - P. krempfii as sister to subsection Gerardianae of section Quinquefoliae , and P. merkusii/P. latteri as sister to subsection Pinaster of section Pinus . For subsection Contortae, on the other hand, chloroplast-based support for an early divergence in section Trifoliae is clearly inflated by the phylogenetic noise of highly variable sites. In this case, the pronounced effect of variable site removal combined with the relatively long branch leading to subsection Contortae may instead be indicative of elevated rates of evolution or responses to selection in this lineage, and a position sister to or within subsection Australes could be the final resolution of this challenging group.
Conclusions
The promise of phylogenomics is still very much palpable and (to paraphrase Mark Twain) reports of its 'demise' [17, 18] are greatly exaggerated. As demonstrated in the current study, a full-plastome matrix provides greatly increased resolution into the evolutionary history of the genus Pinus . Still, in this and other cases it is equally premature to confirm phylogenetic results based on genome-scale datasets without investigating first for the presence of misleading signal [17–19, 22]. This is particularly important when trying to reconcile poorly supported topologies or conflicting phylogenetic results based on different sources or types of data [22], such as those represented by three historically recalcitrant taxa in the Pinus phylogeny. The present analysis and similar efforts [for example [35] also demonstrate not only the power of large (but well-managed) datasets to increase phylogenetic resolution, but the risk of relying on single sources of data, as inconsistencies between organellar- and nuclear-based analyses can remain even with greatly increased sampling. Fortunately, sequencing capacity and read length of next-generation platforms continue to increase [106–110], and combined with increasingly effective methods of genome interrogation [111–114] will make it easier to capture useful sequence data from what are currently less tractable genomes (such as plant nuclear and mitochondrial genomes). However, the development of analytical strategies to interrogate misleading signal present in large datasets will remain essential, as phylogenetic signal clearly is not always sufficient to overcome phylogenetic noise in identifying the relationships of certain taxa or organelles, even at genomic scales.
Declarations
Acknowledgements
We would like to acknowledge the contributions of our collaborators on the Gymnosperm Tree of Life project, in particular Sarah Mathews for project leadership and organizing. We would also like to thank Zachary Foster and Brian Knaus for work on essential in-house scripts and computing assistance, Chris Sullivan and Mark Dasenko of the OSU CGRB for computing and sequencing assistance, and Vadim Goremykin and Surendra Kumar for providing assistance in adapting sorter.pl and AIR-Identifier to our data matrices.
Funding
This work was supported by the National Science Foundation grant number NSF ATOL-0629508.
Authors' Affiliations
(1)
Department of Botany and Plant Pathology, Oregon State University, Corvallis, USA
(2)
Pacific Northwest Research Station, USDA Forest Service, Corvallis, USA
Copyright
© Parks et al.; licensee BioMed Central Ltd. 2012
This article is published under license to BioMed Central Ltd. This is an Open Access article distributed under the terms of the Creative Commons Attribution License (http://creativecommons.org/licenses/by/2.0), which permits unrestricted use, distribution, and reproduction in any medium, provided the original work is properly cited.