Research article

Open Access
Independent specialisation of myosin II paralogues in muscle vs. non-muscle functions during early animal evolution: a ctenophore perspective
BMC Evolutionary Biology
2012
12:107
Received: 2 April 2012
Accepted: 14 June 2012
Published: 2 July 2012
Abstract
Background
Myosin II (or Myosin Heavy Chain II, MHCII) is a family of molecular motors involved in the contractile activity of animal muscle cells but also in various other cellular processes in non-muscle cells. Previous phylogenetic analyses of bilaterian MHCII genes identified two main clades associated respectively with smooth/non-muscle cells (MHCIIa) and striated muscle cells (MHCIIb). Muscle cells are generally thought to have originated only once in ancient animal history, and decisive insights about their early evolution are expected to come from expression studies of Myosin II genes in the two non-bilaterian phyla that possess muscles, the Cnidaria and Ctenophora.
Results
We have uncovered three MHCII paralogues in the ctenophore species Pleurobrachia pileus. Phylogenetic analyses indicate that the MHCIIa / MHCIIb duplication is more ancient than the divergence between extant metazoan lineages. The ctenophore MHCIIa gene (PpiMHCIIa) has an expression pattern akin to that of "stem cell markers" (Piwi, Vasa…) and is expressed in proliferating cells. We identified two MHCIIb genes that originated from a ctenophore-specific duplication. PpiMHCIIb1 represents the exclusively muscular form of myosin II in ctenophore, while PpiMHCIIb2 is expressed in non-muscle cells of various types. In parallel, our phalloidin staining and TEM observations highlight the structural complexity of ctenophore musculature and emphasize the experimental interest of the ctenophore tentacle root, in which myogenesis is spatially ordered and strikingly similar to striated muscle formation in vertebrates.
Conclusion
MHCIIa expression in putative stem cells/proliferating cells probably represents an ancestral trait, while specific involvement of some MHCIIa genes in smooth muscle fibres is a uniquely derived feature of the vertebrates. That one ctenophore MHCIIb paralogue (PpiMHCIIb2) has retained MHCIIa-like expression features furthermore suggests that muscular expression of the other paralogue, PpiMHCIIb1, was the result of neofunctionalisation within the ctenophore lineage, making independent origin of ctenophore muscle cells a likely option.
Keywords
Nurse CellMuscle Cell TypeApical OrganMedian RidgePhalloidin Staining
Background
Myosins are a tremendously diverse family of actin-binding ATP-dependent molecular motors that appeared and diversified early during eukaryotic evolution [1–5]. All myosins share a homologous myosin head domain containing the ATPase and actin-binding activities, while particular combinations of additional domains define the various myosin "classes" or "types". In their recent comprehensive analyses of myosin diversity, Odronitz and Kollmar [4] identified 35 myosin classes at the eukaryote scale, of which 3 were present in the last common eukaryotic ancestor. The most intensively studied myosins, class-II myosins (also called "conventional myosins", myosin II, or MHCII) are characterised by the insertion of a glycin (at position 507) in the head domain, the presence of a SH3 domain N-terminal to the head domain, and a long C-terminal tail mostly comprised of a coiled-coil domain. Class II myosins originated in unikonts, i.e. eukaryotes ancestrally bearing a single flagellum or no flagellum, including the amoebozoans, fungi and holozoans (e.g. choanoflagellates and multicellular animals or Metazoa) [5].
Myosin II is a phylogenetically well-defined and diversified class [6], to which notably belong the well-known myosins that provide the physical force for muscle contraction in animals. Beyond these crucial functions in animal muscle cells, a wide range of non-muscle myosin II functions is documented. Myosin II is for example involved in amoeboid motility in the unicellular life stage of the amoebozoan Dictyostelium discoideum[7]. In metazoans, various myosin II proteins play pivotal roles in cytokinesis [8, 9], cell migration [10–12], cell-cell adhesion [12, 13], or cell polarity [11, 14, 15]. Therefore, myosins II regulate fundamental aspects of cellular shape morphology [16–18], cytokinesis [19], cell differentiation [20, 21] and more generally, many aspects of cellular behaviour [22]. Whatever the context (muscle or non-muscle), MHCII are integrated within macromolecular complexes notably through direct interaction with smaller proteins called "myosin light chains" (MLC) (which lack a head domain).
Previous analyses of myosin II proteins in bilaterian animals have recognised two phylogenetic groups, the first containing genes expressed in smooth muscle cells and in non-muscle cells, while genes of the second group are specifically expressed in striated (skeletal or cardiac) muscle cells [2, 23]. This major dichotomy has been thought to reflect independent evolutionary origin from non-muscle cells for each major type of muscle cells, i.e. smooth muscle cells and striated muscle cells [1, 24], through independent co-option of different myosin II paralogues. However, this suggestion was based on data from bilaterian animals only and remained highly speculative.
Outside from the bilaterian clade, muscle cells are present in two animal phyla, Cnidaria and Ctenophora, and this cell type is classically viewed as a synapomorphy (shared derived character) of the Eumetazoa (Cnidaria + Ctenophora + Bilateria), together with nerve cells. Most cnidarian muscle cells are in fact multifunctional myoepithelial cells [25], integrated within the ectoderm and endoderm [26], although there are some reported instances of mesogleal muscle cells in cnidarians [27–30]. The myoepithelial cell of cnidarians typically comprises a contractile portion (the muscle fibre or myoid) attached to a globular cellular body involved in other functions (e.g. body protection, glandular secretion, fluid circulation through ciliary beating, etc.) [30]. In contrast, ctenophores are commonly considered to have true muscle cells, i.e. their muscle fibres lack a cellular body with filament-free cytoplasm ([31] but see [32] for an alternative point of view). In addition, part of the ctenophore musculature is located in the mesoglea and develops from a mesodermal-like germ layer [33, 34]. Therefore, comparative studies using ctenophores have a great potential for improving our understanding of the early evolution of muscle cells and muscular protein families.
The phylogenetic position of ctenophores is still debated. Some recent phylogenomic analyses have placed them as the sister group to all other metazoans [35, 36], but this result was probably due to an artefact of long-branch attraction [37–39]. According to the phylogenomic analyses of Philippe et al.[37], ctenophores and cnidarians form a coelenterate clade, sister-group to the bilaterians, within monophyletic Eumetazoa.
Ctenophores are marine animals with a highly original biradially-symmetrical body plan and featuring unique anatomical traits (Figure
1
) [
26
,
31
]. Their main distinctive feature is a locomotory system consisting of eight distinctive meridional rows of comb plates (swimming paddles), each made of the many fused giant cilia of "polster cells". At their aboral pole, ctenophores possess an apical sensory organ involved in equilibration and flanked by two elongated ciliated areas called polar fields. There are two distinct nerve nets extending throughout the body, the epithelial (or polygonal) nerve net and the mesogleal nerve net [
40
]. The gastro-vascular system, of mainly endodermal origin, opens at one extremity by the mouth and at the other by two anal pores. The ramified gastro-vascular canal system allows water circulation and distribution of nutrients throughout the body. Ctenophores are hermaphrodite, with paired male and female gonads housed in the walls of eight endodermal meridional canals, placed under each of the comb rows. Most ctenophores catch prey by using a pair of long and contractile tentacles which bear lateral branches or tentillae on their oral side. The epidermis of tentacles and tentillae is densely covered with adhesive cells called colloblasts, to which the prey adheres. Tentacles can extend from and retract into a tentacular sheath whose epithelial lining is continuous with the outer epidermis.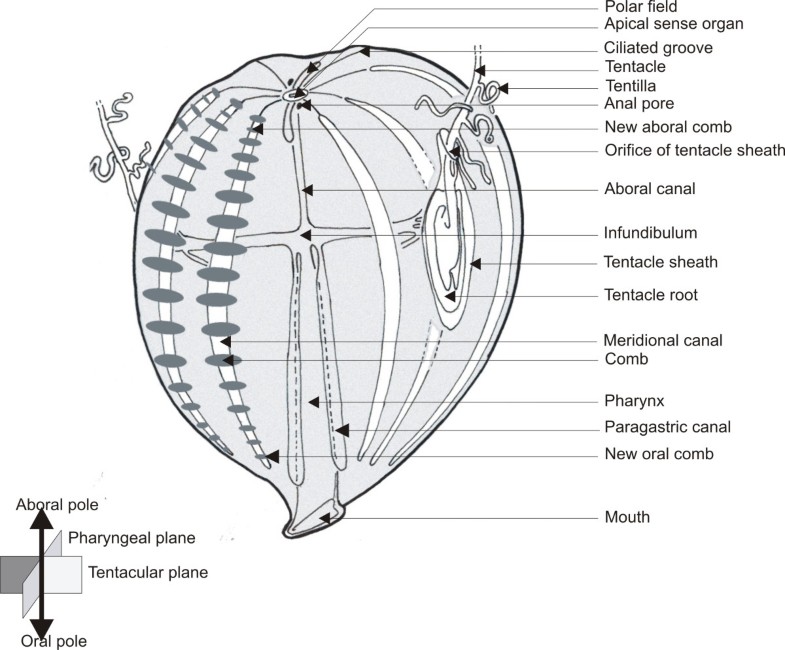 In the ctenophore order Cydippida, to which belong our model species
Pleurobrachia pileus
, two fundamental categories of muscle cells can be distinguished: parietal muscle fibres are located in the basal part of the ectodermal epithelium, above the basal lamina (Figure
2
A, B, E), while mesogleal muscle fibres are positioned below the basal lamina and run through the mesoglea (Figure
2
C, F) [
31
]. In addition, a special mesogleal musculature is housed in the core of tentacles and tentillae (Figure
2
D, G). The very particular "mesogleal giant smooth fibres" of ctenophores belonging to the order Beroida (which lack the parietal musculature [
31
]) have been the subject of specific studies [
41
–
44
], while other muscle cell types, and muscles of other ctenophores, are much less known. Ctenophore muscles are considered to be of the smooth type due to the absence of a striation pattern on electronographies (except in the tentillae of the cydippid ctenophore
Euplokamis
[
31
,
45
]), but their mesogleal muscle cells are multinucleated [
31
], which represents a fundamental difference with the mononucleated smooth muscle cells of bilaterians.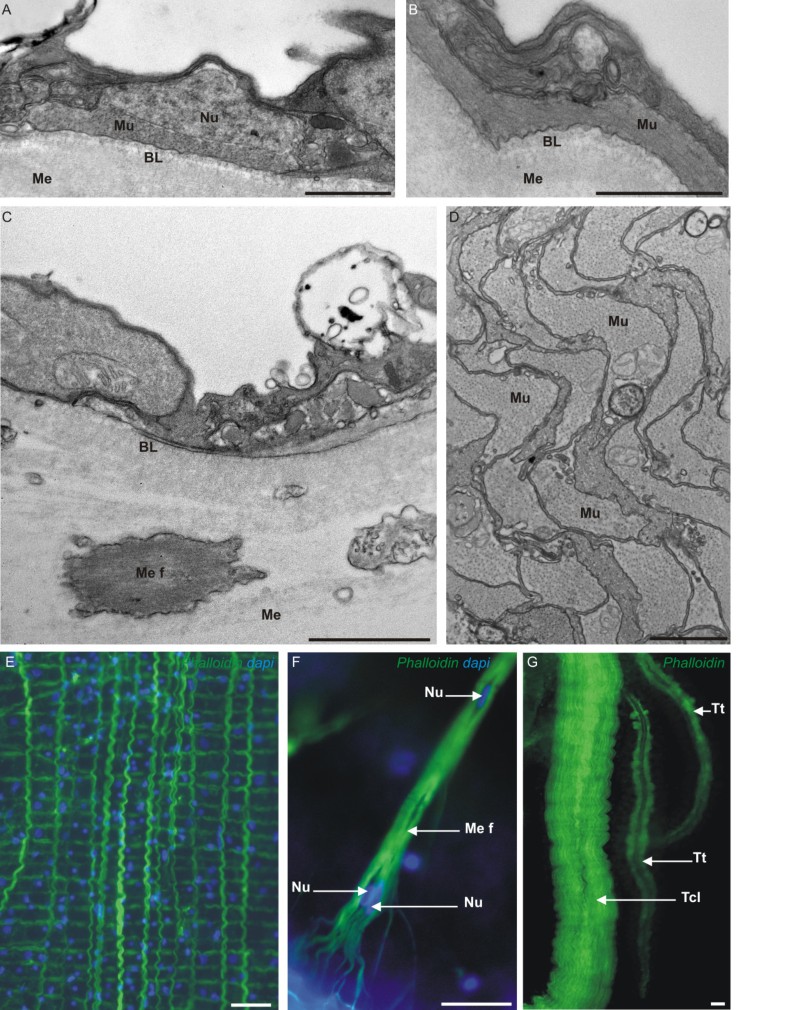 In tentaculate ctenophores, myogenesis is particularly intense throughout the life span in the thickened tentacle base (tentacle root), where histogenesis continuously compensates for the loss of tentillae and tentacle pieces that are damaged upon feeding. Experimental data indicate that 36 hours are sufficient for regeneration of an entire tentacle [
46
]. Putative stem cells of the colloblasts and muscle cells have been recently characterised in the tentacle root of the ctenophore
Pleurobrachia pileus
by expression analyses of
Piwi
and
Vasa
genes and DNA-labelling experiments (Figure
3
in [
47
]). The muscle putative stem cells and progenitors are localised along a median ridge in the symmetry plane of the tentacle root on its internal face [
47
–
51
]. Thanks to these characteristics, the tentacle root is a particularly suitable model to investigate myogenesis in ctenophores.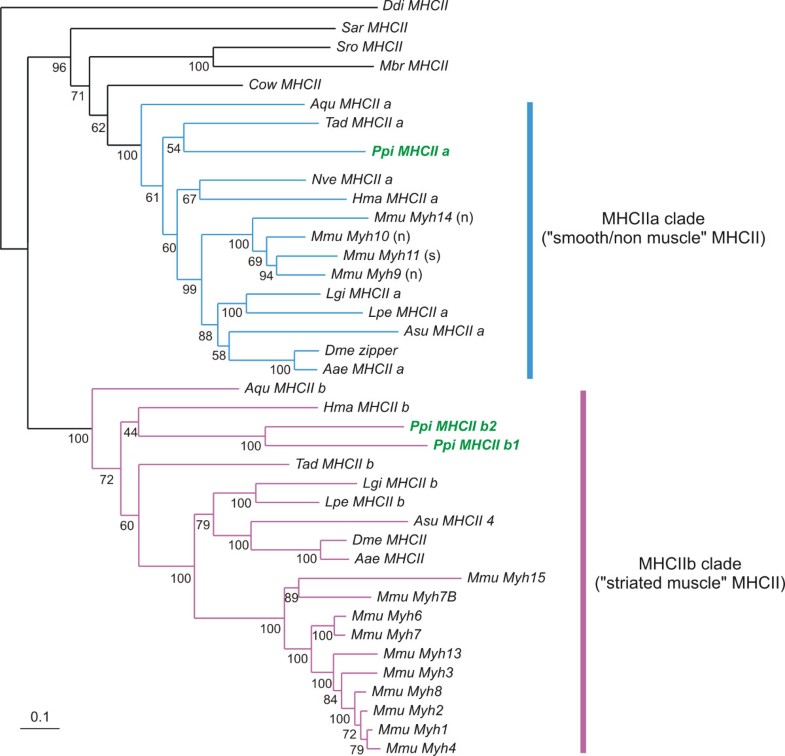 We studied the expression of three paralogous class II myosin (MHCII) genes in the adult of the cydippid ctenophore Pleurobrachia pileus. In parallel, the complex organisation of muscle fibres throughout the Pleurobrachia pileus body was investigated using phalloidin staining to help understand the gene expression patterns. One of the MHCII paralogues was specifically expressed in muscle cells (parietal and mesogleal) while the other two had non-muscle expression. Several evolutionary scenarios are proposed to interpret the ctenophore MHCII expression data in light of our reconstruction of the MHCII gene phylogeny and of the known functions of bilaterian MHCII genes.
Methods
Specimen collection
Adult specimens of Pleurobrachia pileus were collected in Villefranche-sur-Mer and in Roscoff (France) between March and June using specific plankton nets. They were kept at 16°C in filtered natural seawater, under continuous water circulation and fed daily with Artemia nauplii.
Blast searches and phylogenetic analyses
MHCII sequences were retrieved by TBLASTN searches using Mus musculus MHCII sequences on two Pleurobrachia pileus transcriptome assemblies: (i) Phrap assembly of a collection of about 36 000 ESTs, sequenced from animals collected in Villefranche-sur-Mer (France) by the Sanger method at the Genoscope (Evry, France) (see [47] for details), and publicly available in dbEST (http://www.ncbi.nlm.nih.gov/nucest?term=pleurobrachia) and (ii) Newbler assembly of one run of 454 sequencing of total RNA extracted from mixed embryonic, larval, and adult stages with starting material obtained from Roscoff (France).
The alignment was constructed using published sequences and sequences retrieved by TblastN searches on public databases for a representative taxon set. Sequences were aligned using MUSCLE [52]. Ambiguous regions of the alignment were removed using Gblocks [53]. The initial alignment (before removal of ambiguously-aligned regions) is provided in Additional file 1. This alignment contains the head domain of several myosins belonging to classes other than class II (outgroups). After pruning of ambiguously-aligned sites, two final sub-alignments were extracted to take into account the absence of sequence data for the head domain in one of the ctenophore sequences (PpiMHCIIb2): (i) a first alignment containing the outgroup sequences (non-class II myosins). The PpiMHCIIb2 gene was excluded from this alignment because its partial sequence contains only the tail and therefore it has no alignable residues with non-class II myosins (alignment in Additional file 2; resulting tree shown in Additional file 3); (ii) a second alignment, in which non-class II myosin sequences have been eliminated, thus allowing inclusion of PpiMHCIIb2 (Alignment in Additional file 4; resulting tree, rooted on ameobozoan MHCII, shown in Figure 3). Maximum-likelihood analyses were performed using the PhyML program [54], with the WAG model of amino-acid substitution and a BioNJ tree as the input tree. A gamma distribution with eight categories was used. The gamma shape parameter and the proportion of invariant sites were optimised during the searches. The statistical significance of the nodes was assessed by bootstrapping (1000 replicates).
In situ hybridisation
Adults were fixed at 4°C in 4% paraformaldehyde in 50% seawater and 50% PBST (10 nM Na2HPO4, 150 nM NaCl, pH 7.5, 0.1% Tween 20), for 1 hour then washed three times in PBST and dehydrated through a graded series of ethanol and stored in methanol at −20°C. The in situ hybridisation (ISH) protocol was as described in [55] but colour was developed with NBT/BCIP (Roche Diagnostics, Meylan, France). After ISH, samples were stained with DAPI (1 μg/mL) for 15 min to visualise DNA, and then washed 3 times for 15 min in PBST. Before mounting in Citifluor solution (Oxford instruments SAS, Saclay, France), animals were dissected. Longitudinal and transverse sections were performed to clarify the precise distribution of the gene expression patterns. For longitudinal views of the median expansion of the tentacle root, the lateral expansions were removed with forceps. Negative controls (with a sense probe and without any RNA probe) performed in parallel showed no staining after extensive revelation, except occasionally in a few isolated cells in the general epithelium (between adjacent comb rows, around the apical organ). For this reason, staining of isolated epithelial cells occasionally obtained with MHCII probes was not taken into account.
Immunofluorescence
Animals were fixed in 4% paraformaldehyde in 50% seawater and 50% PBST for 30 min, at room temperature, then samples were washed several times in PBST, dehydrated through a graded series of ethanol and stored in methanol at −20°C. After re-hydration to PBS, samples were permeabilised with Triton-X100 (0,2% in PBS, then 0,01% in PBS, 10 min at room temperature). After blocking with 1% bovine serum albumin, samples were incubated with the rat monoclonal anti-tyrosylated α-tubulin or YL1/2 antibody (1:1000 dilution in PBS-Triton-X100 0.01%, BSA 1%), (Morphosys AbD Gmbh, Düsseldorf, Germany) for 4 hours at room temperature. After washing with PBS triton-X100 0.01%, samples were incubated overnight at 4°C with the Alexa Fluor 568 goat anti- rat IgG secondary antibody. Dilutions of primary and secondary antibodies were made using 1X PBS containing 0.01% Triton-X100.
Phalloidin staining
For phalloidin staining, specimens were not dehydrated after fixation. They were incubated for 45 min in a dilute Phalloidin-TRITC (Sigma-Aldrich, St-Quentin-Fallavier, France) solution (10 μg/ml in PBST) and rinsed three times in PBST. All specimens were finally stained with DAPI (1 μg/ml) for 15 min for DNA visualisation, and then washed three times for 15 min in PBST. They were micro-dissected and mounted in Citifluor solution (Oxford instruments SAS, Saclay, France).
EdU labelling of DNA-replicating cells
EdU (ethynyl deoxyuridine) is a thymidine analogue similar to the classical BrdU but quicker and easier to use [56]. EdU incorporation assays were done using the Click-it EdU Alexa Fluor 488 Imaging Kit from Invitrogen (Cergy-Pontoise, France). The protocol was as described in [47]. We performed 12 hours of pulse and no chase to visualise proliferating cells in the aboral region.
Sections for light and transmission electron microscopy (TEM)
Two types of sections (cryosection and ultra-thin section) were performed. For cryosectioning, tentacle roots extracted after whole mount ISH were incubated for two days in PBST 1X, 15% sucrose at 4°C, then for 2 hours in PBST 1X, 15% sucrose, 7.5% pig gelatine. Then, blocks were frozen at −65°C in 2-methyl-butan. Cryosectioning was done on a Leica CM3050 S cryostat or on a Jung Frigocut 2800E cryostat, at a thickness of 14 μm. Slices were mounted in Citifluor (Oxford instruments SAS, Saclay, France).
Pleurobrachia pileus living specimens for ultra thin sections were fixed for 10 minutes at room temperature in 3% glutaraldehyde, 0.1 M sodium cacodylate pH 7.3, 0.3 M sodium chloride, 0.05% OsO4 (modified after [57]). They were then transferred to the same solution without OsO4 for 2 hours. Specimens were then post-fixed for 1 hour in 1% OsO4, 1.5K-ferricyanide, 2.5% NaHCO3 pH 7.2 and 0.25 M sodium chloride (modified after [58]). Finally, material was dehydrated through an ethanol series, and embedded in Spurr. Sections were done using a Leica Ultracut R ultra-microtome, at a thickness of 60 nm for ultra thin sections.
Imaging
Pictures of Pleurobrachia pileus entire specimen and tentacle root observed in toto were acquired on a stereo-microscope Olympus SZX12 using a Q-imaging QICAM with Image pro software (Mediacybernetics, Bethesda, MD). All fluorescence and DIC images were acquired on an Olympus BX61 microscope using a Q-imaging Camera with Image Pro plus software (Mediacybernetics, Bethesda, MD). To enhance some details, Higauss filter was used on some pictures (from Image Pro). TEM images were acquired on a Jeol JEM-1400 equipped with a Morada (SIS) camera at the "Centre Commun de Microscopie Appliquée" (CCMA) (Université de Nice Sophia-Antipolis, Faculté des Sciences, Nice).
Discussion and conclusions
Declarations
Acknowledgements
We are particularly grateful to Ulrich Technau (Austria) and Patrick Steinmetz (Austria) for stimulating scientific ideas, for sending their MHCII gene alignment, numerous data and for a powerful collaboration. We thank the directors and staff of the "Station Zoologique" in Villefranche-sur-Mer (France) and of the "Station Biologique" in Roscoff (France) for welcoming us. We thank Evelyn Houliston (UMR 7009) and Sylvie Mazan (UMR 7150) for providing lab facilities. We are grateful to the sailors of the Roscoff and Villefranche-sur-Mer zoological station: Fabrice Ruggiero, Jean Yves Carval, Gilles Maron and Laurent Lévêque for their help in the animal collection. We thank Sophie Pagnotta and the "Centre Commun de Microscopie Appliquée" (CCMA), Université de Nice Sophia-Antipolis, for access to their Transmission Electronic Microscope, the Bruce Shilito group for giving us the opportunity to use their Ultra Microtome, and L. Moroz for interesting discussions. EST sequencing was performed by the "Consortium National de Recherche en Génomique" at the Génoscope (Evry, France). This work was supported by grants from the "GIS-Institut de la Génomique Marine" and from the "Agence Nationale de la Recherche" ANR "programme blanc" NT_NV_52 Genocnidaire and ANR-09-BLAN-0236 DiploDevo.
Authors' Affiliations
(1)
Université Pierre et Marie Curie - Paris 6, UMR 7138 CNRS MNHN IRD, Paris, France
(2)
Department of Biophysics, Laboratory of Molecular Developmental Biology, Graduate School of Science, Kyoto-University, Kyoto, Japan
(3)
Université Pierre et Marie Curie- Paris 6, UMR 7009 CNRS, Observatoire Océanologique, Villefranche-sur-Mer, France
(4)
UPMC Université Paris 6, UMR 7138 Systématique, Adaptation, Evolution CNRS MNHN IRD, Paris, France
Copyright
© Dayraud et al.; licensee BioMed Central Ltd. 2012
This article is published under license to BioMed Central Ltd. This is an Open Access article distributed under the terms of the Creative Commons Attribution License (http://creativecommons.org/licenses/by/2.0), which permits unrestricted use, distribution, and reproduction in any medium, provided the original work is properly cited.