Research article

Open Access
The evolutionary history of protein fold families and proteomes confirms that the archaeal ancestor is more ancient than the ancestors of other superkingdoms
BMC Evolutionary Biology
2012
12:13
Received: 23 October 2011
Accepted: 27 January 2012
Published: 27 January 2012
Abstract
Background
The entire evolutionary history of life can be studied using myriad sequences generated by genomic research. This includes the appearance of the first cells and of superkingdoms Archaea, Bacteria, and Eukarya. However, the use of molecular sequence information for deep phylogenetic analyses is limited by mutational saturation, differential evolutionary rates, lack of sequence site independence, and other biological and technical constraints. In contrast, protein structures are evolutionary modules that are highly conserved and diverse enough to enable deep historical exploration.
Results
Here we build phylogenies that describe the evolution of proteins and proteomes. These phylogenetic trees are derived from a genomic census of protein domains defined at the fold family (FF) level of structural classification. Phylogenomic trees of FF structures were reconstructed from genomic abundance levels of 2,397 FFs in 420 proteomes of free-living organisms. These trees defined timelines of domain appearance, with time spanning from the origin of proteins to the present. Timelines are divided into five different evolutionary phases according to patterns of sharing of FFs among superkingdoms: (1) a primordial protein world, (2) reductive evolution and the rise of Archaea, (3) the rise of Bacteria from the common ancestor of Bacteria and Eukarya and early development of the three superkingdoms, (4) the rise of Eukarya and widespread organismal diversification, and (5) eukaryal diversification. The relative ancestry of the FFs shows that reductive evolution by domain loss is dominant in the first three phases and is responsible for both the diversification of life from a universal cellular ancestor and the appearance of superkingdoms. On the other hand, domain gains are predominant in the last two phases and are responsible for organismal diversification, especially in Bacteria and Eukarya.
Conclusions
The evolution of functions that are associated with corresponding FFs along the timeline reveals that primordial metabolic domains evolved earlier than informational domains involved in translation and transcription, supporting the metabolism-first hypothesis rather than the RNA world scenario. In addition, phylogenomic trees of proteomes reconstructed from FFs appearing in each of the five phases of the protein world show that trees reconstructed from ancient domain structures were consistently rooted in archaeal lineages, supporting the proposal that the archaeal ancestor is more ancient than the ancestors of other superkingdoms.
Keywords
Horizontal Gene TransferDomain LossReductive EvolutionDomain GainFold Family
Background
Since Darwin established the general principles of natural selection in 1859 [1] and Kimura proposed the neutral theory in the late 1960s [2], most evolutionary studies have focused on individual gene sequences. Molecular sequences of nucleic acids or proteins clarify evolutionary relationships among closely related species defined for example at the genus or family levels. However, their information is not sufficient to survey deep phylogenetic information. For example, deep branches at the base of the group of ribosome-containing organisms that define the three cellular superkingdoms of life, Archaea, Bacteria, and Eukarya, are not resolved in a tree of organisms based on ribosomal RNA (rRNA) sequences [3]. These trees describe the history of only one of the many protein and RNA molecules that make up the ribosomal ensemble but are nevertheless regarded as reference for species phylogeny. However, the recent revolution in nucleic acid sequencing driven by shotgun and high-throughput technologies (e.g., pyrosequencing, Illumina, SOLiD, etc) has led to the rapid generation of myriad genomic sequences across the three superkingdoms and viruses. It has been expected that genomic sequence information will be sufficient to elucidate phylogenetic relationships that were not resolved before. In this regard, phylogenetic approaches based on genome sequences (e.g., sequence concatenation) and the genomic content of genes has been successfully used to build phylogenies at various taxonomic levels, including trees of organisms [4, 5]. However, these approaches are problematic since only a limited proportion of entire gene families in the studied genomes are orthologous and available for tree reconstruction [6]. Furthermore, molecular sequences suffer from the effects of a number of important constraints, including saturation by rapid mutational change (substitutions and indels), non-orthologous gene replacement, differential rates of evolution in lineages, horizontal gene transfer, lineage sorting by sequence polymorphisms, and paralogous relationships by gene or genome duplication [7–9]. By definition, sequence sites are not independent from each other because of molecular structure, thus violating the phylogenetic character independence requirement of phylogenetic analysis. Furthermore, a substantial number of protein-encoding genes are made in pieces, the protein domains [10–13], with each domain showcasing its own evolutionary history. Taken together, technical and biological complexities question the validity of phylogenetic reconstructions derived from molecular sequences, especially if they are used to explore the deep evolutionary history of life. In order to overcome this limitation, it is necessary to study molecular features that are more conserved than sequences and that have evolved without major horizontal inheritance effects. Thanks to the advance of computational approaches (e.g., hidden Markov models [HMMs] and BLAST) and data integration technology, the annotation of gene products in many kinds of omics data, including genomes, transcriptomes and proteomes, has produced controlled vocabularies useful for phylogenetic analyses. These vocabularies describe molecular and functional features of organisms that are useful, such as protein structures, ontological definitions of molecular functions, the chemistries of enzymatic reactions, and connectivity of biological networks.
Several reliable classification systems of protein domains are available based on structural similarity and common evolutionary origin. For example, the Structural Classification of Proteins (SCOP) is a high-quality taxonomical resource that groups protein domains that have known three-dimensional (3D) structures into fold families (FFs), fold superfamilies and folds [10]. FFs group domains that are closely related at the sequence level (> 30% pairwise amino acid identities) or that share similar structures and functions with lower sequence identity. Fold superfamilies unify FFs that share functional and structural features, suggesting that they probably have common evolutionary origins. Finally, folds group fold superfamilies that have similar arrangements of secondary structures in 3D space but that may not be evolutionarily related due to sequence divergence. As other protein classifications, SCOP was established based on hierarchical levels of structural complexity, each of which represents a certain extent of evolutionary conservation. SCOP currently describes known structures in Protein Data Bank (PDB) entries with about 1,200 folds, 2,000 fold superfamilies, and 4,000 FFs. The relatively small numbers of these domain structures indicate that they are more conserved than domains defined by other classification schemes, such as those of the Pfam database, with levels of molecular diversity that are closer to protein sequence. A recent version of Pfam contains 11,912 distinct domains representing over 107 proteins [11]. While protein domains defined as groups of orthologous sequences share the same problems of sequence analysis, SCOP domain structures are highly conserved evolutionary units [12] that can be used effectively to uncover evolutionary patterns in the history of life [13].
As genes duplicate and diversify, ancient domain structures accumulate to larger extent in proteomes than younger structures. Although convergent evolution, horizontal gene transfer, and recruitment can occur over time, the magnitude of these processes has been shown to have little influence on the vertical inheritance of domain structures [14, 15]. Their abundance in proteomes harbors deep phylogenetic signal, which can be unfolded using standard phylogenetic methods [13, 16]. Global phylogenomic trees describing the evolution of domain structures can be reconstructed from a structural census [17]. This census assigns structures to genomic sequences with HMMs of structural recognition [18]. Over 107 proteins have been assigned to folds, fold superfamilies, and FFs in over 1,400 proteomes and trees of domain structures have been reconstructed at all levels of structural abstraction [17, 19–21]. Work of this kind has also been extended to the evolutionary study of molecular functions and biological processes in genomes, as these are the direct consequence of protein structure [22].
The rooted trees of domain structures display in their branches the relative ancestries of domains, and these ancestries can be directly associated with chronologies of proteins, proteomes, molecular functions, biological networks, and evolutionary events of significance, such as the division of three superkingdoms and the emergence of aerobic metabolism and photosynthesis. Evolutionary studies of the protein world have been conducted primarily at the fold and fold superfamily levels [17, 19, 21]. However, these levels may not always guarantee common origins of domains and their associated molecular functions can be ambiguous. In this regard, revisiting the evolutionary history of the protein world at the level of FFs can be very valuable, especially because each FF is functionally orthologous and conserved enough to portray the entire history of life. Here we describe for the first time global evolutionary patterns of FFs by reconstructing phylogenomic trees of domains structures and trees of proteomes. We start with a census of 2,493 FFs in 645 proteomes of free-living organisms and facultative and obligate parasites belonging to the three superkingdoms. In our analyses we consider non-vertical evolutionary phenomena (e.g., convergent evolution, horizontal gene transfer, recruitment) as well as genome reduction. We also dissect secondary genomic reductive processes by excluding parasitic organisms. Trees describing the evolution of 2,397 FFs and 420 proteomes from free-living organisms established timelines of FFs and their associated molecular functions, which were defined using a coarse-grained functional classification [23], delimited major evolutionary phases in the protein world, and produced trees of proteomes for each of these phases showcasing varying trends in the evolution of proteins and proteomes.
Conclusions
Protein functions are tightly coupled with protein structures and structures are much more conserved than sequences [
13
]. This makes structures 'molecular fossils', 'canalized' remnants of ancient organization in biological molecules. In this study we show that protein domains studied at the FF level of abstraction hold deep phylogenetic information and at the same time are varied enough to be linked for the most part unambiguously to the functions of molecules. We also show FFs dissect the history of proteins and proteomes in five evolutionary phases, each of which portrays clear episodes of molecular and cellular diversification. Reductive evolutionary processes of domain loss dominate the first three phases while the last two favor the gain rather than the loss of domains. While these trends were already visible in the analyses of folds and fold superfamilies [
19
], phylogenomic analysis of FFs now reveals clear historical patterns of diversification of organisms, structures and molecular functions. The taxonomic distributions of domains in superkingdoms as they appear in the different phases uncover the history of the tripartite world of organisms (Figure
2
). Remarkably, these evolutionary patterns are confirmed by the reconstruction of species trees from the proteomes of the free-living organisms analyzed, despite the limitations that trees of organisms impose on phylogenetic reconstructions (Figures
2
and
4
). Accumulation of FFs in superkingdoms as the timeline of FF appearance unfolds and Venn diagrams for each phase describing the accumulation of FFs in the protein world show striking patterns (Figure
6
): (i) the structural diversification of LUCA in phase I to produce a functionally complex cellular ancestor of life (see also [
27
]), (ii) the rise of Archaea in phase II by loss of FFs and appearance of BE FFs, signaling the first dichotomy from LUCA that generates the first lineages of Archaea and the ancestor of Bacteria and Eukarya, (iii) the rise of Bacteria from the common ancestor of Bacteria and Eukarya in phase III, exemplified by the appearance of Bacteria-specific B FFs, signaling the second dichotomy from the common ancestor of Bacteria and Eukarya that generates Bacteria and the ancestor of Eukarya, (iv) the rise of modern Eukarya from the common ancestor of eukaryotic lineages and of modern Archaea from ancient archaeal lineages in phase IV, exemplified by the appearance of Eukarya and Archaea-specific E and A FFs, and (vi) the diversification of Eukarya exemplified by the massive and exclusive appearance of eukaryotic FFs in phase V. These results place the ahistorical analysis of taxonomic distributions of fold superfamilies [
17
], previously explained by the parsimony rationale [
42
], into a phylogenomic-based historical context. The structural genomic census can now be framed with a model of evolution that dissects unequivocally the first appearance of lineages and their diversification in the tree of organisms. We must conclude from this genomic-driven model that the microbial superkingdoms arose gradually by evolutionary loss of FFs as they diversified in proteomes, that ancient archaeal organisms were the first cellular lineages derived from LUCA, that these lineages diversified slowly and manifested fully as Archaea very late in evolution, that Bacteria appeared later but diversified relatively quickly, and that Eukarya was the last to fully materialize as a superkingdom. Our model now reconciles the canonical view of a bacterial-like origin of life with a functionally complex eukaryotic-like LUCA and the ancient and gradual rise of the ancestors of Archaea suggested by paleobiological and phylogenomic evidence [
21
,
27
]. Remarkably, our model of early archaeal emergence < 2.9 billion years ago derived from a molecular clock of folds [
21
,
27
] is congruent with the recent proposal that diversification of lineages in Archaea was very gradual and began 2.8 billion years ago while impacting fundamental biogeochemical S, C, and N cycles [
43
].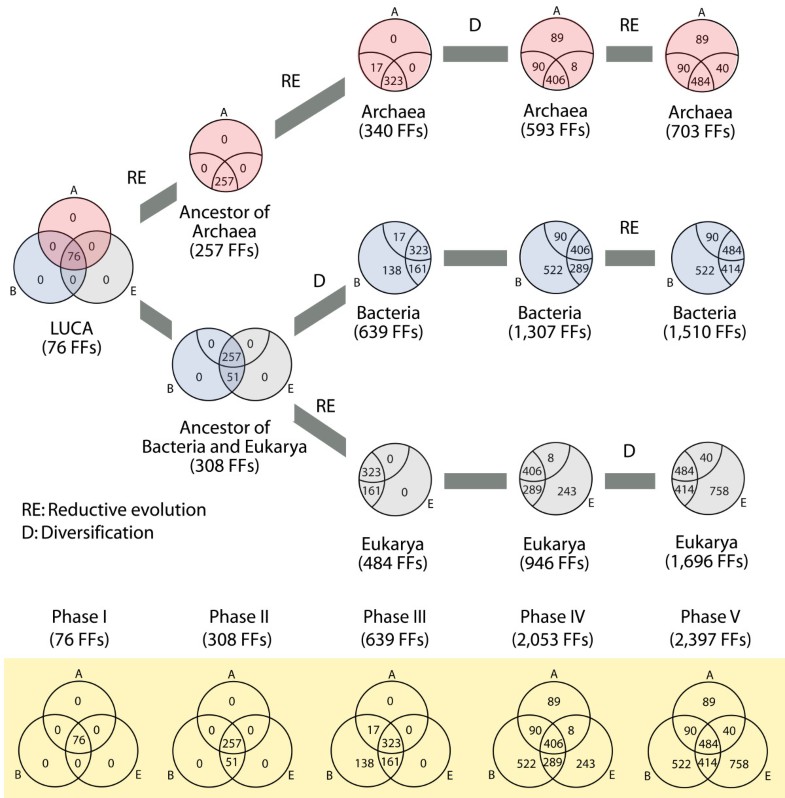 Abbreviations
BS:

bootstrap support
FF:

fold family
HMM:

hidden Markov model
LUCA:

last universal common ancestor
nd :

node distance
SCOP:

structural classification of proteins.
Declarations
Acknowledgements
This work was supported by the National Science Foundation (grant MCB-0749836) (to GCA) and the KRIBB Research Initiative Program (to KMK). Any opinions, findings, and conclusions and recommendations expressed in this material are those of the authors and do not necessarily reflect the views of the funding agencies.
Authors' Affiliations
(1)
Evolutionary Bioinformatics Laboratory, Department of Crop Science, University of Illinois, Urbana, USA
(2)
Korean Bioinformation Center, Korea Research Institute of Bioscience and Biotechnology, Yuseong-gu, Korea
Copyright
© Kim and Caetano-Anollés; licensee BioMed Central Ltd. 2012
This article is published under license to BioMed Central Ltd. This is an Open Access article distributed under the terms of the Creative Commons Attribution License (http://creativecommons.org/licenses/by/2.0), which permits unrestricted use, distribution, and reproduction in any medium, provided the original work is properly cited.