Research article

Open Access
Evolutionary genomics of host-use in bifurcating demes of RNA virus phi-6
BMC Evolutionary Biology
2012
12:153
Received: 21 March 2012
Accepted: 16 August 2012
Published: 22 August 2012
Abstract
Background
Viruses are exceedingly diverse in their evolved strategies to manipulate hosts for viral replication. However, despite these differences, most virus populations will occasionally experience two commonly-encountered challenges: growth in variable host environments, and growth under fluctuating population sizes. We used the segmented RNA bacteriophage ϕ6 as a model for studying the evolutionary genomics of virus adaptation in the face of host switches and parametrically varying population sizes. To do so, we created a bifurcating deme structure that reflected lineage splitting in natural populations, allowing us to test whether phylogenetic algorithms could accurately resolve this 'known phylogeny'. The resulting tree yielded 32 clones at the tips and internal nodes; these strains were fully sequenced and measured for phenotypic changes in selected traits (fitness on original and novel hosts).
Results
We observed that RNA segment size was negatively correlated with the extent of molecular change in the imposed treatments; molecular substitutions tended to cluster on the Small and Medium RNA chromosomes of the virus, and not on the Large segment. Our study yielded a very large molecular and phenotypic dataset, fostering possible inferences on genotype-phenotype associations. Using further experimental evolution, we confirmed an inference on the unanticipated role of an allelic switch in a viral assembly protein, which governed viral performance across host environments.
Conclusions
Our study demonstrated that varying complexities can be simultaneously incorporated into experimental evolution, to examine the combined effects of population size, and adaptation in novel environments. The imposed bifurcating structure revealed that some methods for phylogenetic reconstruction failed to resolve the true phylogeny, owing to a paucity of molecular substitutions separating the RNA viruses that evolved in our study.
Keywords
Adaptation
Bacteria
Bacteriophage
Experimental evolution
Known phylogeny
Pseudomonas
Virus
Background
Viruses are powerful and relevant models for understanding fundamental molecular biology, genetics and evolution [1–3], and elucidating infectious-disease evolution [4, 5]. The typically short generation times, large population sizes, and high mutation rates of RNA viruses make such studies highly efficient from an evolutionary standpoint [6]. Furthermore, the small genome sizes and disease importance of RNA viruses make them particularly attractive for research in evolutionary genomics of virus-host interactions, such as molecular evolution of virus speciation events [7], and divergence in viral genetic architectures due to host specialization versus generalization [8, 9]. Previous experimental evolution studies with viral models generally used either individual populations or homogeneous spatially structured experimental design. More complex demographics such as a phylogenetic tree structure have been studied but generally under a small set of selective conditions [10–12]. Here we examine how RNA viruses evolve with demographic structure imposed by a phylogenetic tree, under selective conditions of novel host environments and parametrically varying population sizes.
Viruses are exceedingly diverse in their evolved strategies to manipulate hosts for viral replication [13–15]. Despite this diversity, variable environments and fluctuating population sizes are two challenges often faced by virus populations. First, viruses can be passively transmitted between hosts (e.g., via aerosols, fluids and vectors) and cannot evaluate host 'habitat quality' prior to infection [16], creating the possibility that virus particles bind to less permissive target cells (e.g., hosts of low 'quality' for virus reproduction). Therefore, virus populations may unexpectedly encounter new environments, including intrahost changes brought on by immune function [17, 18]. Second, virus population size naturally tends to fluctuate, sometimes by several orders of magnitude [19–21]; e.g., virus population size will necessarily vary due to changing availability of susceptible host individuals, occurrence of transmission bottlenecks when initiating a new infection, and immunity-related fluctuations in within-host viral load. These variable population sizes can lead to differing relative strengths of natural selection versus genetic drift acting in virus evolution [22].
Experimental overview
We examined the experimental evolution of RNA bacteriophage (phage) ϕ6 by tracking molecular and phenotypic changes in virus lineages experimentally evolved under environmental variation and fluctuating population sizes. Figure
1
shows our experimental design: a bifurcating deme structure that reflects lineage splitting that gives rise to demes with separated gene pools. Thus, we created a 'known phylogeny', allowing tests of the accuracy of phylogenetic algorithms [
11
,
23
]. Phage ϕ6 is typically grown in the laboratory on the plant pathogenic bacterium
Pseudomonas syringae
pathovar
phaseolicola
, but prior work [
24
] shows that the virus can adaptively improve on this host. However, selection pressures differ and greater adaptive change occurs when phage ϕ6 is cultured on the novel host
P. pseudoalcaligenes
[
7
,
16
,
25
,
26
], which is distantly related to
P. phaseolicola
[
27
,
28
]. Here we extended this work by contrasting phage ϕ6 evolution on the original and novel hosts and considering effects of host switching on virus evolution. Previous studies examined the effects of population size on mutational load and subsequent fitness recovery in phage ϕ6 [
29
,
30
]. Here we examined how constant versus variable population sizes impacted host-use adaptation in the virus. Overall, by combining whole-genome sequencing and measurements of host-use traits, we generated a very large dataset that fostered subsequent tests of inferred genotype-phenotype associations.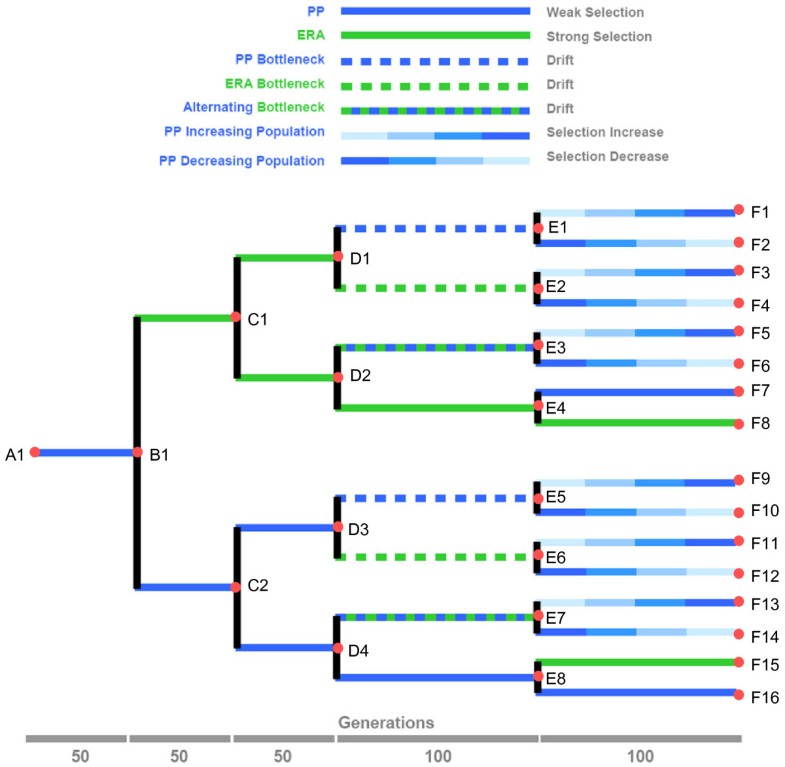 The known-phylogeny experiment, with additional independent confirmation using experimental evolution, demonstrated that host-use adaptation in phage ϕ6 involved an allelic switch in the viral assembly protein, a locus previously unknown to function in host-specific growth of the virus. More generally, our combined genomic/phenotypic approach was used to show where molecular substitutions tended to cluster in the genomes of phage ϕ6 populations subjected to the host-use challenges. Last, we showed that several popular methods were unable to accurately resolve the true experimental phylogeny, due to a paucity of molecular substitutions separating the sequenced clones.
Conclusions
Phylogenetic methods can often fail to resolve deep relationships with saturated molecular data; here we showed a similar difficulty in using the methods to resolve the simple bifurcating design implemented in this ~350 generation known phylogeny experiment. Using the natural mutation rate of this RNA virus and environments similar to the selective pressures and population size changes experienced by many viruses in nature, we were able to demonstrate several aspects of viral evolution that can confound the usefulness of phylogenetic algorithms: few informative sites, and parallel and reversion mutations. Because these complications will often occur when tracking the evolution of emerging viruses, our work implies that phylogenetic trees encompassing molecular epidemiology over short timescales may tend to be inaccurate. Specific to the study system, we identified that the protein-coding gene P12 on the S segment of phage ϕ6 is important for host-use selection in the virus. Our study demonstrated that experimental evolution involving a large number of increasingly diverged lineages is a useful tool for testing evolutionary theory (accuracy of phylogenetic algorithms), as well as for discovering novel traits (i.e., novel functions of P12) in evolving populations that more narrowly-focused studies would omit.
Declarations
Acknowledgements
We thank D. Kysela, D. Hillis, J. Felsenstein, M. Donoghue, J. Townsend, T. Warnow, three anonymous reviewers, and members of the Turner Lab for valuable feedback on the study. S.D. was supported by a Predoctoral Fellowship from the Howard Hughes Medical Institute. P.E.T. was supported by grants #DEB-ITR-0331654 and #DEB-1021243 from the U.S. National Science Foundation.
Authors' Affiliations
(1)
Department of Ecology and Evolutionary Biology, Yale University, New Haven, USA
(2)
Department of Pathology, University of Pennsylvania, Philadelphia, USA
(3)
Department of Biology, University of Pennsylvania, Philadelphia, USA
(4)
Sapphire Energy, Inc., San Diego, USA
(5)
Department of Ecology, Evolution and Natural Resources, Rutgers, The State University of New Jersey, New Brunswick, USA
(6)
Stanford School of Medicine, Stanford, USA
Copyright
© Turner et al.; licensee BioMed Central Ltd. 2012
This article is published under license to BioMed Central Ltd. This is an Open Access article distributed under the terms of the Creative Commons Attribution License (http://creativecommons.org/licenses/by/2.0), which permits unrestricted use, distribution, and reproduction in any medium, provided the original work is properly cited.