Research article

Open Access
Comparative genomics of eukaryotic small nucleolar RNAs reveals deep evolutionary ancestry amidst ongoing intragenomic mobility
BMC Evolutionary Biology
2012
12:183
Received: 20 June 2012
Accepted: 4 September 2012
Published: 15 September 2012
Abstract
Background
Small nucleolar (sno)RNAs are required for posttranscriptional processing and modification of ribosomal, spliceosomal and messenger RNAs. Their presence in both eukaryotes and archaea indicates that snoRNAs are evolutionarily ancient. The location of some snoRNAs within the introns of ribosomal protein genes has been suggested to belie an RNA world origin, with the exons of the earliest protein-coding genes having evolved around snoRNAs after the advent of templated protein synthesis. Alternatively, this intronic location may reflect more recent selection for coexpression of snoRNAs and ribosomal components, ensuring rRNA modification by snoRNAs during ribosome synthesis. To gain insight into the evolutionary origins of this genetic organization, we examined the antiquity of snoRNA families and the stability of their genomic location across 44 eukaryote genomes.
Results
We report that dozens of snoRNA families are traceable to the Last Eukaryotic Common Ancestor (LECA), but find only weak similarities between the oldest eukaryotic snoRNAs and archaeal snoRNA-like genes. Moreover, many of these LECA snoRNAs are located within the introns of host genes independently traceable to the LECA. Comparative genomic analyses reveal the intronic location of LECA snoRNAs is not ancestral however, suggesting the pattern we observe is the result of ongoing intragenomic mobility. Analysis of human transcriptome data indicates that the primary requirement for hosting intronic snoRNAs is a broad expression profile. Consistent with ongoing mobility across broadly-expressed genes, we report a case of recent migration of a non-LECA snoRNA from the intron of a ubiquitously expressed non-LECA host gene into the introns of two LECA genes during the evolution of primates.
Conclusions
Our analyses show that snoRNAs were a well-established family of RNAs at the time when eukaryotes began to diversify. While many are intronic, this association is not evolutionarily stable across the eukaryote tree; ongoing intragenomic mobility has erased signal of their ancestral gene organization, and neither introns-first nor evolved co-expression adequately explain our results. We therefore present a third model — constrained drift — whereby individual snoRNAs are intragenomically mobile and may occupy any genomic location from which expression satisfies phenotype.
Keywords
snoRNALast Eukaryotic Common AncestorIntronRetrotranspositionIntrons-firstConstrained drift
Background
Small nucleolar RNAs (snoRNAs) constitute a major class of small RNA in eukaryotes. There are two broad types of snoRNA, which differ in structure and function. H/ACA snoRNAs are characterized by a double stem-loop structure, and many members of this class are involved in guiding pseudouridylation of other functional RNAs, most notably rRNA [
1
,
2
]. Most C/D snoRNAs are likewise known to be guides, directing 2'-
O
-methylation of ribose on a broad assortment of RNAs, including ribosomal RNA (rRNA) [
3
]. While the variety of target molecules is suggestive of an ongoing role in fine tuning or regulating a range of processes [
4
], including splicing [
5
], the antiquity of both classes of snoRNA has been established through the identification in Archaea of sno-like RNAs resembling both H/ACA and C/D family snoRNAs [
6
–
8
]. Moreover, comparative analysis of modification patterns across Bacteria, Archaea and Eukaryote rRNA indicates that some pseudouridylation and 2'-
O
-methylation modification sites may predate the diversification of the three domains of life [
9
,
10
]. However, bacterial modifications are not generated in a snoRNA-dependent manner, so while comparative genomic and experimental analyses demonstrate that snoRNAs and their associated proteins appear ubiquitous among major eukaryote and archaeal groups [
11
,
12
], there is a disconnect between the inferred antiquity of this class of RNA and conserved site modifications to rRNA. This may indicate that snoRNAs emerged following the divergence of bacteria from archaea and eukaryotes, replacing a protein enzyme-based modification system [
13
,
14
]. Alternatively, snoRNAs may have an origin in an RNA world, having coevolved with the early ribosome [
15
]. As part of the latter theory, it was proposed that the intronic position of snoRNAs may be related to the origin of the first mRNAs. Under this 'introns-first' model (Figure 
1
a), exons were recruited from the regions between individual snoRNAs, the latter becoming intronic following the advent of the first protein-coding genes [
16
,
17
].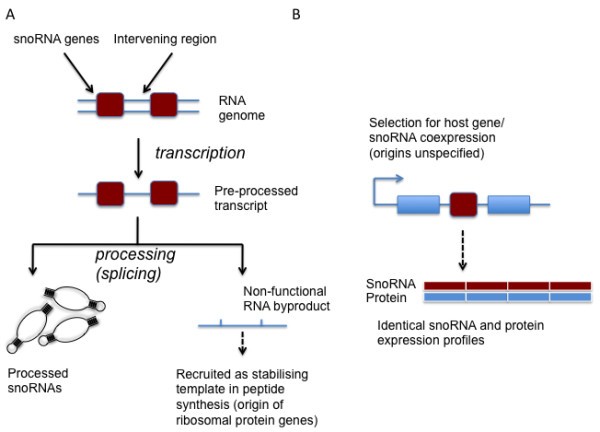 While it is difficult to definitively establish the timing of emergence of snoRNAs, the introns-first model does generate testable predictions. One prediction is that these early RNA-world snoRNAs may still be housed within the introns of the protein-coding genes postulated to have evolved around them. If such an association has been preserved, host genes should be among the oldest genes, traceable to the origin of templated protein synthesis [16, 17]. A strong version of this hypothesis is that this association is evolutionarily stable, such that duplication and retrotransposition have not broken up the association. An alternative view is that the intronic position of snoRNAs reflects selection for coexpression [18] (Figure 1b). This model makes no assumption as to the evolutionary and genomic mechanisms that gave rise to such an organization. A strong version of this model is that the relationship between intronic snoRNA and host gene is fixed, as per introns-first, but with one key difference: under coexpression, unless individual snoRNAs originated in the optimal genomic environment, they must have been mobile early in their evolutionary history, with selection precluding further mobility once the optimal intronic location has been reached. These hypotheses both suggest intronic position of snoRNAs has been stable across deep evolutionary timescales, so are not mutually exclusive. A third possibility is that the only constraint on snoRNA location is maintenance of an expression profile compatible with snoRNA function.
Some snoRNAs have been shown to be intragenomically mobile [19, 20], with the most stunning example being reported from platypus, where a single snoRNA family was found to be present in over 40 000 copies [21]. In support of the evolutionary stability of intron-located snoRNAs, a recent study revealed that 14% of annotated snoRNAs present in more than one genome are positionally conserved across birds and mammals, and that of these 97% are intronic [22]. These observations indicate that both mobility and positional stablility of snoRNAs are observed in vertebrate genomes. However, for genomic position to be compatible with the predictions resulting from the introns-first model, there would need to be stability across the entire eukaryote tree. Given that large numbers of introns can be readily traced to the root of the eukaryote tree (i.e. the Last Eukaryotic Common Ancestor, LECA) [23], it seems reasonable to expect that a signal of positional stability, if present, should be preserved at this evolutionary depth. While the coexpression model is not mutually incompatible with introns-first, the function of snoRNAs involved in generating ribosomes means conserved intronic snoRNAs should be associated with broadly-expressed host genes, but that those host genes need not be orthologous. Across birds and mammals, previous analyses [22] indicate that the most conserved snoRNAs are encoded in broadly expressed host genes, potentially compatible with both models.
In order to better understand the evolutionary dynamics of snoRNAs, we sought to address the following questions. 1. Do any snoRNA families trace back to the LECA? 2. Do eukaryotic snoRNAs show evidence of homology with archaeal snoRNA-like sRNAs? 3. Is the intronic location of snoRNAs evolutionarily stable across the eukaryote tree? We report that dozens of snoRNA families can be traced to the LECA. However, none of these LECA snoRNA families show significant levels of similarity with archaeal sno-like RNAs, precluding firm placement of individual snoRNA families in the common ancestor of these two groups. In agreement with previous studies [23], we find numerous introns can be placed in the LECA. A subset of these introns do carry snoRNAs, but close inspection reveals that snoRNAs in equivalent conserved positions are not orthologous. This result is consistent with independent gains of unrelated snoRNAs into orthologous introns. Finally, we report that snoRNA host genes are characterised by broad expression profiles, as judged from expression patterns across 37 human tissues. We therefore conclude that these data best fit ongoing genomic mobility of snoRNAs, with selection maintaining expression patterns but not genomic location. On the basis of these results we outline a 'constrained drift' model for the evolution of snoRNA-host gene relationships.
Discussion
Under the RNA world hypothesis, that genetically-encoded proteins and DNA genomes were preceded by functional RNAs and RNA genomes, it has previously been suggested that many RNA-based processes may directly trace back to this early stage in the evolution of life. Such arguments have largely been made on the basis of comparisons of functional RNAs [40, 52], though fewer than 1% of known RNA families show evidence of deep evolutionary ancestry [53]. For snoRNAs, while a compelling case can be made for an RNA-world origin [17, 40], it is equally possible that this class of RNA has a more recent origin [13, 14]. In so far as eukaryotic snoRNAs have counterparts in archaea, and given that, in both domains, these RNAs interact with a common set of associated proteins [11, 12], the origin of snoRNAs in the common ancestor of both domains appears likely [6].
We aimed to specifically examine the antiquity of snoRNAs using comparative genomics. Our results confirm that individual snoRNA families can be placed in the Last Eukaryotic Common Ancestor. Using a conservative total-evidence approach, incorporating Rfam family conservation, a blast-based comparative genomics approach to identifying target modification sites, and comparison with experimentally-mapped sites, we report that a minimum of 25 C/D type snoRNAs can be placed in the LECA.
Based on a conservative estimate of snoRNAs in LECA, we found three LECA snoRNAs for which a positionally-conserved modification was present in archaea. While the archaeal counterpart was known for all these cases, we deemed the sequence and secondary structure similarities across domains to be insufficient for an inference of homology to be made. While the equivalence of the modification-sites is striking, our analysis was unable to provide stronger evidence in favour of a common origin for individual RNA families. It may simply be the case that, given that snoRNAs are short, evolutionary signal, if it did exist, has been erased over such timescales.
Finally, we aimed to establish whether the intronic location of snoRNAs is consistent with snoRNA gene mobility, with selection favouring colonisation of introns in genes with broad gene expression, or whether position is evolutionarily conserved. We find that, despite intron position being conserved across the eukaryote tree (suggestive of an intron-rich LECA), none of the snoRNAs residing in these putative LECA introns are positionally stable at this evolutionary depth. A specific prediction of the introns-first model is that snoRNAs are found in the introns of the most deeply-conserved protein-coding genes. Evolutionary signal consistent with this model requires the intron, the snoRNA associated with that intron, and the position of the snoRNA within the intron to all be traceable to the LECA. Our analysis therefore rejects this strict version of the introns-first hypothesis. As per the introns-early vs introns-late debate [16, 54, 55], alternative versions of introns-first are possible, and the snoRNA mobility we observe is not in itself incompatible with an RNA-world origin. However, if, as our data suggest, all trace of any patterns compatible with an early origin have been lost (if they were present at all), an early origin necessarily remains speculative.
We suggest that our results may instead better fit an alternative evolutionary model which we call 'constrained drift' (Figure 
10
). In this model, individual snoRNAs can migrate to different genomic locations, provided the overall expression profile is preserved. This model is compatible with a range of genetic organisations, including a single snoRNA expressed from a ubiquitously-expressed host gene, subfunctionalised snoRNAs expressed from host genes with compatible, non-overlapping expression profiles, and independent snoRNA genes with either ubiquitous or subfunctionalised expression profiles. As phenotype is satisfied by all four cases, we predict that genomic location and organisation should be free to drift and is selectively constrained only by the requirement that a ubiquitous expression profile is maintained.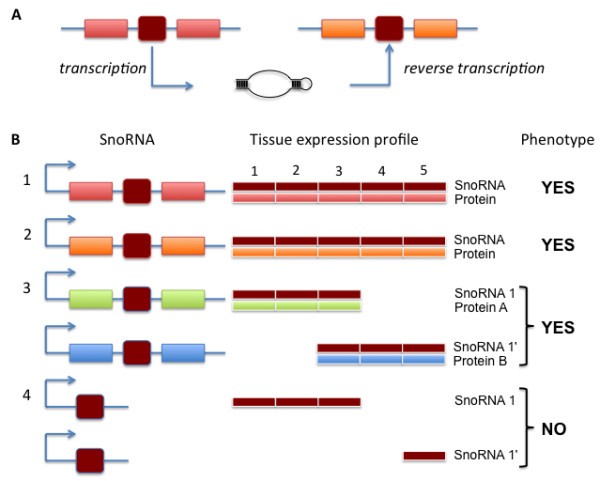 Our analysis of expression profiles of human genes bearing intronic snoRNAs (Figure 8) indicates that snoRNA-containing genes have a broad expression profile. However, these expression data do not enable us to assess individual expression profiles of snoRNAs, and we have not examined snoRNA paralogy, both of which would need to be examined to fully determine whether one of the gene organisation patterns described in Figure 10 dominates. High-throughput expression data may soon enable us to examine this question in more detail.
Conclusions
Using an evolutionary analysis, we have shown that the snoRNA apparatus was well-established in the LECA. While numerous snoRNAs can be traced to the LECA, the intronic location of individual snoRNAs is not stable over large evolutionary timescales, with no evidence for positional conservation traceable to the LECA. The data presented here fit a model of ongoing mobility over shorter evolutionary timescales [19, 32], with natural selection acting to constrain drift. As shown in Figure 10, some genomic locations may be selected against if function is compromised. However, a more extreme drift model is plausible, since this role for selection assumes that all modifications are under strong selection, a contention which has not been demonstrated. In light of experimental studies showing weak observable phenotype associated with individual snoRNA knockouts [56–58], it will be interesting to establish to what extent the modification of rRNAs by snoRNAs is governed by drift versus selection. For the set of most deeply conserved snoRNAs identified here, we suspect that constrained drift best accounts for their genomic evolution. However, for snoRNAs with a more recent evolutionary history the 'extreme' version of the drift model provides a valuable null hypothesis, which may be particularly helpful in assessing the significance of knockout studies [59–61]. While it is possible that snoRNAs have expanded into novel functions [5], it is notable that no other examples have been reported. Rather than representing a cohort of novel functional RNAs, some snoRNAs housed in narrowly-expressed host genes [22] may well be neutral, rather than the outcome of neofunctionalisation (Figure 10). Combining comparative analyses, large-scale expression data and knockout phenotypes will be required to resolve this question.
Abbreviations
snoRNA:

small nucleolar RNA
LECA:

Last Eukaryotic Common Ancestor.
Declarations
Acknowledgements
AMP is supported through a Rutherford Discovery Fellowship, and a Marsden Fund grant, both administered by the Royal Society of New Zealand. Past support to AMP through a Royal Swedish Academy of Sciences Research Fellowship via a grant from the Knut and Alice Wallenberg Foundation is gratefully acknowledged. Past financial support for MPH through the Stockholm University Astrobiology Graduate School is gratefully acknowledged. The funders had no role in study design, data collection and analysis, decision to publish, or preparation of the manuscript.
Authors' Affiliations
(1)
Science for Life Laboratory and Department of Medical Biochemistry and Microbiology, Uppsala University, Uppsala, Sweden
(2)
School of Biological Sciences, University of Canterbury, Christchurch, New Zealand
Copyright
© Hoeppner and Poole; licensee BioMed Central Ltd. 2012
This article is published under license to BioMed Central Ltd. This is an Open Access article distributed under the terms of the Creative Commons Attribution License (http://creativecommons.org/licenses/by/2.0), which permits unrestricted use, distribution, and reproduction in any medium, provided the original work is properly cited.