Research article

Open Access
Evolution, substrate specificity and subfamily classification of glycoside hydrolase family 5 (GH5)
BMC Evolutionary Biology
2012
12:186
Received: 22 May 2012
Accepted: 13 September 2012
Published: 20 September 2012
Abstract
Background
The large Glycoside Hydrolase family 5 (GH5) groups together a wide range of enzymes acting on β-linked oligo- and polysaccharides, and glycoconjugates from a large spectrum of organisms. The long and complex evolution of this family of enzymes and its broad sequence diversity limits functional prediction. With the objective of improving the differentiation of enzyme specificities in a knowledge-based context, and to obtain new evolutionary insights, we present here a new, robust subfamily classification of family GH5.
Results
About 80% of the current sequences were assigned into 51 subfamilies in a global analysis of all publicly available GH5 sequences and associated biochemical data. Examination of subfamilies with catalytically-active members revealed that one third are monospecific (containing a single enzyme activity), although new functions may be discovered with biochemical characterization in the future. Furthermore, twenty subfamilies presently have no characterization whatsoever and many others have only limited structural and biochemical data. Mapping of functional knowledge onto the GH5 phylogenetic tree revealed that the sequence space of this historical and industrially important family is far from well dispersed, highlighting targets in need of further study. The analysis also uncovered a number of GH5 proteins which have lost their catalytic machinery, indicating evolution towards novel functions.
Conclusion
Overall, the subfamily division of GH5 provides an actively curated resource for large-scale protein sequence annotation for glycogenomics; the subfamily assignments are openly accessible via the Carbohydrate-Active Enzyme database at http://www.cazy.org/GH5.html.
Keywords
Protein evolution
Enzyme evolution
Functional prediction
Glycogenomics
Glycoside hydrolase family 5
Phylogenetic analysis
Subfamily classification
Background
Carbohydrates, in the form of mono-, di-, oligo-, and polysaccharides, as well as glycoconjugates, play fundamental roles in all forms of life [1]. Beyond their role in energy storage, carbohydrates are central to diverse biological processes such as host-pathogen interactions, signal transduction, inflammation, intracellular trafficking, diseases, and differentiation/development. Not least, as structural components of terrestrial biomass, carbohydrates comprise approximately 75% of the carbon fixed annually by primary production [2]. Sugar-rich plant cell walls, seeds, and tubers thus represent a renewable material with significant potential to address energy and material needs.
A striking feature of carbohydrates is their remarkable structural complexity, due to a rich diversity of monosaccharide building blocks, and the possibility of numerous stereo- and regiospecific linkages [3], which give rise to both simple linear and complex, highly branched molecules [1]. A decade of investments in genomics and proteomics has greatly improved our interpretation of the molecular language of the cell, but deciphering the complex carbohydrate-based information in the biomolecular landscape is still in its infancy. Indeed, glycomics has been identified both as "the last frontier of molecular and cellular biology" [4] as well as an "emerging technology that will change the world" [5].
Functional analysis of glycans and glycoconjugates is complicated by the fact that they are not direct genetic products, but are instead synthesized, recognized, modified, and degraded by a plethora of carbohydrate-active enzymes (CAZymes) and binding proteins. In the synthetic direction, phosphosugar-dependent glycosyltransferases (GTs) catalyze the formation of glycosidic linkages, whereas their breakdown is mediated by glycoside hydrolases (GHs) and polysaccharide lyases (PLs), with the assistance of carbohydrate esterases (CEs). The structural diversity of carbohydrates is reflected in an abundance of CAZyme-encoding genes, which comprise 1-3% of the genome of most organisms [6]. Expanding and harnessing knowledge of the complexity of the "CAZome" is thus essential to understanding the complexity of the glycome.
The protein sequence-based classification of CAZymes was initiated in 1991 as a complement to the long-standing Enzyme Commission (EC) number system [7], which is based solely on enzyme activities [8]. Given the prevalence of convergent evolution of enzymes that cleave glycosidic bonds, as well as the demonstrable catalytic promiscuity of individual enzymes, sequence-based classification has proven to be a robust way to unify information on enzyme structure, specificity, and mechanism, which provides enormous predictive power [9]. Initially motivated by a need to delineate cellulases (EC 3.2.1.4) into distinct structural families [10], the first incarnation of the GH family classification, as such, comprised 35 GH families [8]. The number of families increased steadily with the growing interest in Glycobiology so that, as of August 2012, 130 sequence-based families of GHs have been defined in the continuously updated CAZy database [11].
Presently, one of the largest GH families is GH5, historically known as "cellulase family A" as it was the first cellulase family described [10]. GH5 exemplifies a family with a large variety of specificities: it currently contains close to 20 experimentally determined enzyme activities denoted with an EC number. The abundance of GH5 enzymes in different ecological niches has been highlighted by their frequent identification in metagenomes of diverse microbial communities [12–14], as well as the genomes of individual organisms [11]. As with other CAZyme families [15], GH5 members are commonly found to be encoded as parts of multi-modular polypeptide chains containing other catalytic, substrate-binding, and functionally unidentified or yet to be described modules.
Within the large GH5 family, a discernible diversity of sequences was observed soon after its creation. The first five subfamilies of GH5 (A1-A5) were identified as early as 1990 [16]. Subfamily A6 was introduced in 1997 [17] and the following year eukaryotic and prokaryotic β-mannanases were assigned to A7 and A8, respectively [18]. Subsequently, subfamily A9 was introduced in a study, which notably also suggested the merger of A5 and A6 [19]. Finally, A10 was the most recently defined GH5 subfamily [20], while new subfamilies that presently lack a unique identifier have also been suggested [21, 22]. Family GH5 belongs to clan GH-A, which presently groups 19 GH families to form the largest set of evolutionarily related GH families described in CAZy thus far (a clan is a group of families that arise from a common but very distant ancestor; despite weak sequence similarity, clan members share conserved protein fold and catalytic machinery).
Families such as GH5 were originally defined with a very small number of sequences. With the accumulation of an increasing body of sequence data, the relationship between the original families has sometimes changed enough to merit reexamination of family membership. Very recently, detailed three-dimensional structural analysis led to the reclassification of several GH5 sequences into family GH30 based on the organization of secondary structural elements around the conserved (β/α)8 fold of the catalytic module [23].
Given the continuing expansion in sequence numbers and the partial GH5/GH30 reclassification, it is clear that a global re-analysis of the subfamily division of GH5 is now needed. The rapid accumulation of genomic data in the past decade revealed a complex and varied sequence space, with the consequence that a substantial portion of GH5 family members are currently not assigned to any subfamily. This situation will only become worse as the rate of (meta)genomic sequencing continues to increase with phenomenal rapidity. Further, this flood of data will cause an increasing reliance on computer-based annotation, which necessarily requires a robust framework to produce meaningful functional predictions. The division of CAZyme families into subfamilies based on phylogenetic analysis has been applied as a successful approach to meet this challenge: Subfamily classification of GH13, GH30 and all of the PL families has demonstrated that the majority of the defined subfamilies were monospecific, thus indicating a significantly better correlation of substrate specificity between sequences at the subfamily level than the family level [23–25]. Significantly, the division into subfamilies allows the identification of currently uncharacterized subfamilies that can subsequently be analyzed biochemically and structurally to potentially unveil new activities.
Hence, we present here an improved, robust subfamily classification for GH5 by employing a large-scale analysis of all publicly available sequences. Our intention is that the introduction of this additional hierarchical level across this important GH family will serve to guide enzyme discovery, structure-function analysis, and biocatalyst improvement in post-genomic efforts. Not least, many enzyme activities relevant to biomass analysis and conversion are found in GH5 (e.g., cellulases, mannanases, xylanases, galactanases, and xyloglucanases), as are enzymes with biomedical applications [26]. Significantly, the present analysis unveiled a large number of sparsely or incompletely characterized subfamilies that may still hide a number of unsuspected activities and singular structural features.
Results and discussion
Our bioinformatics approach allowed the division of close to 2300 GH5 catalytic modules into 51 distinct subfamilies, as shown in the global phylogenetic tree (Figure
1
and Additional file
1
: Figure S1); subfamily information is summarized in Table
1
. Subfamily naming follows the procedure devised for GH13, where the family number is followed by an Arabic numeral that reflects the order of creation [
24
]: GH5_1 to GH5_53. This series is essentially continuous, with a few exceptions due to historical reasons: All of the previously described subfamilies (A1-A10) have been re-identified in the current investigation except for A3 and A4, which are merged into a single subfamily GH5_4 and A5 and A6 which are unified in subfamily GH5_5 (Figure
1
). To maintain consistency with earlier literature, the re-identified historical subfamilies have retained the original Arabic numeral. For example, the subfamily formerly known as A2 is hereby designated GH5_2. The absence of subfamilies GH5_3 and GH5_6 reflects the two fusion events involving the historical subfamilies described above [
19
].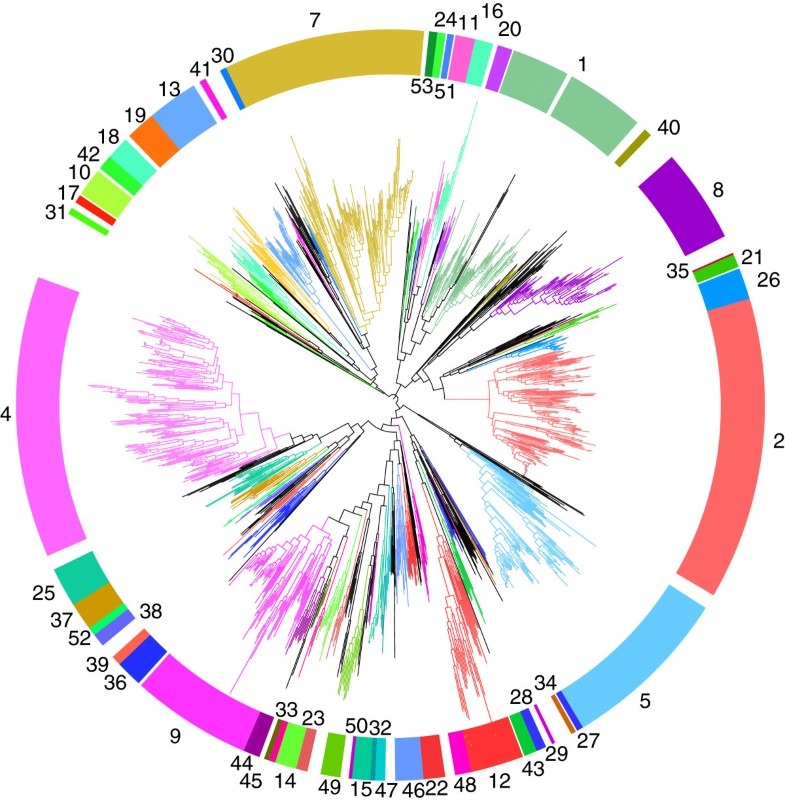 Table 1
Newly defined subfamilies within glycoside hydrolase family GH5
New GH5 subfamily

Historical subfamily

Number of sequences

Present taxonomical distribution

EC number

Representative PDB structure

GH5_1

A1b

133

Archaea Bacteria Eukaryota

3.2.1.4

2ZUN

3.2.1.73

3.2.1.91

GH5_2

A2b

245

Bacteria Eukaryota

3.2.1.4

2A3H

3.2.1.132

GH5_4

A3 + A4b

160

Bacteria Eukaryota

3.2.1.4

2JEQ

3.2.1.151

3.2.1.73

3.2.1.8

GH5_5

A5 + A6b,c,e

123

Bacteria Eukaryota

3.2.1.4

IGZJ

GH5_7

A7d

133

Archaea Bacteria Eukaryota

3.2.1.25

IRH9

3.2.1. 78

2.4.1.-

GH5_8

A8d

71

Bacteria Eukaryota

3.2.1.78

2WHL

GH5_9

A9e

107

Eukaryota

3.2.1.58

3N9K

3.2.1.75

3.2.1.21

GH5_10

A10e,f

19

Bacteria Eukaryota (Metazoa)

3.2.1.78

2C0H

GH5_11

19

Eukaryota (Plants;Fungi)

ND

GH5_12

42

Bacteria Eukaryota

3.2.1.21

3.2.1.45

GH5_13

59

Bacteria

ND

GH5_14

15

Eukaryota (Plants)

3.2.1.58

GH5_15

10

Eukaryota (Fungi)

3.2.1.75

GH5_16

10

Eukaryota (Fungi)

3.2.1.164

GH5_17

5

Bacteria

3.2.1.78

GH5_18

24

Bacteria

ND

GH5_19

23

Archaea

ND

GH5_20

17

Eukaryota (Stramenopiles)

ND

GH5_21

10

Bacteria

3.2.1.8

GH5_22

12

Bacteria Eukaryota

3.2.1.4

GH5_23

5

Eukaryota (Fungi)

3.2.1.149

3.2.1.168

GH5_24

5

Eukaryota (Fungi)

ND

GH5_25

16

Bacteria

3.2.1.4

3MMW

3.2.1.78

GH5_26

17

Bacteria

3.2.1.4

3.2.1.73

GH5_27

5

Eukaryota (Metazoa;Fungi)

3.2.1.123

GH5_28

8

Bacteria

3.2.1.123

2OSX

GH5_29

5

Bacteria

3.2.1.123

GH5_30

5

Eukaryota (Fungi)

ND

GH5_31

5

Eukaryota (Fungi)

3.2.1.-g

GH5_32

5

Eukaryota (Plants; Stramenopiles)

ND

GH5_33

9

Eukaryota (Stramenopiles)

ND

GH5_34

5

Bacteria

3.2.1.-g

2Y8K

GH5_35

5

Bacteria

ND

GH5_36

23

Bacteria

3.2.1.73

IVJZ

3.2.1.78

GH5_37

19

Bacteria

3.2.1.4

ICEN

3.2.1.73

3.2.1.74

GH5_38

10

Bacteria

3.2.1.-h

GH5_39

7

Bacteria

3.2.1.4

GH5_40

8

Bacteria

ND

GH5_41

14

Bacteria

ND

GH5_42

9

Bacteria

ND

GH5_43

11

Bacteria

ND

GH5_44

24

Bacteria

ND

GH5_45

5

Bacteria

ND

GH5_46

15

Bacteria

3.2.1.-h

GH5_47

6

Bacteria

ND

GH5_48

18

Bacteria

3.2.1.-h

GH5_49

20

Eukaryota (Fungi)

ND

GH5_50

7

Eukaryota (Fungi)

ND

GH5_51

5

Bacteria Eukaryota (Fungi)

ND

GH5_52

6

Bacteria

3.2.1.74

GH5_53

6

Bacteria

3.2.1.74
In addition to the new and historical designations, the taxonomical range of the included sequences, experimentally determined enzyme activities and representative 3-D structures are presented in Table 1 for each subfamily. Notably, all of the 33 enzymes with a solved 3-D structure have been assigned to a subfamily, resulting in thirteen individual subfamilies out of 51 with at least one structural representative. Genes that encode GH5 enzymes are present in most organisms ranging from Archaea and Eubacteria to Eukaryotes, e.g. fungi and plants. From an anthropocentric perspective, a GH5 member is notably lacking in the human genome. Examples of metazoan GH5 genes are also notably scarce and are limited to nematodes, mollusks, and arthropods, likely resulting from horizontal transfer. For example, several independent horizontal events of transfer of cellulase and xylanase genes from Bacteria to nematodes have been described [27] and the transfer of a bacterial β-mannanase to an insect was recently documented [28]. The taxonomical range at the subfamily level is, naturally, more restricted. A few smaller subfamilies are currently specific to certain types of organisms (Table 1). For example, eight subfamilies (GH5_15, GH5_16, GH5_23, GH5_24, GH5_30, GH5_31, GH5_49 and GH5_50) contain only fungal sequences. Subfamily GH5_14 contains only plant members, whereas members of GH5_20 come exclusively from Stramenopiles. These limited taxonomic distributions may represent biological (catalytic) specialization, if not biased by a still incomplete genome sequencing of organisms.
The definition of subfamilies was restricted to phylogenetic clades with five or more members from different organisms available in the public protein databases (GenBank and UniProt) in order to capture sufficient diversity for a robust subfamily definition. Using these criteria, the overall success rate of subfamily grouping was of approximately 80%, i.e., about 20% of the analyzed GH5 sequences could not be classified into subfamilies having at least five public members. The sequences that have not yet been assigned to subfamilies will likely define new subfamilies as the pool of available sequences continues to increase. In the future, these subfamilies will be gradually released with new identifiers when they have been sufficiently populated. Compared to the GH13 subfamily classification [24], the GH5 subdivision has resulted in both a higher number of subfamilies and a higher number of uncharacterized subfamilies, suggesting that family GH5 is comparatively less well explored.
To further refine the global subfamily analysis, maximum likelihood phylogenetic analysis has been performed on each subfamily (Additional file 1: Figures S1: GH5_1 – GH5_53). In addition to database accession numbers, information about substrate specificity (as provided by EC numbers) has been included, and 3-D structures highlighted in each subfamily tree. The 51 subfamilies (numbered GH5_1 to GH5_53 as explained elsewhere) have been categorized based on available enzyme activity data, to aid their individual descriptions, below. Thus, the first group, comprised of "Enzymatically-Active Subfamilies", contains subfamilies with at least one member whose enzyme activity has been shown. The extent of the documented characterization varies substantially within the group, from simple information obtained from enzymatic assays insufficient to assign a particular EC number (these enzymes are denoted with a star in Additional file 1: Figure S1), to detailed enzyme specificity and kinetics studies. Among the better characterized subfamilies, monospecific subfamilies are distinguished by the presence of only one EC number for one or more members, whereas in polyspecific subfamilies, two or more enzymatic activities have been observed in different members. "Uncharacterized Subfamilies" comprise the second major group; these subfamilies currently lack documented enzymatic activity altogether.
In this context, it is worth noting that the majority of the large, well characterized subfamilies were polyspecific. These highly populated subfamilies were also the first ones to be identified and described, and often, despite observed polyspecificity, one particular activity predominates. For example, 22 of 24 characterized enzymes in GH5_1 are reported to be endo-glucanases, whereas one protein is a documented as a cellobiohydrolase, and another was described as displaying licheninase activity. It is, however, difficult to draw far-reaching conclusions based on these observations. On one hand, it may be that the acquisition of a new specificity within a subfamily is a rare event; alternatively, the observation of one or few activities in specific subfamilies may simply be a consequence of differences in the range of substrates tested experimentally.
Another significant aspect of many GH5 family proteins is that their protein sequence may include additional modules with different functions, and in particular CBMs [
29
]. A great variety of modular structures may be found throughout the family and in a number of individual subfamilies. An analysis of all the complexity of modular structures found in the family goes beyond the objectives of this study, and some aspects of this diversity are illustrated in Figure
2
. For instance, many members of subfamily GH5_8 are modular and reveal two major trends: (i) the addition of one or of multiple CBMs (see Figure
2
a) is more common and may be associated not only to the nature of the main substrate of the corresponding catalytic domain, particularly in complex substrates; and (ii) the combinations with other catalytic modules to form bifunctional enzymes (see Figure
2
b but also
2
c), are more rare but particular useful to reveal interacting or synergistic enzyme activities of some catalytic modules. Numerous modular arrangements can also be found in other large subfamilies like GH5_1, GH5_2 and GH5_7. CBMs can be located on the N- or C-terminal side of the GH5 module (as illustrated in GH5_8 in Figure
2
a). The combination of catalytic domains may target different tissue components. Some may, for instance, target cellulose and cellulose associated substrates (as in Figure
2
b) but bifunctional enzymes likely targeting hemicellulose may also be found (several examples in Figure
2
c).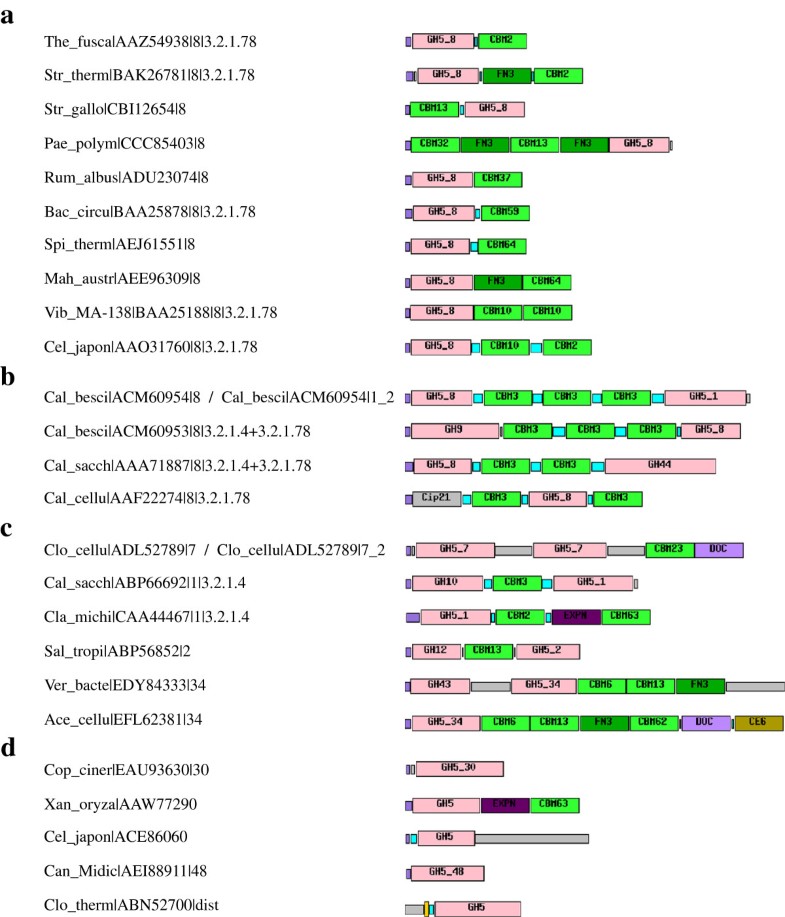 Subfamilies with identified active enzymes
Conclusions
When the first five historical subfamilies of GH5 were established in 1990, the total number of GH5 protein sequences was 21 [16]. More than 20 years later (August 2012), this number has increased approximately 150 times to exceed 3,200. The practical difficulties of handling such large datasets notwithstanding, this abundance of sequences is both a boon and a bane for phylogenetic analysis and functional prediction.
Assigning proteins to a large GH-family, like GH5, which harbors multiple specificities and activities, does not unlock the full potential of sequence-based classification. Thus, one aim of the present investigation was to obtain an improved correlation between protein sequences and catalytic specificity by refining a finer hierarchical level, the subfamily, for GH5 members. Up to 80 percent of the existing GH5 sequences were segregated into 51 subfamilies. Of these subfamilies, a total of 31 contained at least one member characterized to some degree, whereas 20 lacked enzymatically-characterized members altogether. Out of the 31 subfamilies characterized to some extent, 17 were monospecific and eleven were polyspecific (containing two or more enzyme activities). Nonetheless, one activity typically predominates within polyspecific subfamilies. Interestingly, both endo- and exo-acting enzymes have been observed in the same subfamily, e.g. GH5_1, GH5_7 and GH5_9, illustrating that (if real) the two types of activities reflect details of the three-dimensional structures. As a consequence of the canonical double displacement mechanism employed by GH5 enzymes, which involves the formation of a covalent glycosyl-enzyme intermediate, GH5 members can potentially catalyze transglycosylation in addition to, or instead of, hydrolysis [71]. Although the amount of biochemical data is presently limited, we observed that subfamily classification in GH5 does not appear to correlate with transglycosylation activity, thus indicating that this property is also a consequence of subtle protein structural details.
This effort provides a first comprehensive view of the coverage and distribution of the curated set of 400 experimentally characterized enzymes in the GH5 family and couples this information with an extensively updated sequence-based GH5 subfamily division. In particular, it provides insights into the evolution of GH5 proteins, and the classification results can be used to assist in candidate protein selection for enzyme discovery and bioprospecting projects. For instance, both the members from the twenty defined subfamilies lacking functional characterization, as well as the numerous phylogenetic outliers, provide a vast number of interesting targets for future studies. In particular, although a significant amount of tertiary structural data is already available for GH5, the present work highlights that a large number subfamilies would benefit from a 3-D structure for at least one subfamily member. Moreover, the data presented here, and available at the CAZy database [11] as a community resource, will serve as a guide for protein engineering approaches exploiting the diverse activities found within the GH5 family.
Finally, in the present climate in which sequence data is literally flooding public databases, incorrect protein function annotations are too easily propagated by automated computer-based prediction methods, thereby jeopardizing the usefulness of these annotations. Increasingly rapid sequence accumulation is worsening the scenario. This problem is particularly illustrated by the GH5_11 subfamily of plant and fungal proteins that are annotated as cellulases in public databases, including the widely-used Arabidopsis Information Resource [72], despite a complete lack of experimental support for any one of its members. Such excesses of over-annotation equally affect the presumed non-catalytically active proteins and subfamilies. For example, subfamily GH5_30 further exemplifies the pitfalls of automated (mis-)annotation: several members are publicly annotated as mannanases, although they lack the conserved catalytic machinery of the family. To avoid such error propagation, we strongly advocate designating all predicted enzymes as "GH5_n" (where n is the subfamily number) until an activity has been rigorously demonstrated by biochemical experimentation.
The GH5 subfamily classification presented here provides a framework to sort family members into meaningful, predictive categories. By taking a conservative approach to protein annotation, this method offers a rigorous strategy to avoid misleading functional prediction in large-scale genomic sequencing projects. Whilst the subfamilies described herein generally act on a single substrate (seventeen monospecific subfamilies were identified), it is important to stress that precise details of glycoside hydrolase function, such as the extent of endo- vs. exo- modes of cleavage or the transglycosylation-to-hydrolysis ratio is unlikely to be predictable from sequence alone. We therefore recommend that such over-reaching predictions be altogether abandoned in genomic sequence annotation. To aid and advance global efforts in de novo sequence annotation, the GH5 subfamily classification scheme is now publicly available at the CAZy database [11].
Methods
The GH5 subfamilies were defined using the methods described for the subfamily classification of GH13 and all PL families [24, 25], which are briefly summarized here. After an initial removal of obviously incomplete and/or erroneous sequences, a total of 2347 full length GH5 catalytic module sequences were retrieved from the CAZy database (October 2011) and subdivided into two sets. One set of 414 sequences contained all GH5 modules from biochemically characterized and sequences positively tested in activity tests against a variety of substrates. The second set was composed of 1957 non-characterized sequences The latter subset was clustered at 75% identity using UCLUST4.0, a part of the USEARCH 4.0 package [73], and was reduced to 971 sequences. When combined with the 414 GH5 module sequences from a biochemically characterized and positively assayed subset we obtained a total of 1385 sequences. These sequences were aligned using MUSCLE 3.7 [74] in two steps. An initial alignment was performed and its quality visually inspected so that the remaining incomplete and problem sequences were identified and edited or removed. This procedure ensured that the GH5 module boundaries were clear and that the sequences were trimmed if required, and that a majority of the residues constituting the catalytic site was present or that the alignment was not ambiguous. A final set of 1367 remaining sequences were then realigned using the same procedure. The eliminated, often fragmentary, sequences were used to complement biochemical activity information when relevant at later stages.
The resulting multisequence alignment of family GH5 catalytic domain sequences was used to infer an approximate-maximum-likelihood phylogenetic tree with FASTTREE 2.1 [75], a program adapted to the analysis of large sequence sets, using the Whelan Goldman model of amino acid evolution, the gamma option to rescale the branch lengths and compute a Gamma20-based likelihood, a total of four rounds of minimum-evolution moves, and options to make the maximum-likelihood nearest-neighbor interchanges more exhaustive. The identification and tagging of subfamilies followed a multi-step procedure. First, the tree was analyzed to tag the different sequences and nodes corresponding to the first 10 "historical" subfamilies (A1 to A10, described in the Introduction). These steps were performed to ensure continuity in subfamily definitions. For the remaining sequences in the tree, distinct nodes corresponding potential subfamilies were visually identified and their consistency checked using a procedure similar to that described [24]. Within each of these groups, different starting sequences were selected and manual BLAST2 queries [76] performed against all the sequences found in CAZy in order to identify self-contained ensembles and establish subfamily limits. This analysis ensured that the each subfamily that was retained was singular and that the removal of sequences by the initial UCLUST filtering procedure and of fragmentary sequences did not introduce any bias. Finally, only subfamilies containing at least five sequences from different organisms were considered.
Subsequently, for each defined subfamily, maximum likelihood (ML) phylogenetic trees were built by using PhyML [77], and the reliability of the inferred relationships the trees was tested by bootstrap analysis using 100 resamplings of the data set.
Endnotes
aNo EC number is presently available for β-1,3-(gluco)mannanase activity.
bNo EC number is presently available for arabinoxylanase activity.
Declarations
Acknowledgements
We wish to thank Franz St John for his work on family GH30, which stimulated us to refine family GH5. Work at UMR 7257 of Aix-Marseille Université was funded by ANR grant BIP:BIP (ANR-10-BINF-03-04). Work in the Division of Glycoscience, KTH Biotechnology was funded by an Ingvar Carlsson Award to H.A. from the Swedish Foundation for Strategic Research. The Swedish Research Council Formas provided additional funding via CarboMat – The KTH Advanced Carbohydrate Materials Consortium (A Formas Strong Research Environment). H.B. gratefully acknowledges faculty support from The Michael Smith Laboratories and the University of British Columbia.
Authors' Affiliations
(1)
Division of Glycoscience, School of Biotechnology, KTH - Royal Institute of Technology, AlbaNova University Center, Stockholm, Sweden
(2)
Michael Smith Laboratories and Department of Chemistry, University of British Columbia, Vancouver, Canada
(3)
Architecture et Fonction des Macromolécules Biologiques, Aix-Marseille Université, CNRS, UMR 7257, Marseille, France
Copyright
© Aspeborg et al.; licensee BioMed Central Ltd. 2012
This article is published under license to BioMed Central Ltd. This is an Open Access article distributed under the terms of the Creative Commons Attribution License (http://creativecommons.org/licenses/by/2.0), which permits unrestricted use, distribution, and reproduction in any medium, provided the original work is properly cited.