Research article
Open Access
Mutualism with sea anemones triggered the adaptive radiation of clownfishes
BMC Evolutionary Biology
2012
12:212
Received: 6 June 2012
Accepted: 27 October 2012
Published: 2 November 2012
Abstract
Background
Adaptive radiation is the process by which a single ancestral species diversifies into many descendants adapted to exploit a wide range of habitats. The appearance of ecological opportunities, or the colonisation or adaptation to novel ecological resources, has been documented to promote adaptive radiation in many classic examples. Mutualistic interactions allow species to access resources untapped by competitors, but evidence shows that the effect of mutualism on species diversification can greatly vary among mutualistic systems. Here, we test whether the development of obligate mutualism with sea anemones allowed the clownfishes to radiate adaptively across the Indian and western Pacific oceans reef habitats.
Results
We show that clownfishes morphological characters are linked with ecological niches associated with the sea anemones. This pattern is consistent with the ecological speciation hypothesis. Furthermore, the clownfishes show an increase in the rate of species diversification as well as rate of morphological evolution compared to their closest relatives without anemone mutualistic associations.
Conclusions
The effect of mutualism on species diversification has only been studied in a limited number of groups. We present a case of adaptive radiation where mutualistic interaction is the likely key innovation, providing new insights into the mechanisms involved in the buildup of biodiversity. Due to a lack of barriers to dispersal, ecological speciation is rare in marine environments. Particular life-history characteristics of clownfishes likely reinforced reproductive isolation between populations, allowing rapid species diversification.
Keywords
Ecological speciationDiversificationComparative methodEvolutionary rateBrownian MotionPomacentridae
Background
The concept of adaptive radiation has been central to evolutionary biology since Darwin's work on Galapagos finches [1–3]. The general understanding of this process is that rates of ecomorphological changes and species diversification will be increased by ecological opportunities offering available resources untapped by competing species [4]. Ecological opportunity can arise for four main reasons [5], the most widely described being the colonisation of geographically isolated areas with depauperate fauna (e.g. cichlid fishes in East-African Great Lakes [6]). The process is similar in the aftermath of a mass extinction event, which allows surviving species to radiate rapidly by filling the available empty niches [7]. Modification of a resource can also trigger native species radiation as demonstrated by the radiation of Lupinus in high-elevation habitats that appeared during the Andean uplift [8]. Finally, the appearance of a trait allowing new interactions with the environment, or key innovation, can create an opportunity for species radiation [9]. For example, the evolution of antifreeze glycoproteins found in notothenioid fishes of Antarctica is thought to have triggered their adaptive radiation by allowing survival in extreme environments [10]. In an analogous manner to key innovations, the evolution of mutualistic interactions can provide access to previously inaccessible resources. For instance, phytophagous insects host mutualistic microbes, which enable the breakdown and digestion of plant compounds by the insects [11]. While a plethora of case studies showing adaptive radiation driven by ecological opportunity offered by one of the aforementioned possibilities exist [9], examples involving mutualism are scarce (but see [12]). Since hosts shifts have allowed ecological speciation in a wide range of organisms, including coral-dwelling fish [13, 14], there is a possibility for ecological speciation to occur in mutualistic systems. However, results from empirical and theoretic studies give contradictory evidence on the effect of mutualism on species diversification [15, 16]. The topic is thus still debated and in need of further case studies.
The clownfishes (or anemonefishes; subfamily Amphiprioninae) are a group of 30 species within the damselfish family (Teleostei; Perciformes; Pomacentridae; [
17
]) and are emblematic species of coral reefs (Figure 
1A
&
1C
). Their distribution spans from the Indian to the western Pacific Oceans (Figure 
1B
) with their highest species richness found in the Indo-Malay archipelago where up to nine species have been observed in sympatry [
18
]. Their complex association with sea anemones is now a textbook example for mutualistic interactions [
19
–
21
]. Clownfishes are left unharmed by the otherwise lethal nematocysts of the sea anemone tentacles. This ability is thought to come from a protective mucous coat that prevents the discharge of the nematocysts [
22
] and allows clownfishes to settle in sea anemones. The protection against predators provided by the sea anemones is a direct advantage for clownfishes. Likewise, clownfishes chase the predators of the sea anemones. Furthermore, waste ammonia excreted by the clownfishes is used by the endosymbiotic dinoflagellates living in the sea anemone tissues, which makes it a three-way interaction [
19
,
21
]. The efficiency of the protection provided by the sea anemone is demonstrated by the extraordinary life span of clownfishes (ca. 30 years recorded for
Amphiprion percula
), which is twice as long as any other damselfish and six times greater than the expected longevity for a fish of that size [
23
].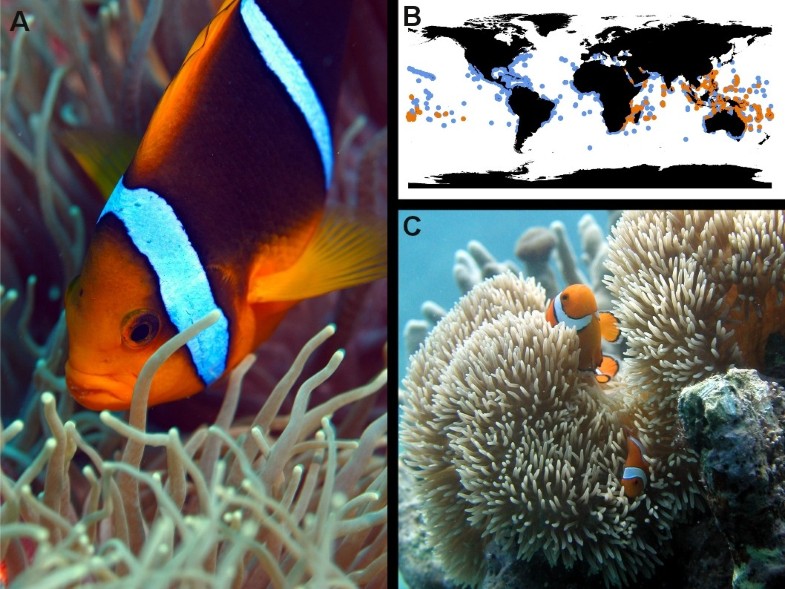 While species of clownfishes can develop mutualistic interactions with up to ten species of sea anemones (Table 
1
), a large variation in host usage exists within the clade [
20
]. Eight host sea anemones have a widespread distribution and two (
Heteractis malu
and
Macrodactyla doreensis
) have more restricted ranges, but are distributed around the centre of diversity for the clownfishes, making interaction between most clownfishes and host species geographically possible [
20
]. Although geographically widespread, sea anemone species differ in their preferred habitat (e.g. reef zonation, substrate, depth; [
24
]). It was shown that coexistence of multiple clownfish species was possible because of difference in host and habitat utilisation [
18
]. It is therefore possible that the appearance of mutualism was the key innovation that allowed the clownfishes to diversify in ecological niches associated with the different sea anemones species. However, this hypothesis has never been tested thoroughly.
Table 1
Interaction matrix between clownfishes and their sea anemone hosts
| | Cryptodendrum adhaesivum | Entacmaea quadricolor | Heteractis aurora | Heteractis. crispa | Heteractis magnifica | Macrodactyla doreensis | Stichodactyla gigantea | Stichodactyla haddoni | Stichodactyla mertensii | Heteractis malu |
| --- | --- | --- | --- | --- | --- | --- | --- | --- | --- | --- |
| Amphiprion akallopisos | | | | | + | | | | + | |
| Amphiprion akindynos | | + | + | + | + | | | + | + | |
| Amphiprion allardi | | + | + | | | | | | + | |
| Amphiprion barberi | | + | | + | | | | | | |
| Amphiprion bicinctus | | + | + | + | + | | + | | + | |
| Amphiprion chagosensis | | (+) | | | | | | | | |
| Amphiprion chrysogaster | | | + | | + | | | + | + | |
| Amphiprion chrysopterus | | + | + | + | + | + | | + | + | |
| Amphiprion clarkii | + | + | + | + | + | + | + | + | + | + |
| Amphiprion ephippium | | + | | + | | | | | | |
| Amphiprion frenatus | | + | | | | | | | | |
| Amphiprion fuscocaudatus | | | | | | | | | + | |
| Amphiprion latezonatus | | | | + | | | | | | |
| Amphiprion latifasciatus | | | | | | | | | + | |
| Amphiprion leucokranos | | | | + | + | | | | + | |
| Amphiprion mccullochi | | + | | | | | | | | |
| Amphiprion melanopus | | + | | + | + | | | | | |
| Amphiprion nigripes | | | | | + | | | | | |
| Amphiprion ocellaris | | | | | + | | + | | + | |
| Amphiprion omanensis | | + | | + | | | | + | | |
| Amphiprion pacificus | | | | | + | | | | | |
| Amphiprion percula | | | | + | + | | + | | | |
| Amphiprion perideraion | | | | + | + | + | + | | | |
| Amphiprion polymnus | | | | + | | + | | + | | |
| Amphiprion rubrocinctus | | + | | | | | + | | | |
| Amphiprion sandaracinos | | | | + | | | | | + | |
| Amphiprion sebae | | | | | | | | + | | |
| Amphiprion thiellei | | | | (+) | | | | | (+) | |
| Amphiprion tricinctus | | + | + | + | | | | | + | |
| Premnas biaculeatus | | + | | | | | | | | |
Examples of ecological speciation events are rare in marine ecosystems. This is likely due to the fact that long-distance dispersal is common among marine organism [25]. However, clownfishes are known to have high larval retention to natal reefs [26, 27]. They are also known to produce species-specific calls [28, 29] that differ among geographic populations [30]. Such properties are likely to have reinforced reproductive isolation by reducing gene-flow between clownfishes populations and thus facilitated ecological speciation processes in clownfishes.
In this study, we test whether the evolution of the mutualism with sea anemone in the clownfishes lineage is a key innovation that led to ecological adaptive radiation (sensu [4]). We ensure that the clownfishes are monophyletic by building a phylogeny for the Pomacentridae family. Next, we show the occurrence of rapid speciation in the clownfishes by testing whether their diversification rate is higher than that of the other damselfishes. We then use an ordination method on the mutualistic interactions to describe potential ecological niches associated with the sea anemones. We further apply phylogenetic comparative methods to test the association between morphological traits and the putative ecological niches. We finally measure the rate of evolution of the morphological traits to see if they fit the theoretical expectation of faster morphological evolutionary rate [4, 31].
Discussion
We found that clownfishes exhibit patterns that are likely diagnostic of an ecological adaptive radiation via ecological speciation [
4
]. Following the acquisition of specific ability to interact and live with sea anemones, clownfishes diversified into multiple ecological niches linked with both host (Figure 
7
) and habitat use. Morphological evolution accelerated and distinct clownfish species developed convergent phenotypes correlated to the host-associated ecological niches.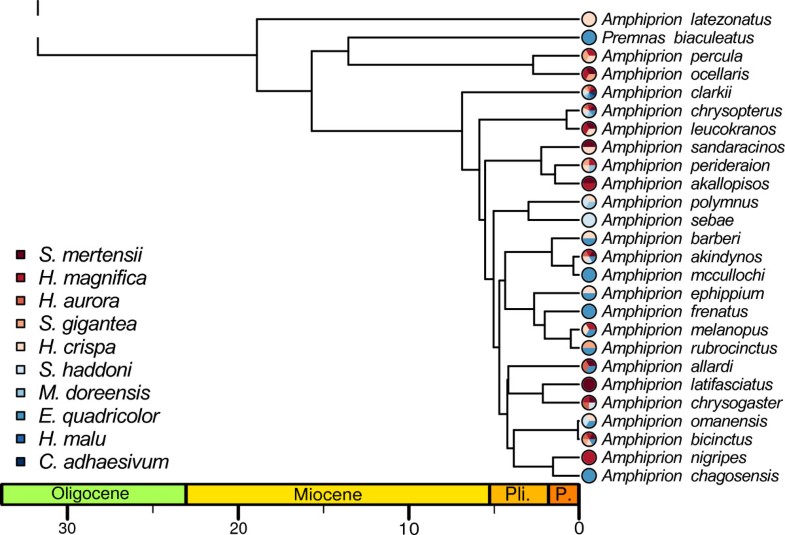 Pomacentridae phylogeny and diversification
Our inferred phylogeny was congruent with previous work [17, 41] and showed with high posterior probabilities that clownfish are monophyletic within the Pomacentridae family (Figure 2). We used the BiSSE method [53] to test if the appearance of mutualism acted as a key innovation and if it is associated with an increase in speciation rate. The BiSSE method is a powerful way to detect shifts in diversification rate linked with a binary trait, but the change of state of the binary trait does not usually correspond to a single monophyletic group as in our case. Nevertheless, we chose the BiSSE method as it takes into account the uncertainty in dating the appearance of mutualism on the phylogeny. Indeed, mutualism with sea anemones likely appeared in the common ancestor of the clownfish, but the stem branch of the group is ~13MY long (Figure 2). It is therefore important, when estimating speciation and extinction rates, to take into account the uncertainty in the time estimates that correspond to the appearance of this behaviour. We also constrained the rate of mutualism loss to be null in the BiSSE model. This takes into account the fact that all clownfish are nowadays mutualistic, but it may slightly bias our analysis as it is not impossible that a clownfish species will eventually revert to a non-mutualistic state. However, we do not think that this parameter will influence significantly our results. Other methods exist to infer speciation rates on phylogenies that do not need prior hypotheses on the location of the shift in rate [64]. In a recent paper [41], the likely nodes of diversification rate shifts were inferred for four coral reef fish families using relative cladogenesis test [65] and MEDUSA [64]. The study included the Pomacentridae family and they consistently found across methods that the clownfishes experienced a significant rate increase. The rate shift was either placed at the origin of the clownfish or at the base of the Amphiprion crown group. The fact that a method which does not need a priori information on the location of the diversification rate shift recovered similar result as in our study confirms the strength of the diversification rate shift that occurred in the clownfish clade.
It should be noted that the extinction rate also increases in the clownfishes (Figure 3). A possible explanation is that during the diversification process, some clownfish lineages did not leave any descendants as they were ecologically replaced by other more competitive clownfish species. Such events could have occurred during the long branch that is basal to the Amphiprion crown group. Also, it has been suggested that elevated extinction rates in reef associated fishes could be linked with a potential refuge effect of the coral reefs in the aftermath of prolonged extinction events [41]. Yet, to be able to recover extinction rate with high confidence and test such hypotheses, one would need clownfishes fossils [66], which are not available. However, when compared to the damselfishes, the diversification rate of the clownfishes was still higher (Figure 3), showing that the extinction rate was not sufficient to slow down diversification [41].
Effect of mutualism and host-associated niches on clownfishes evolution
We measured the phylogenetic signal of each morphological trait on the samples of chronograms and phylograms for the Pomacentridae (Tables 2 and 3). All traits showed a signal close to one (the expected outcome of BM evolution). However, when assessed only on the clownfish clade, phylogenetic signal dropped and only pectoral rays count had a K significantly larger than 0. Furthermore, the phylogenetic signal of the host usage MCA axes were never significantly different from 0. While interpreting an evolutionary process directly from this result can be problematic [67], a low phylogenetic signal can be found in lineages that show convergent adaptive evolution [68], which is likely the case in the clownfishes.
We hypothesised that, following the appearance of mutualism, clownfishes radiated in the niches associated with the sea anemones. We described the most important axes of variation in mutualistic interactions with an MCA. The first axis depicted the generalist-specialist host usage gradient, but all three other axes showed gradients linked with the habitat preferences of the sea anemones. Indeed, clownfishes that interact with sea anemones species living in similar reef micro-habitats (i.e. substrate type, depth) cluster together in the analysis. This suggests that clownfish species are first distributed along a generalist to specialist axis, and then, specialist clownfishes interact only with sea anemone species living in a particular habitat type. This has been shown in a previous empirical study [18], where clownfish species coexisting in a reef were distributed in different habitats. Ecological sorting of clownfish species along the different ecological gradients linked with their hosts is what is expected if resource competition, which is the main driver of adaptive radiation, acted on the evolutionary process [4, 69].
We tested if the observed resource partitioning in different ecological niches, likely due to past competition between ecologically similar species, resulted in morphological adaptation to resource use (i.e. host and habitat use in clownfishes). We sequentially fitted each MCA axis to a set of morphological traits taking into account the phylogenetic relationships between species. We found that an important part of the variation in the MCA axes could be explained by the morphological traits of our dataset for the first and third axes (Table 4). Increasing number of hosts (represented by increasing values of the MCA 1 axis) was correlated with a bigger size, more hard dorsal and soft anal rays, and more gill rakers, while size was positively correlated with deeper habitats (represented by decreasing values of the MCA 3 axis). In clownfishes, the phenotype-environment correlation relates to both host usage (generalists/specialist gradient) and habitat (substrate, depth). This contrasts with many examples of adaptive radiation, where the resource axis has usually a single dimension representing habitat. Therefore, mutualism can be seen as a a key innovation that offered untapped habitat for colonisation, but also allowed diversification to happen on the host usage resource axes.
The morphological traits studied are primarily used for taxonomic purposes but they can still give important functional information for the evolution of the clownfishes. Size and fin traits are related to the locomotion ability in various types of water velocities, while gill rakers can be used as a proxy for the trophic level. The picture given by our analyses is that generalist clownfishes (e.g. A. clarkii) will likely eat more planktonic food (and thus have more gill rakers) and be better swimmers than specialists, which never leave the close vicinity of their sea anemone host. Clownfishes that interact with sea anemones occurring at deeper depth have also a bigger size, allowing for better locomotion in areas where the water velocity is likely to be higher compared to more shallow and sheltered zones [70]. While our results show correlations between phenotype and environment, we do not test for trait utility. This would require a strict experimental setting that was out of scope for this paper. More studies are definitely needed to better describe the adaptive advantage that those traits may provide in the ecological context of the mutualistic interaction.
Following an ecological opportunity, the rate of morphological evolution is hypothesised to be elevated in the traits that are functionally related to the ecological niches filled during the radiation process [4, 71, 72]. We tested this hypothesis on the eight morphological traits studied and found that, on phylograms, they all evolved at higher rates in clownfishes than in damselfishes (Figure 6). The picture is similar when rates are measured on chronograms, although only four characters are evolving significantly faster in the clownfishes than in the damselfishes in this case. Following the comparison of phylogenetic signal that was made between phylograms and chronograms, phylograms are assumed to give, in this case, more accurate results [51]. The fact that all traits evolve at a higher rate is congruent with the pGLS results, which shows all but two traits (lateral-line scales and body ratio) being significantly linked with host and habitat usage. It is probable that lateral-line scales and body ratio evolutionary rates were accelerated in clownfishes because they are indirectly correlated to the ecological niche through another trait. Thus they would not be themselves correlated to host-usage/habitat but still show accelerated rates of evolution. A clear followup to this broad description of clownfishes morphologies would be to extend our analysis and use a morphometric approach (e.g. [36]) to be able to give an accurate description of the different clownfishes ecotypes. Further studies will then be needed to test, in an experimental framework, trait utility, which is one of the diagnostic criteria of adaptive radiation [4]. The chemical biology of the interaction between clownfishes and sea anemones is also far from being solved [22]. It is thus possible that unknown characteristics associated for example, with the clownfishes mucus could be linked with the variation in interaction between clownfishes and specific sea anemones.
We did not take into account the distribution of the species in this study. Geographical isolation, coupled with ecological differentiation, could also be at the origin of the evolutionary pattern found here. While several clownfish species are local endemics that likely originated through vicariance events rather than ecological speciation, the majority of the species (17 out of 30) have overlapping distributions centred on the Indo-Malay archipelago. If reproductive isolation was solely due to geography, the latter species would have likely disappeared through hybridisation, which easily happens in captivity [73]. Moreover, clownfishes that have similar MCA values usually do not overlap in geographical distribution (e.g. A. latifasciatus, A. nigripes and A. sandaracinos in Figure 4), and sister species always differ in host usage as can be seen on Figure 7. Such a pattern could indicate that, in a given biogeographic region, only one species per ecological niche can subsist, but also that ecologically similar species evolved independently in geographically separated areas. This outlines the need for a thorough biogeographic analysis that would help clarify the effect of geography on the evolution of the clownfish.
Conclusion
Our study shows that clownfishes likely experienced an adaptive radiation through ecological speciation. The obligate mutualism with sea anemones is thought to be the key innovation that allowed clownfishes to radiate rapidly in untapped ecological niches. As expected under the ecological theory of adaptive radiation [4], it increased diversification as well as rates of morphological evolution. Clownfishes experienced rapid and convergent morphological changes that were correlated with the different ecological niches offered by the host anemones. In marine environments, barriers to dispersal are uncommon, which makes ecological speciation less likely than in more isolated landscapes [25]. However clownfishes show a very short dispersal period compared to other damselfishes [74]. In conjunction with a high retention of larva to natal reef [27] and population specific calls [30], restricted dispersal likely reinforced reproductive isolation between clownfish species allowing for adaptive radiation.
Declarations
Acknowledgments
This work was funded by the grant (CRS113-125240) from the Swiss National Science Foundation to N.S., P.B.P. and N.E.Z. C.A.S. received a scholarship from the Summer Undergraduate Research Programme at Lausanne University. We would like to thank A. Dubuis, N. Arrigo, L. Pellissier, A. Kostikova, P-A. Christin, M. Alfaro, N. Alvarez, L. Keller and two anonymous reviewers for their suggestions and comments on previous versions of the manuscript. We thank A. Grutter and K. Cheney for the pictures and Rattlebrained Designs for the clownfish drawing. This work received support from the Vital-IT facilities from the Swiss Institute of Bioinformatics.
Authors' Affiliations
(1)
Department of Ecology and Evolution, Biophore, University of Lausanne, Lausanne, Switzerland
(2)
Swiss Institute of Bioinformatics, Génopode, Lausanne, Switzerland
(3)
Ecological and Evolutionary Genetics Lab / Coral Reef Ecology Lab, School of Biological Sciences, The University of Queensland, St Lucia, Australia
(4)
Landscape Dynamics, Swiss Federal Research Institute WSL, Birmensdorf, Switzerland
Copyright
© Litsios et al.; licensee BioMed Central Ltd. 2012
This article is published under license to BioMed Central Ltd. This is an Open Access article distributed under the terms of the Creative Commons Attribution License (http://creativecommons.org/licenses/by/2.0), which permits unrestricted use, distribution, and reproduction in any medium, provided the original work is properly cited.