Research article

Open Access
Plasmodium vivax populations revisited: mitochondrial genomes of temperate strains in Asia suggest ancient population expansion
BMC Evolutionary Biology
2012
12:22
Received: 21 June 2011
Accepted: 17 February 2012
Published: 17 February 2012
Abstract
Background
Plasmodium vivax is the most widely distributed human malaria parasite outside of Africa, and its range extends well into the temperate zones. Previous studies provided evidence for vivax population differentiation, but temperate vivax parasites were not well represented in these analyses. Here we address this deficit by using complete mitochondrial (mt) genome sequences to elucidate the broad genetic diversity and population structure of P. vivax from temperate regions in East and Southeast Asia.
Results
From the complete mtDNA sequences of 99 clinical samples collected in China, Myanmar and Korea, a total of 30 different haplotypes were identified from 26 polymorphic sites. Significant differentiation between different East and Southeast Asian parasite populations was observed except for the comparison between populations from Korea and southern China. Haplotype patterns and structure diversity analysis showed coexistence of two different groups in East Asia, which were genetically related to the Southeast Asian population and Myanmar population, respectively. The demographic history of P. vivax, examined using neutrality tests and mismatch distribution analyses, revealed population expansion events across the entire P. vivax range and the Myanmar population. Bayesian skyline analysis further supported the occurrence of ancient P. vivax population expansion.
Conclusions
This study provided further resolution of the population structure and evolution of P. vivax, especially in temperate/warm-temperate endemic areas of Asia. The results revealed divergence of the P. vivax populations in temperate regions of China and Korea from other populations. Multiple analyses confirmed ancient population expansion of this parasite. The extensive genetic diversity of the P. vivax populations is consistent with phenotypic plasticity of the parasites, which has implications for malaria control.
Keywords
genetic diversity
mitochondrial DNA
Plasmodium vivax
biogeography
Background
Plasmodium vivax malaria threatens 40% of the world's population and causes over 132 million clinical cases every year [1]. Compared with other human malaria parasites, P. vivax has the widest global distribution and occurs in Asia, the Middle East, South and Central America, and parts of Africa [2]. Contrary to its common name "benign tertian malaria", P. vivax is also associated with severe pathology [3]. Furthermore, infection of Duffy-negative patients in Madagascar suggests that this parasite is evolving to exploit alternative invasion pathways, posing new threats to previously resistant human populations [4]. Yet, vivax malaria has been neglected, and the first-line treatments for vivax malaria have remained unchanged for 50 years. As malaria elimination and eradication are once again on the agenda of many malaria-endemic nations, P. vivax research and control is receiving renewed attention.
The history of malaria control provides considerable evidence for the resilience of P. vivax malaria and the underlying genetic diversity of the parasite. Indeed, across its geographic range, P. vivax displays extraordinary phenotypic variation in disease pathology, vectorial preference, and the pattern and frequency of relapse in the host (the time period at which the parasite remains dormant in the liver) [5]. To date, the processes which have led to the diversification of P. vivax are still not well understood.
Most investigations of the evolutionary history and population structure of P. vivax have relied on molecular markers. In an early study, low genetic variability at 13 microsatellite loci suggested little differentiation and a recent (< 10,000 years) world expansion of this parasite [6]. However, several later studies refuted this notion and suggest that Leclerc et al. [6] used a biased set of microsatellite markers [7, 8]. Two recent comparisons of sympatric parasite populations further suggested that P. vivax microsatellites are more polymorphic than those of P. falciparum [9, 10]. Other recent molecular phylogenetic analyses support an ancient demographic history of the P. vivax population, probably as a result of host switch from Asian monkeys [11–14]. While such an opinion is often inferred from the high level of genetic diversity in the parasite in Asia [15] and may not reflect the true origin of this parasite, it is certain that significant subdivision of the parasite populations exists [7, 14, 16]. Whereas most studies agree that the oldest populations appear to have originated in Southeast Asia [12–14], it is also true that the sampling has been opportunistic with poorly defined populations, making it difficult to properly assess the parasite demographic history [14].
The geographic range of P. vivax extends well into the temperate zone. The ability to survive in cool climates is attributed to sporogony in mosquitoes at a much lower temperature and the production of long-term hibernating hypnozoites in human liver. The latter adaptation is especially important for temperate strains, where the primary infection occurs eight months or more following inoculation by an infected mosquito [17]. In recent years, there has been a reemergence of vivax malaria in central China and on the Korean peninsula in areas where malaria control was highly successful during the global malaria eradication campaign of the 1960s [18, 19]. The process of population expansion and spread of temperate strains is not understood. Although earlier evolution and population studies provided evidence about population differentiation of these Asian temperate vivax parasites [12, 13, 20], such analyses would benefit greatly from more extensive and spatially-defined sampling of these populations.
Being genome-level informative, mitochondrial (mt) DNA sequences have been used for population and phylogenetic studies in a wide range of organisms [
12
,
13
,
21
–
23
]. In order to further define the demographic history and population structure of
P. vivax
in East and Southeast Asia, we sampled four
P. vivax
populations in a transect across temperate (Korea and central China) and warm temperate (southwestern China and northeastern Myanmar) climates (Figure
1
). We obtained sequences of the complete mt genome from 99 parasite isolates. Genetic data were analyzed to look for evidence of genetic structure throughout the range of this parasite in temperate zone. The demographic histories of these populations were inferred in order to illuminate how this parasite species has evolved.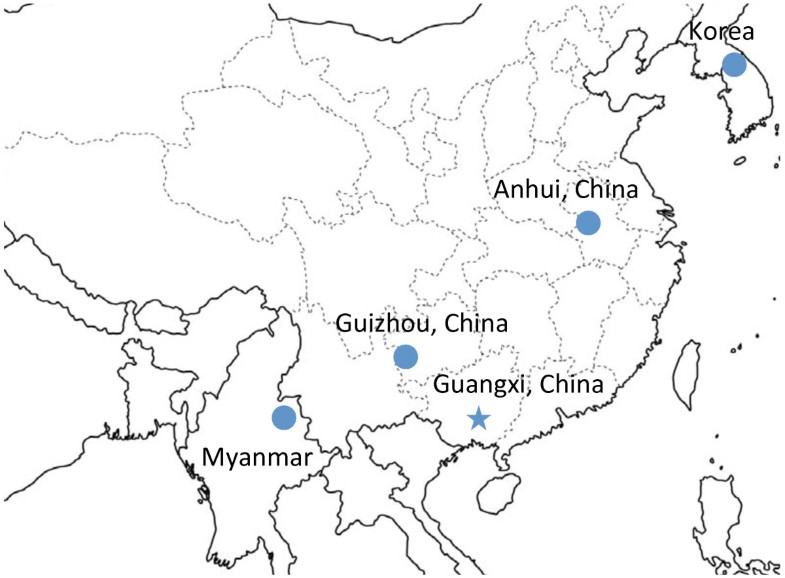 Discussion
The demographic history and genetic diversity of P. vivax provide a foundation for the development of effective malaria control measures. Phylogenetic analysis of P. vivax using sequences from the mt genome and nuclear genes has placed this parasite in a clade that includes the Asian monkey parasites P. cynomolgi, P. simiovale and P. knowlesi [11–13]. This phylogeny is consistent with an Asian origin of P. vivax, suggesting this parasite is probably the descendent of an ancestor that switched from Asian monkeys to humans. Regardless of what calibration points were used, TMRCA estimates support an ancient demographic history of the extant P. vivax parasites [12–14, 48], which concurs with the genetic diversity of global P. vivax strains. P. vivax parasites also display significant phenotypic diversity such as different relapse patterns, which serve to distinguish tropical from temperate strains. Temperate strains with primary infection occurring eight months or more following inoculation by an infected mosquito were proposed to be a subspecies of P. vivax [49]. Similarly, New World P. vivax parasites were postulated to represent a separate subspecies based on molecular polymorphism and difference in vector preference [50], albeit such a hypothesis was not supported by the mt haplotype analysis [12]. Therefore, more detailed sampling of P. vivax populations from its entire geographical range is necessary to better understand the evolutionary history of P. vivax.
Extant P. vivax populations may have been influenced by historical population expansions and more recent migrations. In addition, the evolutionary process, often estimated from the geographical pattern of genetic variation, can be influenced by colonization events such as range expansion or reduction [51, 52]. Several lines of evidence support the hypothesis of ancient population expansion of P. vivax. First, the existence of a phylogeny consisting of several distinct, but closely related lineages suggests a rapid population expansion in the recent past (Figure 2). Second, we found an extremely close fit between the observed pairwise mismatch distribution and the expected distribution based on a model of rapid population expansion (Figure 4). Finally, the skyline plot shows a period of a more recent increase in population size. This period is concordant with a time of human migration. Homo sapiens had occupied Africa about 150,000 Mya. They moved out of Africa 70,000 years ago and spread into Asia, Europe and Australia 40,000 years ago. It is also possible that the population expansion of P. vivax was linked to the expansion not only in the human host but also in adaptation of the mosquito vectors. However, it needs to be cautioned that mtDNA has a smaller effective population size and provides only part of a species' history; thus more robust data from nuclear genes are needed to corroborate this conclusion [53, 54].
Despite generally low endemicity, the global P. vivax populations display high genetic diversity at microsatellite, SNP, and antigenic loci [5, 7, 15, 55–57]. Previous studies of P. vivax parasites from Myanmar and central China demonstrated high genetic diversity and multiple-clone infections [20, 55, 58]. Our analysis of the mt genome also detected comparable, high-level genetic diversity among these temperate P. vivax populations. Consistent with high malaria endemicity in Myanmar, haplotype diversity was also high (0.85 ± 0.057) and comparable to other highly endemic areas of the world [12]. However, haplotype diversity of the two temperate populations from China was lower and at similar levels to those of the New World parasite populations. This result appeared to be consistent with the recent history of malaria epidemiology in central China. Historically, temperate P. vivax malaria was highly prevalent in central China, but it was considerably curtailed during the global malaria eradication campaign in the 1950s and 1960s [59]. However, in the last two decades P. vivax malaria has resurged and outbreaks occurred in several central provinces [18, 60]. We thus speculate that past strenuous control efforts might have caused a population bottleneck in the parasite population and as a result the diversity of resurging parasites was reduced. This bottleneck effect on P. vivax population was also found in southern Thailand, where P. vivax population displayed a high level of clonality [61].
For a finite population, unless there is complete panmixia and random sampling, a pattern of genetic isolation by geographic distance is generally expected [62]. This principle applies well to the P. vivax populations. Within its geographic range, P. vivax exhibits substantial population differentiation, especially between different continents [7, 12]. The clear differentiation between parasites from Melanesia and those from Southeast Asian countries is much surprising, since previous microsatellite-based analyses of both P. vivax [8] and P. falciparum [63] failed to show such a clear pattern. FST and ΦST statistics revealed significant population differentiation between Myanmar and East Asian P. vivax populations. Even within a short distance, genetic differentiation may be significant due to possible migration or ecological constraints [64]. Substantial genetic structure existed between the Chinese Guizhou and Anhui P. vivax populations despite their geographic proximity. Interestingly, two major genotypes in China were also observed in the South Korean population [45, 65]. Population genetic structure can result from both species-specific biological traits and abiotic factors. The temperate populations of P. vivax have developed a trait of long relapsing liver hypnozoites, an adaptation to the long winter period of temperate climate when transmission is interrupted [66]. Because of the obligatory role of mosquito vectors in malaria transmission, reciprocal selection between malaria parasites and mosquito vectors can lead to local adaptation of the parasite [16]. It is unknown whether vector adaptation plays any role in the population structure of these temperate parasites. Also, genetic drift acting on small populations (from areas of low endemicity) may be a force driving population differentiation [7, 9, 67].
Since genetic diversity of the global P. vivax populations has been suggested to be the result of ancient hominid geographical expansion [13], the relationships among the extant parasite populations might reflect past demographic histories of the parasites and the routes by which parasite populations have expanded. Most mtDNA haplotypes from the four temperate and warm temperate populations were unique but related, suggesting that they might be descendents from the same lineage(s). Haplotype network analysis suggested South/West Asia as the root or origin of the parasite populations (Figure 2), but this conjecture does not exclude a possible African origin of P. vivax, as African parasites shared the major mtDNA haplotype with the South/West Asian samples. Culleton and collegues proposed that the present-day African and American populations may be the closest extant relatives of the African ancestor [68]. Since clustering in the network is often affected by the methodologies used, the exact origin of the vivax ancestor is still not clear. Haplotype network analysis also showed that samples collected in China formed two divergent lineages: one (possibly from subtropical southern China) was closely related to the Southeast Asian samples (Indonesia, Thailand, and Vietnam), whereas the other (mostly temperate strains) was directly diverged from the northeast Myanmar population. Myanmar is connected to East Asia, Southeast Asia, and South/West Asia and such a geographical location may be critical for elucidating the population expansion and evolutionary history of P. vivax. The relationship of the temperate Chinese and northeast Myanmar P. vivax populations points to a possibility of population expansion from South/West Asia to temperate China via northeast Myanmar, which seems to make sense from a geographic point of view. It is noteworthy that the P. vivax parasites from northeast Myanmar, China and Korea all have similar, long relapsing patterns characteristic of temperate P. vivax strains [69]. Furthermore, our results are consistent with the notion that temperate and warm temperate P. vivax parasites may represent a unique lineage, which is important to elucidate the genetic structure and history of expansion of P. vivax.
Conclusion
The present study readdressed the issue of the extant P. vivax population structure by focusing on temperate zone parasite populations in East and Southeast Asia. Analysis of the complete mt genomes from 99 clinical samples confirmed that P. vivax displays extensive genetic diversity and natural populations are clearly structured. While most mtDNA haplotypes from the four temperate populations were related, suggestive of descendent from the same lineage(s), local population subdivision was also apparent. Multiple tests further confirm the ancient expansion of the P. vivax population.
Abbreviations
Mt:

mitochondrial
d S :

the number of synonymous nucleotide substitutions per synonymous site
d N :

the number of nonsynonymous nucleotide substitutions per nonsynonymous site
Markov chain Monte Carlo (MCMC):

TMRCA: the most recent common ancestor
SNP:

single nucleotide polymorphism
ybp:

years before present.
Declarations
Acknowledgements
We are grateful to Yi Wu for help with structure analysis. This work was supported by NIH grants GM080586 and U19AI089672.
Authors' Affiliations
(1)
Department of Entomology, Pennsylvania State University, USA
(2)
Parasitology Department, Kunming Medical College, Kunming, China
(3)
Malaria Department, Guangxi CDC, Nanning, China
(4)
School of Life Sciences, Arizona State University, Tempe, USA
Copyright
© Miao et al; licensee BioMed Central Ltd. 2012
This article is published under license to BioMed Central Ltd. This is an Open Access article distributed under the terms of the Creative Commons Attribution License (http://creativecommons.org/licenses/by/2.0), which permits unrestricted use, distribution, and reproduction in any medium, provided the original work is properly cited.