Research article
Open Access
Molecular phylogeny of microhylid frogs (Anura: Microhylidae) with emphasis on relationships among New World genera
BMC Evolutionary Biology
2012
12:241
Received: 24 August 2012
Accepted: 28 November 2012
Published: 10 December 2012
Abstract
Background
Over the last ten years we have seen great efforts focused on revising amphibian systematics. Phylogenetic reconstructions derived from DNA sequence data have played a central role in these revisionary studies but have typically under-sampled the diverse frog family Microhylidae. Here, we present a detailed phylogenetic study focused on expanding previous hypotheses of relationships within this cosmopolitan family. Specifically, we placed an emphasis on assessing relationships among New World genera and those taxa with uncertain phylogenetic affinities (i.e., incertae sedis).
Results
One mitochondrial and three nuclear genes (about 2.8 kb) were sequenced to assess phylogenetic relationships. We utilized an unprecedented sampling of 200 microhylid taxa representing 91% of currently recognized subfamilies and 95% of New World genera. Our analyses do not fully resolve relationships among subfamilies supporting previous studies that have suggested a rapid early diversification of this clade. We observed a close relationship between Synapturanus and Otophryne of the subfamily Otophryninae. Within the subfamily Gastrophryninae relationships between genera were well resolved.
Conclusion
Otophryninae is distantly related to all other New World microhylids that were recovered as a monophyletic group, Gastrophryninae. Within Gastrophryninae, five genera were recovered as non-monophyletic; we propose taxonomic re-arrangements to render all genera monophyletic. This hypothesis of relationships and updated classification for New World microhylids may serve as a guide to better understand the evolutionary history of this group that is apparently subject to convergent morphological evolution and chromosome reduction. Based on a divergence analysis calibrated with hypotheses from previous studies and fossil data, it appears that microhylid genera inhabiting the New World originated during a period of gradual cooling from the late Oligocene to mid Miocene.
Keywords
MicrohylidaePhylogenySystematicsSubfamiliesNew World genera
Background
The family Microhylidae is the fourth largest anuran family (after Hylidae, Strabomantidae, and Bufonidae), consisting of 487 currently recognized species representing 8.2% of extant anuran diversity. A monographic revision of the family Microhylidae was done over 75 years ago [1]. Parker defined the family Microhylidae on the basis of 12 non-synapomorphic morphological characters and grouped the 191 species known at the time into 43 genera and 7 subfamilies: Asterophryinae, Brevicipitinae, Cophylinae, Dyscophinae, Melanobatrachinae, Microhylinae, and Sphenophryninae. Three additional subfamilies were recognized in later publications: Phrynomerinae [2], Scaphiophryninae [3], and Otophryninae [4]. A morphological review of the family analyzed 188 characters in 56 genera and 105 species [5]. All available studies show that microhylids display extensive variation in adult external morphology, osteology, and musculature at inter- and intraspecific levels. Because of this variation, phylogenetic interpretations that use morphological features have been hindered by extensive homoplasy (see review of morphological variation [6]). In many cases, the morphological convergence in microhylids is likely due to specializations associated with a burrowing lifestyle [7]. However, the monophyly of the family is supported by 20 synapomorphies derived from larval anatomy [8]. The first broad-scale attempt to examine phylogenetic relationships of the Amphibia using DNA sequence and morphology [9] used a parsimony criterion to provide support for many higher-level taxonomic rearrangements that better reflect the phylogenetic history of living amphibians and also stimulated much discussion [10]. A more recent analysis [11] expanded the sampling, both in the number of taxa and molecular markers, and using model-based analyses recovered phylogenetic relationships that were largely congruent with the earlier study [9]. Pyron and Wiens recognized 11 nominal microhylid subfamilies and several unassigned genera as incertae sedis within Microhylidae (mostly New World genera).
Additionally, the following subfamilies are currently recognized [
12
]: Hoplophryninae and Phrynomerinae (based on [
13
]), Kalophryninae [
14
], and Otophryninae [
4
]. Thus, as it is currently recognized, Microhylidae is globally distributed (Figure 
1
) with two subfamilies occurring in the New World (Gastrophryninae and Otophryninae) and nine subfamilies occurring in the Old World (Asterophryinae, Cophylinae, Dyscophinae, Hoplophryninae, Kalophryninae, Melanobatrachinae, Microhylinae, Phrynomerinae, and Scaphiophryninae). The highest levels of diversity occur in tropical regions and three of the Old World subfamilies are endemic to Madagascar (Cophylinae, Dyscophinae, and Scaphiophryninae). Furthermore, two subfamilies possess low levels of species diversity and highly restricted geographic distributions: Hoplophryninae (two species, endemic to Eastern Arc mountains of Tanzania, Africa) and Melanobatrachinae (one species, Western Ghats of Kerala and Tamil Nadu in India).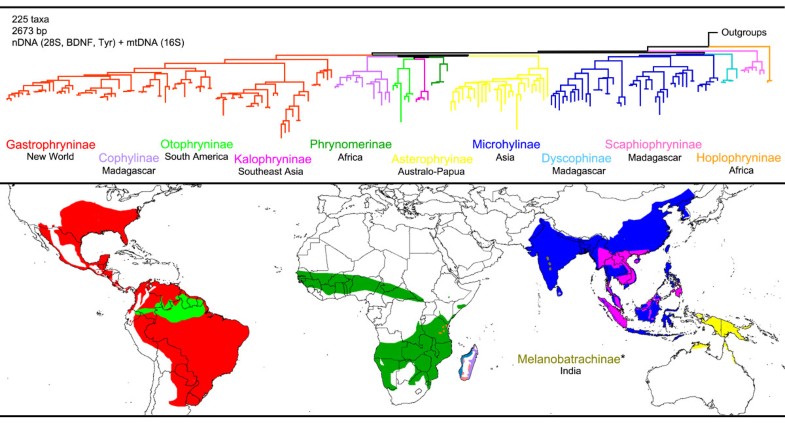 New World microhylids (NWM) were initially included in the subfamily Microhylinae but this was demonstrated to represent a paraphyletic assemblage of both New and Old World taxa. Consequently, the subfamily Gastrophryninae was resurrected for a monophyletic clade consisting of all New World genera except Synapturanus[9]. Subsequent molecular analyses supported a monophyletic Gastrophryninae, though excluding Synapturanus and Otophryne[15, 16]. More recently, Synapturanus was placed in the Otophryninae [11]. Currently, there are two subfamilies, 20 genera (nine monotypic), and 72 species of NWM [12]. To summarize, the subfamily Otophryninae includes two genera (Otophryne and Synapturanus) and five species and Gastrophryninae currently consists of 9 genera and 53 species. The two NWM genera occurring in North America were recently reviewed with examinations of phylogeographic variation: Hypopachus[17] and Gastrophryne[18]. The currently recognized species in each genus of NWM, are (with number of species in parentheses): Adelastes (1 sp.), Altigius (1sp.), Arcovomer (1 sp.), Hyophryne (1 sp.), Melanophryne (2 spp.), Myersiella (1 sp.), Relictivomer (1 sp.), Stereocyclops (2 spp.), Synapturanus (3 spp.), Syncope (3 spp.), Otophryne (2 spp.) and those genera in the subfamily Gastrophryninae are: Ctenophryne (2 spp.), Dasypops (1 sp.), Dermatonotus (1 sp.), Elachistocleis (13 spp.), Gastrophryne (4 spp.), Hamptophryne (1 spp.), Hypopachus (4 spp.), Nelsonophryne (2 spp.), and Chiasmocleis (25 spp.).
While previous phylogenetic analyses [9, 11, 15, 16] have offered much insight regarding microhylid evolution, these studies have included a low number of genera relative to the described levels of diversity (particularly within the NWM). In this paper we present a phylogenetic analysis of microhylid relationships featuring an unprecedented taxonomic sampling with emphasis on NWM diversity and relationships. In addition, we investigated the putative timing of lineage divergence in two ancient microhylid radiations, Gastrophryninae and Otophryninae.
Conclusions
Accumulated evidence supports the monophyly of Microhylidae and its major evolutionary lineages. However, relationships among these subfamily lineages remain uncertain. New World microhylids consist of two separate evolutionary lineages, Otophryninae and Gastrophryninae. Otophryninae (2 genera, 5 species) is probably more closely related to old world subfamilies than to Gastrophryninae. Gastrophryninae consists of 12 genera and 66 species (summary in Table 2). Given the levels of phylogenetic diversity observed in our study, it is likely that additional species will be described in the genera Chiasmocleis, Ctenophryne, Dermatonotus, Elachistocleis, and Syncope. We transfer some species of Chiasmocleis to the genera Syncope and Elachistocleis to render Chiasmocleis monophyletic. To better reflect shared evolutionary histories at generic levels, we synonymize Altigius with Hamptophryne, Hyophryne with Stereocyclops, and Nelsonophryne and Melanophryne with Ctenophryne. Resolved branches in the Gastrophryninae part of our phylogeny suggest the reduction and loss of morphological and karyological traits. Morphological shifts are mostly related to the reduction or loss of individual elements in functional complexes of the skeleton that may be related to the repeated evolution of a fossorial ecology. Gastrophryninae exhibits a karyological trend towards reduced diploid numbers in the more derived lineages. While most genera have aquatic larvae, there are several reproductive modes that occur in Gastrophryninae including terrestrial development (Myersiella) and non-feeding aquatic larvae (Syncope). One of the few temperate microhylid radiations (the North American genera Gastrophryne and Hypopachus) appears to be derived from ancestral stock shared with the South American genus Elachistocleis. Our divergence estimates indicate that if Otophryninae and Gastrophryninae originated in the Late Cretaceous, most genus-level diversification occurred during a period spanning the late Oligocene to the Miocene.
Declarations
Acknowledgments
This work was supported by award NSF DEB 1144692 to R.O. de Sá. We are thankful to the following individuals and their institutions for providing tissue samples: Christopher Austin, Cesar Barrio, Rafe Brown, Luis Coloma, Andrew Crawford, Ignacio de la Riva, Maureen Donelly, Raffael Ernst, Hussam Zaher, Ronald Heyer, Alex Kupfer, John D. Lynch, John H. Malone, Raul Maneyro, Jiri Moravec, Robert Murphy, Annemarie Olher, Jose M. Padial, José Pombal, Gabriel Skuk, Eric Smith, Linda Trueb, Miguel Vences, Jim Watling, Mark Wilkinson, and George Zug. Photographs used in this manuscript were provided by: Pedro H. Bernardo, David Bickford, Alan Channing, Carlos Cintra, Christian Cox, Celio F. Haddad, Mauricio Forlani, Stephen Richards, Jeffrey Streicher, M. Teixeira, and Miguel Vences. We thank Coleman Sheehy III for laboratory assistance. RS acknowledges support from the University of Richmond Undergraduate Research Committee. This work benefited from the Extreme Science and Engineering Discovery Environment (XSEDE) supported by NSF grant # OCI-1053575. SPL acknowledges support from the Swiss National Science Foundation (31003A-133067). SJR is grateful to the South Australian Museum and Conservation International for supporting his fieldwork in New Guinea, and to the PNG National Research Institute and Department of Environment and Conservation for their assistance with Research Visas and Export Permits respectively. CFBH thanks FAPESP and CNPq for financial support. This manuscript benefited from the helpful comments of two anonymous reviewers.
Authors' Affiliations
(1)
Department of Biology, University of Richmond, Richmond, USA
(2)
Amphibian and Reptile Diversity Research Center, Department of Biology, The University of Texas at Arlington, Arlington, USA
(3)
Department of Environmental Sciences, University of Basel, Basel, Switzerland
(4)
Department of Biological Sciences, University of Texas at El Paso, El Paso, USA
(5)
Herpetology Department, South Australian Museum, North Terrace, Adelaide, South Australia
(6)
Department of Terrestrial Vertebrates, Museum and Art Gallery of the Northern Territory, Darwin, Australia
(7)
Departamento de Zoologia, Instituto de Biociências, Universidade Estadual Paulista (UNESP), Rio Claro, Brazil
Copyright
© de Sa et al.; licensee BioMed Central Ltd. 2012
This article is published under license to BioMed Central Ltd. This is an Open Access article distributed under the terms of the Creative Commons Attribution License (http://creativecommons.org/licenses/by/2.0), which permits unrestricted use, distribution, and reproduction in any medium, provided the original work is properly cited.