Research article
Open Access
Fine-scale genetic breaks driven by historical range dynamics and ongoing density-barrier effects in the estuarine seaweed Fucus ceranoides L.
BMC Evolutionary Biology
2012
12:78
Received: 7 December 2011
Accepted: 14 May 2012
Published: 6 June 2012
Abstract
Background
Factors promoting the emergence of sharp phylogeographic breaks include restricted dispersal, habitat discontinuity, physical barriers, disruptive selection, mating incompatibility, genetic surfing and secondary contact. Disentangling the role of each in any particular system can be difficult, especially when species are evenly distributed across transition zones and dispersal barriers are not evident. The estuarine seaweed Fucus ceranoides provides a good example of highly differentiated populations along its most persistent distributional range at the present rear edge of the species distribution, in NW Iberia. Intrinsic dispersal restrictions are obvious in this species, but have not prevented F. ceranoides from vastly expanding its range northwards following the last glaciation, implying that additional factors are responsible for the lack of connectivity between neighbouring southern populations. In this study we analyze 22 consecutive populations of F. ceranoides along NW Iberia to investigate the processes generating and maintaining the observed high levels of regional genetic divergence.
Results
Variation at seven microsatellite loci and at mtDNA spacer sequences was concordant in revealing that Iberian F. ceranoides is composed of three divergent genetic clusters displaying nearly disjunct geographical distributions. Structure and AFC analyses detected two populations with an admixed nuclear background. Haplotypic diversity was high in the W sector and very low in the N sector. Within each genetic cluster, population structure was also pervasive, although shallower.
Conclusions
The deep divergence between sectors coupled with the lack of support for a role of oceanographic barriers in defining the location of breaks suggested 1) that the parapatric genetic sectors result from the regional reassembly of formerly vicariant sub-populations, and 2) that the genetic discontinuities at secondary contact zones (and elsewhere) are maintained despite normal migration rates. We conclude that colonization and immigration, as sources of gene-flow, have very different genetic effects. Migration between established populations is effectively too low to prevent their differentiation by drift or to smooth historical differences inherited from the colonization process. F. ceranoides, but possibly low-dispersal species in general, appear to be unified to a large extent by historical, non-equilibrium processes of extinction and colonization, rather than by contemporary patterns of gene flow.
Keywords
Mismatch DistributionBefore PresentFactorial Correspondence AnalysisGenetic DiscontinuityPrivate Haplotype
Background
Marine ecosystems have historically been considered to be relatively open, with populations demographically and genetically connected over broad spatial scales. In a range of coastal taxa, however, recent molecular surveys have consistently revealed considerable phylogeographical and population genetic structure, often at seemingly small spatial scales, indicating that connectivity is frequently much lower than previously assumed. Examples include a variety of species lacking planktonic dispersive stages and/or exhibiting particularly strict ecological requirements, such as intertidal fucalean and kelp seaweeds [1–5], seagrasses [6, 7], direct-developing invertebrates and fish [8–11], high-intertidal rock-pool invertebrates [12], and many estuarine organisms [13–18]. In such species, shallow genetic discontinuities can be common due to intrinsic life-history and habitat constraints to dispersal. Often, however, they also display deeper genealogical splits that distinguish regional sets of populations across their ranges. Such nested patterns of phylogeographical structure can result from a number of factors and are frequently harder to interpret, especially when species are evenly distributed across transition zones.
Vicariance is usually invoked as the main driver of (neutral) genetic divergence. Extrinsic barriers to gene-flow are generally less obvious (or absolute) in marine compared to terrestrial landscapes [19, 20], but circulation patterns, coastline topography and habitat discontinuities have all been shown to potentially represent effective barriers to the exchange of individuals between adjacent marine regions [21–24]. Complex variations in habitat availability and connectivity, resulting from the Pleistocene oscillations in sea levels and surface temperatures, are also known to have produced ancient population subdivisions (and differentiation) in many coastal organisms [6, 25, 26]. Within a species, disjunct distribution of divergent genetic lineages provides strong indication for the occurrence of such vicariant processes.
Inferring the existence of a particular dispersal barrier from molecular data may not be straightforward though [27]. In species with short dispersal range, discontinuities in individual gene trees (mostly derived from organelle markers) readily arise haphazardly within continuously distributed species simply as a consequence of idiosyncratic lineage sorting [28, 29]. Similarly, genetic drift during spatial expansions [30] or disruptive selection [31] can also result in the geographic segregation of organelle lineages across a species range even in the face of dispersal. In general, long-term isolation can only be confidently assumed when spatially concordant patterns across multiple unlinked loci are found [29, 32].
Disentangling historical from ongoing constraints to dispersal may also be problematic. Phylogeographical breaks and contemporary oceanographic barriers (or biogeographical transition zones) are often mismatched in marine restricted dispersers [33]. Historical patterns of isolation and colonization in these organisms explain population structure better than more recent factors affecting gene-flow. Phylogeographical breaks may develop where formerly vicariant sub-populations have reassembled. The Iberian peninsula is a good example where diverse taxa such as trees [34], amphibians [35, 36], reptiles [37, 38] and pond-dwelling invertebrates [39, 40] are sub-divided into well defined, mostly parapatric genetic sectors that presumably formed during expansions from disjunct refugia. The temporal persistence of genetic discontinuities across marine secondary contact zones have also been demonstrated in several species [26]. However, insight into the processes preventing steady genetic homogenization of divergent but contacting gene-pools requires finer scale genetic sampling than is common in most studies (but see [3, 6, 9, 12, 41, 42]).
Virtually all coastal organisms have some potential to disperse and colonize new habitats, as the extensive post-glacial range shifts of many demonstrate. Thus, migration would also be expected to occur between fully established populations, including between divergent populations in relatively close proximity. Incipient reproductive isolation can reduce or prevent gene flow between divergent contacting lineages [41, 43]. The persistence of fine-scale genetic differentiation in the absence of obvious reproductive and dispersal barriers seems paradoxical. In restricted dispersers, however, colonization and immigration, as sources of gene-flow, may have very different genetic effects. During expansions into vacant habitats, the original colonists can grow exponentially and contribute disproportionately to the genetic composition of the establishing population. In contrast, once the habitat patch is filled, demographic stability and increased competition can considerably reduce the impact of subsequent immigrants [44, 45]. In addition, if there is a gross disparity between the number of residents and immigrants, a common situation in low dispersal species, foreign genotypes introduced in a population will a priori be rare and have low probability of random increase due to drift alone [46–48]. In other words, established populations themselves can create a density-barrier effect buffering local changes in allele frequencies and delaying the spatial advance of genes within previously colonized areas (despite immigration). At broad geographical scales, such an effect has been invoked to explain the persistence of genetic homogeneity in recolonized areas [44], the asymmetrical introgression of genes from established to spatially expanding species [49], or the lack of gene-flow between former refugial areas that are currently connected by intermediate populations [50]. When effective migration rates are low, patterns of non-equilibrium divergence resulting from founder and density-barrier effects can occur at much smaller spatial scales [46, 51].
In this study, we report a remarkable case of non-equilibrium divergence in the estuarine seaweed Fucus ceranoides, in which steep genetic discontinuities are preserved despite the absence of obvious barriers to dispersal. Fucus ceranoides L. (horned wrack) is a perennial, dioecious seaweed restricted to estuarine environments across much of the Northeast Atlantic. Populations of F. ceranoides from NW Iberia, at the rear edge of the species distribution, form three highly divergent genetic clusters according to both mtDNA and microsatellite markers [15, 52]. Despite their relatively close proximity (~150 km), fixed genetic differences at this scale suggest that the historical and recurrent processes contributing to their differentiation are weakly counteracted by on-going gene-flow. The poor dispersal ability of F. ceranoides certainly plays a role; fucoid algae lack planktonic dispersive stages and therefore F. ceranoides individuals typically complete their entire life-cycle within the discrete, isolated patches of the estuarine habitat they inhabit. Still, an important question remains unanswered concerning the nature and stability of genetic divergence in this system. Like in many other seaweeds, non-local (inter-estuarine) dispersal can be mediated by rafting of detached, reproductive individuals [53, 54]. Such dispersal by drifting thalli was likely responsible for the extensive post-glacial expansion of F. ceranoides into Northern Europe, including the distant colonization of Norway (across the North Sea) and Iceland [15, 52]. If F. ceranoides managed to expand its range more than 15 degrees in latitude since the Last Glacial Maximum [LGM, ~20.000 ka before present (BP)], dispersal restrictions cannot account, at least as the sole factor, for the apparent lack of population connectivity along the much narrower NW Iberian coastline.
This study aims to understand this fundamental issue in the evolutionary ecology of populations, the apparently contradicting evidence for large scale dispersal mediating vast (re)colonisations concurrently with persistent, fine scale genetic discontinuities in older refugial regions. The specific question is whether such discontinuities arise and persist due to long-lasting dispersal barriers, or simply reflect resilient non-equilibrium conditions inherited from a complex demographic past. To address this question, in this study both mtDNA sequence and microsatellite genotypic data are employed to investigate the fine-scale distribution of genetic variation in F. ceranoides from NW Iberia. This region was sampled at the finest scale of resolution achievable—a complete set of neighbouring estuaries—which was the scale over which gene-flow was more likely to be detected. We were particularly interested in the biogeographic context and the demographic processes contributing to the formation and integrity of stable genetic sectors in NW Iberian F. ceranoides.
Results
MtIGS phylogeography
A total of 51 mtIGS haplotypes (GenBank: JN084346-96) were identified in the 352 individuals of
F. ceranoides
belonging to the 22 "core" populations. The median-joining network revealed three mtIGS lineages displaying nearly disjunct geographic distributions (Table 
1
and Figure 
1
). The Bayesian phylogenetic analyses failed to recover the temporal sequence of lineage splitting, but their monophyly was supported by high branch posterior probabilities (Figure 
2
a). Each phylogroup was defined by one interior and widespread haplotype. Phylogroup A, composed by haplotypes
A1
and 30 related ones, was present from VIG to CAM (Western sector, W), and further south in VIA. Phylogroup B, composed by
B1
and 10 related haplotypes, was distributed from ANL to CED (North-Western sector, NW), although a few B haplotypes were also detected in ORT and BAR. Finally, phylogroup C, composed by
C1
and 8 related haplotypes, was exclusively found from ORT eastwards to NAV (Northern sector, N), and further east in the populations of VIL, SAN and BAY. Several peripheral populations were geographically closer to populations across the phylogeographic breaks than they were to their nearest population within the same sector. For instance, ANL (NW sector) is geographically closer to CAM (W sector; ~34 km) than to RCO (NW sector, ~70 km), and the distance between CED (NW sector) and ORT (N sector; ~36,5 km) is smaller than between CED and FER (~58 km; both NW sector).
Table 1
Genetic diversity of Fucus ceranoides within sampling sites and inferred genetic sectors
River (Ria), Village

Code

N

Microsatellites

MtIGS

A

HE

HO

FIS

Lineage

Haplotypes

Nhap

Hhap (10−3)

Πhap (10−5)

Lima, Viana do Castelo

VIA

16

2.43

0.154

0.143

0.077

A

A1(14), GQ385159*, GQ385159*

3

242

50

Western Sector

W

128

9.00

0.457

0.257

A

A1–A31

31

717

351

Verdugo (Ria de Vigo), Arcade

VIG

16

3.57

0.223

0.223

−0.001

A

A1(11), A3(3), A4, A5

4

517

116

Lérez (Ria de Pontevedra), Pontevedra

PON

16

2.29

0.174

0.161

0.080

A

A1(13), A6, A7, A8

4

242

50

Umia (Ria de Arousa), Cambados

UMI

16

2,86

0.225

0.174

0.231*

A

A1, A2(5), A9(3), A10 (2), A11, A12(2), A13, A14

8

875

580

Ulla (Ria de Arousa), Catoira

ULL

16

2,71

0.144

0.146

−0.012

A

A1, A2(9), A15(2), A16, A17, A18, A19

7

692

267

Tabra/Tambre (Ria de Muros e Noia), Noia

NOI

16

3.00

0.357

0.370

−0.039

A

A1(11), A20(5)

2

458

92

Xallas (Ria de Córcubion), Ézaro

XAL

16

3.71

0.478

0.369

0.234*

A

A1 (5), A21(9), A22, A23

4

617

151

Castro, Lires

LIR

16

3.29

0.447

0.324

0.282*

A

A1 (11), A24, A25, A26, A27, A28

6

350

104

Grande (Ria das Camariñas), Ponte do Porto

CAM

16

3.43

0.430

0.279

0.360*

A

A1(10), A29(4), A30, A31

4

575

151

North-Western Sector

NW

96

6.57

0.526

0.327

B

B1–B11

11

671

186

Anllóns (Ria de Corme e Laxe), Ponteceso

ANL

16

3.57

0.482

0.482

0.001

B

B2 (13), B3(2), B4

3

342

72

Mero (Ria de A Coruña), O Temple

RCO

16

4.00

0.355

0.304

0.150*

B

B1 (10), B5(3), B6(2), B7

4

592

203

Mendo/Mandeo (Ria de Betanzos), Betanzos

BET

16

3.14

0.364

0.265

0.277*

B

B1(7), B8 (9)

2

525

106

Eume (Ria de Ares), Pontedeume

ARE

16

4.00

0.408

0.342

0.166*

B

B1(14), B9, B10

3

242

50

Xuvia (Ria do Ferrol), Neda

FER

16

3.71

0.458

0.368

0.203*

B

B1(16)

1

–

–

Ferrerias (Ria de Cedeira)

CED

16

3.00

0.398

0.200

0.505*

B

B2(15), B11

2

125

25

Northern Sector

N

128

6.29

0.553

0.441

B,C

B1, C1–C9

10

166

144

Mera (Ria de Ortigueira), Ponte de Mera

ORT

16

3.00

0.468

0.362

0.232*

B, C

B1(2), C1(12), C2, C9

4

442

323

Sor (Ria de Barquero), Poceira

BAR

16

3.14

0.563

0.411

0.277*

B, C

B1, C1(14), C3

3

133

113

Landro (Ria de Viveiros), Viveiros

VIV

16

3.57

0.484

0.473

0.022

C

C1(15), C4

2

125

25

Ouro

FAZ

16

3.43

0.497

0.500

−0.007

C

C1(15), C5

2

125

25

Masma (Ria da Foz)

FOZ

16

3.57

0.507

0.427

0.162*

C

C1(16)

1

–

–

Eo (Ria de Ribadeo), Vegadeo

VEG

16

3.71

0.416

0.414

0.005

C

C1(15), C6

2

125

25

Porcia

POR

16

3.00

0.463

0.527

−0.144

C

C1(15), C7

2

125

25

Navia (Ria de Navia), Navia

NAV

16

3.71

0.464

0.413

0.114

C

C1(15), C8

2

125

25

Valdediós (Ria de Villaviciosa)

VIL

16

3.00

0.464

0.464

0.000

C

C1(10), GQ385159*(5), GQ385159*

3

542

117

Asón (Ria de Santoña), Colindres

SAN

16

3.14

0.410

0.411

−0.003

C

GQ385159*(9), GQ385159*(7)

2

525

105

Adour, Bayonne

BAY

16

3.43

0.486

0.446

0.083

C

C1(13), GQ385159*(2), GQ385159*

3

342

72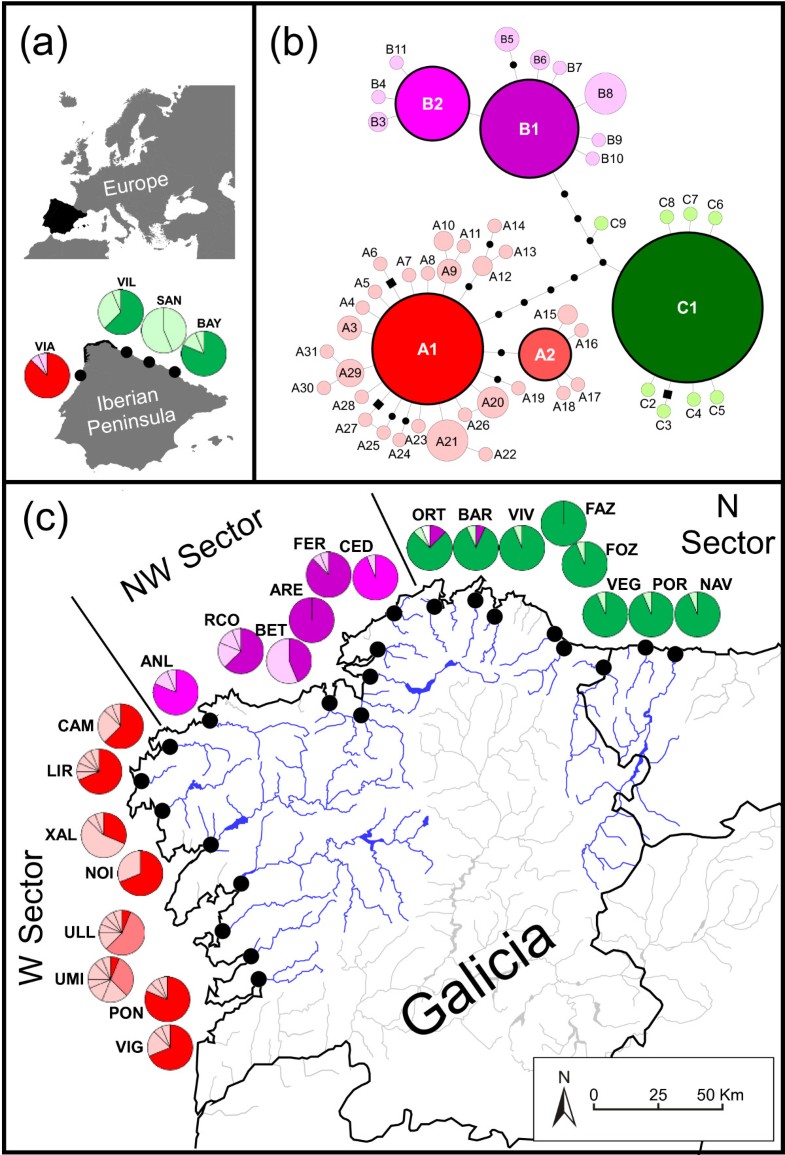 Globally, only the three dominant haplotypes (A1, B1 and C1) plus two derived ones (A2, B2) were shared among at least two populations. The remaining 46 haplotypes were population-specific and among these, 12 represented non-singleton variants. Many W and NW populations harboured private haplotypes in relatively high frequencies. This pattern was apparent even in populations located inside the same drainage systems, such as UMI and ULL (Ria de Arousa, W sector), or RCO, BET, ARE and FER (Artabro Gulf, NW sector). Hhap was high in the W (Hhap = 0.717) and NW (Hhap = 0.671) sectors due to the presence of most of the local haplotype radiations, but πhap was considerably higher in the former. Contrastingly, Hhap was very low in the N sector (Hhap = 0.166), but further east the populations of VIL and SAN possessed private, C1-derived haplotypes in relatively high frequencies.
The results of the AMOVAs showed that the sectors considered accounted for about 83% of the molecular variance of NW Iberian
F. ceranoides
(Table 
2
). Within the W, NW and N sectors, 32%, 63% and 2% of the molecular variance was accounted for by the molecular differences among respective populations. The mismatch distributions did not reject the spatial expansion of phylogroups A (
P
 = 0.957) and C (
P
 = 0.750), but failed to support the expansion of phylogroup B (
P
 = 0.009; Figure 
3
).
Table 2
Analyses of molecular variance (AMOVA) between and among NW Iberian genetic sectors of F. ceranoides
Analysis

N

Level

d.f.

Variance (%)

Fixation indices

3 Sectors

352

Among groups

2

83.07

ΦCT = 0.831*

Among populations within groups

19

5.55

ΦSC = 0.328*

Among populations

330

11.38

W Sector

128

Among populations

7

32.01

ΦST = 0.320*

Within populations

120

67.99

NW Sector

96

Among populations

5

63.44

ΦST = 0.634*

Within populations

90

36.56

N Sector

128

Among populations

7

2.24

ΦST = 0.023

Within populations

120

97.76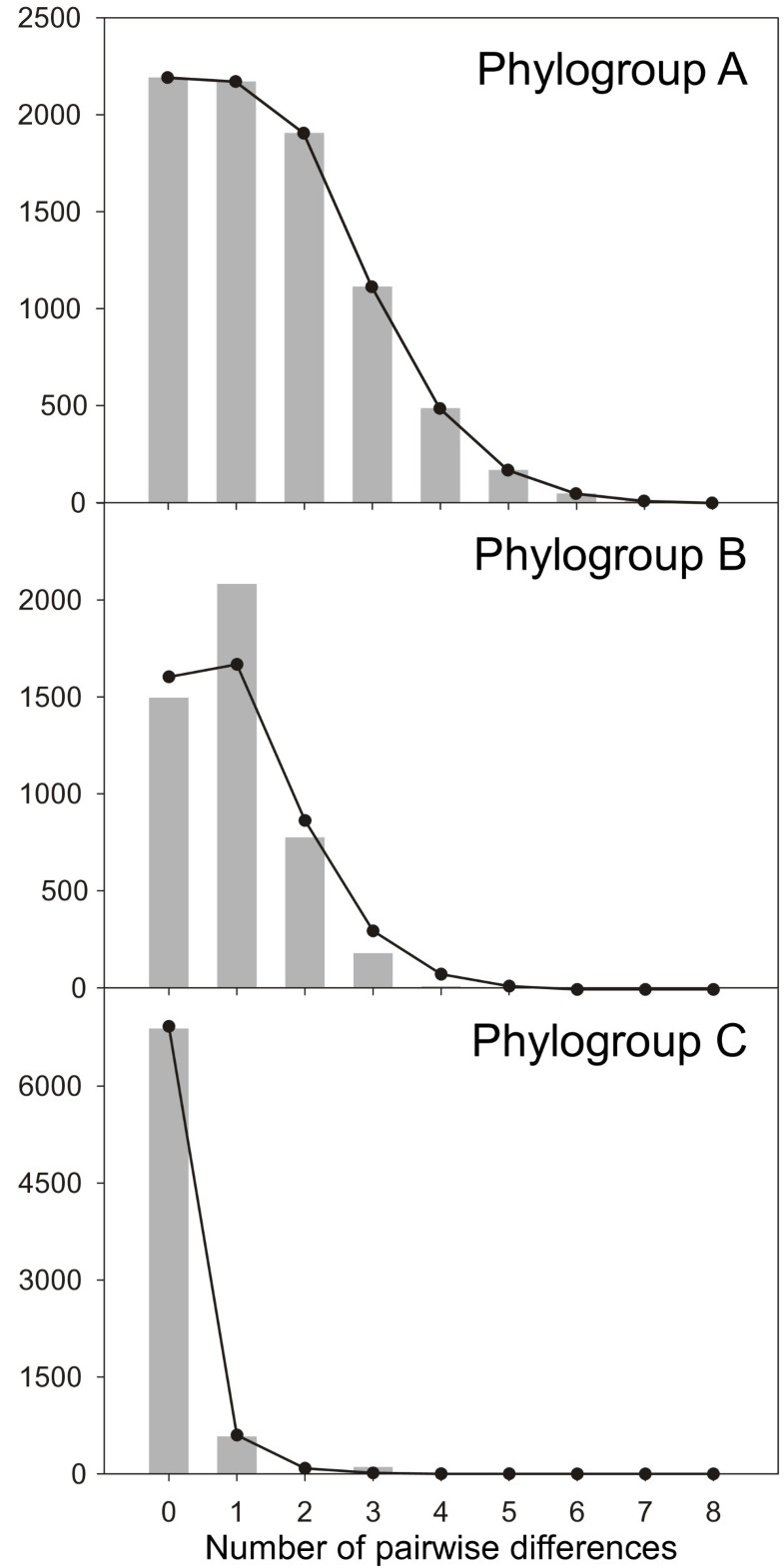 Microsatellite population structure
The seven microsatellite loci revealed a total of 76 alleles in the 352 "core" individuals genotyped (6–23 per locus), although 42% of these had global frequencies below 0.01. HE was rather variable among populations, ranging from 0.144 (ULL; W sector) to 0.563 (BAR, N Sector) (Table 1). Approximately half of the populations exhibited significant heterozygote deficiencies. Among sectors, HE and Hhap were not correlated (Additional file 1: Figure S1a and S1b). The W sector had the lowest (yet most variable) HE (0.457) and the highest Hhap (0.717), whereas the N sector had the highest HE (0.553) despite very low Hhap (0.166). The NW sector showed intermediate levels of diversity for both markers. FST ranged from 0.021 (VIG vs. UMI) to 0.685 (PON vs. CED), whereas Dest ranged from <0.001 (VIG vs. PON) to 0.879 (PON vs. ANL) (Additional file 2: Table S1). Within sectors, pairwise differentiation of populations was of the same order of magnitude, but more variable within the W sector (Additional file 1: Figure S1c).
The microsatellite genotypic clusters recovered with the FCA showed a remarkable correspondence with the mtIGS phylogroups (Figure 
2
b). The most obvious exceptions were the populations of LIR and CAM, both belonging to the W sector, whose genotypes appeared intermediate between W and NW and W and N sectors, respectively. Excluding these admixed populations, the W populations formed the most differentiated cluster among the three, as in the phylogenetic tree (Figure 
2
a). The STRUCTURE analyses showed a similar picture (Figure 
4
). Based on the ΔK ad-hoc criterion [
55
] the highest hierarchical level of genetic sub-division of
F. ceranoides
occurred between the W sector and the NW and N sectors (K = 2; Additional file
3
: Figure S2). Further subdivision of genotypes into W, NW and N sectors (K = 3) represented a weaker, but nevertheless significant, level of population subdivision. Again, the individuals of LIR and CAM showed variable degree of admixture between the W and the NW and N sectors, respectively. Within these 3 major groups some sub-structuring was also evident (Figure 
4
). Iberian
F. ceranoides
could be subdivided into a maximum of 12 (stable) genetic clusters (K = 12), corresponding to smaller, less resolved geographic regions. Some admixture (or mixed-ancestry) between neighbouring clusters was pervasive, but also apparent in a few well separated population pairs (e.g. LIR & RCO, ANL & CED).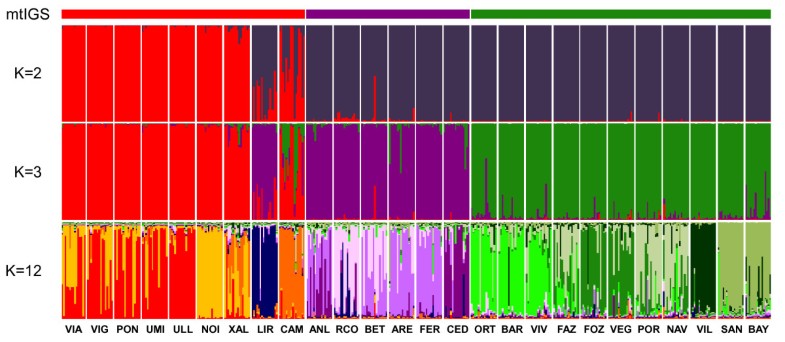 A significant IBD pattern was detected in the whole NW Iberian region (
P
 = 0.001), as well as in the W (
P
 = 0.009) and N (
P
 = 0.009) sectors (Figure 
5
). In the W, however, the relationship was lost when the admixed populations of LIR and CAM were removed from the analysis (
P
 = 0.135; data not shown).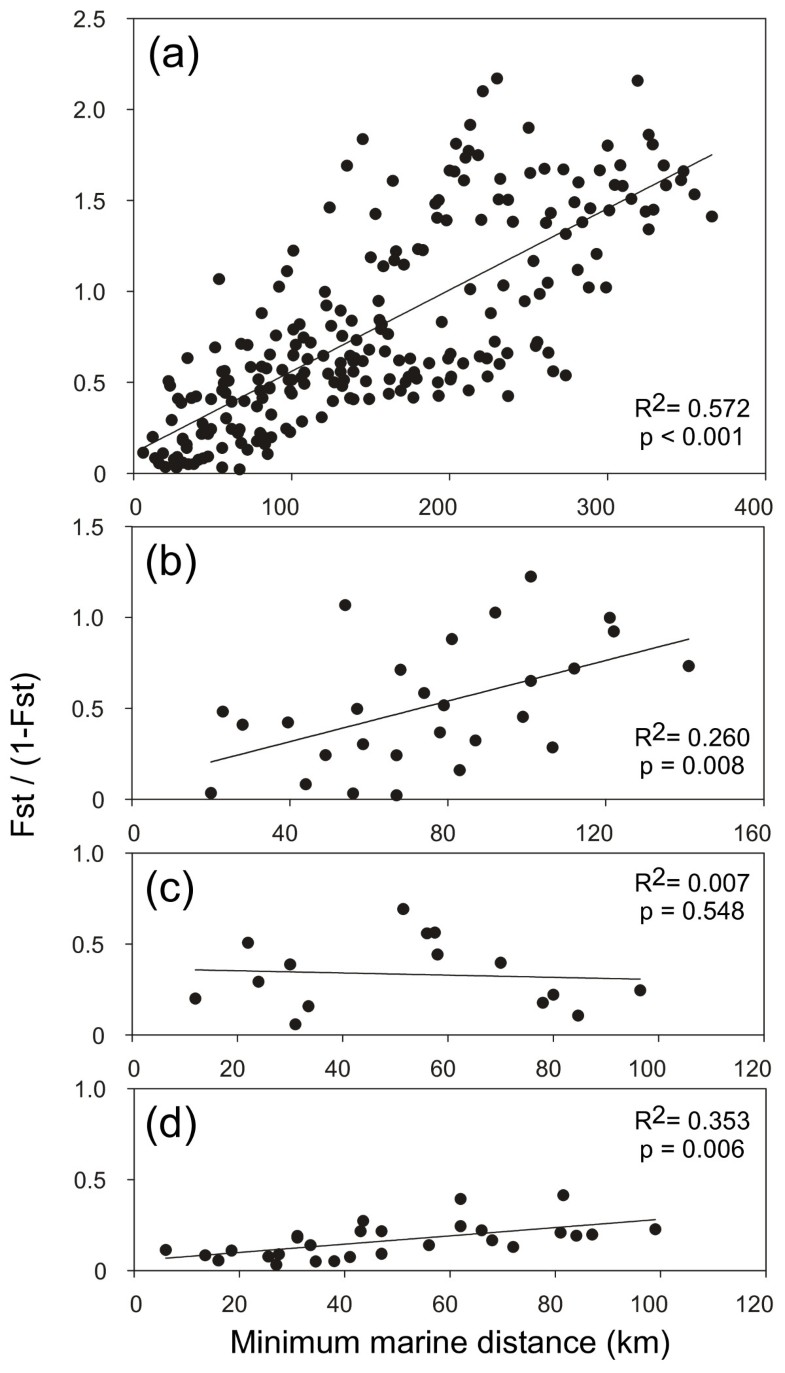 Discussion
The unprecedented spatial resolution here employed revealed a nearly perfect parapatric distribution of mtDNA lineages in the evenly distributed Fucus ceranoides, set by two dramatic and very narrow (<40 km) phylogeographic discontinuities (between CAM and ANL and between CED and ORT). There was a remarkable congruence between the nuclear (microsatellite) and the mitochondrial (mtIGS) data. Indeed, the multi-locus genotypes of F. ceranoides were broadly grouped (FCA and Structure analyses) in two main higher-level clusters, one of which was further subdivided, resulting in 3 clusters matching the mtIGS-based phylogroups.
Conclusions
Our fine-scale, multi-marker approach revealed sharply disconnected population units in NW Iberian Fucus ceranoides. The levels of differentiation and the absence of habitat discontinuities or prominent ecological/oceanographic barriers to dispersal indicate that its remarkable genetic structure is the product of past range dynamics (including contractions, sequential expansions and secondary contact) coupled with very strong density-barrier effects. These conclusions are highly relevant to other organisms with rare and spatially restricted dispersal, helping explain the apparent paradox of extensive genetic subdivision in geographically restricted refugial regions (indicating very limited connectivity) despite obvious colonization abilities of these same species at larger spatio-temporal scales (e.g. allowing extensive post-glacial range expansions, see also [86]). These species may not fit the conventional "low-dispersal" or high-dispersal" dichotomy, since rare dispersal into vacant (colonization) and saturated (immigration) habitats can have fundamentally different demographic and genetic effects.
This study also supports the view that the patterns of genetic structure and differentiation in marine-restricted dispersers often reflect persistent non-equilibrium conditions [33]. In particular, it shows that distant (but rather similar) populations do not necessarily exchange more migrants than closer (but very divergent) populations, and that steep genetic breaks are not necessarily maintained by extrinsic dispersal barriers. The regular climatic oscillations and the transitory nature of near-shore habitats may actually prevent low dispersal marine species in general from ever attaining migration-drift equilibrium at most spatial scales. Inferring patterns of connectivity from genetic data alone may be misleading, where historical patterns of extinction and colonization are more important than ongoing gene-flow in determining the extent of genetic differentiation between extant populations.
Methods
Sampling, DNA isolation, sequencing and genotyping
The "core" populations of F. ceranoides used in this study were collected in the estuaries of all major rivers between Vigo (VIG, SW Galicia) and Navia (NAV, W Asturias), in NW Iberia (N = 22; Table 1; Figure 1). This corresponded approximately to an array of discrete but neighbouring populations with an average proximity of about 33 (±17) km. Four additional Iberian populations that are not contiguous to this "core" population set were included in some analyses; VIA (northern Portugal), VIL (eastern Asturias), SAN (Cantabria) and BAY (southern France). These and also 3 "core" populations—NOI, RCO and POR—were previously analysed by Neiva et al.[15, 52]. All collection sites typically contained monospecific belts of F. ceranoides attached to hard substrata and were exposed to steep salinity fluctuations throughout the tidal cycle. At each site, 5–10 cm tips of apical vegetative tissue was excised from 16 individuals sampled along a 100–200 m linear transect or random walk; tissue samples were individually stored dehydrated in silica-gel crystals until DNA extraction. To keep sample sizes constant, a random subsample of 16 individuals was used from the previously analysed populations.
Genomic DNA was extracted from approximately 10 mg dried tissue using the Nucleospin® Multi-96 plant kit (Macherey-Nagel Duren, Germany), according to the manufacturer's protocol. Individuals were sequenced for the mitochondrial 23 S/trnK intergenic spacer (mtIGS, [15]), and genotyped for 7 microsatellite loci developed for congeners [87–89] that had shown polymorphism in Iberian F. ceranoides[52]. Primer sequences and amplification details were the same as in Neiva et al.[15, 52]. Amplified fragments were run in an ABI PRISM 3130xl automated capillary sequencer (Applied Biosystems, CCMAR Portugal). MtDNA sequences were aligned, proofread and edited in GENEIOUS 3.8 [90]. Microsatellite alleles were manually scored in STRAND [91] using the 350 ROX™ size standard (Applied Biosystems).
Genetic structure
The geographic distribution of the mtDNA variation was mapped and the genealogic relationships of haplotypes were inferred using the median-joining algorithm implemented in Network 4.5 [92]. A phylogenetic tree for the mtDNA sequences was reconstructed with MrBayes [93] using the best-fit model of nucleotide substitution and using Fucus vesiculosus as the outgroup (GenBank no GQ385125). Among the 88 models evaluated in jModeltest [94, 95], the HKY + G model was selected based on the Akaike information ranking. Two parallel Metropolis-coupled Markov chain Monte Carlo searches, each with four chains, were run for 2 × 106 generations, sampling every 100 generations. The number of substitution rates (Nst = 2) and among-site rate variation (Rates = Gamma) were set according to the substitution model selected, leaving the remaining options as default. 105 generations (1000 trees) were discarded as burn-in, and the remaining 38000 used to produce 50% majority-rule consensus trees and to calculate branch posterior probabilities.
Nucleotide (πhap) and haplotypic (Hhap) diversity within populations and inferred mtIGS phylogroups (see RESULTS) were calculated with DNASP 5.10 [96]. Summary statistics of the microsatellite genetic diversity, including microsatellite allele frequencies, mean allelic richness (A), Nei's gene diversity (HE), observed heterozygosity (HO) and inbreeding coefficients (FIS), were calculated with GENETIX 4.05 [97]. The partitioning of genetic variation between and among the mtIGS sectors was examined with molecular analyses of variance (AMOVA) in ARLEQUIN 3.1 [98]. The significance (P > 0.05) of the fixation indices was calculated after 1000 permutations of individuals within sectors. For each phylogroup, the occurrence of recent spatial expansions (assuming constant deme size) was tested with ARLEQUIN 3.1 [98], fitting the implemented model to the observed mismatch distribution. Significance was assessed with 1000 permutations.
The microsatellite population structure was assessed with both individual (genotype based) and population (allele-frequency based) approaches. First, the degree of congruence between the mtIGS structure/phylogeny and its nuclear background was visually inspected with the factorial correspondence analysis (FCA) implemented in GENETIX 4.05 [97]. Population genetic structure was further examined with a Bayesian, model-based genetic admixture analysis implemented in STRUCTURE 2.3 [99, 100]. Individuals were combined into one dataset for analysis, without any a priori population assignments and admixture was allowed. Each number of assumed populations (K, set sequentially from 1 to 14) was ran five times using a burn-in of 200000 iterations and a run-length of 1000000 iterations, which was determined to be sufficient to have consistent results. The "true" number of K was inferred both from the posterior probability of the data, hereafter referred to as L(K), and following the ΔK choice criterion of Evanno et al.[55], better suited to detect heterogeneous patterns of dispersal or co-ancestry.
Pairwise FST (θ; [101]) was estimated with GENETIX 4.05 [97] and pairwise D (Dest; [102]) was estimated with SMOGD 1.25 [103]. Isolation by distance (IBD) was evaluated for full and sub data-sets using reduced major axis regressions of pairwise estimates of population's genetic differentiation against minimum marine distance, as measured in Google Earth 5.1. The statistical significance of the genetic and geographic associations was assessed with Mantel tests (1000 randomizations, P < 0.05) in IBDWS [104].
Declarations
Acknowledgements
We are grateful to Ignacio Barbara for sampling the RCO population, Marta Valente, Xana Ramos and Céline Madeira for their sequencing/genotyping work, and Marina Tamagnini Mendes for accommodation during the sampling campaign. This study was supported by the research project EDGES (PTDC/AAC-CLI/109108/2008) of the Portuguese Fundação para a Ciência e Tecnologia (FCT), and by a PhD grant (SFRH/BD/31017/2006) from FCT co-funded by FSE to J.N.
Authors' Affiliations
(1)
Centro de Ciências do Mar, Centro de Investigação Marinha e Ambiental - Laboratório Associado, Universidade do Algarve, Gambelas, Portugal
(2)
Unité Mixte de Recherche 7144, Centre National de la Recherche Scientifique/Université Pierre et Marie Curie, Station Biologique de Roscoff, Roscoff Cedex, France
Copyright
© Neiva et al.; licensee BioMed Central Ltd. 2012
This article is published under license to BioMed Central Ltd. This is an Open Access article distributed under the terms of the Creative Commons Attribution License (http://creativecommons.org/licenses/by/2.0), which permits unrestricted use, distribution, and reproduction in any medium, provided the original work is properly cited.