Research article

Open Access
Gene flow and population structure in the Mexican blind cavefish complex (Astyanax mexicanus)
BMC Evolutionary Biology
2012
12:9
Received: 17 June 2011
Accepted: 23 January 2012
Published: 23 January 2012
Abstract
Background
Cave animals converge evolutionarily on a suite of troglomorphic traits, the best known of which are eyelessness and depigmentation. We studied 11 cave and 10 surface populations of Astyanax mexicanus in order to better understand the evolutionary origins of the cave forms, the basic genetic structuring of both cave and surface populations, and the degree to which present day migration among them affects their genetic divergence.
Results
To assess the genetic structure within populations and the relationships among them we genotyped individuals at 26 microsatellite loci. We found that surface populations are similar to one another, despite their relatively large geographic separation, whereas the cave populations are better differentiated. The cave populations we studied span the full range of the cave forms in three separate geographic regions and have at least five separate evolutionary origins. Cave populations had lower genetic diversity than surface populations, correlated with their smaller effective population sizes, probably the result of food and space limitations. Some of the cave populations receive migrants from the surface and exchange migrants with one another, especially when geographically close. This admixture results in significant heterozygote deficiencies at numerous loci due to Wahlund effects. Cave populations receiving migrants from the surface contain small numbers of individuals that are intermediate in both phenotype and genotype, affirming at least limited gene flow from the surface.
Conclusions
Cave populations of this species are derived from two different surface stocks denoted "old" and "new." The old stock colonized caves at least three times independently while the new stock colonized caves at least twice independently. Thus, the similar cave phenotypes found in these caves are the result of repeated convergences. These phenotypic convergences have occurred in spite of gene flow from surface populations suggesting either strong natural or sexual selection for alleles responsible for the cave phenotype in the cave environment.
Keywords
Gene FlowMigration RateEffective Population SizeShared AlleleSurface Population
Background
The mechanisms underlying the evolution of convergent phenotypes in independent natural populations pose long-standing questions in evolutionary biology. The extent to which convergent or parallel changes draw on preexisting genetic variation in ancestral populations versus new mutations is still debated [1, 2]. The molecular and genetic changes that underly most convergences are still unknown.
Convergence is also of interest to evolutionists because it provides an element of replication to evolutionary studies that is often otherwise absent. Replication allows for the powerful testing of evolutionary hypotheses. Cave-dwelling organisms provide the best known examples of convergences, sharing similar phenotypes such as loss of eyes and pigmentation across diverse taxonomic groups [3–5].
The Mexican blind cavefish (Astyanax mexicanus) is nearly unique among cave animals because the cave forms have closely related surface conspecifics and the two forms are fully interfertile [6]. The ability to hybridize the cave and surface forms permits the genetic analysis of the factors involved in cave adaptation. There are 29 known cave populations of this species dispersed over three geographically distinct areas, thus this group may contain multiple examples of convergence [7].
Each population inhabits a food and light restricted cave environment. Members of these populations exhibit numerous cave-related evolutionary traits, including reduction in pigment and eye size, hypertrophy of non-optic sensory organs, increased condition factor, and robust patterns of reduced sleep; presumably all are evolved in response to perpetual darkness and reduced food availability [6–10].
Thus, the cave colonizations of Astyanax populations provide replicates of an excellent "natural experiment" which allows us to address important evolutionary questions, including the extent to which evolutionary changes in morphology, behavior and physiology are driven by selection versus drift [11–13]. These two alternatives can be distinguished in a number of ways in this system, but any determination will require an understanding of the underlying demography of the populations as well as a clarification of the relationships among them.
Previous phylogeographic studies of
Astyanax
cavefish, using microsatellite and mtDNA, showed that the cave populations are derived from at least two different surface stocks that inhabited the Sierra de El Abra and nearby regions in succession [
14
–
17
]. The estimates from mtDNA suggest that these two groups diverged about 6.7 Mya [
15
]. Surface forms of the older stock originally inhabited the rivers in the El Abra region and were the likely ancestors of a series of cave populations, which we designate as "old." Subsequently, the surface fish of the old stock went locally extinct. The region was then invaded by another stock of
A. mexicanus
, which gave rise to the current surface populations and a second set of cave populations we designate as "new" (Figure
1
) [
14
,
16
,
17
].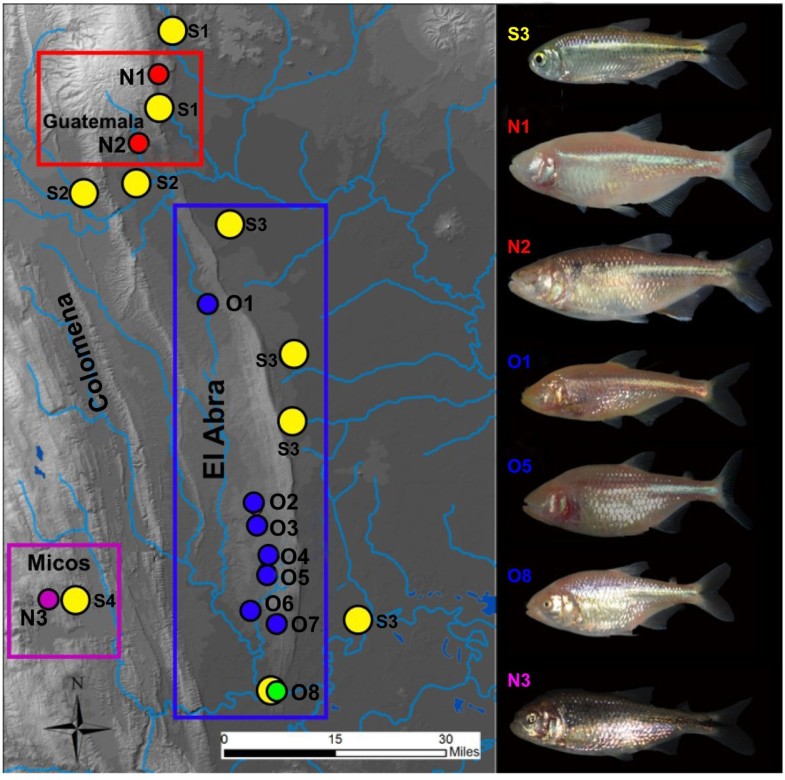 While previous studies revealed that the extant cave populations were derived from a minimum of two ancestral stocks, there may have been more. In addition, the question of how many independent invasions of the underground led to the present day Astyanax cave fauna remains unanswered. To understand the demographic component of the phenotypic evolution we studied cave populations from the full extent of their known distribution. We give a detailed description of genetic differentiation in multiple cave populations and their relatedness with surface morphs, and estimate effective population sizes and the rates of gene flow among select populations based on multiple independent markers.
Discussion
The Origins of the Cave Populations
Our data clearly show that the populations of cave adapted Astyanax in NE Mexico are derived from two separate stocks. Previous studies using microsatellites and mtDNA markers had also concluded that the cave populations were derived from at least two surface stocks [14–17]. Our results clarify the affinities of the Pachón (O1) and Chica (O8) cave populations. Pachón was previously placed with the new stock based on mtDNA data, but our extensive nuclear DNA data set clearly places it with the old stock. Conclusions based on mtDNA may be misleading because the presence of surface fish in cave populations allows for the possibility of the introgression of surface mitochondria [16]. The affinities of the Chica population are discussed below. Finally, the present study covers the full geographic range of the cave populations and reveals no evidence that the cave populations are derived from more than two clades.
Although derived from only two separate stocks, there are clearly more than two subterranean invasions that established the extant cave populations. All of our structuring analyses support divergence among five groups and are in accord with the hypothesis that the cave populations N1 to N3 were established much later than the populations O1 to O8. Similarities in the microsatellite allele frequencies in the "new" cave populations (Molino, Caballo Moro, and Micos, N1 to N3, in order) and surface populations also confirm that these populations have recently diverged (Additional File 1). With the exceptions of Pachón (O1) and Chica (O8), the shared allele analysis shows that the El Abra populations cluster tightly. In the case of Pachón (O1) the divergence is minor and it is much closer to the old (El Abra) cluster than to the new cave cluster. In contrast, the Chica population (O8) is not obviously aligned with either cluster in the shared allele analysis.
The origin of the Chica population (O8) has been a long standing question in the Astyanax literature [7]. Our data strongly suggest that the Chica cave originated from old stock. This interpretation contrasts with a previous one based on mtDNA and a small number of microsatellite loci which suggested that it is phylogenetically young and originated from new stock [16, 44]. If Chica were phylogenetically young, however, the STRUCTURE analysis should cluster it with the surface populations, a result not observed. Furthermore, we should see lower FST values between Chica and the new cave populations (N1 through N3) than between Chica and the other El Abra populations (O1 through O7), but the opposite is the case (Chica vs. new: average FST = 0.297 ± 0.041 SEM; Chica vs. other El Abra: average FST = 0.230 ± 0.021) (Table 3). Considering the FST values, the STRUCTURE analysis, and the shared allele distance analysis (Table 3 Figure 2and Figure 3A), all of which show Chica to be considerably differentiated from the rest of the El Abra populations, we suggest that it was derived from an independent invasion of old stock. Because of its southernmost location, it may well be the earliest established of the cave populations.
Geology and Geography
Knowledge of geology and geography, as well as genetics, is needed to understand the pattern of independent invasions of the underground that established the extant populations. A clear pathway through surface waters from the southernmost end of the El Abra all the way to the area of Pachón cave existed in the past but at present a surface divide separates the ends of the valley [7] (Additional File 4). Pachón cave (O1) at the northern end of the El Abra is 46 km north of Yerbaniz cave (O2). While there is at least one other known cave between the two that might have served as a stepping stone, it seems likely that the underground invasion that established the Pachón cave population was independent of those that established the more southern populations. This argument is based on the expectation that travel from one region to another is much faster through surface streams than through subterranean passages because open waters contain abundant food and provide direct passage, while subterranean routes have low food reserves and their passages may be maze-like. Surface fish can move into caves relatively easily and quickly. We constantly see surface Astyanax and other surface species, including Tilapia, in certain caves, such as Yerbaniz (O2), Chica (O8) and Micos (N3). The significance of Tilapia's presence is that it was introduced into Mexican waters and only became common in the late 1980's [45]. Therefore, its presence in caves shows how quickly underground populations may be seeded from the surface. Thus, for the most distal populations of a migratory wave, it is far likelier that surface migrants will have reached and colonized a cave long before the arrival of underground migrants from the same source. All seven FST values between Pachón and the other El Abra populations are significant (Table 3), which reflects the current isolation of the cave and, perhaps, a past independent origin.
Considering the new cave populations, the distance between the Micos (N3) cave and the closest of the Guatemala caves, Caballo Moro (N2), is over 90 km and there is one ridge and two open valleys between them. No documented underground route currently exists between the two regions. Thus, the Micos and Guatemala cave clusters likely represent separate invasions.
In summary, we suggest a model with a minimum of five independent origins of cave adapted Astyanax in NE Mexico. We envision that the area was originally colonized by surface Astyanax of the old stock which independently established cave populations in the south of the El Abra (O8), in central El Abra (O2 - O7), and in its north (O1). Subsequent to this, the surface stock went extinct locally and was eventually replace by surface fish of the new stock. These gave rise to cave populations in the two geographically distinct regions of the Gautemala (N1 and N2) and Micos (N3) (Additional File 7).
Allelic diversity, migration and gene flow
Allelic diversities were generally lower in cave populations than in surface populations (Table 1), an observation in accord with previous studies on this species and other fishes [14, 16, 46–48]. Lower genetic diversity in cave populations than in related surface populations probably reflects smaller effective population sizes because of food and space limitations, but may also reflect possible bottleneck events due to periodic droughts and other environmental fluctuations [7]. It should be noted, however, that the relatively large effective population sizes in Micos (N3) and Chica (O8) were probably overestimated by MIGRATE-N 3.2.6 because they are admixed with the surface populations.
Many of the El Abra caves regularly receive migrants from the surface [7, 48], and Chica (O8) is the best known of these [40]. Chica is unusual among Astyanax cave populations in receiving a high energy input deriving primarily from two bat roosts located directly above the largest of the fish pools. Breder noted, and we still observe today, that the frequency of surface fish in the pools increases as one goes deeper into the cave, and is highest in Pool 4, at the level of the aquifer and located about one km from the Río Tampaón [40]. All who have studied this cave have surmised that surface fish get into the cave from the river through the aquifer and are able to survive and breed there because of the high energy input from the bat roosts and from debris washed into the cave during the rainy season [7, 40]. Thus, Chica draws its occupants from two different source populations that are well differentiated from each other. This admixture results in significant heterozygote deficiencies at numerous loci. That these departures from HWE are due to Wahlund effect is evident from genotype-phenotype correlations observed in our study (Figure 6).
Our collections from the Micos cave (N3) also contained both cave and surface forms and, as in Chica (O8), we observed departures from HWE due to Wahlund effects. In contrast to the situation in Chica, food is not abundant in this cave, thus the surface fish are prone to starvation, leading in most cases to reduced fitness and inefficient mating [7]. Nevertheless, some surface fish washed into this cave may hybridize with the cave population, as revealed by genotype-phenotype correlations (Figure 6). The Caballo Moro (N2) population exhibits a full range of eye sizes and pigmentation, from typical cave to typical surface morphs (Figure 6). This population is in a karst window, a habitat within a cave exposed to light because of passage collapse; the presence of light facilitates the continued survival of surface and hybrid phenotypes [7, 49].
The MIGRATE-N analysis also detected relatively high rates of gene flow from the Pachón cave population (O1) to their nearby surface populations, supporting an earlier suggestion of a route for alleles from cave to surface [48] (Figure 5, Additional File 6). Estimation of migration rates and effective population sizes supported the hypothesis that the genetic diversity of A. mexicanus cave populations is correlated with the influx of alleles from surface populations, as well as by their effective population sizes [48]. The relatively high rates of migration between cave and surface populations here may not be a rule for cavefish. For example, migration between cave and surface populations of Poecilia sulphuraria is relatively low, even though there are few physical barriers to movement [5]. In the case of Poecilia, the barrier seems to be the extreme environment of the sulphidic caves, which requires physiological adaptation to high levels of H2S, a condition to which cave Astyanax are not exposed.
The migration rate analysis revealed that surface fish in the region form a metapopulation, with extensive exchange of genetic material among its component populations. Thus, there is high genetic diversity within and little genetic differentiation among surface populations. In strong contrast, cave populations live under dramatically different ecological conditions and often have lower population densities. MIGRATE-N results also show that the effective sizes of surface populations are generally larger than those of cave populations, consistent with earlier studies based on estimates of nucleotide diversity [48] (Figure 4). Mark and recapture estimates of total population sizes from Pachón (O1) and Yerbaniz (O2) caves were similar to our estimates, with averages of 8.5 × 103 individuals and broad 95% confidence intervals ranging from about 1.5 × 103 to 17.0 × 103 [7]. Our estimates of Ne in cave population varied from 2.8 to 7.3 × 103, with the exception of Curva (O6) and the admixed populations Micos (N3) and Chica (O8). While consistent with the estimates from mark-recapture studies [7], they are around one order of magnitude higher than previously reported estimates from molecular data [48].
We note that the mutation-scaled immigration rate (M) from surface populations into cave populations often exceeds 1.0 (Additional File 6). With mutation-scaled effective population sizes (θ) on the order of 0.5 to 5, mNe (θ*M/4) can exceed 1.0, implying that migration from surface to cave populations could significantly affect allelic frequencies at neutral loci [50]. Nevertheless, cavefish in these populations remain troglomorphic in phenotype in the face of this immigration. This implies that these phenotypes are maintained by selection, although we cannot say whether it is natural selection imposed by the cave environment or sexual selection imposed by mate choice biases against the surface fish [5, 51]. Selection may generally be sufficiently powerful to allow population differentiation even in situations in which there is high gene flow [52].
Finally, we note that the five independent invasions of the subterranean habitat documented here imply five instances of striking phenotypic convergence. This highlights the importance of a change in ecology as a strong driver of evolutionary change. This is in accord with studies of freshwater adaptation in Gasterosteus aculeatus that document widespread convergences or parallelisms related to ecological shifts [53].
Conclusions
Our study showed that cave populations of Astyanax mexicanus generally have significantly lower genetic variability than surface populations, reflecting the generally lower availability of habitat space and food in the caves. Some of the cave populations were exceptional and had higher genetic diversity, which correlated with their receiving relatively high migration from the surface. We documented significant levels of gene flow between surface and cave populations in both directions. That cave populations could maintain a cave specific phenotypic suite of traits in the face of strong migration from the surface implies strong selection for maintenance of cave phenotype. The results also demonstrate that cave populations in the region studied arose at least five times independently and derive from two different ancestral stocks, implying numerous convergences on the cave phenotype driven by the ecological shift from surface to the underground. Thus, the Astyanax cavefish model will continue to be a rich source for study of adaptive evolution.
Declarations
Acknowledgements
Microsatellite primers were provided by J.Gross (Harvard University Medical School). We thank the Mexican government for providing the collecting permit (DGOPA.00570.288108-0291). This work was funded by a Fundação para a Ciência e a Tecnologia PhD grant to M.B (SFRH/BD/32982/2006), and an NSF IOS - 0821939 award to R.B. P.B. was partly funded by the joint NSF/NIGMS Mathematical Biology program under NIH grant R01 GM 078985 and by NSF grant DEB 0822626. F.J.G.L. was partly founded by the CIBNOR. We thank Paul Scheid for technical help, Erik Duboué and the members of Teotónio laboratory at Instituto Gulbenkian de Ciência, Portugal for the useful comments on the manuscript. We also thank Geoffrey Hoese and Jean Luis Lacaille Muzquiz for their help during the fieldwork. We thank three anonymous reviewers for their useful comments. This project is in partial completion of requirements for the PhD degree at Universidade Nova de Lisboa, Oeiras, Portugal for M.B.
Authors' Affiliations
(1)
Instituto de Tecnologia Química e Biológica, Universidade Nova de Lisboa, Oeiras, Portugal
(2)
Biology Department, New York University, USA
(3)
Department of Scientific Computing, Florida State University, Tallahassee, USA
(4)
Laboratorio de Genética para la Conservación, Centro de Investigaciones Biologicas del Noroeste La Paz, La Paz, Mexico
Copyright
© Bradic et al; licensee BioMed Central Ltd. 2012
This article is published under license to BioMed Central Ltd. This is an Open Access article distributed under the terms of the Creative Commons Attribution License (http://creativecommons.org/licenses/by/2.0), which permits unrestricted use, distribution, and reproduction in any medium, provided the original work is properly cited.