Research article
Open Access
Evolution of the eukaryotic dynactin complex, the activator of cytoplasmic dynein
BMC Evolutionary Biology
2012
12:95
Received: 27 January 2012
Accepted: 22 June 2012
Published: 22 June 2012
Abstract
Background
Dynactin is a large multisubunit protein complex that enhances the processivity of cytoplasmic dynein and acts as an adapter between dynein and the cargo. It is composed of eleven different polypeptides of which eight are unique to this complex, namely dynactin1 (p150Glued), dynactin2 (p50 or dynamitin), dynactin3 (p24), dynactin4 (p62), dynactin5 (p25), dynactin6 (p27), and the actin-related proteins Arp1 and Arp10 (Arp11).
Results
To reveal the evolution of dynactin across the eukaryotic tree the presence or absence of all dynactin subunits was determined in most of the available eukaryotic genome assemblies. Altogether, 3061 dynactin sequences from 478 organisms have been annotated. Phylogenetic trees of the various subunit sequences were used to reveal sub-family relationships and to reconstruct gene duplication events. Especially in the metazoan lineage, several of the dynactin subunits were duplicated independently in different branches. The largest subunit repertoire is found in vertebrates. Dynactin diversity in vertebrates is further increased by alternative splicing of several subunits. The most prominent example is the dynactin1 gene, which may code for up to 36 different isoforms due to three different transcription start sites and four exons that are spliced as differentially included exons.
Conclusions
The dynactin complex is a very ancient complex that most likely included all subunits in the last common ancestor of extant eukaryotes. The absence of dynactin in certain species coincides with that of the cytoplasmic dynein heavy chain: Organisms that do not encode cytoplasmic dynein like plants and diplomonads also do not encode the unique dynactin subunits. The conserved core of dynactin consists of dynactin1, dynactin2, dynactin4, dynactin5, Arp1, and the heterodimeric actin capping protein. The evolution of the remaining subunits dynactin3, dynactin6, and Arp10 is characterized by many branch- and species-specific gene loss events.
Keywords
Alternative ExonCytoplasmic DyneinAlternative Splice FormCxxC MotifGene Loss Event
Background
Dynactin is a multisubunit protein complex in eukaryotic cells required as an activator of cytoplasmic dynein, the major minus end-directed microtubule motor [1, 2]. Dynactin acts as an adapter between dynein and the cargo [2–4] and enhances the movement of dynein by increasing its processivity [5–8]. The dynein-dynactin complex plays an important role during mitosis [9, 10] and is necessary for synapse stabilization [11]. It is involved in nuclear migration, and during cell division in mitotic spindle positioning [12–14] and organization of spindle microtubule arrays [15]. Although most of dynactins functions are in conjunction with cytoplasmic dynein it also binds to and modulates kinesin-2 [16, 17] and kinesin-5 [18].
Dynactin is composed of eleven different subunits ranging in size from 22 to 150 kDa [19]. Several components are present as dimers or oligomers in the complex resulting in an overall molecular weight of 1.2 MDa. The novel dynactin subunits have initially been named according to the molecular weights of the vertebrate subunits in SDS gels [1]. However, as the molecular weights differ between species the original naming is not adequate to describe the protein family relation of the subunits in all eukaryotes. Therefore and because these subunits are unique to the dynactin complex we adopt and use the nomenclature dynactin1 to dynactin6 (symbols DCTN1 to DCTN6), which has recently been established by the HUGO Gene Nomenclature Committee (HGNC; [20]), throughout this analysis.
The structure of the complex can be divided into two distinct domains: the Arp1 rod and the projecting arm [21, 22]. The projecting arm (consisting of the so-called sidearm and shoulder complex) links dynactin to cytoplasmic dynein, kinesin motors, and microtubules. It is composed of two dynactin1 (p150Glued), four dynactin2 (p50 or dynamitin), and two dynactin3 subunits (p24 and p22 have been used for the mouse and the human ortholog, respectively). The Arp1 rod is built of eight Arp1 molecules forming a short actin-like filament, probably one β-actin molecule, and the conventional actin capping proteins Capα and Capβ, which are located at the barbed-end of the mini-filament. The other end of the filament is terminated by Arp10 (the name Arp11 is synonymously used for the vertebrate orthologs [20]) and dynactin4 (p62), to which the dynactin5 (p25) and dynactin6 (p27) subunits are associated. The heterotetrameric complex of dynactin4, dynactin5, dynactin6 and Arp10 is also called pointed-end complex.
Dynactin1 is the largest subunit of the dynactin complex [23] and belongs to the microtubule plus end-binding protein family [24]. The microtubule-binding CAP-Gly (cytoskeleton-associated protein-glycine-rich) domain is located at the N-terminus [23, 25]. The CAP-Gly domain is connected to the other subunits of the complex via two long coiled-coil regions. The first coiled-coil region following the CAP-Gly domain binds to the intermediate chain of cytoplasmic dynein [26, 27]. Dynactin2 is the connection between the projecting arm and the Arp1 rod [28, 29] and its over-expression in vivo causes disruption of the dynactin complex [21, 28, 30]. Dynactin3 is required for attachment of dynactin1 to dynactin2 [31]. Arp1 is the actin-related protein most similar to actin and forms an actin-like mini-filament [22] that represents the backbone of dynactin, to which the other dynactin subunits bind. It is supposed that membranous cargoes bind to dynactin via the Arp1 rod [4, 32, 33].
The first studies on dynactin have been performed with chicken brain samples [1, 2]. Subsequently, dynactin subunits have been identified and analyzed in the model organisms Neurospora crassa[34–39], Saccharomyces cerevisiae[40–43], Drosophila melanogaster[44, 45] and Caenorhabditis elegans[45–47]. Although the composition of the dynactin complex in vertebrates gradually became apparent, a thorough analysis of the complex and its subunits in terms of gene duplicates, alternatively spliced isoforms, and phylogenetic evolution is still missing. That a surprising diversity might be found has been shown by a recent study of the motor protein repertoire of 21 insect genomes uncovering a branch specific duplication of the well-known dynactin1 (p150Glued) gene in Drosophila species [48].
Building such a multi-protein complex with a filament of fixed size seems rather complicated. Because most of the analyses of the complex have been done with vertebrate samples, it would be interesting to see whether the various unicellular protists that often have smaller gene repertoires, may have evolved compacted versions of the dynactin complex. Vice-versa, there could have been a minimal dynactin complex at the origin of the eukaryotes that multicellular eukaryotes expanded to accomplish more and different tasks. Here, we examined every known protein of the complex and determined its absence and presence in all eukaryotic genomes as available in September 2011. Furthermore, we inspected all genes to identify alternatively spliced exons and their appearance during evolution. For our analysis, we manually assembled and annotated more than 4,700 dynactin and actin-related protein sequences from about 550 species. All sequences were inspected and validated at the genomic DNA level to remove wrongly predicted sequence regions, to manually fill gaps in gene predictions, and to reveal the correct exon/intron boundaries. The sequences and related data like gene structure reconstructions and biochemical properties are available through CyMoBase (http://www.cymobase.org).
Discussion
Here, we have performed an exhaustive analysis of all known dynactin subunits in all eukaryotic genomes available until September 2011. The presence of dynactin subunits is always coupled to the presence of a cytoplasmic dynein heavy chain (DHC1). Some branches do not contain a DHC1 and accordingly do not contain any dynactin subunit (Figure 
5
A): plants, diplomonads (e.g.
Giardia lamblia
), Haptophyceae (e.g.
Emiliania huxleyi
), Entamoebidae, some of the Microsporidia, and Rhodophyta (e.g.
Cyanidioschyzon merolae
and
Galdieria sulphuraria
). While the presence of dynactin is coupled to the presence of a DHC1 there are a few species that contain cytoplasmic dyneins but do not encode dynactin subunits: Piroplasmida (e.g.
Babesia
and
Theileria
species), some Microsporidia, and Parabasalia (e.g.
Trichomonas vaginalis
). The DHC1s of the known Piroplasmida and Microsporidia are, however, extremely divergent and shortened (about 3,200 instead of the usual 4,500 residues) and it is not known whether these are functional motors at all. Together, these results demonstrate the strong functional interconnection between dynactin and cytoplasmic dynein. In addition, both were most probably already present in the last common ancestor of the eukaryotes. Although dynein-independent functions have been reported for dynactin these are most likely sub-functionalisations in specific branches of the eukaryotic tree in which either dyneins partnership became obsolete for certain functions or in which dynactin acquired additional specific binding partners.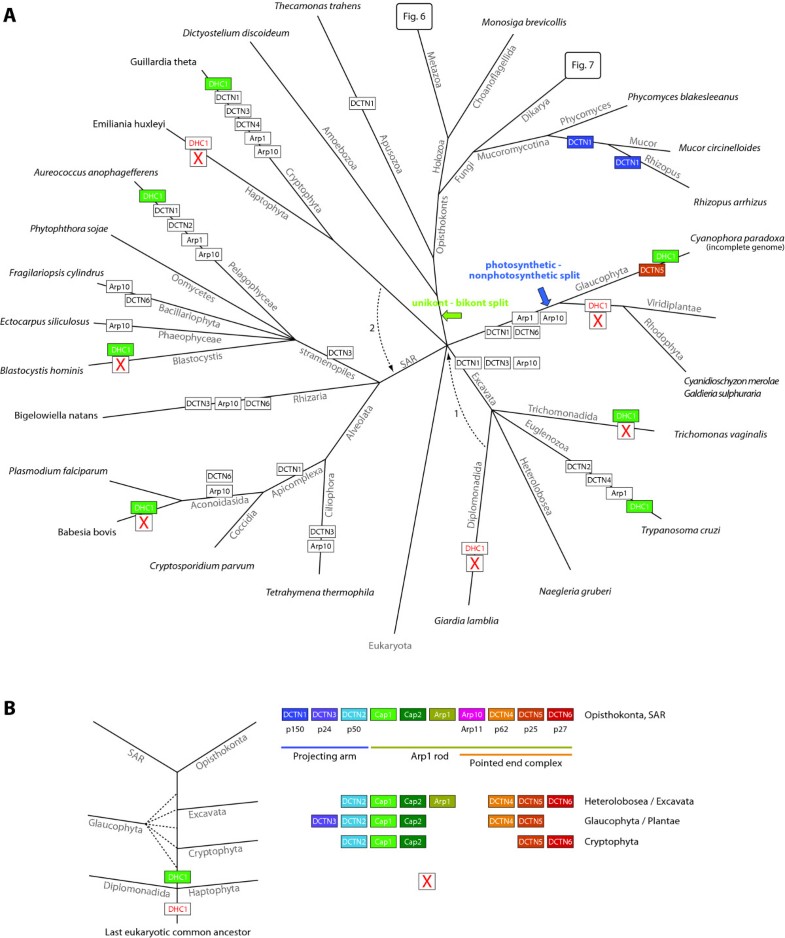 All of dynactins known eleven subunits were already present in the last common ancestor of the eukaryotes because all of them have been identified in at least two of the major lineages (Figure 5A). However, in many genomes single subunits are missing. Is this due to gene loss events or due to problems in their identification? The dynactin complex and the dynactin subunits have first been identified and characterised in vertebrates and insects, and these constitute the reference sequences. It could be possible, that some subunits have not been identified in several branches and species, which diverged very early in eukaryotic evolution, because of their low similarity to the subunits of the metazoan species that prevented their identification. However, unambiguous homologs have been identified and annotated in every major lineage of the eukaryotes demonstrating that the sequence similarity in general dates back to the last common ancestor. Even when we searched with these homologs instead of the reference sequences, missing homologs in closely related species could not be identified. For example, although a dynactin1 has been found in Tetrahymena we were not able to identify dynactin1 homologs in Toxoplasma gondii, Plasmodium and Cryptosporidium species. Therefore, we rather assume that subunits have been lost during evolution although we cannot exclude that we might have missed divergent homologs that can only be revealed in experiments, but not sequence based analyses. In addition, subunits might be missing because of gaps in the sequence assemblies.
Evolution of the dynactin complex in eukaryotes
The evolution of the dynactin complex in eukaryotes is characterised by many branch- and species-specific gene loss and gene duplication events (Figure 5A). The monophyly of the SAR branch is well established now [93] as well as the monophyly of the Opisthokonts (and even unikonts, [94]) and Excavata [94]. The last common ancestors of both the SAR and the unikonts contained all eleven dynactin subunits (Figure 5B). If the unikont-bikont hypothesis, that combines all major kingdoms except the unikonts into a supergroup called bikonts and places the eukaryotic root between these two supergroups [93, 95], were true the last common ancestor of all extant eukaryotes (LECA) must have contained the complete dynactin complex (Figure 5A). Another hypothesis places the origin of the eukaryotes between Plantae and the rest (photosynthetic-nonphotosynthetic split, [96, 97]). Unfortunately, the genome sequence of the Glaucophyte Cyanophora paradoxa is not complete, but it seems that based on the latter hypothesis the LECA would have contained only dynactin2, dynactin3, dynactin4, dynactin5, and the CAP proteins. The dynactin data does not help in resolving the issue of unambiguously placing the eukaryotic root because its analysis involves eleven subunits and is biased by the very small number of sequenced species in the taxa Cryptophyta, Haptophyta, Glaucophyta and Excavata except Euglenozoa. Thus it could be possible that more complete dynactin inventories will be found in newly sequenced species of these taxa like in the SAR branch in which all dynactin subunits were found in total but not in a single species. Building a parsimonious tree from the presence and absence of the dynactin subunits alone in all species is not possible without breaking established monophyletic groups like the sistergroups Fungi and Holozoa, or the sistergroups Blastocystis and Oomycetes. However, if we try to reconstruct a tree of the eukaryotes based on the major taxa by only breaking the still debated phylogenetic groupings of the Haptophyta and the Diplomonadida but leaving established supergroups intact, the following scenario can be imagined (Figure 5B). Diplomonadida and Haptophyta both do not contain cytoplasmic dynein and dynactin and were therefore the first to diverge in eukaryotic evolution. The LECA would have not contained dynein and dynactin in this case. Next, the dynactin5 and dynactin6 subcomplex and dynactin2 were invented and the Cryptophyta separated. This would be consistent with the finding of a freely soluble pool of dynactin5 and dynactin6 in cells [19]. The placing of the Glaucophyta (as part of the Plantae) is not yet clear due to the incomplete genome of the single representative Cyanophora paradoxa. The Glaucophyta do have already dynactin3 and dynactin4 but miss dynactin6. Subsequently, Arp1 and dynactin4 evolved completing the Arp1 rod in Heterolobosea (Excavata). Finally, the projecting arm had been completed in SAR and Opisthokonta. However, this model is based on the assumption that dynactin subunits had only been gained and not lost during early eukaryotic evolution, and the model contradicts the unikont-bikont and the photosynthetic-nonphotosynthetic split hypotheses. Given the many dynactin gene loss events in later separating branches it is more likely that the LECA already contained all dynactin subunits. This assumption could be combined with both split hypotheses and is in agreement with analyses of other protein complexes in which the reconstructed complexes of the LECA contained most of the present-day subunits [98, 99].
From the stage of the SAR and Opisthokonta the subsequent evolution of the branches is determined by many and specific gene loss events. Especially Arp10, dynactin6, dynactin1, and dynactin3 have been lost independently in many branches. The Arp1 filament capping function of Arp10 might have been taken over by one of the so far unclassified actin-related proteins or dynactin4. Dynactin6 forms a tight complex with dynactin5 in vertebrates [21] but because also yeasts have, if at all, only dynactin5 it might be possible that dynactin5 forms a homodimer in the species lacking dynactin6. Dynactin1 subunits have independently been lost by many species or their dynactin1 homologs have lost the CAP-Gly domain hindering their identification because of the low sequence similarity of the coiled-coil regions. Vertebrate and Drosophila dynactin1 transcripts without a CAP-Gly domain (corresponding to "p135") are very well versed to bridge the Arp1 rod to dynein and microtubules showing similar intracellular trafficking of organelles [15, 58, 100]. Thus, so far unknown dynactin1s without CAP-Gly domains could still be present in Apicomplexa, Heterolobosea and Apusozoa. Dynactin3 is necessary for the incorporation of dynactin1 into the yeast dynactin complex [40]. However, it has been shown that dynactin1 in vertebrates and Drosophila contains an independent Arp1 binding site, and therefore dynactin3 might not be essential for the dynactin complex in all species. This might explain dynactin3's absence in many branches that have dynactin1. Other reasons could be that we were not able to identify all dynactin3 subunits because of their low sequence conservation or that dynactin3 has diverged in independent branches so far that homology cannot be detected any more. In any case, strong changes happened to this subunit independently in many early branching eukaryotic lineages and also in closely related branches.
Expansion of dynactin complexity in metazoa
Dynactin complex diversity in metazoa is greatly enhanced by branch specific gene duplications and the introduction of alternative splice forms (Figure 
6
). The dynactin1 gene has been duplicated independently in the nematods of the Spirurida branch, in the Brachycera including the
Drosophila
species [
48
], and in fish genomes (Figure 
6
). Thus, dynactin complexes with different properties could be generated in these species by assembling two different homodimers or a heterodimer of their different dynactin1 subunits. Dynactin6 and Arp10 have also been duplicated in the Otocephala branch (including
Brachydanio rerio
) and in birds, respectively. Arp1 has been duplicated early in vertebrate history and subsequently fish, birds, and amphibians lost different types of the duplicates. An alternative but less likely scenario would be that all dynactin subunit duplications were part of the two whole genome duplications at the origin of the vertebrates followed by numerous independent gene losses in the extant species.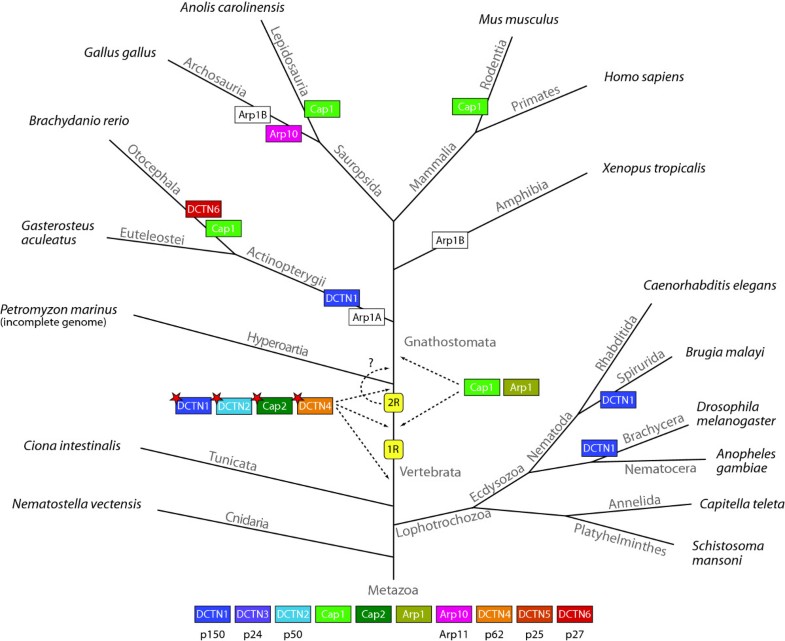 Interestingly, alternatively spliced exons have been invented in vertebrate dynactin1, dynactin2, and dynactin4 genes either before, in between or after the two whole genome duplication events happened but before the divergence of the agnaths and the Gnathostomata (Figure 6). Thus, complexity and fine-tuning of dynactin1 can considerably be enhanced by differential inclusion of four exons that can be combined with three alternative start sites for translation (Figure 2). The alternative start sites affect the inclusion/exclusion of the CAP-Gly domain, and three of the alternative exons encode consecutive pieces of the basic region between the CAP-Gly domain and the first coiled-coil domain. These alternative splice forms therefore do not affect the binding of dynactin to cytoplasmic dynein but only the region attaching dynactin to microtubules [101]. Altogether, 36 different transcripts can theoretically be generated for each vertebrate dynactin1 gene. It is not known yet whether heterodimers of dynactin1 isoforms are possible, which would multiply the theoretically possible number of different dynactin complexes. However, it seems unlikely that a transcript with certain functionality, e.g. a transcript without the CAP-Gly domain, would be combined with a subunit that could in part reconstitute the missing function. This conclusion is consistent with findings in rat brain that showed distinct complexes of dynactin with either full-length dynactin1 (p150) or CAP-Gly diminished dynactin1 (p135, [100]). The three alternative splice forms analysed so far (p150-Δ5; p150-Δ5,6: p150-Δ5,6,7) also showed a tissue specific expression pattern [58] demonstrating that most likely only a limited number of different dynactin1 subunits and not all possible combinations are present in a single cell. However, all combinations will most likely be present in each organism.
Because most subunits are present in multiple copies in the complex, a single gene duplication of one subunit would already result in two, three, or more different complexes, if complexes were built not only from distinct but also mixed subunit compositions. Based on their gene content, the vertebrates can theoretically build thousands of different dynactin complexes considering all combinations of the genes and splice forms. However, most of the differences are introduced by tiny changes. For example, all identified alternatively spliced exons contain only between two and seven residues. In addition, the two Arp1 paralogs differ in only a few residues that are distributed over the length of the molecule. Thus, these small changes are not expected to considerably alter the overall structure of dynactin. However, it is well known that even single posttranslational modifications can dramatically change the functions of proteins from activating/deactivating enzymes or binding/non-binding other proteins or membranes (e.g. phosphorylation of dynactin1 strongly reduces its microtubule affinity, [102]). Concerning the two Arp1 paralogs it is hard to imagine how defined combinations could be generated in the cell given that eight to nine Arp1 subunits comprise the Arp1 minifilament. This would require a strong regulation of the protein level of both paralogs as well as a strong regulation of the position-specific incorporation into the minifilament. The 15:1 ratio of the paralogs could be regulated at the transcription level but it is very likely that both are just randomly incorporated into dynactin without influencing its structure, stability, and function. Therefore, dynactins functions will most likely only be modulated through the various alternative transcripts. The differences seem small but have not been studied at a molecular level yet.
Reduction of dynactin complexity in yeasts
In general, gene loss in yeasts only affects the pointed-end complex subunits and dynactin3, which mediates association of dynactin1 to dynactin2 (Figure 
7
) The Schizosaccharomycetes and Saccharomycotina both have lost the dynactin6 subunit. Dynactin5 and dynactin6 are predicted to fold into left-handed β-helical structures [
103
], and are supposed to form a tight heterodimeric complex in vertebrates [
21
]. They show low sequence similarity but can still be aligned to each other (data not shown). Therefore, it could be possible that dynactin5 forms homodimers in those species that do not encode dynactin6. Dynactin3 and dynactin5 have been lost in Schizosaccharomycetes and many Saccharomycotina subbranches. The loss of dynactin3 in yeasts is surprising because it has been found to be essential to recruit dynactin1 to the dynactin complex in
Saccharomyces cerevisiae
[
40
]. The dynactin1 genes in yeasts have about the same lengths, which is also true for the dynactin2 genes. A missing dynactin3 is therefore not compensated by additional domains in the other dynactin subunits. Either changes at the surface of dynactin1 or dynactin2 may supersede dynactin3 or we were not able to detect the missing dynactin3 subunits yet. Dynactin5 is required for the interaction of dynein with a subset but not all membranous vesicles, which is supported by the conserved basic pI of all dynactin5 subunits and by membrane-flotation essays [
76
]. This is also consistent with findings in
Saccharomyces cerevisiae
, which does not encode a dynactin5 subunit, that dynein is necessary for nuclear migration and spindle orientation but does not perform vesicle transport [
104
,
105
]. In addition, dynactin4, Arp10, and dynactin2 have been lost in several, two, and 1 branch of the yeasts, respectively. Arp10 is needed for the stability and capping of the Arp1 filament [
41
] and its absence should thus affect dynactins integrity. Both
Zygosaccharomyces
and
Lodderomyces
lack Arp10 and dynactin4, the other pointed-end capping protein and it is unclear how the Arp1 filament could be stabilized in these species.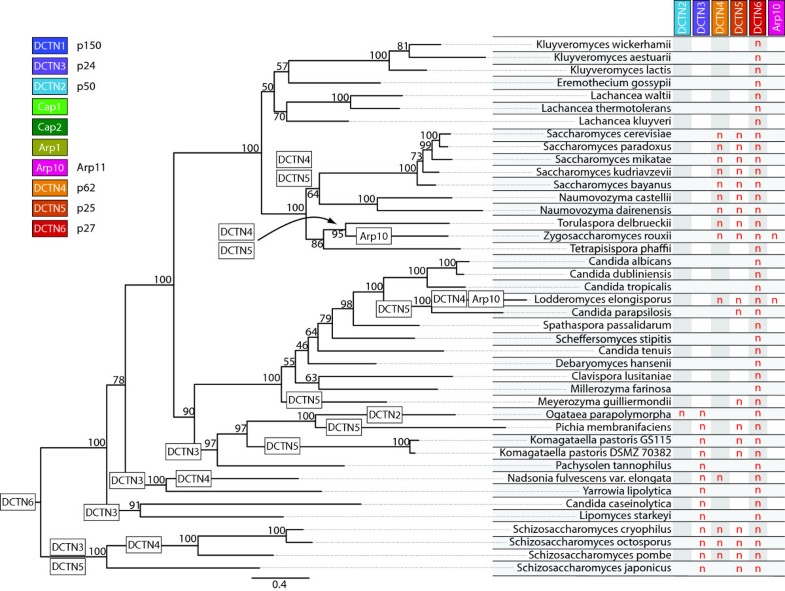 Conclusions
The dynactin complex is a very ancient complex that already existed in the last common ancestor of extant eukaryotes. It consists of eleven subunits of which at least seven comprise the core structure: dynactin1, dynactin2, dynactin4, dynactin5, the heterodimeric capping protein, and Arp1. The presence of the dynactin complex coincides with that of the cytoplasmic dynein heavy chain: Organisms that do not encode cytoplasmic dyneins like plants and diplomonads also do not encode dynactin subunits either. In the metazoan lineage, several of the dynactin subunits were duplicated independently in different branches. The largest repertoire is found in vertebrates. Also at the origin of the vertebrates, several alternatively spliced exons have been invented providing the basis for modulating the core functions. The most prominent example is the dynactin1 gene, from which 36 different transcripts could be generated. In contrast, ascomycetous yeasts have reduced subunit compositions. In general they have reduced pointed-end complexes, which in return let to the loss of the functions coupled to the specific subunits.
Declarations
Acknowledgements
First we would like to thank the Editor Henner Brinkmann and the anonymous reviewers for their very constructive comments that helped to considerably improve the manuscript. We also would like to thank the many sequencing centers and funding agencies for making unpublished sequence data available. Last, we want to thank Dr. Florian Odronitz and Klas Hatje for their help with CyMoBase and WebScipio, and Prof. Christian Griesinger for his continuous generous support. Sebastian Becker helped in the annotation of some of the sequence. This work has been funded by grants KO 2251/3-1 and KO 2251/3-2 of the Deutsche Forschungsgemeinschaft.
Authors' Affiliations
(1)
Abteilung NMR basierte Strukturbiologie, Max-Planck-Institut für Biophysikalische Chemie, Göttingen, Germany
Copyright
© Hammesfahr and Kollmar; licensee BioMed Central Ltd. 2012
This article is published under license to BioMed Central Ltd. This is an Open Access article distributed under the terms of the Creative Commons Attribution License (http://creativecommons.org/licenses/by/2.0), which permits unrestricted use, distribution, and reproduction in any medium, provided the original work is properly cited.