Research article

Open Access
The bee tree of life: a supermatrix approach to apoid phylogeny and biogeography
BMC Evolutionary Biology
2013
13:138
Received: 8 April 2013
Accepted: 27 June 2013
Published: 3 July 2013
Abstract
Background
Bees are the primary pollinators of angiosperms throughout the world. There are more than 16,000 described species, with broad variation in life history traits such as nesting habitat, diet, and social behavior. Despite their importance as pollinators, the evolution of bee biodiversity is understudied: relationships among the seven families of bees remain controversial, and no empirical global-level reconstruction of historical biogeography has been attempted. Morphological studies have generally suggested that the phylogeny of bees is rooted near the family Colletidae, whereas many molecular studies have suggested a root node near (or within) Melittidae. Previous molecular studies have focused on a relatively small sample of taxa (~150 species) and genes (seven at most). Public databases contain an enormous amount of DNA sequence data that has not been comprehensively analysed in the context of bee evolution.
Results
We downloaded, aligned, concatenated, and analysed all available protein-coding nuclear gene DNA sequence data in GenBank as of October, 2011. Our matrix consists of 20 genes, with over 17,000 aligned nucleotide sites, for over 1,300 bee and apoid wasp species, representing over two-thirds of bee genera. Whereas the matrix is large in terms of number of genes and taxa, there is a significant amount of missing data: only ~15% of the matrix is populated with data. The placement of the root as well as relationships between Andrenidae and other bee families remain ambiguous, as several alternative maximum-likelihood estimates fall within the statistically credible set. However, we recover strong bootstrap support for relationships among many families and for their monophyly. Ancestral geographic range reconstruction suggests a likely origin of bees in the southern hemisphere, with Melittidae ancestrally located within Africa, and Halictidae, Colletidae, and Apidae within the New World.
Conclusions
Our study affirms the monophyly of each bee family, sister-taxa relationships between Apidae and Megachilidae (the 'long-tongued bees'), between Colletidae and Stenotritidae, and between Colletidae + Stenotritidae and Halictidae. Our analyses reject a Colletidae-basal hypothesis for family-level relationships and instead support Melittidae as sister to the remaining bees. Southern hemisphere vicariance likely played an important role in early diversification within many bee families.
Keywords
Codon PositionHistorical BiogeographyApis Mellifera GenomeBootstrap ProportionSupermatrix Approach
Background
Bees (Hymenoptera: Apoidea: Anthophila) provide a rich system for exploring the evolutionary consequences of a wide variety of life history characteristics. Bees provision larvae with pollen and nectar, a trait that evolved in the early- to mid-Cretaceous from carnivorous, wasp ancestors [1–5]. It has been suggested that this transition from carnivory to pollenivory led to rapid diversification and expansion of bee lineages as a result of the exploitation of pollen as a novel resource (i.e., a key innovation [6, 7]). Within bees, a number of life history traits have evolved multiple times both within and among bee families, including diet specialization, eusociality, and social parasitism (reviewed in [8]). A robust phylogeny is fundamental to determine how changes in these life history traits have affected behavior, geographic range, phenology, susceptibility to habitat loss or pathogens, and gene or genome evolution.
Over 60 molecular phylogenies of bees have been published to date, and yet phylogenetic relationships among the seven families of bees remain highly controversial, with conflicting results obtained among and even within studies (reviewed in [
8
]). Morphological analyses have placed the plasterer or cellophane bees, family Colletidae (Figure
1
C), as sister to the remainder of the bee families (Figure
1
H), or basal together with Stenotritidae (Figure
1
I), a small family with limited Australian distribution (Figure
1
G). This result is largely driven by a single morphological characteristic shared by apoid wasps and colletid bees: a bilobed (or bifid) tongue or glossa [
9
]. Subsequent molecular and morphological analyses have not supported a Colletidae-basal hypothesis, and the bilobed glossa may be an independently-derived character associated with the application of the cellophane-like lining to cell and burrow walls [
10
–
13
].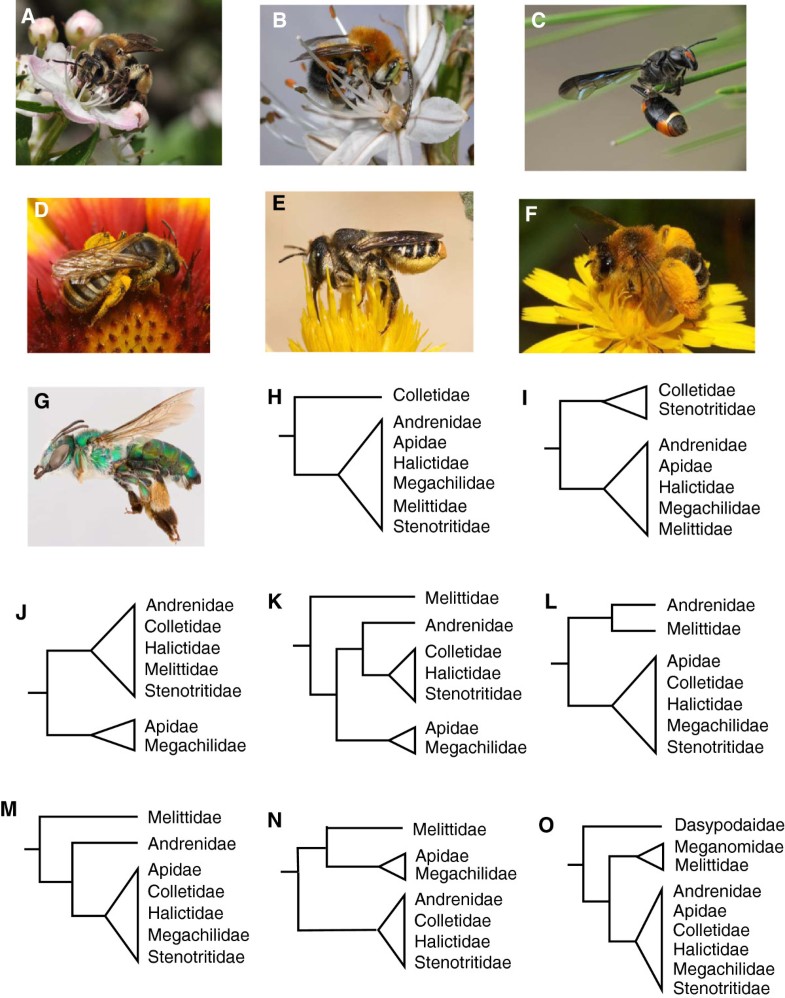 The families Megachilidae (including leaf-cutter bees, carder bees, mason bees, and others; Figure 1E) and the family Apidae (including honey bees, bumble bees, orchid bees, and others; Figure 1B) clearly form a monophyletic group (the "long-tongued" bees), supported by the shared possession of highly modified first and second labial palpal segments [3]. The remaining bee families (Andrenidae [Figure 1A], Colletidae, Halictidae [Figure 1D], Melittidae [Figure 1F], and Stenotritidae) form the loosely-defined "short-tongued" bees. Relationships among short-tongued bees are unclear. Monophyly of short-tongued bees has not been supported by most previous morphological or molecular studies, although one analysis of three nuclear genes supported a tree in which short-tongued and long-tongued bees are reciprocally monophyletic (Figure 1J; [14]). The family Andrenidae has been suggested to be sister to a clade containing Colletidae, Stenotritidae, and Halictidae (Figure 1K; [12, 14, 15]), sister to Melittidae (Figure 1L; [16]), or sister to all bees except Melittidae (Figure 1M; [16]).
Molecular studies have proposed Melittidae as monophyletic and sister to the remainder of the bees (Figure 1K, M; [16, 17]) or sister to the long-tongued bees (Figure 1N; [18]). Both morphological and molecular [9, 12, 15, 17] studies have supported a tree in which Melittidae is a paraphyletic group at the base of bee phylogeny (Figure 1O). Such a topology would lend support to elevating the three melittid subfamilies (Dasypodainae, Melittinae, and Meganomiinae) to families (as suggested by [9]).
An obvious strategy to improve our ability to distinguish among alternative hypotheses is to increase both taxonomic sampling and the number of genes sampled for phylogenetic analysis ([19–24]). Increased taxon sampling can improve statistical support for accurate phylogenetic estimates even when the taxa added have incomplete information [25–27]. We estimate phylogenetic relationships among an unprecedented number of apoid taxa by combining publically-available data from multiple, independent sources. We confined our analyses to DNA sequences of nuclear protein-coding genes, which have more power than mitochondrial genes in recovering older relationships [28–30] and are considerably more straight-forward to align compared to ribosomal genes. We tested alternative phylogenetic relationships from the literature for statistical significance. Finally, we provide the first global biogeographic analysis to explore bee historical biogeography at the level of family and subfamily.
Conclusions
Our study includes the largest number of bee genera for any study to date. We have reconstructed all families as monophyletic and can reject several proposed hypotheses for relationships among families. Our ability to reconstruct biogeographic patterns in bees at the highest levels indicates the utility of the supermatrix approach for historical biogeographic analysis. By including a much broader taxonomic and geographic sample of bees than has been included in previous studies of family-level relationships (e.g., [12]), we can more accurately reconstruct ancestral states using model-based methods. Supermatrix methods, and the insights derived from analysis of the massive amount of sequence data currently publically available, are therefore a powerful approach for inferring patterns on a broad evolutionary scale.
Declarations
Acknowledgements
The authors would like to thank Jason Gibbs for helpful discussions and for feedback on initial drafts of the paper, and Jesse Litman, Sophie Cardinal, Eduardo Almeida, Davide Pisani, and three anonymous reviewers for constructive criticisms on the manuscript. Nick Mason provided assistance with writing scripts in R. This work was supported by an NSF Systematics grant to BND (DEB-0814544) with partial support from the Atkinson Center for a Sustainable Future (Cornell University).
Authors' Affiliations
(1)
Department of Entomology, Cornell University, Ithaca, USA
(2)
Laboratory of Zoology, Mons University, Mons, Belgium
Copyright
© Hedtke et al.; licensee BioMed Central Ltd. 2013
This article is published under license to BioMed Central Ltd. This is an Open Access article distributed under the terms of the Creative Commons Attribution License (http://creativecommons.org/licenses/by/2.0), which permits unrestricted use, distribution, and reproduction in any medium, provided the original work is properly cited.