Research article

Open Access
Contrasting genetic structure of rear edge and continuous range populations of a parasitic butterfly infected by Wolbachia
BMC Evolutionary Biology
2013
13:14
Received: 17 August 2012
Accepted: 14 January 2013
Published: 18 January 2013
Abstract
Background
Climatic oscillations are among the long-term factors shaping the molecular features of animals and plants and it is generally supposed that the rear edges (i.e., the low-latitude limits of distribution of any given specialised species) situated closer to glacial refugia are vital long-term stores of genetic diversity. In the present study, we compared the genetic structure of several populations of an endangered and obligate myrmecophilous butterfly (Maculinea arion) from two distinct and geographically distant parts of its European distribution (i.e., Italy and Poland), which fully represent the ecological and morphological variation occurring across the continent.
Results
We sequenced the COI mitochondrial DNA gene (the 'barcoding gene') and the EF-1α nuclear gene and found substantial genetic differentiation among M. arion Italian populations in both markers. Eleven mtDNA haplotypes were present in Italy. In contrast, almost no mtDNA polymorphisms was found in the Polish M. arion populations, where genetic differentiation at the nuclear gene was low to moderate. Interestingly, the within-population diversity levels in the EF-1α gene observed in Italy and in Poland were comparable. The genetic data did not support any subspecies divisions or any ecological specialisations. All of the populations studied were infected with a single strain of Wolbachia and our screening suggested 100% prevalence of the bacterium.
Conclusions
Differences in the genetic structure of M. arion observed in Italy and in Poland may be explained by the rear edge theory. Although we were not able to pinpoint any specific evolutionarily significant units, we suggest that the Italian peninsula should be considered as a region of special conservation concern and one that is important for maintaining the genetic diversity of M. arion in Europe. The observed pattern of mtDNA differentiation among the populations could not be explained by an endosymbiotic infection.
Keywords
Maculinea arion
Wolbachia
Rear edge
COI
EF-1α
Background
The currently observable molecular biogeography of animals and plants has been historically shaped by the evolutionary history of individual species and recently by their distinctive demographic features. The most important long-term factors that influence European molecular biogeography are related to climatic oscillations [1]. The Pleistocene glacial and interglacial cycles caused extensive latitudinal and altitudinal shifts in species distribution ranges because of the species' need to track shifts in their habitats. Therefore, during the ice ages many species that are currently widely distributed in Europe were confined to the southern extremities of the three major Mediterranean peninsulas, i.e., Iberia, Italy and the Balkans [2]. Repetitive range contractions and expansions affected the genetic structure of these species, but the real impact of such processes varied widely based on the habitat requirements and dispersal abilities of each species [3, 5]. Mobile and ubiquitous species typically show relatively homogenous genetic structures compared with sedentary and specialised species. Representatives of the latter group usually disperse in a stepping-stone manner and are frequently more affected by stochastic processes; they are most likely to experience losses of neutral genetic variation and changes in allele frequencies. Therefore, for sedentary and/or specialized species, higher genetic diversity is often observed in areas situated closer to glacial refugia than at the northern edges of a species' range [6] and references therein.
Hampe and Petit [7] suggest that rear edges, which are defined as the low-latitude limits of a species' distribution, are vital long-term stores of the genetic diversity of species. The rear edge populations are usually small in size and are thus characterised by low genetic diversity and high inter-population genetic differentiation (e.g. the rear-edge hypothesis) [8]. According to Bilton et al. [9], such relic populations have preserved their genetic distinctiveness but have not been the source of major postglacial re-colonisations. Furthermore, the rear edges are relatively stable due to heterogeneous topography, which allowed the species to find suitable climatic conditions with local elevation shifts [10]. Such a scenario is suspected to have occurred in northern Italy for the highly specialised butterfly Maculinea arion (Linnaeus, 1758), which was potentially able to survive glaciations at the base of the Alps and, at the end of the Ice Age, was able to either re-colonise the higher altitudes following shifts of its habitat or adapt to the new biotopes in the lowlands [11].
M. arion lives as an obligatorily myrmecophilous species, and its survival depends on the concurrent presence of two types of resources: specific food plants and specific host ants. Its caterpillars, after spending a short period (10-15 days) feeding on Thymus spp. or Origanum vulgare, leave the plant and reach the ground at the beginning of their fourth (final) instar. There, larval survival is limited by required discovery by a forager ant of the genus Myrmica, which adopts it and takes it to its nest where the larva will spend winter and complete its development by feeding on the ant's brood [12]. Socially parasitic relationships with ants can be specific to the local species [13, 14] and are promoted by chemical and acoustical mimicry [15, 16].
Its complex life cycle makes M. arion sensitive to subtle environmental changes; therefore, this species is now threatened in many countries. M. arion became extinct in Britain, and it was later successfully reintroduced after full habitat restoration [13]. On a European scale, the status of M. arion has worsened during the last decade, from near threatened [17] to endangered [18]. M. arion is listed in Annex IV of the Habitat Directive and is considered an important indicator of habitat quality and stability as well as an umbrella species for certain types of grassland communities [19, 21] as its protection assures an indirect benefit to many other species. Despite its specialised life history and conservational status, this lycaenid shows considerable variation in morphology and ecology across its range, which encompasses vast areas of the Palearctic from Central Spain to Japan [22]. In Europe, M. arion inhabits various types of warm and dry grasslands at elevations between 50 and 2500 m [21, 23, 25].
In the present research, we analysed and compared the genetic differentiation of twenty M. arion populations from two distinct and distant parts of this species' European distribution (Italy and Poland), which fully represent the ecological and morphological variation of the butterfly across the continent. The Polish populations, which inhabit xerothermic meadows, occur on southerly exposed slopes or sandy flat areas, and exploit Thymus spp. as larval host plants (LHP), are usually classified as M. arion arion. In Italy, a more complex pattern is observed with three recognised subspecies. The first subspecies is M. arion obscura (Christoph, 1878), which is characterised by its small size and dark colours, is observed at high altitudes in the Alps and exploits Thymus spp. as LHP. The second, M. arion ligurica (Wagner, 1904), is bright blue in colour, inhabits low altitude grasslands, and exploits Origanum vulgare as its LHP. Finally, M. a. arion encompasses all other populations and Thymus spp. dependences. High variation in host ant use is observed in both countries, as immature butterflies were found with a total number of eight Myrmica species [14, 21, 24, 25], Patricelli et al. unpublished observations.
Considering the presence of putative subspecies and the fact that Italian populations were potentially able to survive glaciations whereas Poland is a postglacial re-colonisation area, one should expect differences in the populations' genetic structures. In this regard, we tested two competing hypotheses. The first hypothesis stated that "rear edge" populations (Italy) have retained higher genetic variability and are more differentiated from each other than Polish populations occurring in a recently colonised, more continuous, range; the second, the centre-periphery hypothesis [26, 27], states that marginal populations (the Italian populations, in our case) should be genetically less diverse than those from the centre of the species' distribution (Poland). Other additional goals of our studies were to examine possible genetic differentiation at a subspecies level and to try to identify potential evolutionarily significant units (ESUs) within this species. This may be interesting as Ugelvig [28] identified three haplotype groups in Maculinea arion and suggested that the lineages originated from different southern refugia during last glaciation. We sequenced the mitochondrial gene cytochrome oxidase subunit I (COI), known as the 'barcoding gene' [29], and the nuclear gene elongation factor 1α (EF-1α), which is a gene that is commonly used in phylogenetically oriented butterfly surveys to complement mtDNA markers e.g., [30, 32]. Additionally, we tested our samples for the presence of Wolbachia, whose occurrence has been reported in several lycaenid butterflies including another representative of the genus Maculinea (i.e., Maculinea alcon) [33]. This endoparasitic bacterium is transmitted with the egg's cytoplasm and may increase mtDNA differentiation among populations, due to heterogeneity of infections, or otherwise homogenise the host genetic structure, if all host populations are infected by the same strain [34]. The heterogeneity of infection may result in deep mitochondrial splits that are concordant with Wolbachia infection (Ritter et al. unpublished observations). Therefore, inspection of M. arion samples for Wolbachia is important for the interpretation of observed patterns because the presence of this endosymbiont can often confound the inference of the evolutionary history based on mtDNA data.
Results
Sequence polymorphism at the COI mitochondrial gene
Mitochondrial DNA sequences (COI) were obtained for the 804-bp fragment in 225 individuals. We found twelve (eight singletons) haplotypes (GenBank accession nos. KC316050 - KC316061), which were defined by thirteen variable sites (eleven transitions and two transversions). The haplotypes differed by one to five substitutions. Possible relationships between the COI mtDNA haplotypes were estimated as a network, as shown in Figure
1
. The network exhibited a star-shaped topology with H1 being the ancestral haplotype. This haplotype was the most common and most widespread, found in 18 out of 20 populations studied and only absent in two Italian sites (CER and CET). Generally, eleven COI haplotypes were present in Italy, ranging from one (CUN) to four (AUR and VFE) in any given population. However, all but one Polish population of
M. arion
were fixed for the same haplotype (H1). Moreover, H1 was the only haplotype shared between the two countries (Table
2
and Additional file
1
: Table S1).
Table 2
Genetic variation in Maculinea arion populations from Italy and Poland
Population

COI

EF-1α

N

h(N h )

π(%)

N

(N h )

π(%)

CER

5

0.600 (2)

0.38

5

0.467 (2)

0.10

AUR

17

0.596 (4)

0.13

20

0.396 (6)

0.10

CET

18

0.111 (2)

0.02

21

0.182 (4)

0.04

BDR

9

0.556 (3)

0.13

14

0.434 (5)

0.10

LOA

16

0.125 (2)

0.03

17

0.724 (6)

0.40

CUN

24

0.000 (1)

0.00

25

0.610 (3)

0.32

VAL

6

0.733 (3)

0.19

6

0.313 (4)

0.47

CDF

21

0.571 (3)

0.20

21

0.571 (7)

0.23

VFE

22

0.515 (4)

0.16

24

0.448 (4)

0.14

GUG

9

0.000 (1)

0.00

14

0.490 (3)

0.11

SOW

8

0.000 (1)

0.00

10

0.337 (2)

0.07

PIA

9

0.000 (1)

0.00

10

0.521 (2)

0.11

TRU

5

0.000 (1)

0.00

7

0.604 (3)

0.14

HOR

8

0.000 (1)

0.00

8

0.608 (3)

0.16

ORC

5

0.000 (1)

0.00

10

0.631 (6)

0.21

SUK

8

0.000 (1)

0.00

11

0.667 (5)

0.21

HUT

12

0.000 (1)

0.00

12

0.743 (8)

0.30

BAB

8

0.000 (1)

0.00

10

0.568 (3)

0.21

KLU

7

0.000 (1)

0.00

10

0.563(3)

0.13

SRO

8

0.250 (2)

0.06

8

0.675 (3)

0.31

Total

225

0.480 (12)

0.12

263

0.635 (30)

0.23
For the pooled samples, the average COI mtDNA nucleotide (π) and haplotype (h) diversity values were estimated at 0.12% and 0.480, respectively. In the Italian populations, the average π and h were 0.17% and 0.651, respectively. For M. arion in Poland, the corresponding values were much smaller (π = 0.003%, h = 0.024) because the polymorphism was found only in the SRO population that had only two haplotypes (one being a singleton) (Table 2 and Additional file 1: Table S1). For the populations studied, π ranged from 0.00% to 0.38 and h ranged from 0.000 to 0.733 (Table 2).
All samples, regardless of the population origin, were positive for Wolbachia by PCR analysis. Our 16S rDNA sequences (334-bp, GenBank accession no KC337261 - KC337262) differed by a single substitution from the Wolbachia sequence found in the chrysomelid beetle Diabrotica virgifera[47] and therefore can be assigned to supergroup A with the highest probability.
Sequence polymorphism at the EF-1α nuclear gene
Nuclear DNA sequences (EF-1α) were obtained by comparing a 460-bp fragment from 263 individuals. Altogether, 26 segregating sites (consisting of 29 substitutions, 20 transitions and 9 transversions) comprised the 30 haplotypes (17 singletons) (GenBank accession nos. KC316062 - KC316091) in the combined samples. Of these 30 haplotypes, the Italian populations contained 18 (4.56 haplotypes per population on average) and the Polish contained 17 (average per population 3.73) Table
2
and Additional file
1
: Table S2). The possible relationships between the EF-1α haplotypes were estimated using a network, shown in Figure
2
. The network exhibited a star-shaped topology, with H1 and H5 being the two ancestral haplotypes. The EF-1α haplotypes differed from one to six substitutions.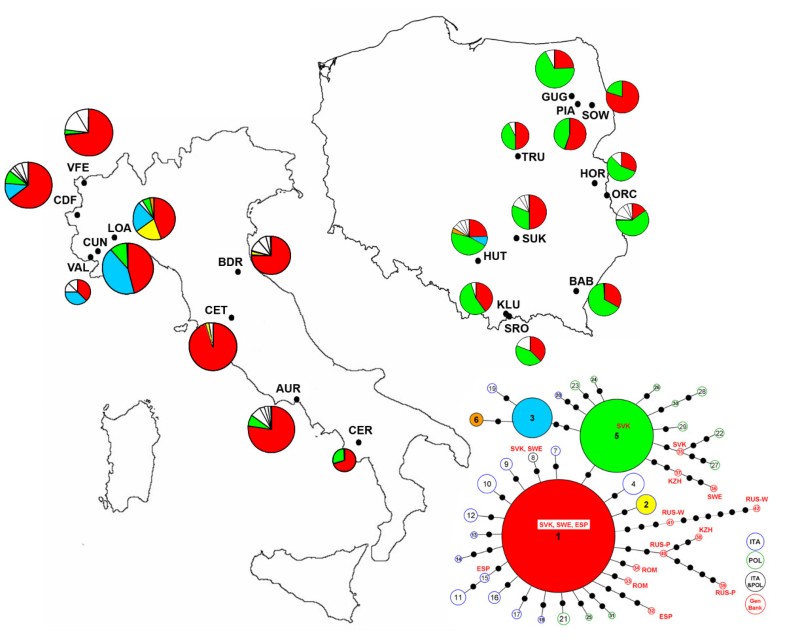 Only five out of the 30 EF-1α haplotypes (17%) were shared between the two countries. For all populations studied, the haplotype numbers ranged from two in the Mt. Cervati (CER), Sowlany (SOW) and Piaski (PIA) populations, up to seven in the Colle delle Finestre (CDF) populations and eight in the Hutki Kanki (HUT) population (Table 2 and Additional file 1: Table S2). The average π for the pooled sample was 0.21% (range: 0.02% - 0.47) and haplotype diversity was 0.632 (range: 0.094 – 0.743, Table 2). For Italy, the average π and h were 0.22% and 0.542, respectively. For M. arion in Poland, the corresponding values were similar (0.19% and 0.609, respectively).
Genetic differentiation among the M. arion populations in Italy and Poland
Based upon the COI genetic data, there was a statistically significant and high degree of genetic differentiation among the 20
M. arion
populations studied (
F
ST
 = 0.436,
P
 < 0.001). The pairwise
F
ST
values between the populations were highly variable and ranged from 0.000 to 0.955 (Figure
3
, Additional file
1
: Table S3). In Italy, we observed very high and statistically significant population differentiation (average
F
ST
 = 0.432,
P
 < 0.001; range: 0.000 – 0.955). However, in Poland, the average genetic differentiation at the COI gene among all the populations was very low and not statistically significant (
F
ST
 = 0.005,
P
 > 0.05; range: 0.000 - 0.054).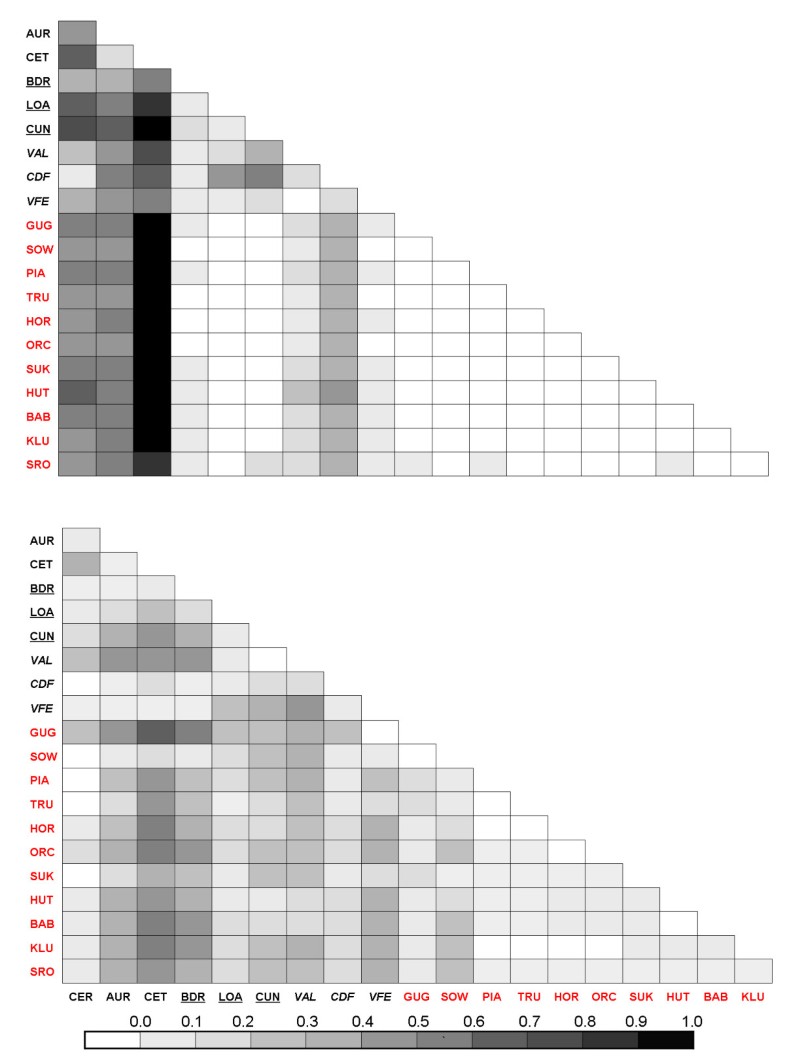 The average genetic differentiation among all 20 populations of M. arion for the EF-1α gene was also high (F ST  = 0.179) and statistically significant (P < 0.001). The pairwise F ST values ranged from 0.000 to 0.678. The average pairwise F ST value between Italian populations was high and statistically significant (F ST  = 0.176, P < 0.001; range: 0.000 – 0.499). Moderate and significant, genetic differentiation was found among the Polish populations (average F ST  = 0.059; P < 0.001; range: 0.000 – 0.392) (Figure 3, Additional file 1: Table S3). No pattern of isolation by distance (IBD) was detected among Italian populations of M. arion, with respect to either the COI gene (r2 = 0.02, P > 0.05) or for the EF-1α gene (r2 = 0.03, P > 0.05) nor among Polish populations with respect to the EF-1α gene (r2 = 0.01, P > 0.05). The IBD analysis was not performed on the Polish samples for the COI gene because the majority of pairwise F ST values were zero.
The geographical structuring among the M. arion haplotypes was highly supported by AMOVA results, for which all sampling sites were treated as a single group (Φ ST  = 0.438, P < 0.001 for the mtDNA COI gene; Φ ST  = 0.195, P < 0.001 for the EF-1α gene). When the Italian and Polish samples were treated as two separate groups, the AMOVA was not significant for the COI gene (Φ CT  = 0.073, ns). However, significant structuring between Italy and Poland was found for the EF-1α gene (Φ CT  = 0.122, P < 0.01). In Italy, no significant structuring was observed with respect to the LHP for either marker (mtDNA: Φ CT  = 0.089, ns; EF-1α: Φ CT  = 0.054, ns). The same result was obtained when the Italian populations were regrouped as lowland (up to 600 m) and highland (over 600 m).
SAMOVA was used separately on the Italian and Polish populations to identify which subdivision was most likely to explain the genetic structure observed in M. arion for the COI and EF-1α genes. For the COI gene in Italy, the data were best explained by assuming four groups of populations. The first group consisted of the AUR and CET samples; group two included populations from the BDR, LOA, CUN, VAL and VFE; and groups three and four were represented by the CER and the CDF populations, respectively. The percentage of variation among these four groups was high at 48.43% (P < 0.001); among the populations within the groups, the variation was 3.26% (P < 0.001), and within the populations, the variation was 48.31% (P < 0.001). The maximum percentage of variation for the EF-1α gene in Italy (28.34%, P < 0.05) occurred under the assumption of two population groups (CUN and VAL compared to all other Italian samples), while the variation among populations within groups was 5.37% (P < 0.001) and within populations was 66.29% (P < 0.001). The analysis of the Polish samples revealed no grouping of populations, and the EF-1α gene data were best explained by assuming a single population group (Φ ST  = 0.059, P < 0.001). No such analysis was performed for the mtDNA on Polish samples because of the almost complete lack of polymorphism.
For the EF-1α gene, the average N ST value (0.156) was significantly (P < 0.001) higher than the average G ST value (0.076) among 20 populations studied, indicating a phylogeographic structuring of M. arion haplotype distributions. The same pattern was also found when the Italian samples (N ST  = 0.143, G ST  = 0.050; P < 0.001) and the Polish samples (N ST  = 0.056, G ST  = 0.026; P < 0.001) were analysed separately. Interestingly, both the N ST and G ST values for the EF-1α gene were significantly higher among Italian samples than among Polish ones (P < 0.001). No phylogeographically significant structuring was found for the mtDNA in Italy (N ST  = 0.319, G ST  = 0.262; ns).
Conclusions
Our study shows that the rear edge theory may explain the observed differences in the genetic differentiation pattern in M. arion between the two distant parts of the European species range. Although we were unable to demonstrate any evolutionarily significant units, we suggest that Italy is an example of a rear edge area and should be considered as a region of special conservation concern, and therefore important for retaining genetic diversity in M. arion. However, the lack of correlation between the genetic differentiation and any subspecies divisions or ecological variation indicate that the observed specialisations are relatively recent in origin. We also demonstrate that the patterns of mtDNA diversity found in Poland and Italy cannot be explained by endosymbiotic infection and results from the colonisation patterns as well as genetic drift.
Declarations
Acknowledgements
We thank the Italian Ministry for the Environment, the Polish Ministry of the Environment and the 'Parco del Cilento e Vallo di Diano', which issued the relevant permissions for our studies. We thank Dr. Gabriele Fiumi, Prof. Giuseppe Manganelli and Dr. Guido Volpe for Italian population selections as well as Maciej Matosiuk for the Wolbachia screening analysis. This research was funded within the project CLIMIT (Climate Change Impacts on Insects and their Mitigation; that is funded by DLR-BMBF (Germany), NERC and DEFRA (UK), ANR (France), Formas (Sweden), and Swedish EPA (Sweden) through the FP6 BiodivERsA Eranet. The Italian Ministry of University and Research (MIUR) multitaxa approach to study the impact of climate change on the biodiversity of Italian ecosystems project and the Polish Ministry of Science and Higher Education (grant no. 2 P04G 024 30) and BST-108 (University of Bialystok) also provided funding for this research. Cover image provided by Marcin Sielezniew.
Authors' Affiliations
(1)
Department of Life Sciences And Systems Biology, University of Turin, Torino, Italy
(2)
Department of Invertebrate Zoology, Institute of Biology, University of Bialystok, Białystok, Poland
(3)
Department of Human Reproduction Biology and Pathology, Institute of Animal Reproduction and Food Research, Polish Academy of Sciences, Białystok, Poland
(4)
Department of Vertebrate Zoology, Institute of Biology, University of Bialystok, Bialystok, Poland
(5)
Department of Molecular and Biometrical Techniques, Museum and Institute of Zoology, Polish Academy of Sciences, Warszawa, Poland
Copyright
© Patricelli et al.; licensee BioMed Central Ltd. 2013
This article is published under license to BioMed Central Ltd. This is an Open Access article distributed under the terms of the Creative Commons Attribution License (http://creativecommons.org/licenses/by/2.0), which permits unrestricted use, distribution, and reproduction in any medium, provided the original work is properly cited.