Research article

Open Access
Endosymbiosis in trypanosomatids: the genomic cooperation between bacterium and host in the synthesis of essential amino acids is heavily influenced by multiple horizontal gene transfers
BMC Evolutionary Biology
2013
13:190
Received: 12 June 2013
Accepted: 6 September 2013
Published: 9 September 2013
Abstract
Background
Trypanosomatids of the genera Angomonas and Strigomonas live in a mutualistic association characterized by extensive metabolic cooperation with obligate endosymbiotic Betaproteobacteria. However, the role played by the symbiont has been more guessed by indirect means than evidenced. Symbiont-harboring trypanosomatids, in contrast to their counterparts lacking symbionts, exhibit lower nutritional requirements and are autotrophic for essential amino acids. To evidence the symbiont's contributions to this autotrophy, entire genomes of symbionts and trypanosomatids with and without symbionts were sequenced here.
Results
Analyses of the essential amino acid pathways revealed that most biosynthetic routes are in the symbiont genome. By contrast, the host trypanosomatid genome contains fewer genes, about half of which originated from different bacterial groups, perhaps only one of which (ornithine cyclodeaminase, EC:4.3.1.12) derived from the symbiont. Nutritional, enzymatic, and genomic data were jointly analyzed to construct an integrated view of essential amino acid metabolism in symbiont-harboring trypanosomatids. This comprehensive analysis showed perfect concordance among all these data, and revealed that the symbiont contains genes for enzymes that complete essential biosynthetic routes for the host amino acid production, thus explaining the low requirement for these elements in symbiont-harboring trypanosomatids. Phylogenetic analyses show that the cooperation between symbionts and their hosts is complemented by multiple horizontal gene transfers, from bacterial lineages to trypanosomatids, that occurred several times in the course of their evolution. Transfers occur preferentially in parts of the pathways that are missing from other eukaryotes.
Conclusion
We have herein uncovered the genetic and evolutionary bases of essential amino acid biosynthesis in several trypanosomatids with and without endosymbionts, explaining and complementing decades of experimental results. We uncovered the remarkable plasticity in essential amino acid biosynthesis pathway evolution in these protozoans, demonstrating heavy influence of horizontal gene transfer events, from Bacteria to trypanosomatid nuclei, in the evolution of these pathways.
Keywords
Endosymbiosis
Trypanosomatids
Amino acid biosynthesis
Phylogeny
Genomic analyses
Metabolic pathway evolution
Proteobacteria
Background
Many protozoan and metazoan cells harbor vertically inherited endosymbionts in their cytoplasm. Prominent among them are the associations between Alphaproteobacteria and leguminous root cells, as well as Gammaproteobacteria and cells lining the digestive tube of insects. Comprehensive reviews have covered most aspects of these ancient mutualistic relationships, including metabolism, genetics, and evolutionary history of the endosymbiont/host cell associations [1–7]. Much less is known about the relationship between protists and their bacterial endosymbionts [8–10], including the symbiosis between trypanosomatids and Betaproteobacteria, herein examined [11–14].
The Trypanosomatidae (Euglenozoa, Kinetoplastea) are well studied mainly because species of the genera Trypanosoma and Leishmania are pathogenic in humans and domestic animals [15]. However, despite their importance, these pathogens are a minority within the family, and most species are non-pathogenic commensals in the digestive tube of insects [16–18]. Usually, trypanosomatids are nutritionally fastidious and require very rich and complex culture media, however a very small group of these protozoa can be cultivated in very simple and defined media [19–23]. This reduced group of insect trypanosomatids carries cytoplasmic endosymbionts and is known as symbiont-harboring trypanosomatids, to distinguish them from regular insect trypanosomatids naturally lacking symbionts. Symbiont-harboring trypanosomatids belong to the genera Strigomonas and Angomonas[24], and their lesser nutritional requirements indicate that they have enhanced biosynthetic capabilities. In a few cases, it has been shown that the symbiotic bacterium contains enzymes involved in host biosynthetic pathways, but in most cases the metabolic contribution of the endosymbiont has been inferred from nutritional data rather than genetically demonstrated [12, 14].
Each symbiont-harboring trypanosomatid carries just one symbiont in its cytoplasm, which divides synchronously with other host cell structures and is vertically transmitted [14]. The endosymbionts' original association with an ancestral trypanosomatid is thought to have occurred sometime in the Cretaceous [13]. This long partnership has led to considerable changes on the endosymbiont genomes including gene loss, with clear preferential retention of genes involved in metabolic collaboration with the host, and consequent genomic size reduction [25, 26], as seen in other obligatory symbiotic associations [1, 2, 7, 27–29].
Extensive comparative studies between symbiont-harboring trypanosomatids (wild and cured strains, obtained after antibiotic treatment) and regular trypanosomatids have permitted inferences about the symbiont dependence and contribution in the overall metabolism, in particular phospholipid [30–32] and amino acid [33–41] production of the host cell. Previous comparative studies on these organisms, often involving trace experiments using radioactive compounds, reported the requirement, substitution, and sparing of amino acids in culture media [22, 33, 42–55]. Nutritional data revealed that, as for most animals, including humans, the amino acids lysine, histidine, threonine, isoleucine, leucine, methionine, cysteine, tryptophan, valine, phenylalanine, tyrosine, and arginine/citrulline are essential for regular trypanosomatids. However, similar analyses showed that symbiont-harboring trypanosomatids require only methionine or tyrosine in culture media, suggesting that they possess the necessary enzymatic equipment to synthesize most amino acids [20, 22, 23, 34]. Unfortunately, besides the symbiont-harboring trypanosomatids, most of these studies were performed only on Crithidia fasciculata, largely ignoring other trypanosomatids. Of the hundreds of enzymes known to be involved in the synthesis of essential amino acids in other organisms, only a few, i.e., diaminopimelic decarboxylase, threonine deaminase, ornithine carbamoyl transferase, argininosuccinate lyase, citrulline hydrolase, ornithine acetyl transferase, acetyl ornithinase, and arginase have been identified and characterized in trypanosomatids [21, 33, 35–41, 46, 56]. Thus, in contrast to the advanced state of knowledge of genes involved in amino acid biosynthesis in many microorganisms [57], the potential for amino acid synthesis in trypanosomatids remains largely unknown. In symbiont-harboring trypanosomatids, nutritional inferences provided little information about the effective participation of the symbiotic bacterium in the various metabolic pathways of the host protozoan. This contrasts with the advancement of knowledge about the presence/absence of genes for complete pathways for amino acid synthesis in many microorganisms.
Herein, we have identified the genes involved in the biosynthetic pathways of the essential amino acids in the genomes of symbiont-harboring and regular trypanosomatids of different genera (see Methods), through the characterization of each gene by similarity searches and protein domain analyses. We apply extensive phylogenetic inferences to determine the most likely origins of these genes, as it has been previously shown that other important metabolic enzymes in trypanosomatids have been transferred from bacteria, other than the present symbiont [58]. Although detection of a gene with a presumed function does not definitely prove its activity, the association of its presence with complementary nutritional and biochemical data supports the conclusion that it functions as predicted. In the present work, we establish the clear and defined contribution of endosymbionts to the amino acid metabolism of their trypanosomatid hosts, which is related to high amounts of lateral transfer of genes from diverse bacterial lineages to trypanosomatid genomes.
Results and discussion
In this work, the presence or absence of a given gene for a particular enzyme was verified in the genomes of endosymbionts, symbiont-harboring and regular trypanosomatids and then compared with the available nutritional and enzymatic data on essential amino acid biosynthesis in insect trypanosomatids. Extensive phylogenetic analyses were also performed on most of the identified trypanosomatid genes, in addition to some symbiont genes of interest. Data are mostly limited to the regular and symbiont-harboring trypanosomatid and endosymbiont genomes that have been sequenced here. Although the genomes of all available symbiont-harboring trypanosomatids and endosymbionts have been examined, only a very limited sample of regular trypanosomatid genomes (H. muscarum and C. acanthocephali) was included in these analyses, precluding generalizations about trypanosomatids as a whole. Data on the genomes of leishmaniae and trypanosomes available in KEGG were also used for comparison, but a wider sampling of genomes from more diverse groups of Trypanosomatidae and other, more distant Kinetoplastida will be necessary to enable more generalizing conclusions on the evolution of essential amino acid synthesis pathways in these organisms.
Given the incomplete nature of the trypanosomatid genomes sequenced here and the possibility of contaminant sequences, we have taken extensive precautions before including each gene in our analyses (see Methods). Our genomic context analyses of the genes identified as horizontally transferred show (Additional file 1) that genes used in this work occurred, with one exception, in long contigs presenting the typical trypanosomatid architecture of long stretches of genes in the same orientation. Moreover, all these genes overwhelmingly matched those from previously sequenced trypanosomatids. The one exception is a gene (2.7.1.100, see below) that occurs only in the two regular trypanosomatids sequenced here, and whose sequences are isolated in short contigs. As described below, they form a monophyletic group in the phylogeny. GC percent (Additional file 1) and sequencing coverage (Additional file 2) analyses also show that all genes identified in this work present statistics typical of other genes from these organisms. In short, these data show that the trypanosomatid genes employed here are highly unlikely to be contaminants.
Conclusions
In the present paper, we have put together nutritional, biochemical, and genomic data in order to describe how the metabolic co-evolution between the symbiont and the host trypanosomatid is reflected in amino acid production (Figure
9
). In fact, amino acid biosynthetic pathways in symbiont-harboring trypanosomatids are frequently chimeras of host and endosymbiont encoded enzymes, with predominance of the latter in the synthesis of essential amino acids. After a careful analysis of different routes, it becomes clear that the symbiotic bacterium completes and/or potentiates most pathways of the host protozoa that are involved in amino acid production, as previously seen in other systems [
7
].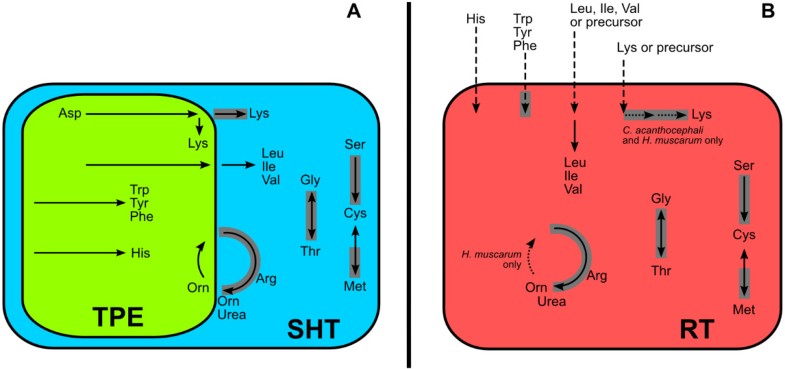 Sometimes, as in the lysine and histidine synthesis, the symbionts contain all genes for enzymes that compose the metabolic route. By contrast, in the cysteine and methionine pathways the bacterium lacks most genes involved in amino acid interconversion, which are present in host trypanosomatids. Interestingly, the last step of some metabolic routes such as those for lysine and tryptophan, contains two genes; one in the host genome, the other in the endosymbiont genome. This phenomenon has also been observed in the synthesis of heme [58, 80], but the reasons for this peculiarity remain obscure. However, we have to consider the possibility that HGT events preceded the colonization of symbiont-harboring trypanosomatids by their endosymbionts, and that the genes present in the host genomes are just relics of previous HGT event(s). Alternatively, these genes could have been recruited to perform functions, as the control of amino acid production by the host trypanosomatid. This same strategy can be considered in isoleucine, valine, and leucine production, but in this case endosymbionts lack the enzyme for the last step, the branched-chain amino acid transaminase (EC:2.6.1.42).
A clear example of the integration of earlier nutritional and enzymatic data with the present gene screening is the synthesis of arginine and ornithine in trypanosomatids. Differently from other members of the family, the urea cycle is complete in symbiont-harboring trypanosomatids by the presence of the OCT gene (EC:2.1.3.3) in symbionts, making these protozoa entirely autotrophic for ornithine, citrulline, and arginine, as previously known from nutritional data [19, 22, 44, 52]. Symbiont-bearing trypanosomatids contain genes for all enzymes leading from glutamate to arginine. The corresponding genes are located partly in the genomes of their endosymbionts and partly in the protozoan nucleus; in this last case, genes are of bacterial origin, resulting from HGT and including at least one transfer of two genes at once (EC:4.3.2.1 and EC:6.3.4.5), as demonstrated in our phylogenies. Furthermore, endosymbionts also contain most genes for the glutamate pathway, thus enhancing synthesis of ornithine, that once decarboxylated generates polyamine, which is related to cell proliferation and to the low generation time displayed by symbiont-harboring trypanosomatids. Results in this study confirm previous findings [25, 58] showing the betaproteobacterial origin of the genes of endosymbionts. The nuclear genes, on the other hand, present a much more convoluted evolutionary picture, with probably numerous ancient HGT events shaping the amino acid metabolism in trypanosomatids. A few pathways in particular have been heavily affected, i.e. methionine/cysteine and arginine/ornithine synthesis. Transferred genes originated preferentially from three bacterial phyla, namely Firmicutes, Bacteroidetes, and Gammaproteobacteria, although possible transfers from other phyla of Bacteria have also been uncovered. Especially interesting was the finding of a gene, coding for ornithine cyclodeaminase (EC:4.3.1.12), which closely groups with the Alcaligenaceae family of the Betaprotebacteria and that is likely to have been transferred from the endosymbiont to the host genome. Accordingly, it is present only in symbiont-harboring trypanosomatid nuclear genomes and not in any of the currently sequenced regular trypanosomatid genomes. During review of this work, a very recent report of a similar situation of multiple lineages contributing to the metabolism in the symbiosis of mealybugs, involving the three interacting partners and genes acquired through HGT from other bacterial sources (mainly Alphaproteobacteria, but also Gammaproteobacteria and Bacteroidetes) to the insect host, has been published [81]. This suggests that this phenomenon could be widespread and of great importance in genomic and metabolic evolution.
Having been detected in about half of the genes analyzed in this work, HGT events seem to have been fundamental in the genomic evolution of the Trypanosomatidae analyzed, and further phylogenetic studies of the whole host genomes should show the complete extent of this process and which additional pathways could be affected. Synthesis of vitamins (Klein et al., personal communication), heme, and amino acids have already been shown to benefit from bacterial-to-trypanosomatid HGT; many other processes in Trypanosomatidae metabolism might also be subjected to this evolutionary process.
Availability of supporting data
The data sets supporting the results of this article are available in the GenBank and TreeBase repositories, under accession numbers AUXH00000000, AUXI00000000, AUXJ00000000, AUXK00000000, AUXL00000000, AUXM00000000, and AUXN00000000 (genome sequences of S. culicis, C. acanthocephali, H. muscarum, S. oncopelti, A. desouzai, A. deanei, and S. galati, respectively), and S14564, for the sequence alignments and phylogenetic trees (http://purl.org/phylo/treebase/phylows/study/TB2:S14564).
Declarations
Acknowledgments
We would like to thank Marta Campaner and Carmen C. Takata (USP), Vladimir Lee, Andrey Matveyev, and Yingping Wang (VCU) for technical support, and Carlisle G. Childress Jr. and J. Michael Davis (VCU Center for High-Performance Computing). Sequencing was performed in the Nucleic Acids Research Facilities, and analyses were performed in the Bioinformatics Computational Core Lab and the Center for High Performance Computing at VCU. The research leading to these results was funded by: the European Research Council under the European Community's Seventh Framework Programme (FP7/2007-2013)/ERC grant agreement n° [247073]10; the French project ANR MIRI BLAN08-1335497; FAPERJ grant coordinated by Dr. Cristina Motta and the FAPERJ-INRIA project RAMPA; by the Laboratoire International Associé (LIA) LIRIO co-coordinated by Ana Tereza R. de Vasconcelos (Labinfo, LNCC, Brazil) and Marie-France Sagot (LBBE, UCBL-CNRS-INRIA, France); the National Science Foundation [USA, grant number NSF DEB-0830056 to Gregory Buck]; and Conselho Nacional de Desenvolvimento Científico e Tecnológico (CNPq, Brazil) and Coordenação de Aperfeiçoamento de Pessoal de Nível Superior (CAPES, Brazil) to Cristina Motta, Marta M.G. Teixeira and Erney P. Camargo.
Authors' Affiliations
(1)
Virginia Commonwealth University, Richmond, USA
(2)
BAMBOO Team, INRIA Grenoble-Rhône-Alpes, Villeurbanne, France
(3)
Laboratoire Biométrie et Biologie Evolutive, CNRS, UMR5558, Université de Lyon, Villeurbanne, France
(4)
Laboratório Nacional de Computação Científica, Petrópolis, Rio de Janeiro, Brazil
(5)
Department of Parasitology, Institute of Biomedical Sciences, University of São Paulo, São Paulo, Brazil
(6)
Laboratório de Ultraestrutura Celular Hertha Meyer. Instituto de Biofísica Carlos Chagas Filho, Universidade Federal do Rio de Janeiro, Rio de Janeiro, Brazil
Copyright
© Alves et al.; licensee BioMed Central Ltd. 2013
This article is published under license to BioMed Central Ltd. This is an Open Access article distributed under the terms of the Creative Commons Attribution License (http://creativecommons.org/licenses/by/2.0), which permits unrestricted use, distribution, and reproduction in any medium, provided the original work is properly cited. The Creative Commons Public Domain Dedication waiver (http://creativecommons.org/publicdomain/zero/1.0/) applies to the data made available in this article, unless otherwise stated.