Research article

Open Access
Transitions between Andean and Amazonian centers of endemism in the radiation of some arboreal rodents
BMC Evolutionary Biology
2013
13:191
Received: 18 July 2013
Accepted: 6 September 2013
Published: 9 September 2013
Abstract
Background
The tropical Andes and Amazon are among the richest regions of endemism for mammals, and each has given rise to extensive in situ radiations. Various animal lineages have radiated ex situ after colonizing one of these regions from the other: Amazonian clades of dendrobatid frogs and passerine birds may have Andean ancestry, and transitions from the Amazon to Andes may be even more common. To examine biogeographic transitions between these regions, we investigated the evolutionary history of three clades of rodents in the family Echimyidae: bamboo rats (Dactylomys-Olallamys-Kannabateomys), spiny tree-rats (Mesomys-Lonchothrix), and brush-tailed rats (Isothrix). Each clade is distributed in both the Andes and Amazonia, and is more diverse in the lowlands. We used two mitochondrial (cyt- b and 12S) and three nuclear (GHR, vWF, and RAG1) markers to reconstruct their phylogenetic relationships. Tree topologies and ancestral geographic ranges were then used to determine whether Andean forms were basal to or derived from lowland radiations.
Results
Four biogeographic transitions are identified among the generic radiations. The bamboo rat clade unambiguously originated in the Amazon ca. 9 Ma, followed by either one early transition to the Andes (Olallamys) and a later move to the Amazon (Dactylomys), or two later shifts to the Andes (one in each genus). The Andean species of both Dactylomys and Isothrix are sister to their lowland species, raising the possibility that highland forms colonized the Amazon Basin. However, uncertainty in their reconstructed ancestral ranges obscures the origin of these transitions. The lone Andean species of Mesomys is confidently nested within the lowland radiation, thereby indicating an Amazon-to-Andes transition ca. 2 Ma.
Conclusions
Differences in the timing of these biogeographic transitions do not appear to explain the different polarities of these trees. Instead, even within the radiation of a single family, both Andean and Amazonian centers of endemism appear enriched by lineages that originated in the other region. Our survey of other South American lineages suggests a pattern of reciprocal exchange between these regions—among mammals, birds, amphibians, and insects we found no fewer than 87 transitions between the Andes and Amazon from Miocene-Pleistocene. Because no clear trend emerges between the timing and polarity of transitions, or in their relative frequency, we suggest that reciprocal exchange between tropical highland and lowland faunas in South America has been a continual process since ca. 12 Ma.
Keywords
Biogeography
Ex situ diversification
Molecular phylogeny
Divergence timing
South America
Andes
Amazonia
Neotropics
Rodentia
Echimyidae
Background
The tropical region that extends from Southern Mexico and the Antilles to Paraguay and Northern Argentina is home to some of the world's richest biotas. On a global scale, nearly 40% of all bird species are found in the American tropics [1], as are a quarter of all mammal species [2]. Species density maps for terrestrial vertebrates [3–5] show that extremely rich faunas blanket most of the tropical Andes, Amazonia, the Guianan Shield, and Atlantic Forest subregions. Each subregion harbors distinctive and historically differentiated faunas [2, 6], which makes beta diversity (species turnover relative to distance) a sizeable portion of the regional total. Nevertheless, alpha diversities (species richness) are greatest along the Andean-Amazonian interface at ~1500 m [3, 7, 8]. Nature reserves that straddle this interface contain up to 8% of the world's avifauna and at least 226 species of mammals [1, 9, 10].
Where, when, and how did this diversity of species originate? Because species richness peaks at the interface of Andean and Amazonian subregions, both areas are implicated. Both have also had dynamic geohistories. Although precursors of the Andean Cordillera are ancient, the first major period of orogenic uplift and growth was triggered ~12-10 Ma in the central portion [11]. This late Neogene event created a succession of newly emergent habitats in the Central and Northern Andes, prompting many to argue that Andean endemics were derived from Amazonian ancestors that colonized novel biomes (e.g., birds and butterflies) [12–15]. On the other hand, the Pebas wetland system encompassed much of Western Amazonia until the late Miocene [16–18], so this area might only have been colonized by terrestrial organisms thereafter. Thus, others argue that some Amazonian radiations have Andean roots (e.g., amphibians and mammals) [19–21]. Undoubtedly, the individual ecologies, biogeographic histories, and chance events associated with groups distributed in and across these two regions have influenced their patterns of diversification [22–24]. Yet it remains unclear whether the timing and polarity of diversification across the Andes-Amazon transition are consistently related. Did the uplift of the Andes and resultant draining of the Pebas wetlands in the Miocene and Pliocene alter the role of Andean habitats in Amazonian diversification?
To investigate questions of biogeographic polarity in a phylogenetic framework, a rooted tree with at least three in-group members is required (Figure
1
). Here we employ phylogenetic hypotheses to identify the derivation of species from Andean (Figure
1
a) or Amazonian (Figure
1
b) ancestors, focusing on modern clades of rodents of the family Echimyidae (Caviomorpha: Octodontoidea) that are co-distributed among these regions. Our goals are to (i) confirm the monophyly of these co-distributed clades, (ii) calibrate the timing of molecular divergences using fossil ages, (iii) reconstruct ancestral biogeographic ranges and the polarity of biogeographic transitions, and, (iv) compare the resulting patterns of Andes-Amazon exchange to other Neogene radiations of mammals, birds, amphibians, and insects.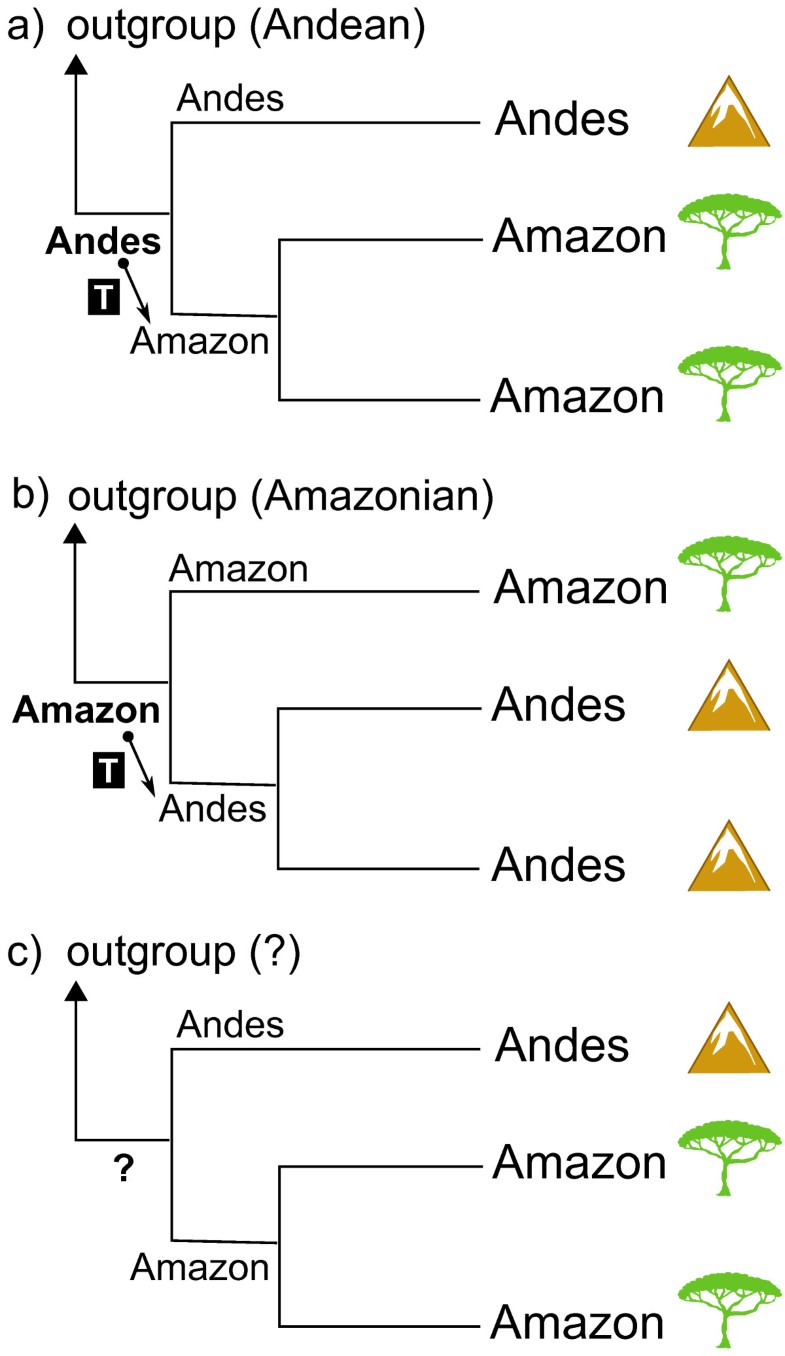 Conclusions
A corollary of these patterns of faunal exchange is the inference that most speciation events are actually Amazon-Amazon or Andes-Andes. Only a few rare events are trans-regional or ex situ, but these transitions may substantially impact the subsequent diversification of a lineage. The clades of echimyid rodents studied here are no different—although initially selected because they inhabit both the Andes and Amazon, we observe at least 14 Amazon-Amazon events compared to four transitions from one region to another (Figure 4). This majority of in situ transitions highlights the biome conservatism of most cladogenic events as a key feature of evolution within tropical and extra-tropical regions [106–108], particularly where topographic and hydrologic complexity restricts the movement of populations. Species are more likely to stay in the same place than to move, and more likely to retain the same ecological habits than to evolve new ones [109]. Hence, changing environmental conditions throughout Andean and Amazonian geohistory are expected to more commonly produce instances of habitat tracking and relative phenotypic stasis within a region, as compared to dispersal from another region and adaptation to a new environment. Efforts to characterize both such patterns—biogeographic exchange and stability—are therefore useful for predicting the direction of future biome shifts associated with climate change scenarios. To enable synthesis, we recommend that instances of in situ and ex situ speciation and biogeographic transition should be compiled to form a comprehensive database of plant and animal lineages. Species from this vast tropical region remain poorly known in their spatial and temporal patterns of relationship, yet contain valuable information regarding the origins, modern patterns, and future of biodiversity in tropical ecosystems.
Availability of supporting data
Abbreviations
Ma:

Megaannum, million years
ML:

Maximum-likelihood
BI:

Bayesian inference
PP:

Posterior probability
MCMC:

Markov Chain Monte Carlo
SALMA:

South American Land Mammal Age
MRCA:

Most recent common ancestor
HPD:

Highest posterior density
DEC:

Dispersal-extinction-cladogenesis
aDNA:

Ancient DNA
mtDNA:

Mitochondrial DNA.
Declarations
Acknowledgments
We extend thanks to the numerous collectors whose specimens made this study possible, including Glenda Pozo for assistance in capturing Mesomys cf. leniceps, and the Ministerio del Ambiente de Morona Santiago, Ecuador for authorizing research permit N° 04-2012-I-B-DPMS/MAE. Molecular data was generated with essential help from the McMaster Ancient DNA Centre, including technical support from Hendrik Poinar, Melanie Kuch, and Jake Enk; Universidade Federal do Espírito Santo with assistance from Yuri Leite, Leonora Costa, Carol Loss, and Roger Guimarães; and the Pritzker Laboratory for Molecular Systematics and Evolution with guidance from Kevin Feldheim and Brian Wray. We also thank Burton Lim at the Royal Ontario Museum for receipt of a tissue loan, and Jim Patton for providing cyt-b sequences for Mesomys. Fiona Reid and University of Chicago Press generously allowed us to reproduce the illustrations on Figure 3 and the cover page. NSU thanks members of his doctoral committee (Trevor Price, David Jablonski, and Richard Ree) for thoughtful suggestions on this chapter of his dissertation. Earlier drafts of this manuscript were improved by critical comments from Alexandre Antonelli, Diego Verzi, Corrie Moreau, John Bates, Steadman Upham, and Naomi Stewart. We thank the Committee on Evolutionary Biology for providing the freedom to pursue this study, and essential administrative support from Carolyn Johnson, Libby Eakin, and Sandra Akbar. This study was conducted under NSF Doctoral Dissertation Improvement Grant DEB-1110805 to BDP and NSU, and with the support of the Barbara E. Brown Fund for Mammal Research (FMNH) to ROB and BDP, and a gift from Walt and Ellen Newsom.
Authors' Affiliations
(1)
Committee on Evolutionary Biology, University of Chicago, Chicago, USA
(2)
Center for Integrative Research, Field Museum of Natural History, Chicago, USA
(3)
Departamento de Ciencias Biológicas, Escuela Politécnica Nacional, Quito, Ecuador
(4)
Department of Mammalogy, American Museum of Natural History, New York, USA
Copyright
© Upham et al.; licensee BioMed Central Ltd. 2013
This article is published under license to BioMed Central Ltd. This is an Open Access article distributed under the terms of the Creative Commons Attribution License (http://creativecommons.org/licenses/by/2.0), which permits unrestricted use, distribution, and reproduction in any medium, provided the original work is properly cited.