Research article

Open Access
Large-scale pattern of genetic differentiation within African rainforest trees: insights on the roles of ecological gradients and past climate changes on the evolution of Erythrophleum spp (Fabaceae)
BMC Evolutionary Biology
2013
13:195
Received: 22 May 2013
Accepted: 20 August 2013
Published: 12 September 2013
Abstract
Background
The evolutionary events that have shaped biodiversity patterns in the African rainforests are still poorly documented. Past forest fragmentation and ecological gradients have been advocated as important drivers of genetic differentiation but their respective roles remain unclear. Using nuclear microsatellites (nSSRs) and chloroplast non-coding sequences (pDNA), we characterised the spatial genetic structure of Erythrophleum (Fabaceae) forest trees in West and Central Africa (Guinea Region, GR). This widespread genus displays a wide ecological amplitude and taxonomists recognize two forest tree species, E. ivorense and E. suaveolens, which are difficult to distinguish in the field and often confused.
Results
Bayesian-clustering applied on nSSRs of a blind sample of 648 specimens identified three major gene pools showing no or very limited introgression. They present parapatric distributions correlated to rainfall gradients and forest types. One gene pool is restricted to coastal evergreen forests and corresponds to E. ivorense; a second one is found in gallery forests from the dry forest zone of West Africa and North-West Cameroon and corresponds to West-African E. suaveolens; the third gene pool occurs in semi-evergreen forests and corresponds to Central African E. suaveolens. These gene pools have mostly unique pDNA haplotypes but they do not form reciprocally monophyletic clades. Nevertheless, pDNA molecular dating indicates that the divergence between E. ivorense and Central African E. suaveolens predates the Pleistocene. Further Bayesian-clustering applied within each major gene pool identified diffuse genetic discontinuities (minor gene pools displaying substantial introgression) at a latitude between 0 and 2°N in Central Africa for both species, and at a longitude between 5° and 8°E for E. ivorense. Moreover, we detected evidence of past population declines which are consistent with historical habitat fragmentation induced by Pleistocene climate changes.
Conclusions
Overall, deep genetic differentiation (major gene pools) follows ecological gradients that may be at the origin of speciation, while diffuse differentiation (minor gene pools) are tentatively interpreted as the signature of past forest fragmentation induced by past climate changes.
Keywords
Cluster analysis
Fragmentation
Last glacial maximum
Phylogeography
Range expansion
Refugium
Species delimitation
Tropical rainforest
Background
The evolution of African rainforest species is still poorly understood. The Guineo-Congolian tropical forests cover a wide area, forming one block extending from Sierra Leone to Ghana in West Africa, and another block from southern Nigeria to the Albertine rift in Central Africa. According to White [
1
], three main types of Guineo-Congolian rainforests occur along a rainfall gradient displaying a coastal-inland orientation: evergreen forest ("Hygrophilous coastal evergreen rainforest"; rainfall >2000 mm); semi-evergreen forest ("Mixed moist semi-evergreen rainforest"; rainfall between 1600 and 2000 mm); and dry forest ("Drier peripheral semi-evergreen rainforest"; rainfall between 1200 and 1600 mm). Furthermore, the Guineo-Congolian phytochoria has been divided into three sub-centres of endemism along a West–east axis based on patterns of species distribution and endemism [
2
]. These are: i) the Upper Guinea region (UGR) in West Africa, ii) the Lower Guinea region (LGR) to the West of Central Africa, and iii) the Congolian region to the East of Central Africa. The UGR and LGR are separated by a broad savanna corridor, also known as the Dahomey Gap (Benin, Togo, and South East of Ghana; Figure
1
). A range of factors, including spatial ecological gradients, historical climate changes, and physical barriers to gene flow might have contributed to the organization of the diversity within the African rainforest, both within and among species. Given the scarcity of palynological data in the lowland tropics, molecular phylogenetics and population genetics approaches can provide major insights into the relative influence of these factors. The present work aims to provide a better understanding of the evolutionary history of the Guinean tropical forests by addressing the phylogeography of two sister-tropical tree species across the UGR and LGR (hereafter referred to together as the Guinea region: GR).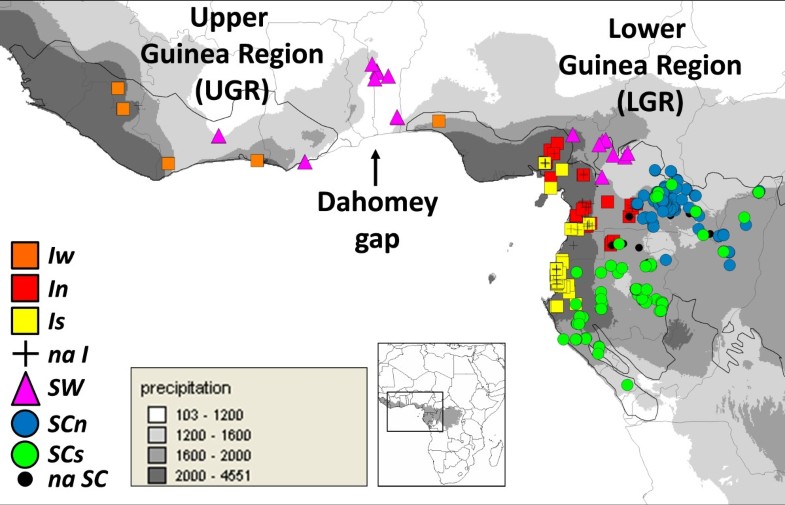 Genetic studies of plastid and nuclear DNA in plant species from the LGR have already demonstrated that within-species genetic diversity often displays spatial discontinuities leading to geographically coherent gene pools or clades, even in the absence of gaps in the distribution of the species [3–8]. However, the distribution of genetic diversity over the entire GR and the origin of this structuring remain largely unknown. Two main hypotheses may explain these spatial genetic discontinuities: (i) the presence of ecological gradients driving adaptive differentiation ('ecological gradient hypothesis'), (ii) forest fragmentation/expansion following climatic oscillations driving differentiation by genetic drift between forest refuges ('forest refuge hypothesis').
The ecological gradient hypothesis posits that environmental gradients can induce parapatric speciation (or ecotypic differentiation) without the need for population isolation. This hypothesis has been supported in a few African animal species (e.g. [9]) and African plants (e.g. [10]). The forest refuge hypothesis posits that the cyclic fragmentation and re-expansion of lowland forests in response to Pleistocene climatic change has been a main driver for species diversification or population differentiation. The climate was drier in tropical Africa during the last glacial episode (i.e., 110000 to 12000 years BP, with a glacial maximum between 26000 and 19000 years BP) causing an expansion of dry and/or mountain forests and savannas that would have constituted barriers to gene flow among the different rainforest fragments [11, 12]. The geographic locations of these refugia are highly debated. Humid conditions had initially returned by ca. 14500 years BP, reaching a maximum between 9000 and 6000 years BP. This corresponds to the so-called Holocene African humid period which was characterised by a maximal extension of rainforests [13]. At this time, between ca. 8400 and 4500 years BP, even the Dahomey Gap was covered by the rainforest [14]. A significant increase in aridity at the end of the mid-Holocene led to the retreat of the rainforests and the reopening of the Dahomey Gap [15].
Erythrophleum (Fabaceae-Caesalpinioideae) is a pantropical woody genus with representative species from North-East Asia (E. fordii, E. succirubrum, E. densiflorum), Australia (E. chlorostachys), Madagascar (E. couminga) and Africa (E. ivorense, E. suaveolens, E. africanum). In this study we focus on the two recognized African forest species: Erythrophleum ivorense A. Chev. (syn. E. micranthum Harms) and E. suaveolens (Guill. et Perr.) Brenan (syn. E. guineense G. Don.). E. ivorense occurs in the UGR and the LGR, from Gambia to Gabon, with a distribution discontinuity between the UGR and the LGR, being totally absent from the Dahomey Gap [16]. This species is found in evergreen forests and requires high rainfall [8, 17, 18]. E. suaveolens is more widespread, being found from Senegal to Sudan and Kenya and southward to Mozambique and Zimbabwe [16, 17]. Hence, it is present in all three sub-centres of endemism of the Guineo-Congolian phytogeographic region and also occurs in adjacent peri-forest areas. It occupies a wider range of climates than E. ivorense and is found in semi-evergreen forests (in Central Africa; see [8]) and in gallery forests (outside of Central Africa; [16, 17, 19]). Contrary to E. ivorense, its distribution is continuous from West to Central Africa, occurring also in the Dahomey Gap [16]. The two species are difficult to distinguish in the field in the absence of reproductive organs, and are grouped under the same timber trade name "tali". In Central Africa, the literature contains several inconsistencies concerning their respective distributions and ecological requirements. Nevertheless, Duminil et al.[8] demonstrated that plastid DNA (pDNA) represents an efficient barcode to identify the two species in the LGR where their respective parapatric distributions are correlated with the rainfall gradient. In West Africa, the two species are reported to occur in contrasting habitats (E. ivorense in evergreen forests and E. suaveolens in forest galleries) and are not expected to be found in sympatry [17]. A third related African species, E. africanum (Welw. ex Benth.) Harms, is distributed within the Zambezian and Sudanian regional centres of endemism (sensu White [2]), from Senegal to Sudan, Kenya and Tanzania and southward to the Transvaal region, occurring in woodland savannas but never in forests. Nuclear DNA sequences indicate that African Erythrophleum species form a clade in which E. ivorense and E. suaveolens are more related to each other than to E. africanum (J. Duminil, unpublished).
The wide ecological amplitude and geographic distribution of E. ivorense and E. suaveolens within the GR allow analysis of the influence of ecological gradients and past population fragmentation on patterns of genetic differentiation. As taxonomists describe two species which are often confused (at least in Central Africa), we hypothesize that genetic variation might display diffuse discontinuities. Sharp discontinuities (i.e. occurrence of gene pools without introgression) would be expected between isolated reproductive entities, like species following the Biological Species Concept or populations that have been geographically isolated over a long period. Diffuse genetic discontinuities (i.e. gene pools with evidence of substantial introgression) would occur between populations that were (i) recently separated (e.g. by the formation of the Dahomey gap) or (ii) formerly isolated (e.g. in forest refugia) but subsequently came into secondary contact or (iii) parapatric, and adapted to different environments but still maintain some gene flow, in which case they may form a stable hybrid zone.
Here we use nSSRs and pDNA sequences to (i) identify major gene pools (sharp discontinuities) and minor gene pools (diffuse discontinuities) within the GR region and check whether they can be matched to taxonomic species, and (ii) verify whether genetic discontinuities can be explained by current climatic gradients (ecological gradient hypothesis) and/or by Pleistocene climatic changes (forest refuge hypothesis and role of the Dahomey Gap). We attempt to gain complementary insights into the evolution of Erythrophleum (i) by assessing the congruence between gene pools assessed from biparentally-inherited nSSRs and maternally-inherited pDNA haplotypes and clades, (ii) by estimating the divergence times between gene pools using a fossil-calibrated pDNA phylogenetic tree, and (iii) by testing for genetic signature of past demographic changes using nSSRs.
Conclusion
Our study provides new insights into patterns of differentiation that occurred within evergreen, semi-evergreen and forest galleries of the Guinea region using a widespread tree genus. We detected three major gene pools occurring in distinct habitat types that probably originated before the Pleistocene. Hence, climatic gradients in tropical Africa are probably the first major driver of differentiation in the genus Erythrophleum, but additional tests based on molecular signatures of climate-driven selection would be necessary to confirm this hypothesis. Furthermore, within major gene pools, we provide evidence of historical barriers to gene flow (i) within the evergreen and semi-evergreen forests of the LGR at a latitude between 0 and 2°N, (ii) within the evergreen forest of southern Nigeria at a longitude between 5 and 8° E. The first barrier has been reported in other African rainforest tree species and could indicate the occurrence of Northern and Southern forest refuges in the LGR. The forest refuge hypothesis is also supported by genetic signatures of past population declines. Contrary to a priori expectations, the second barrier does not coincide with the Dahomey gap, but to the east of this region, indicating that this savanna corridor was previously dominated by an evergreen forest containing E. ivorense. Nevertheless, the occurrence of an east–west genetic discontinuity indicates that West African and Central African forests have probably been isolated most of the time during the Pleistocene. Finally, while three gene pools with sharp genetic boundaries have been detected, chloroplast captures seem to have occurred in a few instances at their contact zones, suggesting that they may not be fully isolated.
Data accessibility
DNA sequences: accessions numbers provided in Additional file 8.
Declarations
Acknowledgments
Research funded by the Gembloux Agricultural University (FUSAGx, Belgium) via project PPR 10.000, the FNRS (grants FRFC 2.4.576.07., 2.4577.10 and MIS F.4.519.10.F) and by the C3A project financed by the French ANR (Agence Nationale de la Recherche) under the ANR-BIODIV program. For their help with sampling, we also thank Guillaume Koffi, Lambert Kouadio, Charles Doumenge, Myriam Heuertz, Michel Arbonnier, Patrice Koumba Ipandi, Jean François Gillet, Nils Bourland, Kasso Dainou, Gilles Dauby, 'équipe Nature + Pallisco', Gilbert Todou, Raymonde Mboma. We also thank the logging companies: Pallisco, Wijma, Rougier, Precious Woods for allowing access to their concessions and ENEF (Ecole Nationale des Eaux et Forêts) for facilitating sampling in Gabon. Thanks to Garry Cook for samples of E. chlorostachys from Australia and Chonglu Zhong and Zhigang Zhao for samples of E. fordii from China.
Authors' Affiliations
(1)
Service Evolution Biologique et Ecologie, CP160⁄12, Faculté des Sciences, Université Libre de Bruxelles, Brussels, Belgium
(2)
Bioversity International, Forest Genetic Resources Programme, Sub-Regional Office for Central Africa, Messa, Cameroon
(3)
School of Natural Sciences and Psychology, Liverpool John Moores University, Liverpool, UK
(4)
Faculté des Sciences et Techniques, BP 4521, Université d'Abomey-Calavi, Abomey-Calavi, Benin
(5)
Laboratoire de Foresterie des Régions Tropicales et Subtropicales, Unité de Gestion des Ressources Forestières et des Milieux Naturels, Gembloux Agro-Bio Tech, Université de Liège, Gembloux, Belgium
Copyright
© Duminil et al.; licensee BioMed Central Ltd. 2013
This article is published under license to BioMed Central Ltd. This is an Open Access article distributed under the terms of the Creative Commons Attribution License (http://creativecommons.org/licenses/by/2.0), which permits unrestricted use, distribution, and reproduction in any medium, provided the original work is properly cited.