Research article
Open Access
Molecular adaptation of telomere associated genes in mammals
BMC Evolutionary Biology
2013
13:251
Received: 2 September 2013
Accepted: 6 November 2013
Published: 15 November 2013
Abstract
Background
Placental mammals display a huge range of life history traits, including size, longevity, metabolic rate and germ line generation time. Although a number of general trends have been proposed between these traits, there are exceptions that warrant further investigation. Species such as naked mole rat, human and certain bat species all exhibit extreme longevity with respect to body size. It has long been established that telomeres and telomere maintenance have a clear role in ageing but it has not yet been established whether there is evidence for adaptation in telomere maintenance proteins that could account for increased longevity in these species.
Results
Here we carry out a molecular investigation of selective pressure variation, specifically focusing on telomere associated genes across placental mammals. In general we observe a large number of instances of positive selection acting on telomere genes. Although these signatures of selection overall are not significantly correlated with either longevity or body size we do identify positive selection in the microbat species Myotis lucifugus in functionally important regions of the telomere maintenance genes DKC1 and TERT, and in naked mole rat in the DNA repair gene BRCA1.
Conclusion
These results demonstrate the multifarious selective pressures acting across the mammal phylogeny driving lineage-specific adaptations of telomere associated genes. Our results show that regardless of the longevity of a species, these proteins have evolved under positive selection thereby removing increased longevity as the single selective force driving this rapid rate of evolution. However, evidence of molecular adaptations specific to naked mole rat and Myotis lucifugus highlight functionally significant regions in genes that may alter the way in which telomeres are regulated and maintained in these longer-lived species.
Keywords
Positive selectionMammal molecular evolutionTelomereSenescenceLongevity
Background
Placental mammals display a great deal of variation in many life history traits including maximum longevity and body mass. A correlation between certain life history traits has been observed with larger mammals tending towards longer life spans [
1
], Figure
1
. Certain species do not adhere to this general rule and exhibit extreme longevity with respect to their body size. The naked mole rat and the microbat
Myotis lucifugu
s have a maximum longevity of 31 years and 34 years, but with small body sizes of 35 g and 10 g respectively [
2
] they are out of line with their expected longevity, Figure
1
. In addition to this, both species do not exhibit the same age related deterioration such as hearing loss or reduced reproductive capabilities that are associated with human senescence [
3
,
4
]. For these reasons, both naked mole rat and microbat (
Myotis lucifugu
s) have been proposed as candidate study species to further our understanding of the mechanisms underpinning increased longevity and senescence [
3
,
5
]. Naked mole rats, microbats and human have all evolved increased life-spans but the underlying selective pressures leading to this extreme life history trait are most likely complex and varied.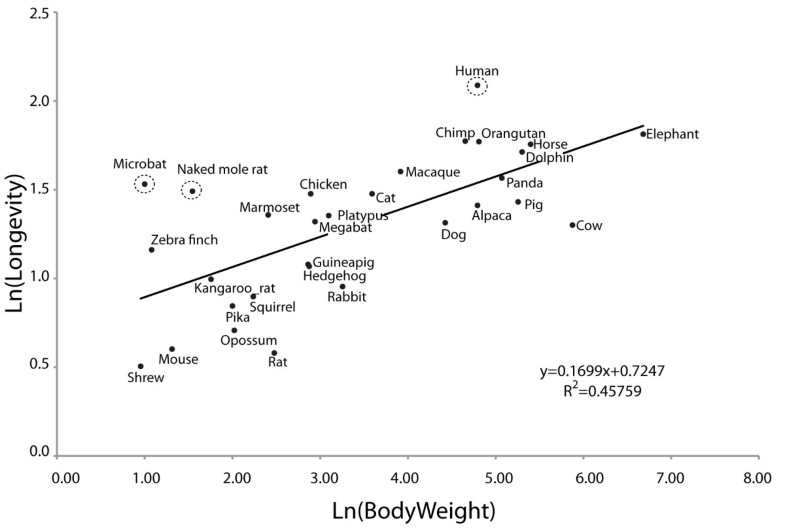 Since the mid 1950s the role of natural selection in senescence has been debated [6–8] as reviewed by Kirkwood and Austad [9], and there is agreement that variation in longevity is potentially in response to predation risk [5]. Microbats have a niche advantage in that flight has reduced the range of predators possible [10]. This reduced risk of predation is thought to be a major contributing factor in the evolution of extended life-span. The naked mole rat lives in a subterranean habitat and is therefore largely protected from predation [5] but they are also a eusocial mammal. It is now recognised that social effects influence longevity and considering longevity in a kin-selection framework this places the eusocial naked mole rat with a strong selective pressure for increased longevity in a niche with reduced predation risk. In humans it has been proposed that increased life span is the result of selective pressure to provide care for dependents to increase their fitness (for a review on the application of kin selection theory to ageing/longevity theory see [11]). Indeed, even within species of anthropoid primates there is variation in longevity depending on the levels of care provided by the male or female, e.g. in species where the female provides the majority of care they have longer lifespans in comparison to males [12]. The 'disposable-soma' theory of ageing predicts that reducing the extrinsic mortality risk, e.g. due to reducing predation, means a species can make substantial investments in growth and 'somatic maintenance' as they will have more opportunities to reproduce, this is in contrast to a species with high mortality risk, that typically invest more in early reproduction than maintenance [8, 9]. Species with low extrinsic mortality risk should also select against late onset deleterious mutations and these should therefore not accumulate with age [5]. Likewise, antagonistic pleiotropy caused by mutations that are beneficial early in life but have negative benefits later in life should not have the same effects in species with low mortality risks [13]. Selective pressures to improve the fitness of the next generation in reduced predation environments can result in increased longevity by adaptation of a variety of genes. Studying species with varying extrinsic mortality risks and divergent life spans should enable a better understanding of the molecular processes involved in ageing.
In 2009, Blackburn, Grieder and Stostak won the Nobel Prize for discovering that repetitive elements on the end of chromosomes (telomeres) maintain chromosome integrity and that the enzyme telomerase maintains these telomeres. In linear chromosomes, telomeres are crucial "TTAGGG(n)" repeat structures that protect the tips of chromosomes in both somatic and germ line cells. Telomerase along with a suite of DNA repair, telomere binding and chromatin regulators (collectively referred to as "telomere associated genes" throughout this paper), are key regulators of these protective caps, see review [14]. The telomere repeat sequence "TTAGGG(n)", while conserved across vertebrates, can vary in length, for example humans have ~10-15 kb of telomere sequence at the tips of their chromosomes, while mice have approximately ~20-50 kb of telomere sequence [15, 16]. Telomeres typically shorten during each cell division in the absence of telomerase expression, eventually reaching a critical length, which triggers cell death. This process is known as 'replicative senescence' [17]. Maintenance of telomere length directly impacts the regenerative capacity of stem cells, and has been associated with premature ageing diseases such as Werner's syndrome, Ataxia telangiectasia and Dyskeratosis congenita [18–20]. However, recent debate has centered on whether telomere length is correlated with body size rather than life span thereby calling into question the direct role of telomere length in chronological ageing [5]. Here we sought to determine if there were lineage-specific patterns of evolution in the proteins responsible for telomere length and maintenance unique to those lineages with extended longevity.
Adaptation at the molecular level is estimated by the ratio of non-synonymous substitutions per non-synonymous site (Dn) to synonymous substitutions per synonymous sites (Ds), referred to as ω throughout. An ω value of < 1 indicates that a gene is undergoing purifying selection, an ω value = 1 is indicative of genetic drift or neutral evolution, while ω > 1 signifies positive selection. The relationship between positive selection and protein functional shift has been validated biochemically through the rational mutagenesis of various fungal, plant and mammal enzymes [21–24]. Whilst positive selection has been reported for between 38% and 62% of protein coding genes in mammals [25], it is generally held that the majority of codon positions are evolving neutrally or under purifying selection [26].
Signatures for adaptive evolution have been shown for regulatory regions and protein-coding genes [27, 28]. In the case of protein coding regions the genes implicated are frequently those that have emerged through gene duplication [29]. Gene duplication is a well-known source for new gene function [30] although the precise mechanism of neofunctionalization remains debated [31, 32]. In general it is observed that most duplicates tend to become subfunctionalized or pseudogenized in the absence of purifying selection [32]. Recombination can introduce variability to populations [33–35] and can also influence the process of natural selection [36]. Non-adaptive evolutionary forces (such as recombination, the accumulation of deleterious mutations and the variation in demographic history across these species) are also major contributing factors in shaping gene evolution [37] and should also be considered.
Here we assess whether there is enrichment for positive selection in lineages with increased longevity, i.e. the naked mole rat, M. lucifugus and human in those genes responsible for telomere maintenance and integrity. We determine species-specific patterns of adaptive evolution in microbat, naked mole rat, and human and we explore the molecular adaptations that have occurred uniquely in the human lineage using population level data.
Results and discussion
The 56 telomere associated genes for this study [14] were clustered into 54 gene families across 26 placental mammals and 4 outgroup species (Monodelphis domestica, Ornithorhynchus anatinus, Taeniopygia guttata and Gallus gallus). Multiple sequence alignments (MSAs) were generated using both distance and evolutionary aware methods [38, 39] ensuring a comprehensive exploration of alignment space. Sequences with less than 60% coverage over the entire length of the MSA, or individual columns that did not have 60% minimum coverage across a position, were removed using trimAl [40], giving a final dataset of 52 gene family alignments for further analyses. These gene families were composed of 4 multigene families, 14 families that contained lineage-specific gene duplications and 34 single gene orthologous families. All MSAs were of good quality (norMD > 0.6) [41], ranging between 786 bp and 5514 bp in length and contained between 14 and 48 species. The profile of the dataset is described in Additional file 1.
Conclusion
There have been many competing hypotheses proposed to explain the observed variation in longevity and ageing in animals, yet molecular evolutionary studies have been lacking. While clear correlations exist between life history traits such as longevity and body mass, there are a number of species that do not follow these general rules and these are particularly interesting for improving our fundamental understanding of the process of longevity and ageing. We sought to test if there were signatures of positive selection in genes associated with telomere maintenance that correlated with incidences of increased longevity and body size in mammals. We found a weak correlation between longevity and levels of positive selection and no correlation between the levels of positive selection and body mass. It was not possible for us to pinpoint one single life trait as the main contributor to the strong signature for positive selection in telomere associated genes that we observe across mammals. Our results instead are suggestive of a more complex selective force shaping the evolution of these genes that is likely to incorporate variation across species in demography, metabolic rate, germ line generation time, as well as body size and longevity. As telomere-associated genes underpin important functions in maintaining genomic integrity, cancer as a selective force, or more specifically the selective pressure to reduce the incidence of juvenile cancers, could contribute towards these strong signals for protein functional shift that we observe in this gene set thereby providing an alternative to direct selection for increased longevity.
We cannot completely discount any of the current competing hypotheses for increased longevity, nor can we discount the role that other genes outside of telomere maintenance may play in increased longevity. While we have applied rigorous statistical testing to our dataset, ω > 1 may not always be a indicator of protein functional shift as it may reflect variations in effective population size [68], recombination events [52], biased gene conversion [69] or relaxation of functional constraint [70]. To this end we also examined non-adaptive selective forces on this genes. The proteins in our dataset control very important cellular functions and one might expect to find signals of strong purifying selection, to the contrary we observe high levels of both non-adaptive and adaptive evolutionary events in the data. Identifying proteins under species-specific positive selection is biologically significant as it is synonymous with protein functional shift. Here we have identified positive selection in a large number of proteins and lineages with significance values set to p-adj < 0.01 (CladeC 19/52 proteins and 15/26 placental mammals, modelA 48/52 proteins and 24/26 placental mammals), but of particular interest are the naked mole rat (CladeC 1/43 and modelA 9/43), microbat (Clade C 1/45 and modelA 10/45) and human (CladeC 0/52 and modelA 2/52) lineages all of which manifest increased longevity. It is particularly interesting that there was no overlap in the specific genes identified as having signatures of positive selection in either of the lineage-specific analyses (CladeC or modelA), and these genes were non-overlapping between the naked mole rat, M. lucifugus and human. Despite sharing the life history trait of increased longevity, each of these lineages has different strategies for reproduction and survival that can contribute to these different selective regimes, e.g. in the eusocial system adopted by the naked mole rat it is the older females that produce the most offspring [71], the ecological niche of the M. lucifugus and naked mole rat reduce risk of predation [72], and the variation in effective population sizes across all three species results in very different levels of background mutation upon which natural selection can act.
As well as increased longevity, M. lucifugus and naked mole rat have evolved the ability to postpone senescence. We have identified signatures of positive selection acting within regions of the genes directly involved in telomere maintenance in M. lucifugus (DKC1 and TERT) and within the Fanconi anaemia/BRCA pathway DNA repair pathway in naked mole rat. These signatures of adaptation could be the result of selective pressure for delayed onset of deleterious attributes of ageing. The human lineage represents a unique situation where there is an observed increased longevity but there is no postponement of the ageing process. The identification of two genes (RBL1 and WRN) under positive selection in the human lineage spurred us to examine modern human populations for signatures of ongoing adaptive evolution in these proteins. The observed pattern of segregation in the WRN gene in European and African Yoruba populations is suggestive of continued positive selective pressure in modern human populations on telomere maintenance processes. There are of course a number of competing selective pressures acting on human populations (as well as a bottle neck in population size that can contribute to fixation of slightly deleterious mutations), and while pathogen load has been proposed as the most dominant driver of adaptation in the human lineage [70], cancer selection has a distinct possibility as a contributing factor [69, 73]. Indeed many of the sites identified in this study as positively selected are in close proximity to (or directly associated with) cancer.
As positive selection and protein functional shift are strongly correlated, identifying proteins under positive selection in specific lineages lends itself to more accurate molecular modeling of ageing, and cancer across species. Furthermore, the identification of specific molecular adaptations in telomere associated proteins in species with increased longevity, i.e. naked mole rat, human and M. lucifugus, provides us with an important fundamental step forward in our understanding of the diverse mechanisms involved in the evolution of increased longevity.
Declarations
Acknowledgements
We would like to thank the Irish Research Council for Science, Engineering and Technology for the Embark Initiative Postgraduate Scholarships to AMMC and to CCM. We would like to thank the Science Foundation Ireland and Higher Education Authority's (SFI/HEA) funded Irish Centre for High-End Computing for processor time and technical support (under license ICHEC: dclif024b). MJO'C is funded by SFI EOB 2673 and the Fulbright commission scholar award 2012–2013. ECT is funded by the European Research Council ERC-2012- StG: 311000. We would like to thank Dublin City University for the Orla Benson travel award 2011 to CCM.
Authors' Affiliations
(1)
Bioinformatics and Molecular Evolution Group, School of Biotechnology, Dublin City University, Glasnevin, Dublin 9, Ireland
(2)
Centre for Scientific Computing & Complex Systems Modelling (SCI-SYM), Dublin City University, Glasnevin, Dublin 9, Ireland
(3)
Genetics and Biotechnology Lab, Plant and AgriBiosciences Research Centre, National University of Ireland Galway (NUIG), Galway, Ireland
(4)
Cold Spring Harbor Laboratory, Cold Spring Harbor, USA
(5)
Program in Molecular Structure and Function, Hospital for Sick Children, Toronto, Canada and Departments of Biochemistry and Molecular Genetics, University of Toronto, Toronto, Canada
(6)
School of Biology and Environmental Science & UCD Conway Institute of Biomolecular and Biomedical Research, University College Dublin, Belfield, Dublin 4, Ireland
(7)
Department of Organismic and Evolutionary Biology and Museum of Comparative Zoology, Harvard University, Cambridge, USA
Copyright
© Morgan et al.; licensee BioMed Central Ltd. 2013
This article is published under license to BioMed Central Ltd. This is an open access article distributed under the terms of the Creative Commons Attribution License (http://creativecommons.org/licenses/by/2.0), which permits unrestricted use, distribution, and reproduction in any medium, provided the original work is properly cited.