Research article
Open Access
Phylogeography and diversification history of the day-gecko genus Phelsuma in the Seychelles islands
BMC Evolutionary Biology
2013
13:3
Received: 31 August 2012
Accepted: 17 December 2012
Published: 5 January 2013
Abstract
Background
Lying in a shallow continental shelf cyclically affected by oscillating sea levels since the Miocene, the Seychelles islands are particularly interesting for evolutionary studies. Recent molecular studies are generating an emerging picture of the origin of its biota, yet very little is known regarding their phylogeographic structure or on the factors promoting diversification within the archipelago. Here we aimed to obtain a detailed depiction of the genetic structure and evolution of one of the most widespread vertebrate groups in the archipelago: the day-geckos of the genus Phelsuma. In parallel, we aimed to infer divergence times between species and subspecies, testing a long-standing hypothesis that argues for different time since sympatry between species as the cause of their different morphological differentiation across the archipelago.
Results
Molecular data corroborated the existence of two main lineages, corresponding to the two currently recognized species. Divergences between species likely date back to the Mio-Pliocene, while more recent, Pleistocenic, divergences are suggested within each species. Populations from outer islands share mtDNA haplotypes with inner island populations, suggesting very recent dispersals (or introductions). We found no evidence of current gene flow between species, but results pointed to the possibility of gene flow between (now allopatric) subspecies. Time estimates suggest a synchronous divergence within each species (between island groups).
Conclusions
The geographic patterns of genetic variation agree with previous taxonomic subdivisions within each species and the origin of outer islands populations is clearly tracked. The similar intraspecific divergence time estimates obtained suggest that the differential body-size differentiation between species within each group of islands may be driven by factors other than character displacement proportional to time since sympatry, as previously suggested. These factors could include different habitats/resources available within each island group, niche differentiation and/or character displacement. We also bring again into consideration the hypothesis of body size being influenced by the distribution of native vegetation and social systems within this group, although it remains to be tested. Our results highlight not only the necessity of clarifying the role of ecology and interspecific interactions in this group's morphological diversification and community assemblage, but also the importance of co-evolutionary mechanisms and their importance for appropriate conservation of island biodiversity. Further, we provide a detailed description of the phylogeographic structure of these taxa across these islands, which still remain poorly characterized in this respect.
Keywords
Phelsuma SeychellesPhylogeographySpecies-treesDiversificationMorphological evolutionCharacter displacementBiogeography
Background
The Western Indian Ocean islands of Madagascar, Comoros, the Mascarenes, and the Seychelles are one of the 34 "hotspots" defined by Conservation International [
1
]. While there is an emerging picture from molecular data about the origin of their biota (see [
2
–
7
] for recent reviews), diversification mechanisms within each archipelago and island are less understood. That is particularly true for the Seychelles, where only a handful of studies have explored the genetic structure of different species within the archipelago [
8
–
13
]. The separation of the Seychelles and the Indian subcontinent is estimated to have been completed 65 Mya and the Seychelles include about 155 islands that can be divided in 3 groups: granitic, low and raised coralline islands (Figure
1
). The granitics are a group of about 40, clustered together on the undersea shelf of granite, that is the Seychelles bank. These comprise the islands of North, Silhouette, Mahé, Fregate, Praslin, La Digue, Curieuse and several smaller ones encircling them. The low coralline islands are very recent, probably less than 6,000 years ago, and formed from marine sediments cemented with guano deposits [
14
]. The raised coralline islands (Aldabra, Assumption, Astove and Cosmoledo) are also oceanic, formed by reef-building corals acting on submerged volcanic seamounts that may have formed some 20 million years ago (Mya) [
15
] and were submerged and re-emerged several times since their formation.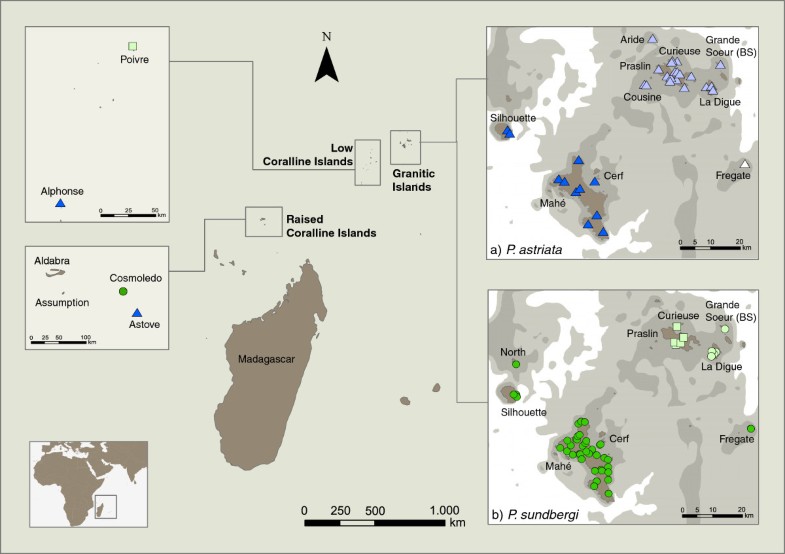 Sea-level oscillations occurred throughout the Pleistocene and back through the Miocene, with low stands of up to 145 m below present sea-level (bpsl) [16–18]. All the islands in the plateau would have been united with sea-levels of roughly 60 m bpsl, but even less pronounced minima greatly increased the size of each island and their connectivity (Figure 1a, b). It is probable that these cycles of allopatry and contact between islands shaped distribution patterns, organismal divergence and diversification within the archipelago. Nevertheless, intra-archipelago genetic structure of Seychellois taxa is poorly known, as well as the relative influence of isolating vs. connecting periods on species diversification. As in other archipelagos cyclically isolated and connected, cryptic diversity might be higher than currently appreciated [19, 20].
Historically, Mahé and surrounding islands, plus Silhouette and North have been considered to form a biogeographic unit separated from the Praslin-La Digue (and surrounding islands) group. Fregate, located roughly in the middle of the two groups of islands, is generally regarded as an isolated or intermediate unit [8, 21, 22]. Distribution data for insects [21], molluscs [23], and a few studies of intraspecific variation within amphibians [24] and reptiles [8, 25] are consistent with this pattern. However, this does not seem to stand for some other groups [9, 26]. Most of the few existing studies on intraspecific genetic variation suggest deep and cryptic divergences among the granitic Seychelles [12, 13, 27, 28], highlighting the need for thorough sampling and phylogeographic analyses across these islands. At the same time, it becomes important to understand also the relative influence of historical and ecological factors in the generation and maintenance of such diversity. Day-geckos of the genus Phelsuma are ideal in this respect, as its two Seychellois species are widespread across most of the islands, with both sympatric and allopatric populations. Phelsuma mostly diversified in Madagascar, from where they colonized the surrounding archipelagos and often speciated (reviewed in [28]). Within each island clade, Phelsuma species diverged ecologically and morphologically, evolving a wide variety of colour patterns and sizes and occupying a broad range of arboreal habitats (see [29] and references therein). However the relative contribution of geographic isolation, local adaptation and interspecific interactions, including hybridization, in the generation of these species assemblages is rather unclear.
In the granitic Seychelles, Phelsuma is represented by a small endemic clade [8, 30]. The classification of the Seychelles "forms" of Phelsuma has been a persistent problem due to the considerable variation in colour pattern and size across islands. Cheke [31] and Gardner [25, 32, 33] assessed the systematics of the Seychelles forms and currently two endemic species are recognized with an unclear number of subspecies. Within P. sundbergi, up to six subspecies have been recognized: P. sundbergi longinsulae, inhabiting Mahé (and associated islands) plus Fregate; P. (sundbergi) longinsulae rubra and umbrae, respectively from North and Silhouette sensu [34] reflecting previous consideration of P. longinsulae as a separate species; P. s. sundbergi, from Praslin, Curieuse, Aride and surrounding islands, and P. s. ladiguensis from La Digue, Mariane, Grande and Petite Soeur and surrounding islands (Figure 1). Gardner [25, 33] examined variation within these species based on body size, scalation and colour pattern variables and found support for only three of the groups, P. s. longinsulae, P. s. sundbergi and P. s. ladiguensis (the latter two being clearly more similar), but not for the distinction of the North and Silhouette forms, rubra and umbrae. These were synonymised with P. sundbergi longinsulae, as was also P. (sundbergi) longinsulae menaiensis sensu [35], a putative subspecies from the coralline islands of Cosmoledo described in some detail by Cheke [31]. Within P. astriata two allopatric subspecies are recognized; P. a. astriata and P. a. semicarinata, from the southern and northern group of islands respectively (Figure 1), with populations from Fregate described as "intermediate forms" and hypothesized to be hybrids between the two subspecies [31]. Individuals from Astove (raised coralline island) were considered by Cheke [31] to be closely related to the nominate astriata on Mahé.
The degree of morphological differentiation between and within species and subspecies varies geographically. Notably, body size variation shows no clear geographic pattern within P. astriata, while clearly increases from south to north within P. sundbergi; with P. s. sundbergi and P. s. ladiguensis individuals being significantly larger than P. s. longinsulae[8, 32]. Radtkey [8] proposed allopatric speciation followed by asynchronous dispersals across island groups plus resource competition generating character displacement as the drivers of speciation and body size evolution within this group. More specifically, he proposed that after the invasion of the Seychelles archipelago by a single species of Phelsuma, sea-level changes led first to allopatric speciation, with the ancestor of P. sundbergi and P. astriata differentiating in the southern and northern groups of islands, respectively, and then to the asynchronous dispersal of these species across island groups. The differences in the relative timing of the dispersal between island groups (with the ancestor of P. s. sundbergi and P. s. ladiguensis colonizing the northern group of islands much earlier than the ancestor of P. astriata astriata colonized the southern group) would have resulted in P. sundbergi evolving an intermediate body size in the group of islands associated with Mahé (southern) and a large body size in the group of islands associated with Praslin and La Digue (northern), due to character displacement, and given its longer period of sympatry with P. astriata in the northern islands. Nevertheless, this is not the only possible explanation for the different degrees of body size disparity. Body size distributions may be governed instead by different ecological variables and interactions happening within each island group [32, 36]. For example, competition and selective pressures for body size within each island or island group may be distinct and lead to distinct patterns of morphological differentiation between species within island group, independently of the time since sympatry. In fact, under character displacement, phenotypic divergence accelerates in sympatry [37] but needs not be correlated with time since sympatry [38, 39].
Gardner [32] proposed instead that body size in Seychellois Phelsuma has probably been influenced by the distribution of vegetation and social systems. The use of defensible pollen and nectar food supplies, especially the male inflorescences of Lodoicea maldivica, native to (and only found in) the northern islands of Praslin and Curieuse, may have resulted in the evolution of the larger body size of P. sundbergi in the northern islands while hardwood forests, shrub and seabird islands vegetation may have led to smaller sizes in the south. The competitive relationships between the species could then be influenced by their body size differences and help to support the selective pressures within the system. Sympatric species within each island may be partitioning their habitat differently or diversifying along different axis eg. [40–43], resulting in the observed pattern, without the need to invoke asynchronous sympatry as its cause. In the Mascarenes for example, sympatric species of Phelsuma often differ across several resource axes at the same time [44]. If the time since contact between the different species in the Seychelles is similar, ecological factors shall play a much more important role in morphological diversification of Seychellois Phelsuma than currently appreciated. It is also not known if these species hybridize on any island group.
Our objectives here were first to assess the intraspecific genetic variation within species and its geographical distribution, inferring possible colonization routes and the geographic origins of outer island populations. Second, using multilocus data, to explore the possibility of gene flow across species and subspecies and infer the underlying population's history. Ultimately, we aimed to test the asynchronous divergence within each species, simultaneously providing a time scale for the diversification of this clade. Such a phylogeographic approach will help us to better understand the relative influence of oscillating sea-levels in shaping diversification across these islands, and also should provide a valuable framework upon which the ecological determinants of diversification within this group can be further explored.
Conclusions
Geographic patterns of genetic variation within Phelsuma species from the Seychelles support current taxonomy, with the taxonomic status of P. astriata population from Fregate remaining undetermined. The data are also congruent with the very recent origin of all outer islands populations. Despite extensive sympatric distributions, no gene flow seems to occur between the two species, whose divergence most probably pre-dates the Pleistocene. The genetic structure within each species is well correlated with geography, with the main mtDNA clades (subspecies) being distributed exclusively across northern and southern islands. Such differentiation is consistent with isolation caused by oscillating sea levels, which also seems to have allowed post-divergence gene flow within both species. The divergence between the main (northern and southern) clades within each species seems to have been approximately simultaneous, and highlights the importance of studying the potential role of habitat and ecological factors in microevolutionary patterns within this group.
Declarations
Acknowledgements
This research was supported by grants from Fundação para a Ciência e Tecnologia SFRH/BD/1745/2004 (to SR), PTDC/BIA-BDE/65745/2006 and the Gulbenkian Society. We are grateful to SBS of Seychelles for permits for fieldwork and tissue collection and to the Ministry of Environment and Natural Resources for logistic support during fieldwork. We thank NPTS, ICS Seychelles, SIF and several entities and persons that made fieldwork across all islands possible. A special acknowledgement is due to Raquel Vasconcelos, Ana Perera and Andreia Silva for help during fieldwork and also to Justin Gerlach from NPTS for support and information in earlier phases of the study. Thanks to Ana Perera for Figure 1 and to Ricardo Pereira for insightful discussions. We further thank Nancy Bunbury, Anthony Cheke, Miguel Carretero, Luke Harmon and Ricardo Pereira for helpful discussions and comments on previous versions of the manuscript. Cover picture from Christopher K. Bunbury.
Authors' Affiliations
(1)
CIBIO-UP, Centro de Investigação em Biodiversidade e Recursos Genéticos, Vairão, Portugal
(2)
Departamento de Biologia, Faculdade de Ciências, Rua do Campo Alegre, Porto, Portugal
(3)
Departamento de Bioquímica, Genética e Inmunología, Facultad de Biología, Universidad de Vigo, Vigo, Spain
Copyright
© Rocha et al; licensee BioMed Central Ltd. 2013
This article is published under license to BioMed Central Ltd. This is an Open Access article distributed under the terms of the Creative Commons Attribution License (http://creativecommons.org/licenses/by/2.0), which permits unrestricted use, distribution, and reproduction in any medium, provided the original work is properly cited.