Research article

Open Access
Hippo pathway genes developed varied exon numbers and coevolved functional domains in metazoans for species specific growth control
BMC Evolutionary Biology
2013
13:76
Received: 7 October 2012
Accepted: 20 March 2013
Published: 1 April 2013
Abstract
Background
The Hippo pathway controls growth by mediating cell proliferation and apoptosis. Dysregulation of Hippo signaling causes abnormal proliferation in both healthy and cancerous cells. The Hippo pathway receives inputs from multiple developmental pathways and interacts with many tissue-specific transcription factors, but how genes in the pathway have evolved remains inadequately revealed.
Results
To explore the origin and evolution of Hippo pathway, we have extensively examined 16 Hippo pathway genes, including upstream regulators and downstream targets, in 24 organisms covering major metazoan phyla. From simple to complex organisms, these genes are varied in the length and number of exons but encode conserved domains with similar higher-order organization. The core of the pathway is more conserved than its upstream regulators and downstream targets. Several components, despite existing in the most basal metazoan sponges, cannot be convincingly identified in other species. Potential recombination breakpoints were identified in some genes. Coevolutionary analysis reveals that most functional domains in Hippo genes have coevolved with interacting functional domains in other genes.
Conclusions
The two essential upstream regulators cadherins fat and dachsous may have originated in the unicellular organism Monosiga brevicollis and evolved more significantly than the core of the pathway. Genes having varied numbers of exons in different species, recombination events, and the gain and loss of some genes indicate alternative splicing and species-specific evolution. Coevolution signals explain some species-specific loss of functional domains. These results significantly unveil the structure and evolution of the Hippo pathway in distant phyla and provide valuable clues for further examination of Hippo signaling.
Keywords
Functional Domain
Planar Cell Polarity
Hippo Pathway
Recombination Breakpoint
Hippo Signaling
Background
Distinct in size and shape, multicellular organisms exhibit a diversity of body plans. In biology, a long-standing question is how the growth and patterning of such body plans, including the organs and tissues within, are controlled by genes during development [1, 2]. This question applies to species ranging from the simplest Amphimedon queenslandica and Trichoplax adhaerens, which lack both organs and internal structures [3, 4], to human being. The control of growth and patterning is conducted by a small set of evolutionarily conserved pathways [5], the predominant role of the Hippo pathway in size control in multicellular organisms was only established in 2003 [6–8] and is further recognized recently [9–11].
Growth in Bilateria is specifically regulated by six signaling pathways: RTK signaling via Ras, insulin signaling via the phosphatidylinositol-3-OH kinase pathway, Rheb/Tor, cytokine-JAK/STAT, Warts/Hippo, and the Myc oncogene. All of these pathways, except for the Rheb/Tor pathway, contain genes that are metazoan innovations [
4
]. Since 2003, researchers have focused more on tissue and organ size control by the newly identified Hippo pathway, which regulates both proliferation and apoptosis (reviewed recently by [
9
–
11
]). The first identified Hippo components include the Warts and Hippo kinases, the Salvador and Mats adaptor proteins, and the transcriptional co-activator Yorkie. More recently, a surprising number of upstream regulators have been identified, including the cadherins Fat and Dachsous, which mediate planar cell polarity (PCP), and the proteins lethal giant larvae (Lgl), atypical protein kinase C (aPKC), and Crumbs, which mediate apicobasal cell polarity. The atypical myosin Dachs [
12
,
13
] and the FERM-domain proteins Expanded and Merlin relay the Fat/Dachsous signal and the Crumbs signal to the core components Warts/Hippo/Salvador/Mats (Figure
1
). Notably, the Hippo pathway has only one transcriptional co-activator (Yorkie in Drosophila and YAP in vertebrates), which interacts with multiple tissue-specific transcription factors, including Scalloped (TEAD in vertebrates) in the wing and Homeothorax in the eye in Drosophila [
14
,
15
]. The core Hippo components therefore respond to and coordinate multiple developmental signals [
16
–
18
] (recently reviewed by [
19
]). These features demand intensive investigation into the origin and evolution of Hippo pathway genes.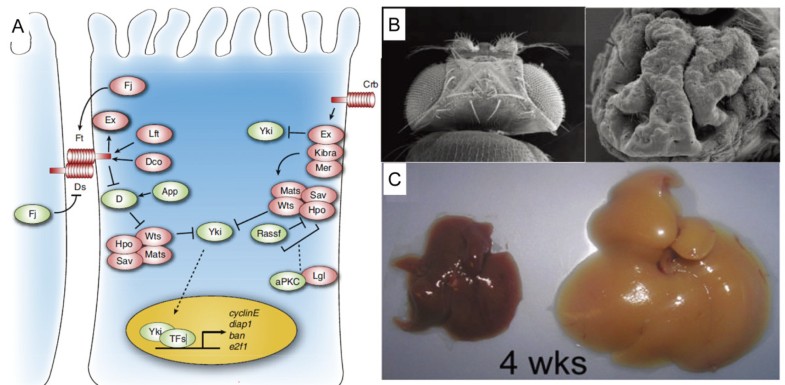 The Hippo pathway was initially assumed to be a metazoan novelty, because the sole effector Yorkie was not detected in the most basal metazoan A. queenslandica[20]. However, as several holozoan genomes were recently sequenced and published, yorkie was identified in two non-metazoan lineages: the unicellular amoeboid Capsaspora owczarzaki and the choanoflagellate Monosiga brevicollis[21]. Remarkably, despite the enormous evolutionary divergence, the transcriptional complex formed by C. owczarzaki Scalloped and Yorkie can promote overgrowth of the Drosophila eye [21]. Since previous studies only analyzed a few Hippo genes in a limited number of metazoan phyla [20, 21], how genes acting at different positions in the Hippo pathway have evolved across distant phyla and obtained their specific structures remains unclear.
Interest in how components in the Hippo pathway interact with each other to control growth in diverse species with distinct body plans, in this study we analyzed the evolution of 16 Hippo pathway genes in 24 metazoans, including a Porifera, a Placozoa, three Cnidaria, and two Gastropoda (Figure
2
). Multiple new findings are obtained. During the evolution of Cnidaria from Porifera and Placozoa, while more genes (such as
kibra
and
merlin
) joined the pathway, some others seem to have been lost (such as
expanded
,
dachs
, and
crumbs
) (see also [
12
]). Compared with genes encoding the key upstream regulators Fat and Dachsous and downstream transcriptional partner Scalloped, the functionally less essential genes, such as
lowfat
,
four-jointed
, and
homeothorax
, show more species-specific (or phyla-, class-, clade-specific) evolution. Core Hippo components are more conserved than their upstream regulators and downstream partners, and in Bilateria they show conserved numbers and organization of domains but varied numbers of exons, indicating that these genes produce alternative splicing while subjecting to purifying selection. Some genes may contain recombination breakpoints. The cadherins Fat and Dachsous
,
which are important for cell-cell adhesion, may have originated in the unicellular organism
Monosiga brevicollis
. We speculate that the Hippo pathway originated primarily to regulate cell adhesion and to control body size in Porifera and Placozoa, and with the addition of more functional domains, upstream regulators, and downstream partners, it acquired control over tissue and organ size during Bilaterian evolution. Coevolutionary analysis indicates that many functional domains in Hippo genes have coevolved with interacting functional domains in other genes. These findings provide valuable clues for further investigations into Hippo signaling mechanisms.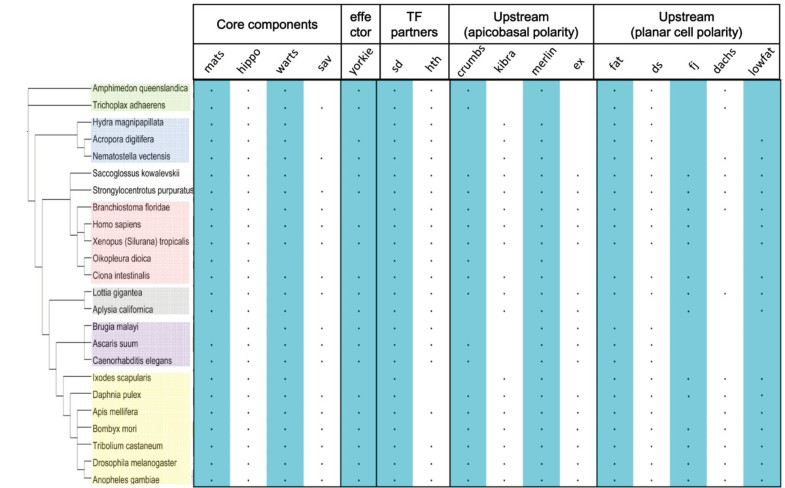 Discussion
Unlike other developmental pathways [5], the Hippo pathway seems to have evolved exclusively for the control of tissue, organ, and body size by regulating cell proliferation and apoptosis [9–11]. Due to its important roles in embryonic development, cancer, and tissue repair, the origin and evolution of the Hippo pathway has recently aroused immense interest. Previous investigations examined a few Hippo genes in limited metazoan phyla (especially, neglected Protostome groups such as mollusks), did not examine recombination breakpoints, and did not explore coevolution of functional domains [20, 21]. In this study, our analysis of 16 Hippo genes in 24 metazoan phyla produced unprecedented details about functional domains and the evolution of the Hippo genes. First, the core Hippo components Mats/Hippo/Warts, their upstream regulators Fat/Dachsous/Crumbs, and the Yorkie partner Scalloped, originated first, indicating that these may comprise the kernel of the pathway, whereas other upstream regulators (Four-jointed), mediators of Hippo signaling (Salvador), and other Yorkie partners (Homeothorax) emerged later. Second, while most of these components are present in the most basal metazoan A. queenslandica, some seem to have been lost during Porifera and Placozoa to Cnidarian evolution. Third, in eumetazoans Hippo genes, especially mats, hippo and warts, are highly conserved, which is evidenced by the facts that genes have variable numbers of exons but maintain conserved numbers and organization of domains and genes have low overall mean p-distance. Fourth, there may be recombination breakpoints in some genes. Fifth, the two genes fat and dachsous important for both growth control and PCP may have inherited from the unicellular ancestor M. Brevicollis and have evolved significantly indicated by high overall mean p-distance. Finally, combined domain analysis, evolutionary analysis and coevolutionary analysis reveal that most functional domains in Hippo pathway genes have not only been under purifying selection but also coevolved with interacting functional domains in other genes.
Our analysis also shed light on how Hippo signaling and growth control were originated. Regulation of cell-cell contact and adhesion is important for epithelial patterning and required for the initiation of multicellularity. Although planar cell polarity (or aligned cell polarity) is thought to be a eumetazoan innovation that exists only in true epithelial cell layers [4] (but see also [48]), our analysis shows that the sponge A. queenslandica contains essential genes involved in both apicobasal cell polarity and planar cell polarity. Moreover, as cadherins mediating cell-cell contact and adhesion, Fat and Dachsous could originate quite early, probably in or before M. brevicollis. If these genes were inherited from unicellular ancestors, they should initially control cell contact and adhesion in unicellular organisms. An accidental event may have caused the genome containing these genes to produce permanently connected cells. For example, in sponges cadherins may allow cells to adhere to form tissue-like layers. Since transcriptionally active Yorkie and Scalloped were identified in the filasterean C. owczarzaki[21], the control of cell proliferation should be associated with cell-cell interactions and cellular patterning early in evolution. From unicellular to multicellular organisms, Fat and Dachsous, together with Yorkie and Scalloped, may have evolved to regulate both PCP and body size in Porifera and Placozoa. Later, the acquisition of more functional domains, upstream regulators and downstream targets makes the Hippo pathway to evolve to become one of the most conserved and essential developmental toolkits for tissue and organ size control in Bilateria.
Cell patterning and growth is intrinsically associated and the Fat-Dachsous interaction produces inputs for both the Hippo and PCP signaling [26]. In Drosophila, Fat and Dachsous regulate the atypical myosin Dachs to control polarized cell division [13]. Because the PCP mechanism is conserved in mammals [22, 30], we expected to find orthologs of dachs in mammals. However, despite the existence of certain myosins such as PAR, which regulates cell polarization and movement in vertebrates [49], we failed to identify convincing ortholog of dachs in Chordates (Figure 2; Additional file 1: Figure S2). Whether other myosins replace Dachs's role controlling polarized cell division in Chordates is an important issue awaiting further investigations.
Two ways allow genes encoding transcriptional factors to control tissue-specific gene expression. First, transcription factors can form various complexes to function in a tissue-specific manner in different contexts. Second, variable number of exons allow genes to produce, via alternative splicing, multiple proteins that function in different tissues and organs. Both seem to have been adopted by genes in the Hippo pathway. In basal metazoans that consist of just a few cell types, theoretically a large number of tissue-specific Yorkie transcriptional partners are not necessary. Nevertheless, we found that hemeothorax, a yorkie partner controlling cell division and apoptosis in the Drosophila eye, is present together with scalloped in both A. queenslandica and T. adhaerens (Figure 2). Since this gene contains just one exon in A. queenslandica, four exons in T. adhaerens, but many and highly varied numbers of exons (like fat) in other species (Additional file 1: Figure S3), we conclude that alternative splicing may be the most essential feature of Hippo pathway genes to produce multiple proteins for tissue-specific growth control.
Conclusions
Some cadherins in the Hippo pathway may have originated in the unicellular organism Monosiga brevicollis. Compared with genes in other pathways, Hippo genes encode conserved and coevovled functional domains with varied numbers of exons in different species, and more exons in advanced organisms indicate significant alternative splicing to produce more tissue-specific transcripts. Phylogenetic analysis reveals that the upstream regulators and downstream targets have more significantly evolved than the core components, indicating that the Hippo pathway has integrated multiple developmental signals during evolution. After a few upstream regulators and core components forming the kernel of the Hippo pathway, some regulators have joined, but some others have been lost, in evolution. Annotated gene and domain sequences provide valuable clues for further examination of Hippo signaling.
Declarations
Acknowledgements
We gratefully acknowledge the technical and financial support of the Guangzhou SuperComputing Center, and thank the two anonymous reviewers for valuable comments. This work was supported by the Guangdong Province Foundation for Returned Scholars and the National Natural Science Foundation of China (grant number 31271415) (to H.Z.).
Authors' Affiliations
(1)
Bioinformatics Section, School of Basic Medical Sciences, Southern Medical University, Guangzhou, China
Copyright
© Zhu et al.; licensee BioMed Central Ltd. 2013
This article is published under license to BioMed Central Ltd. This is an Open Access article distributed under the terms of the Creative Commons Attribution License (http://creativecommons.org/licenses/by/2.0), which permits unrestricted use, distribution, and reproduction in any medium, provided the original work is properly cited.