Research article

Open Access
The explosive radiation of Cheirolophus(Asteraceae, Cardueae) in Macaronesia
BMC Evolutionary Biology
2014
14:118
Received: 28 January 2014
Accepted: 21 May 2014
Published: 2 June 2014
Abstract
Background
Considered a biodiversity hotspot, the Canary Islands have been the key subjects of numerous evolutionary studies concerning a large variety of organisms. The genus Cheirolophus (Asteraceae) represents one of the largest plant radiations in the Canarian archipelago. In contrast, only a few species occur in the Mediterranean region, the putative ancestral area of the genus. Here, our main aim was to reconstruct the phylogenetic and biogeographic history of Cheirolophus with special focus on explaining the origin of the large Canarian radiation.
Results
We found significant incongruence in phylogenetic relationships between nuclear and plastid markers. Each dataset provided resolution at different levels in Cheirolophus: the nuclear markers resolved the backbone of the phylogeny while the plastid data provided better resolution within the Canarian clade. The origin of Cheirolophus was dated in the Mid-Late Miocene, followed by rapid diversification into the three main Mediterranean lineages and the Macaronesian clade. A decrease in diversification rates was inferred at the end of the Miocene, with a new increase in the Late Pliocene concurrent with the onset of the Mediterranean climate. Diversification within the Macaronesian clade started in the Early-Mid Pleistocene, with unusually high speciation rates giving rise to the extant insular diversity.
Conclusions
Climate-driven diversification likely explains the early evolutionary history of Cheirolophus in the Mediterranean region. It appears that the exceptionally high diversification rate in the Canarian clade was mainly driven by allopatric speciation (including intra- and interisland diversification). Several intrinsic (e.g. breeding system, polyploid origin, seed dispersal syndrome) and extrinsic (e.g. fragmented landscape, isolated habitats, climatic and geological changes) factors probably contributed to the progressive differentiation of populations resulting in numerous microendemisms. Finally, hybridization events and emerging ecological adaptation may have also reinforced the diversification process.
Keywords
Allopatric speciation
Canary Islands
Diversification
Island radiation
Mediterranean Basin
Phylogeography
Background
In recent decades, the Macaronesian archipelagos of Azores, Cape Verde, Madeira, Savages and Canary Islands have been the subject of numerous studies concerning patterns of colonization and speciation of different plant lineages [1–4]. In particular, the Canary Islands have drawn special attention from biogeographers because of their high degree of endemism, wide geological age ranges, variety of ecological conditions and unusual short distance to the mainland [5]. This has made the archipelago an ideal natural laboratory to test general hypotheses on island biogeography and evolution [5–9]. Recently, phylogenetic studies in Macaronesian plants have started incorporating information on lineage divergence times [3, 10, 11], a key factor when addressing evolutionary questions on the processes underlying lineage diversification [12] and their role in community assembly [13].
With approximately 20 endemic species, the genus Cheirolophus Cass. (1817) (Asteraceae, Cardueae) is considered one of the ten largest plant radiations in the Canary Islands [6]. In fact, ongoing taxonomical investigation points towards the existence of an even larger number of species (A. Santos-Guerra, unpubl. data). With the exception of Ch. teydis (C.Sm.) G.López from La Palma and Tenerife, all species are endemic to one of the central or western islands (Gran Canaria, Tenerife, La Gomera, La Palma and El Hierro). Most species present very narrow geographical ranges, but exhibit notable differences in their ecological preferences and morphological characteristics. Canarian Cheirolophus typically occur as small populations isolated on humid basalt cliffs. However, some species are adapted to live in remarkably different habitats, such as xeric environments (e.g. Ch. junonianus (Svent.) Holub), the subalpine zone (e.g. Ch. teydis) or coastal environments (Ch. webbianus (Sch.Bip.) Holub) [14]. This ecological diversity, coupled with a large species richness distributed in a clearly geographical pattern, makes Cheirolophus an ideal group to explore patterns and processes behind island diversification.
In addition to the large Canarian radiation, the genus occurs in Madeira [
Ch. massonianus
(Lowe) A.Hansen & Sunding] and the Western Mediterranean Basin, including the Mediterranean climate Atlantic coasts of the Iberian Peninsula (Figure
1
). The species with the widest geographical distribution are the Mediterranean
Cheirolophus intybaceus
(Lam.) Dostál and the two Atlantic
Ch. sempervirens
(L.) Pomel and
Ch. uliginosus
(Brot.) Dostál [
15
]. There is considerable intraspecific variability within these species, especially in the
Ch. intybaceus
complex, which groups a set of morphologically similar taxa (e.g.,
Ch. mansanetianus
Stübing, J.B.Peris, Olivares & J.Martín,
Ch. lagunae
Olivares & al.
, Ch. grandifolius
(Font Quer) Stübing & al.,
Ch. intybaceus
var.
microcephala
Rouy). This has led to an unstable taxonomy, with no clear estimate of the number of species in the genus, which ranges from 25 to 30 depending on the author. All
Cheirolophus
species are perennial plants characterized by a thickened capitulum peduncle, a cypsela with deciduous pappus,
Serratula
pollen type [
16
], and a shrubby habit (except
Ch. uliginosus
, which is a perennial hemicryptophyte). They usually present an outcrossing mating system, although certain degree of self-compatibility has been reported [
17
]. From the conservation viewpoint, 22 species and subspecies of
Cheirolophus
are officially listed as vulnerable, endangered or critically endangered taxa, of which 17 are Macaronesian [
18
,
19
].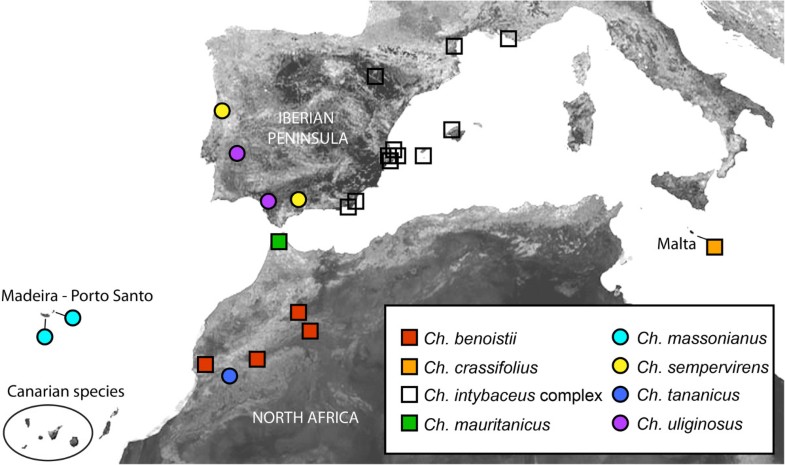 Earlier attempts to address phylogenetic relationships among Cheirolophus species or between the genus and its closest relatives have been based on allozymes [20] or DNA sequences from the nuclear ribosomal ITS and ETS regions [21, 22]. These studies supported the existence of two well-defined major lineages: a Macaronesian clade, including all Macaronesian endemics, and a Mediterranean clade, grouping the North African Ch. benoistii (Humbert) Holub and Ch. tananicus (Maire) Holub with the Ch. intybaceus complex, distributed along the eastern shores of the Iberian Peninsula and southern France [22]. In contrast, lack of phylogenetic resolution within the Macaronesian clade - probably due to a recent history of colonization and diversification - prevented an in-depth study of phylogenetic relationships among the Macaronesian endemics [22]. More recently, a tribal phylogenetic reconstruction based on both nuclear and chloroplast markers [23] placed Cheirolophus in a basally branching position within the subtribe Centaureinae, as sister-group to the Myopordon-Rhaponticum lineage. Using new fossil evidence for Asteraceae, these authors estimated the divergence of Cheirolophus from its sister genera around the Early Miocene [23].
Here, we used nuclear and chloroplast DNA sequence data and the most comprehensive sampling of the genus conducted so far - including the entire species and infraspecific diversity registered in the International Plant Name Index - in conjunction with Bayesian phylogenetic analysis, divergence time estimation, macroevolutionary modelling, and biogeographical reconstruction to: (1) disentangle phylogenetic relationships within Cheirolophus, with special focus on the Canarian radiation, (2) infer the tempo and mode of lineage diversification within the genus, and (3) reconstruct the origin and colonization events in Canarian Cheirolophus in order to understand the factors underlying its large species richness.
Results
Phylogenetic relationships and congruence among cpDNA loci
The main characteristics for all markers analysed are summarized in the Additional file 3: Table S3. The nrDNA dataset (ITS + ETS) for the ingroup taxa included 1138 aligned nucleotide positions, of which 140 (12.3%) were variable. The cpDNA dataset (trnS-trnC + rpl32-trnL + trnD-rpoB + rps16-trnK) included 3764 aligned positions, 58 (1.54%) of them variable. A total of 330 new sequences were generated and deposited in GenBank, of which 90 were from ITS + ETS and 240 from cpDNA markers (see Additional file 1: Table S1).
Figure
2
shows the consensus trees obtained from the separate Bayesian MCMC analysis of the nrDNA and cpDNA datasets. Phylogenetic relationships were generally better resolved in the nrDNA than in the cpDNA trees, especially for the backbone nodes. The opposite pattern was observed for the Canarian clade, which showed several well-supported subclades in the plastid phylogeny –even though some of these subclades are constituted by just one haplotype shared by several species (see below)– but poor resolution in the nrDNA tree. Both nuclear and plastid genomes support the monophyly of the genus (posterior probability, PP = 1.00) and recover a monophyletic "Macaronesian clade" (with or without
Ch. massonianus;
PP = 1.00, Figures
2
A and B). In addition, the Mediterranean species appear grouped into three well-supported clades. These three clades form a well-supported "Mediterranean clade" in the nuclear dataset, but their relationships appear unresolved in the chloroplast phylogeny.
Cheirolophus crassifolius
(Bertol.) Susanna is recovered as the most basal lineage in the two trees (Figure
2
). Significant incongruence between the nuclear and chloroplast phylogeny, as evidenced by node comparison and the ILD test (
p
 < 0.001), concerned mainly conspecific samples grouped in the nuclear tree that appeared segregated into different clades in the plastid phylogeny, such as, the Mediterranean species
Ch. benoistii
or the Canarian
Ch. teydis
and
Ch. canariensis
(Brouss. ex Willd.) Holub (Figure
2
). The only example of incongruence at the inter-species level concerned the position of the Madeiran endemic
Ch. massonianus
, which appears embedded within the Canarian clade in the nrDNA tree (Figure
2
A), but occupies a position at the base of the genus together with
Ch. uliginosus
and
Ch. crassifolius
in the cpDNA phylogeny (Figure
2
B). The multilocus coalescent *BEAST analysis including this species (see Additional file
4
: Figure S1a) resulted in a tree topology in which the Madeiran taxon was placed at the base of the Canarian clade, in a position that was intermediate between the one it occupied in the cpDNA and the nrDNA trees (Figures
2
A,B). In addition, the *BEAST analysis without
Ch. massonianus
(Additional file
4
: Figure S1b) revealed increased clade support for those clades that include the putative parental taxa compared to the analysis including
Ch. massonianus
(i.e. the Canarian group, PP = 1.00 vs PP = 0.82; or
Ch. uliginosus
, PP = 0.55 vs PP = 0.47).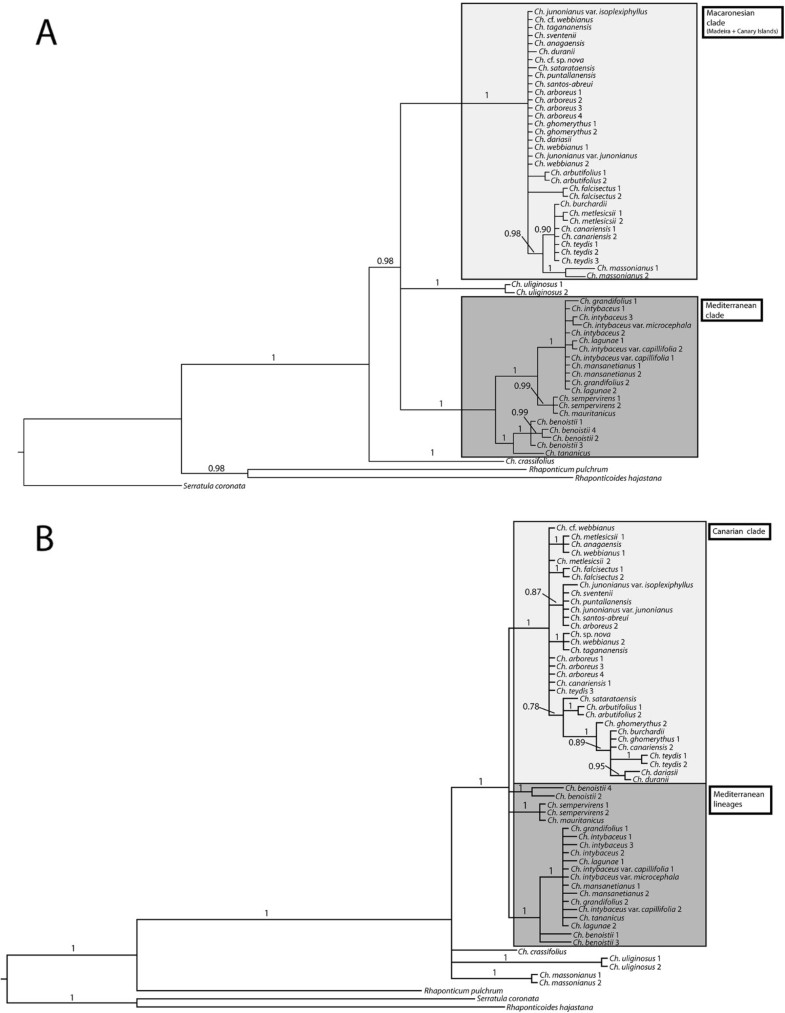 Divergence time estimation and diversification analyses
Figure
3
shows the
BEAST
maximum clade credibility tree for the nrDNA dataset, whose topology is overall congruent and slightly better resolved than the one obtained from MrBayes, i.e.,
Ch. uliginosus
is resolved as sister-group to the Macaronesian clade. Mean rates of evolution were estimated as 3.13 × 10
−9
substitutions per site per year for nuclear regions, which is in agreement with average absolute rate of substitution for nrDNA estimated in other perennial angiosperms with relatively long generation times [
56
] like
Cheirophus
species. The mean age for crown-group
Cheirolophus
was 10.37 Ma (95% HPD confidence intervals: 5.98–15.35 Ma), while the divergence time between the Macaronesian clade from the Mediterranean lineages (Figure
3
) was dated at 8.50 Ma (95% HPD: 4.68–12.45 Ma), and the crown-age of the Canarian clade at 1.74 Ma (0.82–2.93).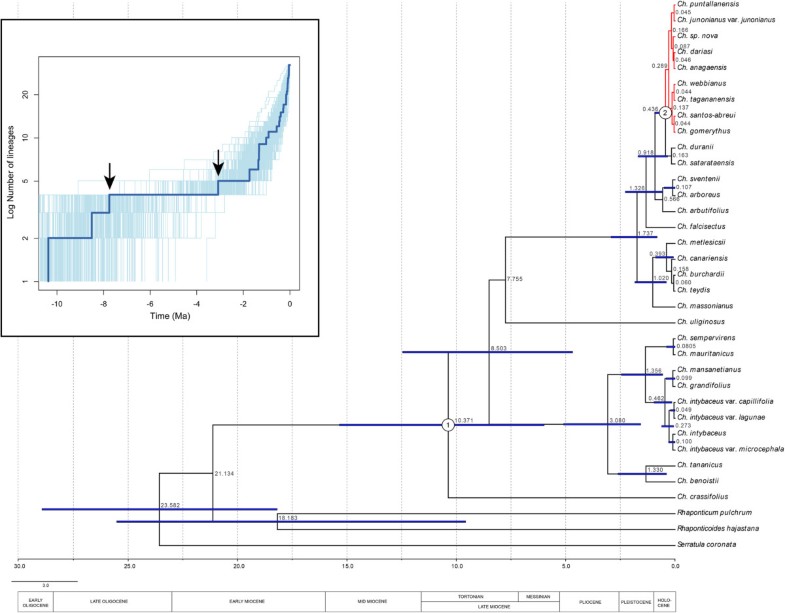 The LTT plot of the nrDNA chronogram showed an initial short phase of diversification (10–8 Ma) followed by a plateau between 8 and 3 Ma, with a final pronounced upturn in the rate of diversification c. 2 Ma (Figure 3, inset). This increase in diversification rates is supported by the gamma test, which rejects a constant-rate diversification model (5.730, p > 0.999). Although this test was designed to detect decreases in diversification rates compared to the constant-rate model [48], high positive values are usually interpreted as indicating an increase in the rate of speciation [12]. On the other hand, TreePar detected a decrease in diversification rates at 7.8 Ma, and an increase at 3.2 Ma for the model allowing two shifts (Figure 3). None of these rate shifts were, however, significant (LRT, p > 0.1), probably due to lack of statistical power when the phylogeny is small (n < 50 taxa). MEDUSA indicated a significant increase in diversification rates along the branch leading to a Canarian subclade (r1 = 0.00022; r2 = 6.55, c. 0.44 Ma, Figure 3). The method-of-moments estimator indicated significantly higher diversification rates in the Canarian clade than expected, given their age and the global diversification rate for the entire genus (rG = 0.2673; p < 0.05). This held under varying levels of the extinction fraction (ϵ = 0, 0.5, 0.8), except for a very high relative extinction rate of ϵ = 0.9 (p < 0.1), which is otherwise unrealistic for such a young group as estimated here for the Canarian clade. Diversification rates varied between r = 2.84–0.78 species Myr−1 for ϵ = 0) and 1.25–0.34 species Myr−1 for ϵ = 0.9.
Phylogeography of Canarian Cheirolophus
Plastid DNA regions showed higher variability within the Canarian clade than the nrDNA (ITS + ETS) regions. Twenty-one variable characters (see Additional file
3
: Table S3) were found within the cpDNA regions, defining 15 haplotypes distributed among the sampled populations of Canarian
Cheirolophus
(Figure
4
A). In contrast, nrDNA yielded 18 variable characters –most of them autapomorphic of one single species– that generated only seven different haplotypes (Additional file
3
: Table S3; Figure
4
b). Although population sampling was not dense enough to assess the entire genetic variability in each species, the cpDNA haplotype network (Figure
4
A) indicated a clear geographical pattern, with all haplotypes confined to a single island, with the exception of haplotype A found in both Tenerife and La Palma. Haplotype B is the most widespread, occurring in five different species endemic to La Palma. No intra-population diversity was found, but several morphologically described species contained more than one haplotype distributed across the different sampled populations (Figure
4
A). The species with the greatest haplotype diversity was
Ch. webbianus
(haplotypes A, F, and G), with a wide distributional range in Tenerife (Figure
4
A). Tenerife is the island with the highest number of haplotypes (7), followed by La Palma and La Gomera (3 in each), Gran Canaria (2), and El Hierro (1). The haplotype network constructed from nrDNA data (Figure
4
B) showed a less complex structure compared to the cpDNA network. Haplotype III is the most widely distributed, occurring in three different islands (Tenerife, La Gomera and La Palma) and eleven Canarian species. Haplotype IV is present also in several species (
Ch. canariensis
,
Ch. burchardii
Susanna and
Ch. teydis
) and in different islands (Tenerife and La Palma), whereas the rest of haplotypes are restricted to one single species. Contrary to the pattern observed in some taxa for the cpDNA data, all populations within a species showed the same nrDNA haplotype.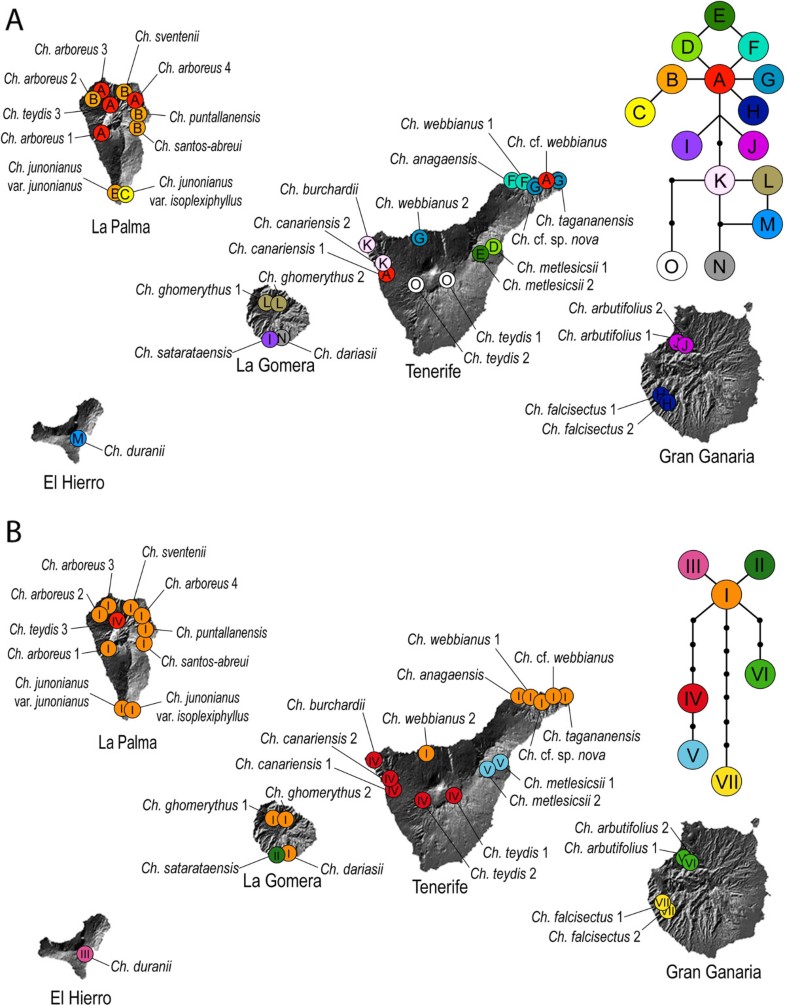 Figure
5
shows the ancestral ranges and the history of migration events across space and time in the Canarian lineage, as reconstructed in
BEAST
based on the plastid DNA dataset and using uninformative rate priors (geographically informed priors gave very similar results; data not shown). This analysis recovered several well supported clades within the Canarian lineage, even if some of them seem to be constituted by just one haplotype that is shared by several species (Figure
5
). The first diversification event is dated around the Late Pleistocene: 1.02 Ma (0.42–1.96 Ma), with the majority of species diverging within the last 0.5 Ma (0.12–1.25 Ma). Some species were recovered as polyphyletic:
Ch. teydis
,
Ch. canariensis
,
Ch. webbianus
,
Ch. metlesicsii
Parada and
Ch. arboreus
(Webb & Berthel.) Holub. Tenerife is reconstructed as the most likely ancestral range of the Canarian radiation, from which several dispersal events took place eastward (from Tenerife to Gran Canaria) and westward (from Tenerife to La Gomera and La Palma, and from La Gomera to El Hierro). La Gomera was colonized twice, from Tenerife and from Gran Canaria, although the dispersal events concerning Gran Canaria are not recovered by BSSVS, probably due to low clade support and the small size of the phylogeny (Figure
5
). Again, the phylogeographical analysis based on the nrDNA dataset was less informative than the one based on plastid markers: very few nodes received significant support while only one migration event (from Tenerife to La Palma) was recovered by the BSSVS analysis (Additional file
5
: Figure S2).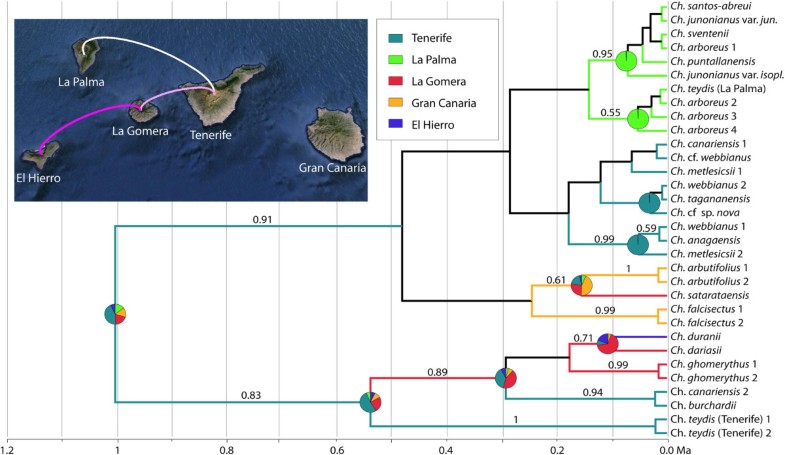 Discussion
Hybridization and incongruence among plastid and nuclear genomes
The conflicting relationships found here between the nuclear and plastid phylogenies might be attributed to different coalescence-based and biological phenomena, including ILS, duplication/gene loss, chloroplast capture (introgression), polyploidy and hybridization. The nuclear ribosomal region (ITS + ETS) is by far the most widely used marker in plant systematics, and has been the preferred marker to disentangle phylogenetic relationships in Asteraceae (e.g., [52]), but phenomena like potentially non-functional pseudogene copy types and incomplete concerted evolution across the large multicopy tandem arrays in which the nrDNA is arranged, are known to cause problems in phylogenetic reconstruction, especially among closely related species [57, 58]. Although this could be the case here, there is some evidence suggesting that the incongruence between nuclear and plastid genomes is more related to differences in genetic variability than to ILS in the nrDNA markers. On the one hand, we found no evidence of double bands in the PCR amplification, while polymorphic sites (double peaks in the electrophoretogram in which the weakest signal reached 25% of the strength of the strongest signal) represented less than 1% of sites in the ITS/ETS DNA sequences (these sites were not included in the phylogenetic and phylogeographic analysis). On the other, the topology and grouping of taxa in the nrDNA tree agrees well with the current species circumscription, reflecting geographical and morphological affinities, whereas some conspecific sequences fell into different clades in the cpDNA tree. Moreover, the nrDNA dataset contained at least ten-fold more variable sites than the full cpDNA dataset (see Additional file 3: Table S3), suggesting that the little variability in the latter (<2.0%) and associated homoplasy might be responsible for the artifactual positions of some species and lack of resolution at the base of the tree. Conversely, because of the their haploid nature, chloroplast markers generally require less time to fix novel mutations and present shorter coalescence times and higher polymorphism at lower taxonomical or population levels than nuclear ribosomal markers, despite their generally slower substitution rate [59]. Thus, they have been the marker of choice in species-diagnostic and phylogeographical studies on islands, outperforming the nuclear markers [60, 61]. In our study, the cpDNA tree showed considerably higher levels of variability and phylogenetic resolution within the Canarian clade than the ITS + ETS tree, recovering several well-supported clades.
Finally, there is some evidence that at least part of the incongruence observed here can be caused by hybridization. Interspecific hybridization within groups that have recently radiated has been reported in many Macaronesian taxa [1, 60, 62, 63] and might be behind the incongruent position of the Madeiran endemic Ch. massonianus in the nrDNA and cpDNA trees. This is supported by the position of this species in the multispecies coalescent analysis (*BEAST) intermediate between those occupied in the individual gene trees, and by the increased branch support for those clades including the putative parental taxa when this species was removed (Additional file 4: Figure S1), which are two evidences usually associated to horizontal gene transfer or hybridization (e.g. [39, 40]). In addition, a genome size survey [22] revealed that the nuclear DNA content in the Cheirolophus massonianus (2C = 1.44 pg) was intermediate between those found in continental (mean 2C = 1.58 pg) and Canarian species (mean 2C = 1.38 pg). One potential explanation is hybridization or chloroplast capture (introgression) between a Canarian ancestor and the Atlantic Iberian endemic Ch. uliginosus, which occupies a basal position in the cpDNA tree together with Ch. massonianus. A close evolutionary relationship between species from Madeira and the western Iberian Peninsula has been documented in other studies [2], and is supported by the finding that submerged seamounts between Madeira and the continent might have acted as stepping stones during the Pleistocene glaciations [64]. Besides, preliminary amplified fragment length polymorphism (AFLP) analyses (Vitales et al., submitted) cluster Ch. massonianus within other Canarian Cheirolophus species, supporting the relationship depicted by the nrDNA tree.
Hybridization and introgression might also explain the polyphyletic nature of several Canarian species in the cpDNA tree (Figures 2 and 5). The only accession of Ch. teydis from La Palma exhibits haplotype A, which is very different from haplotype O of Ch. teydis populations occurring in Tenerife, but it is widely distributed over neighbouring populations of Ch. arboreus. Besides, the population of Ch. arboreus from north-western La Palma (Barranco Briestas) presents haplotype B, characteristic of other species from the island (Figure 4B); this latter population also exhibits slight morphological differences with respect to conspecific populations in the same island [19]. Furthermore, both Ch. teydis form La Palma and Ch. arboreus from Barranco Briestas show considerable levels of genetic admixture according to a preliminary AFLP analyses (Vitales et al., submitted), supporting the hypothesis of ongoing gene flow. In Tenerife, discordant accessions of Ch. canariensis or Ch. webbianus presented haplotypes found in other geographically close species (Ch. burchardii and Ch. anagaensis, respectively) (Figure 4B). However, the relatively low sample size at the population level does not provide enough information to discern whether these latter cases of haplotype sharing are due to retention of ancestral polymorphism or actual gene flow among species, especially given the young age of the Canarian radiation (Figure 3). For example, the occurrence of haplotype A, ancestral according to its central position in the parsimony network (Figure 4), in accessions of three of the species recovered as polyphyletic (Ch. teydis, Ch. canariensis, and Ch. webbianus), might be explained by retention of ancestral polymorphisms due to insufficient time for coalescence. Further population-level studies are needed with intra-population sampling to discriminate among these explanations.
Early evolutionary history of Cheirolophus
Given the different level of genetic variation and potential hybridization between markers mentioned above, the evolution of the genus is based here on the nrDNA tree, whereas the divergence and biogeographic history of the Canarian clade is discussed based mainly on evidence from the cpDNA population-level analysis, albeit considering the potential of hybridization.
In reconstructing the biogeographic history of tribe Cardueae, Barres et al. [23] placed the origin of the derived subtribe Centaureinae in West Asia, followed by repeated dispersal events across the Mediterranean region during the Miocene that gave rise to most extant genera. Our nrDNA phylogeny supports this scenario and dates the first diversification event in Cheirolophus during the Mid-Late Miocene (Figure 3). At that time, the Mediterranean Basin still featured tropical climate characteristics, but a progressive aridification starting in the east around 11–9 Ma [65] might have pushed Cheirolophus westward, explaining its current Western Mediterranean distribution. The basal position within the genus of Ch. crassifolius, endemic to Malta in the Central Mediterranean, agrees well with this hypothesis of an early east-to-west migration.
By the late Miocene, three additional extant lineages in the genus had diverged (Figure 3): the Western Mediterranean and Macaronesian clades, and the lineage formed by the single species Ch. uliginosus, a rare herbaceous member of the genus. This initial period of diversification was followed by a transition period of 5 Myr characterized by no apparent diversification ending in a sharp increase in the rate of diversification (Figure 3). Either a period of stasis followed by a recent radiation or a scenario of high extinction rates – constant or punctual – removing the early lineages, might explain the phylogenetic pattern found here (Figure 3; [12]). Although these two scenarios are difficult to distinguish on the basis of extant data alone [50], several lines of evidence support the high extinction hypothesis. TreePar detected a decrease in diversification rates at 7.8 Ma (Figure 3), and MEDUSA estimated high relative extinction rates in Cheirolophus, prior to the rate shift within the Canarian radiation (Figure 3). This slowdown in diversification could be explained by the effects of extinction associated with the extreme drought trend that culminated with the Messinian salinity crisis [65], which led to the replacement across the Mediterranean Basin of an ancestral "tropical-like" flora by new sclerophyllous plant communities [66]. Extant Cheirolophus lineages might have survived this hostile environment by migrating westwards, as exemplified by the Macaronesian clade or its putative sister-group, Ch. uliginosus, endemic to the humid Atlantic coast of the Iberian Peninsula. Others seem have developed ecological adaptations to drought environments, i.e. severe leaf reduction is observed in Ch. benoistii from the western Mediterranean clade and succulent leaves are present in Ch. crassifolius from Malta. A new increase in diversification rates was detected by TreePar at c. 3 Ma (Figure 3), coincident with the establishment of the Mediterranean-type climate around 3.5 Ma [66]. Although the start of diversification within the Mediterranean clade preceded that of the Macaronesian radiation (Figure 3), estimated divergence times for cladogenetic events leading to main subclades or species complexes were surprisingly synchronous. This synchronicity might be explained by the effect of Pleistocene climate oscillations [10], which played an important role in driving plant diversification in the Mediterranean region [67]. A similar pattern of diversification as the one described here, with a slowdown in diversification around 8–7 Ma and a subsequent increase at 3 Ma, has been observed in other Mediterranean plant taxa [68], supporting the hypothesis that Miocene climate changes governed the diversification of these lineages.
Colonization and rapid diversification in the Canary Islands
A single colonization event to the Canary Islands was supported by both the nrDNA and cpDNA trees, in agreement with previous studies based on ITS alone and/or a more restricted sampling [21, 22]. Following this initial colonization, Cheirolophus seems to have diversified rapidly: with c. 20 species arising in less than 1.8 million years (Figure 3). The high rate of diversification estimated for Macaronesian Cheirolophus (0.34–2.84 species Myr−1) is comparable to those exhibited by other island radiations. For example, Hawaiian Bidens (0.3–2.3 species Myr−1) and Macaronesian Echium (0.4–1.5 species Myr−1) were considered as the fastest plant radiations on volcanic islands to date [69]. Taking into account the area covered by both the Canary Islands and Madeira (8,321 km2), Macaronesian Cheirolophus may well represent the highest per-unit-area rate of diversification (4.09 × 10−5 to 3.41 × 10−4 species Myr−1 km−2) observed so far in plants [69–71]. One note of caution, however, must be added here concerning the use of species macroevolutionary models to estimate diversification rates; these models assume complete divergence between taxa [48, 50, 52, 72], whereas in recently diverged groups such as Cheirolophus (see also the cases of Lupinus in the Andes [71] or Tetramolopium in Hawaiian Islands [73, 74]) there might not have been enough time for complete sorting of alleles into the diverging lineages. Nevertheless, preliminary AFLP results indicate that all the described Macaronesian species form significantly distinct genotypic clusters (Vitales et al., submitted), thus supporting their taxonomic boundaries.
Which were the mechanisms underlying such rapid diversification? Geographical isolation and allopatric speciation undoubtedly played a significant role. A complex pattern of inter-island colonization events to the east and west was recovered in our phylogeographical analysis, which highlighted Tenerife as the main source area (Figure 5). This agrees with other Canarian studies (e.g., [7, 10, 60, 75]), showing the central island as a major hub for colonization events. Indeed, Tenerife harbours the highest genetic diversity for Cheirolophus in the archipelago (Figure 4), a fact observed also in other Canarian genera such as Bystropogon[76], Sideritis[63] or Aeonium[1]. This higher diversity has traditionally been attributed to its ancient and complex palaeogeographic history. Tenerife is composed of three "palaeo-islands", Anaga, Teno, and Roque del Conde, dating back between 4 and 12 Ma [77], which might have acted as a reservoir of relict biodiversity [5]. Most species of Cheirolophus in Tenerife are endemic to Teno (Ch. canariensis, Ch. burchardii) or Anaga (Ch. anagaensis, Ch. tagananensis (Svent.) Holub, Ch. cf. sp. nova), although their divergence largely postdates the origin of these ancient massifs. Another explanation is that habitat range fragmentation due to more recent events, such as the collapse of terrains during the last volcanic cycles (1.1–0.17 Ma, [78]) or the climatic fluctuations of the Pleistocene [79], might have contributed to the genetic isolation of populations (Figure 4). Finally, the patterns described here are constrained by the present distribution of the species and it is possible that they were different in the past. Intense volcanic activity and extinction might explain the currently low genetic diversity in older islands like Gran Canaria or the absence of Cheirolophus from the eastern islands of Fuerteventura and Lanzarote, which are closer to the mainland and are now too dry for Cheirolophus to grow.
Explosive intra-island diversification seems to have also occurred in La Palma, where most species originated after a colonization event from Tenerife less than 0.5 Ma (Figure 5). Limited seed dispersal and the rugged nature of the Canarian landscape have probably promoted rapid allopatric speciation events within the islands. Reduced dispersal potential in island organisms is known to be favoured by selection, as dispersal off the island is likely to result in the loss of the organism and/or propagules in the surrounding ocean [80, 81]. Unlike most Centaureinae genera [82], the achenes in Cheirolophus can only be dispersed short distances by gravity (i.e. barochory). In addition, the sharp ravines and rocky cliffs which species of Cheirolophus inhabit provide deeply fragmented habitats that might have contributed to genetic isolation among populations, and subsequent allopatric speciation.
Nevertheless, several long distance dispersal (LDD) events (e.g. inter-island colonisations) occurred despite the apparently low ability of propagules to be transported. The ease of Cheirolophus for LDD is supported not only by the distribution of different species in five of the seven Canary Islands, but also by our haplotype network (Figure 4A) and phylogeographic reconstruction based on the plastid data (Figure 5), showing a double colonization of La Gomera (Ch. ghomerythus (Svent.) Holub - Ch. dariasii (Svent.) Bramwell and Ch. satarataensis (Svent.) Holub) and La Palma (endemic species and Ch. teydis). These double colonization events are also suggested by the less informative nrDNA haplotype network (Figure 4B). Given that stochasticity and non-standard transport mechanisms govern LDD in plants, drastic deviations from the usual dispersal distances do sporadically occur [83]. Indeed, evidence of transoceanic LDD has already been found for the Mediterranean Ch. intybaceus[84], suggesting that this phenomenon could be recurrent in the genus. Self-compatibility potential in Cheirolophus[17] may also have favoured the success of these colonization events, as dispersal of one single seed to a new habitat could establish a sexually reproducing population [85]. Finally, the basic chromosome number in Cheirolophus is x = 15, implying that the genus is originally polyploid [86, 87]. This palaeopolyploidy could result in single fruits carrying higher genetic diversity – due to duplications – than what is expected in a diploid species, thus ameliorating the problem of severe genetic bottlenecks in the founding populations.
Although neutral genetic divergence as a result of restricted gene flow among isolated populations is probably the main force driving evolutionary diversification in Macaronesian Cheirolophus, ecological adaptation might be another mechanism responsible for this exceptionally rapid radiation. Even though it is not as spectacular as the case of the Macaronesian Argyranthemum[88] or the Hawaiian silversword alliance [89], some fine examples of intra-island ecological segregation can be found in Cheirolophus. For example, species such as Ch. junonianus from La Palma and Ch. falcisectus Svent. ex Montelongo & Moraleda from Gran Canaria, inhabiting xeric habitats, show clear leaf surface reduction, whereas their sister taxa (i.e. Ch. arboreus and Ch. arbutifolius (Svent.) G.Kunkel) occupying more humid locations in the same islands, display an arborescent habit and a larger leaf surface. Another example of ecological differentiation could be represented by Ch. teydis, the only Cheirolophus species inhabiting the subalpine zone (1800–2200 m) and showing morphological adaptations to tougher ecological conditions (i.e. rosette-like disposed leaves with reduced laminas; waxy leaf cover; high number of smaller flowers; annual flowering shoots). Given the short time since the start of the Canarian radiation (Figure 5), we are probably witnessing the initial stages of a process of phenotype-environment driven differentiation, although to demonstrate ecological differentiation and adaptive radiation more stringent tests than simple correlations are needed (see [90]).
Conclusions
In the present study, we sequenced two nrDNA and four cpDNA regions from 57 populations representing the entire specific diversity in Cheirolophus. Significant incongruence was found in phylogenetic relationships between nuclear and plastid markers. The origin of Cheirolophus diversification was dated in the Mid-Late Miocene, followed by a slowdown in speciation rates at the end of the Miocene (Messinian) and a new increase in the Late Pliocene concurrent with the onset of the Mediterranean climate. Diversification within the Macaronesian clade started in the Early-Mid Pleistocene, with unusually high speciation rates (0.34–2.84 species Myr−1) giving rise to one of the most remarkable examples of explosive plant radiation in oceanic islands so far reported. This exceptionally high diversification rate was probably driven by allopatric speciation (both intra and inter-island diversification), favoured by several intrinsic (e.g. breeding system, polyploid origin, seed dispersal syndrome) and extrinsic factors (e.g. fragmented landscape, isolated habitats, climatic and geological changes) that contributed to the progressive differentiation of populations and resulted in numerous microendemisms. Finally, inter-specific genetic contact via hybridization and chloroplast capture events (see above) and emergent ecological adaptation could be other mechanisms reinforcing the diversification process in Macaronesian Cheirolophus.
Declarations
Acknowledgments
This work was subsidized by the Spanish Ministry of Science (projects CGL2010-22234-C02-01 and 02/BOS) and the Generalitat de Catalunya (Ajuts a grups de recerca consolidats, 2009/SGR/00439). IS has been supported by project grant CGL-2012-40129-C02-01. DV benefited from a FPU grant from the Spanish Ministry of Education. J.P. benefited from a Beatriu de Pinós postdoctoral fellowship with the support of the Secretary for Universities and Research of the Ministry of Economy and Knowledge (Government of Catalonia) and the co-fund of Marie Curie Actions (European Union 7th R&D Framework Programme). All the collectors, botanical gardens and herbaria are acknowledged for their contribution to supplying material. We also thank Miquel Veny for technical support and Samuel Pyke for linguistic assistance.
Authors' Affiliations
(1)
Laboratori de Botànica – Unitat associada CSIC, Facultat de Farmàcia, Universitat de Barcelona, Barcelona, Spain
(2)
Institut Botànic de Barcelona (IBB-CSIC-ICUB), Barcelona, Spain
(3)
Jodrell Laboratory, Royal Botanic Gardens Kew, Richmond, UK
(4)
Jardín de Aclimatación de la Orotava, Tenerife, Spain
(5)
Real Jardín Botánico (RJB-CSIC), Madrid, Spain
Copyright
© Vitales et al.; licensee BioMed Central Ltd. 2014
This article is published under license to BioMed Central Ltd. This is an Open Access article distributed under the terms of the Creative Commons Attribution License (http://creativecommons.org/licenses/by/2.0), which permits unrestricted use, distribution, and reproduction in any medium, provided the original work is properly credited. The Creative Commons Public Domain Dedication waiver (http://creativecommons.org/publicdomain/zero/1.0/) applies to the data made available in this article, unless otherwise stated.