Research article

Open Access
The scope for nuclear selection within Termitomyces fungi associated with fungus-growing termites is limited
BMC Evolutionary Biology
2014
14:121
Received: 4 March 2014
Accepted: 29 May 2014
Published: 5 June 2014
Abstract
Background
We investigate the scope for selection at the level of nuclei within fungal individuals (mycelia) of the mutualistic Termitomyces cultivated by fungus-growing termites. Whereas in most basidiomycete fungi the number and kind of nuclei is strictly regulated to be two per cell, in Termitomyces mycelia the number of nuclei per cell is highly variable. We hypothesised that natural selection on these fungi not only occurs between mycelia, but also at the level of nuclei within the mycelium. We test this hypothesis using in vitro tests with five nuclear haplotypes of a Termitomyces species.
Results
First, we studied the transition from a mixture of five homokaryons (mycelia with identical nuclei) each with a different nuclear haplotype to heterokaryons (mycelia with genetically different nuclei). In vitro cultivation of this mixture for multiple asexual transfers led to the formation of multiple heterokaryotic mycelia, and a reduction of mycelial diversity over time. All heterokaryotic mycelia contained exactly two types of nucleus. The success of a heterokaryon during in vitro cultivation was mainly determined by spore production and to a lesser extent by mycelial growth rate. Second, heterokaryons invariably produced more spores than homokaryons implying that homokaryons will be outcompeted. Third, no homokaryotic 'escapes' from a heterokaryon via the formation of homokaryotic spores were found, despite extensive spore genotyping. Fourth, in contrast to most studied basidiomycete fungi, in Termitomyces sp. no nuclear migration occurs during mating, limiting the scope for nuclear competition within the mycelium.
Conclusions
Our experiments demonstrate that in this species of Termitomyces the scope for selection at the level of the nucleus within an established mycelium is limited. Although 'mate choice' of a particular nuclear haplotype is possible during mating, we infer that selection primarily occurs between mycelia with two types of nucleus (heterokaryons).
Keywords
Termitomyces PloidyPolyploidLevels of selectionSocial evolutionMutualismFungiMating system
Background
Life is organised in a hierarchical fashion. Genes are organised on chromosomes, chromosomes in nuclei, organelles in cells, cells in individuals, and individuals of different species in mutualisms and individuals of the same species in colonies. Entities thus form groups that can become a new unit of selection [1]. However, as long as the constituent entities have some autonomy, lower-level selection can oppose higher-level organisation. For example, selection for fast replication among the cells of multicellular individuals can lead to cancer. Also 'organelle cancers' have been discovered that decrease cell fitness and are caused by selection among mitochondrial genomes for fast replication within cells or increased transmission [2, 3]. To understand the emergence of higher levels of biological organisation we must understand how the interests of lower-level units became united and the relative importance of selection shifted towards a higher level of biological organisation.
In this article, we study the potential for multi-level selection in the mutualistic fungi cultivated by fungus-growing termites. To what extent does natural selection operate
within
individuals (mycelia) of these fungi? Fungus-growing termites form colonies consisting of thousands of sterile individuals, which cultivate a fungus inside their colony, housed in multiple connected fungus gardens. The termite colonies are founded by a single reproductive pair, and most species rely on horizontal acquisition of fungal symbionts [
4
–
6
]. New colonies thus start without a fungus and acquire their fungal symbiont from the environment as basidiospores (sexual spores; Figure
1
B). These spores are produced by the sexual fruiting bodies, the mushrooms, which generally are produced seasonally, a few weeks after the termite nuptial flight period [
4
,
7
,
8
]. In contrast to this sexual fungal propagation when new colonies start, fungal propagation within the nest is always asexual, via the continuous propagation of asexual spores (Figure
1
B; [
9
–
11
]). All colonies screened so far contained a single-strain monoculture of
Termitomyces
[e.g. [
9
,
12
].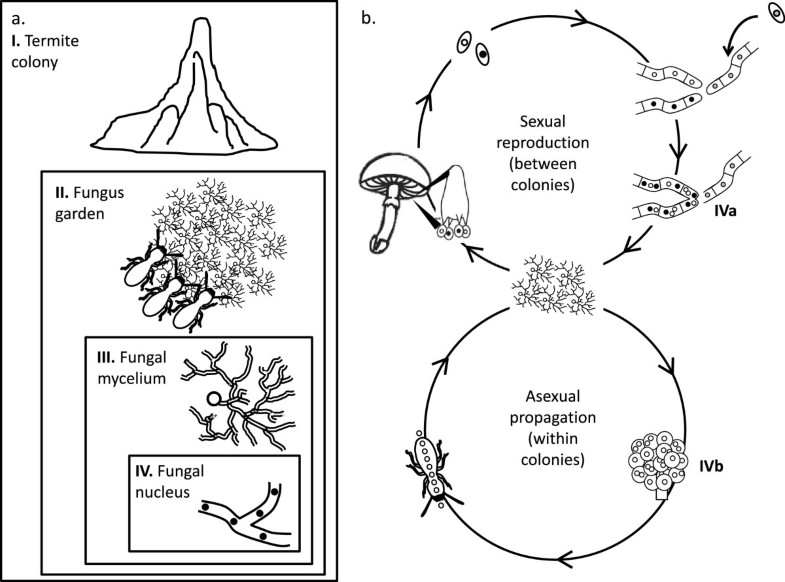 Natural selection on Termitomyces fungi potentially not only acts at the level I. of the colony, but also II. of fungus gardens within colonies, III. of fungal individuals (mycelia) within fungus gardens and IV. of nuclei (and other organelles) within fungal individuals (Figure 1A). We address the potential for selection at the level of nuclei within Termitomyces (Figure 1B).
Fungal individuals (mycelia) deviate from other multicellular organisms in three key respects. First, mycelia are not strongly compartmentalised and compartments usually contain multiple haploid nuclei, which can cross the boundaries of compartments [13]. Second, fungal mycelia have a modular organisation and each fragment can reproduce via fission or the formation of asexual spores. Third, fungal mycelia can fuse so that organelles may disperse from one mycelium to another. These characteristics favour selection at the level of the nucleus, and experimental evidence has been found for this hypothesis [14]. Termitomyces cells in particular are multinucleate with up to 10 nuclei per cell and thus do not regulate the precise number of nuclei per cell [15]. This is in sharp contrast to most other basidiomycetes, which have special adaptations such as clamp connections to regulate the number and kind of haploid nuclei to be precisely two per cell [16]. We thus hypothesise that Termitomyces is prone to nucleus-level selection. In the Termitomyces life cycle, selection at the level of the nucleus potentially occurs at two stages. First, in the sexual life cycle, if more than two homokaryons meet, multiple nuclei may compete within the mycelium to become part of the heterokaryon that ultimately becomes the dominant strain of a colony (Figure 1B, IVa). Second, during the asexual stage, nuclei with a replication or a segregation advantage during spore formation can be selected (Figure 1B, IVb). Crucially, nucleus-level selection may favour a nuclear variant even if this variant decreases mycelial fitness, as has been shown in other fungi [17, 18]. To test the hypothesis that Termitomyces is prone to nucleus-level selection, we performed competition experiments among multiple nuclei, using mixtures of homokaryons and following nuclear segregation in the asexual spores of heterokaryons.
Discussion
Natural selection simultaneously acts at different levels in the hierarchy of life. To explain higher levels of biological organisation, we need to understand how the relative importance of lower-level selection decreased. A colony of fungus-growing termites is a nice illustration of the hierarchical nature of life (Figure 1). Earlier research had shown that an adult termite colony is associated with a single clone of Termitomyces[9]. However, the extent to which within-mycelium selection among multiple nuclei could occur was still unknown. Here we clearly show that the scope for selection at the level of the nucleus is restricted in the Termitomyces species associated with the termite Macrotermes natalensis. Only during mating, a homokaryon may have a preference for a particular nucleus, which can be considered as an example of 'female choice' [20, 21]. Below we outline in more detail the consequences of the reported results for the evolution of this mutualism and for multi-level selection in general.
Conclusions
We demonstrate that the scope for selection at the level of the nucleus for the mutualistic fungi cultivated by fungus-growing termites is restricted, despite a less strict regulation of the number of nuclei per cell and per asexual spore: 1. heterokaryons produced more asexual spores than homokaryons, showing that any homokaryotic escape from a heterokaryotic culture would be outcompeted; 2. nuclei cannot monopolise the asexual spores as asexual spores from heterokaryons always had both nuclei; 3. in contrast to most other basidiomycete fungi, no nuclear migration occurred upon mating between homokaryotic mycelia; 4. despite extensive efforts, i.e. by maximising contact between multiple compatible homokaryons in a high density, the resulting heterokaryons always had two and never more than two nuclei.
Methods
Homokaryon regeneration
As we did not have access to fresh fruiting bodies of Macrotermes natalensis, we could not obtain homokaryons from sexual spores. Therefore, we regenerated homokaryons from heterokaryotic strains using protoplast regeneration [45]. Using previously described methods [22], we first isolated heterokaryotic cultures of Termitomyces from three colonies of the species M. natalensis collected in South Africa in 2008 (Additional file 1: Figure S1). This species is associated with a unique Termitomyces lineage, and genetic data show that strains of this lineage belong to a single biological species [9, 12, 15, 22]. The cultures were isolated on standard malt yeast extract agar (MYA; per liter demi water: 20 g malt extract, 2 g yeast extract, 20 g agar) [22] and stored in -80C in a mixture of pepton-glycerol (30% glycerol, 0.7% neopepton). Upon recovery of the heterokaryons from the freezer, homokaryons were generated from these strains using protoplast regeneration [45]. As this method relies on mycelial outgrowth, a nucleus with a recessive deleterious mutation will be underrepresented in the recovered homokaryotic mycelia. For three heterokaryons, we succeeded to recover five of the six possible homokaryons (Additional file 1: Table S1).
To test the karyotic state of the protoclones, DNA was extracted from mycelium using a CTAB DNA isolation method. The highly variable intron in Elongation Factor 1 alpha (EF1-α) and part of the nuclear ribosomal region including the first internal transcribed spacer (ITS1), the 5.8S RNA gene and the second internal transcribed spacer (ITS2) were amplified using standard PCR reactions (primers and procedure as in [29]). Direct sequencing of the PCR product was performed by MWG Biotech. By comparison with the electropherograms of the heterokaryotic parental strain, we confirmed the recovery of one or both homokaryotic strains. The regenerated homokaryons were used in the following four analyses/experiments.
Patterns of sexual compatibility
To test sexual compatibility and patterns of heterokaryon formation, we made all 10 pairwise combinations of the five recovered homokaryons by placing inocula side-by-side, with ca. 50 mm of space in between, on 5X diluted MYA medium. After four weeks of growth, the pairings were inspected and photographed. Samples of the contact zone and the sides of pairings were subcultured and genotyped, to test their nuclear status.
Growth measurements and nodule formation
To test mycelial growth differences among homokaryotic and heterokaryotic strains, cultures of the regenerated Termitomyces sp. homokaryons and of newly created heterokaryons were grown on a 5X diluted MYA medium (5 replicates per strain) and incubated at 25°C. Mycelial growth was measured after four weeks. Plate surfaces were photographed with the Molecular Imager® Gel Doc XR System from Bio-Rad, using fixed conditions of aperture size and shutter speed. The surface area covered with mycelia was estimated using the software ImageJ (http://rsb.info.nih.gov/ij) and linearized (square root transformation).
To measure asexual spore production of all strains, approximately 20 mm3 of the nodule biomass was scraped off from a two-week old culture, suspended in 500 μl saline with a small mortar fitting in the bottom of an Eppendorf tube. Per plate, 50 μl of spore suspension was inoculated and distributed using five sterile glass beads. After 10 days of growth, plate surfaces were photographed as above and the surface area covered with nodules was estimated following the protocol described in [9].
The variables analysed (mycelial growth, nodulation and nuclear distribution in asexual spores) were summarized using boxplots or by describing their distribution. Nodule formation was described as asexual spore yield, which was calculated as volume based on the area covered with nodules (A) and number of nodules (n) as estimated by the ImageJ software on size calibrated images. Differences in mycelial growth were analysed through ANOVA by a general linear model (GLM), using mycelial linear growth as dependent variable and the karyotic state as fixed factor with two states heterokaryotic or homokaryotic. The nuclear components of the homokaryons and heterokaryons in the analysis were coded and entered into the analysis as covariates (in this analysis, considered as other independent variables of interest).
Homokaryon mixing experiment
Stock suspensions of asexual spores of the five homokaryons were made as described above. Six spore suspensions were made: a mixture of the five homokaryon strains in equal proportions and the five possible mixtures where one homokaryon constituted 50% of the inoculum volume and the remaining four 12.5% each. The rationale for the latter treatment was that the 50% strain would most often function in a receiving role, so that the winning partner nucleus could reflect 'female choice' in this treatment [21]. This would correspond to a situation, where a single spore arrived first, giving a head start to a single homokaryon with that nucleus. Because spores are collected from the environment, it is likely that multiple spores are brought into the nest: fruiting occurs a few weeks after the termite nuptial flight period [4, 7, 8], meaning some synchronization in fruiting and in spore availability.
The numbers of colony-forming units (CFU) per suspension were quite similar between strains with the exception of strain B (4 times fewer CFU's; Additional file 1: Table S4). As a consequence, the targeted combinations with B in majority correspond to the mixture of five homokaryon strains in equal proportions. The other combinations with unequal shares resulted in one of the strains constituting ~57% of the inoculum volume, three strains 13% each and the remaining (strain B) with 4%.
After 10 days incubation, the nodule biomass of half of the plate was scraped off ensuring capturing plate diversity, suspended in 500 μl saline and mixed as described above. Plates were inoculated in the same way as described above until four harvestings were completed, simulating asexual spore propagation in a termite society. Because we wanted to identify and characterize asexual spores diversity within the mixtures, at each harvesting point, plates with different spore concentrations (5, 25, 125 times diluted) were inoculated to allow isolation of individual nodules. After one week of growth, 30 nodules per initial mixture were isolated on MYA plates (Additional file 1: Figure S2), allowed to grow for 10 days and the DNA of these pure cultures was extracted as described above. Using the KASP SNP genotyping system (KBiosciences) with specific primers designed according to the product instructions, the isolated nodules were genotyped at known single nucleotide polymorphisms (SNPs) previously selected from the homokaryotic sequences obtained. Genotyping at three SNPs (2 from EF1α and 1 from ITS1) was sufficient to distinguish all 10 possible heterokaryons (Additional file 1: Table S2).
As a measure of diversity of all genotypes in the mixes (thus including homokaryons and heterokaryons) at the different harvesting points, we used the Simpson's Diversity Index (1-D) and tested for pairwise significant differences using Student's t-test (α = 0.05). The starting diversity of heterokaryons was estimated assuming random pairwise association between the homokaryons in a mixture.
Asexual spores and nuclei
Homokaryotic isolates observed in the later stages of the mixing experiment could either result from non-fused homokaryons or re-emergence of homokaryons from heterokaryons via homokaryotic asexual spores. For two of the three heterokaryons that reached the majority in the end of the mix experiments (the third strain was lost) we tested if heterokaryons produced any homokaryotic spores. For that, we determined 1) the number of nuclei per asexual spore and 2) the nuclear genotype of the asexual spores. For 1), asexual spores were scrapped off and immediately placed in 10 μl of the florescent dye DAPI, and we used fluorescence microscopy to visualise the nuclei ([46, 47]; details in Additional file). For 2), 100 single spore cultures were genotyped. The material to be genotyped was prepared as follows: stock suspensions of asexual spores were made as described for heterokaryotic yield, suspensions were filtered through a glass wool funnel and washed four times, each time with 500 μl saline, to remove any mycelial fragments or clumps of spores. Two further five times dilutions of spore suspension were made and 50 μl was inoculated per Petri dish and distributed using five sterile glass beads. After one week of growth the nodules were isolated and genotyped for nuclear identification, as described above.
Our null hypothesis was that nuclei segregate randomly among the asexual spores and the alternative hypothesis that nuclei are distributed in a regulated fashion to maintain two different nuclei per spore. For all statistical tests, the significance level considered was α = 0.05.
Availability of supporting data
Declarations
Acknowledgements
M. Jongkees for the help in DNA extractions. B. Lavrijssen and W. Gao for the help in protoplasting. J.J. Boomsma for comments on a previous version of this manuscript. TN was supported by a Marie Curie fellowship (FP7-PEOPLE-2012-CIG Project Reference 321725) and by the Portuguese Foundation for Science and Technology (SFRH/BCC/52187/2013), during the preparation of this manuscript. DKA was supported by The Netherlands Organization for Scientific Research (VIDI).
Authors' Affiliations
(1)
Laboratory of Genetics, Wageningen University and Research Center, Wageningen, The Netherlands
(2)
Plant Research International – Mushrooms, Wageningen University and Research Centre, Wageningen, The Netherlands
(3)
ICAAM, University of Évora, Évora, Portugal
Copyright
© Nobre et al.; licensee BioMed Central Ltd. 2014
This article is published under license to BioMed Central Ltd. This is an Open Access article distributed under the terms of the Creative Commons Attribution License (http://creativecommons.org/licenses/by/4.0), which permits unrestricted use, distribution, and reproduction in any medium, provided the original work is properly credited. The Creative Commons Public Domain Dedication waiver (http://creativecommons.org/publicdomain/zero/1.0/) applies to the data made available in this article, unless otherwise stated.