Research article

Open Access
A population genetic window into the past and future of the walleye Sander vitreus: relation to historic walleye and the extinct "blue pike" S. v. "glaucus"
BMC Evolutionary Biology
2014
14:133
Received: 28 October 2013
Accepted: 5 June 2014
Published: 17 June 2014
Abstract
Background
Conserving genetic diversity and local adaptations are management priorities for wild populations of exploited species, which increasingly are subject to climate change, habitat loss, and pollution. These constitute growing concerns for the walleye Sander vitreus, an ecologically and economically valuable North American temperate fish with large Laurentian Great Lakes' fisheries. This study compares genetic diversity and divergence patterns across its widespread native range using mitochondrial (mt) DNA control region sequences and nine nuclear DNA microsatellite (μsat) loci, examining historic and contemporary influences. We analyze the genetic and morphological characters of a putative endemic variant– "blue pike" S. v. "glaucus" –described from Lakes Erie and Ontario, which became extinct. Walleye with turquoise-colored mucus also are evaluated, since some have questioned whether these are related to the "blue pike".
Results
Walleye populations are distinguished by considerable genetic divergence (mean FST mtDNA = 0.32 ± 0.01, μsat = 0.13 ± 0.00) and substantial diversity across their range (mean heterozygosity mtDNA = 0.53 ± 0.02, μsat = 0.68 ± 0.03). Southern populations markedly differ, possessing unique haplotypes and alleles, especially the Ohio/New River population that houses the oldest haplotype and has the most pronounced divergence. Northern formerly glaciated populations have greatest diversity in Lake Erie (mean heterozygosity mtDNA = 0.79 ± 0.00, μsat = 0.72 ± 0.01). Genetic diversity was much less in the historic Lake Erie samples from 1923–1949 (mean heterozygosity mtDNA = 0.05 ± 0.01, μsat = 0.47 ± 0.06) than today. The historic "blue pike" had no unique haplotypes/alleles and there is no evidence that it comprised a separate taxon from walleye. Turquoise mucus walleye also show no genetic differentiation from other sympatric walleye and no correspondence to the "blue pike".
Conclusions
Contemporary walleye populations possess high levels of genetic diversity and divergence, despite habitat degradation and exploitation. Genetic and previously published tagging data indicate that natal homing and spawning site philopatry led to population structure. Population patterns were shaped by climate change and drainage connections, with northern ones tracing to post-glacial recolonization. Southerly populations possess unique alleles and may provide an important genetic reservoir. Allelic frequencies of Lake Erie walleye from ~70–90 years ago significantly differed from those today, suggesting population recovery after extensive habitat loss, pollution, and exploitation. The historic "blue pike" is indistinguishable from walleye, indicating that taxonomic designation is not warranted.
Keywords
Biogeography
Blue pike
Control region
Microsatellites
Sander
Walleye
Background
Species today face many challenges that influence their genetic, phenotypic, and ecological diversity and divergence patterns across space and time. The genetic variation of their component populations comprises the raw material underlying overall and local adaptedness, providing resilience to anthropogenic stressors –such as climate change, habitat alteration and loss, invasive species, and exploitation [1, 2]. Notably, declines in genetic diversity may lead to decreased fitness, undermining ability to respond to present and future conditions [3, 4]. Evaluating comparative and hierarchical levels of genetic composition and differentiation of widespread taxa, as well as their unique or reservoir populations, thus is important for prioritizing conservation management strategies [5, 6].
Population genetic patterns of today's temperate taxa resulted from historic and contemporary processes [7, 8], regulated by their physiological requirements, habitat connectivity, and dispersal capability [9, 10]. Broadly distributed taxa display heterogeneous patterns over a breadth of environmental and ecological conditions [11, 12]. Isolated populations experience drift and possibly evolve unique alleles [13, 14], whereas large inter-connected ones frequently have high gene flow and less genetic distinctiveness [15, 16]. Low migration may lead to higher divergences, whereas mobility fosters gene flow and homogeneity [17, 18].
During the Pleistocene Epoch, ~2.6–0.01 million years ago, the North American Laurentide Ice Sheet advanced south to the Ohio River system (Figure
1
), altering population distributions and genetic compositions [
19
,
20
]. Taxa became sequestered in glacial refugia and then moved northwards to colonize old and new habitats as the ice retreated [
21
,
22
]. Recent climate warming is accelerating these historic dispersal patterns northward [
23
,
24
].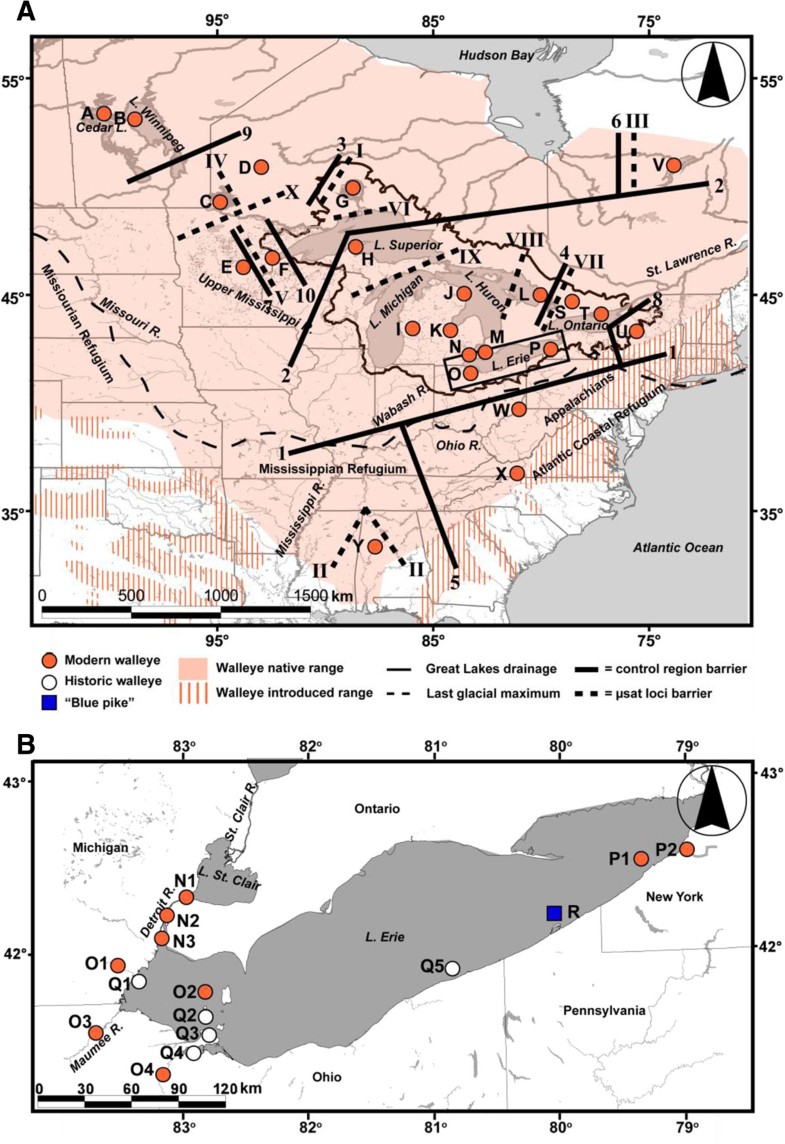 Anthropogenic factors may further modify genetic patterns and force populations into sub-optimal habitats leading to reduced population size, genetic diversity, and/or local adaptation and resulting in possible extirpation [27]. For example, increasing temperatures may reduce population sizes and ranges of temperate cold-water fishes, e.g., lake trout Salvelinus namaycush (Walbaum 1792) and cutthroat trout Oncorhynchus clarkii (Richardson 1836) [23, 28]. Rising temperatures and decreasing population sizes have been linked to declining genetic diversity through drift and inbreeding in Atlantic salmon Salmo salar Linnaeus 1758 and brown trout S. trutta Linnaeus 1758 [29]. In contrast, warm-water species, such as the walleye Sander vitreus (Mitchill 1818) may broaden their ranges, shifting their distribution centers north [23]. Some outlying populations may fail to adapt, leading to declining genetic variability and extirpation [28], which may particularly affect southerly fringe areas such as the relict North River, Alabama population of walleye [30] (site Y; Figure 1). Exploitation and other anthropogenic stressors may accelerate diversity loss further [2, 31]. The present study analyzes the genetic patterns of walleye, in light of its past and potential future, to evaluate such patterns of variability, isolation, and continuity over space and time.
The walleye is an ecologically and economically valuable fish [32, 33] that supports large Great Lakes' fisheries, peaking in Lake Erie [34]. It inhabits slow turbid lakes to fast flowing clear streams throughout much of North America (Figure 1). Historically, it ranged from the Mackenzie River in the Northwest Territories of Canada, south to the U.S. Gulf Coast, and northeastward to New Hampshire and Quebec; during the past century it also was transplanted into many other areas for fishing [25] (Figure 1A). After maturing at ~ age three, it migrates annually in spring to early summer to reproduce at natal spawning grounds [35], exhibiting site fidelity, homing, and philopatry [36]. Adults do not provide parental care or nest guarding, and range widely to feed after spawning, travelling 50–300 km [37].
Past studies by our laboratory examined fine-scale population patterns of walleye using nine nuclear DNA microsatellite (μsat) loci, showing that most spawning groups markedly differ even within lake basins and between proximate sites, as well as at broad scales supporting natal homing and spawning site philopatry [30, 38–40]. Stepien et al. [38] found that the genetic structure of spawning groups remains similar from year to year, among age cohorts, and from generation to generation. An earlier study [41] addressed patterns across the Great Lakes using mitochondrial (mt) DNA control region sequences, whose geographic scope is extended here to accompany the μsat data set and includes new information from the Canadian Shield lakes for both data sets.
We additionally evaluate the historic genetic diversity of walleye from Lake Erie using preserved samples from 1923–1949. We address the taxonomic identity of a possible historic walleye variant, the "blue pike" S. v. "glaucus" (Hubbs [42]), whose distinction has been controversial [41, 43]. The "blue pike" was reported to be endemic in Lakes Erie and Ontario, where it co-occurred with the common walleye S. v. vitreus (hereafter referred to as walleye). The "blue pike" was believed to inhabit the deeper cooler waters of eastern Lake Erie, but also was caught in the shallow and warmer western basin along with walleye [44]. It reportedly spawned somewhat later and in deeper areas than walleye [43]. The "blue pike" was described to have a steel grey-blue color, larger eyes that were higher on the head, and a smaller interorbital distance than walleye [44, 45]. However, all characters overlapped extensively between the two [44]. Hubbs [42] originally described the "blue pike" as a separate species ("S. glaucus"), which then was demoted to a subspecies due to pronounced intergrades with walleye including color and all other morphological measures [44]. The present study thus addresses their identities using new morphological and genetic data.
Both "blue pike" and walleye shared a popular commercial fishery with the former collapsing in 1959 attributed to exploitation, pollution, and/or habitat alteration and the latter concurrently declining [44]. The last "blue pike" record was reported in 1965 [44] and the US Fish and Wildlife Service declared it officially extinct in 1983 [46]. The "blue pike's" identity has been confusing since it did not belong to the pike family (Esocidae) and some walleye in northern waters (along the Canadian Shield) are colored bright turquoise-blue due to sandercyanin protein in the mucus [47], which does not match the darker grey-blue color described for "blue pike" [48, 49]. Early fishery biologists called these turquoise mucus walleye "mutants" and stated that they lacked the body color, shape, and other morphological characteristics of "blue pike" [49]; however, these variant colors have become confused in the literature [41]. Turquoise mucus and yellow walleye occur sympatrically in the same northern habitats, and the latter also have some turquoise mucus pigment [45]. The turquoise mucus additionally characterizes some yellow perch Perca flavescens (Mitchill 1814) in those habitats. Some of the turquoise color typically "rubs off" when the fish is collected [46 and CAS, pers. obs.].
This study aims to resolve population genetic patterns of walleye across its native range, providing a baseline for evaluating future anthropogenic pressures. We analyze contemporary walleye spawning groups and compare Lake Erie populations to historic samples, including the putative "blue pike" variant. Morphological characters also are analyzed for the historic samples. We expand the previous sampling coverage to 1181 walleye and combine information from mtDNA control region sequences and nine nuclear DNA μsat loci. Patterns are evaluated at multiple evolutionary and temporal scales, with mtDNA sequences revealing historical context (glacial refugium origins and taxonomic relationships) and μsat loci addressing contemporary microevolutionary processes (migration, gene flow, and genetic drift) [50, 51]. Biogeographic patterns are compared with those of other North American taxa. Specific questions are: (1) What is the genetic structure of walleye across its native distribution?, (2) How does genetic diversity vary across the range?, (3) What is the relationship of contemporary samples to historic Lake Erie (1923–1949) patterns?, and (4) Did the extinct "blue pike" significantly differ from walleye?
Conclusions
This study increases understanding of historic and contemporary walleye genetic diversity and divergence patterns via a genetic window approach. Population patterns have been shaped by climate change and drainage connections, with northern ones tracing to post-glacial recolonization. Genetic diversity and abundance of Great Lakes' walleye appear to have rebounded after drastic habitat changes and industrialization of the early 1900s through the 1970s. The next step is to identify adaptations that underlie these genetic diversity and divergence patterns, via genomics [112, 113]. Such applied knowledge will aid efforts to sustain natural populations in the face of ongoing climate change and new anthropogenic stressors. Our goal is that the present results will aid future walleye diversity and adaptedness.
Authors' information
This work formed part of the Ph.D. dissertation work of AEH in the laboratory of CAS, who now is a postdoctoral associate in the laboratory. CAS has worked on walleye genetic patterns for over two decades, and her Great Lakes Genetics/Genomics laboratory focuses on invasive species, as well as native fishes.
Declarations
Acknowledgements
This is contribution #2014-009 from the University of Toledo's Lake Erie Research Center. Research was funded by grants to CAS from NOAA Ohio Sea Grant R/LR-013 and USEPA CR-83281401-0. Travel by AEH was supplemented by NSF Deepfin #RCN-0443470 (P.I. = G. Orti), a Smithsonian Fellowship visiting appointment (sponsored by L. Parenti), and a Sigma Xi Grant-In-Aid of Research. AEH also was supported by NSF GK–12 DGE#0742395 fellowship (P.I. = CAS), University of Toledo teaching and research assistantships, and Norman S. Baldwin Fishery Science (2010) and IAGLR (International Association for Great Lakes Research) Scholarships (2009). The U.S. Fish and Wildlife Service, U.S. Geological Survey, Ohio and Michigan Departments of Natural Resources, Ontario Ministry of Natural Resources, and Keweenaw Bay Indian Community Natural Resources Department, M. Bagley, L. Bernatchez, N. Billington, E. Hallerman, W. Jansen, M. Kibbey, G. Mensch, D. Nelson, W. Schaefer, C. Wentzel, M. White, and C. Wilson contributed samples. We thank J. Bossenbroek, T. Fisher, J. Gottgens. P. Kocovsky, L. Parenti, W. Stott, and Great Lakes Genetics/Genomics Laboratory members L. Pierce, C. Prichard, T. Sullivan, and S. Yerga-Woolwine for assistance, and P. Uzmann, M. Gray, P. Struffolino, and R. Lohner for logistic support.
Authors' Affiliations
(1)
The Great Lakes Genetics/Genomics Laboratory, Lake Erie Center and Department of Environmental Sciences, The University of Toledo, Toledo, USA
Copyright
© Haponski and Stepien; licensee BioMed Central Ltd. 2014
This article is published under license to BioMed Central Ltd. This is an Open Access article distributed under the terms of the Creative Commons Attribution License (http://creativecommons.org/licenses/by/2.0), which permits unrestricted use, distribution, and reproduction in any medium, provided the original work is properly credited. The Creative Commons Public Domain Dedication waiver (http://creativecommons.org/publicdomain/zero/1.0/) applies to the data made available in this article, unless otherwise stated.