Research article
Open Access
Mitochondrial and nuclear phylogenetic analysis with Sanger and next-generation sequencing shows that, in Área de Conservación Guanacaste, northwestern Costa Rica, the skipper butterfly named Urbanus belli(family Hesperiidae) comprises three morphologically cryptic species
BMC Evolutionary Biology
2014
14:153
Received: 19 February 2014
Accepted: 17 June 2014
Published: 9 July 2014
Abstract
Background
Skipper butterflies (Hesperiidae) are a relatively well-studied family of Lepidoptera. However, a combination of DNA barcodes, morphology, and natural history data has revealed several cryptic species complexes within them. Here, we investigate three DNA barcode lineages of what has been identified as Urbanus belli (Hesperiidae, Eudaminae) in Área de Conservación Guanacaste (ACG), northwestern Costa Rica.
Results
Although no morphological traits appear to distinguish among the three, congruent nuclear and mitochondrial lineage patterns show that "Urbanus belli" in ACG is a complex of three sympatric species. A single strain of Wolbachia present in two of the three cryptic species indicates that Urbanus segnestami Burns (formerly Urbanus belliDHJ01), Urbanus bernikerni Burns (formerly Urbanus belliDHJ02), and Urbanus ehakernae Burns (formerly Urbanus belliDHJ03) may be biologically separated by Wolbachia, as well as by their genetics. Use of parallel sequencing through 454-pyrosequencing improved the utility of ITS2 as a phylogenetic marker and permitted examination of the intra- and interlineage relationships of ITS2 variants within the species complex. Interlineage, intralineage and intragenomic compensatory base pair changes were discovered in the secondary structure of ITS2.
Conclusion
These findings corroborate the existence of three cryptic species. Our confirmation of a novel cryptic species complex, initially suggested by DNA barcode lineages, argues for using a multi-marker approach coupled with next-generation sequencing for exploration of other suspected species complexes.
Keywords
LepidopteraIntragenomic variationNon-metric multi-dimensional scalingPhylogenyDNA barcoding
Background
The identification of species is essential for robust biodiversity estimates and a wide range of biological investigations with socio-economic applications. For example, the inability to accurately detect species has historically led to costly invasive species outbreaks and sub-optimal conservation practices for species at risk [1–3]. Herein we focus on "cryptic" species and define them according to Bickford's overarching definition: two or more distinct species that are erroneously classified under one species name [1]. Morphologically cryptic species—those species that lack anatomical differences—require additional lines of evidence for species identification beyond traditional measures, including but not limited to: ecological distinctiveness, behavioral differences, morphological dissimilarity in undescribed life stages, and molecular divergences e.g., [4–6]. This study focuses on the latter and, more specifically, utilizes DNA barcode divergences as initial proxies for distinguishing cryptic species. DNA barcoding utilizes a short, standardized gene region to identify species; this study uses the 658 bp region of the cytochrome c oxidase I gene (COI), chosen as a DNA barcode for animal life [7]. Since 2003, DNA barcoding has been applied to a long-standing morphological and ecological inventory of Lepidoptera from the 140,000 ha terrestrial portion of Área de Conservación Guanacaste (ACG), northwestern Costa Rica (http://www.acguanacaste.ac.cr).
The ACG Lepidoptera inventory is comprehensively collecting and cataloging ancillary data including: DNA barcodes, food plants, parasitoids, fine-scale geographic and ecosystem data, and adult and caterpillar morphology [8] (http://janzen.sas.upenn.edu). Numerous instances of otherwise unrecognized species diversity have been discovered within the ACG. Several studies have focused on cryptic species complexes within the skipper butterflies (Hesperiidae) [9–13].
The discovery and characterization of species of hesperiid butterflies in ACG includes one of the most highly cited studies using DNA barcoding [13]. This study involved the Astraptes fulgerator (Walch, 1775) species complex and found ten distinct DNA barcode lineages. Although, some of these lineages displayed low sequence divergence (e.g., less than 1%), they were confirmed as species through the strong correlation of barcodes with distinct food plants, caterpillar coloration, some subtle differences in adult coloration and size, and ecological preferences [13].
In cases where cryptic species have been detected in Lepidoptera, natural history traits that correlate with COI lineages are key diagnostic characters. In this study, we explore a novel case where natural history traits appear to be absent, yet marked (i.e., more than 2%) DNA barcode divergences are present. We focus our efforts on what has been called "Urbanus belli"[11] in the ACG and explore the utility of a genetic framework to identify morphologically cryptic species.
"
Urbanus belli
" is viewed as well-categorized taxonomically and ecologically as a single species that has become specialized to feed on the leaves of tropical herbaceous or shrubby Asteraceae, i.e., composites [
11
] (
http://janzen.sas.upenn.edu
). Within the small area of ACG, this skipper butterfly contains three distinct DNA barcode lineages that have temporarily been called
Urbanus
belliDHJ01,
Urbanus
belliDHJ02, and
Urbanus
belliDHJ03 in [
11
]. They are separated from each other by ~3-5%
COI
sequence divergence (Figure
1
). As mentioned previously, these three lineages lack apparent diagnostic morphological and natural history characters, other than that one of them, within ACG, is restricted to rain forest, where all three lineages occur naturally (Figure
2
). Food plant lists overlap among all three lineages (Table
1
).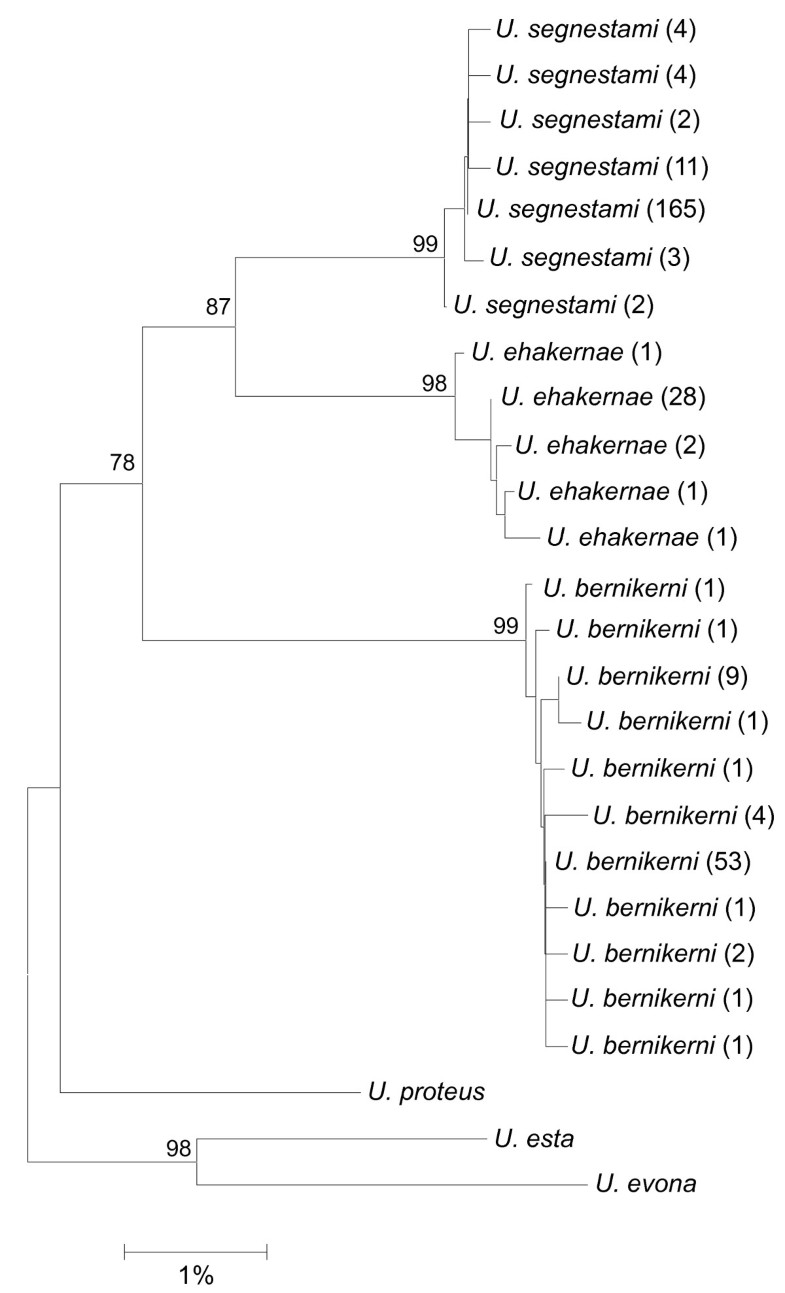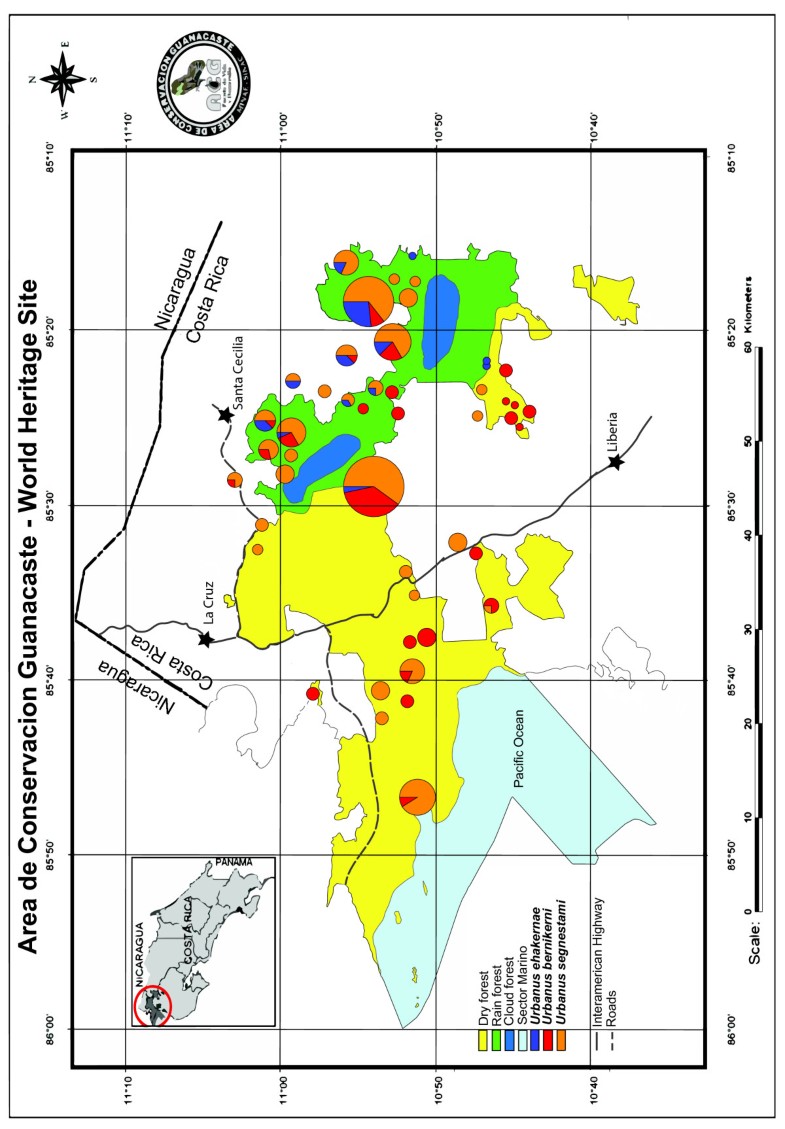 Table 1
325 adults of the Urbanus bernikerni complex reared from wild-caught caterpillars in Área de Conservación Guanacaste, caterpillar food plants and ecosystems, as of 31 Dec 2011
| Food plant | Urbanus signestami | Urbanus bernikerni | Urbanus ehakernae |
| --- | --- | --- | --- |
| Asteraceae | | | |
| Asteraceae 1454 | 3 | 1 | 0 |
| Baltimora recta | 2 | 0 | 0 |
| Calea urticifolia | 10 | 2 | 0 |
| Clibadium leiocarpum | 3 | 1 | 2 |
| Clibadium pittieri | 18 | 4 | 8 |
| Clibadium surinamensis | 2 | 1 | 2 |
| Lasianthaea fruticosa | 1 | 0 | 0 |
| Lepidaploa tortuosa | 1 | 1 | 0 |
| Melanthera nivea | 75 | 43 | 3 |
| Otopappus verbesinoides | 3 | 0 | 0 |
| Salmea scandens | 5 | 1 | 0 |
| Verbesina ovatifolia | 6 | 8 | 0 |
| Viguiera dentata | 1 | 1 | 0 |
| Zexmenia virgulta | 75 | 23 | 19 |
| Ecosystem | dry forest and rain forest | dry forest and rain forest | rain forest |
To test the hypothesis that "Urbanus belli" in the ACG is a complex of three cryptic species, as suggested by COI data (Figure 1), we compared lineage patterns across three additional molecular markers including: another mitochondrial gene (cytochrome b; cytb), a protein-coding nuclear gene (elongation factor subunit I alpha; EF1α), and a nuclear ribosomal region (Internal transcribed spacer region II; ITS2), through the construction of phylogenetic trees. Given the high copy number and varying levels of intragenomic heterogeneity of the ITS2[14, 15], Next-Generation Sequencing (NGS) was used to obtain sequences of ITS2 from each specimen and non-metric multidimensional scaling (nMDS) was used to analyze intragenomic, intraspecific, and interspecific sequence clustering.
Additional analyses, including compensatory base changes (CBCs) in ITS2 secondary structure and a Wolbachia endosymbiosis assay, were performed to supplement results in light of the absence of natural history characters. CBCs in the secondary structure of ITS2 have been found to correlate strongly with distinct biological species of plants and fungi and as such, have been proposed as a molecular indicator of biological species [15–17]. The occurrence of a single CBC has been shown to correlate with distinct species of plants 93.11% of the time [16, 17]. Lastly, the presence of Wolbachia endosymbionts was tested by using the Wolbachia surface protein (wsp) marker followed by Multi Locus Sequence Typing (MLST) [18]. Wolbachia are known to impact insect evolution by altering host reproduction. The most commonly reported mechanism is cytoplasmic incompatibility [19], the inability of infected males to reproduce successfully with uninfected females. Cytoplasmic incompatibility has been a factor in the reduction of gene flow between infected and non-infected populations, populations infected with different strains of Wolbachia, and populations infected with the same strain of Wolbachia[20]. By including this analysis, we begin to explore the role that Wolbachia infections can play as potential reinforcing mechanisms for species' isolation [20].
Discussion
This study provides genetic evidence to support the separation of what was previously called "Urbanus belli", found in ACG lowland rain forest and dry forest, into a morphologically cryptic complex of three species. We found congruent patterns across 4 loci in support of three genetically distinct lineages. The fact that our cryptic complex occurs in sympatry provides indirect evidence that each lineage, when given the opportunity, does not appear to exchange genetic material. Although the intragenomic variability of ITS2 of two individuals of Urbanus ehakernae could be the result of hybridization or the retention of shared ancestral polymorphisms, the ancillary ecological data collected in this study supports evolutionary distinction. Urbanus ehakernae is the only species of the complex restricted to rainforest habitat and this lineage appears to maintain its evolutionary trajectory regardless of gene exchange.
This study successfully implements a genetic framework for cryptic species detection and characterization. The remaining sections of this discussion focus on the application and limitations of such a framework.
Conclusion
Making use of DNA barcode libraries to generate hypotheses for provisional boundaries of unrecognized species can allow researchers to allocate their exploratory resources more efficiently. The discovery of the Urbanus bernikerni complex demonstrates that using an integrative framework, led by genetic analyses, can provide adequate evidence to confirm the presence of as-yet undescribed cryptic species. Having prior knowledge of habitat distribution played a key role in identifying this complex, and such data are highly recommended for future work. We are also careful to note that results such as these render casual specimen identification yet more difficult; we do not, for example, know which, if any, of these three cryptic species is the same as what is generally known as Urbanus belli throughout the Neotropics, since the type specimen for that name has not been DNA barcoded. Thus, extending this study to include closely related congeneric species over a broader geographical distribution is of primary interest.
Availability of supporting data
Declarations
Acknowledgments
We gratefully acknowledge the team of ACG parataxonomists [13, 60] who found and reared the specimens used in this study, and the team of biodiversity managers who keep the ACG forests that host these butterflies alive. We thank Karie Darrow for preparing Figure 3 and Donald Harvey for dissecting many genitalia. We also thank Teresa Crease and Alex Smith for providing advice and editorial assistance in the early stages of this research. The study has been supported by U.S. National Science Foundation grants BSR 9024770 and DEB 9306296, 9400829, 9705072, 0072730, 0515699, and grants from the Wege Foundation, International Conservation Fund of Canada, Jessie B. Cox Charitable Trust, Blue Moon Fund, Guanacaste Dry Forest Conservation Fund, Permian Global, Area de Conservación Guanacaste, and University of Pennsylvania (DHJ). This project was funded by the Government of Canada through Genome Canada and the Ontario Genomics Institute (OGI-050) through the Biomonitoring 2.0 project (http://www.biomonitoring2.org) (MH) and by a Discovery Grant from Natural Sciences and Engineering Research Council of Canada (MH).
Authors' Affiliations
(1)
Biodiversity Institute of Ontario & Department of Integrative Biology, University of Guelph, Guelph, Canada
(2)
Department of Biology, University of Pennsylvania, Philadelphia, USA
(3)
Department of Entomology, National Museum of Natural History, Smithsonian Institution, Washington, USA
(4)
Department of Microbiology, Mansoura University, Mansoura, Egypt
Copyright
© Bertrand et al.; licensee BioMed Central Ltd. 2014
This article is published under license to BioMed Central Ltd. This is an Open Access article distributed under the terms of the Creative Commons Attribution License (http://creativecommons.org/licenses/by/4.0), which permits unrestricted use, distribution, and reproduction in any medium, provided the original work is properly credited. The Creative Commons Public Domain Dedication waiver (http://creativecommons.org/publicdomain/zero/1.0/) applies to the data made available in this article, unless otherwise stated.