Research article
Open Access
Differential introgression among loci across a hybrid zone of the intermediate horseshoe bat (Rhinolophus affinis)
BMC Evolutionary Biology
2014
14:154
Received: 28 March 2014
Accepted: 4 July 2014
Published: 9 July 2014
Abstract
Background
Hybrid zones formed by the secondary contact of divergent lineages represent natural laboratories for studying the genetic basis of speciation. Here we tested for patterns of differential introgression among three X-linked and 11 autosomal regions to identify candidate loci related to either reproductive isolation or adaptive introgression across a hybrid zone between two Chinese mainland subspecies of the intermediate horseshoe bat Rhinolophus affinis: R. a. himalayanus and R. a. macrurus.
Results
Our results support the previous suggestion that macrurus formed when a third subspecies (R. a. hainanus) recolonized the mainland from Hainan Island, and that himalayanus is the ancestral taxon. However, this overall evolutionary history was not reflected in all loci examined, with considerable locus-wise heterogeneity seen in gene tree topologies, levels of polymorphism, genetic differentiation and rates of introgression. Coalescent simulations suggested levels of lineage mixing seen at some nuclear loci might result from incomplete lineage sorting. Isolation with migration models supported evidence of gene flow across the hybrid zone at one intronic marker of the hearing gene Prestin.
Conclusions
We suggest that phylogenetic discordance with respect to the species tree seen here is likely to arise via a combination of incomplete lineage sorting and a low incidence of introgression although we cannot rule out other explanations such as selection and recombination. Two X-linked loci and one autosomal locus were identified as candidate regions related to reproductive isolation across the hybrid zone. Our work highlights the importance of including multiple genomic regions in characterizing patterns of divergence and gene flow across a hybrid zone.
Keywords
Phylogenetic discordanceAdaptive introgressionSpeciation Rhinolophus
Background
Our understanding of the genetics of speciation has benefited greatly from studies of hybridizing species, both in the laboratory [1–3] and in the wild [4–6]. In the latter, hybrid zones - geographic regions where genetically distinct populations meet, mate and produce hybrids [7] - have been considered as 'natural laboratories for evolutionary studies' [8]. For evolutionary biologists, hybrid zones offer windows on evolutionary process [9], while they provide the divergent populations themselves with a means to interact with each other. Genes can exchange due to the semi-permeable nature of the genome [10], and this in turn can result in variation in the level of introgression of alleles among different genomic regions [11–14].
Many processes can contribute to patterns of differential introgression, such as natural selection, genetic drift [15], varying recombination rates [16], linkage [4, 17], sampling error, or a combination of these processes. Distinguishing these processes from each other is extremely difficult but may be possible with the aid of newly developed analytical approaches (e.g. genomic clines, [18]), and with sampling of increased numbers of loci across the genome that are being surveyed in multiple individuals.
Based on patterns of introgression, several different classes of genomic region in the hybridized genome have been identified. First, there are regions that resist introgression or show reduced levels of introgression, which are often considered to be, or be linked to, putative 'speciation genes' [10, 11, 19]. A number of such genes have been reported in model organisms; for example, in Drosophila[3, 20] and in the mouse (Mus) [2, 21]. Second, there are regions that occur in the genomic backgrounds of both hybridizing species, which appear to be selectively neutral and able to flow freely across species boundaries. Finally, there are regions that introgress faster than neutral genes, and these are often considered to be advantageous or beneficial genes. Cases of such adaptive introgression may be promoted by positive selection [22], and have been documented in both plants [23, 24] and animals [25–27]. Recent genome scans conducted in mice have revealed that genes involved in olfaction and pheromone responses have undergone adaptive introgression across a hybrid zone, a result that was attributed to the importance of such genes in the survival and reproduction of these organisms [5].
By studying patterns of introgression in hybrid zones, candidate genomic regions that are either speciation genes, or linked to speciation genes, can be identified on the basis of reduced levels of introgression, whereas candidate genomic regions that are either beneficial genes, or linked to beneficial genes, can be detected from increased levels of introgression [4–6, 11, 15, 28]. One advantage of this differential introgression approach is that it can help to identify candidate genomic regions that are likely to be related to reproductive isolation and/or adaptive introgression between hybridizing species even in the absence of any information about the phenotypes that such regions control. This is particularly useful for studies of wild populations from non-model organisms.
A hybrid zone between two subspecies of the intermediate horseshoe bat (
Rhinolophus affinis
) provides an opportunity to gain insights into the genomic regions likely to be responsible for reproductive isolation and/or adaptive introgression in these taxa.
R. a. himalayanus
and
R. a. macrurus
both occur on the Chinese mainland (see Figure
1
a). Previous phylogeographic studies suggest that the mainland
R. a himalayanus
first colonized Hainan Island to form
R. a. hainanus
, which then underwent a post-glacial recolonization of the mainland to form
R. a. macrurus
[
29
,
30
]
.
The two mainland subspecies,
himalayanus
and
macrurus
, now form a hybrid zone in southeastern China. Earlier analyses of the mitochondrial control region, three nuclear genes and 14 microsatellites loci [
30
] suggested the occurrence of mitochondrial introgression but no nuclear introgression across the hybrid zone, although the absence of detected nuclear introgression may have reflected a lack of data.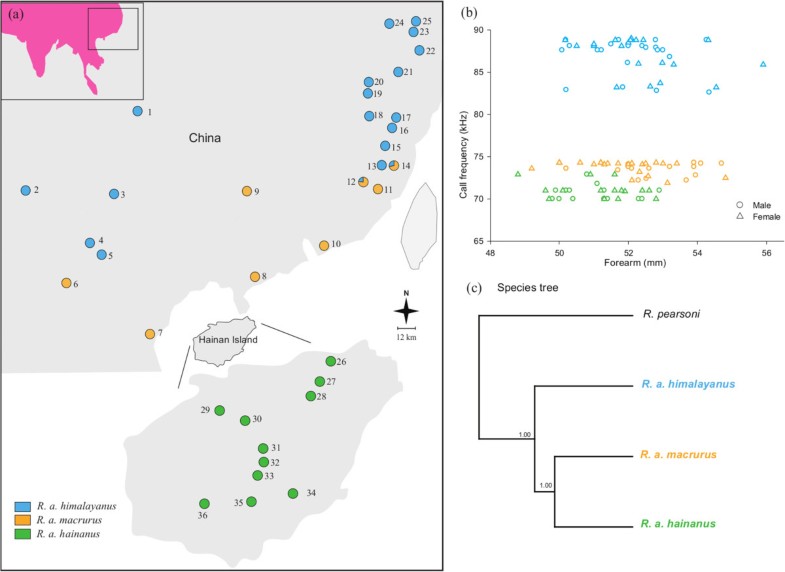 To test for differential introgression across the hybrid zone in R. affinis, here we expand our sampling of the genome to include loci that might be subject to adaptive introgression. Unlike mice in which olfaction is the dominant sensory modality, horseshoe bats are auditory specialists that use a system of narrowband constant frequency echolocation in which the inner ear is finely tuned to the incoming echoes of the emitted call. These calls have evolved specifically for the detection of flying insects, with the call frequency influencing the prey size and habitat use. For this reason, putative echolocation (or hearing) genes [31] might be subject to adaptive introgression. To test this hypothesis in our study system, we analyzed polymorphism and genetic differentiation in regions from three echolocation genes (i.e. FoxP2, Kcnq4 and Prestin). The first of these is implicated in orofacial coordination and vocalisation - both of which are important in call production - and was shown to have undergone divergent selection in echolocating bats [32]. The latter two genes encode proteins involved in hair cell function, and both show extensive sequence convergence between echolocating bats and dolphins [33, 34]. In comparison, we included three X-linked and five other autosomal regions that are not expected to have any roles in hearing or vocalisation. The inclusion of X-linked markers in our dataset allowed us to also test the hypothesis that the X chromosome contributes disproportionately to reproductive isolation compared to autosomes [35].
Discussion
In this study the species tree estimated using 14 loci under a Bayesian hierarchical model and the phylogeny constructed from mitochondrial DNA, together with call frequency variation, supports our earlier proposal that himalayanus colonized Hainan Island to form hainanus, which later recolonized the mainland forming macrurus[29, 30]. The recent origin of macrurus from hainanus was also supported by its comparatively lower average genetic differentiation (Table 3) and almost no fixed differences seen in nuclear markers here (Table 4).
Despite these patterns, the same evolutionary history was not suggested by all 14 nuclear loci. Indeed, nine loci showed evidence of mixing between himalayanus and its daughter taxa based on their genealogical topologies. However, four of those loci (Sws1, H2a, Pola1 and Prestin-8) gave the s-statistic value of 1, indicating complete reciprocal monophyly in these loci. This was confirmed by the IMa2 analysis that indicated that the model of zero gene flow could not be rejected in these loci. In the remaining five loci (Prestin-4, Thy, Tg, Kcnq4 and Prestin-18) with the s-statistic values > 1, the absence of reciprocal monophyly might have plausibly arisen from incomplete lineage sorting although low levels of introgression might also contribute to this pattern, e.g. at Prestin-4. Additionally, differences in locus-specific recombination rates can also lead to variation in levels of genetic differentiation and gene flow [16, 65, 66]. Our findings add to several recent studies of closely related taxa that have also shown that genealogical patterns and/or levels of genetic differentiation and gene flow can vary considerably across different genomic regions [67–69].
Of the three X-linked markers studied, two (Cx22 and Usp9x) showed extremely low levels of nucleotide diversity (π < 0.12%) within all three subspecies, alongside high genetic differentiation (FST > 0.94) between himalayanus and the other taxa, in accordance with a reciprocal monophyly for himalayanus and [macrurus + hainanus]. Such signatures could arise from selective sweeps operating to reduce genetic diversity within each taxon while fixing divergent alleles in different taxa [70]. These patterns are consistent with the idea that the X-chromosome plays a greater role than autosomes in reproductive isolation [4, 5, 71]. In contrast, however, the third X-linked locus (Pola1) showed highest nucleotide diversity in macrurus (the youngest taxon) than any of the other markers. Moreover, this locus also showed both a closer phylogenetic relationship and low estimated genetic differentiation between himalayanus and macrurus than between macrurus and hainanus, both of which likely resulted from either incomplete lineage sorting or introgression between himalayanus and macrurus. However, both of these two scenarios were not supported by the estimated s-value of 1, or by the nested migration models performed in IMa2. Thus, other processes such as recombination might also contribute to the patterns observed in Pola1 (see also [68]).
The IMa2 analysis indicated that the model with zero gene flow could be rejected for Prestin-4, supporting our original hypothesis that candidate echolocation genes may be subject to adaptive introgression (see Background). On the other hand, the other two candidate echolocation genes (FoxP2 and Kcnq4) examined showed no evidence of introgression across the hybrid zone and, therefore, we cannot confidently associate the introgression of Prestin with its role in echolocation. Additional candidate hearing and/or echolocation genes must be studied for a more thorough assessment of whether there are differences in levels of introgression between hearing genes and other genes in these bats. Indeed, tests for selection for this region of Prestin were not significant, suggesting that the possible occurrence of introgression in Prestin-4 may in fact be due to neutral gene flow although we cannot reject the alternative possibility of linkage to beneficial genes [27, 72, 73]. It was noteworthy that the scenario of incomplete lineage sorting could not be ruled out completely, and it is possible that the parapyhly pattern at this locus might have been shaped by a combination of both introgression and incomplete lineage sorting. Finally, we were unable to assess the effects of recombination rate on patterns of introgression [16, 68] due to lack of detailed knowledge of the genomic locations of the genes examined, such as whether they occur within rearranged or colinear regions of the genome. Beside the possible occurrence of gene flow across the hybrid zone, data from levels of polymorphism, genetic differentiation and genealogical topology suggested that locus Chd1 may represent a candidate region associated with reproductive isolation, either directly or via linkage to another locus.
Detected possible gene flow between himalayanus and macrurus at Prestin conflicts with our earlier findings for which no nuclear gene flow was inferred on the basis of reciprocal monophyletic tree topologies despite extensive mtDNA introgression [29, 30]. Interestingly three nuclear genes (Chd1, Sws1 and Usp9x) did not show evidence of gene flow in this study. Given these differences among loci, our results highlight the importance of including multiple genomic regions in order to characterize patterns of introgression across a hybrid zone. This differential introgression pattern across loci observed here has been widely documented in other taxa including both plants (e.g. sunflowers [24] and trees [74]) and animals (e.g. tiger salamanders [25], mice [26], butterflies [27], and crickets [75]. It is pertinent that a recent study has shown that this heterogeneity among loci can affect the inference of the history of speciation if it is not taken into account [76].
Conclusions
By comparing patterns of divergence and gene flow among loci we identified several regions with putative roles in either reproductive isolation (e.g. Cx22, Usp9x and Chd1) or adaptive introgression (e.g. Prestin) in the hybrid zone between himalayanus and macrurus. However, incomplete lineage sorting, as an alternative scenario for introgression, could not be ruled out completely in this study. Nonetheless a fuller understanding of the factors driving the process of differential introgression will benefit from the number of markers used and knowledge of genomic locations or functional/linkage relationships among those markers. Regardless, our findings add to mounting evidence that caution must be exercised when drawing conclusions about the occurrence of nuclear introgression on the basis of a small number of loci.
Declarations
Acknowledgements
We thank Jeffrey Feder and three anonymous reviewers whose comments improved the manuscript. This work was funded by a grant awarded to S. Zhang under the Key Construction Program of the National "985" Project and "211" Project. X. Mao was supported by a Marie Curie International Incoming Fellowship and SJR by a Royal Society Research Fellowship (UK).
Authors' Affiliations
(1)
Institute of Molecular Ecology and Evolution, East China Normal University, Shanghai, China
(2)
School of Biological and Chemical Sciences, Queen Mary University of London, London, UK
(3)
Guangdong Entomological Institute, Haizhu Guangzhou, China
Copyright
© Mao et al.; licensee BioMed Central Ltd. 2014
This article is published under license to BioMed Central Ltd. This is an Open Access article distributed under the terms of the Creative Commons Attribution License (http://creativecommons.org/licenses/by/4.0), which permits unrestricted use, distribution, and reproduction in any medium, provided the original work is properly credited. The Creative Commons Public Domain Dedication waiver (http://creativecommons.org/publicdomain/zero/1.0/) applies to the data made available in this article, unless otherwise stated.