Research article

Open Access
A strong 'filter' effect of the East China Sea land bridge for East Asia's temperate plant species: inferences from molecular phylogeography and ecological niche modelling of Platycrater arguta(Hydrangeaceae)
BMC Evolutionary Biology
2014
14:41
Received: 25 October 2013
Accepted: 25 February 2014
Published: 4 March 2014
Abstract
Background
In East Asia, an increasing number of studies on temperate forest tree species find evidence for migration and gene exchange across the East China Sea (ECS) land bridge up until the last glacial maximum (LGM). However, it is less clear when and how lineages diverged in this region, whether in full isolation or in the face of post-divergence gene flow. Here, we investigate the effects of Quaternary changes in climate and sea level on the evolutionary and demographic history of Platycrater arguta, a rare temperate understorey shrub with disjunct distributions in East China (var. sinensis) and South Japan (var. arguta). Molecular data were obtained from 14 P. arguta populations to infer current patterns of molecular structure and diversity in relation to past (Last Interglacial and Last Glacial Maximum) and present distributions based on ecological niche modelling (ENM). A coalescent-based isolation-with-migration (IM) model was used to estimate lineage divergence times and population demographic parameters.
Results
Combining information from nuclear/chloroplast sequence data with nuclear microsatellites, our IM analyses identify the two varieties as genetically distinct units that evolved in strict allopatry since the mid-Pleistocene, c. 0.89 (0.51–1.2) Ma. Together with Bayesian Skyeline Plots, our data further suggest that both lineages experienced post-divergence demographic growth, followed by refugial isolation, divergence, and in the case of var. arguta post-glacial admixture. However, past species distribution modelling indicates that the species' overall distribution has not greatly changed over the last glacial cycles.
Conclusions
Our findings highlight the important influence of ancient sea-level changes on the diversification of East Asia's temperate flora. Implicitly, they challenge the notion of general temperate forest expansion across the ECS land bridge, demonstrating instead its 'filter' effect owing to an unsuitable environment for certain species and their biological (e.g., recruitment) properties.
Keywords
Internal Transcribe Spacer
Last Glacial Maximum
Ecological Niche Modelling
Land Bridge
Bayesian Markov Chain Monte Carlo
Background
Phytogeographers have long recognised the Sino-Japanese Floristic Region (SJFR) of East Asia as the world's major centre of temperate plant diversity and endemism [1]. Much of the potential primary vegetation of this vast region is composed of warm-temperate deciduous (WTD) forest, as presently found scattered in mid-elevation subtropical (Central/South/East) China, predominant in low-elevation North China and the Korean Peninsula, and disjunctively distributed in the main islands of Japan [1, 2]. Fossil pollen analyses have previously indicated that during the Last Glacial Maximum [LGM: c. 21,000–18,000 yr before present (BP)], the habitat of East Asian WTD forests in the northern parts of their range (e.g., in North China and North Japan) contracted, mainly in response to increased aridification [3, 4]. However, palaeo-biome reconstructions suggest that these forests also expanded across the large expanses of continental shelf (c. 1 million km2) that emerged in the East China Sea (ECS) as a consequence of sea level lowering by c. 85–130/140 m during cold periods [5–7]. In consequence, it is now widely believed that a near continuous belt of WTD forests spanned the ECS continental shelf during the LGM (and possibly earlier cold periods), connecting presently disjunct populations in East China, South Japan, and the Korean Peninsula [2, 8]. If correct, this land bridge may have served as a 'dispersal corridor' [9, 10], allowing intermittent migration of most WTD forest-restricted plant species from the Asian mainland into Japan (or vice versa), and/or periodic secondary contact and gene flow among formerly isolated populations, possibly up until the last shelf submergence (c. 16,000–7,000 yr BP; [11]). However, there is accumulating but still scanty evidence that the ECS land bridge also acted as a 'filter' in selectively hampering or even preventing the dispersal of certain plant species, while allowing those able to tolerate the environmental conditions of this palaeo-landscape to disperse more freely (see below).
Support for the 'recent dispersal corridor hypothesis' comes from phylogeographic data of two wide-ranging and abundant WTD forest tree species of the SJFR (Cercidiphyllum japonicum[12] and Kalopanax septemlobus[13]). In both instances, there is a near lack of differentiation for chloroplast and/or nuclear DNA sequences across the ECS, consistent with ecological niche modelling (ENM) predicting large expanses of suitable habitat for each species on the ECS land bridge during the LGM. By contrast, a high level of genetic differentiation across the ECS has been identified in several rare understorey herbs and shrubs restricted to the mountainous WTD forests of East China and South Japan (Croomia japonica[14], Platycrater arguta/Kirengeshoma palmata[15, 16] and Ligularia hodgsonii[17]). In all of these latter cases, the estimated times of trans-ECS divergence based on chloroplast (cp) DNA fall into the early-to-mid Pleistocene, suggesting that the ECS land bridge imposed a formidable barrier to dispersal during the last glacial cycle(s) (reviewed in [18]). However, all of these previous time estimates relied on a single locus, i.e., chloroplast (cp) DNA, which thus renders them subject to error from the inherent stochastic nature of the coalescent [19–21].
The aim of the present paper is to re-examine the evolutionary history of one of these understorey shrubs, Platycrater arguta Siebold & Zucc. (Hydrangeaceae), using a multi-locus approach. Platycrater arguta, the only species of this monotypic genus, is a small deciduous shrub endemic to the mountainous WTD forests of East China and South Japan, where respectively two varieties, var. sinensis and var. arguta, are recognized [22–24]. In the cpDNA study previously conducted [15], these taxa were found to comprise distinct phylogroups, whose likely vicariant origin was dated to the mid-Pleistocene (c. 0.89 Ma). Here we use a broader sampling of P. arguta, and present additional datasets of two nuclear DNA (nDNA) sequence markers (ITS, Tpi) and nuclear microsatellite (nSSR) loci to infer a more robust divergence and demographic history of this species. Specifically, our goals were (i) to provide a refined time-scale for the divergence of var. sinensis and var. arguta by fitting all four datasets (ITS, Tpi, nSSRs, cpDNA) to an 'isolation with migration' (IM) model [20, 25]; (ii) to quantify the amount of post-divergence gene flow between them while accounting for potential changes in effective population sizes; and (iii) to model the species' potential distributions in response to past climatic changes, specifically from the Last Interglacial (LIG/Eemian: c. 130,000–114,000 yr BP) [26] through the LGM to the present day. We attempted to reconcile these distribution patterns with our genetic data to determine the role of the exposed ECS shelf as a 'corridor' or 'filter' during lineage divergence at the time of the last glacial cycle(s). Finally, together with ENM, the added value of three nuclear data sets allowed for more confidence in the interpretation of the supposedly contrasting population histories of each variety than was derived previously from a single dataset (cpDNA) [15].
Results
Nuclear sequence characteristics
The ITS sequences of the 72 P. arguta individuals (14 populations) from East China (34) and South Japan (38) were aligned with a total length of 737 base pairs (bp), revealing 36 nucleotide substitutions and three 1-bp indels. Together, these 39 polymorphic sites yielded 33 ITS haplotypes ('ribotypes', H1–H33) (Additional file 3: Table S3). For the Tpi locus, only one or two distinct sequences were detected in each of the 173 individuals surveyed, 28 of which were found to be heterozygotes. In total, 31 haplotypes (T1–T31), ranging from 309 bp to 314 bp, were designated based on 39 substitutions and three small (≤ 5 bp) indels (Additional file 4: Table S4). None of the loci showed significant deviation from neutral expectations for Tajima's D or Fu and Li's D* at the species or variety levels (Additional file 5: Table S5). Demographic tests of Fu's Fs revealed negative but nonsignificant values, while R2 was consistently positive and significant, suggesting demographic growth (Additional file 5: Table S5). The minimum number of recombination events (Rm) estimated for ITS and Tpi were 15 and 2, respectively.
Genetic diversity, haplotype relationships and genetic structure at ITS and Tpi
Nuclear microsatellites
In 272 individuals from 14 populations of P. arguta, we detected a total of 220 alleles across 7 nSSR loci, with 17 to 48 alleles per locus. Average allele number (NA) was higher in China (mean: 66) than in Japan (mean: 43), but allelic richness (RS) and expected gene diversity (HS) were very similar (China: RS = 4.69, HS = 0.734; Japan: RS = 4.68, HS = 0.740; Additional file 1: Table S1). Within-population FIS values ranged from −0.054 to 0.480, with an average of 0.246.
The STRUCTURE analyses provided strongest support for
K
 = 7, both when considering the probability of the data LnP(
D
) and Δ
K
(Additional file
7
: Figure S1)
.
With
K
 = 2, individuals from one population in China (C7) and Japanese populations formed a joint cluster, while the two varieties remained separate from
K
 = 3 upwards (Figure
5
). At
K
 = 7, five clusters were recovered in China (var.
sinensis
) and two in Japan (var.
arguta
), where most populations (J2–J5) comprised individuals representing both clusters (Figure
5
).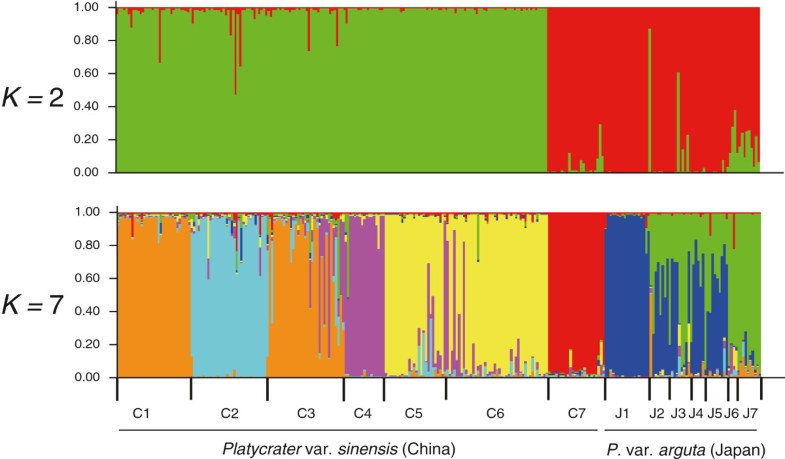 The overall RST was 0.340, reflecting strong genetic differentiation over all populations and within each variety (var. sinensis/arguta: 0.273/0.366). However, in contrast to ITS and Tpi, the total genetic variance partitioned between the two varieties was relatively low (13.5%; Table 1), suggesting pronounced allele sharing. Wilcoxon's test and the complementary mode-shift test provided little evidence for recent population bottlenecks, except for three populations from Japan (J2, J4, J6) and partly depending on the test applied (Additional file 8: Table S7).
Isolation-with-migration (IM) analyses
For this analysis, largest nonrecombining blocks of nDNA (ITS,
Tpi
) sequences were employed together with the nSSR markers and the previously obtained cpDNA sequences [
15
]. The maximum-likelihood estimates (MLEs) and the 90% highest probability density (HPD) intervals of the six IMA-derived parameters are shown in Table
2
, and their marginal posterior probability (MPP) distributions are illustrated in Additional file
9
: Figure S2. Based on the geometric average mutation rate calculated (5.79 × 10
−6
mutations per locus per year), these parameter estimates were converted to absolute values of years or individuals (Table
2
). The split between var.
sinensis
and var.
arguta
was dated to about 889,358 yr BP, with a 90% HPD interval ranging from 509,438 to 1,193,295 yr BP (Additional file
9
: Figure S2a, Table
2
). For the ancestral (
Θ
A
) and descendant (
Θ
C
and
Θ
J
) population rate parameters, both var.
sinensis
(
N
C
 = 1.13 × 10
5
) and var.
arguta
(
N
J
 = 6.00 × 10
4
) experienced a marked increase in effective population size (
N
e
) relative to that of their common ancestor (
N
A
 = 2.73 × 10
4
) (Additional file
9
: Figure S2b, Table
2
). Peak posterior estimates of post-divergence migration were effectively zero in both directions (
m
C–J
 = 
m
J–C
 = 0.005; Additional file
9
: Figure S2c, Table
2
).
Table 2
Maximum-likelihood estimates (MLEs) and lower and upper bounds of the 90% highest posterior density intervals (HPD90 Lo and HPD90 Hi , respectively) of demographic parameters of Platycrater arguta from the IMA analysis of multi-locus data (cpDNA, ITS, Tpi , nSSRs)
| Estimates | Θ C | Θ J | Θ A | m C-J | m J-C | t | N C | N J | N A | 2NCMC-J | 2NJMJ-C | T(years BP) |
| --- | --- | --- | --- | --- | --- | --- | --- | --- | --- | --- | --- | --- |
| MLE | 106.596 | 56.652 | 25.730 | 0.005 | 0.005 | 5.150 | 113047 | 60080 | 27287 | 0.00005 | 0.00003 | 889,358 |
| HPD90Lo | 55.136 | 29.992 | 11.027 | 0.005 | 0.005 | 2.950 | 58472 | 31807 | 11694 | 0.00003 | 0.00002 | 509,438 |
| HPD90Hi | 231.570 | 109.971 | 69.839 | 0.085 | 0.085 | 6.910 | 245584 | 116626 | 74065 | 0.00010 | 0.00005 | 1193,295 |
Bayesian skyline plot analysis of historical demography
The EBSPs show that both varieties maintained low but stable effective population sizes (Ne) up to approximately 0.4–0.5 Ma, and appear to have experienced a constant increase since (Additional file 10: Figure S3). While depicting a demographic trend over time, this analysis, however, cannot precisely estimate Ne because of the very broad confidence intervals (see Additional file 10: Figure S3).
Present and past ecological niche models
The AUC value for the current potential distribution of
P. arguta
was 0.981, indicating a good predictive model performance. For the present (Figure
6
a), these predicted areas mainly include the species' known distribution ranges in East China (Wuyi/Yandang Mts.) and South Japan (Kyushu, Shikoku, Kii Peninsula/south-central Honshu, and the Pacific Ocean side of central Honshu). Further suitable habitat is predicted in central-eastern Taiwan, but where the species is not known to occur. During the LIG (Figure
6
b), the species' potential range in China was apparently reduced compared to the present. Also in the LGM (Figure
6
c) only small and disjunct areas are predicted as suitable in the Wuyi/Yandang Mts. In contrast, in Japan, the species' current range is more or less similar to that during the LIG (Figure
6
b), while during the LGM suitable habitat apparently contracted to the south (Kyushu, Shikoku) and the more northerly located Kii Peninsula (Figure
6
c). Most strikingly, our LGM distribution model indicates almost no hospitable areas on the exposed ECS continental shelf, excepting those in the far east (i.e., extending from Kyushu to the delta region of the palaeo-Yellow River).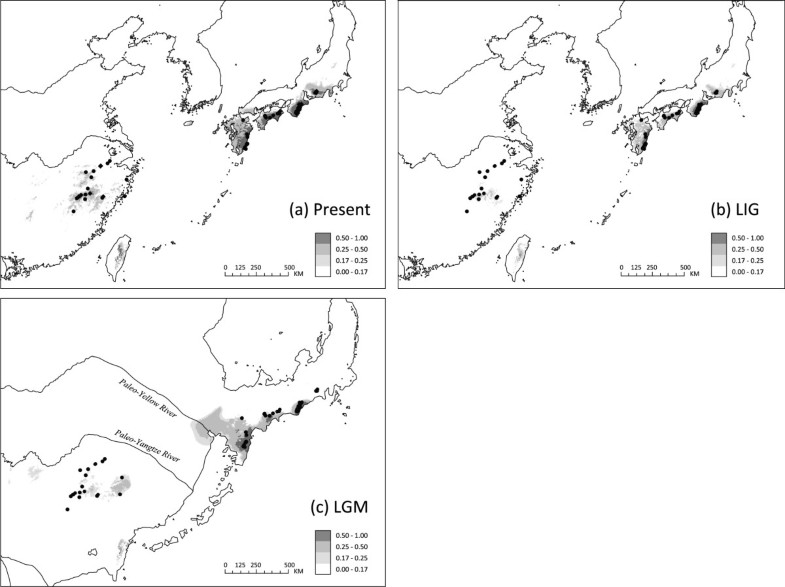 Conclusions
This is the first study providing firm evidence that the ECS land bridge acted as a 'filter' during the last glacials in selectively preventing the dispersal of certain plant species of WTD forest, such as P. arguta, even though a near continuous belt of this forest biome is thought to have covered this land bridge during the LGM [2]. Our data emphasize the species-specific recruitment and range expansion response of WTD forest-dwellers to the formation of the ECS land bridge, and caution against an uncritical interpretation of reconstructed palaeo-forest biome data as guides of past range dynamics of constituent species populations [8].
In addition, this multi-locus study strongly supports the two varieties of P. arguta in East China (var. sinensis) and South Japan (var. arguta) as genetically distinct units that evolved in strict allopatry since the mid-Pleistocene, which concurs with previous findings inferred from cpDNA alone [15]. However, the combination of genetic structures from both nuclear and cytoplasmic loci can better depict the history of populations, demonstrating that (i) each lineage has undergone refugial isolation and divergence; and (ii) var. arguta likely experienced post-glacial admixture across a well-known suture zone. Yet, the extent of the species' overall distribution does not seem to have greatly changed over the last glacial-interglacial cycles.
Availability of supporting data
The sequence alignments and phylogenetic trees were deposited in TreeBASE (http://treebase.org/treebase-web/home.html) under the submission number 15354. Sequence data used in this study have been deposited in GenBank (JQ978221––JQ978284, KF559183, KC853063).
Declarations
Acknowledgements
This research was supported by the National Science Foundation of China (grant nos. 31370241, 31170200), the Open Research Foundation of LSEB (State Key Laboratory of Systematic and Evolutionary Botany, Institute of Botany, Chinese Academy of Sciences), and the Zhejiang Provincial Natural Science Foundation of China (Grant No. LR12C02001). We are grateful to Dr. Richard G. Hodel (University of Florida) for assistance with the molecular data analysis, and Prof. Richard J. Abbott (University of St Andrews), Dr. Kenneth M. Olsen (Washington University in St. Louis), and three anonymous reviewers for their insightful comments and suggestions to improve the manuscript.
Authors' Affiliations
(1)
Key Laboratory of Conservation Biology for Endangered Wildlife of the Ministry of Education, College of Life Sciences, Zhejiang University, Hangzhou, China
(2)
Laboratory of Systematic & Evolutionary Botany and Biodiversity, College of Life Sciences, Zhejiang University, Hangzhou, China
(3)
Department of Organismic Biology, Salzburg University, Salzburg, Austria
(4)
Laboratory of Plant Evolution and Biodiversity, Department of General Systems Studies, Graduate School of Arts and Sciences, The University of Tokyo, Tokyo, Japan
Copyright
© Qi et al.; licensee BioMed Central Ltd. 2014
This article is published under license to BioMed Central Ltd. This is an Open Access article distributed under the terms of the Creative Commons Attribution License (http://creativecommons.org/licenses/by/2.0), which permits unrestricted use, distribution, and reproduction in any medium, provided the original work is properly credited. The Creative Commons Public Domain Dedication waiver (http://creativecommons.org/publicdomain/zero/1.0/) applies to the data made available in this article, unless otherwise stated.