Research article

Open Access
Multilocus coalescent analyses reveal the demographic history and speciation patterns of mouse lemur sister species
BMC Evolutionary Biology
2014
14:57
Received: 18 December 2013
Accepted: 18 March 2014
Published: 24 March 2014
Abstract
Background
Debate continues as to whether allopatric speciation or peripatric speciation through a founder effect is the predominant force driving evolution in vertebrates. The mouse lemurs of Madagascar are a system in which evolution has generated a large number of species over a relatively recent time frame. Here, we examine speciation patterns in a pair of sister species of mouse lemur, Microcebus murinus and M. griseorufus. These two species have ranges that are disparately proportioned in size, with M. murinus showing a much more extensive range that marginally overlaps that of M. griseorufus. Given that these two species are sister taxa, the asymmetric but overlapping geographic ranges are consistent with a model of peripatric speciation. To test this hypothesis, we analyze DNA sequence data from four molecular markers using coalescent methods. If the peripatric speciation model is supported, we predict substantially greater genetic diversity in M. murinus, relative to M. griseorufus. Further, we expect a larger effective population size in M. murinus and in the common ancestor of the two species than in M. griseorufus, with a concomitant decrease in gene tree/species tree incongruence in the latter and weak signs of demographic expansion in M. murinus.
Results
Our results reject a model of peripatric divergence. Coalescent effective population size estimates were similar for both extant species and larger than that estimated for their most recent common ancestor. Gene tree results show similar levels of incomplete lineage sorting within species with respect to the species tree, and locus-specific estimates of genetic diversity are concordant for both species. Multilocus demographic analyses suggest range expansions for M. murinus, with this species also experiencing more recent population declines over the past 160 thousand years.
Conclusions
Results suggest that speciation occurred in allopatry from a common ancestor narrowly distributed throughout southwest Madagascar, with subsequent range expansion for M. murinus. Population decline in M. murinus is likely related to patterns of climate change in Madagascar throughout the Pleistocene, potentially exacerbated by continual anthropogenic perturbation. Genome-level data are needed to quantify the role of niche specialization and adaptation in shaping the current ranges of these species.
Keywords
Coalescent methods
Modes of speciation
Historical demography
Lemur evolution
Microcebus
Multilocus
Peripatric speciation
Background
In recent years, there has been growing interest in using genealogical tree structure to reconstruct the demographic and temporal context of diverging populations and species [1–4]. This tree-based approach permits the examination of lineages as they have diverged in the past using principles derived from coalescent theory, since ancestral polymorphisms that are shared among lineages are sorted during population segregation and speciation. A comparative demographic approach utilizing tree-based methods has been implemented in a variety of biological sub-fields, including systematics, phylogeography, conservation, and life history. Further, estimates of divergence times, migration rates, and effective population sizes among groups of organisms are now inferred with consideration of the genealogical structure of multilocus data sets [5–9]. These estimates may be synthesized and compared among sister taxa and used to infer the impact of the biogeographic or climatic context or other historical processes on patterns of genetic differences among groups [10–12].
In general, it is assumed that a complex suite of geologic, climatic, and population genetic forces have led to divergence and speciation in allopatry, where a reproductive barrier effectively divides an ancestral species into two populations of roughly equal size. With the continual progress of next-generation DNA sequencing and the increasing abundance of sequence data from across the genome, researchers are beginning to test alternate models of speciation including parapatric divergence along ecological clines [13–15]. Few studies, however, have used recently developed multilocus coalescent methods to fully understand the geography of speciation and the frequency of peripatric events in nature. Peripatric speciation can be seen as a subset of allopatric speciation, with a founder effect leading to the formation of a new species as a small population becomes physically separated from a broadly distributed ancestor. By definition then, the effective population size (Ne) of the diverging population will be smaller than that of the common ancestor in a peripatric scenario. Although evidence of peripatric divergence is commonly inferred throughout archipelagos using traditional phylogenetic approaches (e.g. [16, 17]), examples from strictly mainland taxa are relatively rare.
New algorithms can effectively estimate demographic parameters on a species tree to help disentangle the historical context of divergence and speciation and to test the plausibility of a peripatric scenario in comparison with the generally accepted null model of allopatric divergence [2, 3, 9]. Mitochondrial DNA (mtDNA) has been commonly used in studies of speciation given its small effective population size relative to nuclear DNA (nDNA) loci. Accordingly, mitochondrial gene trees undergo lineage sorting much more rapidly, and thus have a higher probability of yielding gene trees that are reciprocally monophyletic for the hypothesized species. However, the stochasticity inherent in single-locus gene trees makes this a controversial approach for estimating species histories, as previous authors have discussed (refer to [18–20]). Therefore, the implementation of a comparative demographic approach incorporating multiple unlinked loci is now regarded as a more powerful approach.
Mouse lemurs (
Microcebus
spp.) are small, nocturnal primates that inhabit a wide range of habitats throughout Madagascar. As many as 21 species have been described within the genus [
21
–
25
], thus a remarkable increase from the two species taxonomy that was recognized as recently as 1994 [
26
,
27
]. The geography of the island has historically been considered to play a significant role in explaining divergence patterns among lemurs and other vertebrate species (e.g. [
26
,
28
–
32
]) and specifically
Microcebus
species [
33
–
36
]. Within the genus, however,
M. murinus
is unique in having a relatively vast geographic distribution. Whereas all other
Microcebus
species have geographically limited ranges --- some restricted to isolated forest fragments ---
M. murinus
is distributed along most of the western half and along the south of the island (Figure
1
A). Over the extensive range of
M. murinus
, the species has been found to overlap with multiple congeners [
37
,
38
], many of which exhibit a high degree of endemicity. One example of this pattern of sympatry couples
M. murinus
with
M. griseorufus
, with multiple lines of evidence for distribution overlap and potential hybridization between the two species in southern Madagascar [
39
–
41
]. Within their respective ranges,
M. murinus
and
M. griseorufus
also exhibit marked differences in abundance.
Microcebus murinus
is a common, widespread species throughout the west (Figure
1
A) that has been studied extensively since its description [
26
,
27
,
42
]. Conversely,
M. griseorufus
has been recorded from relatively few locations within a narrow range in the southwest of the island in the recent past [
21
,
24
].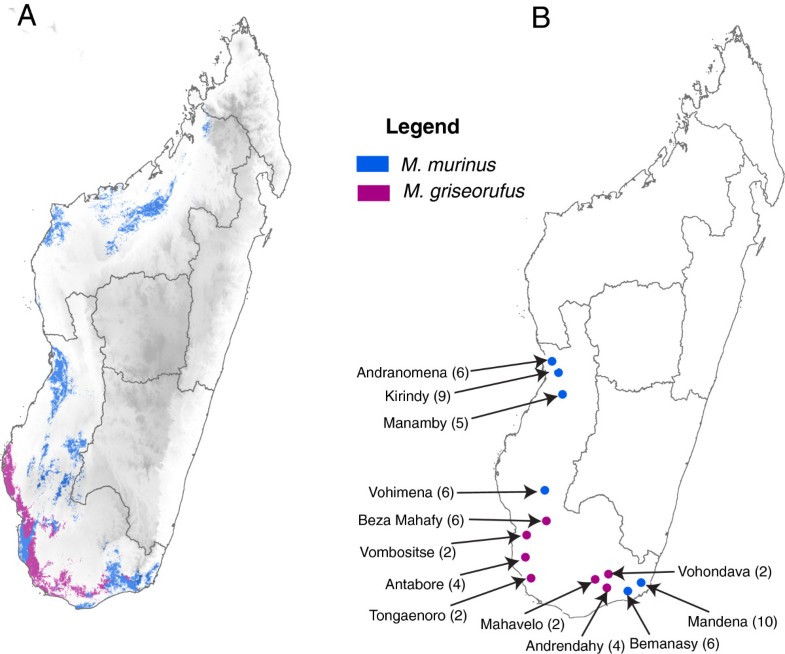 Despite their partially overlapping distributions and large genetic distances [
37
],
M. murinus
and
M. griseorufus
are sister taxa [
34
,
43
,
44
]. Given the current ranges of
M. murinus
and
M. griseorufus
and their status as sister species, we consider two possible scenarios for the speciation event within this small clade. One scenario is that
M. griseorufus
was derived from the most recent common ancestor (MRCA) as a small founding population, with divergence the result of random genetic drift (Figure
2
A). Alternatively, we consider that the MRCA was a small, narrowly distributed population located in southwestern Madagascar. Under this alternative hypothesis, the two modern species resulted from an event that partitioned that ancestral species into comparably sized populations prior to a substantial range expansion in
M. murinus
(Figure
2
B). These two hypotheses differ most critically in their assumptions regarding the ancestral range and population size: was the MRCA more like modern
M. murinus
(hypothesis 1: peripatric speciation) or more like modern
M. griseorufus
(hypothesis 2: allopatric speciation)?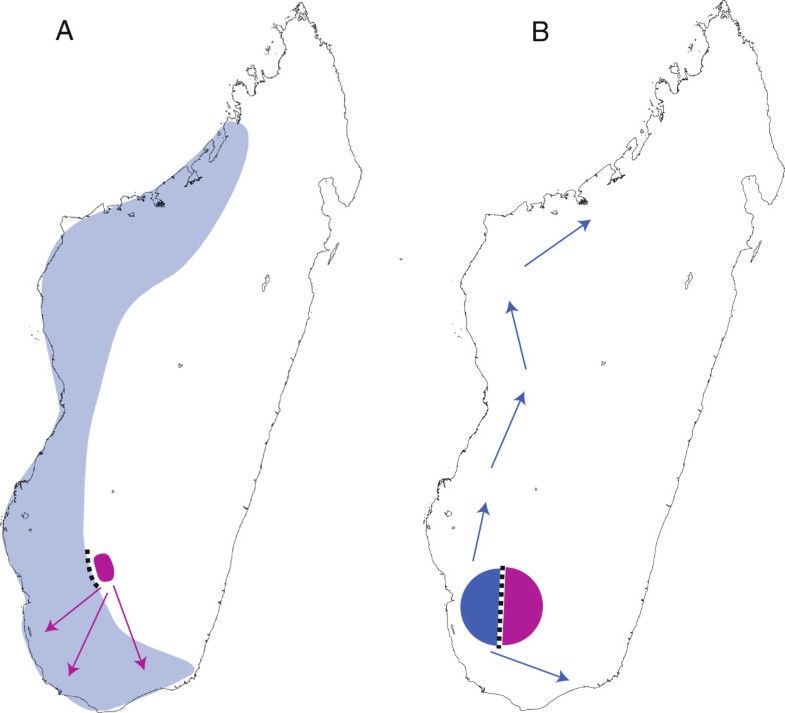 To test these alternative scenarios, we analyze multilocus DNA sequence data with coalescent-based methods to estimate relevant demographic parameters. If M. griseorufus diverged as a small founding population from a large ancestral population (Figure 2A), then we expect 1) that M. murinus has a greater effective population size and higher levels of genetic diversity than M. griseorufus, 2) that estimates of effective population size for the MRCA are more similar to those for M. murinus than to those for M. griseorufus, 3) that historical changes in population size in M. murinus were minimal, and finally, 4) that M. griseorufus is more likely to segregate as a clade in individual gene trees. Under the alternative hypothesis of recent allopatric speciation (Figure 2B), we expect that 1) that M. murinus and M. griseorufus have similar effective population sizes and levels of genetic diversity, 2) that Ne estimates for the MRCA are smaller than those for contemporary species or similar to M. griseorufus, 3) that significant population expansion has occurred in M. murinus, and finally, 4) that individual gene trees are more likely to show incomplete lineage sorting between the two species.
Results
Sequence diversity and effective population sizes
In general, sequence diversity characteristics showed moderate values for each gene for both species (Table
2
). Although average values were slightly higher,
M. murinus
did not exhibit consistently higher diversity values than
M. griseorufus
based on haplotype diversity, nucleotide diversity, or average number of nucleotide differences
.
Multiple runs of BPP gave similar results indicating adequate sampling of the posterior. ESS values were also high for all parameters (Additional file
2
: Table S2, Additional file
3
: Table S3). Using the prior
G
(2,1000) for θ and τ
0
, mean effective population size was slightly greater for
M. murinus
(θ
M
 = 0.0099) versus
M. griseorufus
(θ
G
 = 0.0060). However, 95% HPDs for the two species almost completely overlapped (Figure
3
). The MRCA had a significantly smaller mean population size than either species (θ
MG
 = 0.0032; 95% HPD 0.0011–0.0054). BPP results using a gamma prior of
G
(2,100) for θ and τ
0
resulted in slightly larger parameter estimates (Additional file
3
: Table S3). With these priors, the mean effective population size of the MRCA was intermediate between
M. murinus
and
M. griseorufus
. (θ
MG
 = 0.0208; 95% HPD 0.0087–0.0351; θ
M
 = 0.0316; 95% HPD 0.0183–0.0470; θ
G
 = 0.0185; 95% HPD 0.01026–0.02789). However, confidence intervals again overlapped substantially. In all analyses, effective population size estimates of the MRCA were more similar to
M. griseorufus
than they were to
M. murinus
.
Table 2
Nucleotide diversity statistics for Microcebus griseorufus and M. murinus
| Locus | Species | n | S | h | Hd | pi | k |
| --- | --- | --- | --- | --- | --- | --- | --- |
| mtDNA | griseorufus | 22 | 41 | 14 | 0.948 | 0.00516 | 9.407 |
| | murinus | 33 | 75 | 17 | 0.909 | 0.01687 | 19.216 |
| Alpha enolase | griseorufus | 42 | 19 | 22 | 0.951 | 0.00713 | 6.051 |
| | murinus | 68 | 32 | 35 | 0.921 | 0.00939 | 6.848 |
| Alpha fibrinogen | griseorufus | 44 | 13 | 9 | 0.68 | 0.00822 | 4.933 |
| | murinus | 80 | 36 | 20 | 0.799 | 0.00842 | 5.046 |
| von Willebrand factor | griseorufus | 26 | 20 | 15 | 0.926 | 0.01072 | 5.862 |
| | murinus | 60 | 39 | 27 | 0.955 | 0.00806 | 6.024 |
| Average | griseorufus | 33.5 | 23.25 | 15 | 0.876 | 0.00781 | 6.563 |
| | murinus | 60.25 | 45.5 | 24.75 | 0.896 | 0.0107 | 9.284 |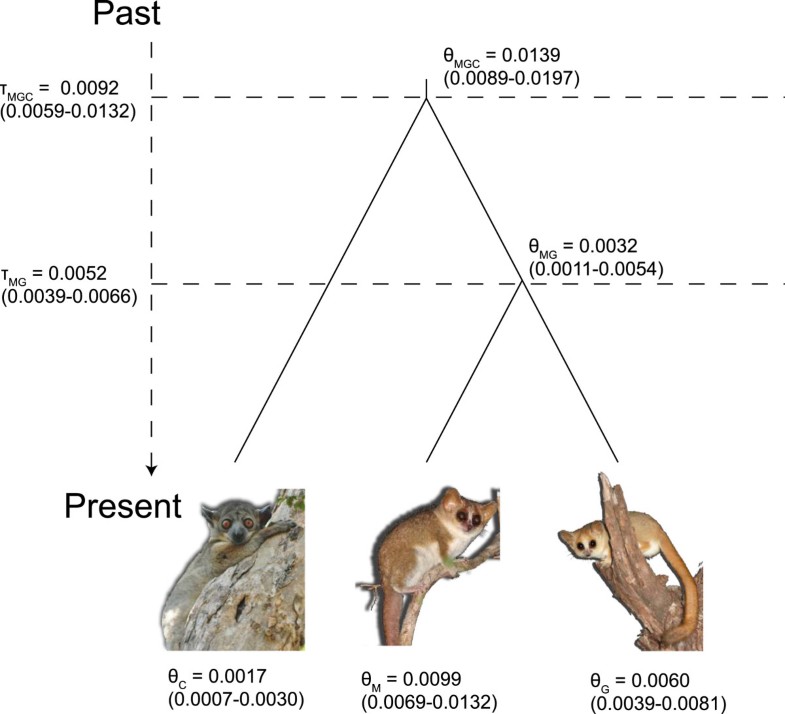 Demographic expansion
For all *BEAST analyses, the 95% HPD for the coefficient of variation parameter included zero for all relaxed clock analyses, indicating that a strict clock was sufficient to explain the data. Mean estimated rates of nucleotide substitution (substitutions per site per million years) and 95% HPDs for each locus were as follows: mtDNA = 0.0132 [0.0060862–0.0222]; ENOL = 0.0025731 [0.00037366–0.0046715]; FIB = 0.0010495 [0.00027744–0.0019127]; VWF = 0.0023935 [0.00037916–0.0045323]). EBSP results for
M. murinus
indicated an increase in effective population size at about 1 Ma, with a subsequent rapid decline in size starting approximately 160 Ka and continuing to the present (Figure
4
A,B). The mean number of population size changes throughout the history of
M. murinus
was estimated as 2.4 (95% HPD 2–4). Conversely, results for
M. griseorufus
showed signs of relatively constant population size through time (Figure
4
C,D) with an estimated mean of 0.59 size changes (95% HPD 0–2).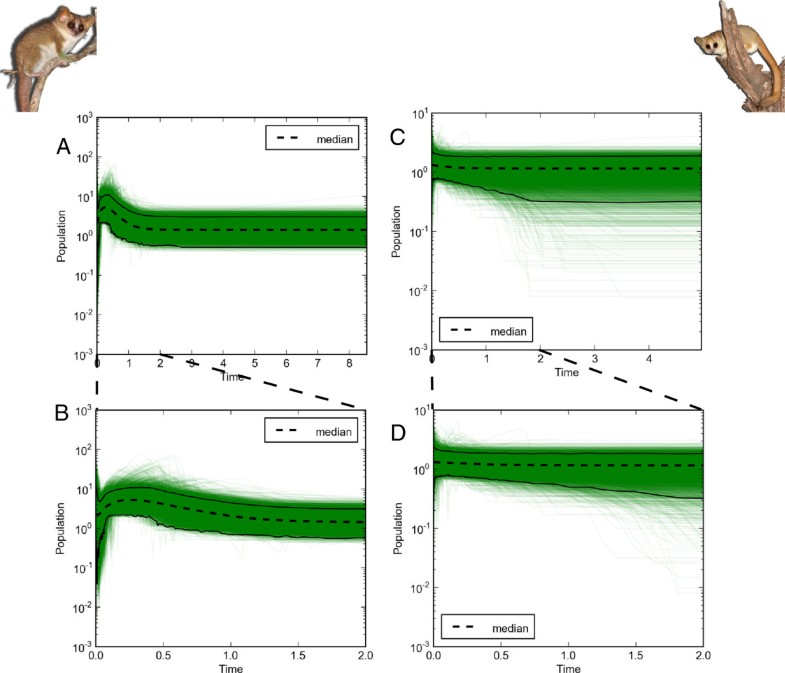 Phylogenetic analysis
Maximum likelihood phylogenetic analyses of the mtDNA data revealed reciprocal monophyly for both species with strong bootstrap support (Additional file 4: Figure S1). Gene copies within Microcebus griseorufus were also monophyletic based on ML analysis of the ENOL locus (bootstrap support = 81; Additional file 5: Figure S2). Conversely, none of the nuclear markers showed reciprocal monophyly for M. murinus. Moderate geographic structure among populations was detected from the mtDNA analysis, particularly for M. murinus (Additional file 4: Figure S1). However, nuclear gene tree analyses suggested little to no signal of geographic population structure within species as haplotypes were shared among many localities (Additional file 5: Figure S2, Additional file 6: Figure S3, Additional file 7: Figure S4). Species tree analyses suggested that divergence of M. griseorufus and M. murinus occurred approximately 3–6 Ma.
Conclusions
We estimated historical demographic parameters in a multilocus coalescent framework to test the predictions associated with two models of speciation that may have driven the divergence of M. griseorufus and M. murinus. The majority of our results reject the hypothesis of peripatric speciation. Our results instead favor a model of allopatric divergence from a range-restricted common ancestor in southwestern Madagascar, with subsequent range expansions for M. murinus. Whether due to ecological constraint or interspecific competition, M. griseorufus is presently restricted to the arid spiny forest in the south, whereas M. murinus has successfully expanded throughout much of western Madagascar and limited areas to the southeast. The methods used here can be easily applied to address similar evolutionary questions in other systems to help elucidate the geographic context of divergence and speciation. In turn, these approaches can help guide conservation priorities when synthesized with complex geospatial methods and species distribution models.
Authors' information
CB is presently a postdoctoral associate in the laboratory of Anne Yoder at Duke University. His research interests include combining next-generation DNA sequencing data with spatially explicit modeling to understand the contemporary and historical processes responsible for shaping patterns of genomic variation in natural populations. He is also interested in using next-generation sequencing of environmental samples to quantify patterns of biodiversity.
Abbreviations
Ne:

Effective population size
mtDNA:

mitochondrial DNA
nDNA:

nuclear DNA
MRCA:

Most recent common ancestor
ENOL:

Alpha enolase intron
FIB:

Alpha fibrinogen intron
VWF:

Von Willebrand factor intron
cytb:

cytochrome b
COII:

Cytochrome c oxidase subunit II
BPP:

Bayesian Phylogenetics and Phylogeography
Ma:

Million years ago
ESS:

Effective sample size
DSCR:

Duke Shared Cluster Resource
ML:

Maximum likelihood
HPD:

Highest posterior density
θM:

Effective population size of Microcebus murinus
θG:

Effective population size of Microcebus griseorufus
θMG:

Effective population size of the most recent common ancestor
τMG:

Divergence time of the most recent common ancestor
Ka:

Thousand years ago
LGM:

Last Glacial Maximum.
Declarations
Acknowledgments
This research was supported by NSF award DEB-0516276 and a Biodiversity Leadership Award from the Bay & Paul Foundations to A.D.Y. The manuscript was significantly improved thanks to comments from M. Noor and discussion with J. Wall.
The data sets supporting the results of this article are available in the Dryad repository, [Provisional DOI: doi:10.5061/dryad.9v43h].
Authors' Affiliations
(1)
Department of Biology, Duke University, Durham, USA
(2)
Department of Ecology and Evolutionary Biology, Yale University, New Haven, USA
(3)
Department of Biology, Grand Valley State University, Allendale, USA
Copyright
© Blair et al.; licensee BioMed Central Ltd. 2014
This article is published under license to BioMed Central Ltd. This is an Open Access article distributed under the terms of the Creative Commons Attribution License (http://creativecommons.org/licenses/by/2.0), which permits unrestricted use, distribution, and reproduction in any medium, provided the original work is properly credited. The Creative Commons Public Domain Dedication waiver (http://creativecommons.org/publicdomain/zero/1.0/) applies to the data made available in this article, unless otherwise stated.