Research article

Open Access
Introgressive hybridization and latitudinal admixture clines in North Atlantic eels
BMC Evolutionary Biology
2014
14:61
Received: 19 July 2013
Accepted: 13 March 2014
Published: 28 March 2014
Abstract
Background
Hybridization, the interbreeding of diagnosably divergent species, is a major focus in evolutionary studies. Eels, both from North America and Europe migrate through the Atlantic to mate in a vast, overlapping area in the Sargasso Sea. Due to the lack of direct observation, it is unknown how these species remain reproductively isolated. The detection of inter-species hybrids in Iceland suggests on-going gene flow, but few studies to date have addressed the influence of introgression on genetic differentiation in North Atlantic eels.
Results
Here, we show that while mitochondrial lineages remain completely distinct on both sides of the Atlantic, limited hybridization is detectable with nuclear DNA markers. The nuclear hybridization signal peaks in the northern areas and decreases towards the southern range limits on both continents according to Bayesian assignment analyses. By simulating increasing proportions of both F1 hybrids and admixed individuals from the southern to the northern-most locations, we were able to generate highly significant isolation-by-distance patterns in both cases, reminiscent of previously published data for the European eel. Finally, fitting an isolation-with-migration model to our data supports the hypothesis of recent asymmetric introgression and refutes the alternative hypothesis of ancient polymorphism.
Conclusions
Fluctuating degrees of introgressive hybridization between Atlantic eel species are sufficient to explain temporally varying correlations of geographic and genetic distances reported for populations of the European eel.
Keywords
Anguilla anguilla
Anguilla rostrata
Gene flow
Isolation-by-distance
Simulation
Migration barriers
Background
Hybridization, the interbreeding of diagnosably divergent species, is a major focus in evolutionary studies [1–4] as it is a key concept for understanding the demographic and evolutionary cohesiveness of natural populations [5, 6]. Hybridization has great potential to rapidly introduce variability into a recipient population, if barriers to recombination can be overcome. Cooper [7] put forth strong experimental evidence that sexual recombination speeds up the origin and spread of adaptations in an artificial environment compared to purely clonal strains of Escherichia coli, thus supporting the theoretical predictions from the Fisher-Muller model [8, 9]. Based on the evidence gathered from empirical data, including invasive species [10] and signatures of massive horizontal gene transfer in a paradigmatic long-term asexual species [11], it might be generalized that in order to quickly adapt, any mechanism of lateral gene transfer or recombination is highly favored in unstable or novel environments. Importantly, the same might apply for populations overlapping after a phase of allopatry, as is assumed to be the case for North Atlantic eels [12].
The two North Atlantic eel species,
Anguilla anguilla
(European eel) and
A. rostrata
(American eel) both have a remarkable catadromous life-cycle that comprises two long-range migrations through the open ocean, a continental growing phase, and a spawning stage in the Sargasso Sea [
13
]. Despite the key importance of the marine phase [
14
], most of the scientific investigations focused on the continental phase, and only few data exist on the oceanic parts of the eel's life-history. To this day, migration routes and exact spawning sites of eels remain largely hypothetical [
15
–
18
]. Fifty years ago, to the great surprise of the scientific community, Tucker [
19
] suggested that the European eel should be considered an evolutionary dead-end of non-spawning individuals. However, with the advent of new molecular markers the genealogical distinctness of the two species was largely clarified (Table
1
). DeLigny and Pantelouris [
20
] and Avise
et al.
[
21
] argued for the continuation of the two-species-status, originally proposed by Schmidt [
16
]. This scenario was reinforced when mitochondrial genome sequences became available [
22
]. Recently, using miniaturized pop-up satellite archival transmitters (PSAT), a small number of eels could be followed during their spawning migration off the European continental shelf towards the Canary and Azores current system. The authors confirmed the eels' daily vertical migrations between depths of 200–1000 m at a speed of five to 25 km per day [
23
].
Table 1
Summary of the molecular and population genetics literature for European and American eels
Author(s)

Year

Marker(s)

Sample Sizes (n)

Results

Continental

Oceanic

Europe

America

Iceland

Sargasso

Azores

Allozymes

Fine et al.[24]

1964

Transferrins*

44

0

0

0

0

Candidate markers for eel species differentiation: transferrins

Fine et al.[25]

1967

Transferrins*

142

104

0

0

0

Heterogeneity among North Atlantic eels (not significant**)

Sick et al.[26]

1967

Haemoglobin

848

666

0

0

0

Polymorphism in American eels only, monomorphy in European eels

Pantelouris et al.[27]

1970

Transferrins*

40

0

37

0

0

Differentiation among European continental and Icelandic eels (significant**)

Pantelouris et al.[28]

1971

Transferrins*

0

63

96

0

0

Differentiation among American continental and Icelandic eels (significant**)

de Ligny & Pantelouris [20]

1973

MDH

300

70

0

0

25

First available diagnostic marker: MDH;

Differentiation among American and European continental eels (significant**);

No differentiation among eels from Azores and Europe.

Williams et al.[29]

1973

ADH, PHI, SDH, MDH, EST

0

735

0

0

0

Latitudinal clines at three allozyme markers (MDH invariable)

ADH & SDH clines establish at larval American eel stages

PHI cline establishes during freshwater residency of American eels

Koehn & Williams [30]

1978

ADH, PHI, SDH

0

n.d.

0

0

0

Latitudinal clines at SDH & PHI loci temporally stable

ADH cline unstable and allele frequencies vary among years

Comparini & Rodinò [31]

1980

MDH-2

1079

696

0

126

0

Evidence for two eel species at spawning grounds in the Sargasso Sea

Williams et al.[32]

1984

MDH-2

n.d.

n.d.

241

0

0

First indication of genetic hybrids in Iceland

Avise et al.[12]

1990

MDH-2

0

0

197

0

0

Evidence for an eel hybrid zone: cyto-nuclear disequilibrium in Iceland

Maes & Volckaert [33]

2002

12 loci

304

0

0

0

0

Evidence against panmixia in European eels: IBD (r =0.78; P = 0.030)

Maes et al.[34]

2006

12 loci

840

0

172

0

0

No interannual differentiation in European eels: no IBT (r = 0.0050, P > 0.05)

Mitochondrial DNA

Avise et al.[21]

1986

RFLP

29

109

0

0

0

Strong evidence for two eel species in the North Atlantic

Avise et al.[12]

1990

RFLP

17

27

197

0

0

Evidence for an eel hybrid zone: cyto-nuclear disequilibrium in Iceland

Lintas et al.[35]

1998

D-loop

55

0

0

0

0

Extensive variability in European eels

Daemen et al.[36]

2001

Cytb

253

0

0

0

0

Latitudinal haplotype diversity cline in European eels

AFLP

Albert et al.[37]

2006

373 fragments

186

193

748

0

0

Quantification of total fraction of hybrid eels in Iceland (15.5%);

Latitudinal gradient of hybrid portions in Iceland;

Evidence for high portion of later generation hybrids (30%);

Indication of higher survival rates of hybrid eels in Iceland.

Gagnaire et al.[38]

2009

373 fragments

186

193

748

0

0

Evidence for selection and non-neutral introgression

Microsatellites

Daemen et al.[36]

2001

5 loci

107

0

0

0

0

Low, significant genetic differentiation in European eels (F ST  = 0.040; P < 0.050)

Wirth & Bernatchez [39]

2001

7 loci

561

0

50

0

0

Evidence against panmixia in European eels: IBD (r = 0.46; P < 0.0070);

Low, significant genetic differentiation in European eels (F ST  = 0.0017; P = 0.0014);

Genetic intermediacy of Icelandic eels among North Atlantic locations.

Wirth & Bernatchez [40]

2003

7 loci

561

402

50

0

0

Evidence for long-term population decline in North Atlantic eels;

Differentiation among North Atlantic eels (F ST  = 0.018; P < 0.0010);

No evidence against panmixia in American eels: no IBD (r = 0.0030; P > 0.40).

Mank & Avise [41]

2003

6 loci

44

68

203

0

0

Mild genetic differentiation among North Atlantic eels (G ST  = 0.055; SE = 0.0049);

Genetic intermediacy of Icelandic eels among North Atlantic locations.

Dannewitz et al.[42]

2005

6 loci

2566

0

60

0

0

Temporal instability of IBD pattern in European eels;

Low genetic differentiation in European eels (F ST  = 0.0014; P < 0.010);

Temporal genetic variation exceeds geographic variation.

Maes et al.[34]

2006

6 loci

840

0

172

0

0

Evidence for interannual differentiation in Europe: IBT (r = 0.18; P = 0.043);

Contradicts allozyme pattern: no IBT, but IBD.

Palm et al.[43]

2009

6 loci

1210

0

0

0

0

No genetic differentiation among same-aged silvering eels between a northern and a southern European locality (F ST  = −0.00003; P =0.61);

Als et al.[44]

2011

21 loci

0

0

0

388

0

No evidence against panmixia in American or European leptocephali

(F ST  = 0.00019, P = 0.4755): no IBD, nor IBT;

Evidence for inter-species hybridization in the Sargasso Sea

Côté et al.[45]

2013

18 loci

0

2142

0

0

0

No evidence against panmixia in the American eel (F ST  = 0.00009; P = 0.998);

Effective population size for American eels: N E =10 532 (CI95%: 9 312–11 752)
Atlantic eel stocks have rapidly declined by over 95% compared to the levels prior to 1980 [46]. As a consequence the European eel has been listed as critically endangered on the IUCN red list [47]. This dramatic decrease is attributable to a combination of factors, including habitat destruction, pollution, and over-fishing [48], climate induced changes in the Gulf Stream circulation [49], as well as the recent introduction and spread of Anguillicola crassus, an exotic swimbladder nematode that was initially introduced along with infected Japanese eels [50–55]. Disentangling the population structure of both North Atlantic eel species thus has implications on international eel stock management both from conservation and fisheries perspectives.
Advanced molecular tools permitted the collection of larger and more sensitive data sets at the population level (for a schematic, more exhaustive review refer to Table 1). However, despite huge sampling efforts these studies have come to different and even contradictory conclusions. Three independent studies reported isolation-by-distance (IBD) in A. anguilla which provided evidence against the long-held paradigm of panmixia for this species based on the measurement of very low, but nevertheless highly significant genetic structure within European eels [33, 36, 39]. Wirth and Bernatchez [39] suggested that IBD patterns are due to a stable temporal delay of spawning migration in eels from Northern habitats, as distances are markedly extended compared to Western and Southern European populations. Alternatively, more than one spawning area might be used by different populations and, also, different currents might carry the leptocephali larvae back from the Sargasso Sea to their parent's original freshwater habitats in Europe. Thirdly, albeit seemingly less likely, assortative mating among regional groups might be responsible for the observed IBD patterns. Finally, Maes et al. [34] suggested that, given the random factors affecting spawning success in the open ocean, a sweepstake strategy [56] might explain genetically patchy recruitment in sampling locations across Europe [57], leading to a weak but significant isolation-by-time (IBT) signal.
However, most recent studies did not find statistical support for population structure and rejected both IBD and IBT altogether, thus favoring panmixia in both Atlantic eel species [42–45]. In addition, temporal variation among recruits between different arrival waves within the same years significantly exceeded both the geographic and inter-annual genetic differentiation reported above [57–59]. Several points have been raised to explain the discrepancies between early evidence against panmixia and later studies. Palm et al.[43] argued that genetic differentiation in the European eel might be largely explained by uncontrolled temporal variation between juvenile glass eel samples. Dannewitz et al. [42] speculated that the use of different cohorts or life stages in the initial studies with strongest support against panmixia could have lead to artifactual isolation-by-distance patterns. Lastly, after evaluating the weak genetic differentiation among North Atlantic eels using basic summary statistics, Mank and Avise [41] concluded that the large overlap in their allelic frequencies is generated by extensive homoplasy associated with a mutation-driven saturation effect. This argument casted doubts on the usefulness of rapidly evolving microsatellite loci for short term evolutionary and hybridization studies in eels.
While there exists strong empirical evidence for near panmixia in both species of North Atlantic eels, not all questions could be successfully addressed. First, it is difficult to see how saturated markers and patchy cohorts within sampling locations could generate statistically significant patterns of IBD over the whole distributional range [
39
]. Second, the same markers detected the highest signatures of admixture in Icelandic samples [
40
,
41
] are consistent with meristic and genetic data that suggested the existence of hybrids in Northern eel habitats in general [
13
,
37
,
38
]. This pattern suggests the existence of a hybrid zone in the Atlantic that could lead to clines of admixture in both species of eel. In fact, this hypothesis has recently been invigorated by a study that relied on an integrated demographic-genetic model and explicitly accounted for the different levels of larval and adult mixing during oceanic migrations [
60
]. This model showed that even minimal levels of mixing among initially separate sub-populations during both larval dispersal or adult migration are sufficient to entirely erase any genetic differences among them. Building on this finding, the authors offer two explanations for why the geographic differentiation component might have been overestimated in the past: (i) a limited number of temporal recruits analysed, (ii) introgression through inter-species hybridization and non-random dispersal. There is a growing number of studies that show hybridization with molecular data [
12
,
37
,
44
,
61
], but no study to date has systematically tested this in the North Atlantic eels across their entire range of distribution. Traditionally, many zoologists are reluctant to consider hybridization as an important evolutionary process that generates new species, since the pre- and post-mating barriers to establishing F1 hybrids are often considerable [
62
–
66
] (for a review see [
67
]). However, there is a growing number of examples of reticulate evolution in nature [
62
,
68
], particularly from plants and fungi (e.g., [
69
–
73
]). A very well known feature of hybrid zones are coincidental changes at several independent characters, resulting in parallel frequency gradients (clines), and such a linkage is measurably exemplified in North Atlantic eel species,
A. anguilla
and
A. rostrata
. Here, cyto-nuclear disequilibrium has been identified in the narrow zone of species overlap in Iceland [
12
,
29
,
30
,
74
,
75
], which scales well with a transition zone based on vertebral counts, a nearly diagnostic trait between the two species of eels [
12
,
32
]. More specifically, Avise
et al.
[
12
] estimated the hybrid fraction in Iceland to be 2 to 4% (Table
2
). Later, Albert
et al.
[
37
] evaluated the extent of hybridization and tested for the occurrence of hybrids beyond the first generations, using 376 AFLP markers. A total hybrid fraction of 15.5% was identified, of which 30% were considered to be later generation hybrids.
Here, we investigate the extent of population genetic differentiation, and by performing simulations, ask whether IBD patterns might be produced by increasing inter-species hybridization and admixture clines. Such a scenario would also be able to explain the emergence of an IBT signal and fluctuating genetic structure signatures over time. By combining and extending two available data sets [39, 40] genotyped at nine microsatellite markers, we investigated eels sampled from the whole North Atlantic distribution area for signals of inter-species hybridization. In a first step, we inferred the admixture proportions for each individual and tested if the most extreme IBD signal detected in European eels [39] can be explained by latitudinal admixture and introgression clines using a simulation approach. Second, we quantified the amount of gene flow that would be necessary to generate the observed correlations, and, finally, we tested if incomplete lineage sorting or recent introgression are most likely to explain the observed lack of monophyly in most nuclear markers observed so far.
Results
Summary statistics
Nine microsatellite loci were used to infer intra-specific relationships among North-Atlantic eels. Inter-specific comparison of genetic differentiation for both F ST and R ST estimates were highly congruent with one another at 0.0146 (P < 0.001) and 0.0147 (P < 0.001), respectively. Thus, microsatellite markers used appear to essentially evolve by addition or removal of simple repeats in a step-wise manner. Overall, levels of observed polymorphism were high in North Atlantic eels, ranging from H o  = 0.38 at locus Aro121 to H o  = 0.90 at locus Ang101, with a mean of H o  = 0.78. The same was true for the average numbers of alleles when correcting for sample sizes, ranging from A R  = 10.9 in Aro054, to A R  = 17.9 at locus Ang114. None of the 36 pairwise tests for linkage disequilibrium among loci was significant after Bonferroni correction [77]. However, Micro-Checker[78] revealed the presence of null alleles for the two newly added loci Ang075 and Aro146. This observation might explain the moderately high F IS values for most sampling localities (see Additional file 1) and a systematic deviation from HWE for all populations. However, after correction for null alleles using the algorithm FreeNA[79], all but three out of 21 sampling locations were compatible with HWE after Bonferroni correction [77] (see Additional file 2) and in each case where a significant deviation from HWE was detected, only a single locus contributed to the effect.
Detection of hybrid eels in Iceland
Based on diagnostic restriction digests of
cytb
fragments, 16 out of 300 Icelandic eels (i.e., 5.3%; Table
2
) carried American haplotypes (labelled "suspects"), whereas none of the continental North Atlantic eels showed restriction patterns corresponding to the other species (Figure
1
). Thus, as already described, there appears to be a rather clear-cut sorting of mitochondrial lineages with the species boundaries [
12
,
21
]. The divergence was less pronounced based on ancestry proportions at nuclear markers, which consistently separated American and European gene pools for the most likely number of populations,
K
 = 2. Importantly, the average ancestry proportion of the 16 "suspects" in Iceland (
Q
 = 0.40) based on nine microsatellite markers was intermediate (
P
 < 0.001) compared to those generated from 1,000 blind draws of 16 random individuals from either species (Figure
2
), and thus these suspected mtDNA hybrid individuals most likely represent true F1 hybrids. In addition, the mean ancestry proportion of non-suspect Icelandic eels was not significantly different from the European mean, albeit slightly shifted toward American eels (
Q
 = 0.69;
P
 = 0.32). When adding prior geographic information on continental stocks, no American expatriate (i.e.
Q
 < 0.90 and American mtDNA) was detected in Iceland (Figure
3
), but two eels carrying a European mtDNA haplotype were assigned as pure American given their nuclear data.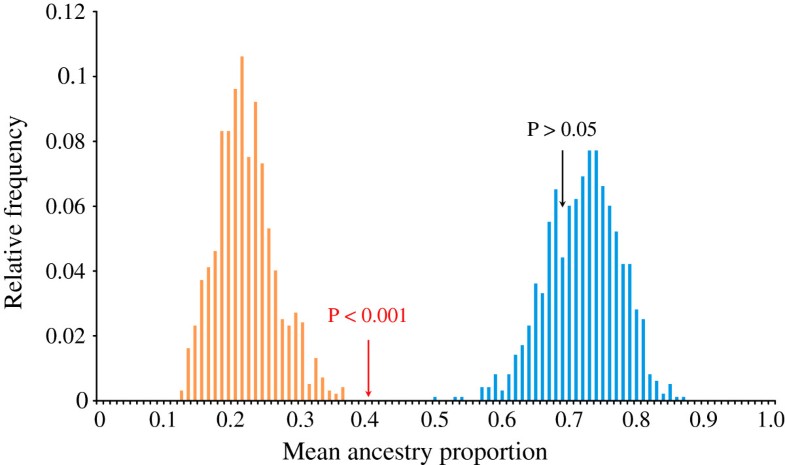 Geographic admixture and introgression clines and their impact on IBD patterns
However, these numbers exceed by far the literature values reported on clearly evidenced first generation hybrids both at continental ranges [40] as well as in the vicinity of the Sargasso Sea [57]. Thus, our simulation results are not fully consistent with observation of hybrids in nature, and it seems that our assumptions of increasing clines of F1 hybrids alone represents a clear oversimplification.
Discussion
The fascinating life history of Atlantic eels that involves a rare catadromous spawning migration, their economic impact and the concomitant international trade has prompted numerous studies in the past 30 years. Therefore it is astonishing that, despite the large efforts made, so many questions still remain unanswered [87]. Our empirical and simulated data suggest that the paradigm of panmixia that was recently wavering due to major population genetics advances might still hold [42–44, 61]. Here we propose a scenario consisting of two randomly mating populations with fluctuating and clinal introgression rates; this result alone will affect the large-scale management of both endangered species since first- and later generation hybrids apparently accumulate at Northern habitats.
Conclusion
Here, we explicitly focused on the influence of hybridization on genetic differentiation signatures in North Atlantic eels. We relied on the available nuclear microsatellite genotypes and mitochondrial sequence data of 1,263 samples from both continental American and European eels as well as from intermediate Iceland. When simulating continuously increasing proportions of F1 hybrid individuals from the southern to the northern-most locations in Europe, highly significant isolation-by-distance patterns arose, that are reminiscent of previously published data [39]. Therefore, introgressive hybridization alone is sufficient to explain the correlation of geographic and genetic distances reported for the European freshwater eel. Moreover, contrasting signals among nuclear and mitochondrial lineages suggest a recent onset of gene flow, most likely after glacial retreat following the last Ice Age (vicariant scenario [12]). Importantly, our findings are in agreement with previous results on genetic isolation patterns in European eels, either based on geography (IBD [33, 39]), or inter-annual genetic composition (IBT [34]). If we can assume that the known overlap of the two species' spawning grounds [90] is annually changing, the IBD signal should decline in some years (with low overlap), and increase in others. This will then automatically lead to an even higher IBT signal among annual recruitment waves within species. The clear separation of mitochondrial lineages might be explained by cyto-nuclear disequilibria recently detected [61]. Thus, the lack of pure American expatriates in Iceland (see also [37]), could be due to the American eel's much faster ontogenetic development and metamorphosis which might prevent its settlement in this northern region ("early ripe, early rotten"). All in all, evidence for hybrid survival in Iceland [37] favours the introgression hypothesis followed by subsequent backcrossing. This might not only hold for Iceland but for other Nordic regions as well, and might generate a North-to-South-hybrid gradient in both Atlantic eel species.
Abbreviations
Bp:

Base-pair
Bx:

Back-cross
cytb:

Cytochrome b
DCE:

Cavalli-Sforza & Edwards's genetic distance
F1:

First-generation offsprings
FST:

Fixation index
HKY:

Hasegawa Kishino and Yano's molecular genetic substitution model
HE:

Expected heterozygosity
HO:

Observed heterozygosity
HWE:

Hardy-Weinberg equilibrium
IBD:

Isolation-by-distance
IBT:

Isolation-by-time
IM:

Isolation-with-migration
IMa2:

Isolation-with-migration program version 2
K:

Number of populations
ΔK:

Evanno's ad-hoc statistic
μ:

Mutation rate
m:

Migration rate
MCMC:

Markov chain monte Carlo
mtDNA:

Mitochondrial DNA
P:

Significance level
Q:

Admixture coefficient
r:

Correlation coefficient
RST:

Slatkin's fixation index
SE:

Standard error
SST:

Sea surface temperature.
Declarations
Acknowledgements
We owe thanks to the editor and an anonymous referee for their constructive comments, as well as our collaborators who contributed specimens or otherwise helped with sampling. We thank Annabel Whibley, Pascale Chesselet and Louis Bernatchez for stimulating comments on the manuscript. This work was supported by grants (WI-2710) from the Deutsche Forschungsgemeinschaft (DFG) to T.W. and A.M. as well as grants from the Landesgraduiertenförderung Baden-Württemberg to S.W., the University Konstanz to S.W. and A.M, and an EU Marie Curie PEOPLE postdoctoral fellowship for Career Development to S.W. (grant number FP7-PEOPLE-2012-IEF-331824). The project was also supported by the network "Bibliothèque du vivant" funded by the CNRS, the Muséum National d'Histoire Naturelle and the CEA (Centre National de Séquençage).
Authors' Affiliations
(1)
Lehrstuhl für Zoologie und Evolutionsbiologie, Universität Konstanz, Konstanz, Germany
(2)
Institute of Integrative Biology, ETH Zürich, Universitätsstrasse 16, Zürich, Switzerland
(3)
Department of Ecosystem and Public Health, University of Calgary - Faculty of Veterinary Medicine, Calgary, Canada
(4)
Laboratoire de Biologie intégrative des populations, Ecole Pratique des Hautes Etudes, Paris, France
(5)
Muséum National d'Histoire Naturelle, ISYEB, UMR-CNRS 7205, 75005 16 rue Buffon, Paris, France
Copyright
© Wielgoss et al.; licensee BioMed Central Ltd. 2014
This article is published under license to BioMed Central Ltd. This is an Open Access article distributed under the terms of the Creative Commons Attribution License (http://creativecommons.org/licenses/by/2.0), which permits unrestricted use, distribution, and reproduction in any medium, provided the original work is properly credited.