Research article

Open Access
Function and evolution of the serotonin-synthetic bas-1 gene and other aromatic amino acid decarboxylase genes in Caenorhabditis
BMC Evolutionary Biology
2004
4:24
Received: 16 March 2004
Accepted: 02 August 2004
Published: 02 August 2004
Abstract
Background
Aromatic L-amino acid decarboxylase (AADC) enzymes catalyze the synthesis of biogenic amines, including the neurotransmitters serotonin and dopamine, throughout the animal kingdom. These neurotransmitters typically perform important functions in both the nervous system and other tissues, as illustrated by the debilitating conditions that arise from their deficiency. Studying the regulation and evolution of AADC genes is therefore desirable to further our understanding of how nervous systems function and evolve.
Results
In the nematode C. elegans, the bas-1 gene is required for both serotonin and dopamine synthesis, and maps genetically near two AADC-homologous sequences. We show by transformation rescue and sequencing of mutant alleles that bas-1 encodes an AADC enzyme. Expression of a reporter construct in transgenics suggests that the bas-1 gene is expressed, as expected, in identified serotonergic and dopaminergic neurons. The bas-1 gene is one of six AADC-like sequences in the C. elegans genome, including a duplicate that is immediately downstream of the bas-1 gene. Some of the six AADC genes are quite similar to known serotonin- and dopamine-synthetic AADC's from other organisms whereas others are divergent, suggesting previously unidentified functions. In comparing the AADC genes of C. elegans with those of the congeneric C. briggsae, we find only four orthologous AADC genes in C. briggsae. Two C. elegans AADC genes – those most similar to bas-1 – are missing from C. briggsae. Phylogenetic analysis indicates that one or both of these bas-1-like genes were present in the common ancestor of C. elegans and C. briggsae, and were retained in the C. elegans line, but lost in the C. briggsae line. Further analysis of the two bas-1-like genes in C. elegans suggests that they are unlikely to encode functional enzymes, and may be expressed pseudogenes.
Conclusions
The bas-1 gene of C. elegans encodes a serotonin- and dopamine-synthetic AADC enzyme. Two C. elegans AADC-homologous genes that are closely related to bas-1 are missing from the congeneric C. briggsae; one or more these genes was present in the common ancestor of C. elegans and C. briggsae. Despite their persistence in C. elegans, evidence suggests the bas-1-like genes do not encode functional AADC proteins. The presence of the genes in C. elegans raises questions about how many 'predicted genes' in sequenced genomes are functional, and how duplicate genes are retained or lost during evolution. This is another example of unexpected retention of duplicate genes in eukaryotic genomes.
Keywords
Octopamine
5HTP
Tyrosine Decarboxylase
Cysteine Sulfinate Decarboxylase
Serotonin Immunoreactivity
Background
Aromatic L-amino acid decarboxylase (E.C. 4.1.1.28, AADC) catalyzes the second enzymatic step in synthesis of the neurotransmitters dopamine and serotonin, which are found in neurons of all animals (Figure
1
). Alteration in the normal expression of these transmitters is associated with human neurological disorders such as Parkinson's disease and depression [
1
,
2
]. In mammals, AADC is expressed in many tissues beside the nervous system, associated with additional regulatory roles of dopamine and serotonin in a wide range of tissues [
3
]. In insects, AADC is further required to produce amines for cuticle synthesis and pigmentation [
4
]. Because of its role in the synthesis of both transmitters, by decarboxylation of L-dopa and 5-hydroxytryptophan, AADC is also known as dopa decarboxylase or 5-hydroxytryptophan decarboxylase (reviewed in [
3
]). AADC belongs to the α family (subgroup II) of pyridoxal-5'-phosphate (PLP) dependent enzymes. Other subgroup II enzymes include histidine, tyrosine, tryptophan and glutamate decarboxylases [
5
]; in animals some of these enzymes mediate synthesis of other biogenic amines (e.g., histamine, tyramine, octopamine) and GABA. In mammals and in
Drosophila
, a single gene encodes the serotonin- and dopamine-synthetic AADC [
6
,
7
], although tissue-specific isoforms of the protein are generated by alternative splicing [
8
,
9
]. Different genes encode PLP-dependent decarboxylase enzymes for histamine, octopamine and GABA synthesis.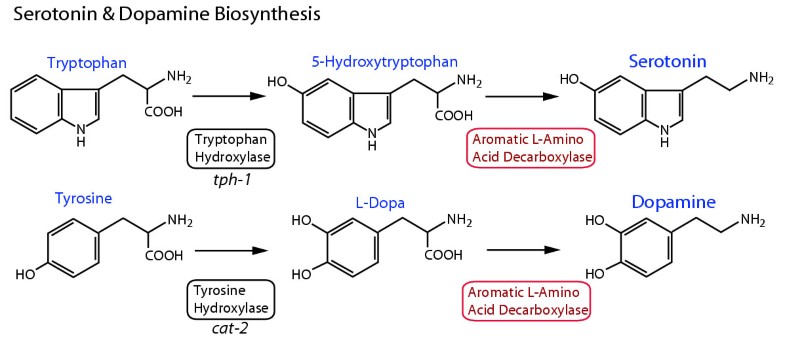 In the nematode Caenorhabditis elegans, serotonin is expressed in at least nine neurons in the hermaphrodite and nineteen in the male; dopamine is found in eight neurons in the hermaphrodite and fourteen in the male [10]. By examining the behavior of worms in which specific neurons have been ablated and examining mutants lacking serotonin and/or dopamine, we have learned that serotonin is involved in behaviors including egg laying [11–13], pharyngeal pumping [14, 15], male mating [16], and experience-dependent regulation of locomotion [17, 18]. Serotonin-deficient mutants also display abnormalities in entry into the diapause-like dauer stage and in fat storage, mediated via an insulin-related signaling pathway [19, 20]. Dopamine plays roles in male mating [21], in regulating locomotion via mechanosensation [17, 22], and in foraging behavior [23].
Identification of genes involved in neurotransmitter synthesis and related aspects of signaling in C. elegans was greatly accelerated by genomic sequencing, which was essentially completed in 1998 [23, 24]. For genes identified originally by mutants via a traditional genetic approach, a candidate gene approach often allowed rapid confirmation of a gene's identity; for predicted genes identified from the genomic sequence by homology, a reverse genetic approach has been taken. Many components of the serotonin and dopamine synthesis and transport pathways in C. elegans have now been identified by these traditional and reverse genetic approaches, including tyrosine hydroxylase (cat-2; [25]), tryptophan hydroxylase (tph-1; [19]), serotonin reuptake transporter (mod-5; [26]), dopamine reuptake transporter (dat-1; [27]) and vesicular monoamine transporter (cat-1; [28]). Postsynaptic components have also been identified, including various receptors [29–32] and intracellular G protein signaling components [33–36].
Further analysis of gene function, regulation and evolution in C. elegans is being facilitated by genomic sequencing of related nematodes. A whole genome shotgun sequence of Caenorhabditis briggsae was recently completed; the sequence is estimated to be 98% complete [37]. The divergence of C. briggsae and C. elegans is estimated between 80 – 110 million years ago [37, 38], although it should be noted that these estimates lack a fossil record to anchor the dates [39]. This is considered to be a favorable evolutionary distance to identify conserved non-coding regulatory sequences, although the sequences from only two orthologous genes from related species is often inadequate to identify such sequences unambiguously. Genomic sequencing is planned or underway of three additional congeneric relatives of C. elegans that are more closely related than C. briggsae, which will enhance our ability to analyze the genes of C. elegans. We have used genomic sequences of both C. elegans and C. briggsae to help identify and characterize another component of the serotonin and dopamine signaling systems – the bas-1 gene – and to examine the evolution of this and related genes.
The bas-1 [b iogenic a mine s ynthesis abnormal] mutant is serotonin- and dopamine-deficient, and displays several behavioral abnormalities [12, 16, 17]. Unlike wildtype and other serotonin-deficient mutant worms, bas-1 mutants are unable to convert exogenous 5-hydroxytryptophan (5HTP) into serotonin (5-hydroxytryptamine, 5HT), as assessed by serotonin antiserum staining. Because of this phenotype, we have previously proposed that the bas-1 gene likely encoded the AADC enzyme of C. elegans [16].
Discussion
Our experiments demonstrate that the predicted gene C05D2.4, which encodes an aromatic L-amino acid decarboxylase (AADC), corresponds to the genetically-defined bas-1 gene. Serotonin immunoreactivity is restored in bas-1 mutants by DNA containing an intact C05D2.4 gene, but not with DNA mutated in C05D2.4. The adjacent AADC-homologous gene, C05D2.3, is not needed to rescue bas-1 mutants. The bas-1 gene is therefore likely to encode the serotonin- and dopamine-synthetic AADC of C. elegans. Although we did not test for rescue of dopamine expression, it is likely that bas-1 encodes the same AADC required for DA synthesis. Mutants with point mutations in C05D2.4 – bas-1 alleles n2948 and n3008 – have been shown previously to be DA-deficient [17], and neither of these appears to contain mutations in the C05D2.3 gene. Furthermore, AADC proteins from other animals have been consistently shown to catalyze both 5HTP and L-dopa decarboxylation reactions [3]. Finally, a bas-1 reporter construct is expressed both in identified serotonergic and dopaminergic cells.
The bas-1 gene is expressed in at least two alternatively spliced forms, one of which appears to be less common and contains a small additional 27 nucleotide exon. The short segment of protein encoded by the additional exon, and the surrounding region are not found in other AADC proteins, suggesting a novel function for this region of the AADC protein. In other organisms, the serotonin- and dopamine-synthetic AADC genes have alternative splicing that result in tissue-specific protein isoforms. Currently we have no indication that bas-1 is expressed in any cells other than serotonergic and dopaminergic neurons, and no information about the functional significance of this alternative splicing.
AADC has received somewhat less attention with respect to the regulation of serotonin and dopamine synthesis than the specific, rate-limiting synthetic enzymes tryptophan hydroxylase and tyrosine hydroxylase [51]. This is in part due to the view that AADC activity is not limiting, and that its activity is not regulated. Regulation of AADC activity by protein kinase A-dependent phosphorylation has recently been proposed based on in vitro experiments [52], although its functional significance has been questioned [53]. Our examination of the predicted BAS-1 protein revealed several potential phosphorylation sites that are highly conserved, although none fit the consensus sequence for PKA phosphorylation. Any possible regulation of C. elegans AADCs by phosphorylation remains speculation.
Possible functions of other AADC homologous genes in C. elegans
We compared the protein sequences of other predicted AADCs in C. elegans with those of other organisms in order to guess about their possible functions. This is particularly relevant because all bas-1 mutants retain weak, residual serotonin immunoreactivity ([13]; C. Loer, unpublished) suggesting that other enzymes may be able to carry out the same reaction. This would not be surprising since animal AADCs tend to have broad specificity [3]. Based purely on sequence homology, it seems that predicted genes K01C8.3 and ZK829.2 could act as AADCs or as HisDCs. In fact, the predicted gene K01C8.3 is now believed to be a tyrosine decarboxylase and has been named tdc-1 [48]. If correct, then its best match in Drosophila (G30446), an uncharacterized AADC homolog, is likely to encode the fly's octopamine-synthetic tyrosine decarboxylase. It has long been known that a separate gene encoded this enzymatic activity in flies, since the activity is still detectable in Ddc deletion mutants [4]. It will be interesting to see whether such tyrosine decarboxylases in animals have more restricted substrate specificity, such as the tyrosine and tryptophan decarboxylases in plants [54], or are more similar to typical animal AADCs with a broad specificity. Tighter substrate specificity of a tdc-1 protein could be reflected in the much slower rate of amino acid substitution seen in its C. elegans & briggsae orthologs than in the bas-1 orthologs which encode more 'promiscuous' enzymes.
Whether C. elegans or other nematodes make the neurotransmitter histamine, and therefore need a HisDC enzyme, is unclear. Although histamine has been reportedly isolated from C. elegans [55], this observation is unique among nematodes, and has not subsequently been confirmed. There is no particularly good candidate for a HisDC in C. elegans. The ZK829.2 predicted protein may be most closely related to tdc-1 in its core sequence, although its long N- and C-terminal extensions are perhaps suggestive of a new function. Unfortunately, transgenics with reporter fusions of this gene to date have shown no expression, the pattern of which might suggest a function (C. Loer, unpublished; M. Alkema, personal communication). As with tdc-1, C. elegans ZK829.2 and its C. briggsae ortholog have also evolved more slowly than the bas-1 orthologs. A recent analysis of eukaryotic AADC sequences that includes the C. elegans ZK829.2 and its C. briggsae ortholog as the only nematode representatives clearly demonstrates that AADC genes can evolve at very different rates, and that a constant "molecular clock" cannot be assumed in phylogenetic analyses [56].
Finally, since the C09G9.4 predicted protein is so highly divergent from the typical AADC, and lacks a critical lysine residue that binds the PLP cofactor, it is unlikely to be an AADC enzyme. It has a similar level of divergence from genuine AADCs as do other group II PLP-dependent enzymes such as cysteine sulfinic acid decarboxylase, to which it has little or no similarity. Whatever the function of a C09G9.4-encoded protein, it appears to represent a new PLP-DC-related protein; sequencing of more genomes may yet reveal additional members.
Duplicate gene retention and loss in Caenorhabditis
We found that the closest relatives of C05D2.4/bas-1 in C. elegans, the genes C05D2.3 and F12A10.3, are missing from C. briggsae. Furthermore, phylogenetic analysis indicates the two extra genes did not arise in the C. elegans line, but were present (or their commmon ancestor was present) in the species that gave rise to both the C. elegans and C. briggsae lines. Finally, careful examination of the cDNAs and predicted protein sequences of C05D2.3 and F12A10.3 reveals that neither is likely to be functional as an AADC: the former lacks critical amino acids and the latter can encode only a truncated protein. Both are expressed, based on the presence of cDNAs, but probably at a very low level, which is not above background in microarray experiments. It is possible that the duplicate genes are functionally 'lost' in C. elegans as well.
The features of C05D2.3 and F12A10.3 raise a number of interesting questions about the fate of duplicate genes, and the true nature of many 'predicted genes' in C. elegans. Taking a random sampling of predicted genes and generating transgenics with reporter fusion constructs (in order to determine a pattern of expression), Mounsey and colleagues [57] found that a much higher percentage of recently duplicated genes than conserved or unique genes failed to show expression. Assuming that failure of expression was no more likely among recently duplicated genes for technical reasons, this meant that many more of these are in reality not expressed. The numbers suggested that up to 20% of annotated, predicted genes in C. elegans may be pseudogenes. In fact, careful inspection of recently duplicated genes showed that many were actually pseudogenes, like we found to be the case for F12A10.3. Overall, close inspection of predicted genes revealed at least 4% were pseudogenes.
So, why are C05D2.3 and F12A10.3 still present in C. elegans if they lack a function? C. briggsae and C. elegans may have diverged 80 – 110 million years ago [37, 38]. Since the bas-1-like gene or genes were likely present in the common ancestor of C. elegans and C. briggsae, then there seems to have been ample time for loss in the C. elegans line. Under a simple model of gene loss following duplication, only a few million generations would be the mean time to fix a null allele of the gene duplicate [58]. In Caenorhabditis, a million generations could be completed in 10,000 years or less. This seems to suggest that the downstream duplicate of bas-1 (ancestor of C05D2.3) may have continued to function for a considerable time after the duplication, perhaps by gene conversion which might have continued until sufficient divergence from bas-1 [59]. Loss of the critical six amino acids occurred after the second duplication giving rise to the ancestor of F12A10.3, since the appropriate sequence is still present there (although frame-shifted). It is also possible that the C05D2.3 gene retains some function. The gene still encodes a respectable protein, albeit one that seems unable to function as an AADC. It has diverged considerably from bas-1, but has not accumulated stop codons and frameshifts expected for a pseudogene. Walsh [60] has proposed that fixation of an allele with an advantageous new function, vs. becoming a pseudogene, may be the fate of many duplicate genes even when such mutations are rare, given a population that is sufficiently large.
C05D2.3 and F12A10. 3 seem to have been retained longer than expected. Lynch and Force [61] proposed that the unexpectedly high rate of gene duplicate retention in eukaryotic genomes is due to 'subfunctionalization' – the retention of a portion of the original single gene's function by each of the duplicates, which then complement one another. Although this was suggested to occur primarily by regulatory mutations that partition expression of the genes spatially, other forms of subfunctionalization could also occur. Another possible reason for retaining such genes is the presence of non-coding regulatory functions associated with transcription and splicing of these sub-functional transcripts that affect the transcription of other nearby genes, although a bas-1::GFP construct is expressed well without such sequences in cis.
Our analysis of synonymous vs. non-synonymous substitutions indicates that the bas-1-like genes C05D2.3 and F12A10.3 are under relaxed selection relative to bas-1 and other AADCs. It should be noted that precise quantitative comparisons cannot be made with the results presented in the C. briggsae whole genome analysis [37], since we used a different method of calculating KA/KS; however our calculations indicate that bas-1 and the other AADC's, like most genes in the Caenorhabditis genomes, are under strong purifying selection. Even if both C05D2.3 and F12A10.3 are now pseudogenes, some significant period of time during which they functioned and were under purifying selection could act to obscure this fact in an analysis of KA/KS. Even if C05D2.3 has acquired a new, adaptive function, such a new function might result from changes in only a few sites in the protein, and so again this could be obscured by a majority of sites under purifying selection. With the sequencing of three related Caenorhabditis species it will be interesting to learn of the fates of bas-1 and the bas-1-like genes in other lines.
Conclusions
The bas-1 gene encodes a serotonin- and dopamine-synthetic AADC enzyme in C. elegans. The C. elegans genome possesses five other AADC-homologous genes, two of which are closely related to bas-1. These bas-1-like genes are missing, however, from the congeneric C. briggsae, and evidence suggests that, despite their persistence in C. elegans, the genes do not encode functional AADC proteins. Since one or more of the bas-1-like genes was likely present in the common ancestor of C. elegans and C. briggsae- which may have diverged over 80 million years ago – it is unclear why the bas-1-like genes have been retained in the C. elegans line. This is another example of unexpected retention of duplicate genes in eukaryotic genomes.
Methods
Routine culturing of Caenorhabditis elegans was performed as described by Brenner [62]. Nomenclature used here for C. elegans genetics conforms to the conventions set forth by Horvitz et al. [63]. Strains used include N2 (wild type); CB1490: him-5(e1490)V; MT7988: bas-1(ad446)III; MT7990: bas-1(n2948)III; MT8002: bas-1(n3008)III; LC7: bas-1(pa4)III; LC33: bas-1(tm351)III. The him-5(e1490) strain generates approximately 30% males by increased X chromosome non-disjunction [64], but is otherwise essentially wild-type.
List of Abbreviations
AADC:

aromatic amino acid decarboxylase
DDC:

dopa decarboxylase
HisDC:

histidine decarboxylase
GAD:

glutamic acid decarboxylase
TrpDC:

tryptophan decarboxylase
PLP:

pyridoxal 5'-phosphate
NSM:

neurosecretory motoneuron
HSN:

hermaphrodite-specific neuron
PDE:

postdeirid sensory neuron
ADE:

anterior deirid sensory neuron
RN:

ray sensory neuron
CEPD, CEPV:

dorsal or ventral cephalic sensory neuron
ADF:

amphid sensory neuron, dual cilia, designation F
AIM:

ring interneuronm, designation M
RIH:

ring interneuron (unpaired), designation H
CP:

posterior daughter of designation C cell, male-specific ventral cord motoneuron
Declarations
Acknowledgements
We wish to thank the following persons: Willy Christian and Patrick Merritt for technical assistance; Raffi Aroian for advice regarding RT-PCR; Fred Wolf and Gian Garriga for the C05D2XN plasmid and sharing unpublished information; Beth Sawin, Mark Alkema and H. Robert Horvitz for sharing unpublished information; and other members of the Loer lab for various contributions to this project, including Susan Anderton (isolated the bas-1(pa4) mutant), Scott DePaul (sequenced the C. briggsae bas-1 cDNA), Tonya Lebet (isolated and sequenced F12A10.3 cDNAs), Nicola Marsden-Haug, Nailah Thompson, Cristina Ramirez, and Laura Rivard (for comments on the manuscript). C. briggsae bas-1 cDNAs and genomic clones were originally isolated by members of the Spring 2002 Biology 182 (Molecular Biology) class at USD. Ian Hope generously provided two bas-1::GFP reporter transgenic strains made in his lab. Michael Mayer provided significant help and guidance with phylogenetic analyses using PAUP*.
Some of the strains used were obtained from the Caenorhabditis Genetics Center, which is funded by the NIH National Centers for Research Resources. The C05D2.4 and C05D2.3 deletion mutants were generated by the C. elegans Gene Knockout Consortium (tm351 was specifically provided by the labs of Shohei Mitani and Yuji Kohara; ok704 by the Barstead lab). Two bas-1 cDNAs were provided by the Kohara lab (C. elegans EST/transcriptome project); bas-1 and F12A10.3 cDNAs by J. Reboul and the M. Vidal lab (C. elegans ORFeome project).
CL was supported by a National Science Foundation RUI grant (Developmental Neuroscience, IBN-9796217), an NIHGMS Area Grant (R15 GM60203), start-up funds from the University of San Diego, and the Fletcher Jones Foundation. Some of this work was performed when CL was at Lafayette College, and so was also supported by start-up funds from that institution, some of which came from a Howard Hughes Medical Institute grant.
Authors' Affiliations
(1)
Department of Biology, University of San Diego, San Diego, USA
(2)
Department of Molecular and Cell Biology, University of California, Berkeley, USA
Copyright
© Hare and Loer; licensee BioMed Central Ltd. 2004
This article is published under license to BioMed Central Ltd. This is an open-access article distributed under the terms of the Creative Commons Attribution License (http://creativecommons.org/licenses/by/2.0), which permits unrestricted use, distribution, and reproduction in any medium, provided the original work is properly cited.