Methodology article

Open Access
The efficiency of different search strategies in estimating parsimony jackknife, bootstrap, and Bremer support
BMC Evolutionary Biology
2005
5:58
Received: 09 May 2005
Accepted: 29 October 2005
Published: 29 October 2005
Abstract
Background
For parsimony analyses, the most common way to estimate confidence is by resampling plans (nonparametric bootstrap, jackknife), and Bremer support (Decay indices). The recent literature reveals that parameter settings that are quite commonly employed are not those that are recommended by theoretical considerations and by previous empirical studies. The optimal search strategy to be applied during resampling was previously addressed solely via standard search strategies available in PAUP*. The question of a compromise between search extensiveness and improved support accuracy for Bremer support received even less attention. A set of experiments was conducted on different datasets to find an empirical cut-off point at which increased search extensiveness does not significantly change Bremer support and jackknife or bootstrap proportions any more.
Results
For the number of replicates needed for accurate estimates of support in resampling plans, a diagram is provided that helps to address the question whether apparently different support values really differ significantly. It is shown that the use of random addition cycles and parsimony ratchet iterations during bootstrapping does not translate into higher support, nor does any extension of the search extensiveness beyond the rather moderate effort of TBR (tree bisection and reconnection branch swapping) plus saving one tree per replicate. Instead, in case of very large matrices, saving more than one shortest tree per iteration and using a strict consensus tree of these yields decreased support compared to saving only one tree. This can be interpreted as a small risk of overestimating support but should be more than compensated by other factors that counteract an enhanced type I error. With regard to Bremer support, a rule of thumb can be derived stating that not much is gained relative to the surplus computational effort when searches are extended beyond 20 ratchet iterations per constrained node, at least not for datasets that fall within the size range found in the current literature.
Conclusion
In view of these results, calculating bootstrap or jackknife proportions with narrow confidence intervals even for very large datasets can be achieved with less expense than often thought. In particular, iterated bootstrap methods that aim at reducing statistical bias inherent to these proportions are more feasible when the individual bootstrap searches require less time.
Keywords
Short Tree
Support Level
Strict Consensus Tree
Narrow Confidence Interval
Decay Index
Background
"Without some assessment of reliability, a phylogeny has limited value" (Sanderson 1995: 299) – an examination of the recent phylogenetic literature shows there is a general agreement on this fact, and only few molecular phylogenetic studies of the past 15 years exist in which no estimate of confidence is provided. In the context of cladistic (parsimony) analyses, two basic types are most common: resampling plans (bootstrap, jackknife), and those based on the length difference of trees (Bremer support).
Results and discussion
Bootstrapping and jackknifing
Empirical studies on four different molecular datasets (see Methods) of 86, 89, 385, and 567 taxa, respectively, yielded the following results. Using 10 or 20 parsimony ratchet cycles per jackknife replicate instead of one simple addition search with one saved tree yielded no enhanced support for the 86 and 89 taxa datasets (sign test: p < 0.05). This confirms conclusions from RAS searches on data sets of similar dimension [100 taxa, ref. [
13
]] or twice as big [173 taxa, ref. [
15
]]. For the considerably larger 385 and 567 taxa datasets, 10 ratchet cycles could not enhance support significantly, either (sign test: p < 0.05). Moreover, the effect of saving more than one shortest tree per jackknife iteration and using a strict consensus tree of these for the final jackknife consensus tree became obvious. This is detailed in Table
1
for the 567 taxa tree: computing a strict consensus of the
n
shortest trees found during 10 ratchet iterations (0 <
n
< 11) provides less support than saving only one out of these shortest trees (p << 0.05). The same effect was previously observed in a 173 taxa dataset [
15
] when 20 trees were saved (in one RAS cycle per jackknife replicate, applying tree weights rather than using consensus trees): support decreased compared to the outcome of the same analysis saving only one tree (32 clades received at least 4% lower support; the others remained the same. This amounts to a highly significant effect given the number of replicates used by the authors). Consequently, for larger data matrices, reduced search effort (but not as much reduced as using no or less efficient branch swapping) yields rather slightly overestimated support compared to the support found with higher effort. While it has been shown that not applying TBR can severely underestimate support [
12
,
15
], using still more thorough search approaches (e.g., several RAS or ratchet cycles, saving several trees) does not significantly raise or even lowers support.
Table 1
Contrasting jackknife support at nodes of the 3-gene jackknife tree for three different search approaches. Contrasting jackknife support (from 500 replicates) at 429 resolved nodes of the 3-gene jackknife-50%-majority-rule-consensus tree (567 terminals) for three different search approaches per jackknife replicate. (1) one heuristic search saving one tree and using simple addition ("simple"); (2) 10 parsimony ratchet iterations, starting from a tree found with simple addition, using the first shortest tree only found within the 10 iterations for consensus tree calculation ("10sv1"); (3) as before, using a strict consensus of all shortest trees found within the 10 ratchet iterations per jackknife replication ("10svAll").
| Compared search strategy | Sign test, % first < second | Sign test, p | Wilcoxon test, T | Wilcoxon test, p | Higher support in... |
| --- | --- | --- | --- | --- | --- |
| Simple vs. 10sv1 | 54.9 | 0.173 | 10685.5 | 0.311 | --- |
| Simple vs. 10svAll | 42.3 | 0.038 | 7442.5 | 0.005 | Simple |
| 10sv1 vs. 10svAll | 6.9 | 0.000 | 1107 | 0.000 | 10sv1 |
In all, extending the search extensiveness beyond the rather moderate effort of TBR and saving one tree per replicate does not translate into significantly increased support. Compared to Bremer support, theoretical considerations show that there is a lower risk of significantly overestimating support by using less thorough searches (enhanced type I error of accepting a clade that in fact is not there). The lack of inflated estimates caused by less extensive searches was corroborated using real datasets [12] and simulation studies [13]. These studies, however, compared searches without branch swapping or less effective swapping with searches that include TBR, while not addressing the factor of the number of trees saved and used in the bootstrap/jackknife consensus. The investigation of Freudenstein et al. [15] with 20 saved trees already indicated that support might well drop with more conflicting topologies taken into account per jackknife replicate. In their experiment, however, the option of saving (and swapping on) 20 trees also enhanced the likelihood of finding still shorter trees per replicate. In the present study, the pure effect of ignoring all but one of the topologies with the best score per jackknife replicate becomes evident: support is significantly higher than in a jackknife consensus tree based on all shortest trees found. Thus, for very large trees, there appears to be a small risk of overestimating support. However, this risk probably cannot be judged problematic, in particular not in view of the general conservativeness of nonparametric jackknife and bootstrap estimates in phylogenies [14, 16, 26, 27], which in general should more than counterbalance this slight effect; at least it does so for the dataset analyzed here. As a response to this general conservativeness, α-levels have been raised far above the common 1% – 10% in empirical phylogenetic studies, leading to the acceptance of the presence of nodes with <<90% BS, or at least to referring to such nodes as "highly supported" [e.g., [44]]. One could easily recommend reducing this small risk of overestimating support by representing each bootstrap replicate by a consensus tree derived from multiple searches, but this probably suffers from a too high cost-benefit ratio to be practical in most analyses: 10 ratchet iterations require roughly a 20-fold search time compared to a simple search.
On the other hand, even for large trees, there appears to be no severe risk to underestimate support, as long as one simple-addition tree is swapped using TBR. In contrast, using random addition or random trees as starting trees during each replicate leads to highly significantly underestimated support (tested for the 385 taxa dataset; sign test: p << 0.05).
Note that the above considerations aim at contrasting search strategies and do not extend to fundamental statistical bias existing in bootstrap and jackknife proportions [5, 6, 45, 46] that may deteriorate with increased taxon sampling [14] but improves with increased character sampling. For datasets with many taxa, computational limitations of search strategies become confounded with this bias. Therefore, Sanderson and Wojciechowski [14] could not preclude that part of the decline in BS they observed when increasing sampling size (≤140 taxa) was due to the failure of the simple addition search (saving one tree) to find shortest trees. In view of the results presented here, this effect was probably negligible compared to the statistical bias from random homoplasy distributed among taxa [explanation 3 in 14]. To reduce this bias and achieve more accurate confidence limits, much more computer-intensive, iterated bootstrap methods have to be taken [e.g., [5, 45–47]], frequently thought to be too time-consuming to be practical for large amounts of data. Sanderson and Wojciechowski argue that relying on search algorithms with only little branch swapping may circumvent this computational limitation, allowing multiple rounds of bootstrapping by saving time during each individual bootstrap [14: 684]. The outcome, they say, may still be somewhat too conservative because of the failure of these algorithms to find MP trees, but would still be more indicative of true support than conventional BS/JS. In light of the performance of varyingly extensive search strategies on datasets even larger than that in ref. [14], it appears that iterated bootstrap methods are not as impractical as previously thought and should more frequently be considered.
Finally, as shown in Fig. 1, the higher the number of replicates, the lower the error margin for the BS/JS support. To evaluate differences in support for a particular clade, confidence intervals have to be kept in mind to arrive at a statement on the significance of differences. The number of replicates needed to narrow down the confidence intervals to a desired level is a function of the BS/JS. If, for example, one restricts conclusions from a tree topology to nodes >90 and is happy with knowing (at a 5% risk) that a "91" cannot equally likely be a "89" (±1%), more replicates than 3458 are not needed.
Bremer support
Fig.
2
shows how the Bremer support develops at the 25 randomly selected nodes with increasing search extensiveness. Values obtained by a simple search with TBR branch swapping (saving 1 tree) are compared with those obtained with 1 – 50 parsimony ratchet iterations. Vertical lines mark the average number of iterations at which 90% of the final support difference (observed after 50 iterations) are exceeded first. In the smallest dataset (86 taxa) this is the case at the 12
th
ratchet iteration. For the slightly larger 89 taxa dataset, less iterations are needed until support values become comparably saturated. This dataset, however, displays much less homoplasy than the first and, thus, is easier searchable. Consequently, less effort is needed here to arrive at a similar result. The 385 taxa dataset is comparable to the 89 taxa set in terms of homoplasy but is much larger. Unsurprisingly, the Bremer support settles later here. The same reasoning applies to the largest, 567 taxa dataset, for which the 90%-level is reached only after 17 iterations. In view of the range of different taxon and character sampling covered by these four analyses, saturation appears to happen at quite similar times. Obviously, the 90%-level is an arbitrary measure, and one might want to extend analyses until an average 95% of the final Bremer support differences are reached. This, however, would not change much the relative times at which that is achieved. As a rule of thumb it appears that not much is gained relative to the additional effort when searches are extended beyond 20 iterations, at least not for datasets that fall within the size range observable in current publications. For datasets with a still smaller taxon sampling and still less homoplasy, for which using the ratchet principally does not save time, a single simple addition search (saving a limited number of trees) may already yield Bremer support values close enough to the "true" values (found, e.g, by branch-and-bound searches). As soon as the size and structure of a dataset entails that shortest trees are principally only encountered when at least a random addition search is performed, using the ratchet and the 90%-levels found here as a guideline seems a reasonable strategy.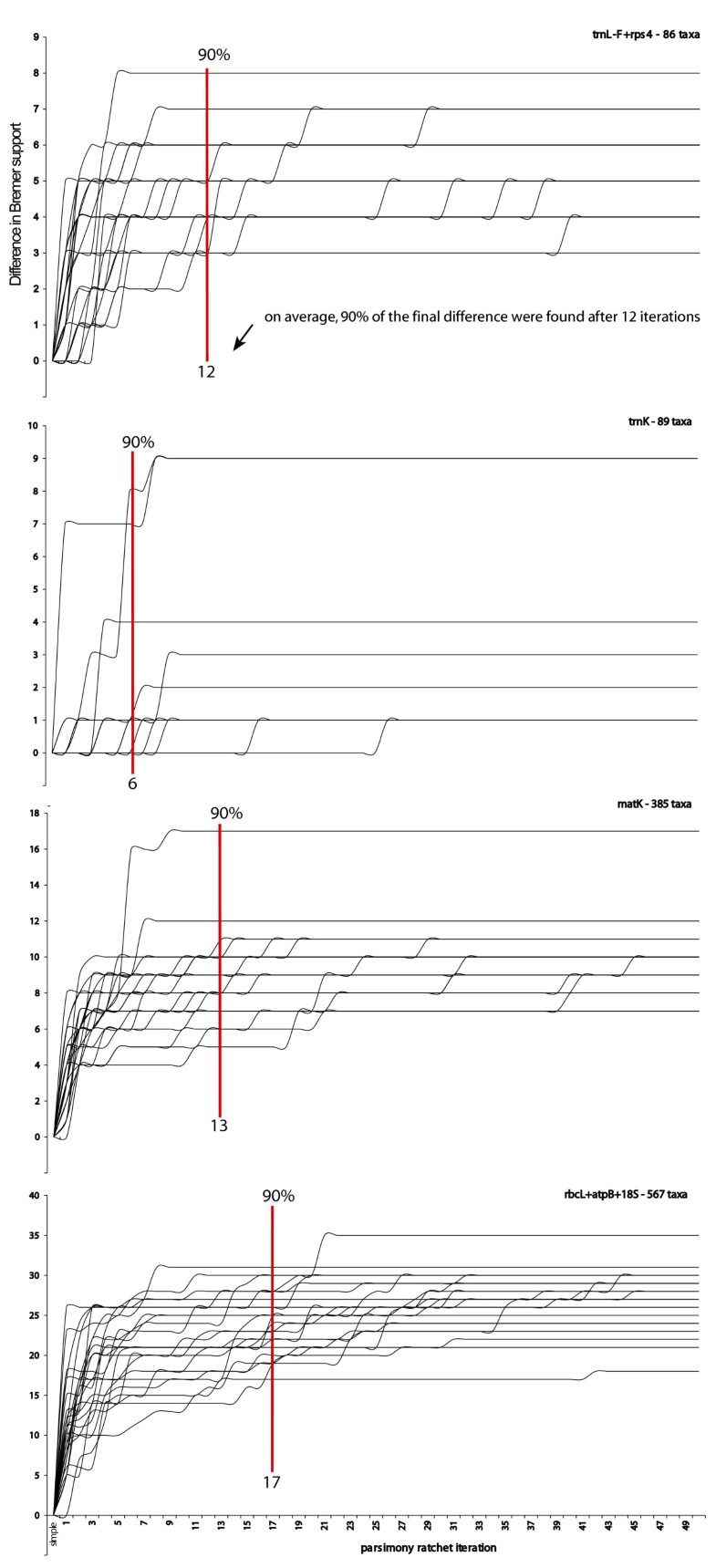 Conclusion
One consequence of the above findings is that calculating bootstrap- or jackknife proportions with narrow confidence intervals can be achieved with less expense than often thought, even for very large datasets. In turn, this means that iterated bootstrap methods that aim at reducing statistical bias inherent to bootstrap proportions are more feasible, since the individual bootstrap searches may be performed using less time-intensive heuristic searches during each replicate.
As a further consequence of these reflections, finding bootstrap or jackknife proportions with reasonable confidence can be achieved with much less costs than trying to find the correct Bremer support for large datasets. Bootstrap or jackknife values saturate immediately after one simple addition search, while finding satisfyingly accurate Bremer support may require 20 or more iterations, much depending on what one subjectively accepts as "satisfyingly accurate" (90% of the maximum difference that could be achieved with exhaustive searches ?). If we take the 385 taxa dataset as an example, bootstrap support with 1% accurateness at ≥95% could be gained by 1825 simple searches (with TBR), while Bremer support would require N*(1+13*2) such searches, where N is the number of nodes to test (typically far less than the theoretically possible number of internal nodes). If we approximate that TBR swapping on one tree takes roughly equally long irrespective of the particular resampled matrix or the particular constraints in effect at a given node, calculating Bremer support for the 339 nodes resolved in the strict consensus [48] takes five times longer than bootstrapping or jackknifing (6.5 times if 95% of the final support difference are to be achieved, which on average happens at the 17th iteration for that dataset).
The relative speed of both methods strongly varies with the accurateness aimed at, but even calculating 19592 jackknife iterations needed for 0.5% accurateness at nodes with ≥85% (meaning that the size of the confidence interval matches the precision at which BS/JS proportions usually are reported) is faster than obtaining Bremer support with the precision outlined above, which may only be the case beyond an equivalent of 339*(1+(50*2)) = 34239 such jackknife iterations. The relatively higher performance of jackknifing and bootstrapping further increases with the taxon sampling size. Strictly speaking, a comparison of the speed at which both support types are computable makes not much sense, due to the fundamental differences of both. On the other hand, along with considerations on the interpretability of Bremer support compared to the bootstrap and jackknife [41], such practical considerations may assist in choosing which support type to report when the time available for analyses is limited.
Methods
Four different datasets were chosen that differed not only in the number of taxa sampled but also in the kind of DNA sequence data used (e.g., absolute number of informative characters, overall sequence divergence, overall support levels and levels of homoplasy). Two are comparatively large: a three-gene dataset [44], containing DNA sequences of 18S rDNA, rbc L, and atp B (4592 characters, 2153 parsimony informative) for 567 angiosperm taxa, and a matK dataset [48] for 385 angiosperm taxa (1749 chars, 1075 parsimony informative). Two are of intermediate size: one, using the trnK intron [49], provides high overall support (89 taxa, 3538 characters, 1441 parsimony informative), the other [50] less so (trnL-F and rps4, 86 taxa, 1204 characters, 286 parsimony informative).
Bootstrap and jackknife
The fast search approach (no branch swapping) has been frequently shown to yield considerably lower support values [12–15]. The same applies to less thorough branch swapping algorithms such as NNI (as opposed to TBR; [12, 15]. Also, RAS has no beneficial effects on BS/JS as compared to the simple addition sequence – a conclusion based on a 173 taxa set [15]. For still larger datasets, RAS has been frequently shown to be inferior to other strategies such as the parsimony ratchet. In consequence, an extensive testing of the effect of RAS on the datasets analyzed here appeared not warranted. Therefore, the effect of using a limited number of ratchet iterations per jackknife resampling replicate was assessed with help of the author's short C++ program PRAT [24] in conjunction with PAUP* [19].
Since too few replications would hamper contrasting the strategies due to rather wide confidence intervals around the JS values, and since a series of repeated ratchet analyses soon becomes quite time consuming, 500 replicates served as a compromise between variance and computation times. Since the sign test used (see below) ignores the magnitude of differences and since stochastic deviations from the expected BS/JS equally likely are positive or negative, the accurateness achieved with 500 replications should be sufficient in view of the high number of nodes contrasted. Note, however, that knowing the BS or JS of a particular clade with relatively high confidence would require more iterations for values ≥90% (Fig. 1). For the two largest datasets, the ratchet found much shorter trees within the first 10–20 ratchet iterations than simple searches or RAS in PAUP* (in line with common observations; see also Table 1 in [43]). Thus, in terms of the proximity to the putatively minimal tree score, the contrast between TBR on one shortest tree and 20 ratchet iterations is higher than that between 20 ratchet iterations and any number of additional iterations. Therefore, it was first tested whether searches of 10 and 20 ratchet iterations per BS/JS replicate make a difference prior to using more iterations.
To compare jackknife values on two trees, the JS values of all nodes resolved in one tree were compared to the corresponding JS values of the other tree using (a) a sign test and (b) a Wilcoxon test. The first excludes the magnitude of the difference between a pair and only takes pairs with differing values into consideration. The second was used to crosscheck the outcome of the sign test by incorporating information on the magnitude of divergent pairs and retaining information on how many pairs actually consist of equal values. Both tests fully agreed on rejecting or accepting an overall equality of JS (see Table 1).
Bremer support
For each of the four datasets, 25 nodes of the strict consensus tree were randomly chosen (using JAVA's Random class) and subjected to a simple heuristic search in PAUP*, saving only one tree, followed by a parsimony ratchet analysis of 50 iterations (25% characters with double weight, saving one tree). Thus, unlike in the jackknife analyses, not all resolved nodes were monitored due to the considerable search time needed per node. All analyses were performed with PRAP [43] in combination with PAUP*. Monitoring and evaluating the change of support over time was achieved with additional small JAVA classes written for this study.
Declarations
Acknowledgements
I am indebted to Joseph Felsenstein for very helpful, critical comments on this manuscript. Moreover, John V. Freudenstein, Mark P. Simmons, Thomas Borsch, and anonymous reviewers provided helpful comments that helped to improve the text.
Authors' Affiliations
(1)
Nees-Institut für Biodiversität der Pflanzen, Rheinische Friedrich-Wilhelms-Universität Bonn, Bonn, Germany
Copyright
© Müller; licensee BioMed Central Ltd. 2005
This article is published under license to BioMed Central Ltd. This is an Open Access article distributed under the terms of the Creative Commons Attribution License (http://creativecommons.org/licenses/by/2.0), which permits unrestricted use, distribution, and reproduction in any medium, provided the original work is properly cited.