Methodology article

Open Access
Inference of demographic history from genealogical trees using reversible jump Markov chain Monte Carlo
BMC Evolutionary Biology
2005
5:6
Received: 29 June 2004
Accepted: 21 January 2005
Published: 21 January 2005
Abstract
Background
Coalescent theory is a general framework to model genetic variation in a population. Specifically, it allows inference about population parameters from sampled DNA sequences. However, most currently employed variants of coalescent theory only consider very simple demographic scenarios of population size changes, such as exponential growth.
Results
Here we develop a coalescent approach that allows Bayesian non-parametric estimation of the demographic history using genealogies reconstructed from sampled DNA sequences. In this framework inference and model selection is done using reversible jump Markov chain Monte Carlo (MCMC). This method is computationally efficient and overcomes the limitations of related non-parametric approaches such as the skyline plot. We validate the approach using simulated data. Subsequently, we reanalyze HIV-1 sequence data from Central Africa and Hepatitis C virus (HCV) data from Egypt.
Conclusions
The new method provides a Bayesian procedure for non-parametric estimation of the demographic history. By construction it additionally provides confidence limits and may be used jointly with other MCMC-based coalescent approaches.
Keywords
Markov Chain Monte Carlo
Demographic History
Markov Chain Monte Carlo Algorithm
Constant Population Size
Reversible Jump Markov Chain Monte Carlo
Background
The coalescent is a very versatile stochastic model of the genetic variation in a set of sequences sampled from a population. It allows to accommodate a wide range of assumptions about rates and modes of evolution, and of population history [1–5].
As the observed sequence data are positively correlated due to common ancestry, coalescent theory also provides a framework for understanding the relationship between a population's history and its genealogy. For instance, it has long been noted that genealogies of samples taken from exponentially growing populations tend to be "star-like" with short branch lengths near the root of the tree. In contrast, the inter-node distances in genealogies from constant-size populations typically are much more evenly spaced.
Thus, coalescent theory quantifies the imprint that demographic development of a population leaves in the data. While the original theory was outlined for constant population size [1, 2], Slatkin and Hudson [6] soon developed a coalescent model for the case of an exponentially growing population. Subsequently, a general approach allowing arbitrary population size variation through time was presented by Griffith and Tavaré [7].
Therefore at least in principle the coalescent model provides a basis for statistically inferring the demographic history as a function of time from the sampled sequences [3, 8–12] or, alternatively, from the corresponding inferred genealogies [13–15]. In practice, however, application of coalescent theory to this problem has been restricted to very simple demographic scenarios such as constant size, exponential or logistic growth.
Only recently methods have emerged that attempt the completely non-parametric estimation of the demographic function from the data. Polanski et al. proposed an approach based on pairwise distances [16], hence generalizing the method by Slatkin and Hudson [6]. Pybus et al. [14] presented the "skyline plot" method that uses a step-function to approximate the population history obtained from an estimated genealogy. This method was subsequently refined to the "generalized skyline plot" [17] which is essentially a regularized version of the classic skyline plot. If the population size is truly constant through time the generalized skyline plot estimate of population size collapses to the phylogenetic coalescent estimator proposed by Felsenstein [13].
The advantage of the skyline plot over the method suggested by Polanski et al. [16] is that it takes into account the genealogical relationship among the sequences. This helps to decrease bias and improves the efficiency of the resulting estimator compared to methods based on summary statistics and pairwise distances [13]. Unfortunately, the skyline plot approach also has several deficiencies. First, it is unclear how to extend the approach to allow multiple genealogies as input. This is important in order to accommodate phylogenetic error, and to allow non-parametric inference of population history in coalescent approaches that take all possible genealogies into account [7–10]. Second, and perhaps more critical, the (generalized) skyline plot only provides a population size trend rather than a realistic estimate of population size changes, as by construction the population function is modeled by a step function. Moreover, the change-points of this function are fixed at the inter-nodes of the underlying tree.
In this paper we propose a novel framework to non-parametric estimation of the demographic history. This approach relies on Bayesian reversible-jump MCMC inference [18] to obtain a smooth population size function from a given set of genealogies. The new method not only renders many deficiencies of the classic and generalized skyline plot obsolete but it is also computationally efficient, with running times of the algorithm for typical data in the order of minutes on standard PC hardware. The framework has been implemented in the computer language R [19] and incorporated in the R package APE [20].
The remainder of the paper is organized as follows. In the next section we describe the mathematical and statistical theory of the new framework. Subsequently, we apply the method to simulated and biological sequence data and discuss the results. In the last section we briefly outline possible further extensions and related directions of research.
Results
Background in coalescent theory
Basic model
In a pan-mictic population with constant effective population size N e , where every individual has a single parent, the waiting time w n until any two of n sampled lineages coalesce is exponentially distributed with rate

[1, 2]. For n sequences there are therefore n - 1 intervals I n , In-1,..., I2 with rates r n , rn-1,..., r2 and interval lengths w n , wn-1,..., w2. With

we denote the time until all samples have reached the most recent common ancestor.
The coalescent model implies that the waiting time to the next coalescent event follows an inhomogeneous Poisson-process with a hazard rate r n that varies in time t because of the change in the number of lineages. Thus, it is straightforward to also include variable population size in the coalescent simply by using the hazard rate

. From standard theory in survival analysis [21] it follows that the corresponding density for the waiting times is given by
where τ i is the time at the beginning of the interval I i . This is exactly the distribution from the variable population size coalescent
as developed in [7]. The coalescent model can be further expanded to diploid populations [22] or to include other effects like selection, recombination or geographical structures [4]. In this paper, however, we focus solely on the coalescent/survival model given by Eq. 2.
Estimation of population size
If the waiting times w i are known Eq. 2 can be used directly to estimate N e (t). This is typically done by maximizing the likelihood

assuming a simple parametric model for the population size change. For constant population size this has been done in [13], for more complicated scenarios such as logistic growth see, e.g., [14].
In a typical setting, however, the waiting times are themselves estimated from sequence data. In this case the total likelihood function will be a weighted sum of the likelihoods for all possible waiting times, so that in effect the w i are marginalized out in favor of the actually observed data. In practice exact calculation of this sum is prohibitive, hence one relies on approximating MCMC methods [8–10].
As a shortcut to avoid these computationally very expensive procedures one may also substitute the "true" waiting times by those obtained from inter-node distances of a single estimated gene tree (see, e.g., [23] for an overview of relevant likelihood-based tree inference methods) and proceed as above. Note that the resulting plug-in approximation ignores the uncertainty from estimating the w i in the inference of demographic parameters. However, this is justifiable if the phylogenetic error is much smaller than the error introduced by the coalescent. This will be the case if sequences are sufficiently long and the substitution rate is comparatively high (a typical example would be virus data).
For non-parametric estimation of population size, Pybus et al. suggested the "skyline plot" [14]. This method assumes a piece-wise constant function for the population size N e (t) and allows population size changes only at the beginning and end of an interval I i . The estimated effective population size

in interval I i according to the skyline plot is given by the simple relation
This is the maximum likelihood estimate under the assumed model of fixed change-points. The "generalized skyline plot" subsequently introduced by Strimmer and Pybus [
17
] reduces the over-fitting present in the classic skyline plot by applying a simple form of regularization: adjacent intervals that alone are likely to have high stochastic noise are pooled together (cf. Fig.
2b
and
2d
). Choice of an optimal grouping of intervals (i.e. model selection) is performed by employing a second-order variant of the Akaike criterion [
24
].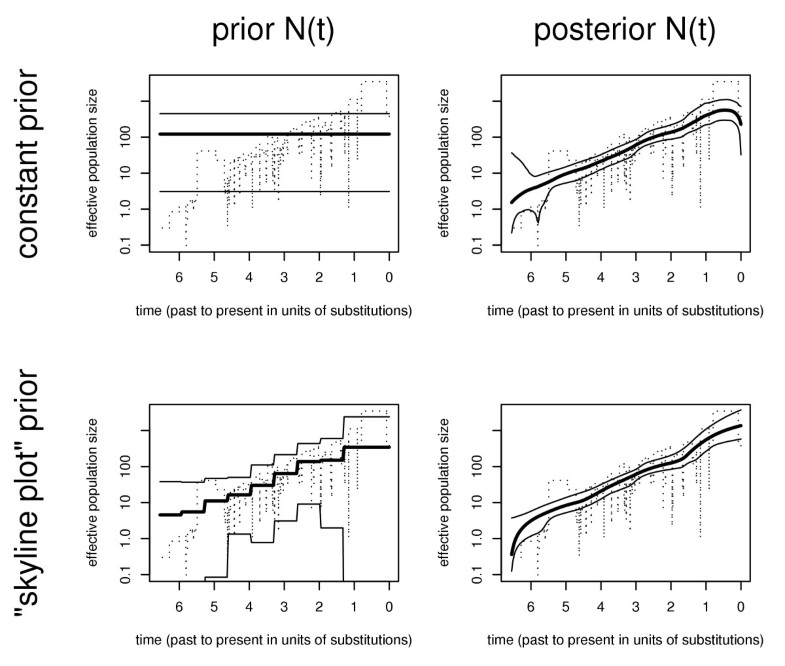 A Bayesian non-parametric approach to estimating demographic history
Outline
In this paper we present a non-parametric approach to infer population size changes in time that overcomes the limitations of previous approaches. More specifically, we develop a non-parametric Bayesian estimator for the function N e (t) conditioned on observed or sampled inter-node distances w n , wn-1,..., w2 by determining the posterior distribution P(N e (t)|w n , wn-1,..., w2). In order to sample the non-parametric demographic function from this posterior we use the reversible jump Markov chain Monte Carlo (rjMCMC) algorithm [18]. As a result, we obtain for any given time t both a point estimate

– here we choose the posterior median – as well as the associated credible interval (e.g., the lower and upper 2.5% quantiles). If the considered inter-node distances w n , wn-1,..., w2 are fixed and obtained from a single estimated tree, the resulting method is already directly applicable to phylogenetically informative data such as viral sequences (this is the focus of this paper). However, sampling of non-parametric demographic functions can also be combined in a conceptually straightforward fashion with sampling of trees, as outlined below.
Bayesian inference using reversible jump MCMC
In a nutshell, Bayesian inference of a parameter x consists of updating its prior distribution P(x) to a posterior distribution P(x|D) that takes account of the information in the observed data D. The relative evidence of the data for different values of x is summarized in the likelihood L = P(D|x) that accordingly plays a central role in the computation of the posterior via Bayes' theorem
For most realistic problems the posterior distribution cannot be computed analytically, in particular if x is a high-dimensional vector. Instead, one utilizes computational procedures to efficiently draw random samples from the posterior. This in turn allows computation of summary statistics such as the median or the upper and lower 2.5% quantiles. Markov chain Monte Carlo (MCMC) is one particularly useful sampling algorithm as it doesn't require calculation of the sum (or integral) in the nominator of Eq. 4. Briefly, sampling via MCMC is done by constructing a Markov chain with the possible combinations of parameter values as "states", and the desired posterior as its stationary distribution. These properties can be guaranteed by following certain rules for accepting or rejecting proposed new parameter values. Here we use the Metropolis-Hastings-Green method, i.e. the reversible jump MCMC algorithm [18], that has the advantage of not only allowing changes in the parameters values but also in the dimension of the parameter vector itself. Specifically, if x is the initial state, and

a proposed new state with proposal density

, then the acceptance probability according to Green [18] is
where
D
|

)/P(
D
|
x
),

is the prior ratio P(

)/P(
x
),

is the proposal ratio
q
(

)/
q
(
x
), and

is the determinant of the Jacobian resulting from the potential change of dimension of the parameter vector.
Accordingly, for the application of MCMC to infer the functional form of demographic history a variety of components need to be specified:
• a suitable parameterization of the estimated function N e (t)
• the likelihood function,
• a prior distribution for each considered variable, and,
• rules to construct the Markov chain (i.e. acceptance probabilities).
In the following sections we now describe each of these elements in detail. For further general information on the statistical and mathematical background of the MCMC algorithm we refer to the many excellent monographs on this topic (e.g., [25]).
Parameterization of N e (t)
In our suggested procedure we approximate the sampled demographic history N e (t) by a piecewise linear function. This spline of first order degree consists of a first node at position a0 = 0 and height h0, followed by k internal supporting nodes at (a1; h1), (a2;h2),..., (a k ; h k ), and a terminal node at

with height hk+1Hence, the spline is defined for all t ∈ [0, T], and for any given k the it contains k free position parameters and k + 2 free height parameters. Note that, unlike in the skyline plot, we do not constrain the change-points a1,..., a k to lie on the grid points defined by the inter-node distances w i . Moreover, we also allow that the number of internal nodes k changes during sampling of the population function from the posterior. Hence, k is technically a hyper-parameter that controls the roughness of the resulting spline. As will be clear from the outline of the MCMC algorithm below, note that the final point estimate

obtained from posterior sampling will be a mixture of linear splines (i.e. a smooth and possibly nonlinear function) rather than a single spline.
Likelihood function
The likelihood L employed in our procedure is the product of the densities of the waiting times between subsequent coalescence events, i.e.

. This function depends via Eq. 2 on the effective population size N e (t), and hence indirectly on the spline parameters a i , h i and k. Because N e (t) is represented by a linear spline, calculation of the likelihood can be done in a computationally efficient fashion.
Prior distributions
Number of change-points
Following [18] we employ a truncated Poisson-distribution as the prior distribution for k, i.e.
where c is a normalizing constant to ensure that P(k) is a proper distribution. For the hard upper limit of the number of change-points we use kmax = 30. The parameter λ acts as a smoothing parameter, set in a typical analysis to about λ = 0.1 - 1.0.
As an alternative to using a fixed λ we also suggest a hierarchical Bayes approach where λ is drawn from a Gamma distribution
with some shape parameter a and scale parameter b (for instance, a ≈ 0.5 and b ≈ 2 so that E(λ) = ab ≈ 1 and Var(λ) = ab2 ≈ 2).
Positions
We assume that the internal nodes of the spline are a priori uniformly distributed in the interval [0, T]. As a simple trick to avoid very small inter-node distance we generate 2k + 1 random variables, and set the change-points a j = z[2j]for j = 1,..., k. The corresponding joint density is
with a0 = 0 and ak+1= T.
Heights
As prior distributions for the heights h i we assume a Gamma distribution
Gamma(h i |α i , β i ) (9)
which ensures that sampled heights are always positive. The parameters α i and β i determine the a priori mean and variance of height h i . More generally, one can also allow fully time-dependent prior parameters α(t) and β(t). This is particularly advisable if the population size is known in advance to be subject to large changes in time.
In a strict Bayesian approach, the choice of the prior distribution for the heights is completely external to the observed data. One simple possibility would, e.g., be to assume an arbitrary constant for the mean and variance. However, we recommend to follow a more pragmatic "empirical Bayes" route and to use the data at hand (or some other related data set) to obtain an informed guess about the prior heights. For example, an assumed constant population size as prior mean could be estimated using the method by Felsenstein [13]. Another possibility is to employ the skyline plot as a prior mean estimate (this is the default in our program).
However, note that in practice the actual choice of prior height distribution seems to matter only little for estimating the posterior demographic function (see Figure 2 and the section on simulated data below). Only when there are few coalescent events per unit of time will the posterior estimate of the demographic function be dominated by the prior.
Construction of the Markov chain
There are four different possibilities to change the state defined by the parameters c i , h i , and k of the spline describing the effective population size N e (t):
1. varying the position of a change-point (i.e. internal node),
2. changing the height at a certain change-point,
3. generating a new change-point ("birth" step), and
4. deleting an existent change-point ("death" step).
Let η k , π k , b k , and d k the probabilities of the four moves given k, with η k + π k + b k + d k = 1. In order to satisfy the requirement of detailed balance in the corresponding Markov chain the probabilities of birth and death steps (b k and d k ) need to be synchronized [18]. This can be achieved, e.g., by setting
and
where c is chosen so that b k + d k < 0.9 for all k.
Next, we describe the individual procedures to propose and accept one of the above four moves as implemented in our program.
Computation of estimated N e (t) and associated confidence intervals
In order to obtain an estimate of the effective population size in time we now proceed as follows. First, the Markov chain is started with an initial state that corresponds to a completely flat demographic function, i.e. N e (t) = c, where c is some rough estimate of population size, and k = 0. Second, 100,000 repeats of the MCMC algorithm are performed, of which the first 5,000 are ignored to allow for a "burn-in" period.
Third, the remaining samples are thinned out by a factor of 1:50 to remove auto-correlation. As a result, 1900 independent samples from the joint posterior of the spline parameters a i , h i and k are obtained.
Subsequently, in order to obtain a point estimate t1, t2,..., t1000 ∈ [0, T]. Finally, we report as summary statistics the corresponding median and the lower and upper 2.5% quantiles.
Extension to multiple genealogies
In this paper we have introduced non-parametric sampling of demographic histories assuming a fixed underlying genealogical tree (or equivalently, a fixed set of inter-node distances w n , wn-1,..., w2.)
However, in our approach – unlike previous non-parametric methods such as the skyline plot – it is also conceptually straightforward to incorporate phylogenetic error.
This can be done by joint sampling of trees and demographies according to the following simple algorithm:
1. Given sequence data D, sample a tree G* with clock-like branch lengths (see, e.g, refs. [8, 9, 11, 12, 26] for suitable methods).
2. Use the method described in this paper to sample the demographic function conditioned on the inter-node distances G*.
3. Repeat steps 1 and 2 to obtain the posterior distribution for the population size function, now conditioned on D rather than on some given w n , wn-1,..., w2.
Note that each sampled tree may have a different depth T] for the prior (and posterior) height distribution has to be set in advance (and independent of the T*). For the case of 0 <t <T* sampling of heights then proceeds as described above, while for T* <t <T – the region with no data from a given sampled tree – the heights are simply drawn from the respective prior distribution.
Discussion
In order to test the potential of the proposed reversible jump MCMC algorithm we first applied it to synthetic data simulated according to various demographic scenarios. Subsequently, we reanalyzed two viral data sets from Central Africa and Egypt.
Conclusions
We have presented a new approach to non-parametric inference of demographic history from an inferred genealogy. This method is based on reversible jump MCMC sampling of the population size function N e (t). Unlike its predecessors, the classic and generalized skyline plots, it returns a smooth and realistic estimate of the demographic history and thus overcomes the constraints due to assuming a step function. Moreover, it automatically provides confidence limits. Nevertheless, the procedure is still computationally fast and can be run on any standard PC hardware.
In our examples we demonstrated the advantage of non-parametric estimation of demographic history. Parametric estimation always assumes a certain functional form of population growth which may lead to problematic statements (cf. the HCV data set), in particular if the confidence bands of the estimated function N e (t) are not taken into account.
From the methodological point of view, model selection via rjMCMC has the advantage that the effective dimension, i.e. the degree of smoothing, is automatically chosen in a data-driven manner. There is only one parameter (λ) that controls the a priori degree of smoothing, and this is adjusted accordingly by the investigated data. In addition, a further advantage of our MCMC approach is that – in contrast to the skyline plot – at least in principle it is straightforward to incorporate it in more general MCMC sampling schemes that also take account of the uncertainty in the genealogy.
During the referee process we have learned that the authors of the software package BEAST [27] have developed a similar non-parametric method to Bayesian coalescent inference of population history (A.J. Drummond et al., in preparation). We plan to work with Dr. Drummond to make available in BEAST joint sampling of sampling of demographic histories and of trees. This would combine the present rjMCMC approach and the method developed by Drummond and colleagues.
Declarations
Acknowledgements
We are grateful for financial support from the Deutsche Forschungsgemeinschaft (DFG) in the Emmy Noether program (R.O. and K.S.) and from the SFB 386 (L.F). We thank G??nter Ra??er and Leonhard Held for valuable comments and discussion and Juliane Sch??fer for critical reading of the manuscript.
Authors' Affiliations
(1)
Department of Statistics, University of Munich, Ludwigstr. 33, Germany
Copyright
© Opgen-Rhein et al; licensee BioMed Central Ltd. 2005
This article is published under license to BioMed Central Ltd. This is an Open Access article distributed under the terms of the Creative Commons Attribution License (http://creativecommons.org/licenses/by/2.0), which permits unrestricted use, distribution, and reproduction in any medium, provided the original work is properly cited.