Research article

Open Access
Implications of molecular characters for the phylogeny of the Microbotryaceae (Basidiomycota: Urediniomycetes)
BMC Evolutionary Biology
2006
6:35
Received: 07 November 2005
Accepted: 25 April 2006
Published: 25 April 2006
Abstract
Background
Anther smuts of the basidiomycetous genus Microbotryum on Caryophyllaceae are important model organisms for many biological disciplines. Members of Microbotryum are most commonly found parasitizing the anthers of host plants in the family Caryophyllaceae, however they can also be found on the anthers of members of the Dipsacaceae, Lamiaceae, Lentibulariaceae, and Portulacaceae. Additionally, some members of Microbotryum can be found infecting other organs of mainly Polygonaceae hosts. Based on ITS nrDNA sequences of members of almost all genera in Microbotryaceae, this study aims to resolve the phylogeny of the anther smuts and their relationship to the other members of the family of plant parasites. A multiple analysis strategy was used to correct for the effects of different equally possible ITS sequence alignments on the phylogenetic outcome, which appears to have been neglected in previous studies.
Results
The genera of Microbotryaceae were not clearly resolved, but alignment-independent moderate bootstrap support was achieved for a clade containing the majority of the Microbotryum species. The anther parasites appeared in two different well-supported lineages whose interrelationship remained unresolved. Whereas bootstrap support values for some clades were highly vulnerable to alignment conditions, other clades were more robustly supported. The differences in support between the different alignments were much larger than between the phylogenetic optimality criteria applied (maximum parsimony and maximum likelihood).
Conclusion
The study confirmed, based on a larger dataset than previous work, that the anther smuts on Caryophyllaceae are monophyletic and that there exists a native North American group that diverged from the European clade before the radiation of the European species. Also a second group of anther smuts was revealed, containing parasites on Dipsacaceae, Lamiaceae, and Lentibulariaceae. At least the majority of the parasites of Asteraceae appeared as a monophylum, but delimitations of some species in this group should be reconsidered. Parasitism on Polygonaceae is likely to be the ancestral state for the Microbotryaceae on Eudicot hosts.
Keywords
Internal Transcribe Spacer
Maximum Parsimony
Smut Fungus
Alignment Condition
Monophyletic Lineage
Background
The genera of Microbotryaceae
Anther smuts of the genus Microbotryum that parasitise members of the Caryophyllaceae are well-established model organisms. They have been subject to research in different areas, i.e. genetics (e.g. [1]), population analysis (e.g. [2]), phylogenetics (e.g. [3]), host-parasite evolution [4], and ecology [5]. The sorus formation of smuts in the anthers of the hosts is an interesting constellation that has been discussed in the context of pollination. Lateral transmission of the parasite by the pollinator is thought to have a significant effect on the evolutionary history of the genus and its distribution on different hosts [5]. There are ten recognized species of caryophyllaceous anther smuts [6, 7], but the species concept in this group is discussed quite controversially. Some authors define at least some species as formae speciales of Microbotryum violaceum (Pers.) G. Deml & Oberw. [3, 8–10]. In contrast, Liro [11], based on infection experiments and field observations, already separated Ustilago violacea (Pers.) Roussel (i.e. Microbotryum violaceum) into several species. Molecular studies also indicate genetical isolation of lineages parasitising different host plants [7, 10] or occurring in different geographical regions [3]. Against this background, it is desirable to further our understanding of this group. Furthermore, it is noteworthy that the caryophyllaceous anther smuts are only a minor group in Microbotryum.
On the basis of ultrastructural features, the Microbotryaceae are defined as phytoparasitic Basidiomycota that have transversely septate basidia with multiple production of sessile basidiospores and intercellular hyphae but no haustoria [12]. The Microbotryaceae are separated from their sister family, the Ustilentylomataceae, by having hyphae with poreless septa at maturity [12]. For an extensive historical overview of Microbotryum see [6]. Vánky [6] revised Microbotryum, and, based on spore mass colour, transferred most of the Ustilago species that parasitise eudicotyledonous plants to Microbotryum. Later, new species were added [7, 13, 14], and Microbotryum now contains 77 species. Even though the caryophyllaceous anther smuts are the best-known members of the genus, most species are parasites on Polygonaceae. Hosts are also described in the Asteraceae, Dipsacaceae, Gentianaceae, Lamiaceae, Lentibulariaceae, and Onagraceae. The formation of sori is not restricted to anthers, but there is sorus formation in seeds, whole flowers, pedicels, stems, and leaves.
Next to Microbotryum the Microbotryaceae contain Bauerago Vánky, Liroa Cif., Sphacelotheca de Bary, and Zundeliomyces Vánky [15]. So far, no hypotheses have been formulated about how these genera might be related to each other. Sphacelotheca is distinct from Microbotryum by forming appendices between spores, the so-called disjunctors, and by the presence of a columella and a peridium in the sori [16, 17]. Liroa forms tumours on its host plants including an apical lunular bed of spore masses [16–19]. Bauerago is characterized by its parasitism on Cyperaceae and Juncaceae, the presence of a peridium and the lack of a columella [20].
In order to obtain hypotheses about the phylogenetic relationships of the main groups in the Microbotryaceae, we performed molecular phylogenetic analyses based on nuclear internal transcribed spacer (ITS) sequences. Besides Microbotryum, specimens of Bauerago, Liroa, and Sphacelotheca were included in our analyses. Thus, with the exception of the monotypic genus Zundeliomyces, specimens of which were unavailable to us, all genera in Microbotryaceae were considered. Representative members of Ustilentylomataceae were included for rooting the phylogenetic trees [15].
Internal transcribed spacer sequences as a molecular marker for smut fungi
The ITS region of the nuclear rDNA has already been used in many studies to resolve phylogenetic relationships within the fungal kingdom. For smut fungi, the ITS has been proven to sufficiently resolve genera, e.g., Entyloma [21], Tilletia [22], and Ustilago/Sporisorium [23]. ITS sequences have been used to infer phylogenies of Microbotryum and Sphacelotheca [7, 24], and Freeman et al. [3] demonstrated that the topologies of phylogenetic trees of M. violaceum s.l. inferred from ITS data showed no strongly supported inconsistencies to trees inferred from β- and γ-Tubulin. The partition homogeneity test [25] conducted by these authors indicated significant conflict between the partitions, but they discussed the possibility that the partition homogeneity test could be too conservative. Furthermore, the partition homogeneity test has been criticised in general (see [26] and references therein). Based on these studies, it seemed promising to use ITS data to try to answer phylogenetic questions inside the Microbotryaceae.
However, aligning non-coding sequences like ITS may be much more difficult than using protein-coding DNA fragments which are structured by reading frames and have most variability concentrated at third base positions within codons [27]. As Morrison and Ellis [28] have demonstrated, the effects of different underlying DNA sequence alignments on phylogenetic tree reconstruction may be even greater than the effect of the different tree-building methods (e.g., maximum parsimony, maximum likelihood, and distance methods). Tree topologies and branch support inferred from these alignments may be influenced by guide tree topology [29] or input order of sequences [27, 30] as well as parameters like the ratios of gap costs to transition/transversions costs [31] used for aligning.
To cope with these problems, one possibility is to exclude the most ambiguously aligned characters before conducting phylogenetic analysis. Gatesy et al. [32] pointed to the advantage of doing this in a reproducible manner. These authors advocated running an alignment program under several parameter combinations and to use only those positions that were consistently revealed under all combinations tested. Excluding alignment-ambiguous regions, however, does not take into account that different possible alignment solutions do not necessarily imply different topologies [33] or support values. An approach based on the generation of a number of alignments by the same algorithm but under different parameter combinations was called "multiple analysis method" by Lee [33]. Here, trees are inferred separately from the respective alignments and only relationships appearing in all (or most) of the trees are accepted (see also [34]). Another possibility would be to use different alignment algorithms under default values, respectively, as did Morrison and Ellis [28]. In addition to the exclusion of ambiguous regions in a reproducible manner we also followed the latter approach and computed trees from three largely different alignments of the same dataset without excluding ambiguous positions. Combining these approaches should reveal whether clade support is based on alignment-ambiguous regions, and, if so, whether it is dependent on how these regions are aligned.
Results
DNA alignments
The alignment obtained with MAFFT had a total length of 811 bp. After the exclusion of positions with too many leading or trailing gaps, 738 bp remained, 411 of which were variable and 286 of which were parsimony-informative. The corresponding numbers were 817, 744, 381, and 293 for the PCMA alignment and 850, 749, 370 and 287 for the POA alignment respectively. Considerable parts of the ITS were not identically aligned between these three approaches, including a very long alignment-ambiguous part of the ITS1 and two shorter alignment-ambiguous parts of the ITS2. These alignment ambiguities are also illustrated by the DIALIGN alignment in which 406 of a total of 910 columns had a quality score of only 0 or 1 and were excluded from further analyses. From the remaining 504 positions, 181 were variable and 124 were parsimony-informative.
Maximum parsimony
Heuristic maximum parsimony analysis of the concatenated dataset yielded 1780 most parsimonious trees of length 3665. The consistency index of these was 0.513 (0.4963 when uninformative characters were excluded) and the retention index [
35
] 0.813. Minimum length trees were found in 73 of the 200 replicates. The strict consensus of these most parsimonious trees is shown in Fig.
1
together with bootstrap values obtained by three separate parsimony bootstrap analyses of the MAFFT, PCMA, and POA alignments, respectively. Additionally, maximum parsimony bootstrap values from the reduced dataset obtained by excluding alignment-ambiguous regions are indicated.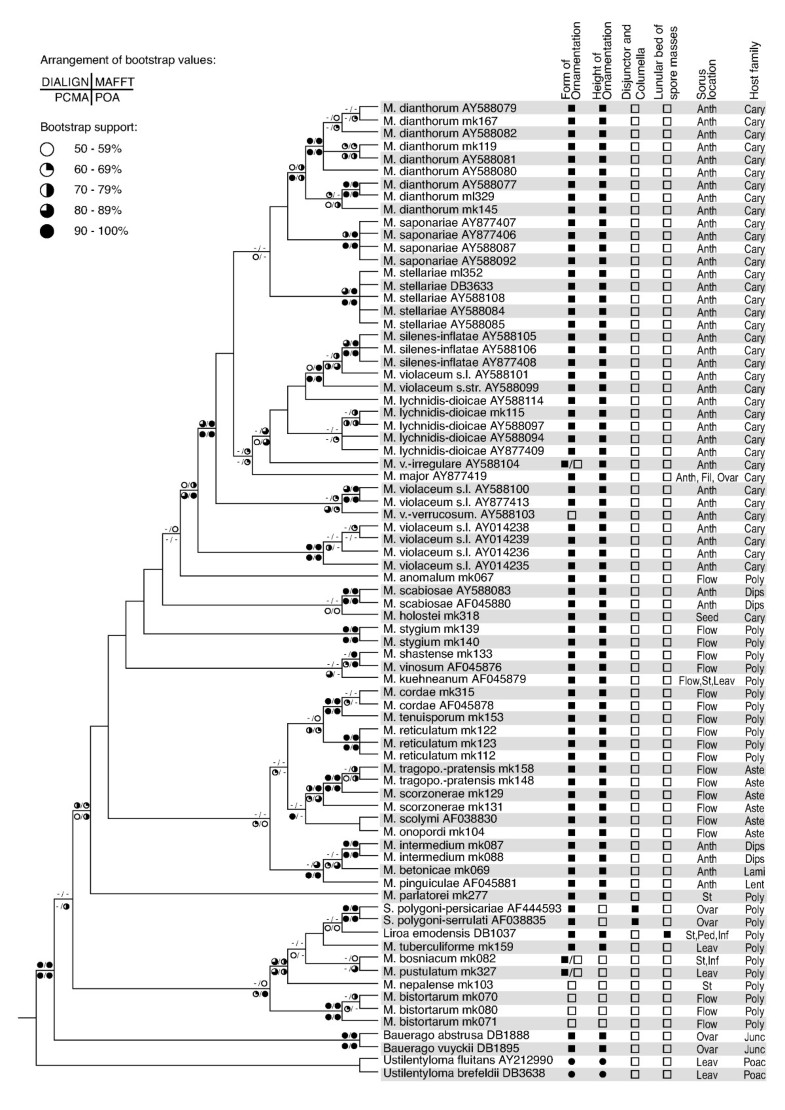 For discussion purposes, we separated the taxa into four distinct informal groups (
Bauerago
group and
Microbotryum
groups I, II, and III; compare Fig.
2
). Three of these groups appeared as monophyletic in the analyses, although only two of them were moderately to highly supported as a natural grouping. Group II did not appear as a monophylum, but formed a paraphyletic clade.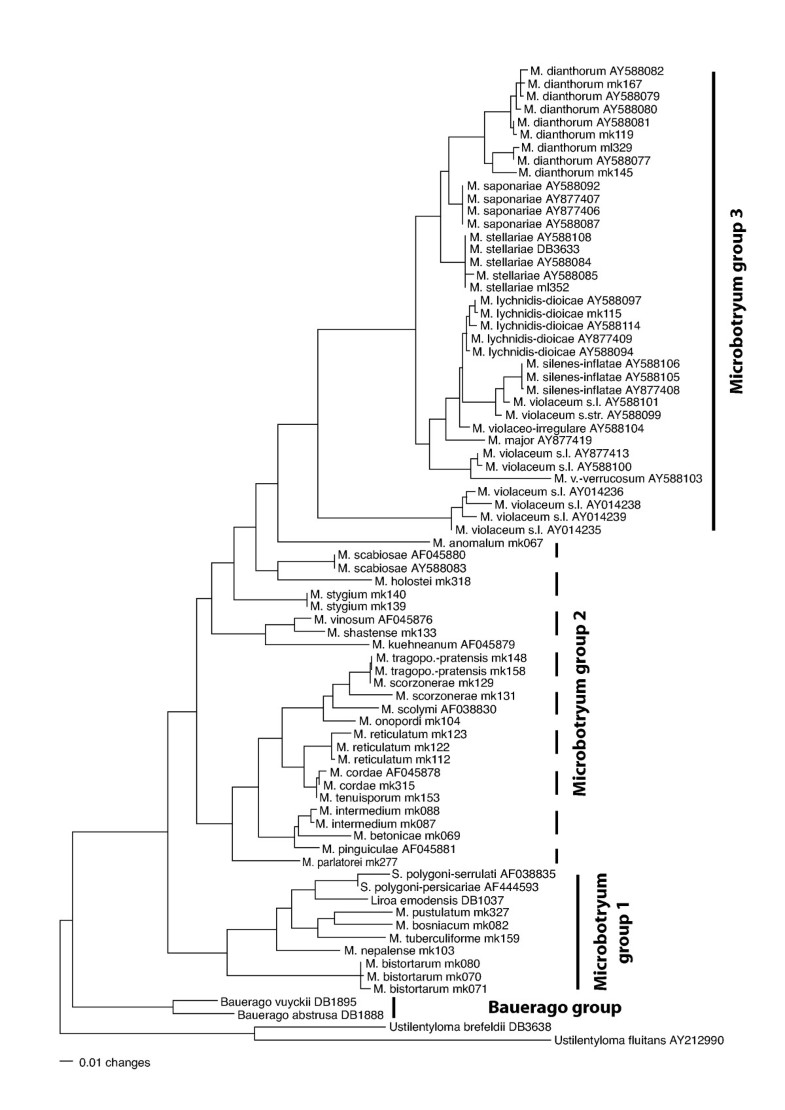 Within the ingroup, the two sampled Bauerago species, B. abstrusa on Juncus sp. and B. vuyckii on Luzula sp. separated basally in the strict consensus, forming a monophyletic group ("Bauerago group") with bootstrap values of 99–100% in all alignments. The position of this clade in the tree, however, received bootstrap support only in the POA alignment (79%). If alignment-ambiguous regions were excluded, there was 61% support for an alternative arrangement (not shown).
The Microbotryum I group contained M. bistortarum, M. bosniacum, M. nepalense, M. pustulatum, and M. tuberculiforme as well as the sampled Sphacelotheca specimens and the monotypic genus Liroa. Support for the group seemed to be especially vulnerable to alignment conditions, ranging from 57% (MAFFT) to 91% (POA). Microbotryum group I was unsupported if alignment-ambiguous regions were excluded. There was again 61% support for an arrangement indicating that M. bistortarum does not belong to group I (not shown). In the strict consensus inferred from the three concatenated alignments, M. bistortarum separated basally within Microbotryum group I, its different specimens forming a monophyletic group with support values of 100%.
The following two groups, the apparently paraphyletic Microbotryum group II and the apparently monophyletic Microbotryum group III, clustered together. This sister-group relationship was weakly to moderately (59–73%) supported under all alignment conditions. Likewise, it received 71% bootstrap support after exclusion of low-quality alignment columns.
Microbotryum group II appeared as paraphyletic, although without support, and contained parasites of a broad range of host families including Polygonaceae, Asteraceae, Dipsacaceae, Lentibulariaceae, and Lamiaceae. M. intermedium on Scabiosa formed a monophyletic group, unsupported if alignment-ambiguous columns were excluded but supported by bootstrap values ranging from 88% (MAFFT) to 99% (POA), otherwise, together with M. pinguiculae and M. betonicae, parasites in the flowers of Lentibulariaceae and Lamiaceae, respectively. The parasites of members of Asteraceae, M. tragoponis-pratensis, M. scorzonerae, M. onopordi, and M. scolymi formed a monophyletic group in strict consensus. However, strong (97%) support for this clade was only revealed with the PCMA alignment. The clade was unsupported under the other alignment conditions and also if alignment-ambiguous regions were excluded. There was, however, strong (97–100%) support under all alignment conditions for the hypothesis that M. scorzonerae on Scorzonera hispanica is more closely related to M. tragopogonis-pratensis than to M. scorzonerae on Scorzonera humilis.
M. anomalum, a smut parasitising the flowers of Fallopia aubertii (Polygonaceae), was revealed as the sister group of the caryophyllaceous anther smuts (i.e., Microbotryum group III) but with only weak support with the MAFFT alignment (57%) and no support in the other analyses. A seed parasite of Holosteum umbellatum (Caryophyllaceae), M. holostei, was also situated in Microbotryum group II. However, it seems not to be directly related to the anther smuts of Caryophyllaceae since it formed a monophyletic lineage with specimens of M. scabiosae, anther smuts on the genus Knautia (Dipsacaceae). Yet the support for this relationship was low.
M. stygium, which parasitises the flowers of Rumex acetosa clustered together with the aforementioned three species and with Microbotryum group III, but with no support for its placement. The sister-group relationship of M. shastense and M. vinosum both of which appear in flowers of Polygonaceae was unsupported by alignment-stable regions but received moderate to strong (69–100%) support from analyses of the three complete alignments, respectively.
Microbotryum group III represents the anther smuts of Caryophyllaceae, which formed a monophyletic clade. This clade was hardly supported (57%) after exclusion of alignment-ambiguous columns, but received moderate to strong support (79–90%) from analysis of the three complete alignments, respectively. Among the species described to subdivide M. violaceum s.l., M. dianthorum got moderate to strong support (74–92%) from all three complete alignments. Bootstrap support for M. stellariae ranged from 99 to 100%. The recently described M. saponariae was also strongly supported by bootstrap values of 97–100%. These support values were lower if alignment-ambiguous regions were excluded. Relationships between these anther-inhabiting species were generally less well resolved.
Maximum likelihood
The substitution models selected by the AICc were TrN+I+G for each of the three complete alignments, respectively, and GTR+I+G for the DIALIGN alignment after exclusion of low quality columns. The tree inferred with PhyML under the best model from the PCMA alignment is shown in Fig.
2
. The majority-rule consensus including compatible groupings of the likelihood trees obtained from each of the three complete alignments, respectively, is shown in Fig.
3
together with bootstrap values obtained by separate likelihood bootstrap analyses of the alignments. Additionally, likelihood bootstrap values from the reduced dataset obtained by excluding alignment-ambiguous regions are indicated. In general, support values from likelihood analyses were very similar to the bootstrap results obtained under maximum parsimony and will not be discussed in detail here. The differences in support between the different alignments were much larger than between likelihood and parsimony.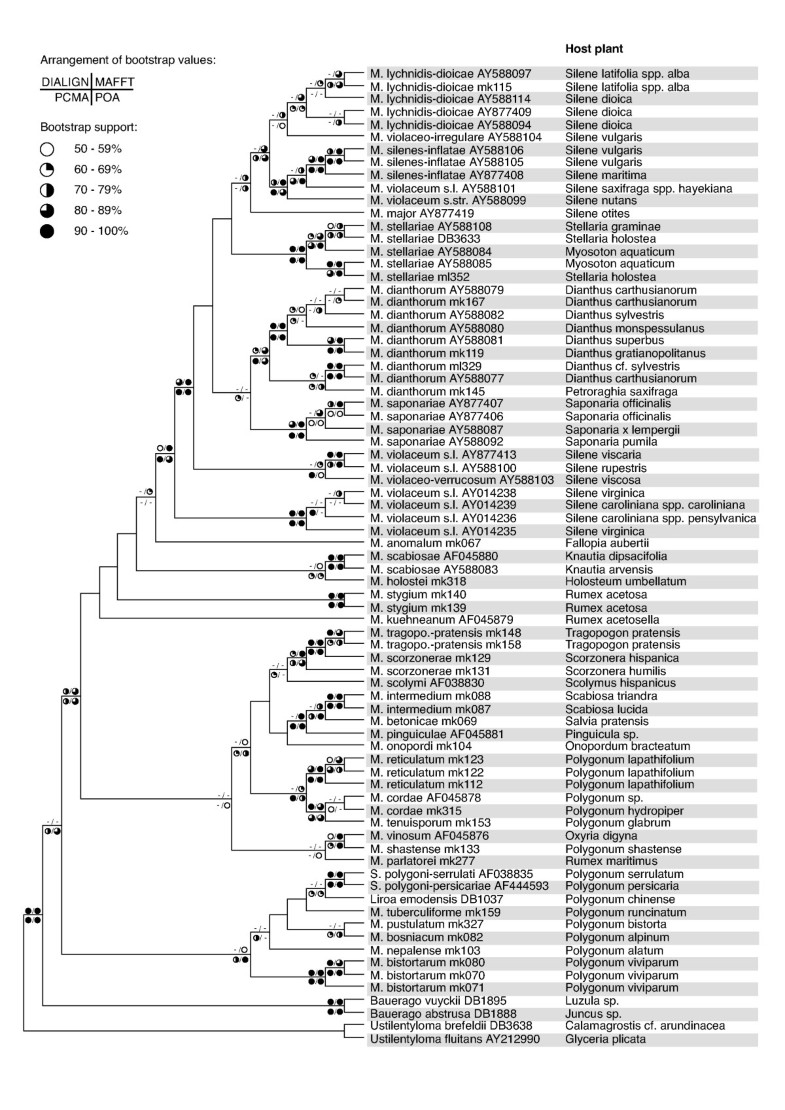 Conclusion
In this study we have used data derived from nuclear ITS and a multiple analysis approach to sequence alignment to address phylogenetic questions in the parasitic fungal family Microbotryaceae. As our analyses confirm the studies of other authors that branch support values for some clades are highly dependent on the alignment approach used, we conclude that more attention should be given to alignment construction in phylogenetic analyses in general. Other clades are robustly supported throughout the alignment space, indicating that the exclusion of ambiguously-aligned regions can lead to a loss of phylogenetically valuable information. Some evidence is presented that the genus Microbotryum is paraphyletic, as some Microbotryum species form a group with the genera Liroa and Sphacelotheca, even though support values for this hypothesis are vulnerable to alignment conditions. As the pathogens on Polygonaceae appear to be paraphyletic, we conclude that parasitism on this family forms the ancestral state and parasitism on other plant families is derived. The data also indicate that sorus formation in the reproductive organs of the host is not the derived state but might have been present already in the ancestor of Microbotryaceae. Based on a larger dataset as in previous studies, we could confirm the monophyly of the caryophyllaceous anther smuts and that there exists a group of North American anther smuts on native hosts that is clearly separated from the European clade. Furthermore, the analyses revealed a second clade of anther smuts, containing parasites on Dipsacaceae, Lamiaceae, and Lentibulariaceae, yet, it remains unresolved how the two groups of anther smuts are related to each other. The parasites on Asteraceae form a monophyletic group, although without support.
Declarations
Acknowledgements
We would like to thank Matthias Hendrichs and Mechthilde Mennicken for providing specimens; Matthias Lutz for providing specimens and sample DNA and critically reading the manuscript; Uwe Simon for critically reading the manuscript; Adam Schuner for help with the language. Two anonymous reviewers for helpful comments. DFG for financial support.
Authors' Affiliations
(1)
Lehrstuhl für Spezielle Botanik und Mykologie, Botanisches Institut, Universität Tübingen, Tübingen, Germany
Copyright
© Kemler et al; licensee BioMed Central Ltd. 2006
This article is published under license to BioMed Central Ltd. This is an Open Access article distributed under the terms of the Creative Commons Attribution License (http://creativecommons.org/licenses/by/2.0), which permits unrestricted use, distribution, and reproduction in any medium, provided the original work is properly cited.