Research article

Open Access
Quantitative analysis of changes in movement behaviour within and outside habitat in a specialist butterfly
BMC Evolutionary Biology
2007
7:4
Received: 03 August 2006
Accepted: 22 January 2007
Published: 22 January 2007
Abstract
Background
Dispersal between habitat patches is a key process in the functioning of (meta)populations. As distance between suitable habitats increases, the ongoing process of habitat fragmentation is expected to generate strong selection pressures on movement behaviour. This leads to an increase or decrease of dispersal according to its cost relative to landscape structure. To limit the cost of dispersal in an increasingly hostile matrix, we predict that organisms would adopt special dispersal behaviour between habitats, which are different from movements associated with resource searching in suitable habitats.
Results
Here we quantified the movement behaviour of the bog fritillary butterfly (Proclossiana eunomia) by (1) assessing perceptual range, the distance to which the habitat can be perceived, and (2) tracking and parameterizing movement behaviour within and outside habitat (parameters were move length and turning angles distributions). Results are three-fold. (1) Perceptual range was < 30 m. (2) Movements were significantly straighter in the matrix than within the habitat. (3) Correlated random walk adequately described movement behaviour for 70% of the observed movement paths within habitat and in the matrix.
Conclusion
The perceptual range being lower than the distance between habitat patches in the study area, P. eunomia likely perceives these habitat networks as fragmented, and must locate suitable habitats while dispersing across the landscape matrix. Such a constraint means that dispersal entails costs, and that selection pressure should favour behaviours that limit these costs. Indeed, our finding that dispersal movements in the matrix are straighter than resource searching movements within habitat supports the prediction of simulation studies that adopting straight movements for dispersal reduces its costs in fragmented landscapes. Our results support the mounting evidence that dispersal in fragmented landscapes evolved towards the use of specific movement behaviour, different from explorative searching movements within habitat.
Keywords
Suitable Habitat
Habitat Patch
Movement Behaviour
Fragmented Landscape
Turning Angle
Background
Dispersal, the movement of organisms between spatial units of habitat, is an essential life-history trait shaping the characteristic texture of populations, communities and ecosystems in space and time. Despite the numerous books and papers on the subject ([1–6] among several others), dispersal remains one of the least understood factors in evolutionary biology, especially the behavioural mechanisms that underlie this complex phenomenon [7].
Dispersal has been defined as a three-stage process: (1) emigration (crossing habitat boundaries), (2) travelling through a more or less hostile landscape matrix, and (3) immigration (settlement in a new habitat) [8]. When the degree of habitat fragmentation increases, the distances to be covered through the landscape increase as well, which may result in dispersal-related deferred costs (i.e. lower fitness of immigrants due to loss of time and energy during travel in the matrix) or even mortality (e.g. [9, 10]). Hence, we may predict that behavioural responses have evolved to limit costs and risks of dispersal. Indeed, empirical studies show that organisms are more reluctant to cross the border of the habitat (i.e. where they find resources to complete their life cycle) in fragmented landscapes (e.g. [11, 12]). This was particularly clear in our study species, the bog fritillary butterfly (Proclossiana eunomia), a habitat specialist species restricted to unfertilized alluvial wet meadows and peat bogs [13, 14]. This behavioural response affects the first stage of dispersal, i.e. emigration.
Changes in behaviour during travel in the matrix, the second stage of dispersal, can be another adaptive answer to reduce the cost of dispersal. We recently suggested that dispersal can be realized in two ways: as a by-product of routine movements associated with resource exploitation (like foraging or mate-searching) with high levels of returning, or as special, fast and directed movements designed for net displacement [7]. We also predict that the latter, directed flight behaviour should occur more frequently in fragmented landscapes as it allows maximizing the probability to end up in another unit of habitat by limiting travelling time across the landscape matrix (e.g. [13, 15, 16]). A simulation model [17] predicts that evolution towards straighter movement paths is to be expected both when (1) dispersing individuals travel through a more hostile landscape and (2) inter-habitat distances increase. Several empirical studies show variation in dispersal behaviour relative to landscape structure (e.g. [18–27]). Most of those studies investigated dispersal in the landscape without reference to movement behaviour within the habitat (but see [28]) and there are only few quantitative analyses.
In this paper, we test for differences between movement behaviour within habitat and outside habitat (i.e. in the matrix) in two habitat networks of southern Belgium (Figure
1
), one largely fragmented (denoted FRAG), the other more aggregated (denoted AGGREG). Assuming that specialist butterflies perceive their environment as fragmented (i.e. individuals are not able to perceive other suitable habitat patches when they leave their current patch), we hypothesize that dispersal movements in the matrix are relatively straight whereas search movements when foraging within habitat are rather tortuous. Habitat fragmentation in the study area occurred since > 50 years or butterfly generations [
29
]. Such a time frame allows evolutionary changes to habitat fragmentation in flying insects [
30
].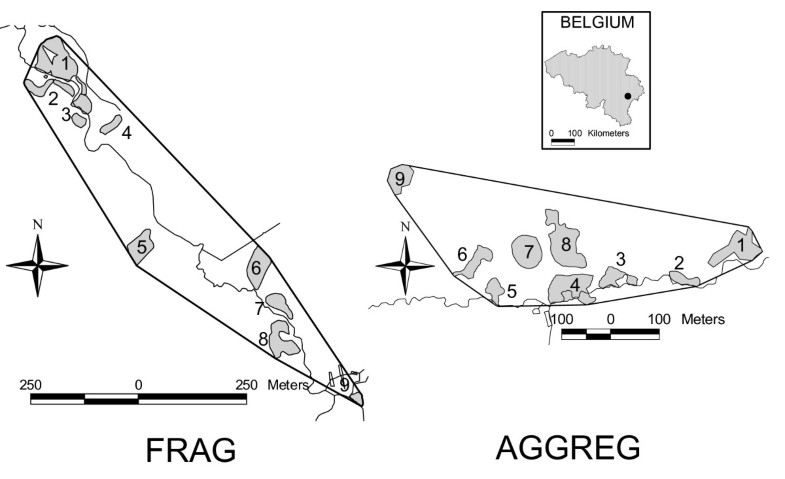 Experimental evidence indicates that butterflies respond to visual and/or olfactory cues to locate landscape elements and to detect suitable habitat [31]. We first quantified the distance component of the perceptual range (i.e. the distance at which the habitat is detected: [32, 33]) to test the assumption that the study landscapes were perceived as fragmented by P. eunomia butterflies. Next, we recorded movement paths of butterflies in the matrix and compared movement parameters to those previously recorded within habitat [14], to test our prediction that movements are straighter in the matrix. Finally, we assessed whether movement behaviour in the matrix may be adequately described by a correlated random walk. This would allow the use of simulation models of movement to predict dispersal at the metapopulation level.
Results
Perceptual range
We measured perceptual range by assessing the maximum distance at which butterflies could orientate towards the habitat when released in the matrix (i.e. outside suitable habitat).
P. eunomia
adults (both males and females) showed a highly significant response to return into the habitat patch when released at 15 m of the patch. This response completely vanished at wider distance: at 30 and 60 m of the patch they flew at random in all directions (Figure
2
). Perceptual range of
P. eunomia
was therefore estimated to be below 30 m.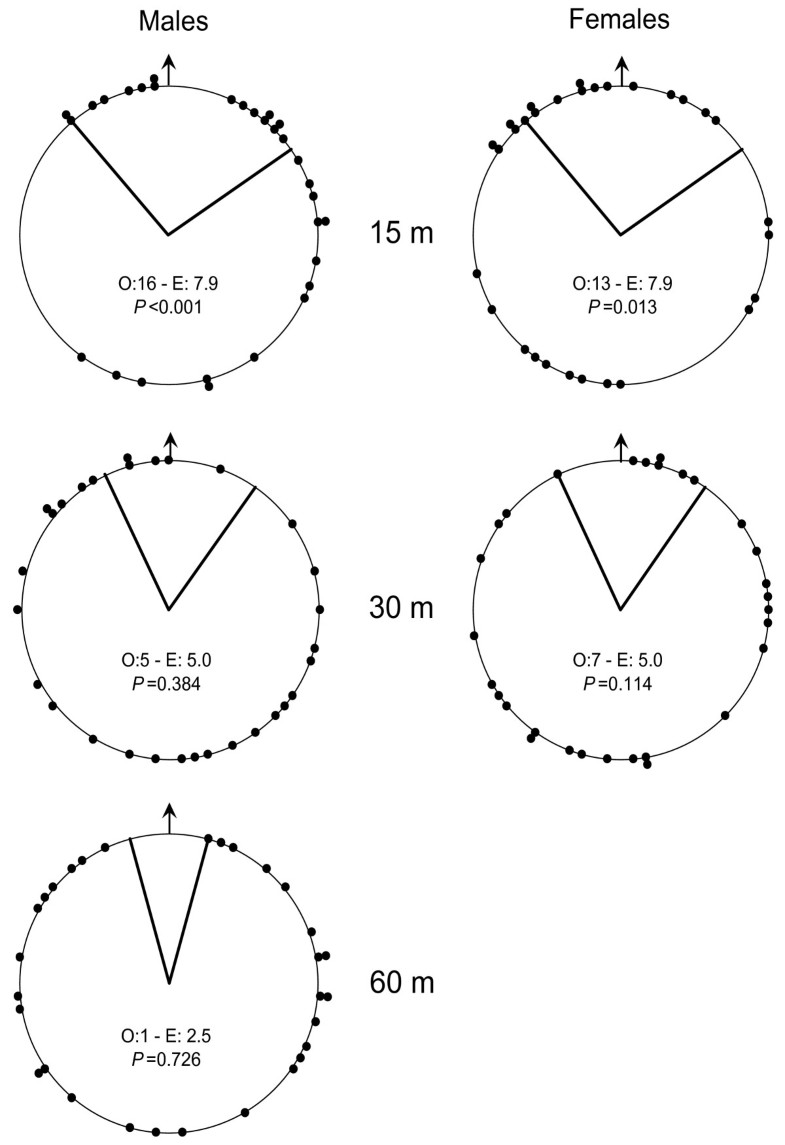 Movement behaviour
Adults were tracked individually to record movement paths. Every stop or turn was marked by a numbered flag, and coordinates mapped by triangulation. Movements were approximated as sequences of straight lines moves and turning angles (Figure
3
). In the habitat (data published in [
14
]), we recorded 17 female paths (223 positions) in FRAG and 36 female paths (524 positions) in AGGREG. In the matrix (new data collected for the present study), we recorded 42 male paths (625 positions) in FRAG, 15 male paths (117 positions) and 15 female paths (155 positions) in AGGREG. Differences in numbers mainly reflect different weather conditions affecting sampling opportunities via their effect on butterfly abundance (highly variable from year to year: [
34
]) and responsible for tracking interruptions.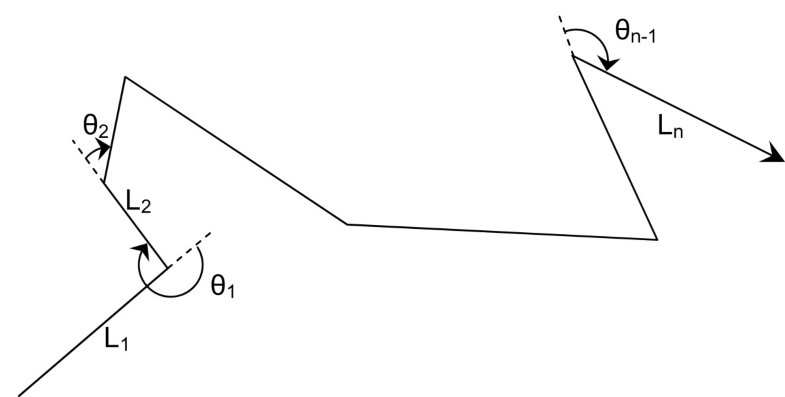 Movement parameters in habitat and matrix
Whatever the habitat type and the landscape, movement parameters fit the same distribution: a lognormal distribution for move length (Figure
4
, Table
1
), with frequent short and rare long moves between successive stops/turns, and a symmetrical around zero von Mises distribution for turning angle (Figure
5
, Table
2
): butterflies did not show a preference for left or right turns and made more often small than large turns.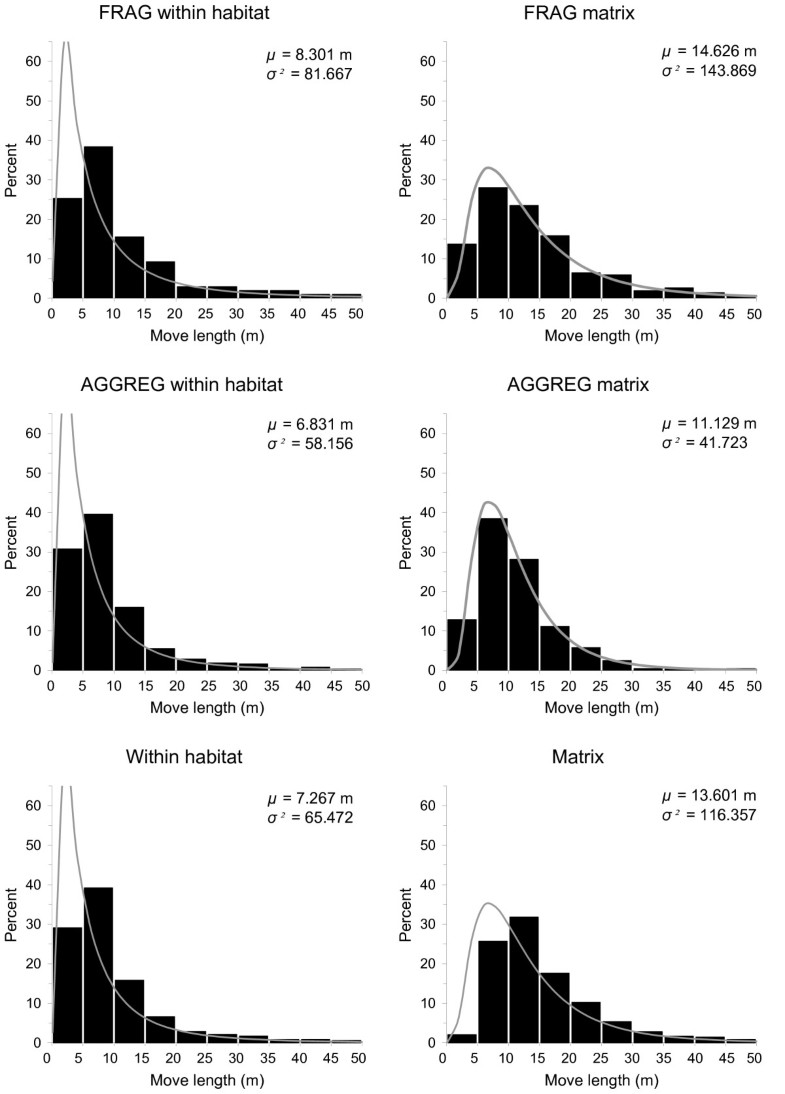 Table 1
Statistical tests of differences in move length (log-transformed) for habitat vs matrix and FRAG vs AGGREG.
Test 1: Goodness-of-fit for lognormal distribution: D (P)

FRAG

AGGREG

Pooled

Habitat

0.050 (> 0.150)

0.018 (> 0.150)

0.023 (> 0.150)

Matrix

0.024 (> 0.150)

0.056 (0.067)

0.029 (0.087)

Test 2: Equality of means μ: 2-way ANOVA

Factor

F 1;1515

P

Habitat type

295.33

< 0.0001

Landscape

10.04

0.002

Interaction

0.17

0.677

Test 3: Equality of variances σ 2 : Bartlett: χ12 (P)

FRAG

AGGREG

Pooled

Habitat

3.061 (0.080)

129.900 (< 0.0001)

Matrix

16.928 (< 0.0001)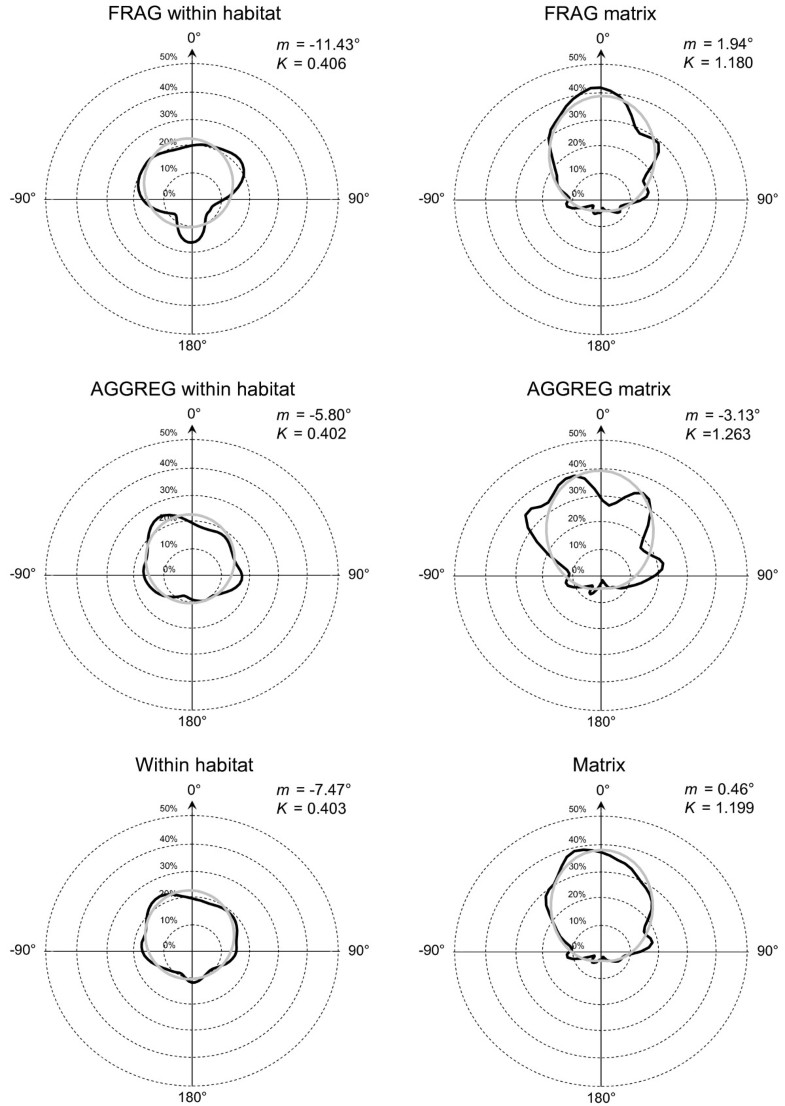 Table 2
Statistical tests of differences in turning angle for habitat vs matrix and FRAG vs AGGREG.
Test I: Uniform vs unimodal distribution with mean m = 0: R (P)

FRAG

AGGREG

Pooled

Habitat

0.195 (0.0002)

0.196 (< 0.0001)

0.196 (< 0.0001)

Matrix

0.509 (< 0.0001)

0.533 (< 0.0001)

0.516 (< 0.0001)

Test II: Symmetrical distribution around 0: W+ (P)

FRAG

AGGREG

Pooled

Habitat

-0.207 (0.836)

1.442 (0.149)

1.009 (0.313)

Matrix

0.295 (0.768)

0.900 (0.368)

0.797 (0.425)

Test III: Goodness-of-fit for von Mises distribution: U2 (P)

FRAG

AGGREG

Pooled

Habitat

0.045 (0.200)

0.056 (0.100)

0.039 (0.300)

Matrix

0.032 (> 0.500)

0.094 (0.035)

0.036 (> 0.500)

Test IV: von Mises mean m = 0: E n (P)

FRAG

AGGREG

Pooled

Habitat

-0.775 (0.438)

-0.605 (0.545)

-0.929 (0.353)

Matrix

0.609 (0.542)

-0.652 (0.514)

0.174 (0.862)

Test V: Equality of von Mises concentrations K: f r (P)

FRAG

AGGREG

Pooled

Habitat

0.127 (0.722)

10.821 (< 0.0001)

Matrix

0.132 (0.725)
Moves were on average twice as long in the matrix as in the habitat (Figure
4
, Table
1
). They were similar for FRAG and AGGREG within habitat, but slightly longer and more variable in FRAG matrix than in AGGREG matrix. More importantly, there was an obvious difference of path linearity between matrix and habitat: (1) the concentration parameter
K
was much higher in the matrix while nearly absolutely identical in the two networks (Figure
5
, Table
2
); (2) the fractal dimension was lower in the matrix while here again nearly identical in FRAG and AGGREG (Table
3
); and (3) for a given number of moves, the net displacement was larger in the matrix (Figure
6
).
Table 3
Statistical tests of differences in fractal dimension for habitat vs matrix and FRAG vs AGGREG.
| | FRAG | AGGREG | Pooled |
| --- | --- | --- | --- |
| Habitat | 1.2641 (1.2318–1.2965) | 1.2882 (1.2343–1.3422) | 1.2805 (1.2431–1.3180) |
| Matrix | 1.1525 (1.1318–1.1732) | 1.1576 (1.1346–1.1806) | 1.1546 (1.1396–1.1696) |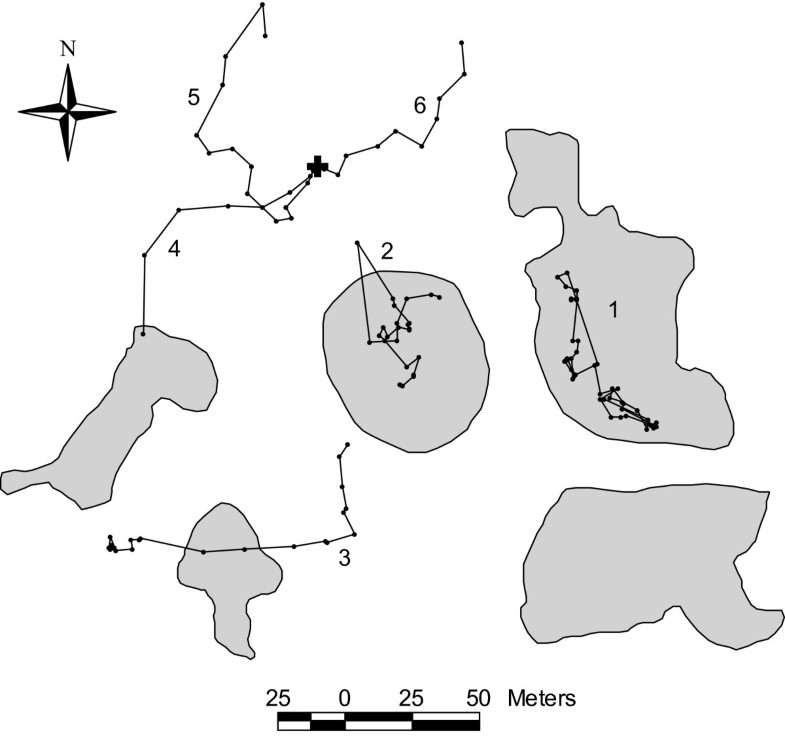 Goodness-of-fit to correlated random walk
There were no differences in the frequency of departures from Correlated Random Walk (CRW) between FRAG and AGGREG, nor between habitat and matrix (Fisher's exact test all P > 0.05). Overall, the majority of the paths (around 70% in both habitat types) were well described by CRW, only 3% (4/125, 1 in habitat and 3 in matrix) are underpredicted by CRW (too straight movements), 26% (32/125, 16 in habitat and 16 in matrix) overpredicted by CRW (returns towards a previously visited area, mainly due to the existence of some boundaries to dispersal, like tree lines). CRW is an adequate description of movement paths both within and outside habitat; differences in linearity are achieved by distributions of move length and turning angle differing between habitat and matrix.
Discussion
Our results support four main conclusions. (1) The perceptual range of P. eunomia is relatively low. Hence, it confirms the assumption that butterflies perceived both habitat networks as fragmented. (2) The behavioural nature of movements differs significantly between habitat and matrix: butterflies were found to fly straighter (longer distances, smaller turns) in the matrix (Figure 6). (3) Movements differed between FRAG and AGGREG landscapes in the matrix, but not within habitat. (4) Movement behaviour can be adequately modelled by a correlated random walk (CRW), both within habitat and in the matrix.
Conclusion
Dispersing individuals suffer costs from mortality, or fitness depletion due to a loss of time and energy on the way between habitats. Those costs are expected to shape adaptive answers on dispersal behaviours in highly fragmented landscapes where distance between suitable habitats increases. We showed previously that dispersal propensity, i.e. the probability that an individual decided to cross habitat boundaries to engage the dispersal process, decreased according to the fragmentation level of the landscape. This was proved to be associated with an increase in the mortality risk associated to dispersal. Here we show that dispersal in two fragmented landscapes was achieved by special directed movements significantly straighter and longer than those movements that are associated with resource searching within habitat. We showed previously that even if the overall dispersal mortality was higher in fragmented than in continuous landscapes, for a given patch connectivity mortality was lower in more fragmented landscapes [13]. This is likely associated to the use of straighter flight in the matrix, a good strategy to improve dispersal success.
Abbreviations
AGGREG:

aggregated patch network (see methods)
CRW:

Correlated Random Walk
FRAG:

fragmented patch network (see methods)
GOF:

Goodness-of-fit
Declarations
Acknowledgements
Joséfa Bleu, Antoine Hubert and Violette Le Féon took part in data collection. Vilis Nams' VFractal software was used to analyze fractal dimension. NS is Postdoctoral Researcher of the Belgian National Fund for Scientific Research (Chargé de Recherches F.N.R.S.). This work was funded by a grant from the Office of Scientific, Technical and Cultural Affairs (Belgian Federal Government) to MB (contract OSTC-PADD II EV10/16A, 2000–2004 and OSTC-PADD II support action LANDECOL, 2005–2007) and by a grant from UCL to HVD and MB (FSR06 "Behavioural ecology of dispersal"). MB also acknowledges some financial support from the Belgian National Fund for Scientific Research (F.R.F.C. 2.4556.05). Special capture licenses for P. eunomia and site access were provided by the "Ministère de la Région Wallonne". This is contribution BRC108 of the Biodiversity Research Centre at UCL.
Authors' Affiliations
(1)
Biodiversity Research Centre, University of Louvain (UCL), Louvain-la-Neuve, Belgium
(2)
Muséum National d'Histoire Naturelle, Département Ecologie et Gestion de la Biodiversité, UMR CNRS-MNHN 7179, Brunoy, France
Copyright
© Schtickzelle et al; licensee BioMed Central Ltd. 2007
This article is published under license to BioMed Central Ltd. This is an Open Access article distributed under the terms of the Creative Commons Attribution License (http://creativecommons.org/licenses/by/2.0), which permits unrestricted use, distribution, and reproduction in any medium, provided the original work is properly cited.