Nitrogen fixation in eukaryotes – New models for symbiosis
BMC Evolutionary Biology
2007
7:55
Received: 26 September 2006
Accepted: 04 April 2007
Published: 04 April 2007
Abstract
Background
Nitrogen, a component of many bio-molecules, is essential for growth and development of all organisms. Most nitrogen exists in the atmosphere, and utilisation of this source is important as a means of avoiding nitrogen starvation. However, the ability to fix atmospheric nitrogen via the nitrogenase enzyme complex is restricted to some bacteria. Eukaryotic organisms are only able to obtain fixed nitrogen through their symbiotic interactions with nitrogen-fixing prokaryotes. These symbioses involve a variety of host organisms, including animals, plants, fungi and protists.
Results
We have compared the morphological, physiological and molecular characteristics of nitrogen fixing symbiotic associations of bacteria and their diverse hosts. Special features of the interaction, e.g. vertical transmission of symbionts, grade of dependency of partners and physiological modifications have been considered in terms of extent of co-evolution and adaptation. Our findings are that, despite many adaptations enabling a beneficial partnership, most symbioses for molecular nitrogen fixation involve facultative interactions. However, some interactions, among them endosymbioses between cyanobacteria and diatoms, show characteristics that reveal a more obligate status of co-evolution.
Conclusion
Our review emphasises that molecular nitrogen fixation, a driving force for interactions and co-evolution of different species, is a widespread phenomenon involving many different organisms and ecosystems. The diverse grades of symbioses, ranging from loose associations to highly specific intracellular interactions, might themselves reflect the range of potential evolutionary fates for symbiotic partnerships. These include the extreme evolutionary modifications and adaptations that have accompanied the formation of organelles in eukaryotic cells: plastids and mitochondria. However, age and extensive adaptation of plastids and mitochondria complicate the investigation of processes involved in the transition of symbionts to organelles. Extant lineages of symbiotic associations for nitrogen fixation show diverse grades of adaptation and co-evolution, thereby representing different stages of symbiont-host interaction. In particular cyanobacterial associations with protists, like the Rhopalodia gibba-spheroid body symbiosis, could serve as important model systems for the investigation of the complex mechanisms underlying organelle evolution.
Keywords
Arbuscular Mycorrhizal
Nitrogen Fixation
Molecular Nitrogen
Biological Nitrogen Fixation
Bacterial Symbiont
Background
Historically, the phenomenon of symbiosis has been defined as a close and prolonged interaction between two different species [1]. This includes parasitic, mutualistic and commensalistic interactions. However, more modern interpretations use the term "symbiosis" for interactions, which are more or less beneficial for both partners. Here, we use the term "mutualistic symbiosis" or "mutualism" for symbiotic interactions where a mutual benefit is confirmed. For interactions in general and where the exact nature of interaction is unknown or is not easily defined, we use the general term of "symbiosis".
It is generally thought that all eukaryotic organisms are descendents of progenitors in which at least two partners have interacted symbiotically. Mitochondria have originated from an α-proteobacterial ancestor, which was dramatically reduced during evolution [2, 3]. Plastids, the typical organelles of photoautotrophic eukaryotes, are thought to have been derived from the merger of a cyanobacterial-like progenitor and a phagotrophic eukaryote [4]. The driving force for the close interactions that have led to organelle formation appear to be the metabolic needs of at least one of the participants in the interaction. In the case of mitochondria, ATP synthesis carried out by the α-proteobacterial symbiont has been the principal driving force for the co-evolution of both partners. In the case of plastids, the need for photosynthetic products has presumably driven symbiosis. Both metabolic capacities are exclusively prokaryotic inventions and only symbiotic interaction has allowed them to be used by eukaryotes. Prokaryotic invention and eukaryotic utilisation through symbiosis also applies to molecular nitrogen fixation. Nitrogen is an essential compound of many molecules, including proteins, nucleic acids and vitamins. Associations of eukaryotic host organisms with nitrogen-fixing bacteria occur in many environments and have thus increased the bioavailability of nitrogen. These associations are numerous and diverse, ranging from loose interactions to highly regulated intracellular symbioses.
Here we compare the morphological, physiological and molecular characteristics of symbiotic nitrogen fixing bacteria and their host organisms (animals, fungi, plants and protists). We classify the evolutionary state of some of these interactions, and discuss the potential of these for becoming model systems for investigating the molecular basis of the transition from endosymbiont to organelle [5, 6].
Molecular nitrogen fixation and nitrogenase
Most animals and fungi use nutrition to heterotrophically acquire nitrogen bound in biomolecules. However, other organisms including plants and many bacteria use inorganic nitrogen compounds like ammonium or nitrate bound to soil or present in water. The fixation of molecular nitrogen into bioavailable compounds for cellular anabolism is a process restricted to some bacteria. Such bacteria are termed diazotrophs, as they obtain all their nitrogen by fixing molecular nitrogen.
During biological nitrogen fixation (BNF) molecular nitrogen is reduced (Figure
1A
) in multiple electron transfer reactions, resulting in the synthesis of ammonia and the release of hydrogen [
7
]. Ammonium is then used for the subsequent synthesis of biomolecules. This reduction of molecular nitrogen to ammonium is catalyzed in all nitrogen-fixing organisms via the nitrogenase enzyme complex in an ATP-dependent, highly energy consuming reaction (Figure
1B
). The nitrogenase complex is comprised of two main functional subunits, dinitrogenase reductase (azoferredoxin) and dinitrogenase (molybdoferredoxin) [
8
]. The structural components of these subunits are the Nif (nitrogen fixation) proteins NifH (γ
2
homodimeric azoferredoxin) and NifD/K (α
2
β
2
heterotetrameric molybdoferredoxin). Basically three types of nitrogenases are known based on the composition of their metal centres: iron and molybdenum (Fe/Mo), iron and vanadium (Fe/V) or iron only (Fe) [
9
]. The most common form is the Fe/Mo-type found in cyanobacteria and rhizobia. An important feature of the nitrogenase enzyme complex is its extreme sensitivity to even minor concentrations of oxygen. In aerobic environments and in photoautotrophic cyanobacteria, where oxygen is produced in the light reactions of photosynthesis [
10
], nitrogenase activity must be protected. This protection is realised by different mechanisms in nitrogen fixing bacteria, depending on their cellular and physiologic constitutions. Aerobic bacteria like
Azotobacter
limit high intracellular oxygen concentrations by high rates of respiratory metabolism in combination with extracellular polysaccharides to reduce oxygen influx [
11
,
12
]. In some filamentous cyanobacteria, BNF is restricted to specialised cells, the heterocysts, which are separated from other cells, and show reduced photosynthetic activity without oxygen production [
13
,
14
]. Unicellular cyanobacteria combine photosynthesis and nitrogen fixation within the same cell and show a temporary separation of these two pathways where BNF is restricted to the dark period, when the oxygen-levels are low [
15
]. In addition to these protections, the concentration of oxygen can be decreased by biochemical pathways like the Mehler-reaction or by special oxygen-scavenging molecules such as cyanoglobin and leghemoglobin, the latter playing a major role in rhizobia-plant interactions [
16
,
17
].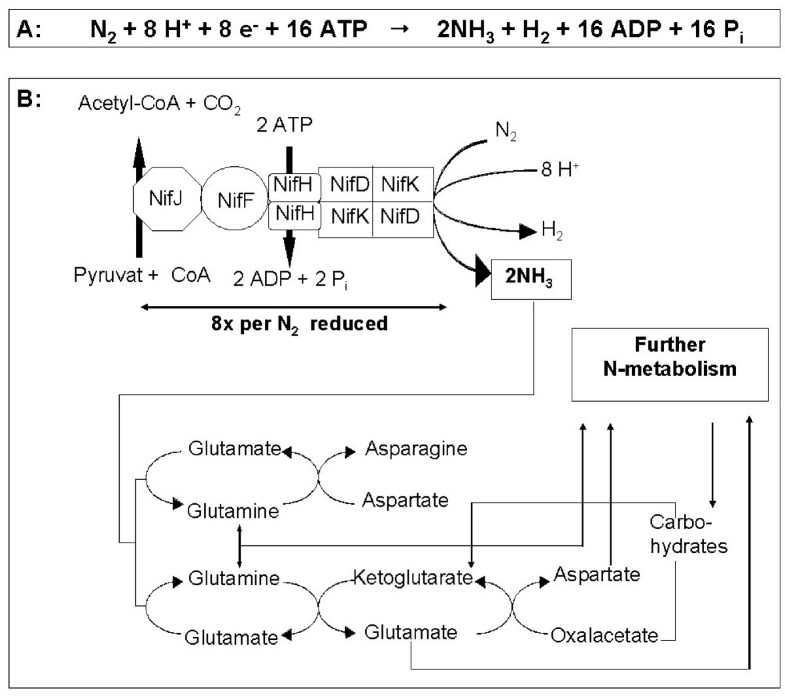 Diversity and specificity of symbioses between nitrogen fixing bacteria and eukaryotes
The ability to fix molecular nitrogen is a widespread characteristic of prokaryotic cells, being established among various groups of bacteria including some archaea [
18
,
19
]. The distribution of BNF among archaea and eubacteria indicates that nitrogen fixation is an ancient innovation [
15
,
20
,
21
], which developed early in the evolution of microbial life on earth. Within the eubacteria, nitrogen fixation has been described for members of the proteobacteria, cyanobacteria, actinobacteria, spirochaetes, clostridiales, purple-sulfur (Chromatiales) and green-sulfur (Chlorobiales) bacteria (Figure
2
). However, only some of these diazotrophic bacteria are known to interact with eukaryotes symbiotically (Figure
2
, Table
1
).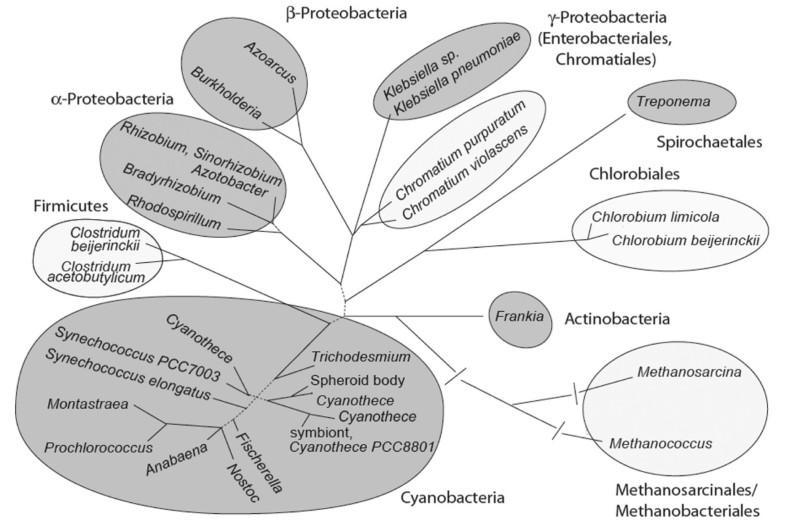 A diversity of eukaryotic partner organisms (animals, fungi, plants and protists) from different environments is involved in symbioses with nitrogen fixing bacteria (Table
1
). The kind of these nitrogen fixing symbioses range from rather loose, temporary and non-specific contacts to stable and permanent interactions, the latter ones often characterised by morphological and/or physiological modifications of one or both partners and also the vertical transmission of symbionts to the next host generation. Symbionts can reside either extracellularly in more or less close association to their hosts or exist as endosymbionts intracellularly within host cells. Among these associations an interaction is considered as obligate for one partner if it is not able to survive outside the symbiotic association. In the case of symbiotic bacteria, an obligate status is often accompanied by deleterious genome evolution, e.g. the loss of genes whose products are no longer required for the new host-dependent lifestyle [
22
,
23
] whereas non-obligate (facultative) symbionts retain their autonomy and are indistinguishable from their free-living forms with respect to gene content. Numerous manifestations of symbiotic interactions between nitrogen-fixing bacteria and their hosts are known and they reflect considerable diversity and complexity. The following sections provide an overview of main types of associations and their characteristics.
Table 1
Free-living and symbiotic nitrogen fixing bacteria
| | Division | Selected species | Selected symbiotic members | Eucaryotic hosts | Localisation within host | References |
| --- | --- | --- | --- | --- | --- | --- |
| archeae | Methanosarcinales | Methanosarcina sp. | n.d. | n.d. | --- | [18] |
| | Methanobacteriales | Methanothermobacter sp. | n.d. | n.d. | --- | [19,20] |
| | | Methanobacterium sp. | | | | |
| bacteria | Cyanobacteria | Nostoc sp. | Nostoc sp. | Bryophytes (e.g. hornworts) | extracellular (within cavities of the gametophyte) | [79] |
| | | Anabaena sp. | Anabaena sp. | Pteridophytes (Azolla) | extracellular (within cavities of the dorsal leaves) | [80,85,88] |
| | | Trichodesmium sp. | Cyanothece sp. | Gymnosperms (cycads) | extracellular (within coralloid roots) | [81] |
| | | Synechococcus sp. | | Angiosperms (Gunnera) | intracellular (within cells of the stem gland) | [87] |
| | | Cyanothece sp. | | Fungi (cyanolichens) | extracellular (in cephalodia or in the thallus) | [50,51] |
| | | | | Diatoms (R. gibba) | intracellular | [97,102] |
| | | | | Sponges (Dysidea spp.) | extracellular | [30,31] |
| | Actinobacteria | Frankia sp. | Frankia sp. | Actinorhizal plants | root-nodules | [57] |
| | Proteobacteria | α: Sinorhizobium sp., Mesorhizobium sp. | Bradyrhizobium sp. | Legumes | intracellular (in root-nodules) | [63,64,68] |
| | | β: Azoarcus sp., Burkholderia sp. | Rhizobium sp. | Legumes | intracellular (in root-nodules) | |
| | | γ: Azotobacter sp., Pseudomonas sp. | Sinorhizobium sp. | Legumes | intracellular (in root-nodules) | |
| | | Klebsiella pneumoniae, Erwinia sp. | Azorhizobium sp. | Legumes | intracellular (in root-nodules) | |
| | | δ: Gloeobacter sp., Desulfovibrio sp. | Burkholderia sp. | AM fungi | intracellular | [54] |
| | | | Azospirillum sp. | Grasses/nonleguminous crops | extracellular (w/o nodulation) | [76] |
| | | | Azoarcus sp. | Grasses/nonleguminous crops | inter- and intracellular (w/o nodulation) | [77] |
| | | | Klebsiella pneumoniae | nonleguminous crops | extracellular | [107] |
| | Firmicutes (Clostridia) | Clostridium sp. | n.d. | n.d. | --- | [108] |
| | Bacteroidetes/Chlorobiales | Chlorobium sp. | n.d. | n.d. | --- | [109] |
| | Spirochaetales | Treponema sp. | Treponema ZAS-9 | Termites | extracellular (in the hindgut) | [43] |
| | Chloroflexi | Dehalococcoides sp. | n.d. | n.d. | --- | [110] |
Conclusion
The ability to fix molecular nitrogen is restricted to selected bacterial species that express the nitrogenase enzyme complex. Nevertheless, various eukaryotic organisms have utilised this capacity by establishing symbiotic interactions with nitrogen fixing bacteria. In these associations, fixed nitrogen is provided to the hosts, thereby enabling them to colonise environments where the supply of bound nitrogen is limited. In mutualistic symbioses, bacterial symbionts benefit from these associations, e.g. by protection against predators or by being provided with host metabolites. Symbioses for molecular nitrogen fixation can be found in many different habitats, with host organisms including all crown groups of eukaryotic life. Although all partnerships are based on the same enzymatic reaction, the diverse associations differ with respect to the physiological and morphological features that characterise the interconnection of partners. Such features include the development of special host organs for optimal performance of bacterial symbionts, adaptations in host and symbiont metabolism, and the intracellular establishment of bacteria within the host.
Close associations involving multiple adaptations and co-evolution between partners can result in permanent and obligate relationships, whereby the bacterial symbiont is stably integrated into the host system, and vertically transmitted across generations. These close interactions are mainly found in intracellular symbioses, where free-living bacteria reside within the cells of the host organism. These are similar to organelles of eukaryotes, such as mitochondria and plastids, which both derived from symbiotic interactions and where continuous adaptation and co-evolution lead to a fusion of two distinct organisms [3, 4]. In both cases, the metabolic capacity of the bacterial symbiont was the driving force for maintenance and evolutionary establishment, resulting in an inseparable merger of host and symbiont. The same basis of interaction applies for molecular nitrogen fixation, where eukaryotic hosts benefit from the unique metabolic capacity of special bacteria, leading to various symbiotic interactions with different specifications. In particular, bacteria interacting with protists, like the spheroid bodies of R. gibba, might serve in the future as important model systems for investigating the establishment of molecular nitrogen fixation in eukaryotic hosts. The detailed study of this interaction will thus provide a great opportunity to understand the complex mechanisms underlying the evolution of obligate endosymbionts and organelles.
Declarations
Acknowledgements
Our work is supported by the Deutsche Forschungsgemeinschaft (SFB 395, TP B9), the Alexander von Humboldt Foundation and New Zealand Marsden Fund.
Authors' Affiliations
(1)
Department of Cell Biology, Philipps-University Marburg, Marburg, Germany
(2)
Department of Molecular Biology, Max-Planck-Institute for Infection Biology, Berlin, Germany
(3)
Allan Wilson Centre for Molecular Ecology and Evolution, Institute of Molecular BioSciences, Massey University, Palmerston North, New Zealand
Copyright
© Kneip et al; licensee BioMed Central Ltd. 2007
This article is published under license to BioMed Central Ltd. This is an Open Access article distributed under the terms of the Creative Commons Attribution License (http://creativecommons.org/licenses/by/2.0), which permits unrestricted use, distribution, and reproduction in any medium, provided the original work is properly cited.